Dear friend, understanding the idea of having a friendship with the Almighty can be profound and heartwarming. God, who created the heavens and the earth, desires a close and personal relationship with us. This bond is not based on rituals or mere traditions, but on genuine love and trust.
Throughout the Bible, we see that the Almighty often reaches out to His children, inviting them into a relationship that's akin to friendship. For instance, Abraham, often referred to as the "friend of God," displayed immense faith and trust, and in return, God blessed him abundantly. Moses, too, shared a unique bond with the Creator. It was said that he conversed with God face to face, just as a man speaks to his friend.
Brother and sister, it's essential to realize that this kind of relationship is available to all of us. The Lord does not show favoritism; He beckons everyone to come closer, to trust Him, and to confide in Him. God's friendship is not based on our works or righteousness but on His love and grace.
The key to this divine friendship is love, understanding, trust, and open communication. Just as in any deep and enduring friendship, it's about mutual respect, shared experiences, and a commitment to understanding one another's hearts.
Dear friends now let's see the Bible scriptures below that talk about Friendship With God.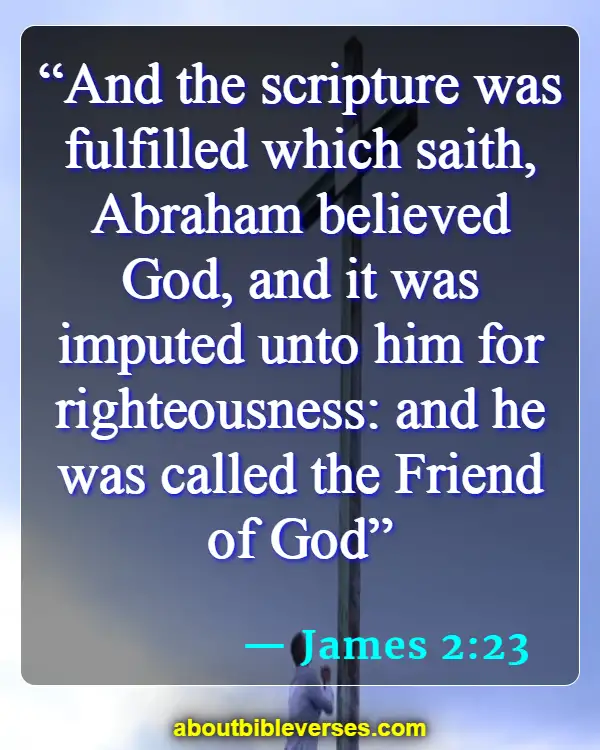 James 2:23
"And the scripture was fulfilled which saith, Abraham believed God, and it was imputed unto him for righteousness: and he was called the Friend of God"
Exodus 33:11
"And the Lord spake unto Moses face to face, as a man speaketh unto his friend. And he turned again into the camp: but his servant Joshua, the son of Nun, a young man, departed not out of the tabernacle"
John 15:15
"Henceforth I call you not servants; for the servant knoweth not what his lord doeth: but I have called you friends; for all things that I have heard of my Father I have made known unto you"
Proverbs 18:24
"A man that hath friends must shew himself friendly: and there is a friend that sticketh closer than a brother"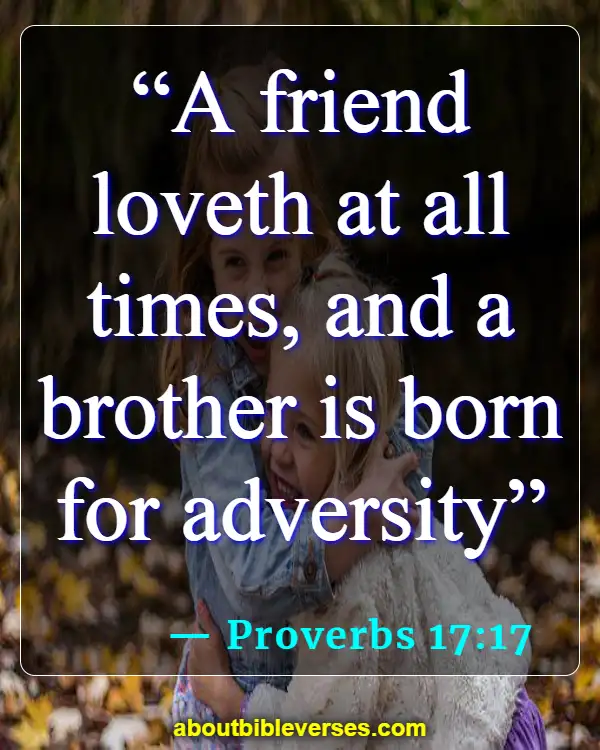 Proverbs 17:17
"A friend loveth at all times, and a brother is born for adversity"
Isaiah 41:8
"But thou, Israel, art my servant, Jacob whom I have chosen, the seed of Abraham my friend"
2 Chronicles 20:7
"Art not thou our God, who didst drive out the inhabitants of this land before thy people Israel, and gavest it to the seed of Abraham thy friend for ever?"
Job 29:4
"As I was in the days of my youth, when the secret of God was upon my tabernacle"
Psalm 25:14
"The secret of the Lord is with them that fear him; and he will shew them his covenant"
Jeremiah 9:24
"But let him that glorieth glory in this, that he understandeth and knoweth me, that I am the Lord which exercise lovingkindness, judgment, and righteousness, in the earth: for in these things I delight, saith the Lord"
Hosea 2:23
"And I will sow her unto me in the earth; and I will have mercy upon her that had not obtained mercy; and I will say to them which were not my people, Thou art my people; and they shall say, Thou art my God"
Revelation 3:20
"Behold, I stand at the door, and knock: if any man hear my voice, and open the door, I will come in to him, and will sup with him, and he with me"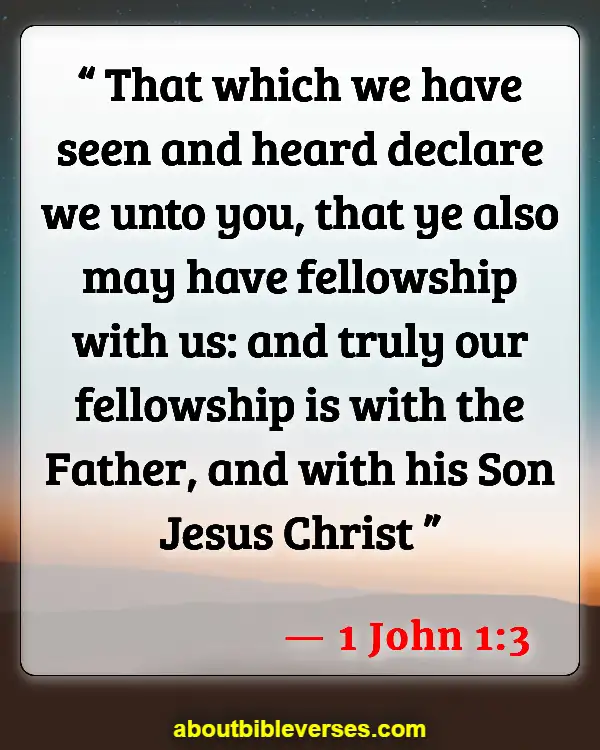 1 John 1:3
"That which we have seen and heard declare we unto you, that ye also may have fellowship with us: and truly our fellowship is with the Father, and with his Son Jesus Christ"
1 John 4:15
"Whosoever shall confess that Jesus is the Son of God, God dwelleth in him, and he in God"
Romans 5:10
"For if, when we were enemies, we were reconciled to God by the death of his Son, much more, being reconciled, we shall be saved by his life"
Galatians 4:6-7
"And because ye are sons, God hath sent forth the Spirit of his Son into your hearts, crying, Abba, Father. Wherefore thou art no more a servant, but a son; and if a son, then an heir of God through Christ"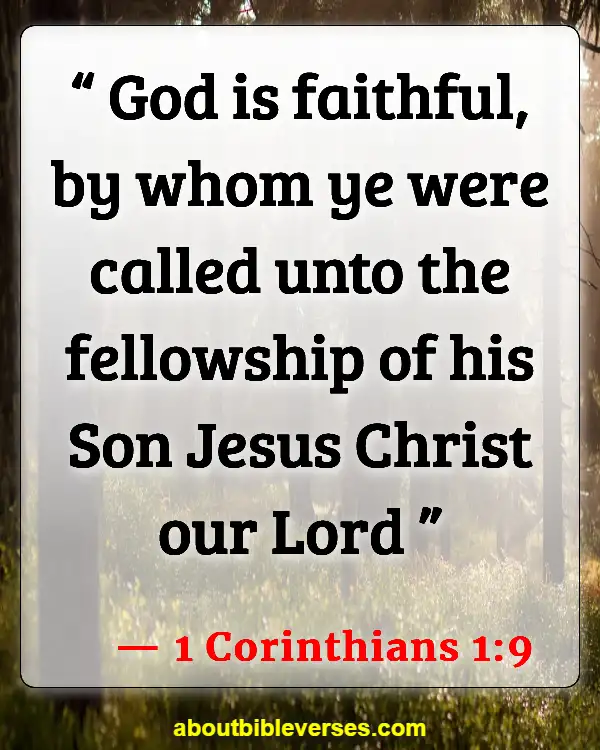 1 Corinthians 1:9
"God is faithful, by whom ye were called unto the fellowship of his Son Jesus Christ our Lord"
2 Corinthians 5:20
"Now then we are ambassadors for Christ, as though God did beseech you by us: we pray you in Christ's stead, be ye reconciled to God"
Ephesians 2:13-18
"But now in Christ Jesus ye who sometimes were far off are made nigh by the blood of Christ. For he is our peace, who hath made both one, and hath broken down the middle wall of partition between us; Having abolished in his flesh the enmity, even the law of commandments contained in ordinances; for to make in himself of twain one new man, so making peace; And that he might reconcile both unto God in one body by the cross, having slain the enmity thereby: And came and preached peace to you which were afar off, and to them that were nigh. For through him we both have access by one Spirit unto the Father"
Colossians 1:21-22
"And you, that were sometime alienated and enemies in your mind by wicked works, yet now hath he reconciled In the body of his flesh through death, to present you holy and unblameable and unreproveable in his sight"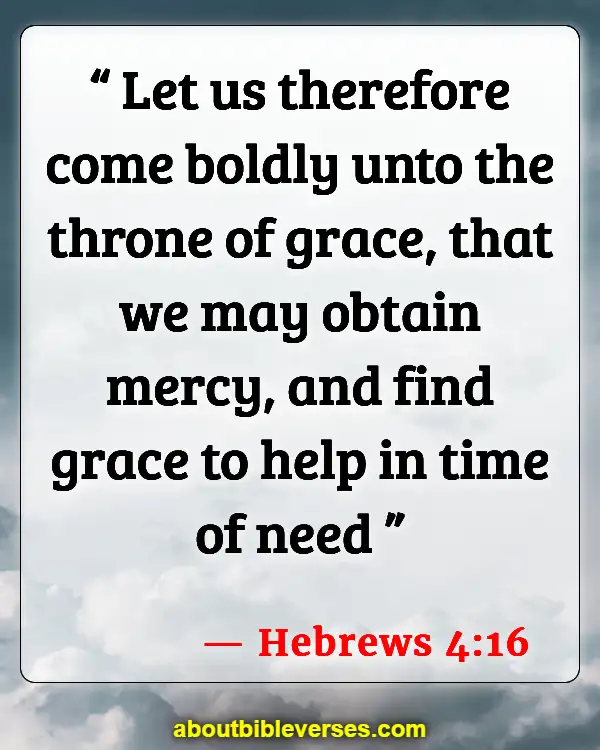 Hebrews 4:16
"Let us therefore come boldly unto the throne of grace, that we may obtain mercy, and find grace to help in time of need"
Psalm 145:18-20
"The Lord is nigh unto all them that call upon him, to all that call upon him in truth. He will fulfil the desire of them that fear him: he also will hear their cry, and will save them. The Lord preserveth all them that love him: but all the wicked will he destroy"
Matthew 11:28-30
"Come unto me, all ye that labour and are heavy laden, and I will give you rest. Take my yoke upon you, and learn of me; for I am meek and lowly in heart: and ye shall find rest unto your souls. For my yoke is easy, and my burden is light"
John 14:21
"He that hath my commandments, and keepeth them, he it is that loveth me: and he that loveth me shall be loved of my Father, and I will love him, and will manifest myself to him"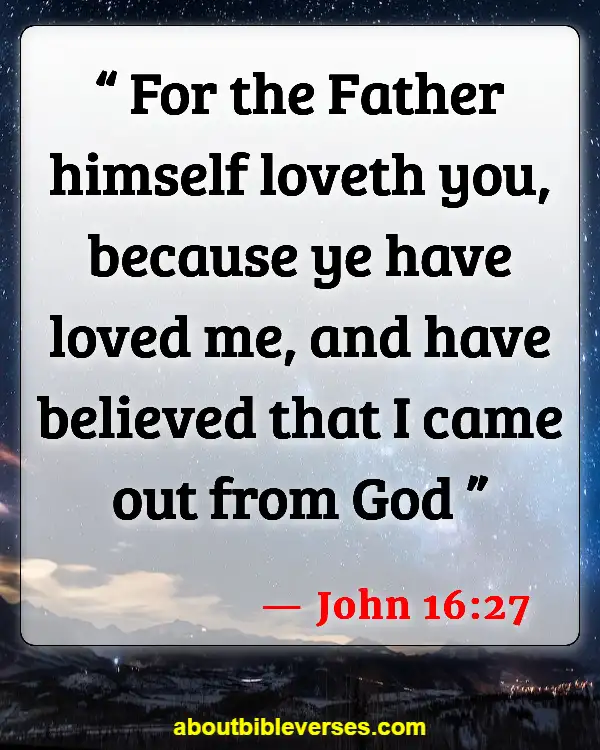 John 16:27
"For the Father himself loveth you, because ye have loved me, and have believed that I came out from God"
Zephaniah 3:17
"The Lord thy God in the midst of thee is mighty; he will save, he will rejoice over thee with joy; he will rest in his love, he will joy over thee with singing"
Psalm 103:8-14
"The Lord is merciful and gracious, slow to anger, and plenteous in mercy. He will not always chide: neither will he keep his anger for ever. He hath not dealt with us after our sins; nor rewarded us according to our iniquities. For as the heaven is high above the earth, so great is his mercy toward them that fear him. As far as the east is from the west, so far hath he removed our transgressions from us. Like as a father pitieth his children, so the Lord pitieth them that fear him. For he knoweth our frame; he remembereth that we are dust"
Deuteronomy 31:6
"Be strong and of a good courage, fear not, nor be afraid of them: for the Lord thy God, he it is that doth go with thee; he will not fail thee, nor forsake thee"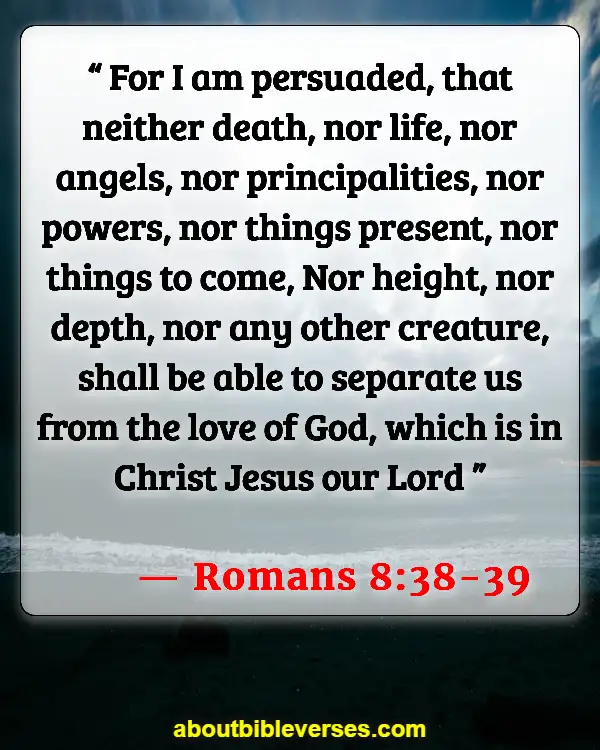 Romans 8:38-39
"For I am persuaded, that neither death, nor life, nor angels, nor principalities, nor powers, nor things present, nor things to come, Nor height, nor depth, nor any other creature, shall be able to separate us from the love of God, which is in Christ Jesus our Lord"
Conclusion:
In the vast expanse of human experiences and emotions, having a friend in God stands as a beacon of hope and comfort. It reminds us that, even amidst our imperfections and flaws, the Creator of all desires intimacy with us. As we dive deeper into the scriptures, we will uncover the richness of this relationship, learn from those who walked closely with God, and discover how we, too, can cultivate such a profound connection. Let this knowledge lead you into a deeper understanding and bond with our Heavenly Father. Choose today to embrace this divine friendship and watch as it transforms your life in unimaginable ways.