Hello dear friends, welcome to our site in the name of Jesus Christ. Today we will look at the Bible Scriptures About Deliverance From Evil Spirits In KJV. If you like today's post then definitely comment and share.
In the Holy Bible, a prominent Teaching is the power of God to deliver individuals from evil spirits. It assures us that God's power is infinitely greater than any force of darkness. This wisdom illuminates our path, just as a candle penetrates the murkiness of a dark room.
God, in His infinite love, sent His only Son, Jesus, to the earth. Jesus, filled with divine authority, showed us how to conquer evil spirits. He demonstrated this by healing the afflicted and setting those entrapped by evil spirits free. Jesus's life was a testament to the power of faith, teaching us that steadfast belief in God could uplift us from the deepest abyss.
When an evil spirit occupies a person's mind or heart, it can distort their perception, steering them away from the path of righteousness. It's crucial to understand that God equips us with spiritual armor to withstand such spiritual adversaries. This divine armor includes faith, truth, righteousness, and a prayerful spirit that helps us stand firm in the face of evil.
Jesus himself demonstrated this power of deliverance throughout his life. He encountered people afflicted by evil spirits, touched them with compassionate care, and liberated them. His actions were profound lessons for us, showing that God's love and power are potent enough to free anyone entangled in the clutches of spiritual darkness.
In our daily lives, we can draw upon this strength by praying sincerely to our Heavenly Father. Prayer is our most potent weapon, a shield against the invisible enemy. It's our spiritual sustenance, nourishing our faith and arming us against evil.
Equally important is to be obedient to God's teachings. God's word is
a path of righteousness. Like a loving parent, He sets guidelines for our protection. By following them, we can keep ourselves away from the influences of evil spirits.
Just like a gardener pulls out weeds so his plants can thrive, we should strive to eliminate any ungodly thoughts or actions that might attract evil spirits. This conscious effort reinforces our spiritual barrier, ensuring our souls' safety.
So, in the face of evil spirits, remember – God's love is our shield, prayer is our sword, obedience to His word is our pathway, and spiritual purification is our fortress. In God, we find our deliverance.
Now Let's go to Bible Scripture, Here are a collection of verses related to the topic of deliverance from evil spirits :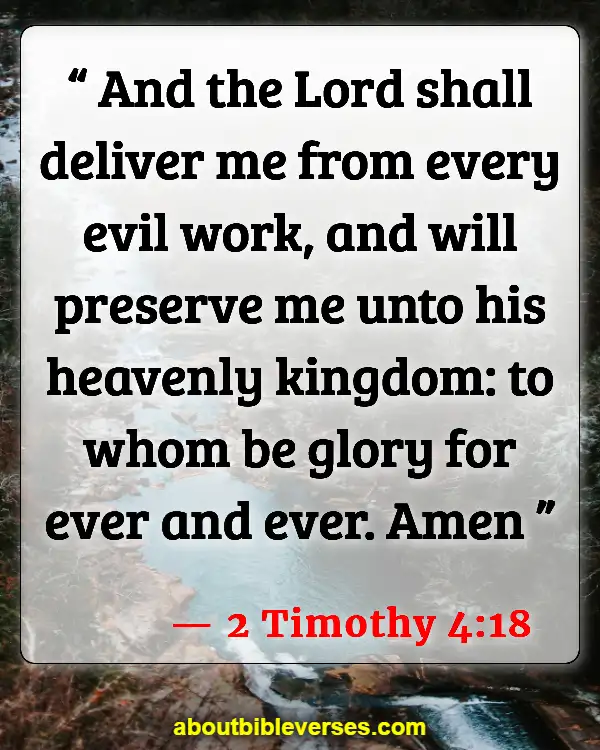 2 Timothy 4:18
"And the Lord shall deliver me from every evil work, and will preserve me unto his heavenly kingdom: to whom be glory for ever and ever. Amen"
2 Timothy 1:7
"For God hath not given us the spirit of fear; but of power, and of love, and of a sound mind"
2 Corinthians 11:14
"And no marvel; for Satan himself is transformed into an angel of light"
Revelation 12:9
"And the great dragon was cast out, that old serpent, called the Devil, and Satan, which deceiveth the whole world: he was cast out into the earth, and his angels were cast out with him"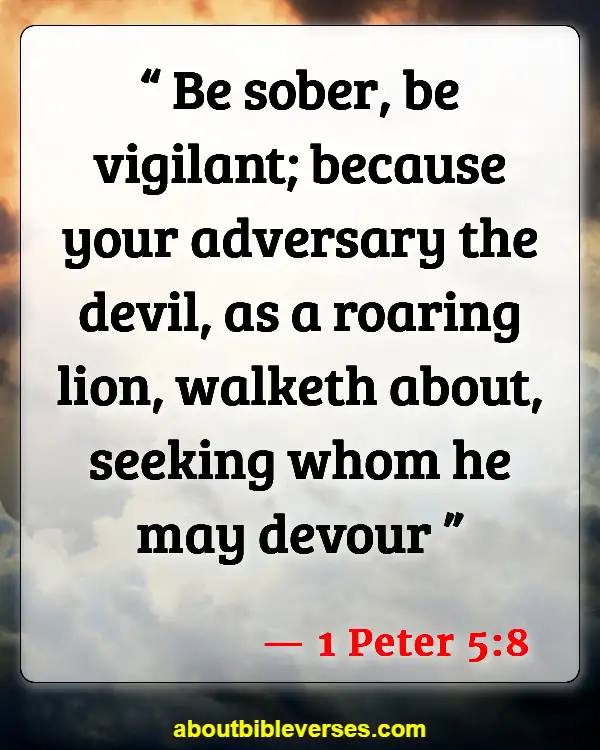 1 Peter 5:8
"Be sober, be vigilant; because your adversary the devil, as a roaring lion, walketh about, seeking whom he may devour"
1 John 1:9
"If we confess our sins, he is faithful and just to forgive us our sins, and to cleanse us from all unrighteousness"
Leviticus 19:31
"Regard not them that have familiar spirits, neither seek after wizards, to be defiled by them: I am the Lord your God"
Proverbs 19:23
"The fear of the Lord tendeth to life: and he that hath it shall abide satisfied; he shall not be visited with evil"
1 John 5:4
"For whatsoever is born of God overcometh the world: and this is the victory that overcometh the world, even our faith"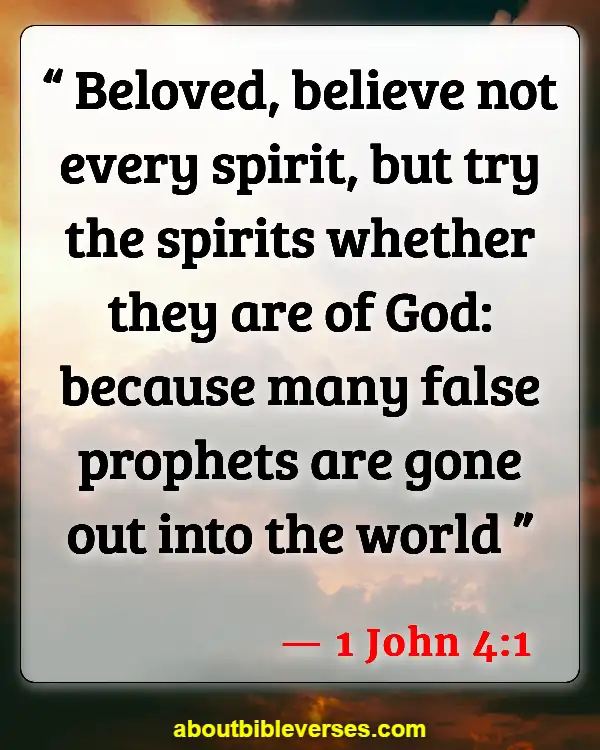 1 John 4:1
"Beloved, believe not every spirit, but try the spirits whether they are of God: because many false prophets are gone out into the world"
Luke 10:17
"And the seventy returned again with joy, saying, Lord, even the devils are subject unto us through thy name"
Ephesians 6:13
"Wherefore take unto you the whole armour of God, that ye may be able to withstand in the evil day, and having done all, to stand"
Leviticus 20:6
"And the soul that turneth after such as have familiar spirits, and after wizards, to go a whoring after them, I will even set my face against that soul, and will cut him off from among his people"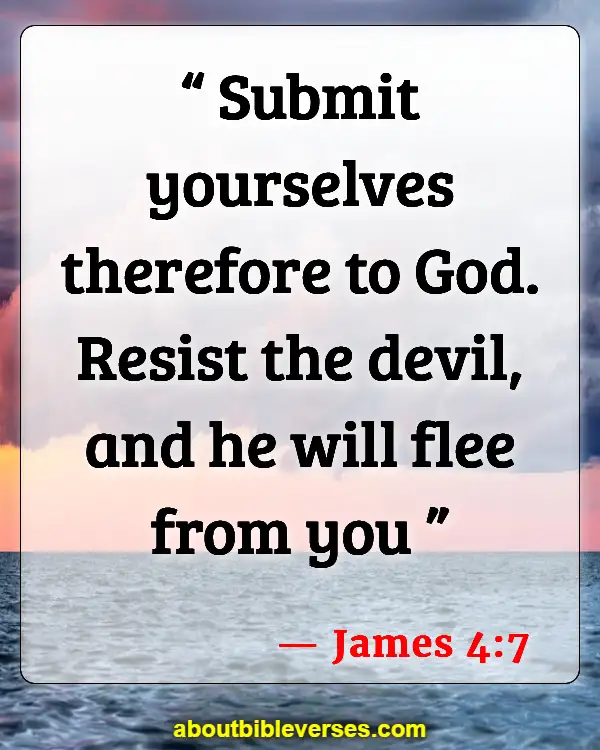 James 4:7
"Submit yourselves therefore to God. Resist the devil, and he will flee from you"
2 Thessalonians 3:3
"But the Lord is faithful, who shall stablish you, and keep you from evil"
Ephesians 6:17
"And take the helmet of salvation, and the sword of the Spirit, which is the word of God"
John 8:31
"Then said Jesus to those Jews which believed on him, If ye continue in my word, then are ye my disciples indeed"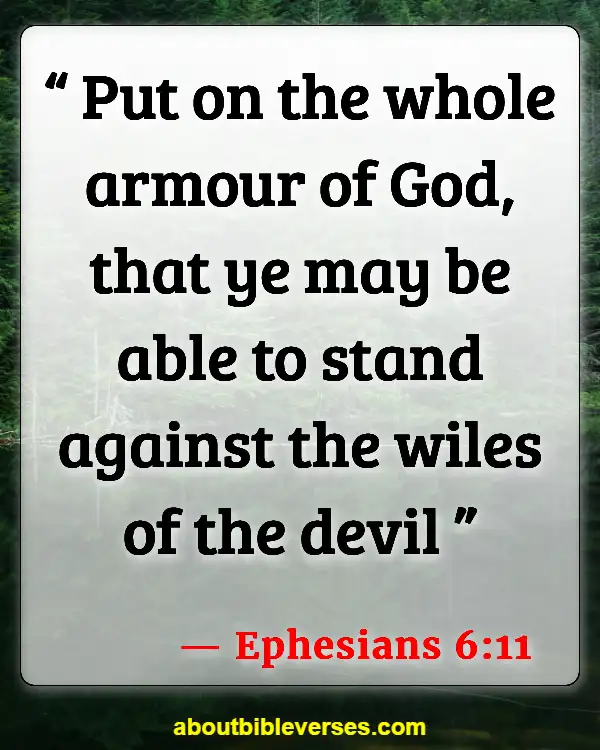 Ephesians 6:11
"Put on the whole armour of God, that ye may be able to stand against the wiles of the devil"
Matthew 10:1
"And when he had called unto him his twelve disciples, he gave them power against unclean spirits, to cast them out, and to heal all manner of sickness and all manner of disease"
Mark 16:17
"And these signs shall follow them that believe; In my name shall they cast out devils; they shall speak with new tongues"
Luke 10:19
"Behold, I give unto you power to tread on serpents and scorpions, and over all the power of the enemy: and nothing shall by any means hurt you"
Psalm 34:4
"I sought the Lord , and he heard me, and delivered me from all my fears"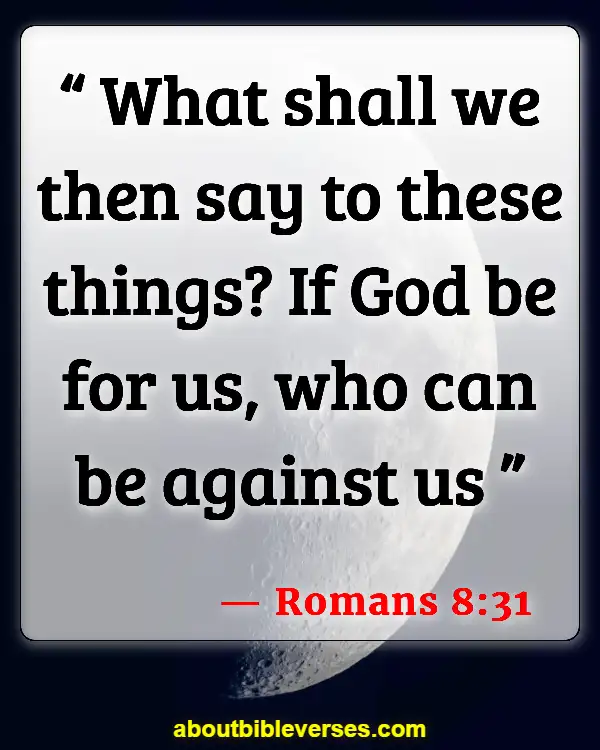 Romans 8:31
"What shall we then say to these things? If God be for us, who can be against us?"
1 John 5:18
"We know that whosoever is born of God sinneth not; but he that is begotten of God keepeth himself, and that wicked one toucheth him not"
Matthew 6:13
"And lead us not into temptation, but deliver us from evil: For thine is the kingdom, and the power, and the glory, for ever. Amen"
Mark 1:34
"And he healed many that were sick of divers diseases, and cast out many devils; and suffered not the devils to speak, because they knew him"
Mark 9:38
"And John answered him, saying, Master, we saw one casting out devils in thy name, and he followeth not us: and we forbad him, because he followeth not us"
Acts 16:18
"And this did she many days. But Paul, being grieved, turned and said to the spirit, I command thee in the name of Jesus Christ to come out of her. And he came out the same hour"
Luke 11:14
"And he was casting out a devil, and it was dumb. And it came to pass, when the devil was gone out, the dumb spake; and the people wondered"
Matthew 12:22
"Then was brought unto him one possessed with a devil, blind, and dumb: and he healed him, insomuch that the blind and dumb both spake and saw"
Luke 7:21
"And in that same hour he cured many of their infirmities and plagues, and of evil spirits; and unto many that were blind he gave sight"
Luke 8:2
"And certain women, which had been healed of evil spirits and infirmities, Mary called Magdalene, out of whom went seven devils"
Acts 19:11-12
"And God wrought special miracles by the hands of Paul: So that from his body were brought unto the sick handkerchiefs or aprons, and the diseases departed from them, and the evil spirits went out of them"
Acts 5:16
"There came also a multitude out of the cities round about unto Jerusalem, bringing sick folks, and them which were vexed with unclean spirits: and they were healed every one"
Matthew 8:16
"When the even was come, they brought unto him many that were possessed with devils: and he cast out the spirits with his word, and healed all that were sick"
Mark 1:32
"And at even, when the sun did set, they brought unto him all that were diseased, and them that were possessed with devils"
Luke 4:40
"Now when the sun was setting, all they that had any sick with divers diseases brought them unto him; and he laid his hands on every one of them, and healed them"
1 Corinthians 10:20-21
"But I say, that the things which the Gentiles sacrifice, they sacrifice to devils, and not to God: and I would not that ye should have fellowship with devils. Ye cannot drink the cup of the Lord, and the cup of devils: ye cannot be partakers of the Lord's table, and of the table of devils"
Ephesians 6:12
"For we wrestle not against flesh and blood, but against principalities, against powers, against the rulers of the darkness of this world, against spiritual wickedness in high places"
1 Timothy 4:1
"Now the Spirit speaketh expressly, that in the latter times some shall depart from the faith, giving heed to seducing spirits, and doctrines of devils"
Acts 26:18
"To open their eyes, and to turn them from darkness to light, and from the power of Satan unto God, that they may receive forgiveness of sins, and inheritance among them which are sanctified by faith that is in me"
Acts 10:38
"How God anointed Jesus of Nazareth with the Holy Ghost and with power: who went about doing good, and healing all that were oppressed of the devil; for God was with him"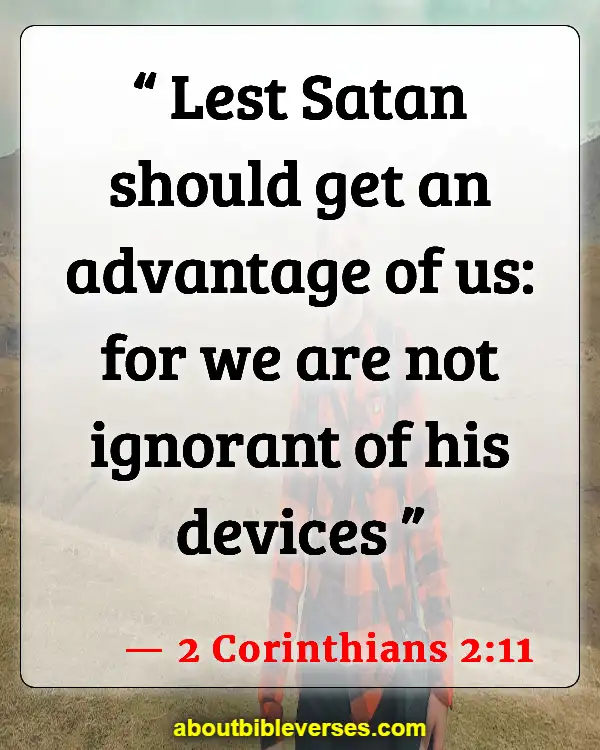 2 Corinthians 2:11
"Lest Satan should get an advantage of us: for we are not ignorant of his devices"
2 Timothy 2:25-26
"In meekness instructing those that oppose themselves; if God peradventure will give them repentance to the acknowledging of the truth; And that they may recover themselves out of the snare of the devil, who are taken captive by him at his will"