Brothers and sisters, In the eyes of the Almighty, dedication and commitment are pillars of faith and devotion. As believers, we are called to offer ourselves wholeheartedly to God, serving Him with unwavering loyalty and love. The scriptures teach us about the importance of staying steadfast in our faith and commitments.
One of the most inspiring examples of dedication is found in the story of Abraham. God called him to leave his homeland and journey to an unknown land. Through faith and dedication, Abraham obeyed without hesitation, and he became the father of many nations. His commitment to God's plan paved the way for blessings beyond measure.
Moreover, we learn about the unwavering dedication of Daniel. He was taken captive to Babylon, but he remained steadfast in his faith. Even when facing adversity and the threat of death, Daniel committed himself to prayer, trusting in the Almighty's deliverance. God rewarded his dedication with protection and promotion.
The Bible also recounts the life of Ruth, a shining example of commitment. After her husband's death, she chose to stay with her mother-in-law, Naomi, forsaking her own homeland. Her loyalty and dedication led her to find favor in the eyes of Boaz, and she became part of the lineage of King David and Jesus Christ.
To be dedicated and committed means to love God with all our hearts, soul, and mind, as Jesus taught us. In our daily lives, we must stand firm in faith, rooted in prayer, and steadfast in serving others. Just like the apostle Paul, who endured many trials and tribulations, we must press forward in the race set before us, striving to finish strong and receive the crown of life.
Dear Friends, Finally I want to say dedication and commitment are essential virtues in our journey of faith. Let us inspiration from the biblical examples of Abraham, Daniel, Ruth, and countless others, as we dedicate ourselves wholeheartedly to God's purpose, committing to walk in His ways and shine His light in the world. May we be known for our unwavering devotion and steadfast commitment to the One who called us into His marvelous light. Amen.
Dear friends now let's see the Bible scriptures below that talk about Dedication And Commitment.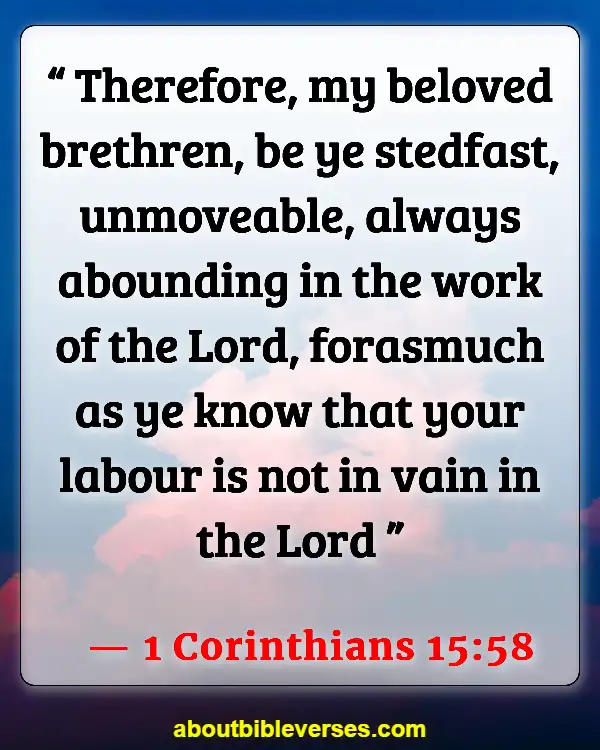 1 Corinthians 15:58
"Therefore, my beloved brethren, be ye stedfast, unmoveable, always abounding in the work of the Lord, forasmuch as ye know that your labour is not in vain in the Lord"
Colossians 3:23
"And whatsoever ye do, do it heartily, as to the Lord, and not unto men"
Joshua 1:9
"Have not I commanded thee? Be strong and of a good courage; be not afraid, neither be thou dismayed: for the Lord thy God is with thee whithersoever thou goest"
Proverbs 16:3
"Commit thy works unto the Lord , and thy thoughts shall be established"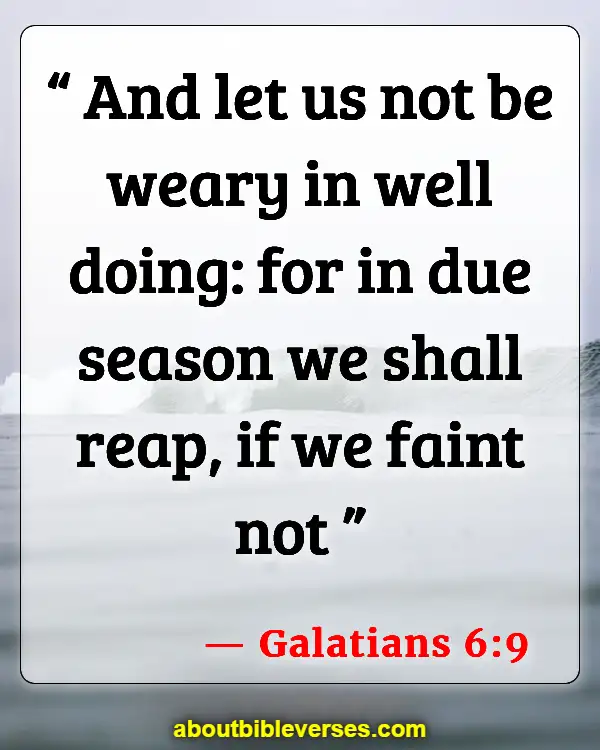 Galatians 6:9
"And let us not be weary in well doing: for in due season we shall reap, if we faint not"
Psalm 37:5
"Commit thy way unto the Lord ; trust also in him; and he shall bring it to pass"
2 Timothy 2:15
"Study to shew thyself approved unto God, a workman that needeth not to be ashamed, rightly dividing the word of truth"
Romans 12:1
"I beseech you therefore, brethren, by the mercies of God, that ye present your bodies a living sacrifice, holy, acceptable unto God, which is your reasonable service"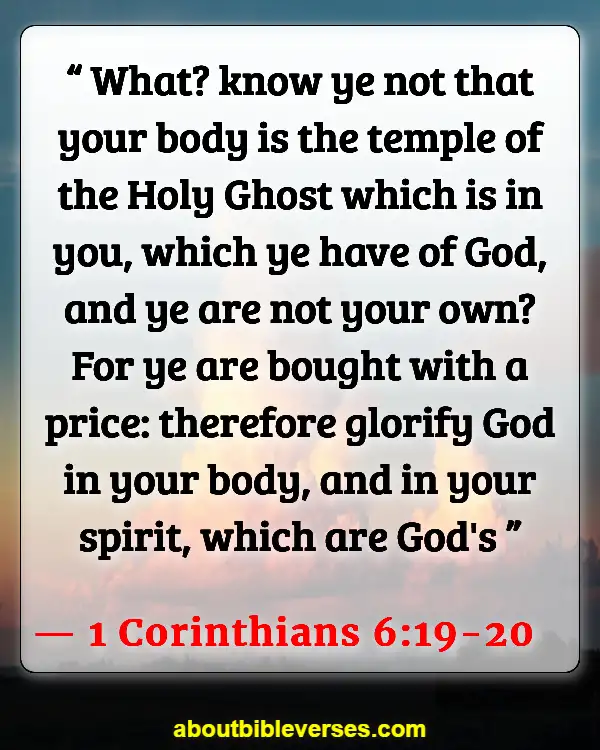 1 Corinthians 6:19-20
"What? know ye not that your body is the temple of the Holy Ghost which is in you, which ye have of God, and ye are not your own? For ye are bought with a price: therefore glorify God in your body, and in your spirit, which are God's"
Deuteronomy 6:5
"And thou shalt love the Lord thy God with all thine heart, and with all thy soul, and with all thy might"
Matthew 22:37
"Jesus said unto him, Thou shalt love the Lord thy God with all thy heart, and with all thy soul, and with all thy mind"
Luke 9:62
"And Jesus said unto him, No man, having put his hand to the plough, and looking back, is fit for the kingdom of God"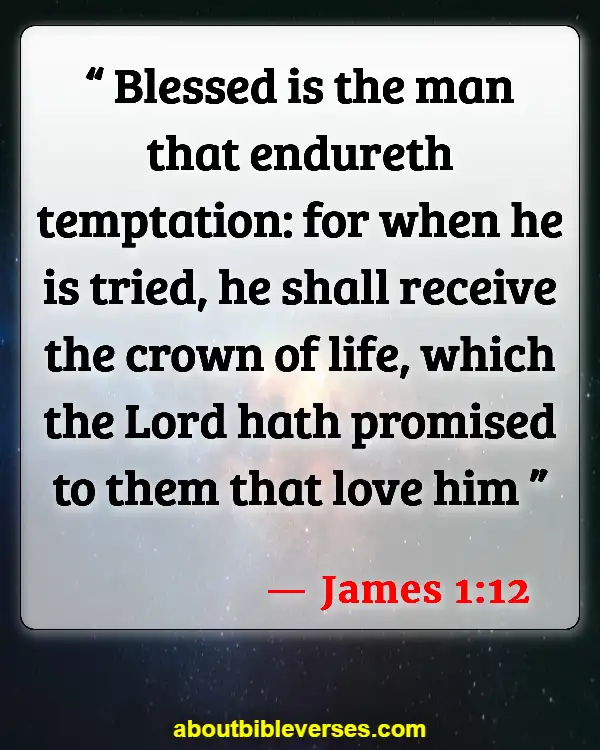 James 1:12
"Blessed is the man that endureth temptation: for when he is tried, he shall receive the crown of life, which the Lord hath promised to them that love him"
Philippians 2:12
"Wherefore, my beloved, as ye have always obeyed, not as in my presence only, but now much more in my absence, work out your own salvation with fear and trembling"
Proverbs 3:5-6
"Trust in the Lord with all thine heart; and lean not unto thine own understanding. In all thy ways acknowledge him, and he shall direct thy paths"
1 Corinthians 9:24
"Know ye not that they which run in a race run all, but one receiveth the prize? So run, that ye may obtain"
Matthew 16:24
"Then said Jesus unto his disciples, If any man will come after me, let him deny himself, and take up his cross, and follow me"
2 Timothy 4:7
"I have fought a good fight, I have finished my course, I have kept the faith"
John 12:26
"If any man serve me, let him follow me; and where I am, there shall also my servant be: if any man serve me, him will my Father honour"
Luke 16:13
"No servant can serve two masters: for either he will hate the one, and love the other; or else he will hold to the one, and despise the other. Ye cannot serve God and mammon"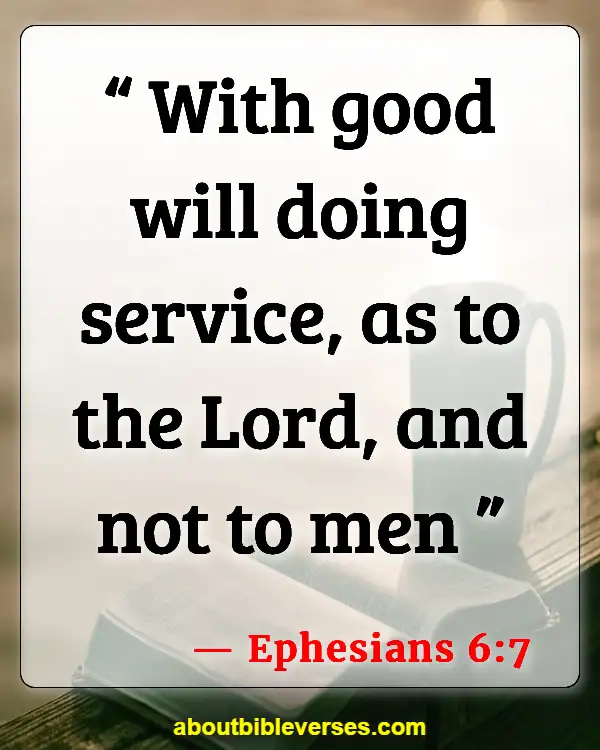 Ephesians 6:7
"With good will doing service, as to the Lord, and not to men"
Psalm 31:23
"O love the Lord , all ye his saints: for the Lord preserveth the faithful, and plentifully rewardeth the proud doer"
Titus 2:14
"Who gave himself for us, that he might redeem us from all iniquity, and purify unto himself a peculiar people, zealous of good works"
Proverbs 28:20
"A faithful man shall abound with blessings: but he that maketh haste to be rich shall not be innocent"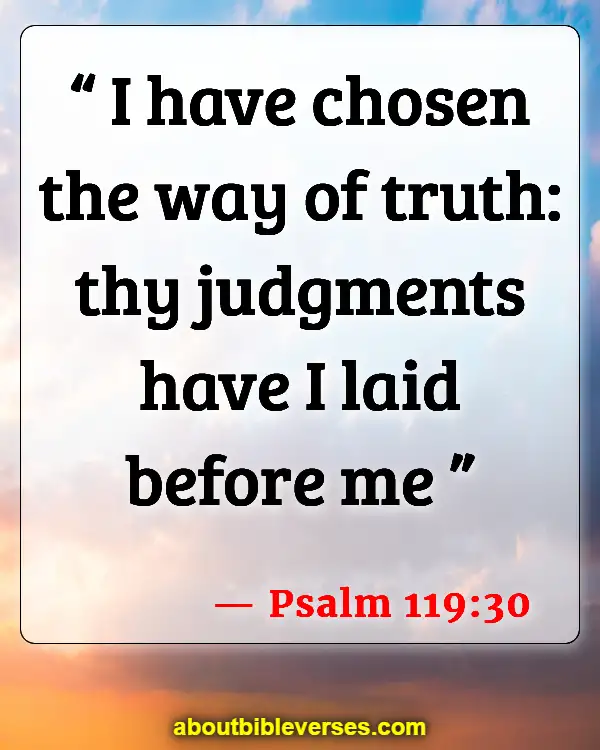 Psalm 119:30
"I have chosen the way of truth: thy judgments have I laid before me"
Proverbs 10:4
"He becometh poor that dealeth with a slack hand: but the hand of the diligent maketh rich"
Luke 14:27
"And whosoever doth not bear his cross, and come after me, cannot be my disciple"
Philippians 1:6
"Being confident of this very thing, that he which hath begun a good work in you will perform it until the day of Jesus Christ"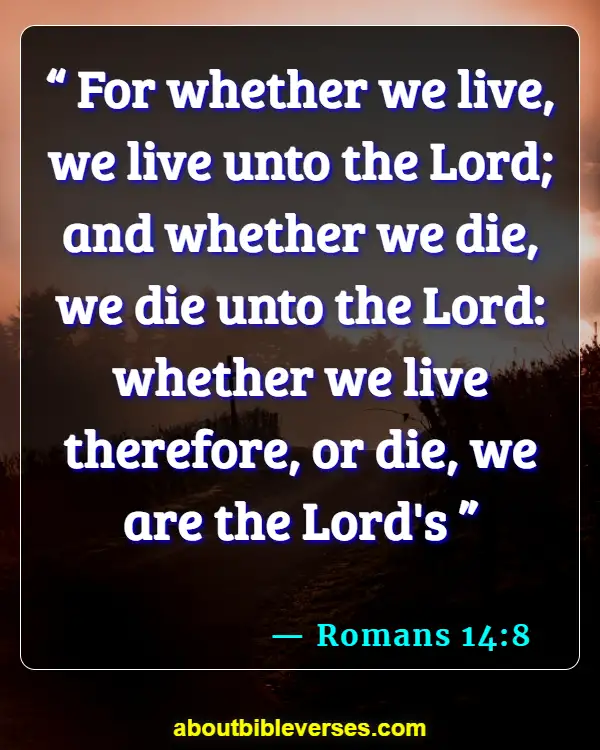 Romans 14:8
"For whether we live, we live unto the Lord; and whether we die, we die unto the Lord: whether we live therefore, or die, we are the Lord's"
Luke 10:27
"And he answering said, Thou shalt love the Lord thy God with all thy heart, and with all thy soul, and with all thy strength, and with all thy mind; and thy neighbour as thyself"
John 15:5
"I am the vine, ye are the branches: He that abideth in me, and I in him, the same bringeth forth much fruit: for without me ye can do nothing"
2 Corinthians 5:15
"And that he died for all, that they which live should not henceforth live unto themselves, but unto him which died for them, and rose again"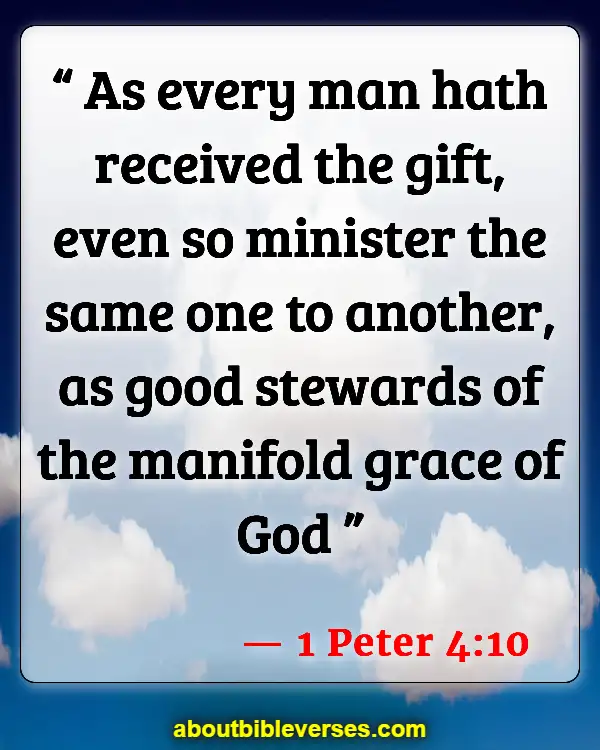 1 Peter 4:10
"As every man hath received the gift, even so minister the same one to another, as good stewards of the manifold grace of God"
Romans 6:13
"Neither yield ye your members as instruments of unrighteousness unto sin: but yield yourselves unto God, as those that are alive from the dead, and your members as instruments of righteousness unto God"
Psalm 119:10
"With my whole heart have I sought thee: O let me not wander from thy commandments"
Psalm 78:8
"And might not be as their fathers, a stubborn and rebellious generation; a generation that set not their heart aright, and whose spirit was not stedfast with God"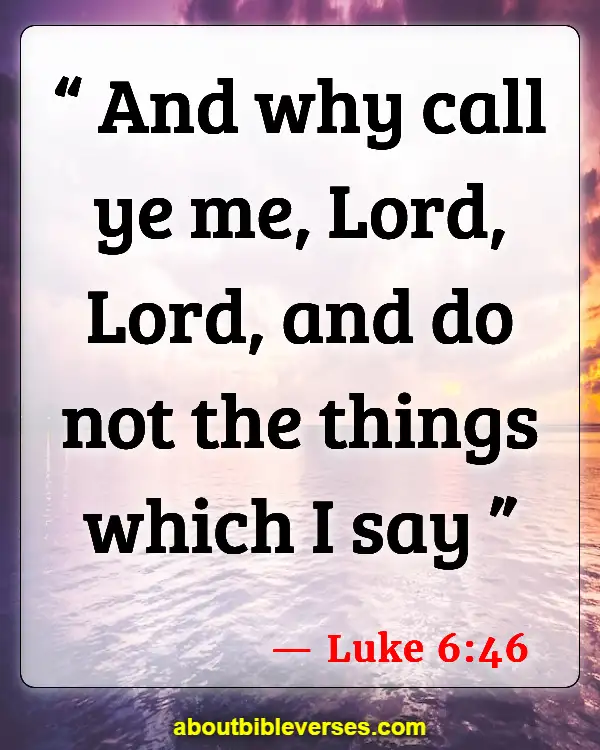 Luke 6:46
"And why call ye me, Lord, Lord, and do not the things which I say?"
Proverbs 16:9
"A man's heart deviseth his way: but the Lord directeth his steps"
1 Chronicles 29:5
"The gold for things of gold, and the silver for things of silver, and for all manner of work to be made by the hands of artificers. And who then is willing to consecrate his service this day unto the Lord ?"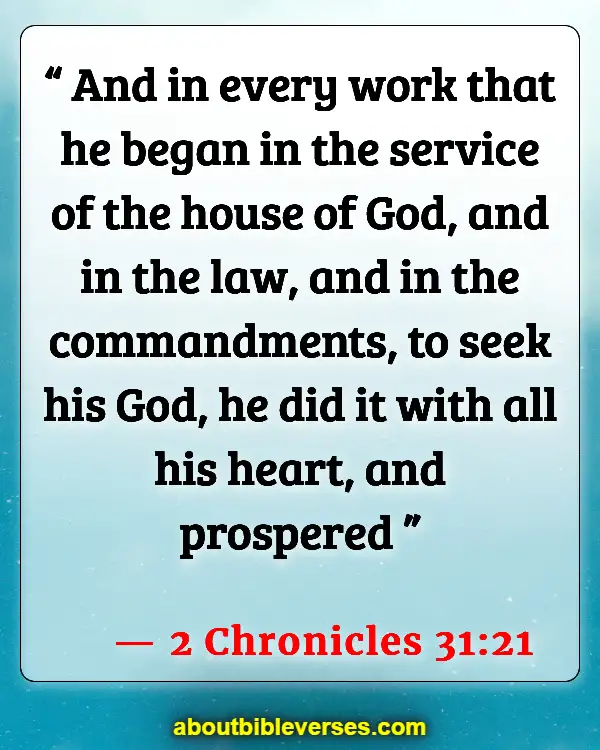 2 Chronicles 31:21
"And in every work that he began in the service of the house of God, and in the law, and in the commandments, to seek his God, he did it with all his heart, and prospered"