Hello dear friends, welcome to our site in the name of Jesus Christ. Today we will look at the Bible Scriptures About courage and perseverance In KJV. If you like today's post then definitely comment and share.
The Bible encourages believers to be bold and persevere in their faith. The Bible teaches us that courage and perseverance are essential qualities for living a life of faith. Courage and perseverance are not just human qualities, but gifts from God that are available to all who depend on Him, knowing that He is with them every step of the way.
Courage is the quality of being brave in the face of fear or danger. In the Bible, we see many examples of courageous people who relied on faith in God to overcome seemingly impossible obstacles.
For example, when David faced the giant Goliath in battle, he showed great courage, knowing that God was with him. Similarly, Esther showed courage when she risked her life to save her people from destruction.
Perseverance is the quality of following a goal or belief despite adversity. In the Bible, we see many examples of perseverance in the lives of believers. One of the most prominent examples is Job, who remained steadfast in his faith even when he lost everything.
Another example is the life of the apostle Paul as a testament to perseverance. In 2 Corinthians 11:24-27, he faced numerous trials, including beatings, and imprisonment. Yet, through it all, Paul remained determined in his mission to spread his faith and the gospel.
Dear friends now let's see the Bible scriptures below that talk about courage and perseverance.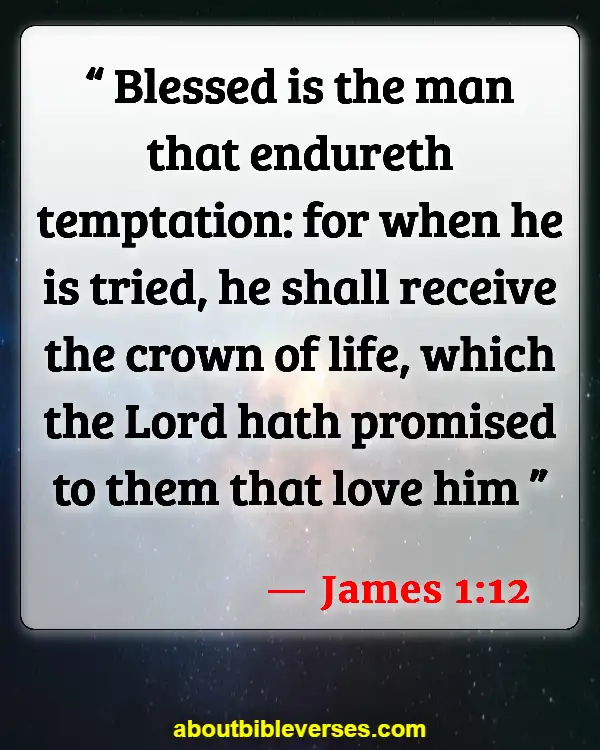 James 1:12
"Blessed is the man that endureth temptation: for when he is tried, he shall receive the crown of life, which the Lord hath promised to them that love him"
Revelation 3:10
"Because thou hast kept the word of my patience, I also will keep thee from the hour of temptation, which shall come upon all the world, to try them that dwell upon the earth"
1 Corinthians 9:24
"Know ye not that they which run in a race run all, but one receiveth the prize? So run, that ye may obtain"
2 Chronicles 15:7
"Be ye strong therefore, and let not your hands be weak: for your work shall be rewarded"
Hebrews 10:36
"For ye have need of patience, that, after ye have done the will of God, ye might receive the promise"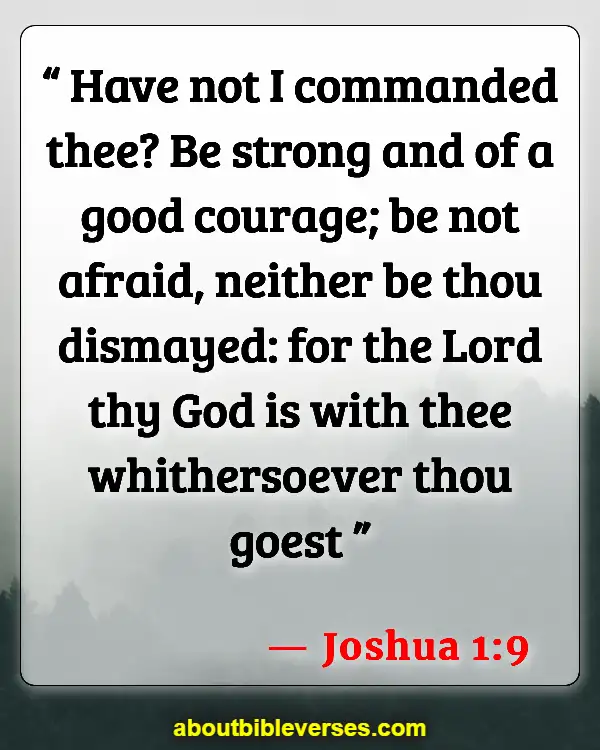 Joshua 1:9
"Have not I commanded thee? Be strong and of a good courage; be not afraid, neither be thou dismayed: for the Lord thy God is with thee whithersoever thou goest"
Romans 12:12
"Rejoicing in hope; patient in tribulation; continuing instant in prayer"
Hebrews 12:1
"Wherefore seeing we also are compassed about with so great a cloud of witnesses, let us lay aside every weight, and the sin which doth so easily beset us, and let us run with patience the race that is set before us"
1 Timothy 6:12
"Fight the good fight of faith, lay hold on eternal life, whereunto thou art also called, and hast professed a good profession before many witnesses"
1 Chronicles 16:11
"Seek the Lord and his strength, seek his face continually"
2 Timothy 2:12
"If we suffer, we shall also reign with him: if we deny him, he also will deny us"
1 Corinthians 16:13
"Watch ye, stand fast in the faith, quit you like men, be strong"
James 5:11
"Behold, we count them happy which endure. Ye have heard of the patience of Job, and have seen the end of the Lord; that the Lord is very pitiful, and of tender mercy"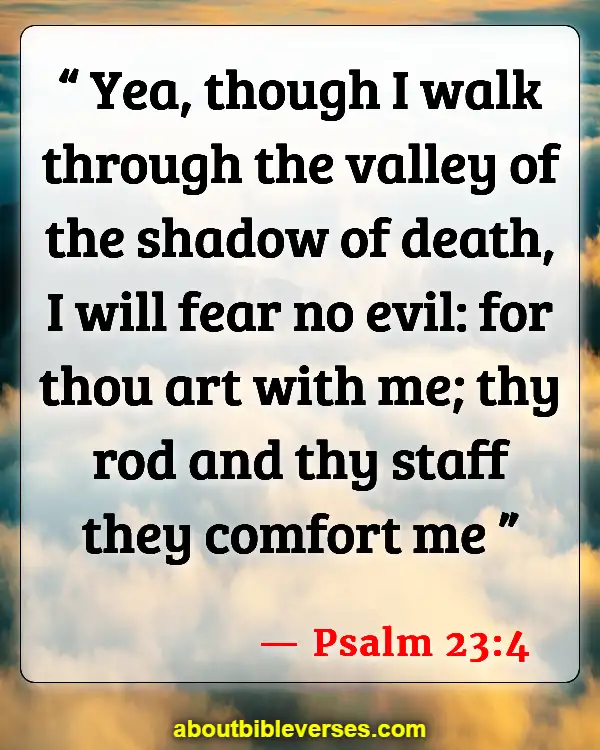 Psalm 23:4
"Yea, though I walk through the valley of the shadow of death, I will fear no evil: for thou art with me; thy rod and thy staff they comfort me"
Philippians 1:6
"Being confident of this very thing, that he which hath begun a good work in you will perform it until the day of Jesus Christ"
Ephesians 6:18
"Praying always with all prayer and supplication in the Spirit, and watching thereunto with all perseverance and supplication for all saints"
James 1:2
"My brethren, count it all joy when ye fall into divers temptations"
Psalm 27:1
"The Lord is my light and my salvation; whom shall I fear? the Lord is the strength of my life; of whom shall I be afraid?"
John 14:27
"Peace I leave with you, my peace I give unto you: not as the world giveth, give I unto you. Let not your heart be troubled, neither let it be afraid"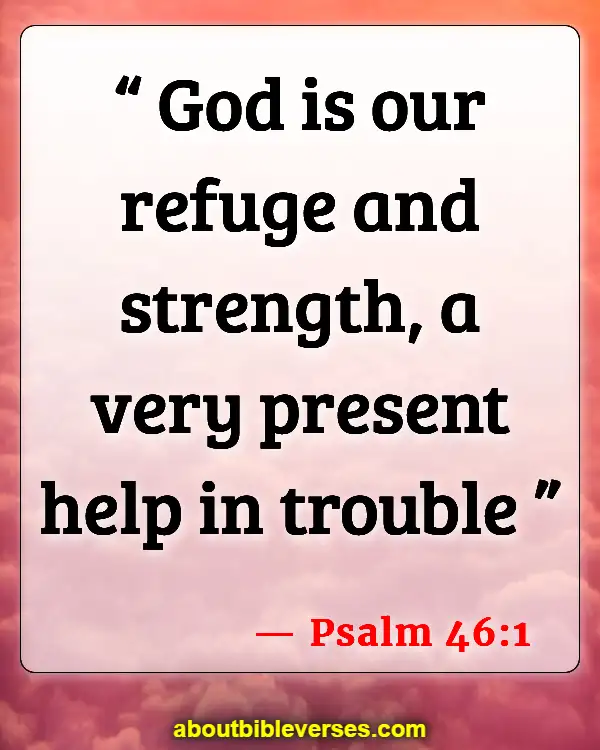 Psalm 46:1
"God is our refuge and strength, a very present help in trouble"
Psalm 86:11
"Teach me thy way, O Lord ; I will walk in thy truth: unite my heart to fear thy name"
Philippians 4:13
"I can do all things through Christ which strengtheneth me"
1 Thessalonians 1:3
"Remembering without ceasing your work of faith, and labour of love, and patience of hope in our Lord Jesus Christ, in the sight of God and our Father"
2 Thessalonians 3:5
"And the Lord direct your hearts into the love of God, and into the patient waiting for Christ"
Ephesians 6:10
"Finally, my brethren, be strong in the Lord, and in the power of his might"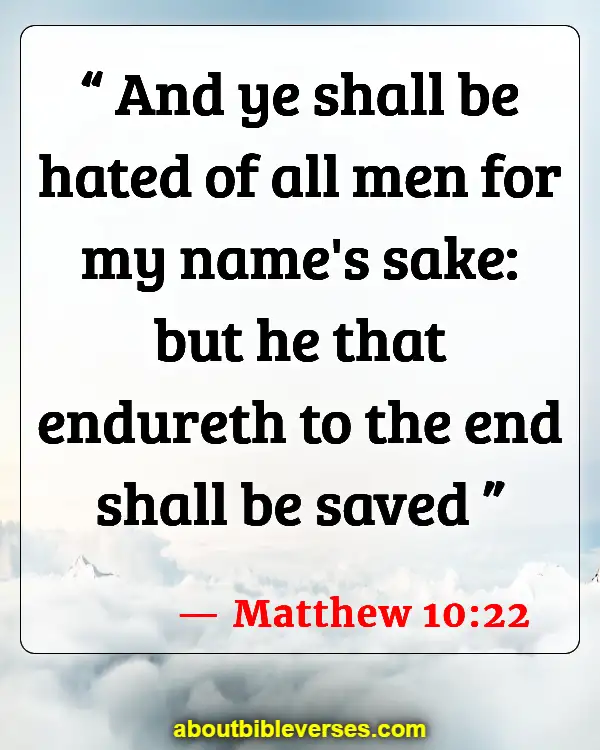 Matthew 10:22
"And ye shall be hated of all men for my name's sake: but he that endureth to the end shall be saved"
2 Timothy 4:18
"And the Lord shall deliver me from every evil work, and will preserve me unto his heavenly kingdom: to whom be glory for ever and ever. Amen"
Psalm 31:24
"Be of good courage, and he shall strengthen your heart, all ye that hope in the Lord"
Revelation 2:2
"I know thy works, and thy labour, and thy patience, and how thou canst not bear them which are evil: and thou hast tried them which say they are apostles, and are not, and hast found them liars"
1 Timothy 6:11
"But thou, O man of God, flee these things; and follow after righteousness, godliness, faith, love, patience, meekness"
Romans 5:3
"And not only so, but we glory in tribulations also: knowing that tribulation worketh patience"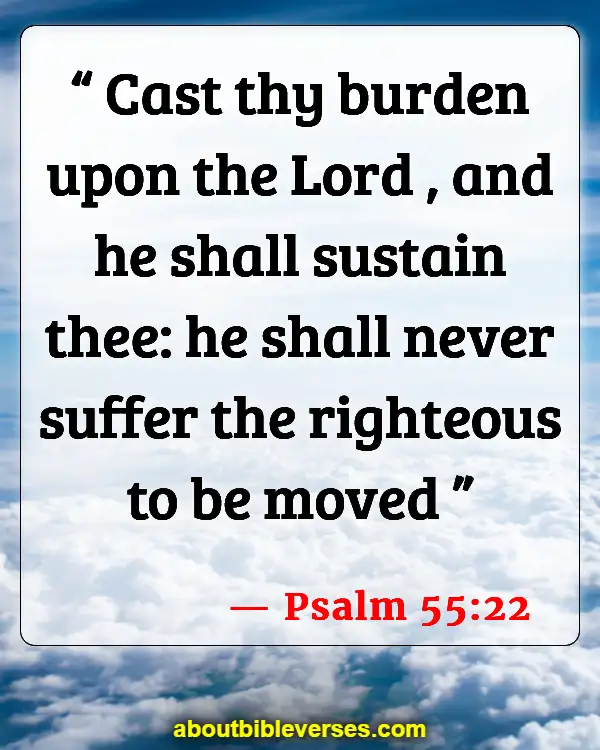 Psalm 55:22
"Cast thy burden upon the Lord , and he shall sustain thee: he shall never suffer the righteous to be moved"
Romans 5:1
"Therefore being justified by faith, we have peace with God through our Lord Jesus Christ"
1 Corinthians 15:58
"Therefore, my beloved brethren, be ye stedfast, unmoveable, always abounding in the work of the Lord, forasmuch as ye know that your labour is not in vain in the Lord"
Deuteronomy 31:6
"Be strong and of a good courage, fear not, nor be afraid of them: for the Lord thy God, he it is that doth go with thee; he will not fail thee, nor forsake thee"
Romans 5:5
"And hope maketh not ashamed; because the love of God is shed abroad in our hearts by the Holy Ghost which is given unto us"
Philippians 1:28
"And in nothing terrified by your adversaries: which is to them an evident token of perdition, but to you of salvation, and that of God"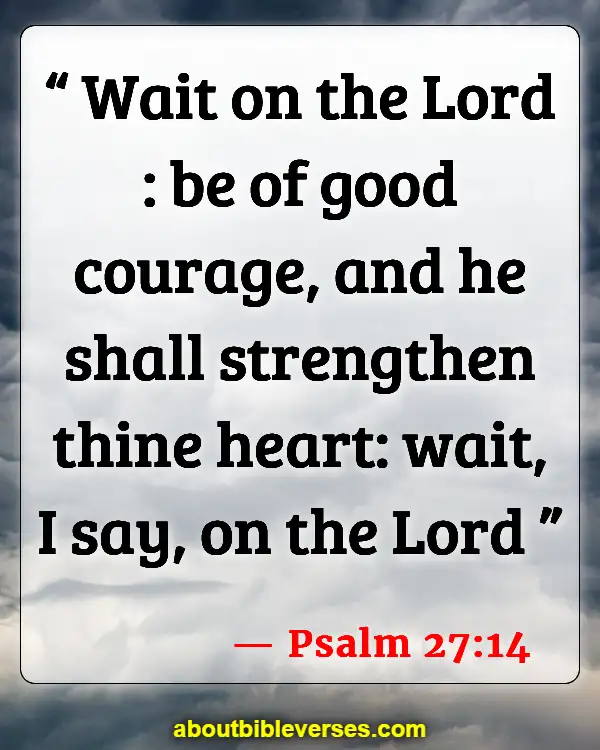 Psalm 27:14
"Wait on the Lord : be of good courage, and he shall strengthen thine heart: wait, I say, on the Lord"
Romans 15:13
"Now the God of hope fill you with all joy and peace in believing, that ye may abound in hope, through the power of the Holy Ghost"
Hebrews 3:14
"For we are made partakers of Christ, if we hold the beginning of our confidence stedfast unto the end"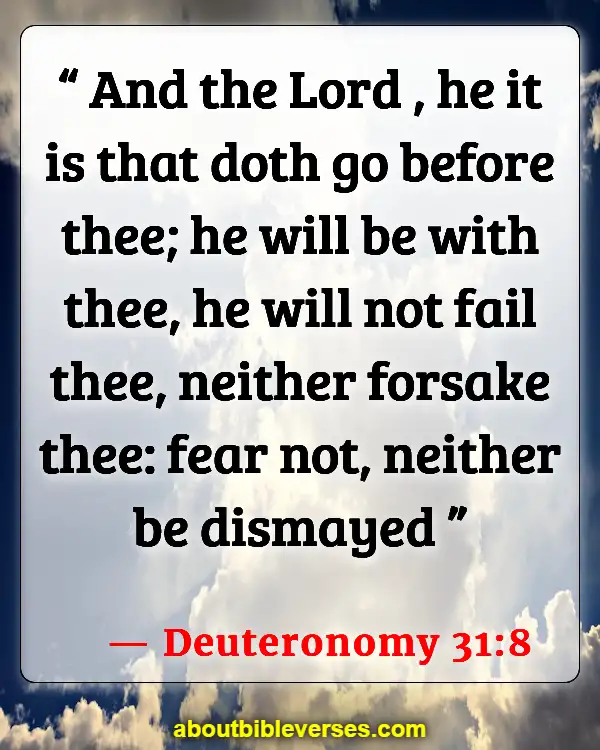 Deuteronomy 31:8
"And the Lord , he it is that doth go before thee; he will be with thee, he will not fail thee, neither forsake thee: fear not, neither be dismayed"
Romans 2:7
"To them who by patient continuance in well doing seek for glory and honour and immortality, eternal life"
Luke 8:15
"But that on the good ground are they, which in an honest and good heart, having heard the word, keep it, and bring forth fruit with patience"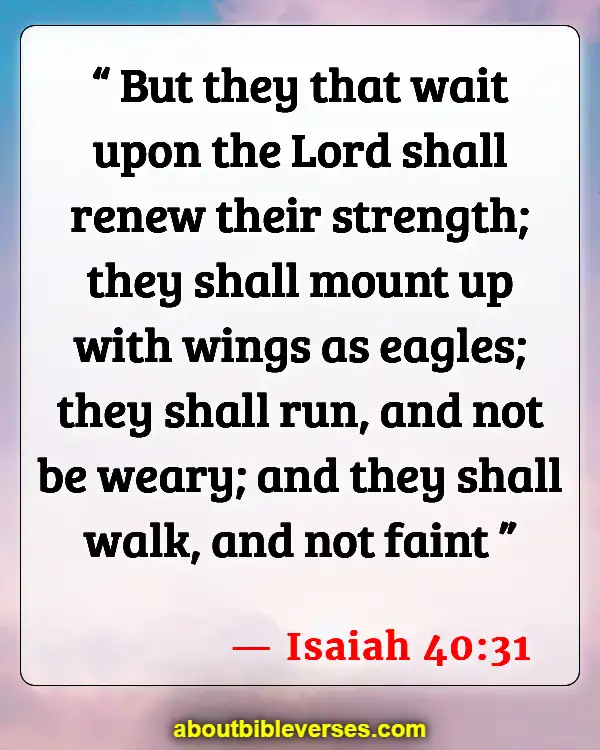 Isaiah 40:31
"But they that wait upon the Lord shall renew their strength; they shall mount up with wings as eagles; they shall run, and not be weary; and they shall walk, and not faint"
Colossians 4:2
"Continue in prayer, and watch in the same with thanksgiving"
1 Corinthians 10:13
"There hath no temptation taken you but such as is common to man: but God is faithful, who will not suffer you to be tempted above that ye are able; but will with the temptation also make a way to escape, that ye may be able to bear it"
Matthew 24:13
"But he that shall endure unto the end, the same shall be saved"
Luke 21:19
"In your patience possess ye your souls"
Job 17:9
"The righteous also shall hold on his way, and he that hath clean hands shall be stronger and stronger"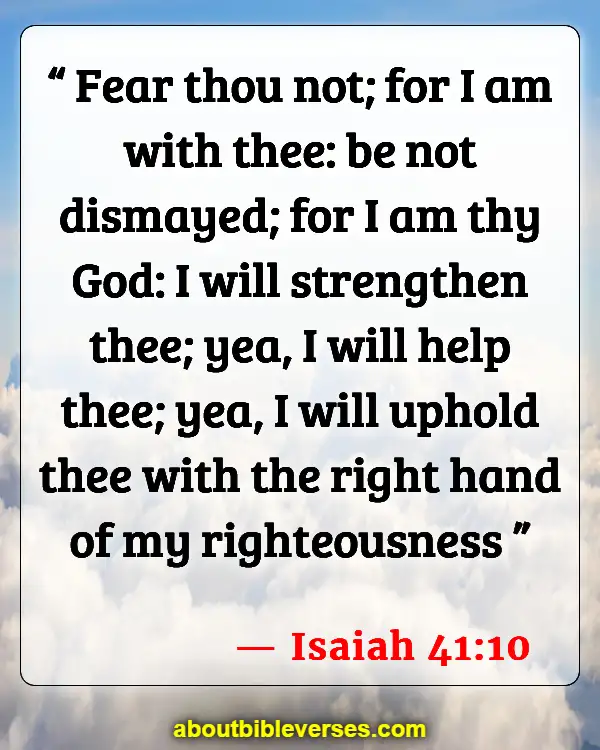 Isaiah 41:10
"Fear thou not; for I am with thee: be not dismayed; for I am thy God: I will strengthen thee; yea, I will help thee; yea, I will uphold thee with the right hand of my righteousness"