Hello dear friends, welcome to our site in the name of Jesus Christ. Today we will look at the Bible Scriptures On Commitment In Relationships In KJV. If you like today's post then definitely comment and share.
The Bible guides us to understand commitment in relationships with incredible clarity. It's like a river that never runs dry, always providing fresh water, which represents constant nourishment and unconditional love.
In the beginning, God created us for companionship, to love and be loved. God is our supreme example, always present, never wavering. This is the foundation of commitment, to be like a rock in the lives of those we hold dear, always there for them, whatever comes our way.
A relationship without commitment is like a tree without roots, it cannot stand in the storm. When we are committed, we're like the sturdy oak, weathering storms and growing stronger, providing shelter and strength to our loved ones.
The Bible teaches us that true commitment means to forgive, just as God forgives us. We must learn to let go of our anger, to hold onto love instead of holding grudges. It is not always easy, but it's the path to a truly enduring relationship.
In this commitment, sacrifice plays a vital part. Love is not just about receiving but giving, sometimes giving up what we hold dear for the sake of our loved ones, like how Jesus gave his life for us. Sacrifice is the ultimate testament of commitment, showing that we value the relationship more than our individual wants.
Thus, commitment, according to the Bible, is to love consistently, forgive generously, and sacrifice selflessly. It's to embody the enduring love that God shows us, a shining beacon guiding us in all our relationships.
Dear Friends, here are some verses that emphasize different aspects of commitment in relationships, such as love, faithfulness, forgiveness, and sacrifice: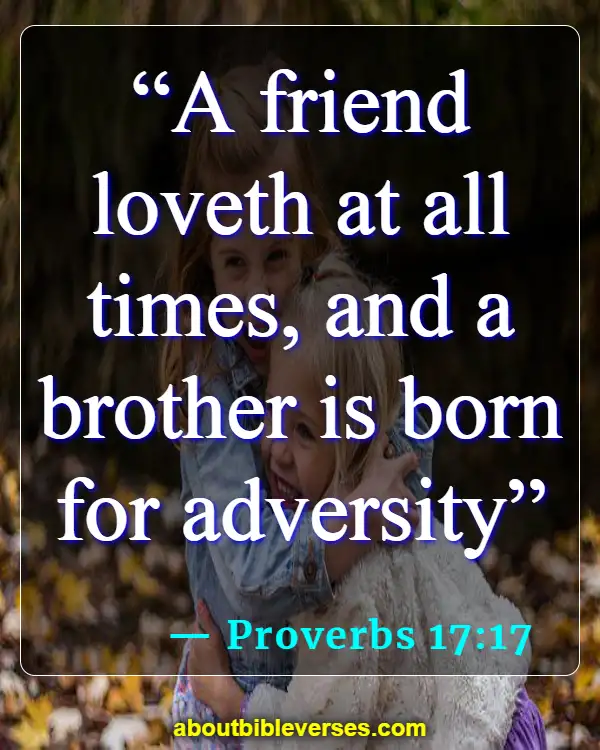 Proverbs 17:17
"A friend loveth at all times, and a brother is born for adversity"
1 Corinthians 13:4-7
"Charity suffereth long, and is kind; charity envieth not; charity vaunteth not itself, is not puffed up, Doth not behave itself unseemly, seeketh not her own, is not easily provoked, thinketh no evil; Rejoiceth not in iniquity, but rejoiceth in the truth; Beareth all things, believeth all things, hopeth all things, endureth all things"
1 John 4:19
"We love him, because he first loved us"
Romans 12:10
"Be kindly affectioned one to another with brotherly love; in honour preferring one another"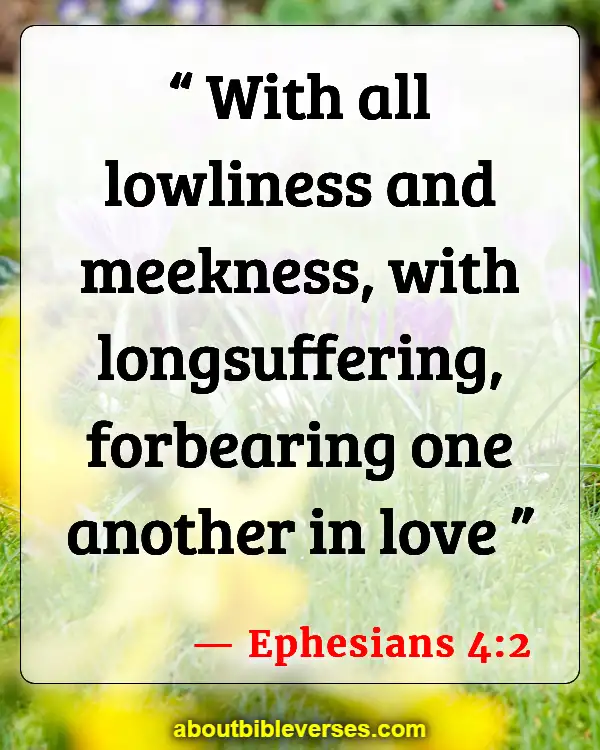 Ephesians 4:2
"With all lowliness and meekness, with longsuffering, forbearing one another in love"
Colossians 3:13
"Forbearing one another, and forgiving one another, if any man have a quarrel against any: even as Christ forgave you, so also do ye"
Ephesians 4:32
"And be ye kind one to another, tenderhearted, forgiving one another, even as God for Christ's sake hath forgiven you"
1 Peter 4:8
"And above all things have fervent charity among yourselves: for charity shall cover the multitude of sins"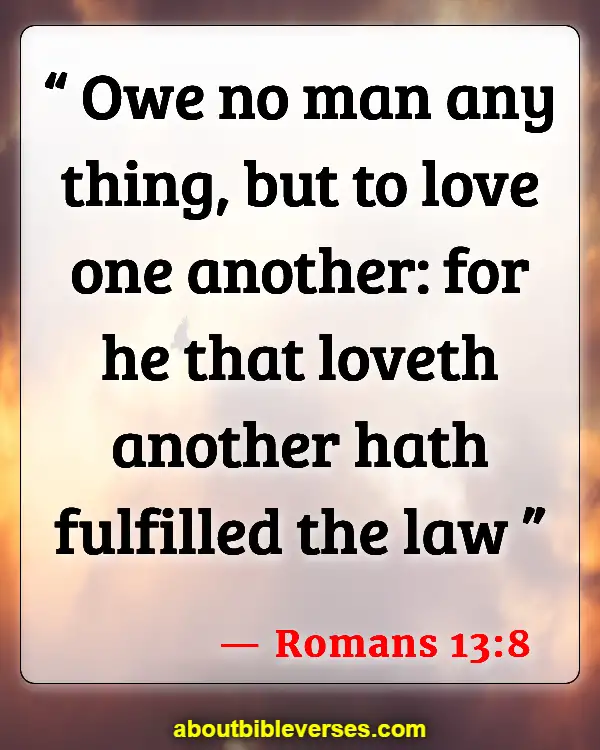 Romans 13:8
"Owe no man any thing, but to love one another: for he that loveth another hath fulfilled the law"
John 13:34
"A new commandment I give unto you, That ye love one another; as I have loved you, that ye also love one another"
Proverbs 10:12
"Hatred stirreth up strifes: but love covereth all sins"
1 John 3:18
"My little children, let us not love in word, neither in tongue; but in deed and in truth"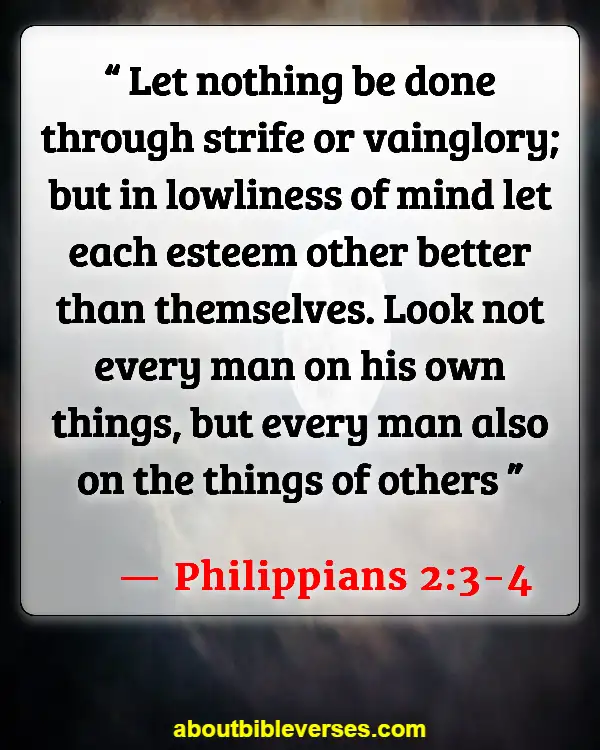 Philippians 2:3-4
"Let nothing be done through strife or vainglory; but in lowliness of mind let each esteem other better than themselves. Look not every man on his own things, but every man also on the things of others"
1 Peter 1:22
"Seeing ye have purified your souls in obeying the truth through the Spirit unto unfeigned love of the brethren, see that ye love one another with a pure heart fervently"
Romans 15:1-2
"We then that are strong ought to bear the infirmities of the weak, and not to please ourselves. Let every one of us please his neighbour for his good to edification"
Ephesians 5:25
"Husbands, love your wives, even as Christ also loved the church, and gave himself for it"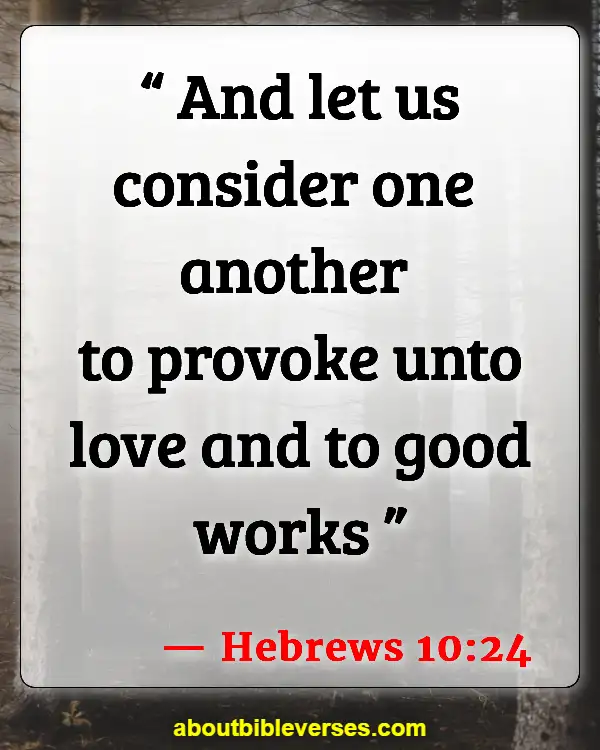 Hebrews 10:24
"And let us consider one another to provoke unto love and to good works"
1 Corinthians 16:14
"Let all your things be done with charity"
Galatians 6:2
"Bear ye one another's burdens, and so fulfil the law of Christ"
Romans 12:15
"Rejoice with them that do rejoice, and weep with them that weep"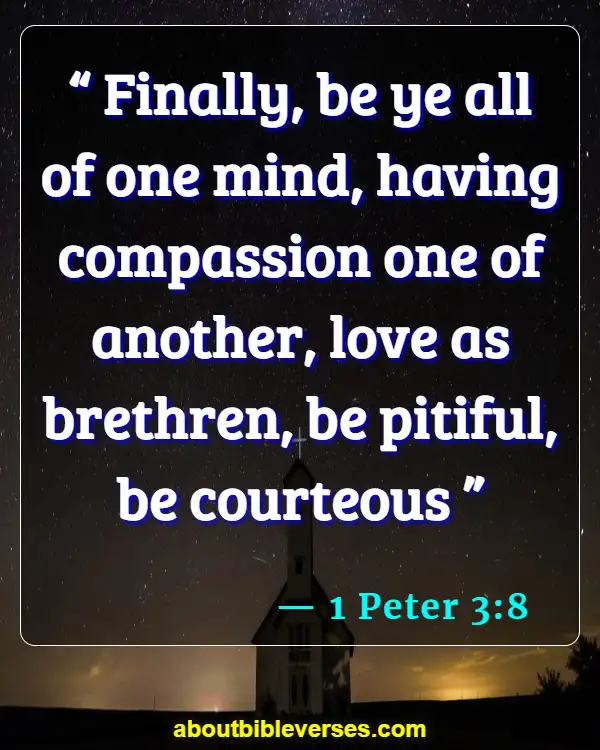 1 Peter 3:8
"Finally, be ye all of one mind, having compassion one of another, love as brethren, be pitiful, be courteous"
Galatians 5:13
"For, brethren, ye have been called unto liberty; only use not liberty for an occasion to the flesh, but by love serve one another"
Romans 12:18
"If it be possible, as much as lieth in you, live peaceably with all men"
Luke 6:31
"And as ye would that men should do to you, do ye also to them likewise"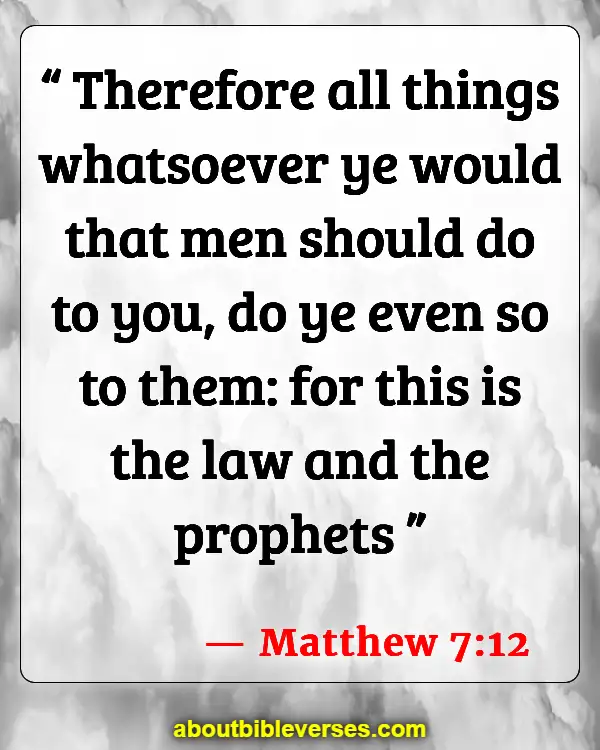 Matthew 7:12
"Therefore all things whatsoever ye would that men should do to you, do ye even so to them: for this is the law and the prophets"
Matthew 22:39
"And the second is like unto it, Thou shalt love thy neighbour as thyself"
1 Peter 3:7
"Likewise, ye husbands, dwell with them according to knowledge, giving honour unto the wife, as unto the weaker vessel, and as being heirs together of the grace of life; that your prayers be not hindered"
Philippians 2:2
"Fulfil ye my joy, that ye be likeminded, having the same love, being of one accord, of one mind"
Colossians 3:19
"Husbands, love your wives, and be not bitter against them"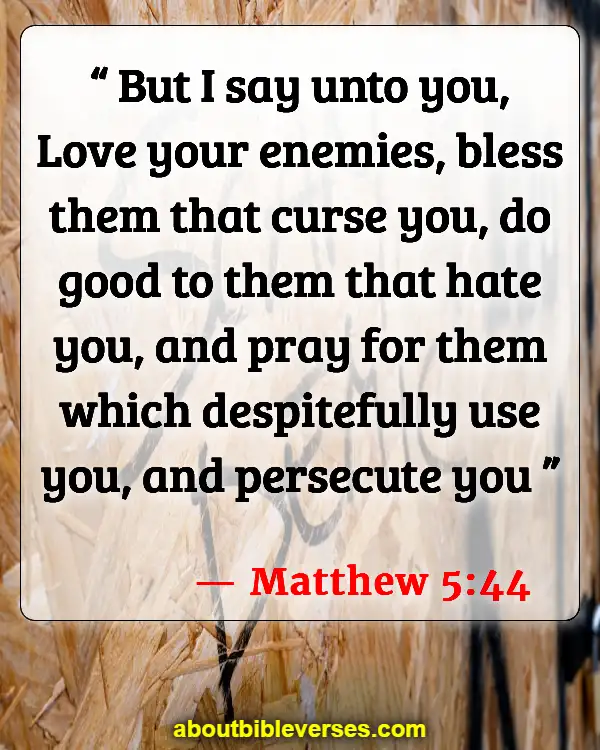 Matthew 5:44
"But I say unto you, Love your enemies, bless them that curse you, do good to them that hate you, and pray for them which despitefully use you, and persecute you"
Romans 12:9
"Let love be without dissimulation. Abhor that which is evil; cleave to that which is good"
1 Corinthians 13:13
"And now abideth faith, hope, charity, these three; but the greatest of these is charity"
Proverbs 16:28
"A froward man soweth strife: and a whisperer separateth chief friends"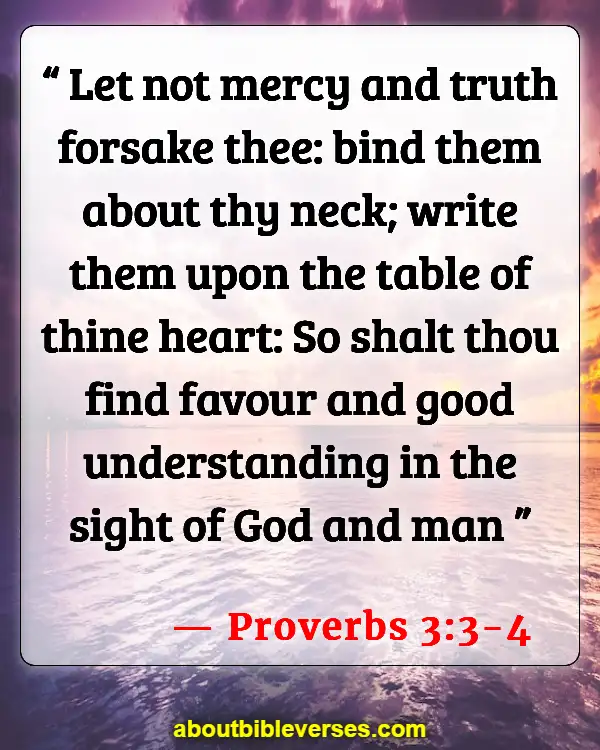 Proverbs 3:3-4
"Let not mercy and truth forsake thee: bind them about thy neck; write them upon the table of thine heart: So shalt thou find favour and good understanding in the sight of God and man"
1 Thessalonians 5:11
"Wherefore comfort yourselves together, and edify one another, even as also ye do"
Romans 14:19
"Let us therefore follow after the things which make for peace, and things wherewith one may edify another"
1 Peter 5:5
"Likewise, ye younger, submit yourselves unto the elder. Yea, all of you be subject one to another, and be clothed with humility: for God resisteth the proud, and giveth grace to the humble"
Proverbs 18:24
"A man that hath friends must shew himself friendly: and there is a friend that sticketh closer than a brother"
2 Corinthians 6:14
"Be ye not unequally yoked together with unbelievers: for what fellowship hath righteousness with unrighteousness? and what communion hath light with darkness?"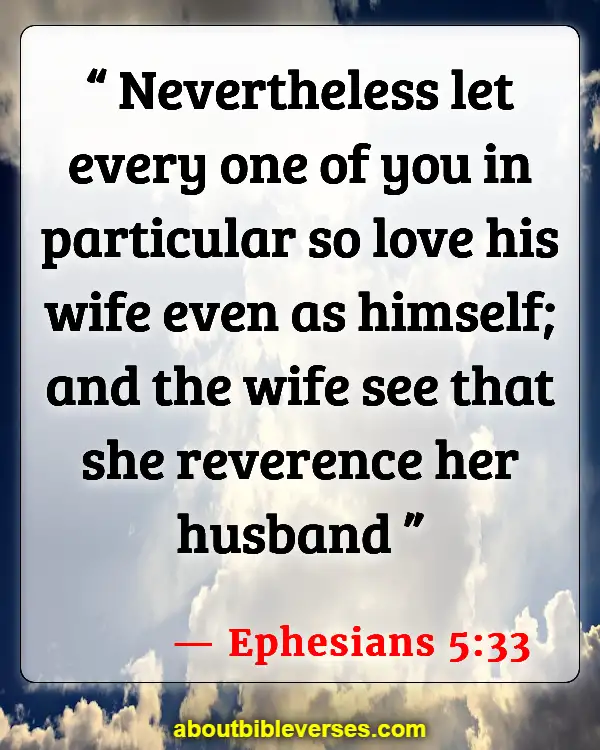 Ephesians 5:33
"Nevertheless let every one of you in particular so love his wife even as himself; and the wife see that she reverence her husband"