Hello dear friends, welcome to our site in the name of Jesus Christ. Today we will look at the Bible Scriptures About Lying And Deceit In KJV. If you like today's post then definitely comment and share.
The Bible teaches us that lies and deception are unacceptable and therefore condemned and considered sins. So we should live with integrity. Through it we honor God, respect others, and build meaningful relationships that are built on trust and love.
His teachings in the Bible are clear that there is no place for dishonesty and lies and that these people are against God's values and principles.
In Proverbs 12:22, it says that "lying lips are an abomination to the Lord," God hates those who choose to be dishonest. Because it equates to evil and sinfulness in God's eyes. The book of Colossians instructs us not to lie to one another and to be renewed in the spirit of our minds (Colossians 3:9-10).
Lies and deception can have serious consequences in our relationships with others and with God. It destroys trust, destroys reputation, and creates division. It goes against the principles of love and compassion, as it often hurts others for our own benefit. On the other hand, truthfulness and honesty build trust, strengthen relationships and demonstrate our love for others.
The God of the Bible claims His people to be holy as He Himself is a holy God. The Lord says that He is watching everyone's deeds and words, and He will judge His people by their deeds at the final judgment.
Jesus tells his followers you learn from me that you may live a righteous life by which the people of this world may know the one, true God.
Dear friends now let's see the Bible scriptures below that talk about Lying And Deceit.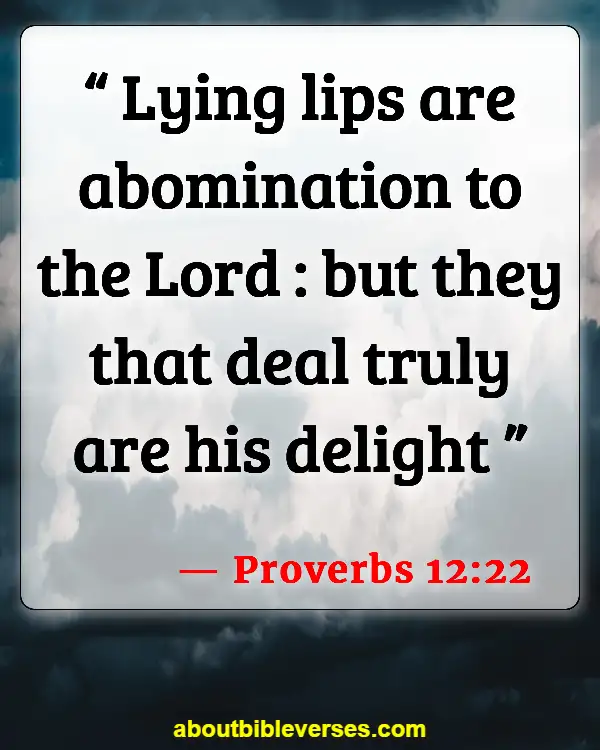 Proverbs 12:22(KJV)"Lying lips are abomination to the Lord: but they that deal truly are his delight"
Explanation:- The Lord hates those who lie against his own people and his neighbor. The Lord looks at our hearts and we will be rewarded if we walk in the faith of righteousness. We should always speak the truth as it is the will of God for his children.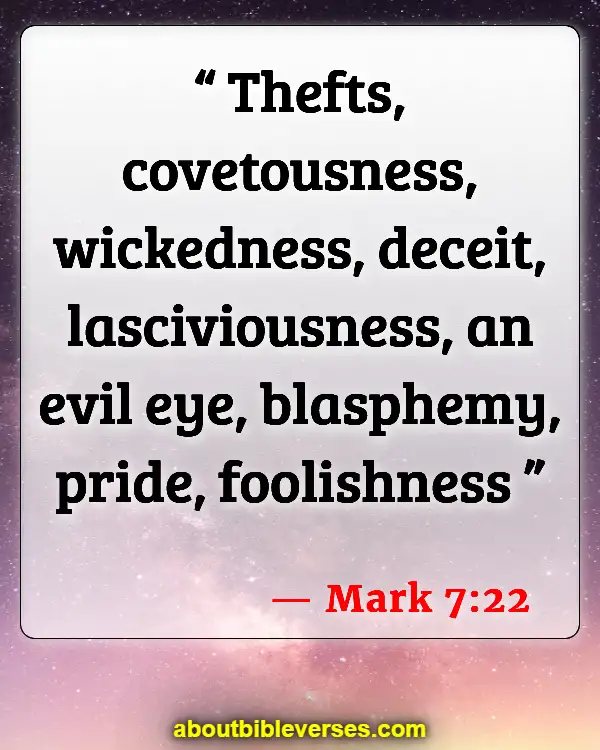 Mark 7:22(KJV)"Thefts, covetousness, wickedness, deceit, lasciviousness, an evil eye, blasphemy, pride, foolishness: All these evil things come from within, and defile the man"
Explanation:- Those who steal other's things without their knowledge become thieves. God does not like this type of people and he also hates those who are greedy and wicked and have pride in their hearts.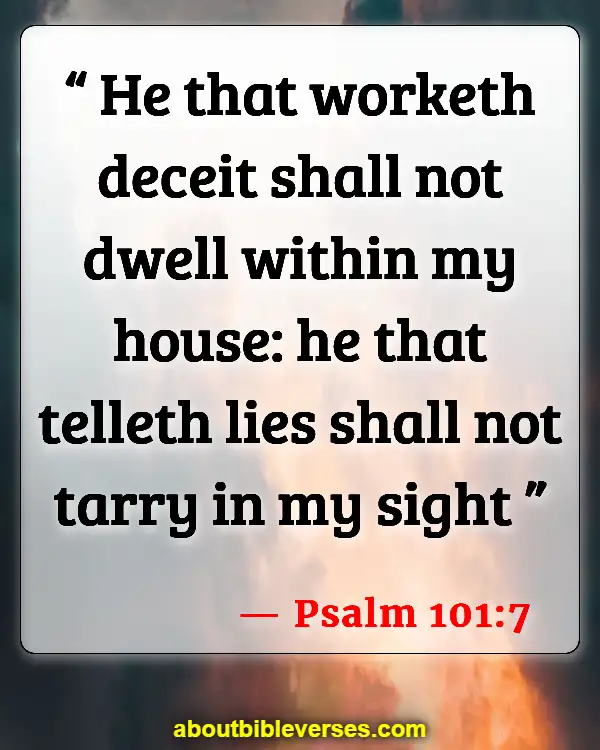 Psalm 101:7(KJV)"He that worketh deceit shall not dwell within my house: he that telleth lies shall not tarry in my sight"
Explanation:- Wicked people will not inherit the kingdom of God. even Jesus says that those who will follow his ways will live with Him eternally. In this world, everyone has received God's grace and has the freedom to choose God or the world.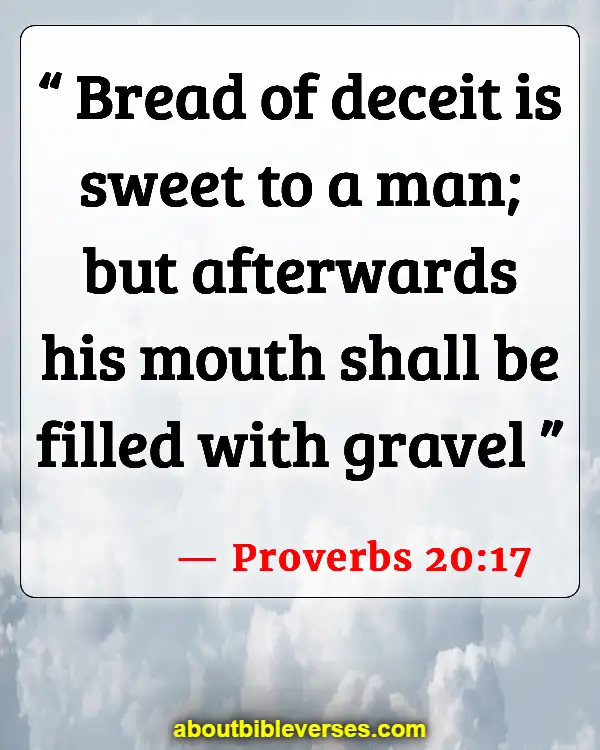 Proverbs 20:17(KJV)"Bread of deceit is sweet to a man; but afterwards his mouth shall be filled with gravel"
Explanation:- Deceitful people are dangerous and they are poisonous in the midst of children of God. Their hearts are full of greed and wickedness. The Lord always hates such people who bring disunity to the Church. It should be noted that the Lord has called us to join in his body.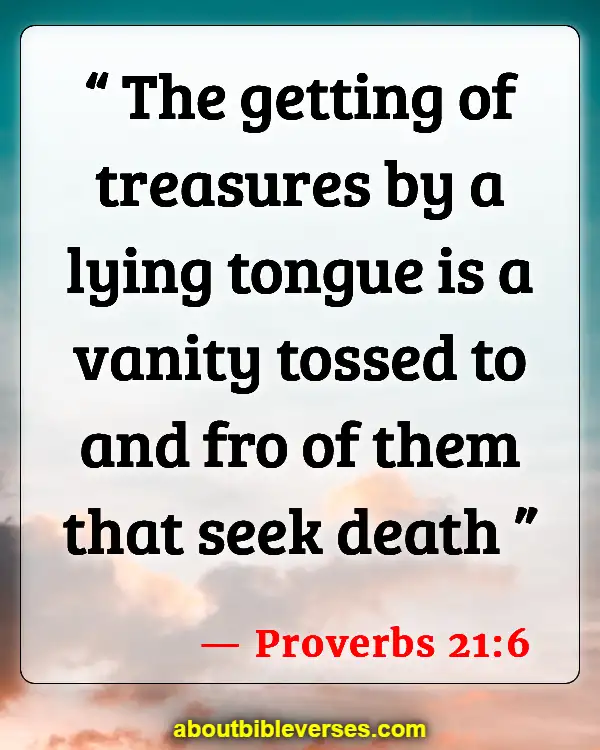 Proverbs 21:6(KJV)"The getting of treasures by a lying tongue is a vanity tossed to and fro of them that seek death"
Explanation:- If a person gathers treasure by lying to others or by receiving others then his wealth will come to an end very soon. The Bible says that those who will obey the words of God will be thrown into the lake of fire for everlasting punishment.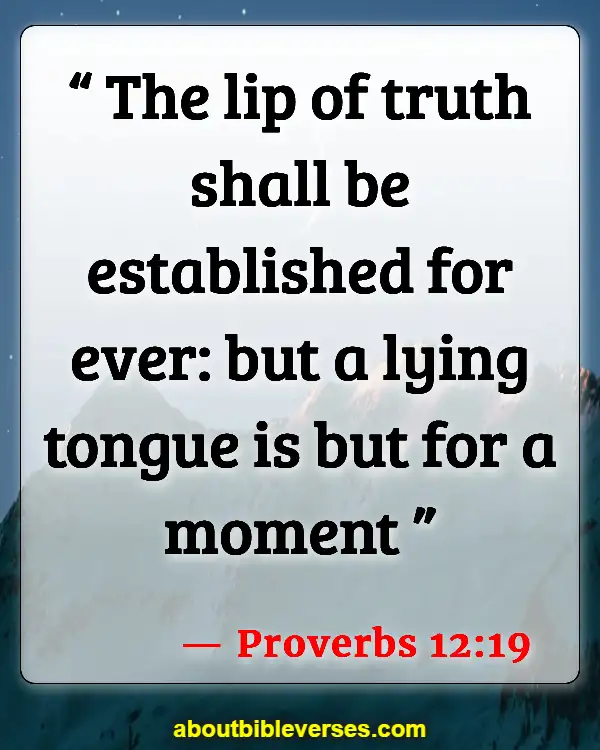 Proverbs 12:19(KJV)"The lip of truth shall be established for ever: but a lying tongue is but for a moment"
Explanation:- People who love to lie will enjoy their life for a moment and they will miss the golden days that are waiting for the children of God in heaven. But those who will walk in the truth will be rewarded with everlasting life.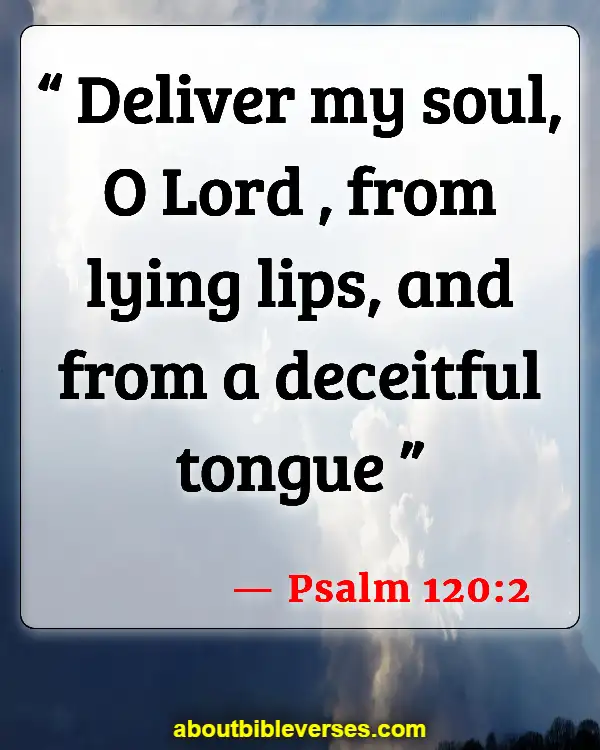 Psalm 120:2(KJV)"Deliver my soul, O Lord, from lying lips, and from a deceitful tongue"
Explanation:- We should also ask God to help us so that we can give up our bad habits, especially speaking lies to people. We need to control our tongue in Infront of people as it can cause trouble before them.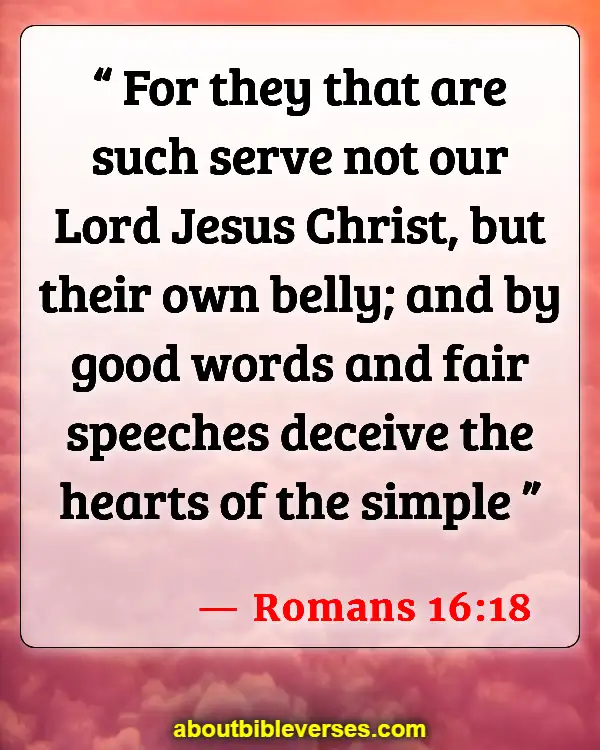 Romans 16:18(KJV)"For they that are such serve not our Lord Jesus Christ, but their own belly; and by good words and fair speeches deceive the hearts of the simple"
Explanation:- In this world, we can find many Christians who are always speaking evil and lying. The word of God says that they are outwardly righteous and living for their own belly.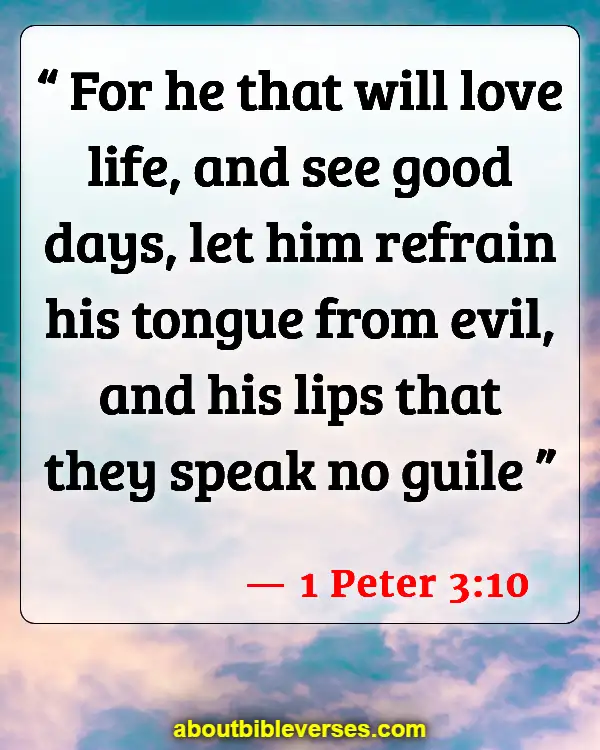 1 Peter 3:10(KJV)"For he that will love life, and see good days, let him refrain his tongue from evil, and his lips that they speak no guile"
Explanation:- If somebody really loves his life then he must abstain from speaking lies and evil before others.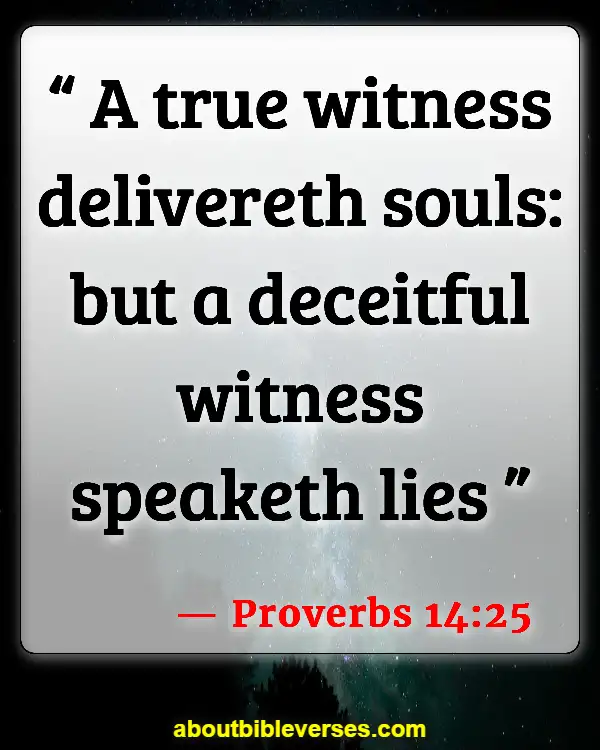 Proverbs 14:25(KJV)"A true witness delivers souls: but a deceitful witness speaketh lies"
Explanation:- a witness who is a God-fearing person will always pick the food before the man but the witness who loves to seek his own benefits will speak lie before others.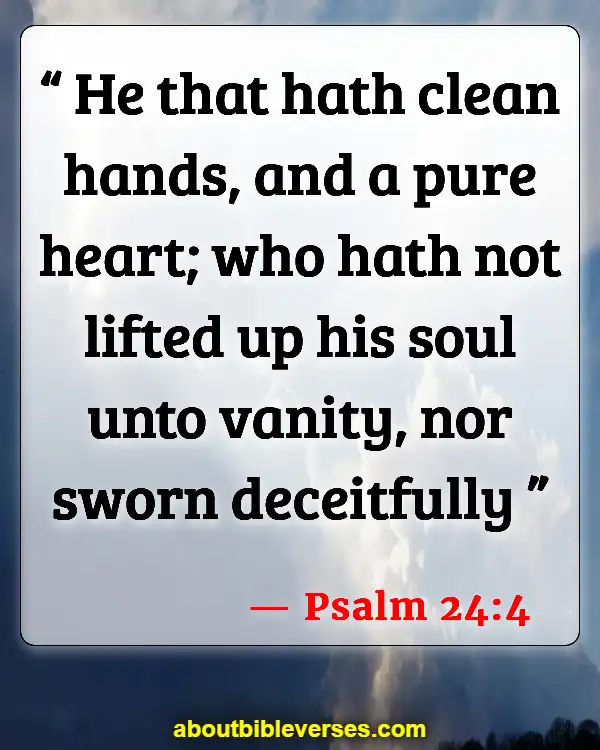 Psalm 24:4(KJV)"He that hath clean hands, and a pure heart; who hath not lifted up his soul unto vanity, nor sworn deceitfully"
Explanation:- A person who has clean hands and a pure heart will always walk in God's ways which will help him to enter into the promised land that is heaven.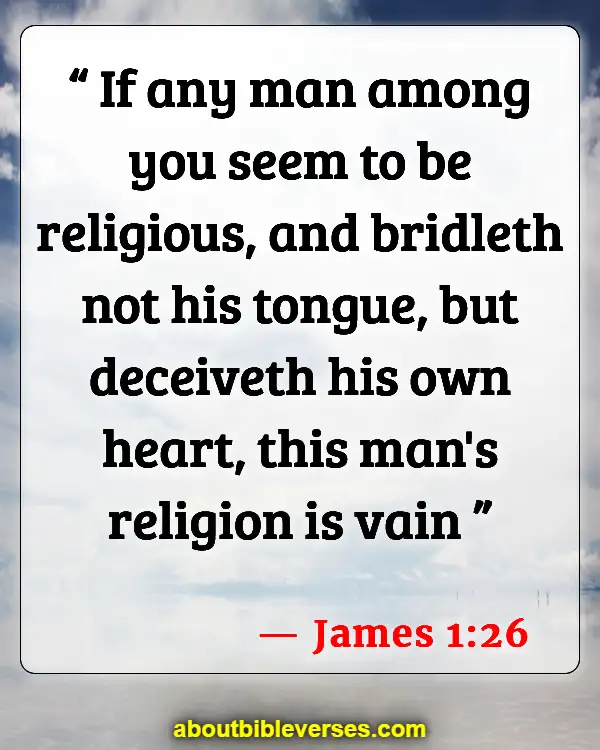 James 1:26(KJV)" If any man among you seem to be religious, and bridleth not his tongue, but deceiveth his own heart, this man's religion is vain"
Explanation:- A man who shows himself religious but does not speak OK what is true then he is deceiving his own heart and his righteousness is useless.
Leviticus 19:11(KJV)"Ye shall not steal, neither deal falsely, neither lie one to another"
Explanation:- in the old testament the children of Israel were not to steal nor to deal falsely against one another because God is watching everyone and he will give them the punishment according to their works.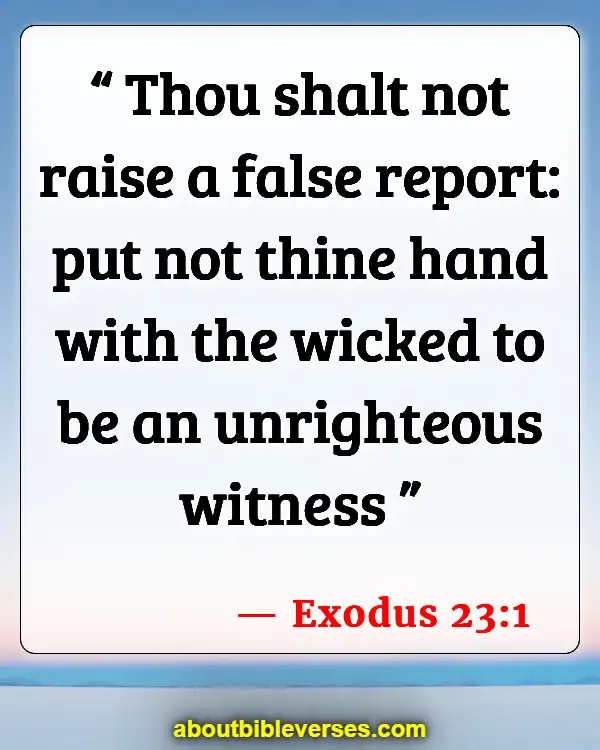 Exodus 23:1(KJV)"Thou shalt not raise a false report: put not thine hand with the wicked to be an unrighteous witness"
Explanation:- The Jews were commanded not to bear a false report against their own people. If they could have brought such evil reports then they were commanded to face the judgment by the Lord.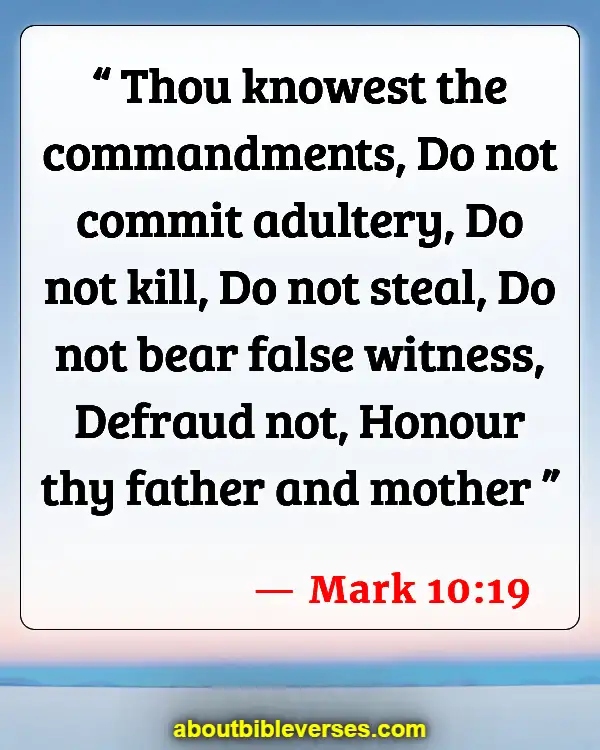 Mark 10:19(KJV)"Thou knowest the commandments, Do not commit adultery, Do not kill, Do not steal, Do not bear false witness, Defraud not, Honour thy father and mother"
Explanation:- the children of God must follow all the commandments of the Lord so that Jesus Christ will reward them. this should not steal or be our false witness among the people and they must leave a righteous life that will glorify God himself.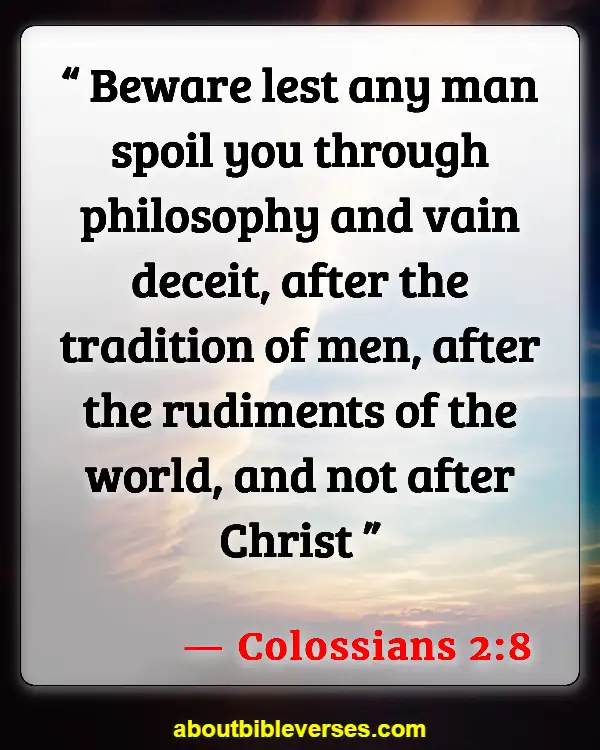 Colossians 2:8(KJV)"Beware lest any man spoil you through philosophy and vain deceit, after the tradition of men, after the rudiments of the world, and not after Christ"
Explanation:- Many people in this world are destroyed by worldly rituals and systems and they had forgotten what Christ says to do. we must be careful concerning our activities because the Lord will judge us according to the works that we are going on this earth.