Dear friends, many of us struggle under the weight of guilt and regret over past mistakes. We allow our failures and sins to define us, even after seeking forgiveness. How can we break free from the mistakes of our past?
The Bible reminds us that condemnation has no place in the lives of those who are in Christ Jesus. He bore all our sins and shame on the cross, in order that we might have new life in Him. When we repent and ask God's forgiveness, He remembers our sins no more.
Rather than staying stuck in the rut of the past, God calls us to move forward in newness of life and freedom. We can't go back and undo past mistakes, but we can stop carrying their burdens today. His mercies are new every morning – we need only to receive them with open and humble hearts.
The accuser wants us chained to former regrets, but the Holy Spirit empowers us to walk in freedom and purpose. As we fix our eyes on Jesus, past guilt and failures lose their grip over us. God still has a purpose for our lives, and it is not defined by our past mistakes.
Dear friends, leave condemnation behind today. Do not listen to voices that seek to keep you trapped in the past. God has forgiven you, freed you, and called you to walk boldly into the future He has prepared.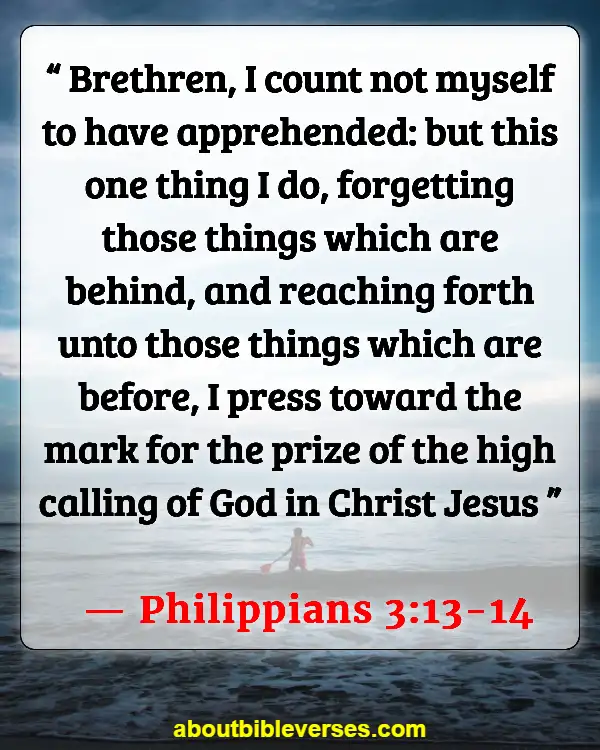 Philippians 3:13-14
"Brethren, I count not myself to have apprehended: but this one thing I do, forgetting those things which are behind, and reaching forth unto those things which are before, I press toward the mark for the prize of the high calling of God in Christ Jesus"
Psalm 103:12
"As far as the east is from the west, so far hath he removed our transgressions from us"
Isaiah 43:18-19
"Remember ye not the former things, neither consider the things of old. Behold, I will do a new thing; now it shall spring forth; shall ye not know it? I will even make a way in the wilderness, and rivers in the desert"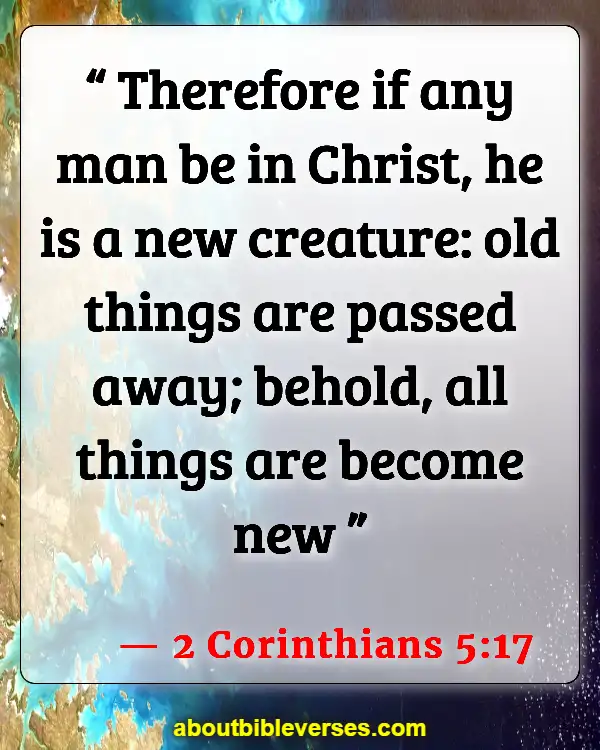 2 Corinthians 5:17
"Therefore if any man be in Christ, he is a new creature: old things are passed away; behold, all things are become new"
Romans 8:1
"There is therefore now no condemnation to them which are in Christ Jesus, who walk not after the flesh, but after the Spirit"
Psalm 51:10
"Create in me a clean heart, O God; and renew a right spirit within me"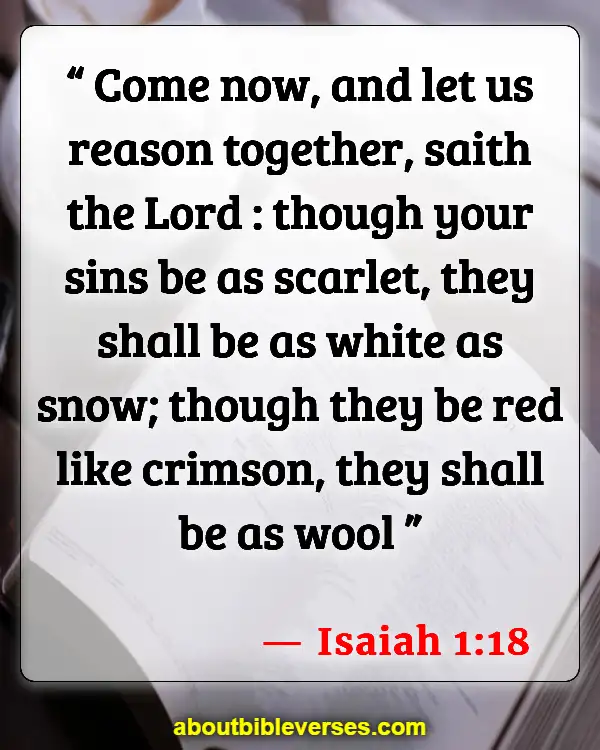 Isaiah 1:18
"Come now, and let us reason together, saith the Lord : though your sins be as scarlet, they shall be as white as snow; though they be red like crimson, they shall be as wool"
Micah 7:19
"He will turn again, he will have compassion upon us; he will subdue our iniquities; and thou wilt cast all their sins into the depths of the sea"
Hebrews 8:12
"For I will be merciful to their unrighteousness, and their sins and their iniquities will I remember no more"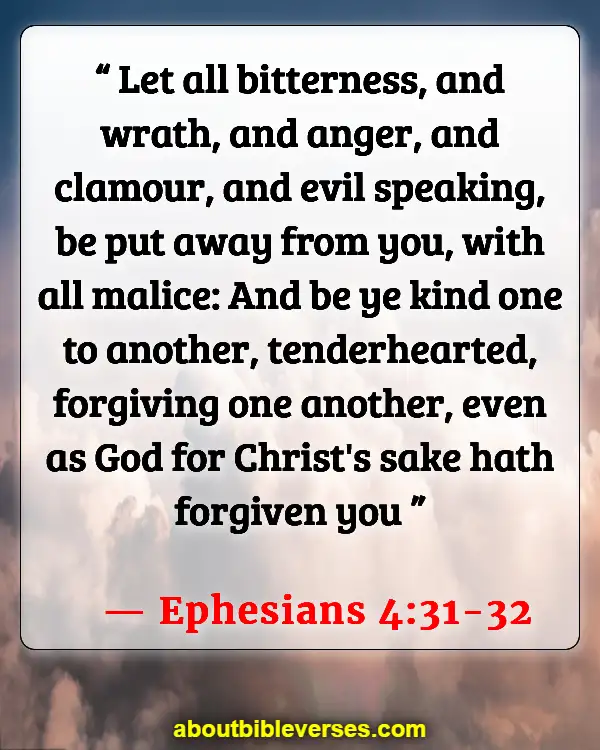 Ephesians 4:31-32
"Let all bitterness, and wrath, and anger, and clamour, and evil speaking, be put away from you, with all malice: And be ye kind one to another, tenderhearted, forgiving one another, even as God for Christ's sake hath forgiven you"
1 John 1:9
"If we confess our sins, he is faithful and just to forgive us our sins, and to cleanse us from all unrighteousness"
Psalm 32:5
"I acknowledge my sin unto thee, and mine iniquity have I not hid. I said, I will confess my transgressions unto the Lord ; and thou forgavest the iniquity of my sin. Selah"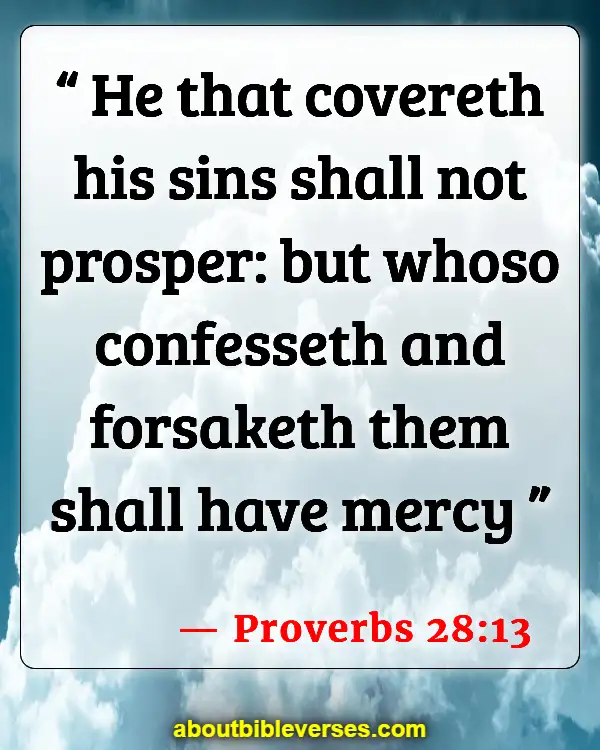 Proverbs 28:13
"He that covereth his sins shall not prosper: but whoso confesseth and forsaketh them shall have mercy"
Isaiah 55:7
"Let the wicked forsake his way, and the unrighteous man his thoughts: and let him return unto the Lord , and he will have mercy upon him; and to our God, for he will abundantly pardon"
Acts 3:19
"Repent ye therefore, and be converted, that your sins may be blotted out, when the times of refreshing shall come from the presence of the Lord"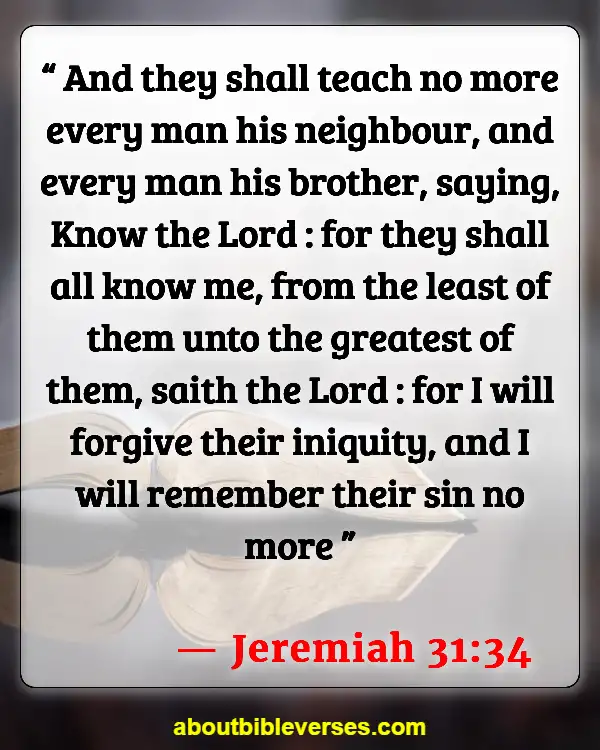 Jeremiah 31:34
"And they shall teach no more every man his neighbour, and every man his brother, saying, Know the Lord : for they shall all know me, from the least of them unto the greatest of them, saith the Lord : for I will forgive their iniquity, and I will remember their sin no more"
Psalm 38:18
"For I will declare mine iniquity; I will be sorry for my sin"
Romans 5:8
"But God commendeth his love toward us, in that, while we were yet sinners, Christ died for us"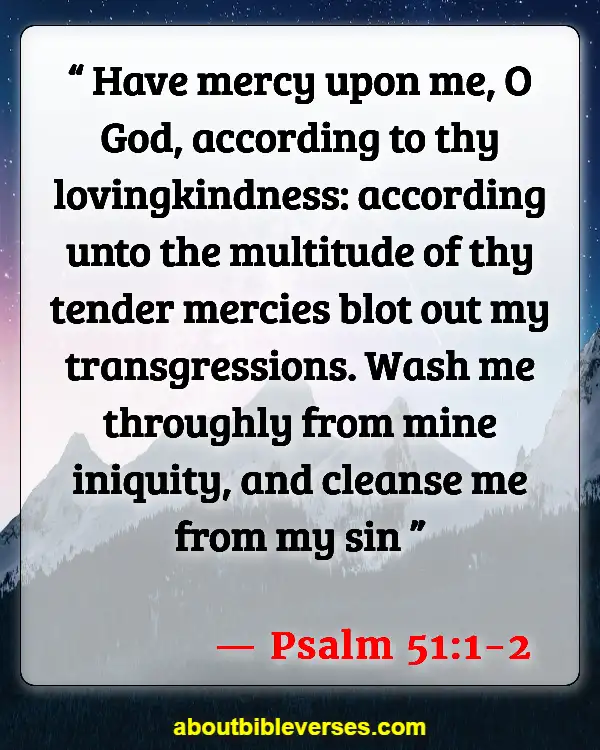 Psalm 51:1-2
"Have mercy upon me, O God, according to thy lovingkindness: according unto the multitude of thy tender mercies blot out my transgressions. Wash me throughly from mine iniquity, and cleanse me from my sin"
Psalm 86:5
"For thou, Lord, art good, and ready to forgive; and plenteous in mercy unto all them that call upon thee"
Isaiah 38:17
"Behold, for peace I had great bitterness: but thou hast in love to my soul delivered it from the pit of corruption: for thou hast cast all my sins behind thy back"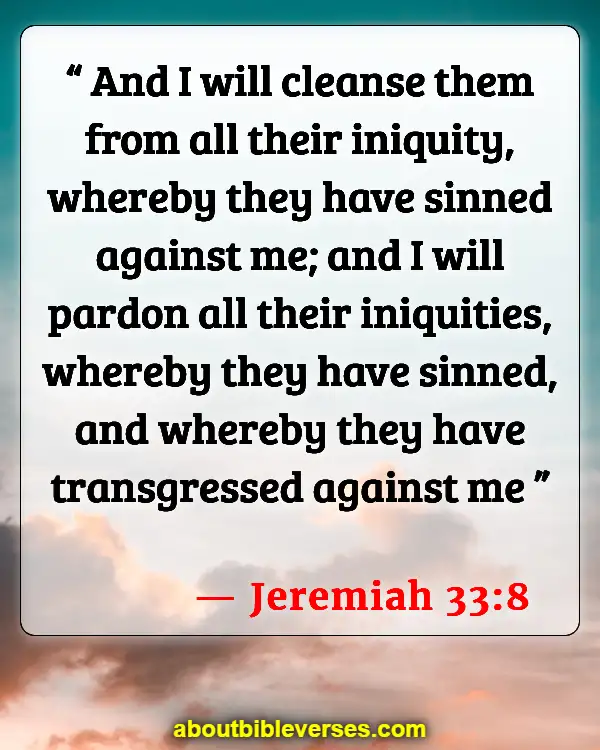 Jeremiah 33:8
"And I will cleanse them from all their iniquity, whereby they have sinned against me; and I will pardon all their iniquities, whereby they have sinned, and whereby they have transgressed against me"
Hebrews 10:22
"Let us draw near with a true heart in full assurance of faith, having our hearts sprinkled from an evil conscience, and our bodies washed with pure water"
1 John 2:12
"I write unto you, little children, because your sins are forgiven you for his name's sake"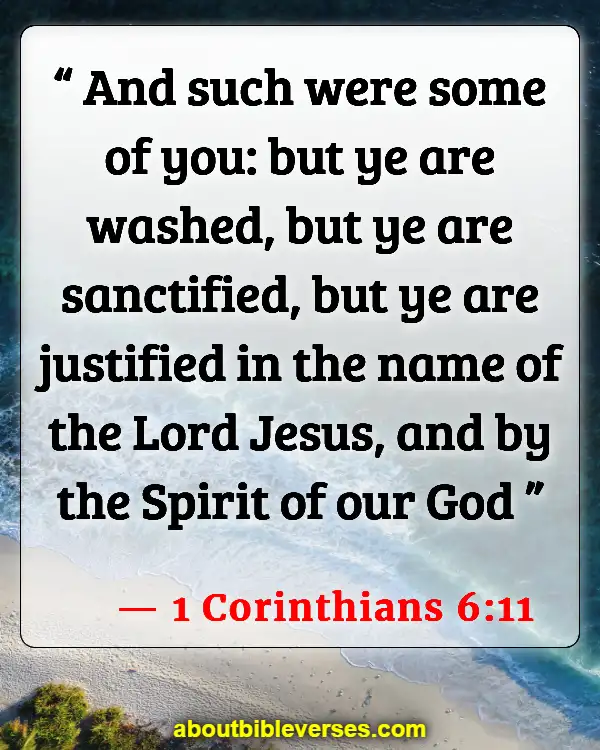 1 Corinthians 6:11
"And such were some of you: but ye are washed, but ye are sanctified, but ye are justified in the name of the Lord Jesus, and by the Spirit of our God"
Psalm 130:3-4
"If thou, Lord , shouldest mark iniquities, O Lord, who shall stand? But there is forgiveness with thee, that thou mayest be feared"
2 Peter 3:9
"The Lord is not slack concerning his promise, as some men count slackness; but is longsuffering to us-ward, not willing that any should perish, but that all should come to repentance"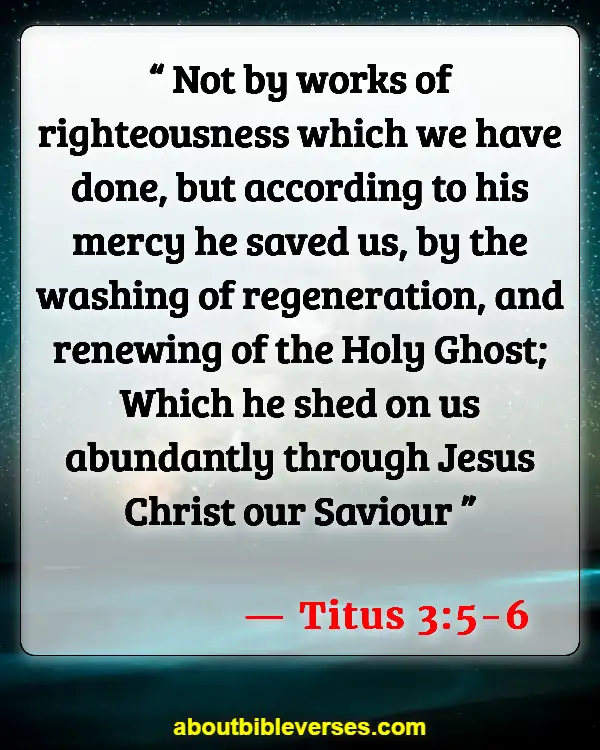 Titus 3:5-6
"Not by works of righteousness which we have done, but according to his mercy he saved us, by the washing of regeneration, and renewing of the Holy Ghost; Which he shed on us abundantly through Jesus Christ our Saviour"
Ephesians 4:22-24
"That ye put off concerning the former conversation the old man, which is corrupt according to the deceitful lusts; And be renewed in the spirit of your mind; And that ye put on the new man, which after God is created in righteousness and true holiness"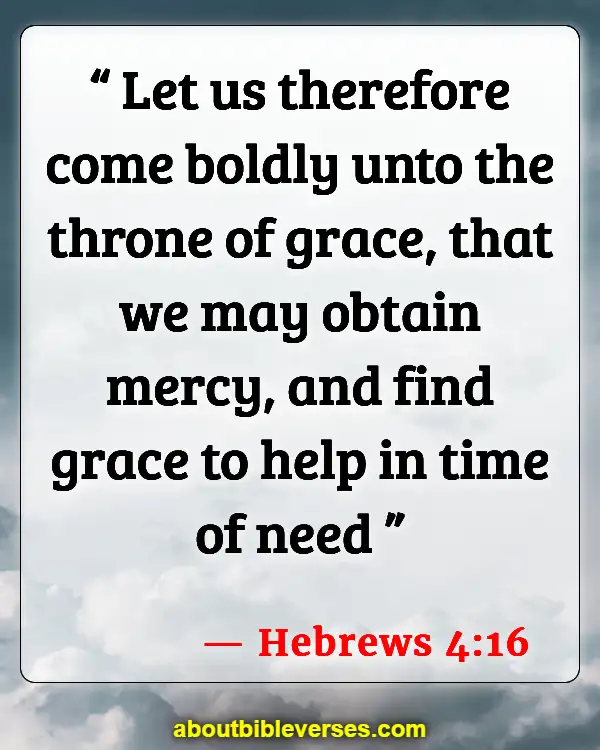 Hebrews 4:16
"Let us therefore come boldly unto the throne of grace, that we may obtain mercy, and find grace to help in time of need"