Dear friends, Patience is a virtue valued throughout the Bible. Waiting can be difficult, but God rewards those who persevere. When we pray and work for something good, God may delay fulfilling our desires to strengthen our faith or teach us to rely on Him. Other times, God's perfect timing is simply different than ours.
Consider the example of Abraham and Sarah. For decades they waited for the child God promised, growing so old that having a baby seemed impossible. Yet God's timing was perfect. He used their advanced age to display His mighty power, and their son Isaac became the father of God's chosen people.
In a similar way, we must trust God even when we cannot see how He is working during long seasons of waiting. He knows what is best for us, and can accomplish more than we imagine if we do not give up hope. The Lord can use times of patient endurance to purify our motives, deepen our spiritual roots, and shape our character to reflect Jesus.
Waiting is easier when we fix our eyes on God's faithfulness, rely on His strength for each day, and find joy in serving Him now. Our Father promises wonderful plans for our future. As we wait, may we "be joyful in hope, patient in affliction, faithful in prayer" (Romans 12:12). The Lord is good to those who seek Him. At just the right time, He will fulfill His promises.
Dear friends, now let's see the Bible scriptures below that talk about "Good Things Come to Those Who Wait."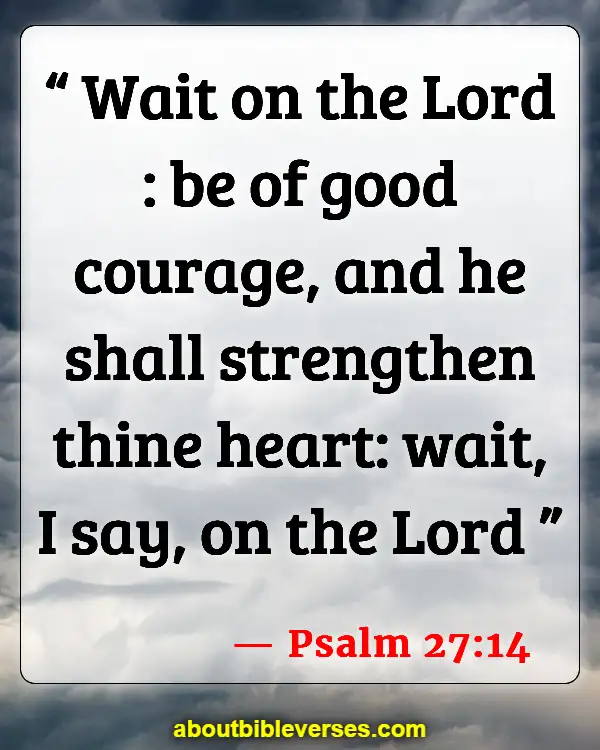 Psalm 27:14
"Wait on the Lord : be of good courage, and he shall strengthen thine heart: wait, I say, on the Lord"
Isaiah 40:31
"But they that wait upon the Lord shall renew their strength; they shall mount up with wings as eagles; they shall run, and not be weary; and they shall walk, and not faint"
James 5:7
"Be patient therefore, brethren, unto the coming of the Lord. Behold, the husbandman waiteth for the precious fruit of the earth, and hath long patience for it, until he receive the early and latter rain"
Lamentations 3:25
"The Lord is good unto them that wait for him, to the soul that seeketh him"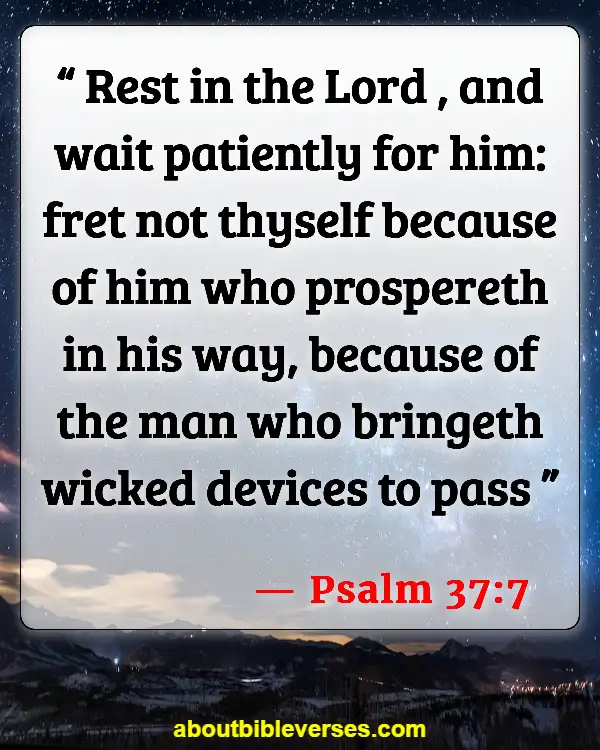 Psalm 37:7
"Rest in the Lord , and wait patiently for him: fret not thyself because of him who prospereth in his way, because of the man who bringeth wicked devices to pass"
Proverbs 20:22
"Say not thou, I will recompense evil; but wait on the Lord , and he shall save thee"
Habakkuk 2:3
"For the vision is yet for an appointed time, but at the end it shall speak, and not lie: though it tarry, wait for it; because it will surely come, it will not tarry"
Psalm 37:9
"For evildoers shall be cut off: but those that wait upon the Lord , they shall inherit the earth"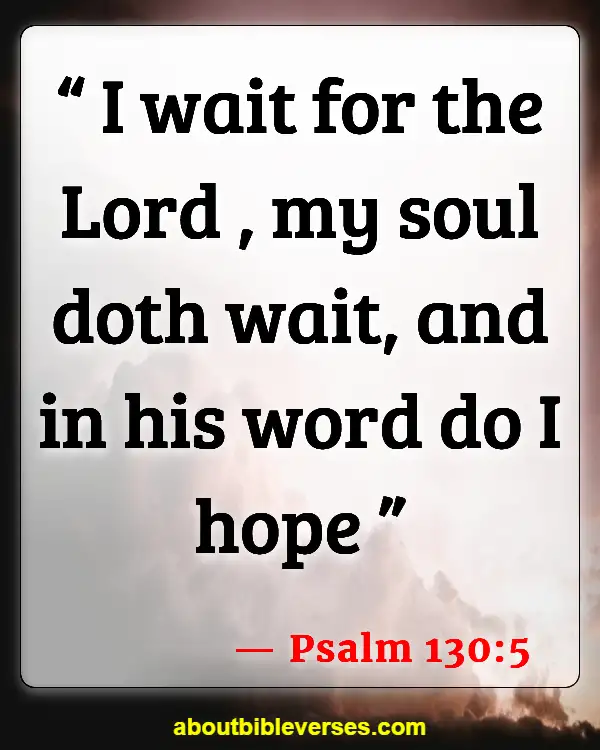 Psalm 130:5
"I wait for the Lord , my soul doth wait, and in his word do I hope"
Proverbs 14:29
"He that is slow to wrath is of great understanding: but he that is hasty of spirit exalteth folly"
Psalm 40:1
"I waited patiently for the Lord ; and he inclined unto me, and heard my cry"
Romans 8:25
"But if we hope for that we see not, then do we with patience wait for it"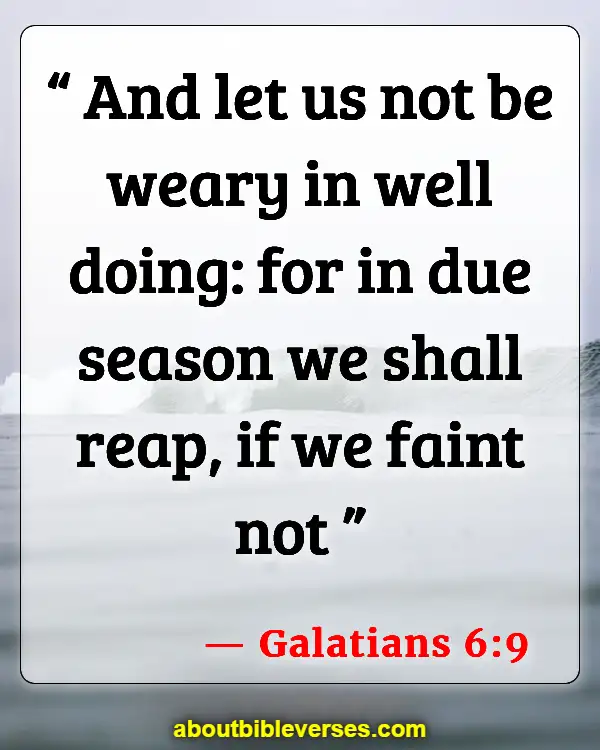 Galatians 6:9
"And let us not be weary in well doing: for in due season we shall reap, if we faint not"
Isaiah 30:18
"And therefore will the Lord wait, that he may be gracious unto you, and therefore will he be exalted, that he may have mercy upon you: for the Lord is a God of judgment: blessed are all they that wait for him"
Psalm 62:5
"My soul, wait thou only upon God; for my expectation is from him"
Ecclesiastes 7:8
"Better is the end of a thing than the beginning thereof: and the patient in spirit is better than the proud in spirit"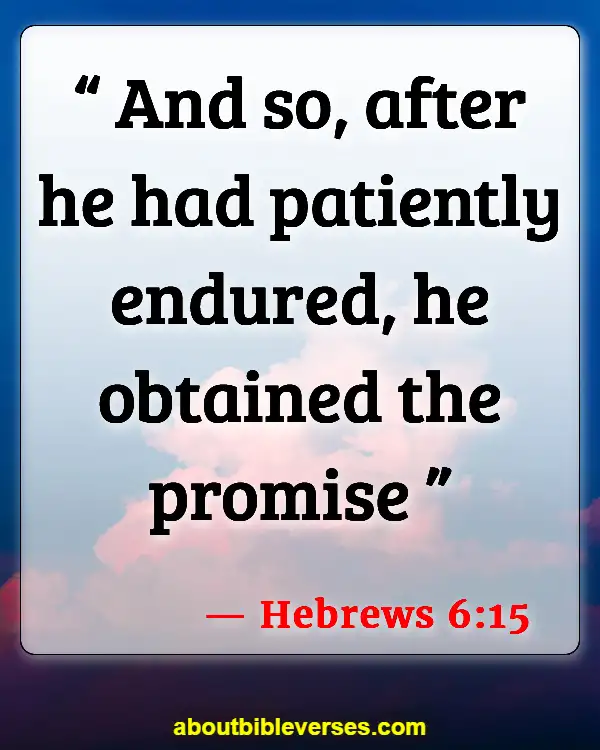 Hebrews 6:15
"And so, after he had patiently endured, he obtained the promise"
Proverbs 16:32
"He that is slow to anger is better than the mighty; and he that ruleth his spirit than he that taketh a city"
Romans 2:7
"To them who by patient continuance in well doing seek for glory and honour and immortality, eternal life"
Micah 7:7
"Therefore I will look unto the Lord ; I will wait for the God of my salvation: my God will hear me"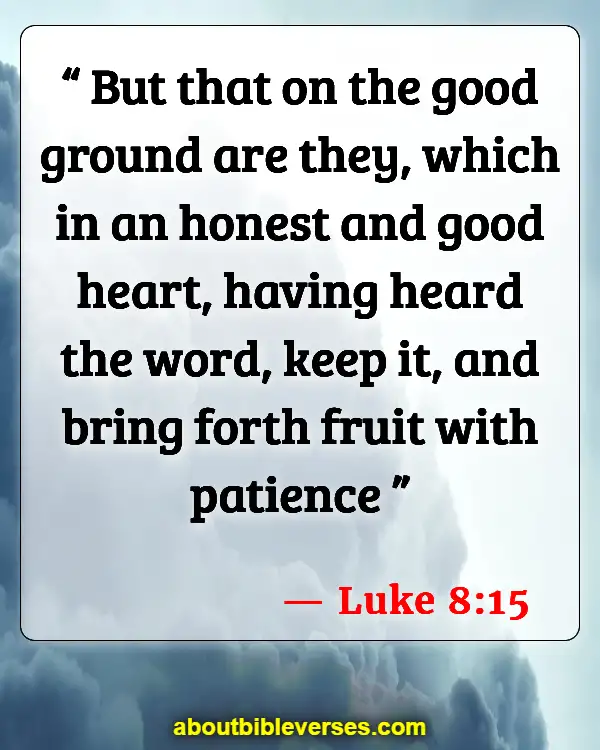 Luke 8:15
"But that on the good ground are they, which in an honest and good heart, having heard the word, keep it, and bring forth fruit with patience"
James 5:8
"Be ye also patient; stablish your hearts: for the coming of the Lord draweth nigh"
Psalm 123:2
"Behold, as the eyes of servants look unto the hand of their masters, and as the eyes of a maiden unto the hand of her mistress; so our eyes wait upon the Lord our God, until that he have mercy upon us"
Isaiah 64:4
"For since the beginning of the world men have not heard, nor perceived by the ear, neither hath the eye seen, O God, beside thee, what he hath prepared for him that waiteth for him"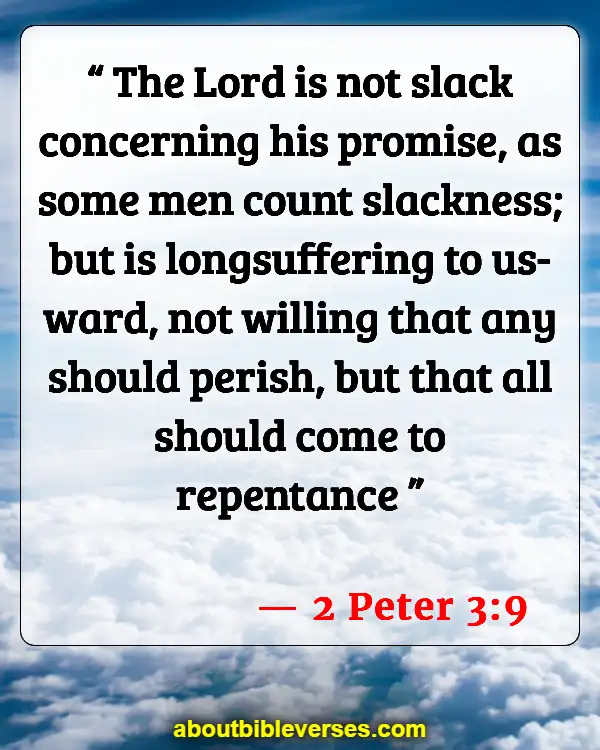 2 Peter 3:9
"The Lord is not slack concerning his promise, as some men count slackness; but is longsuffering to us-ward, not willing that any should perish, but that all should come to repentance"
Colossians 1:11
"Strengthened with all might, according to his glorious power, unto all patience and longsuffering with joyfulness"
Romans 15:4
"For whatsoever things were written aforetime were written for our learning, that we through patience and comfort of the scriptures might have hope"
Psalm 5:3
"My voice shalt thou hear in the morning, O Lord ; in the morning will I direct my prayer unto thee, and will look up"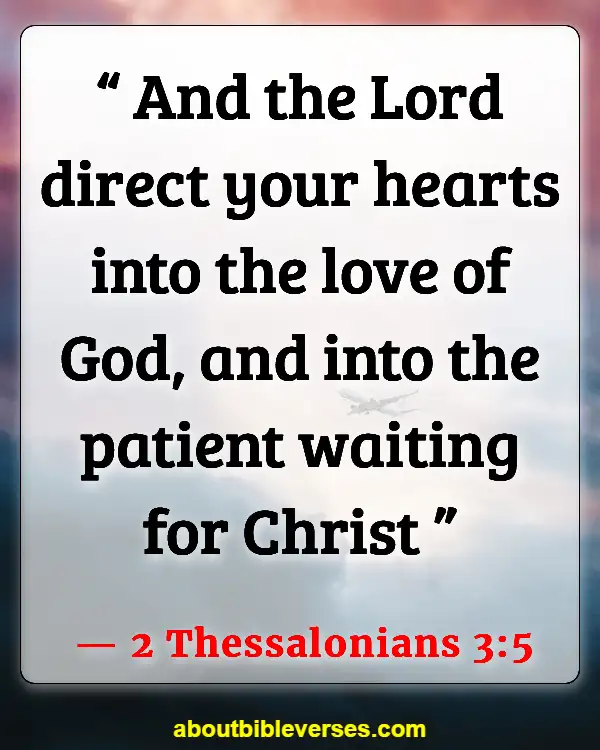 2 Thessalonians 3:5
"And the Lord direct your hearts into the love of God, and into the patient waiting for Christ"
Psalm 33:20
"Our soul waiteth for the Lord : he is our help and our shield"
Psalm 52:9
"I will praise thee for ever, because thou hast done it: and I will wait on thy name; for it is good before thy saints"
James 1:12
"Blessed is the man that endureth temptation: for when he is tried, he shall receive the crown of life, which the Lord hath promised to them that love him"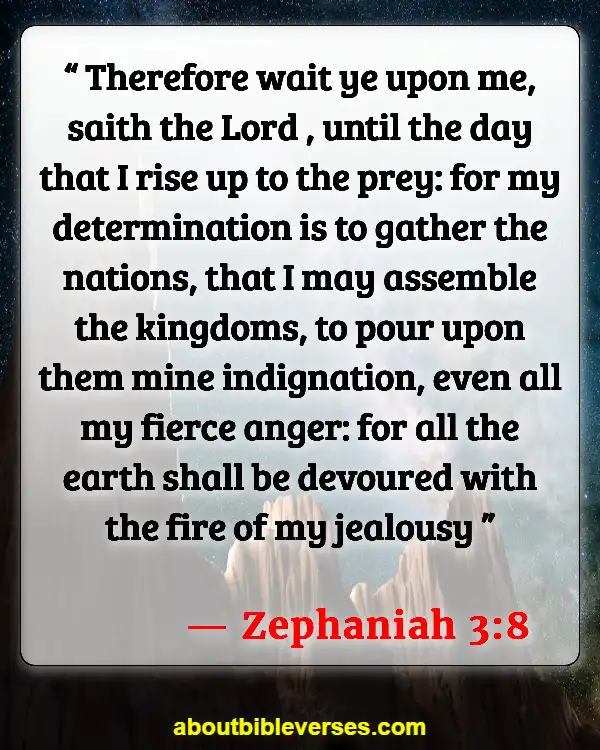 Zephaniah 3:8
"Therefore wait ye upon me, saith the Lord , until the day that I rise up to the prey: for my determination is to gather the nations, that I may assemble the kingdoms, to pour upon them mine indignation, even all my fierce anger: for all the earth shall be devoured with the fire of my jealousy"
Acts 1:4
"And, being assembled together with them, commanded them that they should not depart from Jerusalem, but wait for the promise of the Father, which, saith he, ye have heard of me"
Psalm 37:34
"Wait on the Lord , and keep his way, and he shall exalt thee to inherit the land: when the wicked are cut off, thou shalt see it"
Proverbs 21:5
"The thoughts of the diligent tend only to plenteousness; but of every one that is hasty only to want"
Psalm 25:5
"Lead me in thy truth, and teach me: for thou art the God of my salvation; on thee do I wait all the day"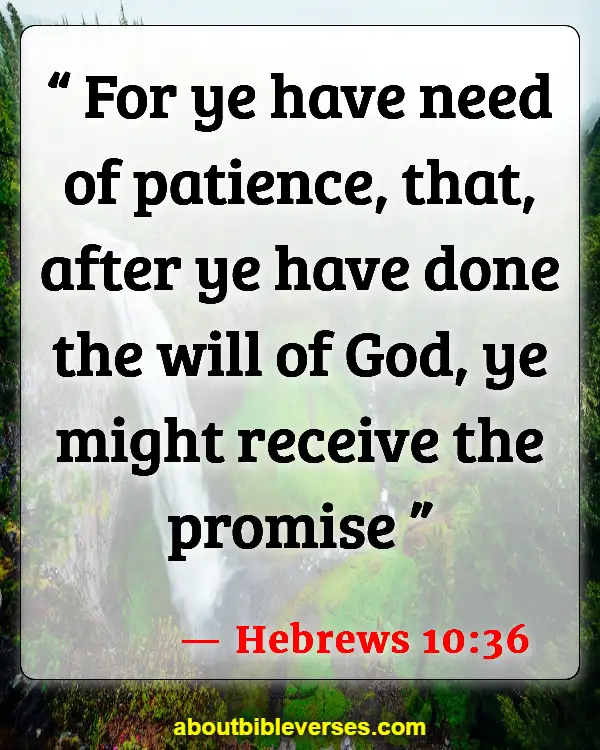 Hebrews 10:36
"For ye have need of patience, that, after ye have done the will of God, ye might receive the promise"