Hello dear friends, welcome to our site in the name of Jesus Christ. Today we will look at the Bible Scriptures About God Has A Solution For Every Problem In KJV. If you like today's post then definitely comment and share.
The Bible teaches us that God is our loving and compassionate Father who cares deeply about us. He is not distant or unconcerned about our problems; rather, He has a solution for every challenge we face in life. His solutions aren't always immediate or clear, because they are part of a grand plan that is beyond our human comprehension.
When we encounter difficulties, God offers us divine spiritual knowledge to navigate through them. He reveals His truth and wisdom through His Word, the Bible, which serves as a lamp to our feet and a light to our path. By seeking His guidance and aligning our lives with His teachings, we can find solutions to our problems.
God also provides practical solutions to our daily struggles. He invites us to bring our concerns to Him in prayer, for He is attentive to our every need. Trusting in His provision and relying on His strength, we can find solutions to any difficult problem.
Ultimately, God's promise is that He will never abandon us. He is with us in every problem we face, ready to provide a solution that aligns with His perfect will. As we trust in Him and seek His guidance, we can have confidence that His solutions will lead us to a place of peace, growth, and ultimately, eternal joy.
So remember, whenever you're facing a problem, God has a divine solution. It's a promise that comes with faith. We may not always see or understand His ways, but we can always trust that God is working everything out for our good. He loves us, He cares for us, and He has a perfect plan for each one of us.
Dear friends now let's see the Bible scriptures below that talk about God Has A Solution For Every Problem.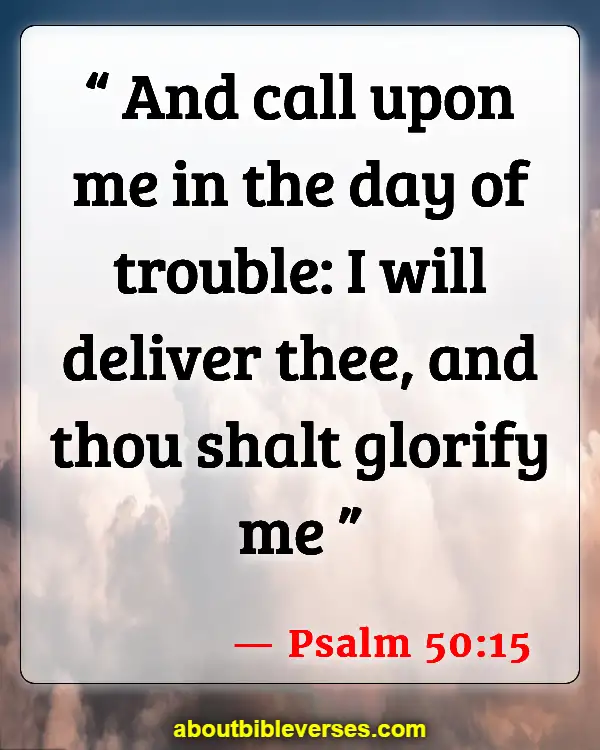 Psalm 50:15
"And call upon me in the day of trouble: I will deliver thee, and thou shalt glorify me"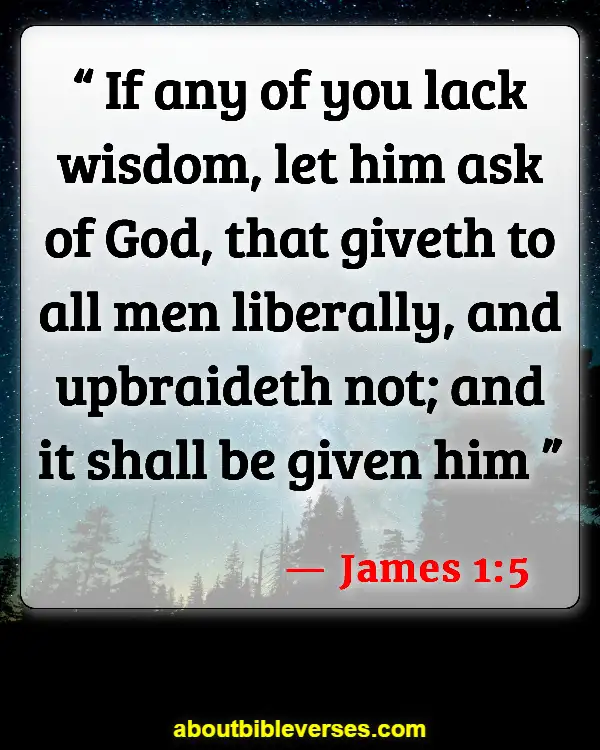 James 1:5
"If any of you lack wisdom, let him ask of God, that giveth to all men liberally, and upbraideth not; and it shall be given him"
Proverbs 3:5-6
"Trust in the Lord with all thine heart; and lean not unto thine own understanding. In all thy ways acknowledge him, and he shall direct thy paths"
Jeremiah 29:11
"For I know the thoughts that I think toward you, saith the Lord , thoughts of peace, and not of evil, to give you an expected end"
1 Corinthians 1:25
"Because the foolishness of God is wiser than men; and the weakness of God is stronger than men"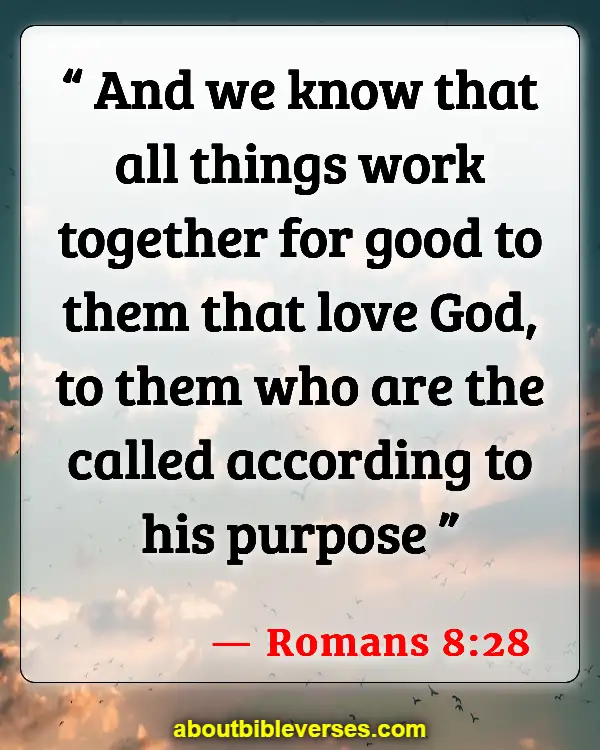 Romans 8:28
"And we know that all things work together for good to them that love God, to them who are the called according to his purpose"
Psalm 46:1
"God is our refuge and strength, a very present help in trouble"
2 Corinthians 12:9
"And he said unto me, My grace is sufficient for thee: for my strength is made perfect in weakness. Most gladly therefore will I rather glory in my infirmities, that the power of Christ may rest upon me"
Isaiah 41:10
"Fear thou not; for I am with thee: be not dismayed; for I am thy God: I will strengthen thee; yea, I will help thee; yea, I will uphold thee with the right hand of my righteousness"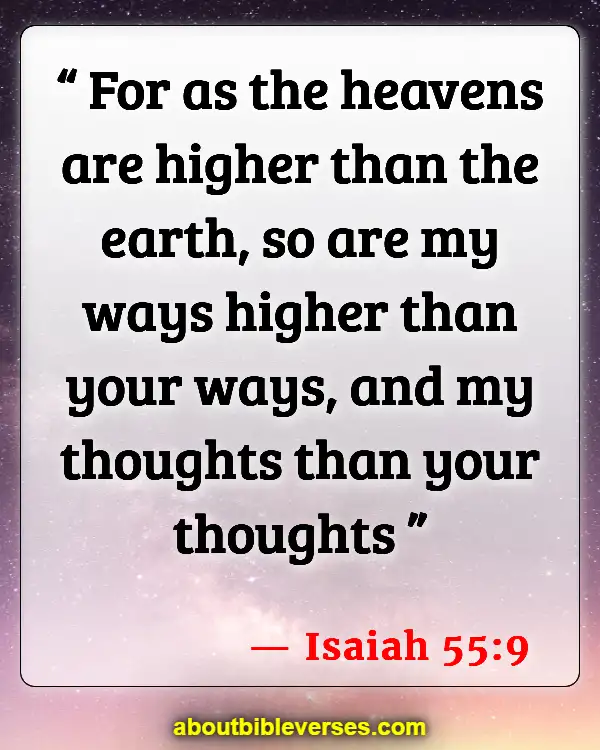 Isaiah 55:9
"For as the heavens are higher than the earth, so are my ways higher than your ways, and my thoughts than your thoughts"
Deuteronomy 31:6
"Be strong and of a good courage, fear not, nor be afraid of them: for the Lord thy God, he it is that doth go with thee; he will not fail thee, nor forsake thee"
Romans 8:38-39
"For I am persuaded, that neither death, nor life, nor angels, nor principalities, nor powers, nor things present, nor things to come, Nor height, nor depth, nor any other creature, shall be able to separate us from the love of God, which is in Christ Jesus our Lord"
1 John 4:4
"Ye are of God, little children, and have overcome them: because greater is he that is in you, than he that is in the world"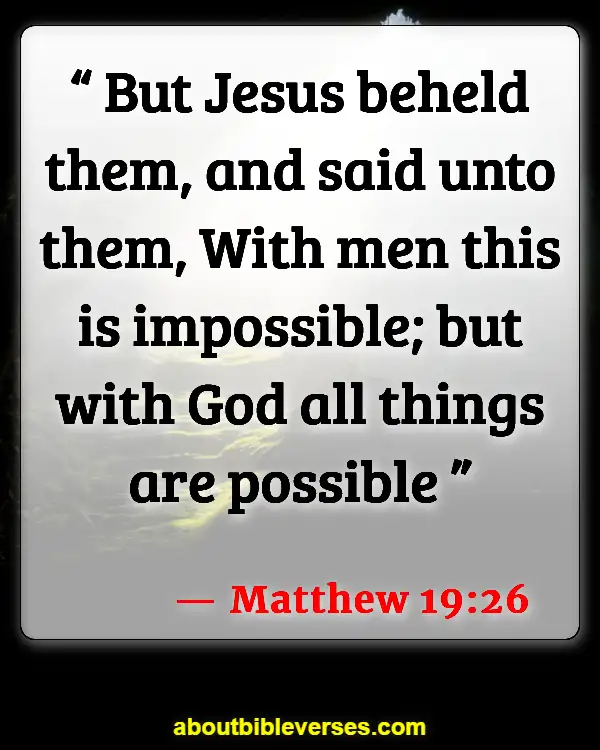 Matthew 19:26
"But Jesus beheld them, and said unto them, With men this is impossible; but with God all things are possible"
Isaiah 40:29
"He giveth power to the faint; and to them that have no might he increaseth strength"
2 Corinthians 4:17
"For our light affliction, which is but for a moment, worketh for us a far more exceeding and eternal weight of glory"
Philippians 4:13
"I can do all things through Christ which strengtheneth me"
1 John 4:16
"And we have known and believed the love that God hath to us. God is love; and he that dwelleth in love dwelleth in God, and God in him"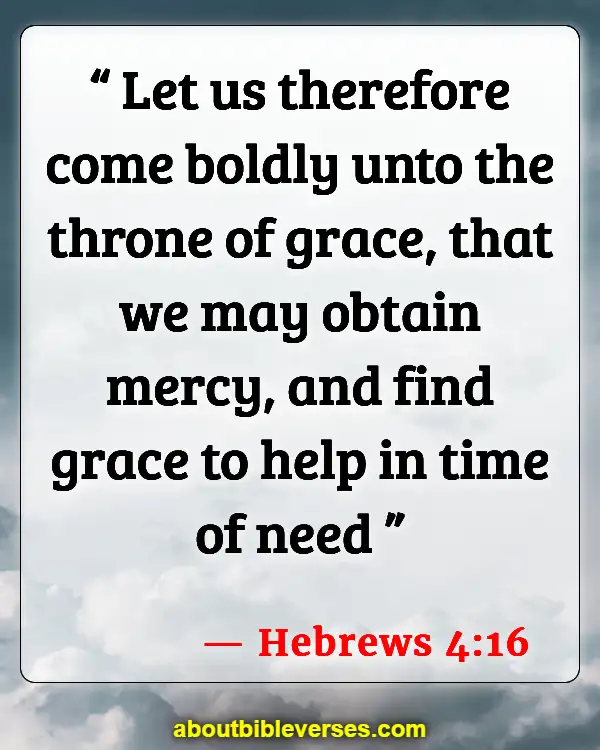 Hebrews 4:16
"Let us therefore come boldly unto the throne of grace, that we may obtain mercy, and find grace to help in time of need"
Psalm 34:18
"The Lord is nigh unto them that are of a broken heart; and saveth such as be of a contrite spirit"
1 Corinthians 10:13
"There hath no temptation taken you but such as is common to man: but God is faithful, who will not suffer you to be tempted above that ye are able; but will with the temptation also make a way to escape, that ye may be able to bear it"
Psalm 46:10
"Be still, and know that I am God: I will be exalted among the heathen, I will be exalted in the earth"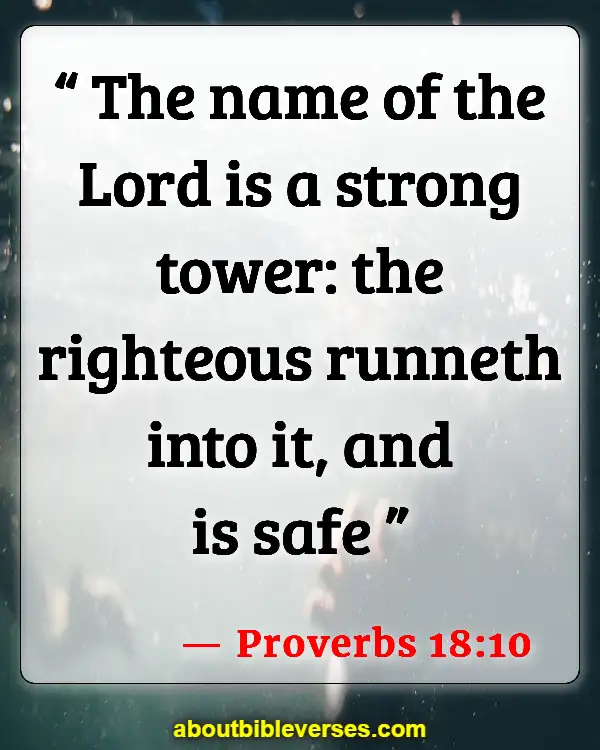 Proverbs 18:10
"The name of the Lord is a strong tower: the righteous runneth into it, and is safe"
Ephesians 3:20
"Now unto him that is able to do exceeding abundantly above all that we ask or think, according to the power that worketh in us"
Zephaniah 3:17
"The Lord thy God in the midst of thee is mighty; he will save, he will rejoice over thee with joy; he will rest in his love, he will joy over thee with singing"
Isaiah 40:31
"But they that wait upon the Lord shall renew their strength; they shall mount up with wings as eagles; they shall run, and not be weary; and they shall walk, and not faint"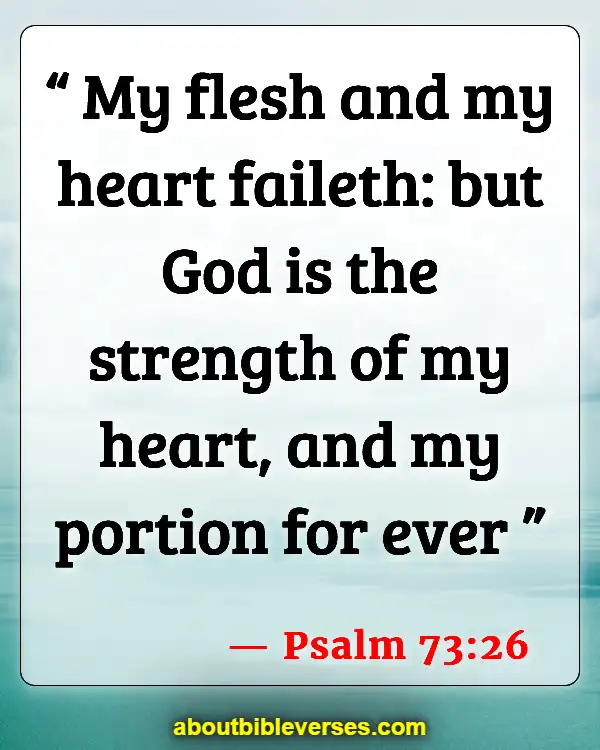 Psalm 73:26
"My flesh and my heart faileth: but God is the strength of my heart, and my portion for ever"
1 Peter 5:7
"Casting all your care upon him; for he careth for you"
Psalm 55:22
"Cast thy burden upon the Lord , and he shall sustain thee: he shall never suffer the righteous to be moved"
Philippians 4:19
"But my God shall supply all your need according to his riches in glory by Christ Jesus"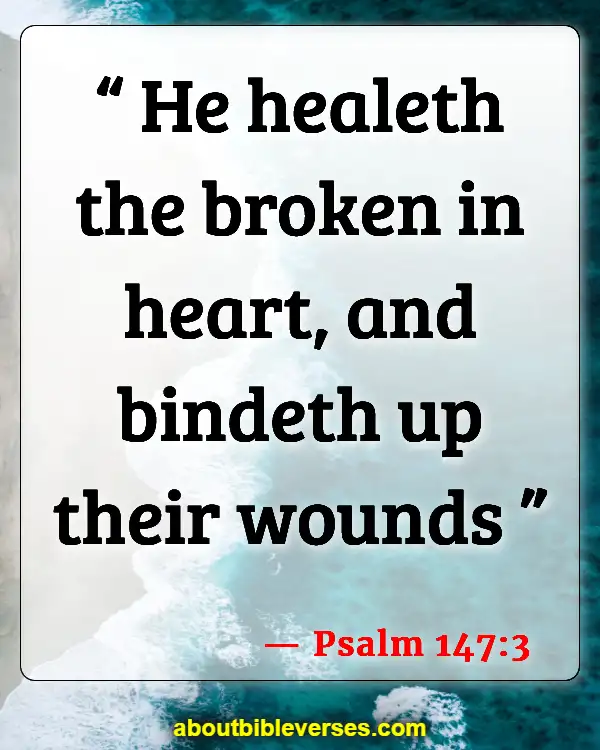 Psalm 147:3
"He healeth the broken in heart, and bindeth up their wounds"
Psalm 91:2
"I will say of the Lord , He is my refuge and my fortress: my God; in him will I trust"
2 Timothy 1:7
"For God hath not given us the spirit of fear; but of power, and of love, and of a sound mind"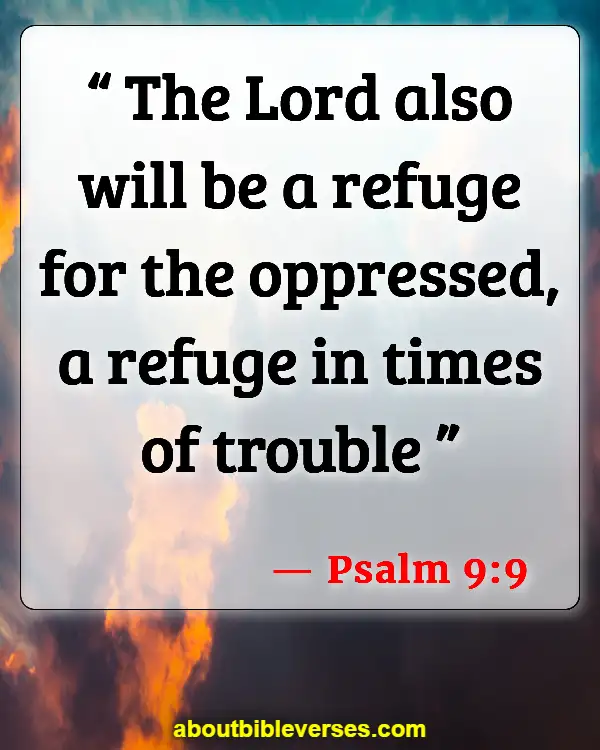 Psalm 9:9
"The Lord also will be a refuge for the oppressed, a refuge in times of trouble"
Romans 8:31
"What shall we then say to these things? If God be for us, who can be against us?"
Psalm 32:8
"I will instruct thee and teach thee in the way which thou shalt go: I will guide thee with mine eye"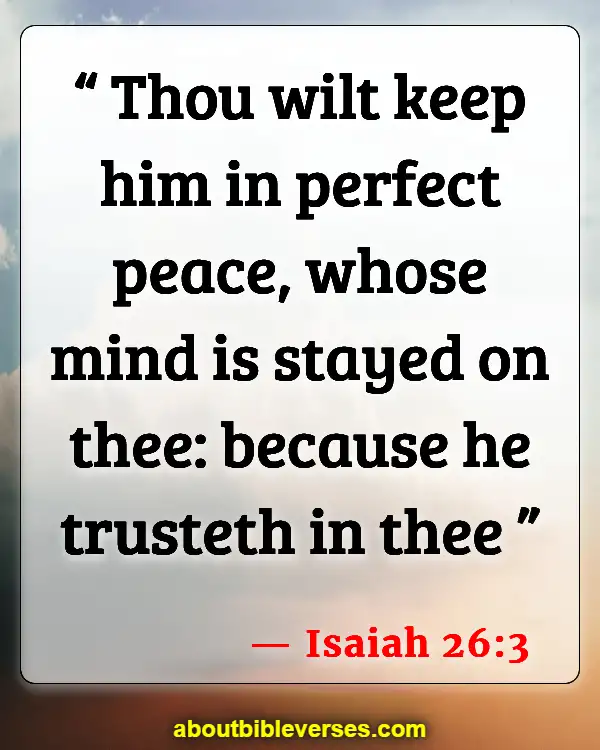 Isaiah 26:3
"Thou wilt keep him in perfect peace, whose mind is stayed on thee: because he trusteth in thee"
Psalm 145:18
"The Lord is nigh unto all them that call upon him, to all that call upon him in truth"
1 Peter 4:12-13
"Beloved, think it not strange concerning the fiery trial which is to try you, as though some strange thing happened unto you: But rejoice, inasmuch as ye are partakers of Christ's sufferings; that, when his glory shall be revealed, ye may be glad also with exceeding joy"
Joshua 1:9
"Have not I commanded thee? Be strong and of a good courage; be not afraid, neither be thou dismayed: for the Lord thy God is with thee whithersoever thou goest"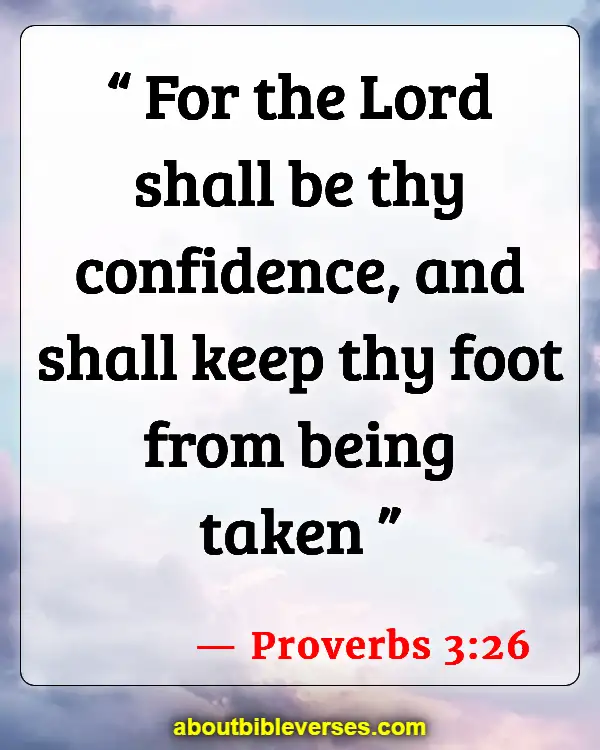 Proverbs 3:26
"For the Lord shall be thy confidence, and shall keep thy foot from being taken"
Hebrews 13:5
"Let your conversation be without covetousness; and be content with such things as ye have: for he hath said, I will never leave thee, nor forsake thee"
Romans 5:8
"But God commendeth his love toward us, in that, while we were yet sinners, Christ died for us"
John 14:27
"Peace I leave with you, my peace I give unto you: not as the world giveth, give I unto you. Let not your heart be troubled, neither let it be afraid"
Psalm 121:1-2
"I will lift up mine eyes unto the hills, from whence cometh my help. My help cometh from the Lord , which made heaven and earth"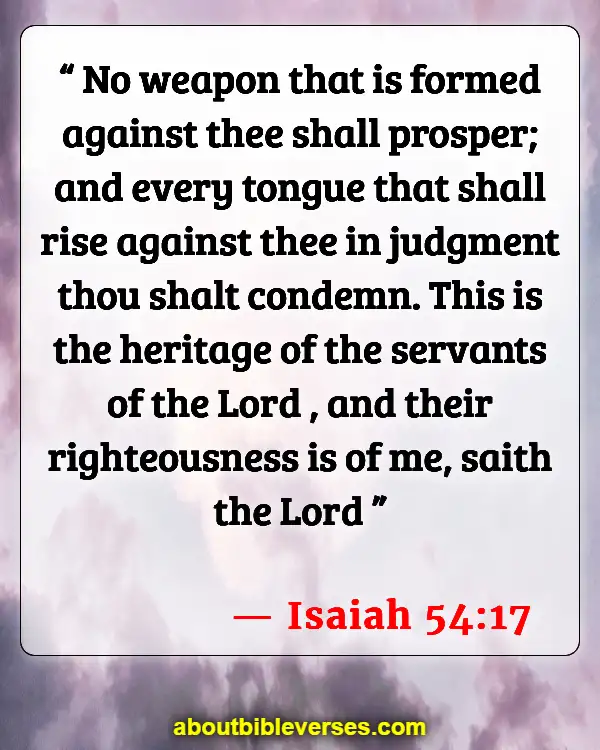 Isaiah 54:17
"No weapon that is formed against thee shall prosper; and every tongue that shall rise against thee in judgment thou shalt condemn. This is the heritage of the servants of the Lord , and their righteousness is of me, saith the Lord"