Hello dear friends, welcome to our site in the name of Jesus Christ. Today we will look at the Bible Scriptures About Strength And Courage In Difficult Times. If you like today's post then definitely comment and share.
Friends, our God is able to strengthen us and deliver us from difficult times. God said in his word, let us not be afraid, let us not despair, he will help us, he will hold us, he will not leave us in the day of trouble.
Friends, we should meditate on the word of God day and night, because this word of God has a power that strengthens us, and makes us brave in difficult times. The more we meditate on God's word, the more we will gain strength and courage.
Friends, no matter how difficult times come to us in this world, we should not be broken. Because the Bible says God is with us wherever we are who did not give us a spirit of fear but told us to be strong and courageous.
The Bible also encourages us to rejoice whenever we go through difficult times. Because in those difficult times God's grace and power will come upon us which will make us strong and courageous (2 Corinthians 12:9-10).
Dear friends now let's see the Bible scriptures below that talk about Strength And Courage In Difficult Times.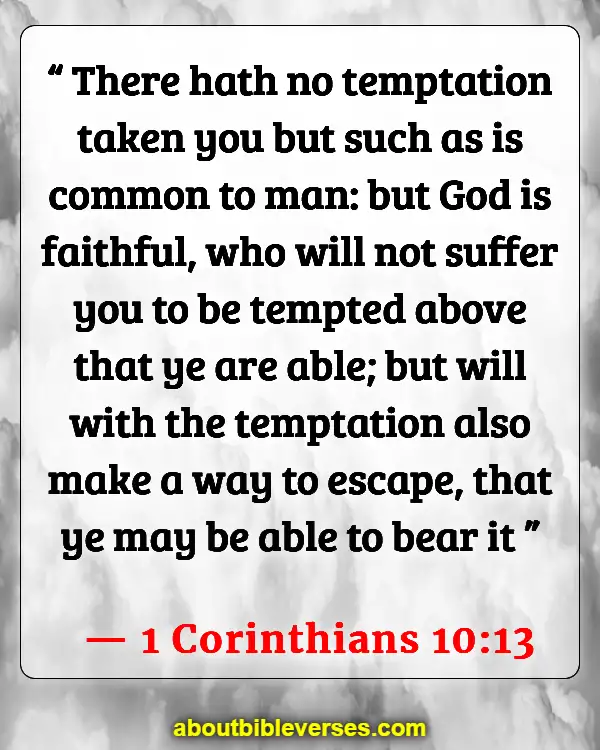 1 Corinthians 10:13
There hath no temptation taken you but such as is common to man: but God is faithful, who will not suffer you to be tempted above that ye are able; but will with the temptation also make a way to escape, that ye may be able to bear it.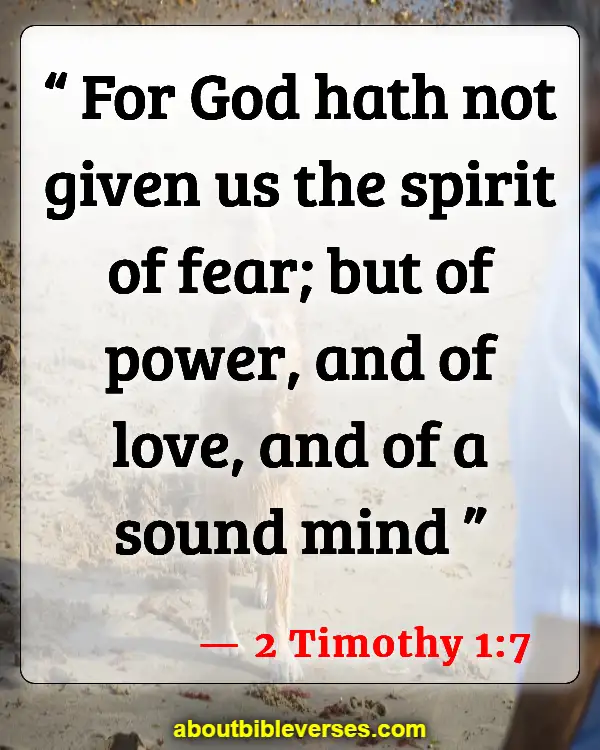 2 Timothy 1:7
For God hath not given us the spirit of fear; but of power, and of love, and of a sound mind.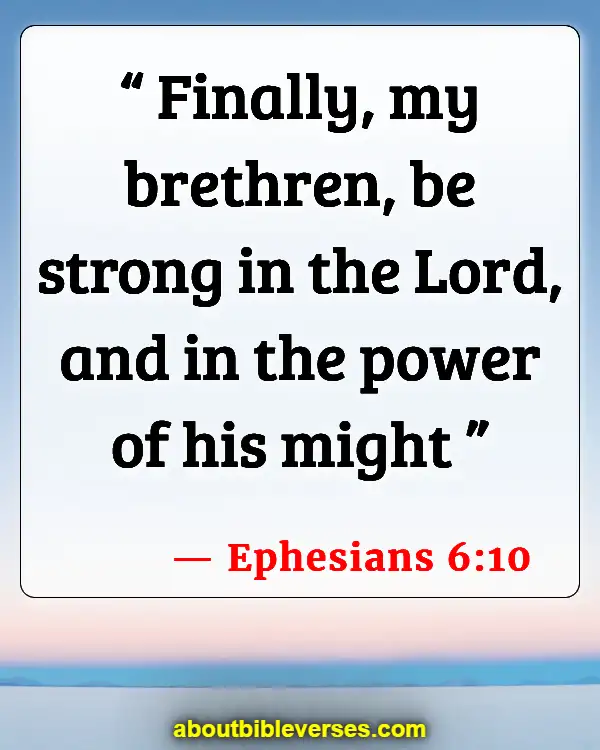 Ephesians 6:10
Finally, my brethren, be strong in the Lord, and in the power of his might.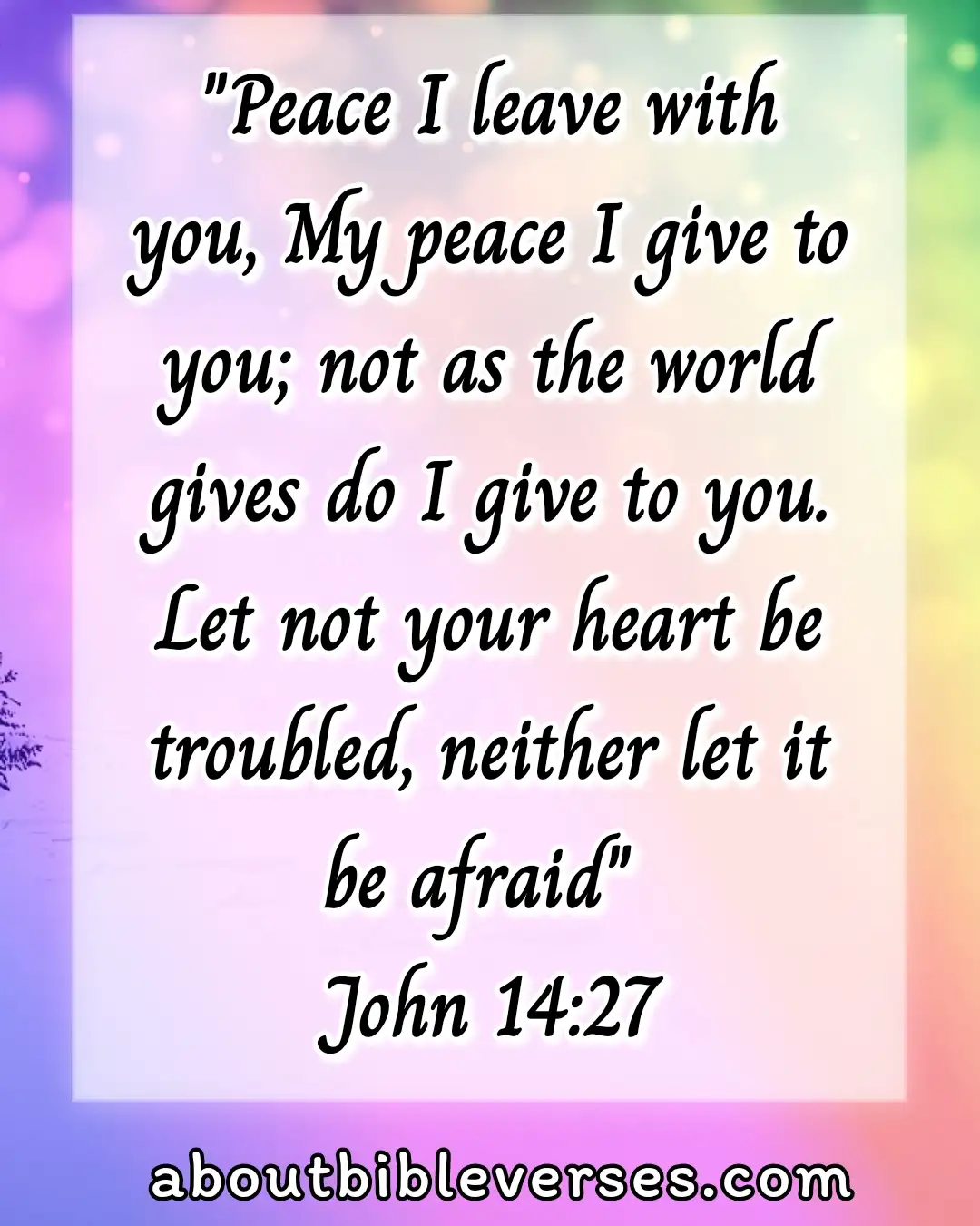 John 14:27
Peace I leave with you, my peace I give unto you: not as the world giveth, give I unto you. Let not your heart be troubled, neither let it be afraid.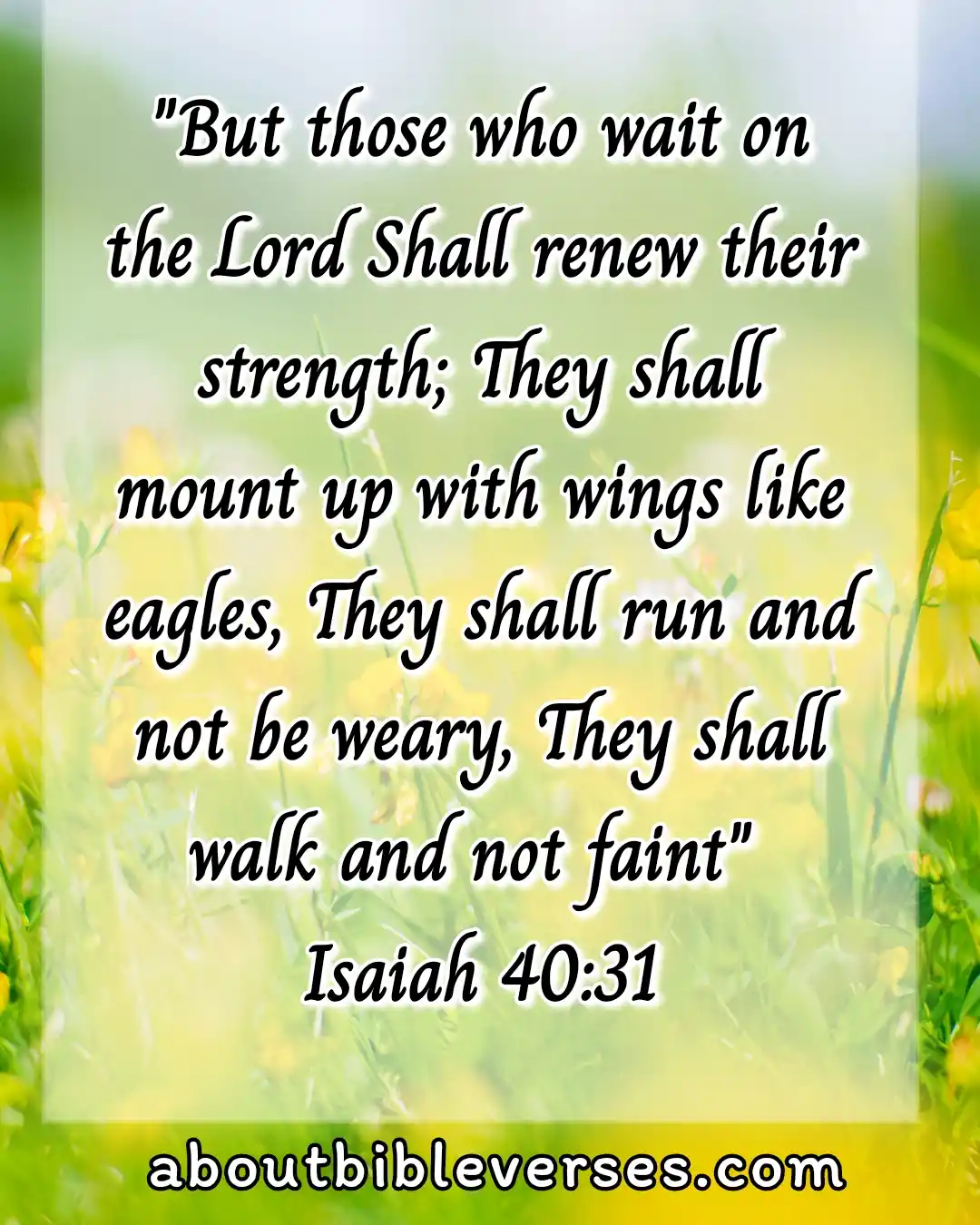 Isaiah 40:31
But they that wait upon the Lord shall renew their strength; they shall mount up with wings as eagles; they shall run, and not be weary; and they shall walk, and not faint.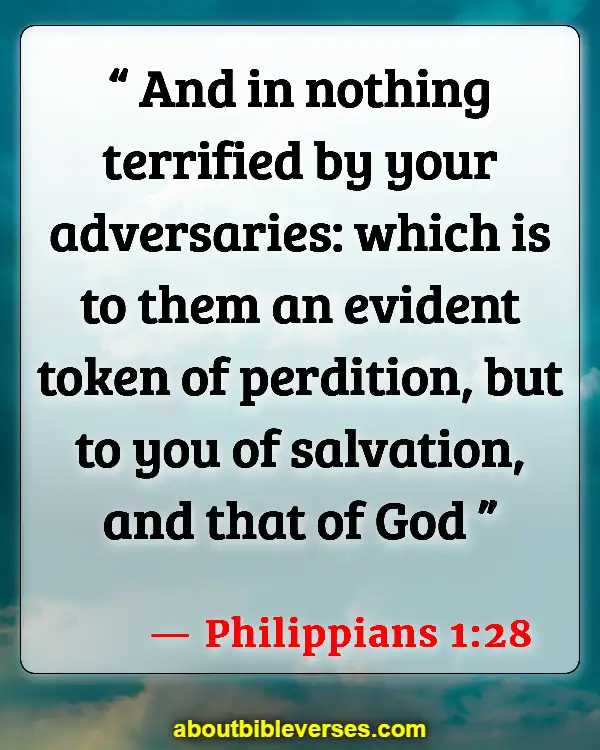 Philippians 1:28
And in nothing terrified by your adversaries: which is to them an evident token of perdition, but to you of salvation, and that of God.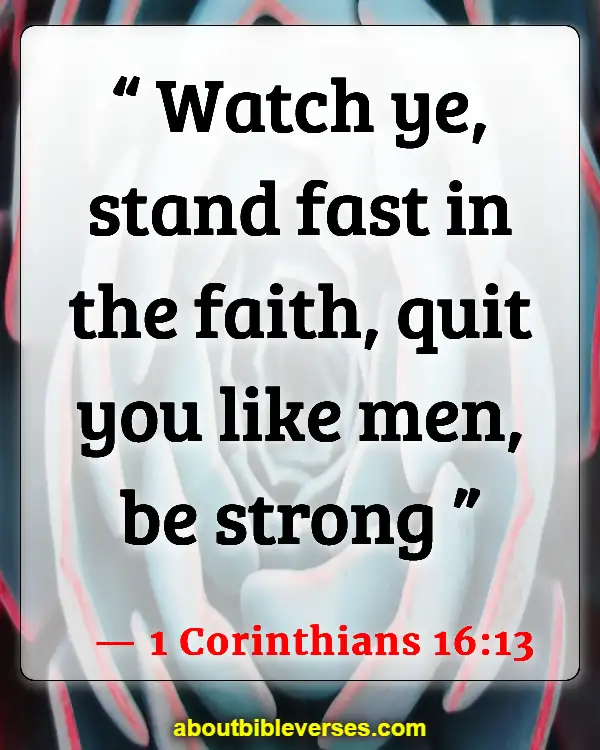 1 Corinthians 16:13
Watch ye, stand fast in the faith, quit you like men, be strong.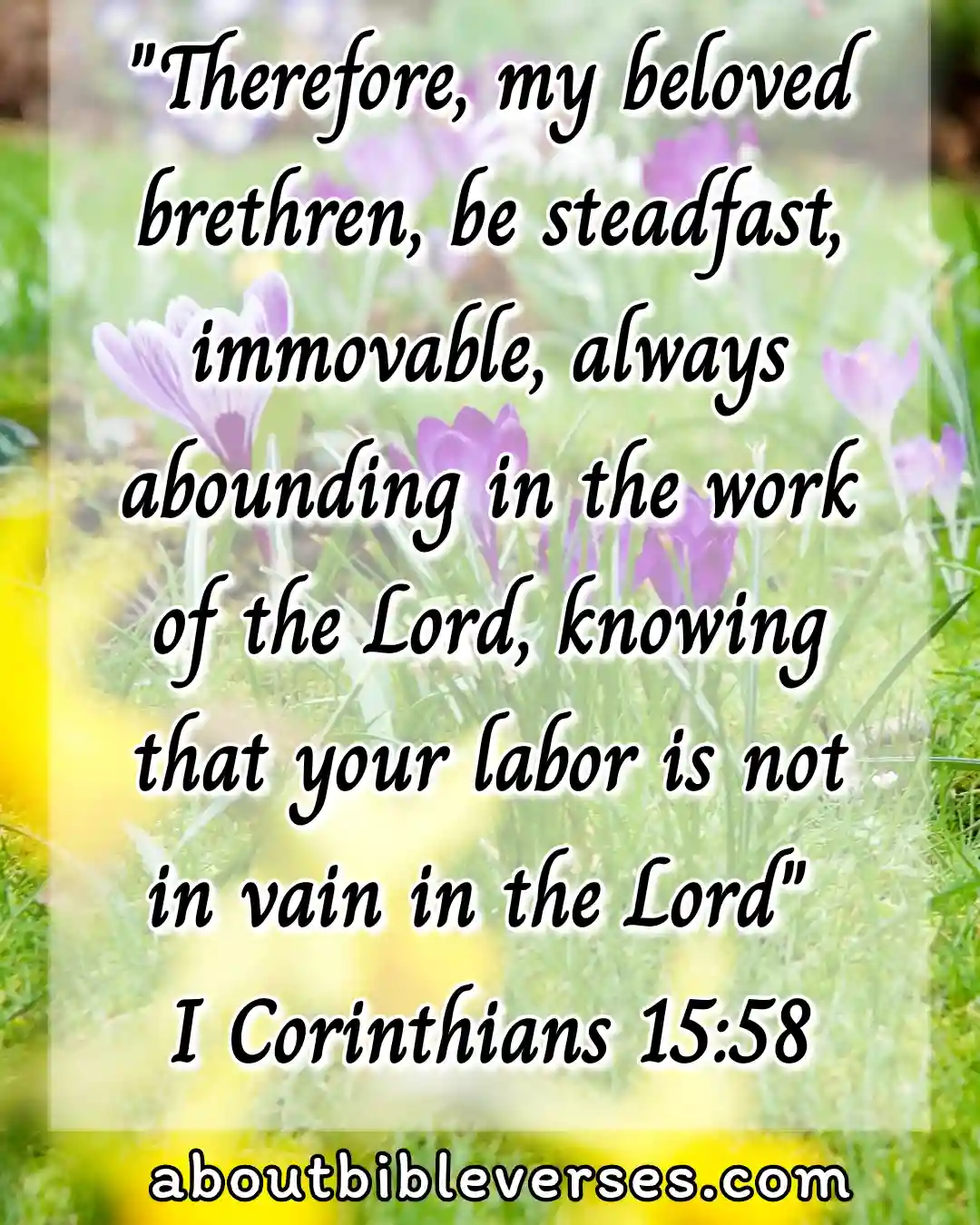 1 Corinthians 15:58
Therefore, my beloved brethren, be ye stedfast, unmoveable, always abounding in the work of the Lord, forasmuch as ye know that your labour is not in vain in the Lord.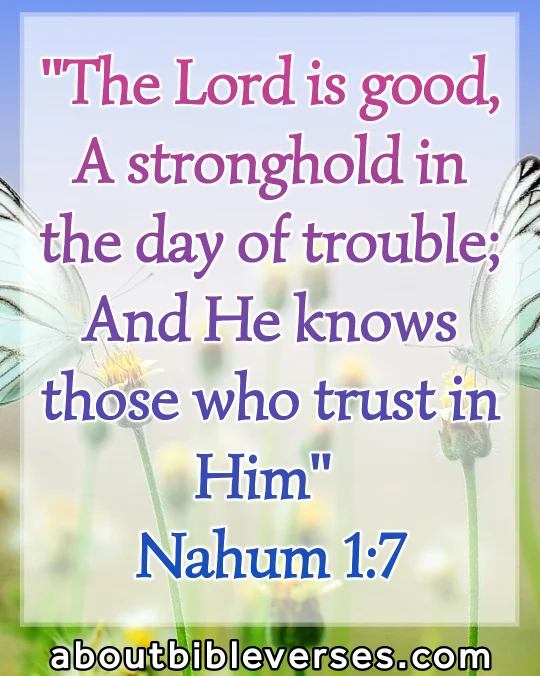 Nahum 1:7
The Lord is good, a strong hold in the day of trouble; and he knoweth them that trust in him.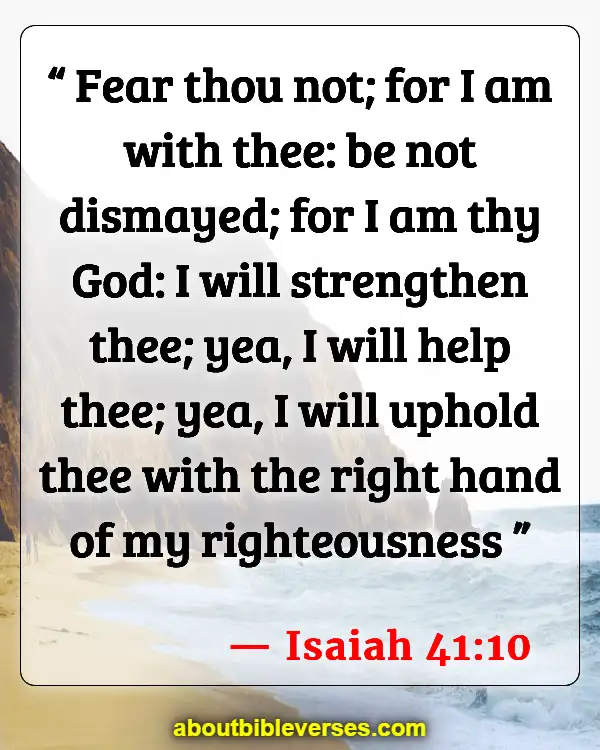 Isaiah 41:10
Fear thou not; for I am with thee: be not dismayed; for I am thy God: I will strengthen thee; yea, I will help thee; yea, I will uphold thee with the right hand of my righteousness.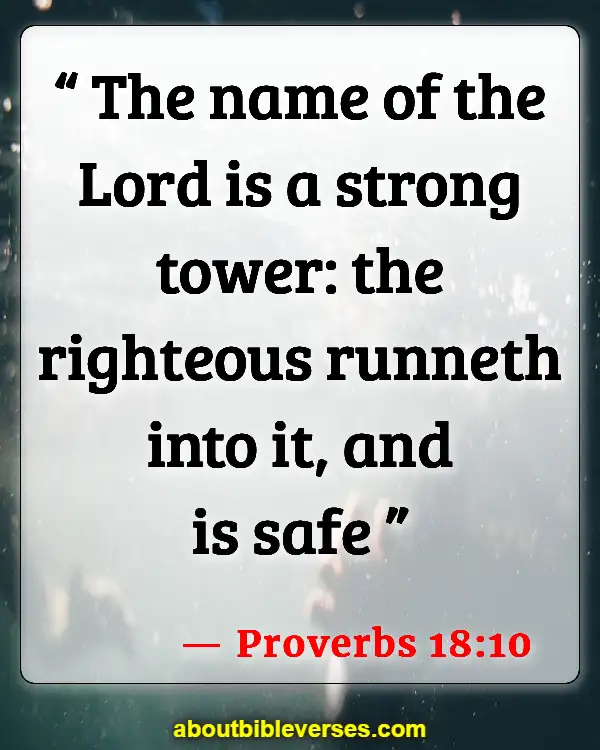 Proverbs 18:10
The name of the Lord is a strong tower: the righteous runneth into it, and is safe.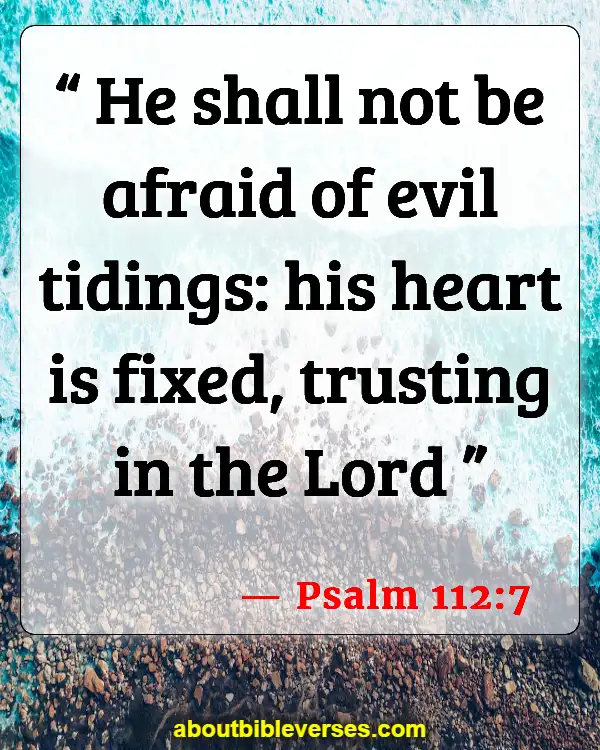 Psalm 112:7
He shall not be afraid of evil tidings: his heart is fixed, trusting in the Lord.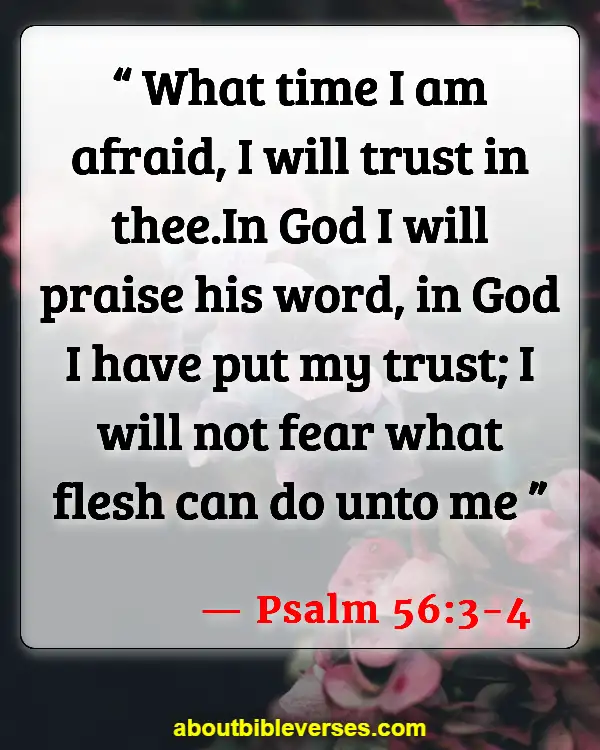 Psalm 56:3-4
What time I am afraid, I will trust in thee.In God I will praise his word, in God I have put my trust; I will not fear what flesh can do unto me.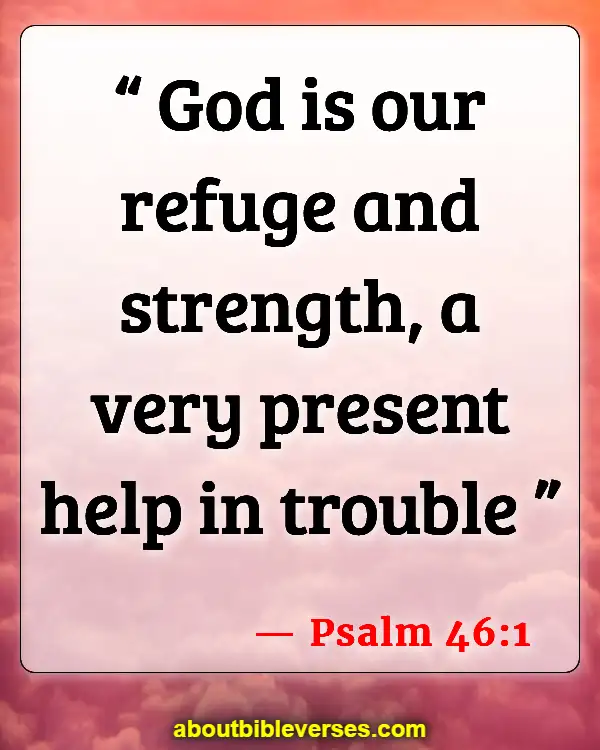 Psalm 46:1
God is our refuge and strength, a very present help in trouble.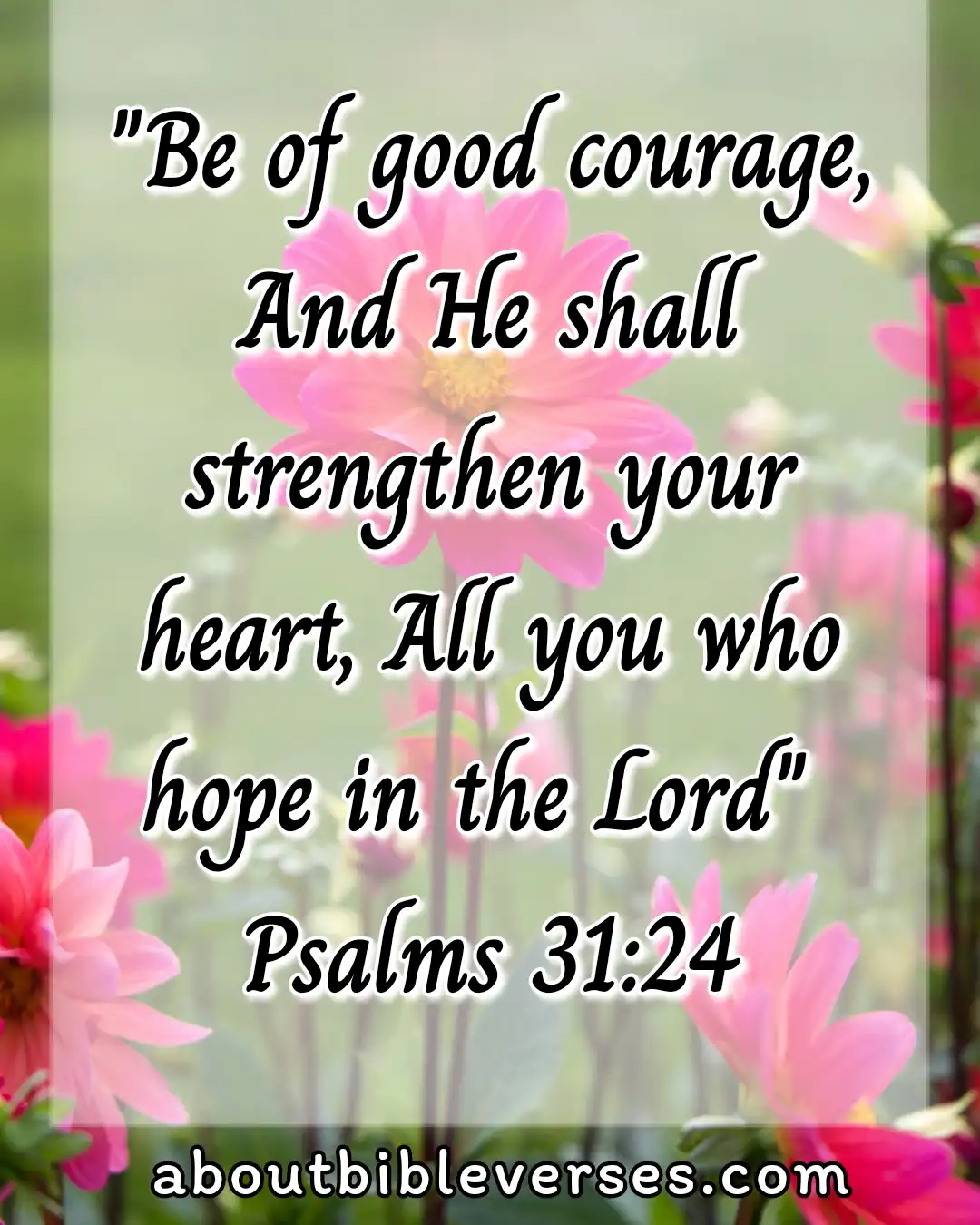 Psalm 31:24
Be of good courage, and he shall strengthen your heart, all ye that hope in the Lord.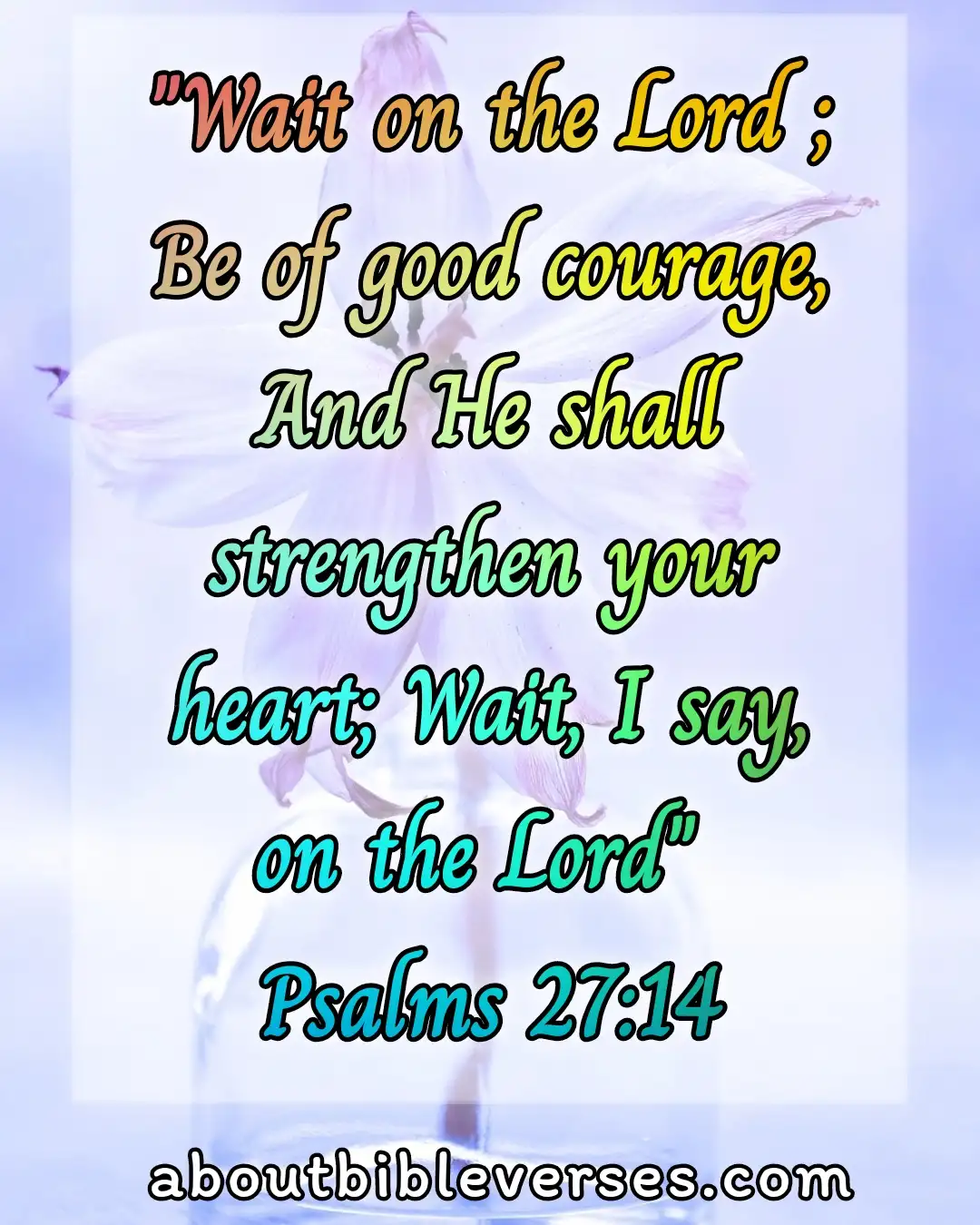 Psalm 27:14
Wait on the Lord: be of good courage, and he shall strengthen thine heart: wait, I say, on the Lord.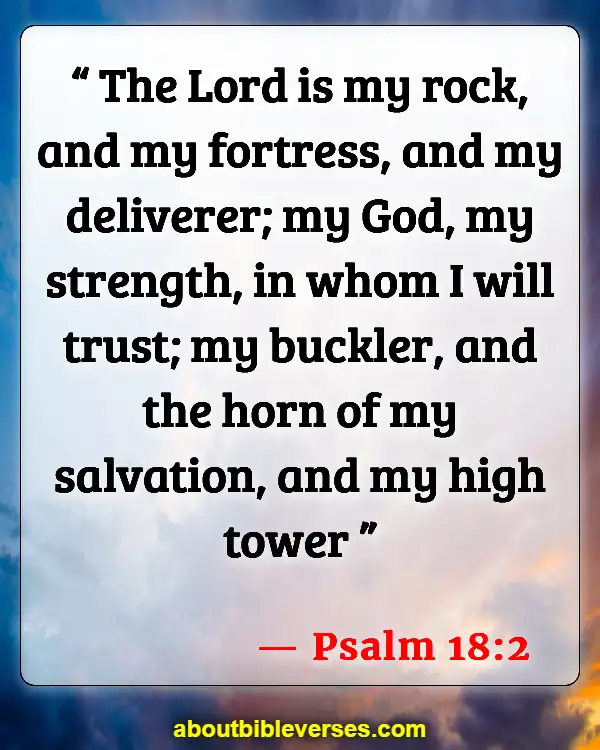 Psalm 18:2
The Lord is my rock, and my fortress, and my deliverer; my God, my strength, in whom I will trust; my buckler, and the horn of my salvation, and my high tower.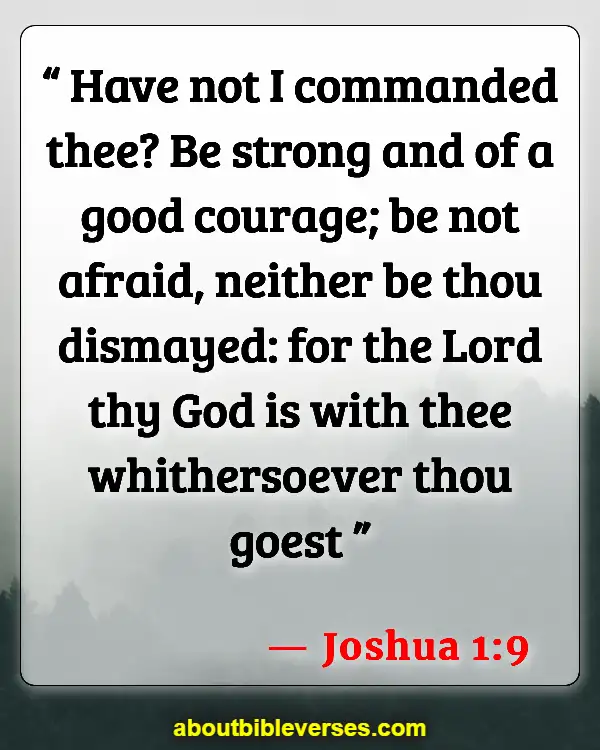 Joshua 1:9
Have not I commanded thee? Be strong and of a good courage; be not afraid, neither be thou dismayed: for the Lord thy God is with thee whithersoever thou goest.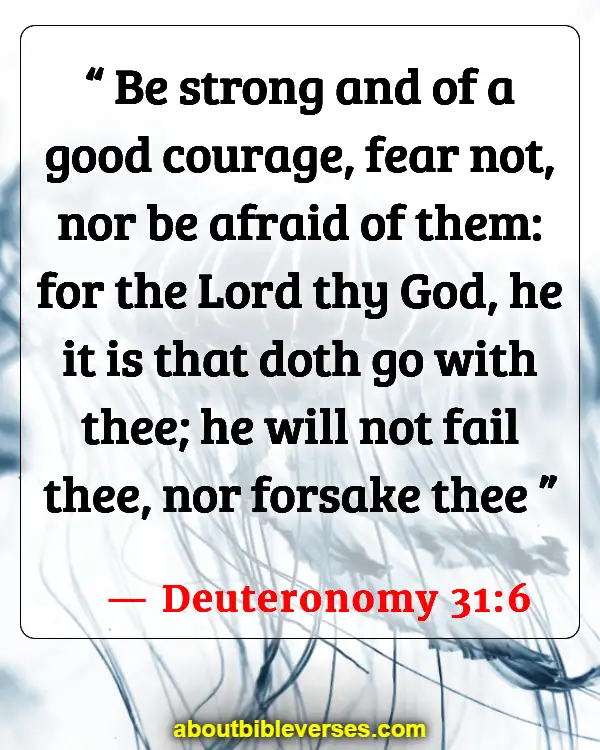 Deuteronomy 31:6
Be strong and of a good courage, fear not, nor be afraid of them: for the Lord thy God, he it is that doth go with thee; he will not fail thee, nor forsake thee.