Dear Friends, Rejoicing in trials and tribulations is a powerful teaching found in the Bible that brings comfort and strength to our hearts. Although it may seem difficult to understand, it carries deep spiritual meaning that positively impacts our lives.
When we face trials and tribulations, it's natural for us to feel overwhelmed, discouraged, or even afraid. Yet, the Bible tells us to rejoice in these difficult times, because God has a purpose and greater blessings behind them.
when we face trials, we have an opportunity to become a living testimony of God's faithfulness. Our ability to maintain joy and peace amidst difficulties can be a shining light to those around us. It's a testament to the power of God's love working in our lives.
Finally, when we face trials, we can take comfort in the fact that God is working all things together for our good. He can turn our pain into purpose and bring about blessings we could never have imagined. So, even in the midst of trials and tribulations, we can find reasons to rejoice and trust in God's perfect plan for our lives.
Remember, when we face trials, we can choose to rejoice and find hope in God's promises. Through these challenging times, we can grow closer to Him, strengthen our faith, and become a source of inspiration to others. May we always find joy in the midst of trials, knowing that God is faithful and will see us through.
here are some Bible verses that relate to finding joy or rejoicing in trials, tribulations, and hardships:
Remember, these verses underscore the principle of finding strength, joy, and growth during trials and hardships. encourage believers to lean into their faith, even and especially when times are challenging.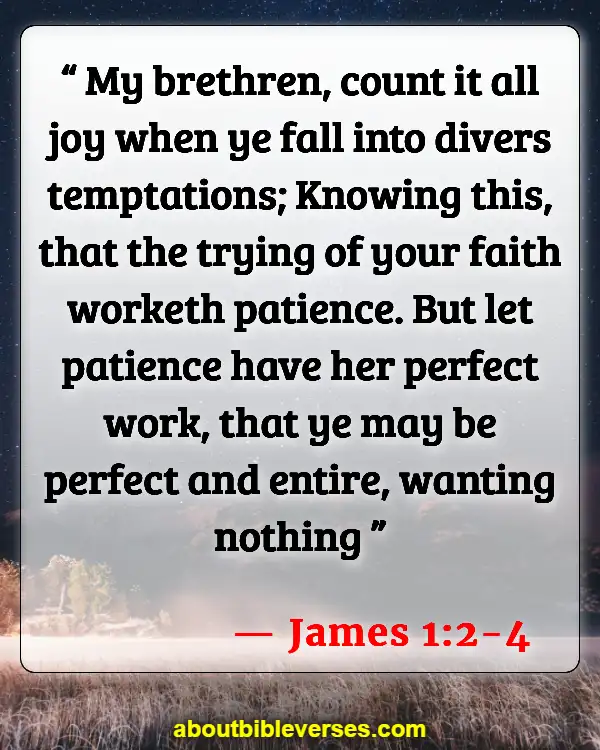 James 1:2-4
"My brethren, count it all joy when ye fall into divers temptations; Knowing this, that the trying of your faith worketh patience. But let patience have her perfect work, that ye may be perfect and entire, wanting nothing"
Romans 5:3-5
"And not only so, but we glory in tribulations also: knowing that tribulation worketh patience; And patience, experience; and experience, hope: And hope maketh not ashamed; because the love of God is shed abroad in our hearts by the Holy Ghost which is given unto us"
1 Peter 1:6-7
"Wherein ye greatly rejoice, though now for a season, if need be, ye are in heaviness through manifold temptations: That the trial of your faith, being much more precious than of gold that perisheth, though it be tried with fire, might be found unto praise and honour and glory at the appearing of Jesus Christ"
2 Corinthians 12:10
"Therefore I take pleasure in infirmities, in reproaches, in necessities, in persecutions, in distresses for Christ's sake: for when I am weak, then am I strong"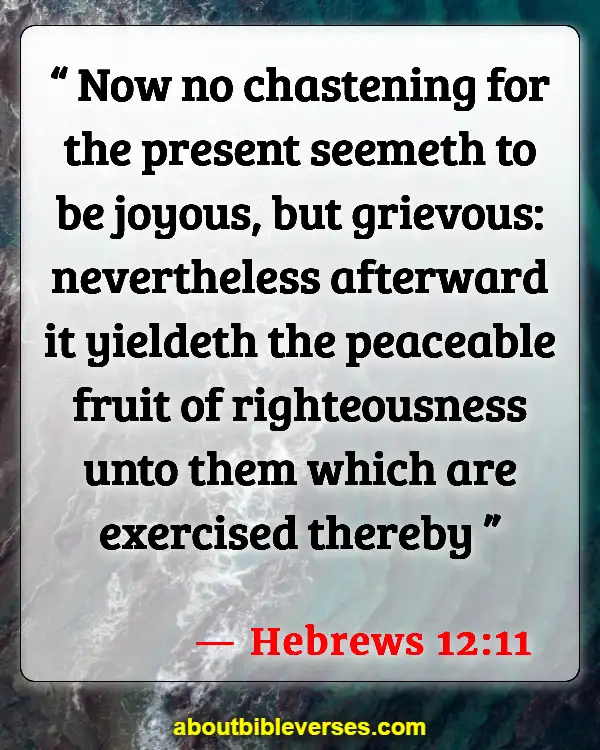 Hebrews 12:11
"Now no chastening for the present seemeth to be joyous, but grievous: nevertheless afterward it yieldeth the peaceable fruit of righteousness unto them which are exercised thereby"
1 Peter 4:13
"But rejoice, inasmuch as ye are partakers of Christ's sufferings; that, when his glory shall be revealed, ye may be glad also with exceeding joy"
Matthew 5:11-12
"Blessed are ye, when men shall revile you, and persecute you, and shall say all manner of evil against you falsely, for my sake. Rejoice, and be exceeding glad: for great is your reward in heaven: for so persecuted they the prophets which were before you"
2 Corinthians 4:17-18
"For our light affliction, which is but for a moment, worketh for us a far more exceeding and eternal weight of glory; While we look not at the things which are seen, but at the things which are not seen: for the things which are seen are temporal; but the things which are not seen are eternal"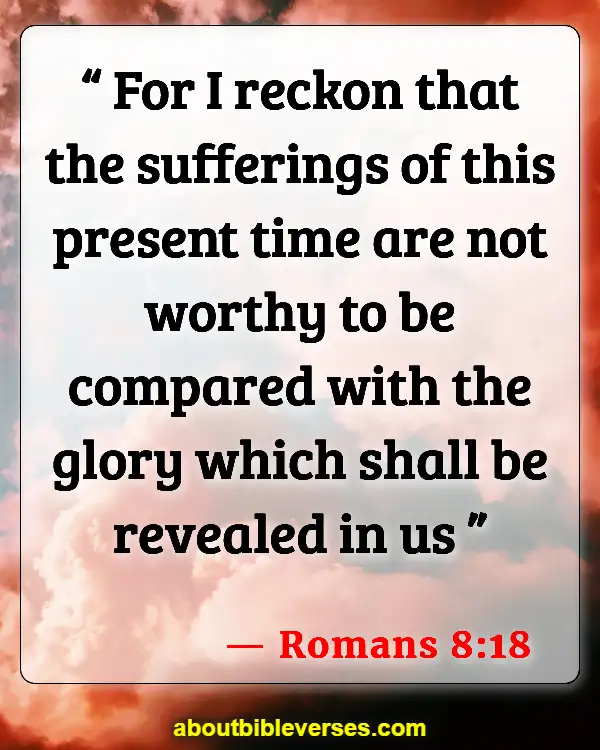 Romans 8:18
"For I reckon that the sufferings of this present time are not worthy to be compared with the glory which shall be revealed in us"
2 Corinthians 1:3-4
"Blessed be God, even the Father of our Lord Jesus Christ, the Father of mercies, and the God of all comfort; Who comforteth us in all our tribulation, that we may be able to comfort them which are in any trouble, by the comfort wherewith we ourselves are comforted of God"
Psalm 30:5
"For his anger endureth but a moment; in his favour is life: weeping may endure for a night, but joy cometh in the morning"
1 Thessalonians 5:16-18
"Rejoice evermore. Pray without ceasing. In every thing give thanks: for this is the will of God in Christ Jesus concerning you"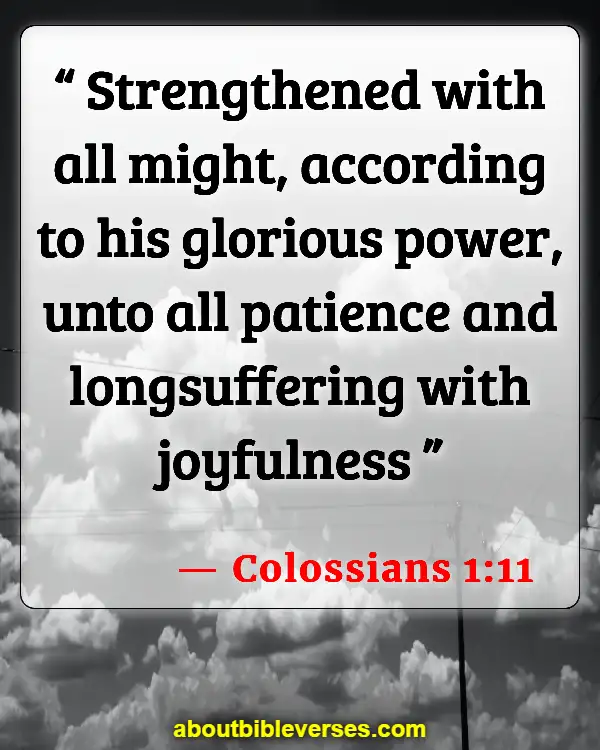 Colossians 1:11
"Strengthened with all might, according to his glorious power, unto all patience and longsuffering with joyfulness"
Psalm 94:19
"In the multitude of my thoughts within me thy comforts delight my soul"
2 Corinthians 7:4
"Great is my boldness of speech toward you, great is my glorying of you: I am filled with comfort, I am exceeding joyful in all our tribulation"
James 1:12
"Blessed is the man that endureth temptation: for when he is tried, he shall receive the crown of life, which the Lord hath promised to them that love him"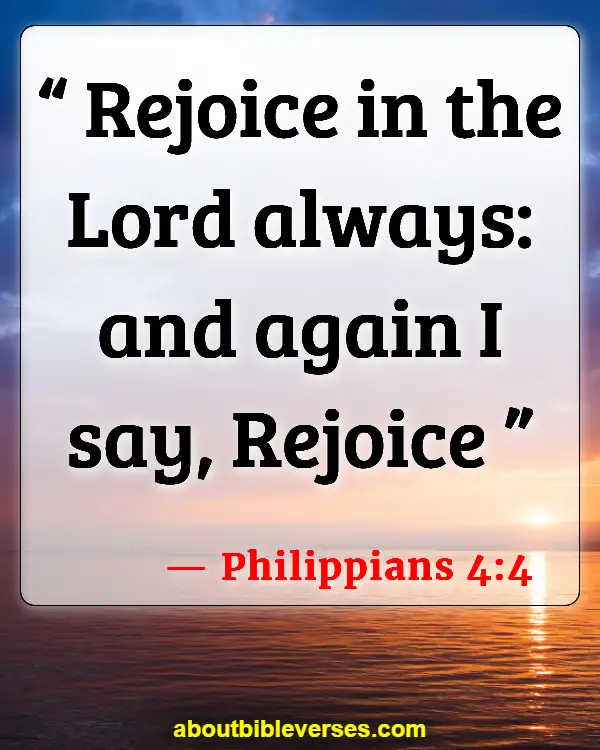 Philippians 4:4
"Rejoice in the Lord always: and again I say, Rejoice"
Romans 12:12
"Rejoicing in hope; patient in tribulation; continuing instant in prayer"
Psalm 126:5
"They that sow in tears shall reap in joy"
John 16:33
"These things I have spoken unto you, that in me ye might have peace. In the world ye shall have tribulation: but be of good cheer; I have overcome the world"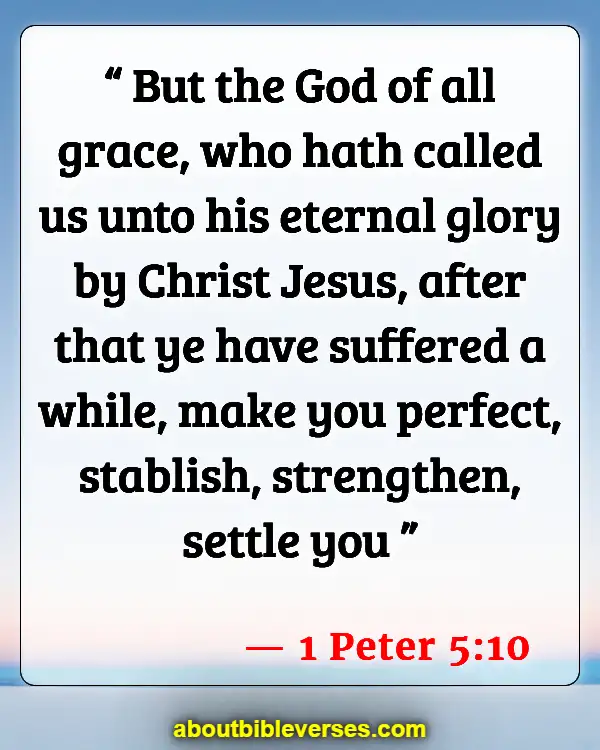 1 Peter 5:10
"But the God of all grace, who hath called us unto his eternal glory by Christ Jesus, after that ye have suffered a while, make you perfect, stablish, strengthen, settle you"
2 Thessalonians 1:4-5
"So that we ourselves glory in you in the churches of God for your patience and faith in all your persecutions and tribulations that ye endure: Which is a manifest token of the righteous judgment of God, that ye may be counted worthy of the kingdom of God, for which ye also suffer"
1 Corinthians 10:13
"There hath no temptation taken you but such as is common to man: but God is faithful, who will not suffer you to be tempted above that ye are able; but will with the temptation also make a way to escape, that ye may be able to bear it"
Psalm 34:19
"Many are the afflictions of the righteous: but the Lord delivereth him out of them all"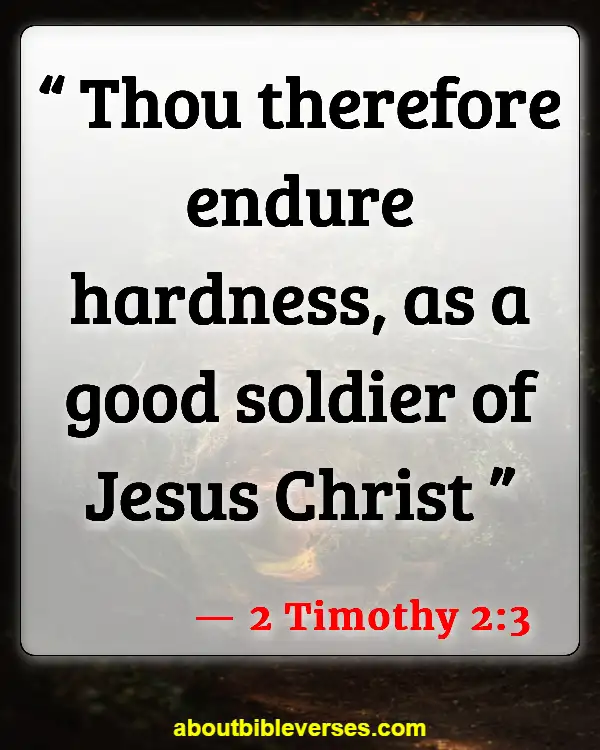 2 Timothy 2:3
"Thou therefore endure hardness, as a good soldier of Jesus Christ"
Romans 8:28
"And we know that all things work together for good to them that love God, to them who are the called according to his purpose"
Acts 14:22
"Confirming the souls of the disciples, and exhorting them to continue in the faith, and that we must through much tribulation enter into the kingdom of God"
Psalm 119:71
"It is good for me that I have been afflicted; that I might learn thy statutes"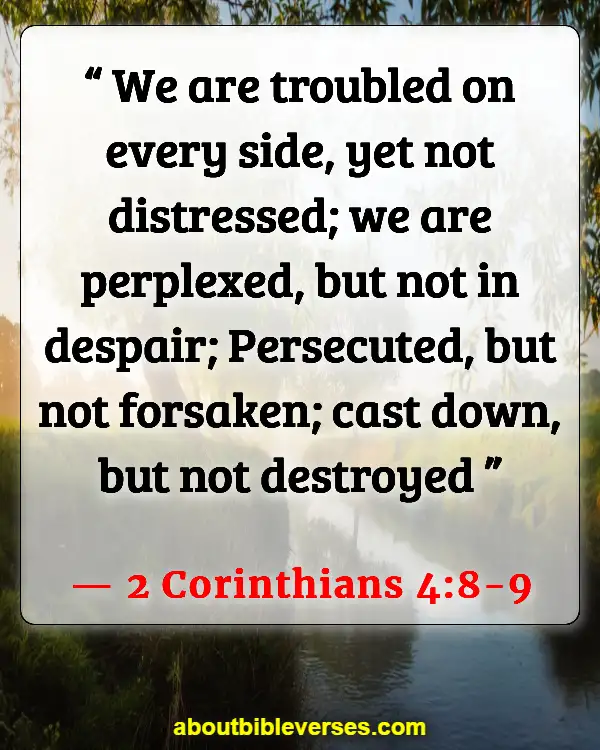 2 Corinthians 4:8-9
"We are troubled on every side, yet not distressed; we are perplexed, but not in despair; Persecuted, but not forsaken; cast down, but not destroyed"
Philippians 1:29
"For unto you it is given in the behalf of Christ, not only to believe on him, but also to suffer for his sake"
1 Peter 2:20
"For what glory is it, if, when ye be buffeted for your faults, ye shall take it patiently? but if, when ye do well, and suffer for it, ye take it patiently, this is acceptable with God"
Revelation 21:4
"And God shall wipe away all tears from their eyes; and there shall be no more death, neither sorrow, nor crying, neither shall there be any more pain: for the former things are passed away"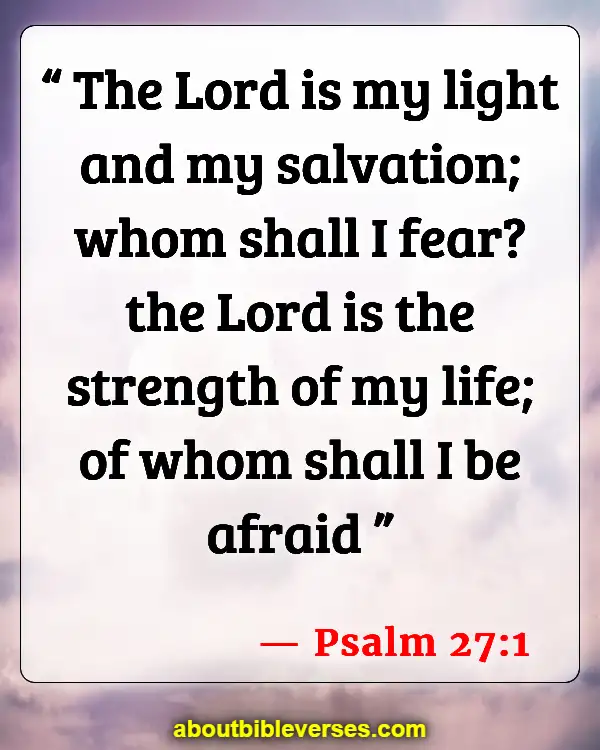 Psalm 27:1
"The Lord is my light and my salvation; whom shall I fear? the Lord is the strength of my life; of whom shall I be afraid?"
Psalm 18:2
"The Lord is my rock, and my fortress, and my deliverer; my God, my strength, in whom I will trust; my buckler, and the horn of my salvation, and my high tower"
Proverbs 3:5-6
"Trust in the Lord with all thine heart; and lean not unto thine own understanding. In all thy ways acknowledge him, and he shall direct thy paths"
Jeremiah 29:11
"For I know the thoughts that I think toward you, saith the Lord , thoughts of peace, and not of evil, to give you an expected end"
Isaiah 40:31
"But they that wait upon the Lord shall renew their strength; they shall mount up with wings as eagles; they shall run, and not be weary; and they shall walk, and not faint"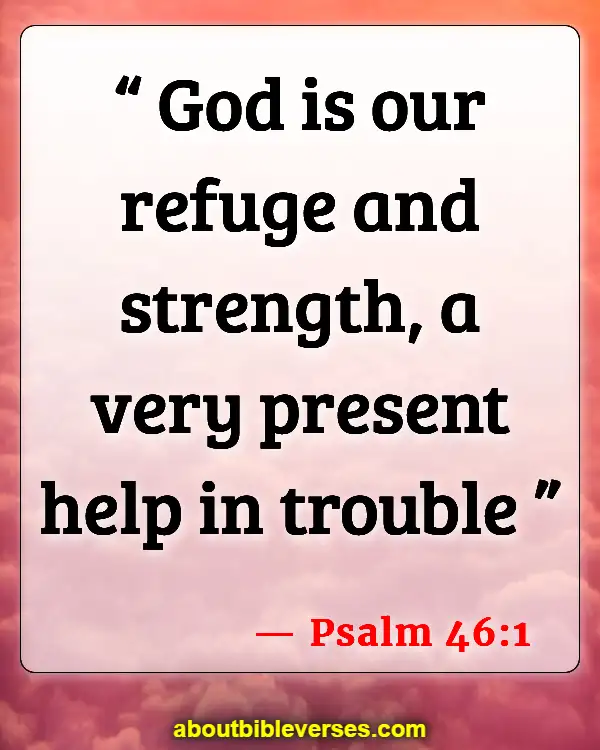 Psalm 46:1
"God is our refuge and strength, a very present help in trouble"