Hello dear friends, welcome to our site in the name of Jesus Christ. Today we will look at the Bible Scriptures About Rebellious Teenager In KJV. If you like today's post then definitely comment and share.
The Bible instructs us to raise our children in love, wisdom, and discipline. It tells us that the young, like seedlings, grow wild, but will bear good fruit if properly nurtured.
A rebellious teenager, sometimes straying from his path of righteousness, is led astray, and this can be terrifying for any parent. But remember, the Bible reminds us to be patient.
It is said that all humans, young or old, can sometimes resemble sheep lost from their flock. This is not a judgment but an understanding of our shared tendency to stray. It is our role as caregivers to guide the lost sheep back to safety, back to the Shepherd.
It's vital to communicate with your teenager, opening the channels of love and understanding. Listen to them, comfort them, advise them, and guide them towards what is good and right. With time and patience, even the most rebellious teenager can be guided back onto the path of righteousness.
While we must correct their wrongdoings, we should not forget to reinforce their good deeds. We can't expect perfection, for only the divine is perfect. Teenagers will make mistakes, but these errors are the sands on which the castle of their character will stand.
To instill moral and ethical principles in them, we must embody these principles ourselves. Children learn more from what they see than what they are told. Let's walk on the path of righteousness, inspiring them to follow suit.
Here are the Bible verses which provide guidance on dealing with rebellion and provide advice on parenting, discipline, forgiveness, understanding, and growth: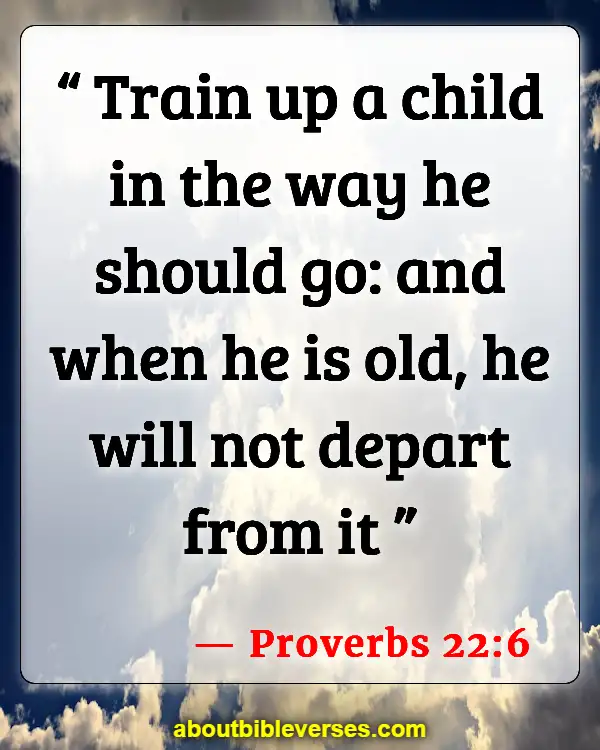 Proverbs 22:6
"Train up a child in the way he should go: and when he is old, he will not depart from it"
Ephesians 6:4
"And, ye fathers, provoke not your children to wrath: but bring them up in the nurture and admonition of the Lord"
Proverbs 29:17
"Correct thy son, and he shall give thee rest; yea, he shall give delight unto thy soul"
Colossians 3:21
"Fathers, provoke not your children to anger, lest they be discouraged"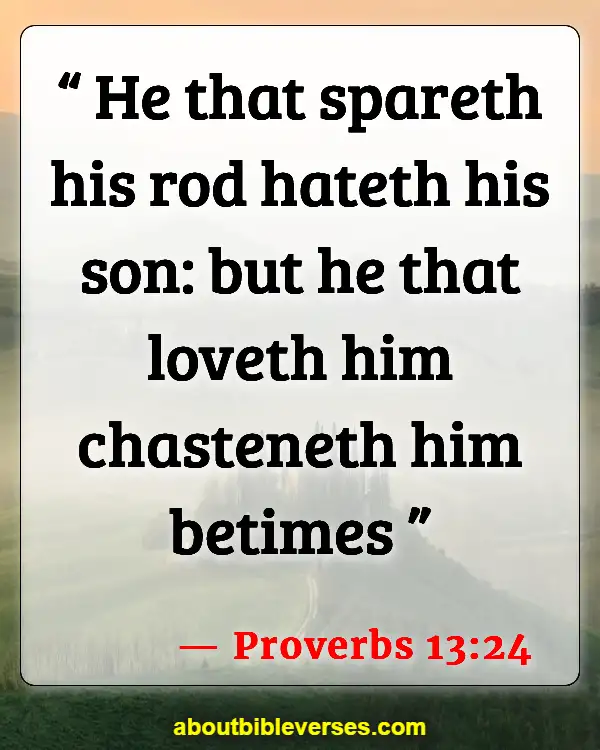 Proverbs 13:24
"He that spareth his rod hateth his son: but he that loveth him chasteneth him betimes"
Hebrews 12:11
"Now no chastening for the present seemeth to be joyous, but grievous: nevertheless afterward it yieldeth the peaceable fruit of righteousness unto them which are exercised thereby"
Proverbs 19:18
"Chasten thy son while there is hope, and let not thy soul spare for his crying"
2 Timothy 3:16
"All scripture is given by inspiration of God, and is profitable for doctrine, for reproof, for correction, for instruction in righteousness"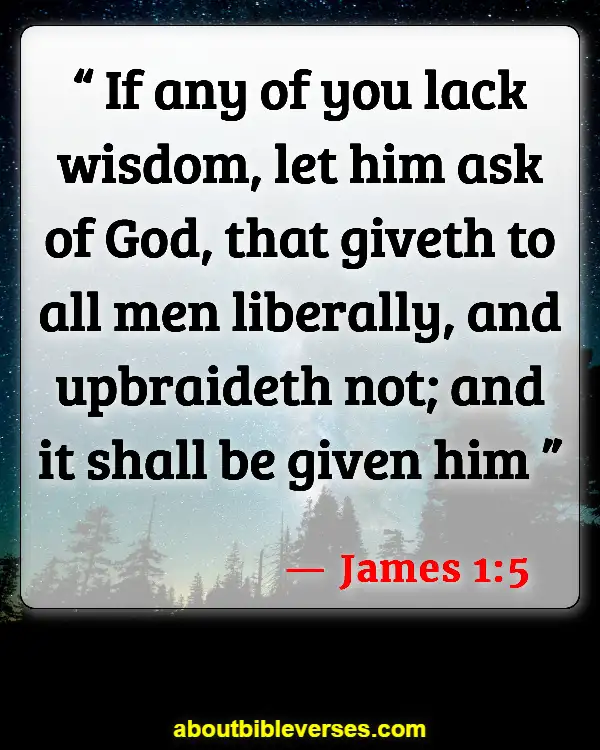 James 1:5
"If any of you lack wisdom, let him ask of God, that giveth to all men liberally, and upbraideth not; and it shall be given him"
Proverbs 1:8-9
"My son, hear the instruction of thy father, and forsake not the law of thy mother: For they shall be an ornament of grace unto thy head, and chains about thy neck"
Deuteronomy 6:6-7
"And these words, which I command thee this day, shall be in thine heart: And thou shalt teach them diligently unto thy children, and shalt talk of them when thou sittest in thine house, and when thou walkest by the way, and when thou liest down, and when thou risest up"
Proverbs 29:15
"The rod and reproof give wisdom: but a child left to himself bringeth his mother to shame"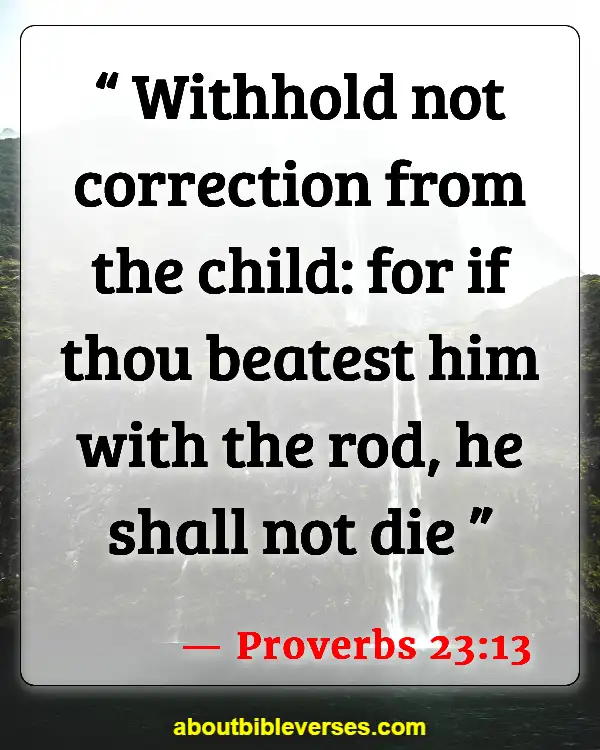 Proverbs 23:13
"Withhold not correction from the child: for if thou beatest him with the rod, he shall not die"
Psalm 127:3
"Lo, children are an heritage of the Lord : and the fruit of the womb is his reward"
Proverbs 3:12
"For whom the Lord loveth he correcteth; even as a father the son in whom he delighteth"
Proverbs 15:1
"A soft answer turneth away wrath: but grievous words stir up anger"
Luke 6:36
"Be ye therefore merciful, as your Father also is merciful"
Ephesians 4:2
"With all lowliness and meekness, with longsuffering, forbearing one another in love"
2 Corinthians 6:14
"Be ye not unequally yoked together with unbelievers: for what fellowship hath righteousness with unrighteousness? and what communion hath light with darkness?"
Psalm 103:13
"Like as a father pitieth his children, so the Lord pitieth them that fear him"
1 Thessalonians 5:14
"Now we exhort you, brethren, warn them that are unruly, comfort the feebleminded, support the weak, be patient toward all men"
1 Corinthians 16:14
"Let all your things be done with charity"
James 3:17
"But the wisdom that is from above is first pure, then peaceable, gentle, and easy to be intreated, full of mercy and good fruits, without partiality, and without hypocrisy"
Colossians 3:12
"Put on therefore, as the elect of God, holy and beloved, bowels of mercies, kindness, humbleness of mind, meekness, longsuffering"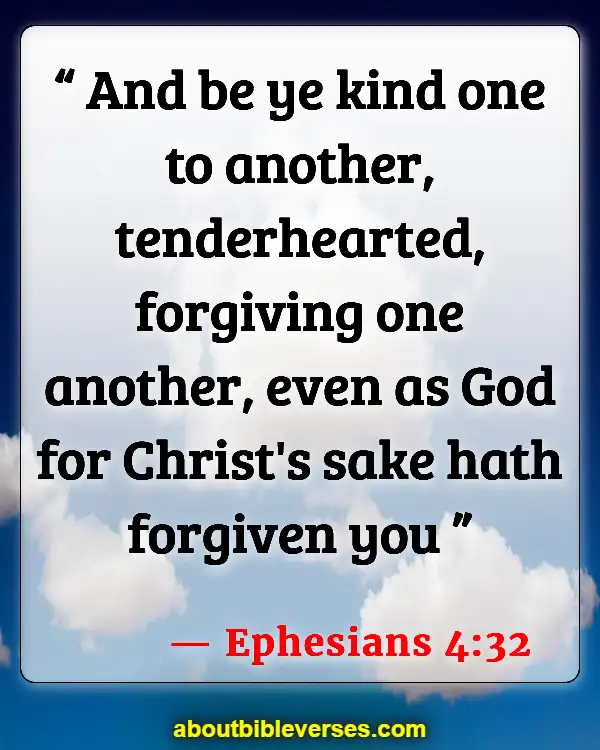 Ephesians 4:32
"And be ye kind one to another, tenderhearted, forgiving one another, even as God for Christ's sake hath forgiven you"
1 Peter 4:8
"And above all things have fervent charity among yourselves: for charity shall cover the multitude of sins"
1 Corinthians 13:4-7
"Charity suffereth long, and is kind; charity envieth not; charity vaunteth not itself, is not puffed up, Doth not behave itself unseemly, seeketh not her own, is not easily provoked, thinketh no evil; Rejoiceth not in iniquity, but rejoiceth in the truth; Beareth all things, believeth all things, hopeth all things, endureth all things"
Matthew 18:21-22
"Then came Peter to him, and said, Lord, how oft shall my brother sin against me, and I forgive him? till seven times? Jesus saith unto him, I say not unto thee, Until seven times: but, Until seventy times seven"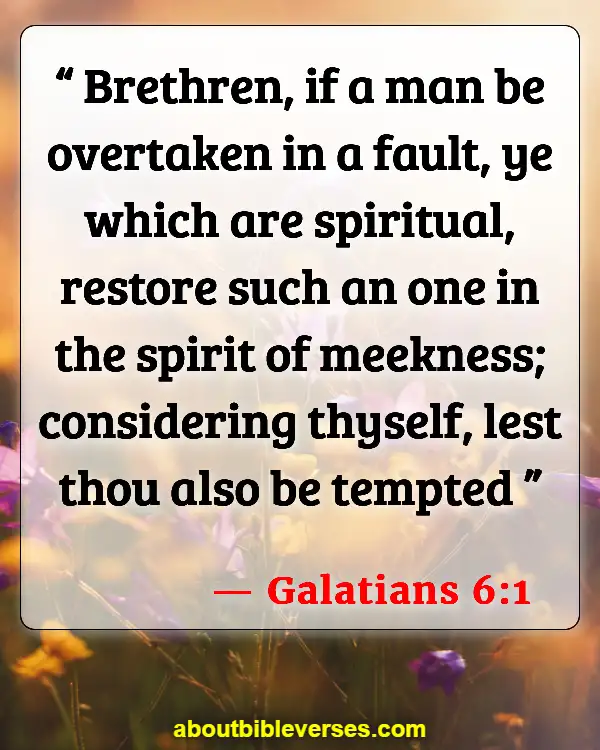 Galatians 6:1
"Brethren, if a man be overtaken in a fault, ye which are spiritual, restore such an one in the spirit of meekness; considering thyself, lest thou also be tempted"
Romans 15:1
"We then that are strong ought to bear the infirmities of the weak, and not to please ourselves"
Proverbs 14:29
"He that is slow to wrath is of great understanding: but he that is hasty of spirit exalteth folly"
Ecclesiastes 7:9
"Be not hasty in thy spirit to be angry: for anger resteth in the bosom of fools"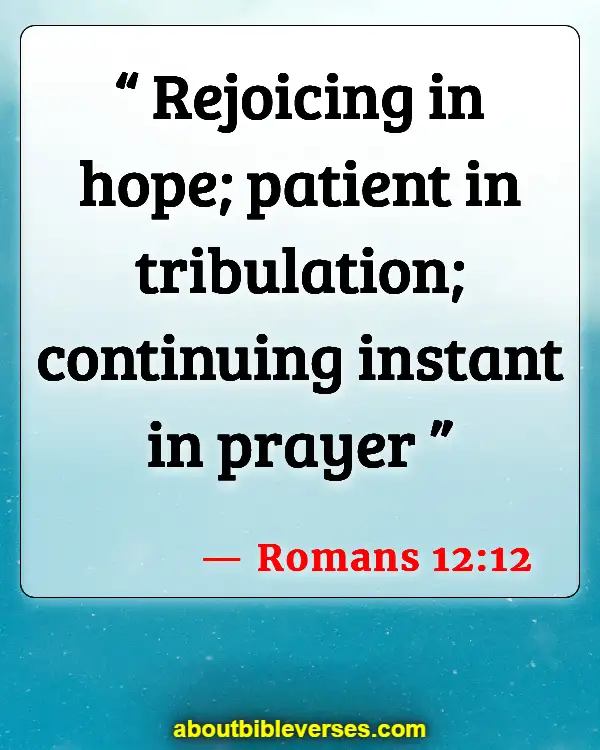 Romans 12:12
"Rejoicing in hope; patient in tribulation; continuing instant in prayer"
James 1:19
"Wherefore, my beloved brethren, let every man be swift to hear, slow to speak, slow to wrath"
Galatians 5:22-23
"But the fruit of the Spirit is love, joy, peace, longsuffering, gentleness, goodness, faith, Meekness, temperance: against such there is no law"
Philippians 4:6
"Be careful for nothing; but in every thing by prayer and supplication with thanksgiving let your requests be made known unto God"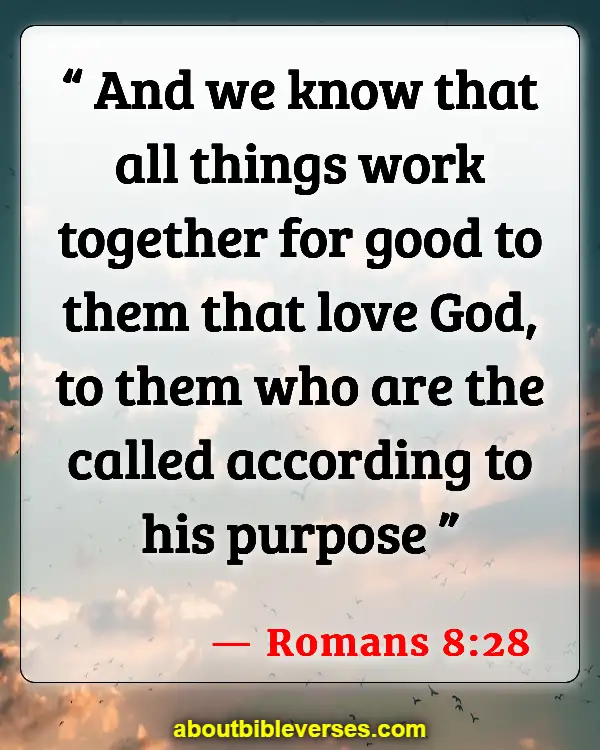 Romans 8:28
"And we know that all things work together for good to them that love God, to them who are the called according to his purpose"
1 Corinthians 10:13
"There hath no temptation taken you but such as is common to man: but God is faithful, who will not suffer you to be tempted above that ye are able; but will with the temptation also make a way to escape, that ye may be able to bear it"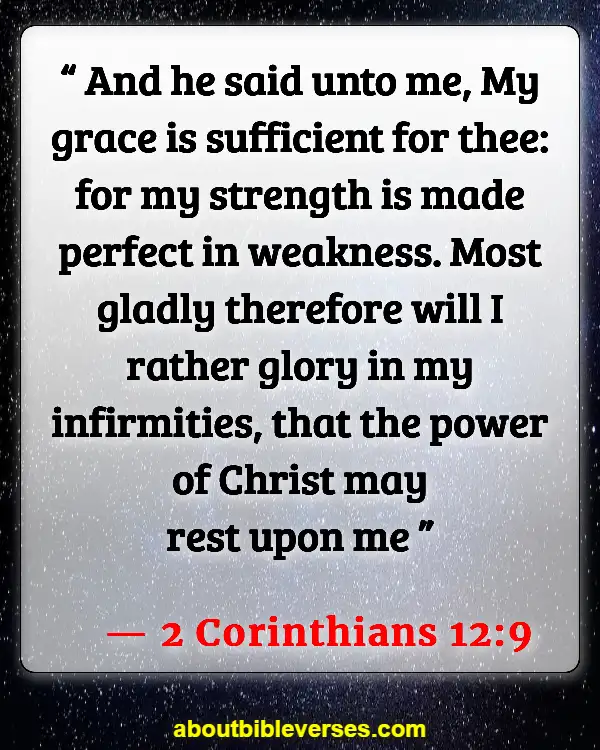 2 Corinthians 12:9
"And he said unto me, My grace is sufficient for thee: for my strength is made perfect in weakness. Most gladly therefore will I rather glory in my infirmities, that the power of Christ may rest upon me"