Beloved brethren, in this sacred realm of life, the pursuit of righteousness stands as an eternal beacon. Our souls yearn for divine communion with our Creator, and the path to righteousness unfolds as a divine guide to lead us closer to His presence.
Righteousness, a virtue revered since time immemorial, finds its roots in the very heart of God's teachings. As He bestowed upon us His holy commandments, He urged us to walk uprightly and follow the righteous path. Through obedience to His word, we align our lives with the sacred of His divine plan.
Let us reflect upon the lives of the righteous forefathers who graced the pages of the Bible. The unwavering faith of Abraham, the courage of Daniel, the humility of Moses, and the repentance of David exemplify the virtues of righteousness. Their devotion to God inspires us to emulate their unwavering commitment to the Almighty.
As we pursue righteousness, challenges may befall us, and temptation may knock on our doors. But, my brethren, remember the words of the Psalmist, "The Lord is on the side of the righteous." With faith as our shield, we stand firm against the trials, knowing that our God is a just and loving Father who watches over His faithful children.
May the pursuit of righteousness be etched upon our hearts, transforming us into vessels of divine light. Let us, with steadfast determination, walk the righteous path, for in doing so, we draw closer to our Heavenly Father and bask in the warmth of His eternal love. Amen.
Dear friends now let's see the Bible scriptures below that talk about Pursue Righteousness.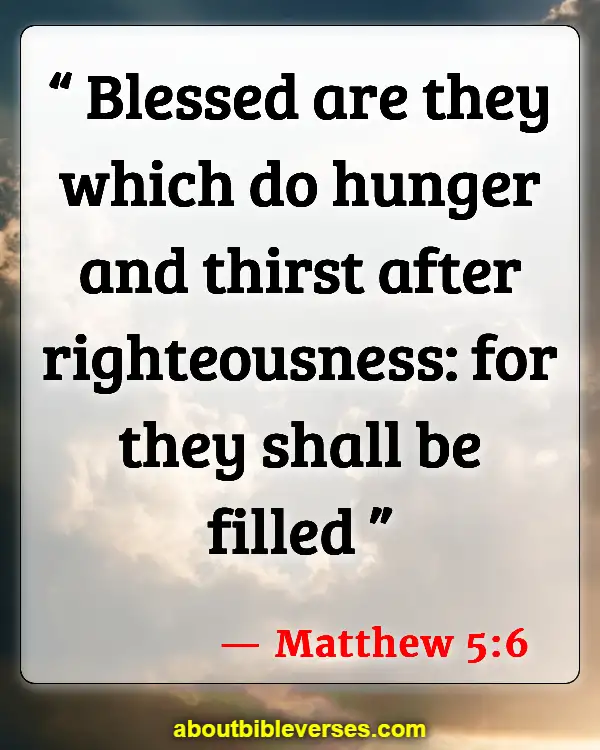 Matthew 5:6
"Blessed are they which do hunger and thirst after righteousness: for they shall be filled"
Matthew 6:33
"But seek ye first the kingdom of God, and his righteousness; and all these things shall be added unto you"
Psalm 15:2
"He that walketh uprightly, and worketh righteousness, and speaketh the truth in his heart"
Proverbs 21:21
"He that followeth after righteousness and mercy findeth life, righteousness, and honour"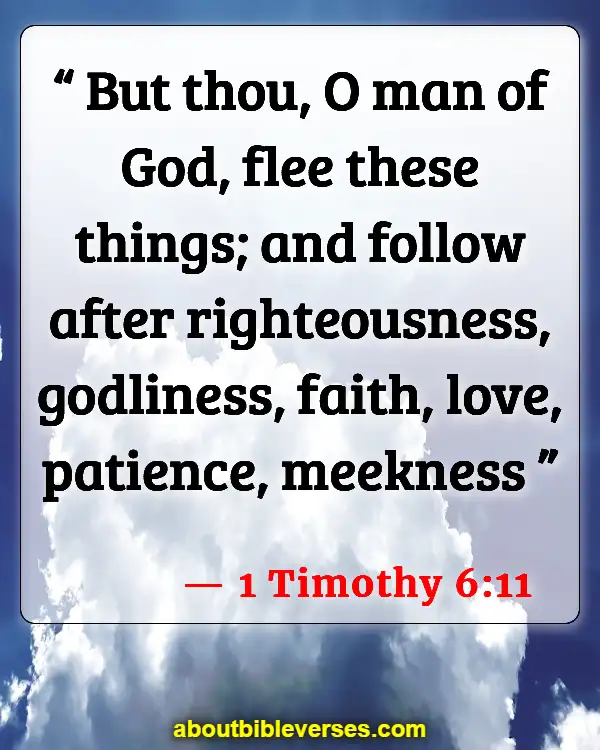 1 Timothy 6:11
"But thou, O man of God, flee these things; and follow after righteousness, godliness, faith, love, patience, meekness"
2 Timothy 2:22
"Flee also youthful lusts: but follow righteousness, faith, charity, peace, with them that call on the Lord out of a pure heart"
1 Peter 2:24
"Who his own self bare our sins in his own body on the tree, that we, being dead to sins, should live unto righteousness: by whose stripes ye were healed"
Romans 6:13
"Neither yield ye your members as instruments of unrighteousness unto sin: but yield yourselves unto God, as those that are alive from the dead, and your members as instruments of righteousness unto God"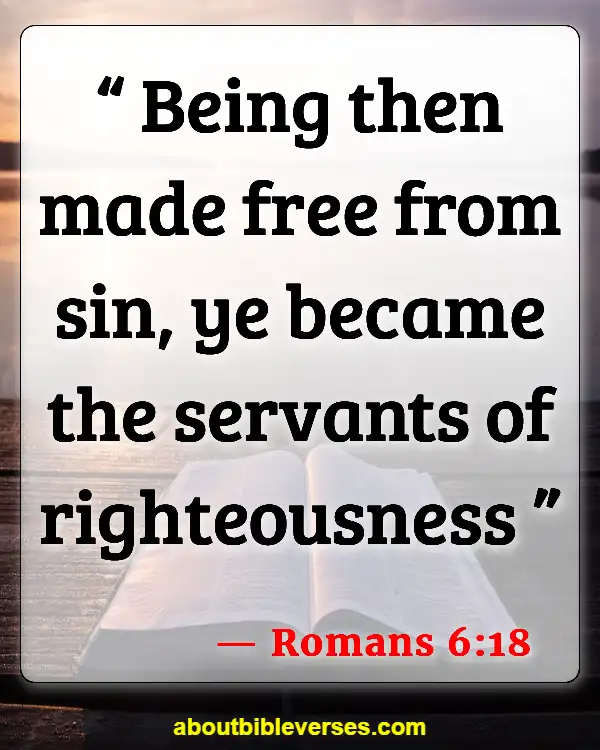 Romans 6:18
"Being then made free from sin, ye became the servants of righteousness"
Romans 14:17
"For the kingdom of God is not meat and drink; but righteousness, and peace, and joy in the Holy Ghost"
1 Corinthians 15:34
"Awake to righteousness, and sin not; for some have not the knowledge of God: I speak this to your shame"
2 Corinthians 5:21
"For he hath made him to be sin for us, who knew no sin; that we might be made the righteousness of God in him"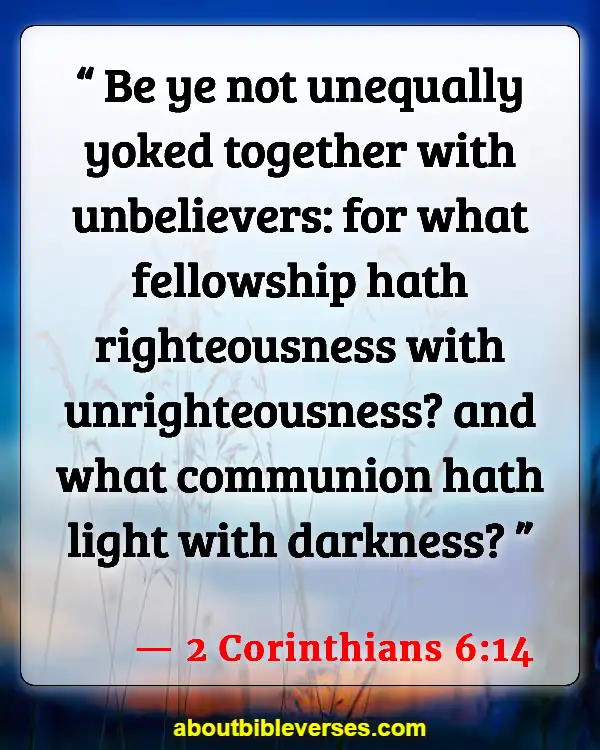 2 Corinthians 6:14
"Be ye not unequally yoked together with unbelievers: for what fellowship hath righteousness with unrighteousness? and what communion hath light with darkness?"
2 Corinthians 9:10
"Now he that ministereth seed to the sower both minister bread for your food, and multiply your seed sown, and increase the fruits of your righteousness;)"
Ephesians 4:24
"And that ye put on the new man, which after God is created in righteousness and true holiness"
Ephesians 5:9
"(For the fruit of the Spirit is in all goodness and righteousness and truth;)"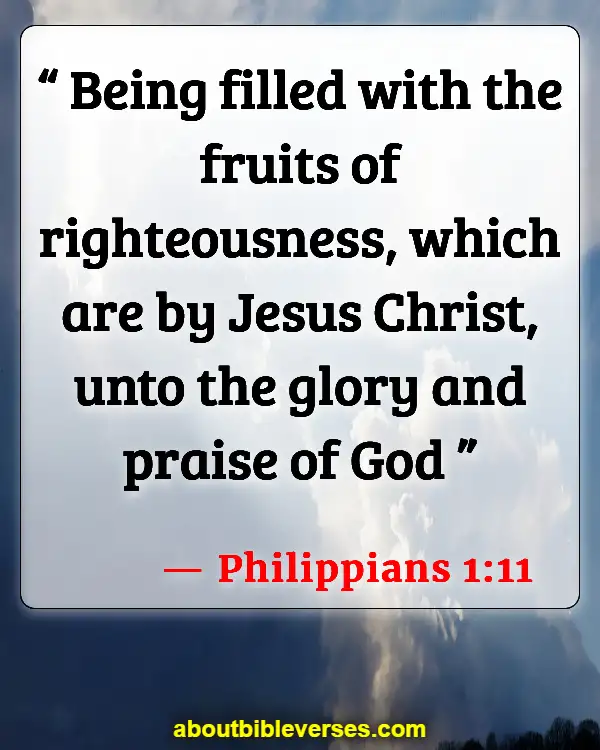 Philippians 1:11
"Being filled with the fruits of righteousness, which are by Jesus Christ, unto the glory and praise of God"
Philippians 3:9
"And be found in him, not having mine own righteousness, which is of the law, but that which is through the faith of Christ, the righteousness which is of God by faith"
2 Timothy 3:16
"All scripture is given by inspiration of God, and is profitable for doctrine, for reproof, for correction, for instruction in righteousness"
Hebrews 1:9
"Thou hast loved righteousness, and hated iniquity; therefore God, even thy God, hath anointed thee with the oil of gladness above thy fellows"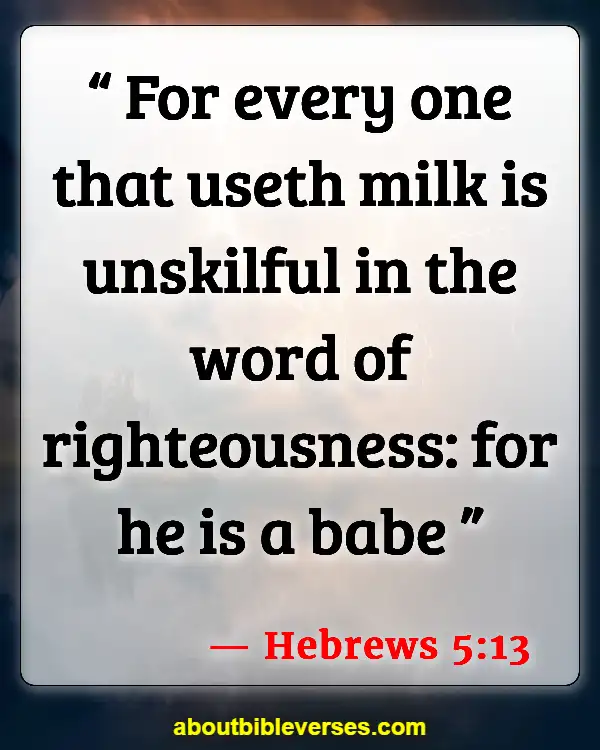 Hebrews 5:13
"For every one that useth milk is unskilful in the word of righteousness: for he is a babe"
Hebrews 12:11
"Now no chastening for the present seemeth to be joyous, but grievous: nevertheless afterward it yieldeth the peaceable fruit of righteousness unto them which are exercised thereby"
James 3:18
"And the fruit of righteousness is sown in peace of them that make peace"
1 John 2:29
"If ye know that he is righteous, ye know that every one that doeth righteousness is born of him"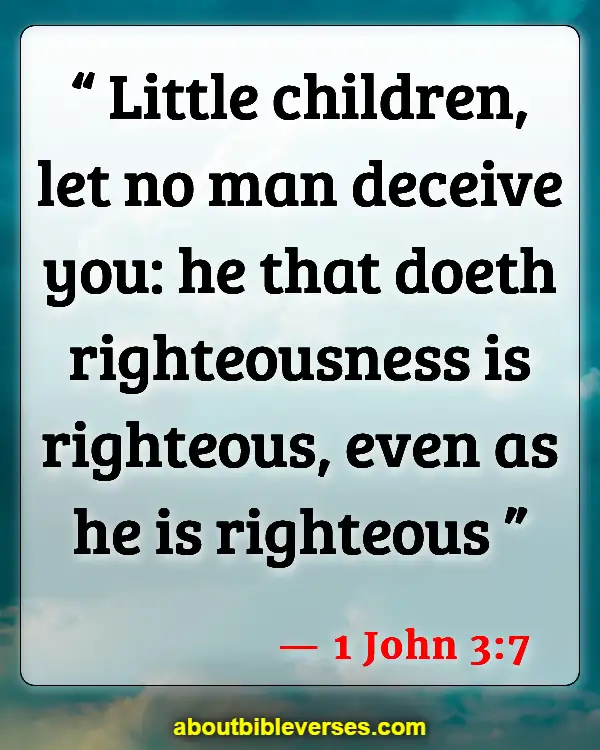 1 John 3:7
"Little children, let no man deceive you: he that doeth righteousness is righteous, even as he is righteous"
1 John 3:10
"In this the children of God are manifest, and the children of the devil: whosoever doeth not righteousness is not of God, neither he that loveth not his brother"
Revelation 19:11
"And I saw heaven opened, and behold a white horse; and he that sat upon him was called Faithful and True, and in righteousness he doth judge and make war"
Revelation 22:11
"He that is unjust, let him be unjust still: and he which is filthy, let him be filthy still: and he that is righteous, let him be righteous still: and he that is holy, let him be holy still"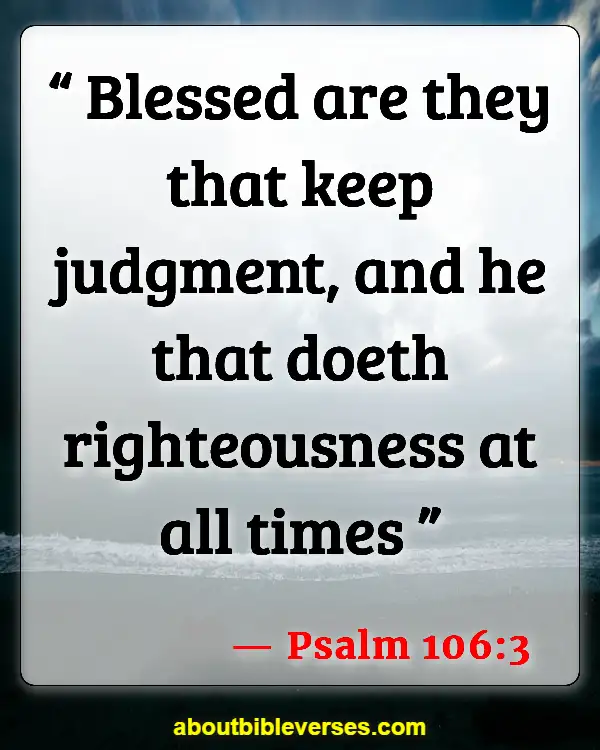 Psalm 106:3
"Blessed are they that keep judgment, and he that doeth righteousness at all times"
Proverbs 12:28
"In the way of righteousness is life: and in the pathway thereof there is no death"
Proverbs 13:6
"Righteousness keepeth him that is upright in the way: but wickedness overthroweth the sinner"
Proverbs 15:9
"The way of the wicked is an abomination unto the Lord : but he loveth him that followeth after righteousness"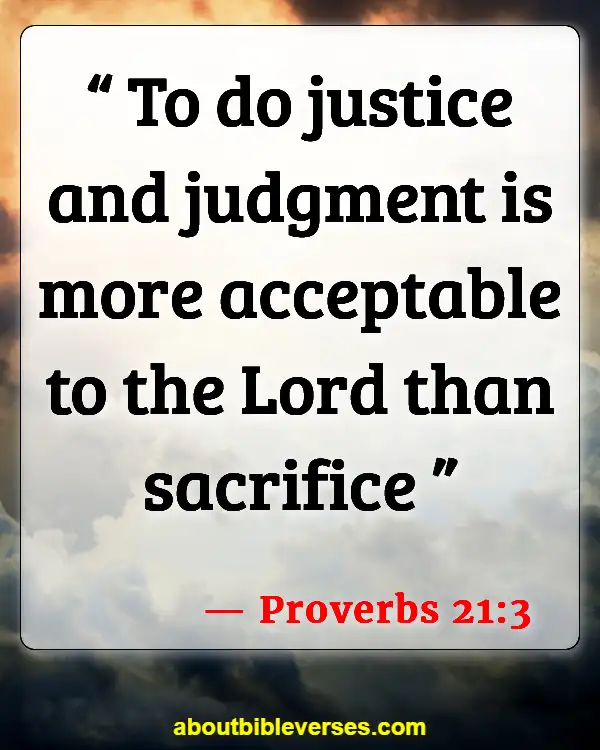 Proverbs 21:3
"To do justice and judgment is more acceptable to the Lord than sacrifice"
Isaiah 51:1
"Hearken to me, ye that follow after righteousness, ye that seek the Lord : look unto the rock whence ye are hewn, and to the hole of the pit whence ye are digged"
Ezekiel 18:9
"Hath walked in my statutes, and hath kept my judgments, to deal truly; he is just, he shall surely live, saith the Lord God"
Zephaniah 2:3
"Seek ye the Lord , all ye meek of the earth, which have wrought his judgment; seek righteousness, seek meekness: it may be ye shall be hid in the day of the Lord 's anger"
1 Samuel 26:23
"The Lord render to every man his righteousness and his faithfulness; for the Lord delivered thee into my hand to day, but I would not stretch forth mine hand against the Lord 's anointed"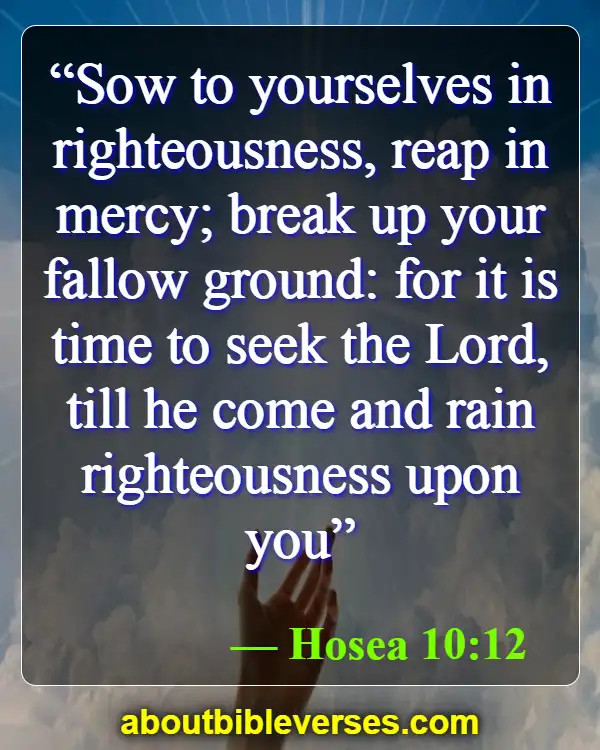 Hosea 10:12
"Sow to yourselves in righteousness, reap in mercy; break up your fallow ground: for it is time to seek the Lord , till he come and rain righteousness upon you"