Dear friends, money troubles can weigh heavily on our hearts. But we serve a God who knows our needs. He promises to provide what is essential for those who seek His kingdom.
In times of lack, remember the birds of the air. They neither sow nor reap, yet the Father feeds them. How much more will He clothe His children? Anxiety cannot add a single hour to our lives. Rather, fix your eyes on things above.
God gave us talents and abilities to steward. Use them diligently, but honestly, not chasing riches. Better to have little with righteousness than great wealth with trouble. For we brought nothing into this world, and can take nothing out.
Instead of envying others, be content with your daily bread. Find meaning in relationships, service and spiritual growth. When fortune fades, rely on His grace. He hears the cry of little crows. Then O child of faith, will he not deliver you? Poverty or plenty, seek refuge under His wings until the storm passes.
Dear friends, now let's see the Bible scriptures below that talk about money problems.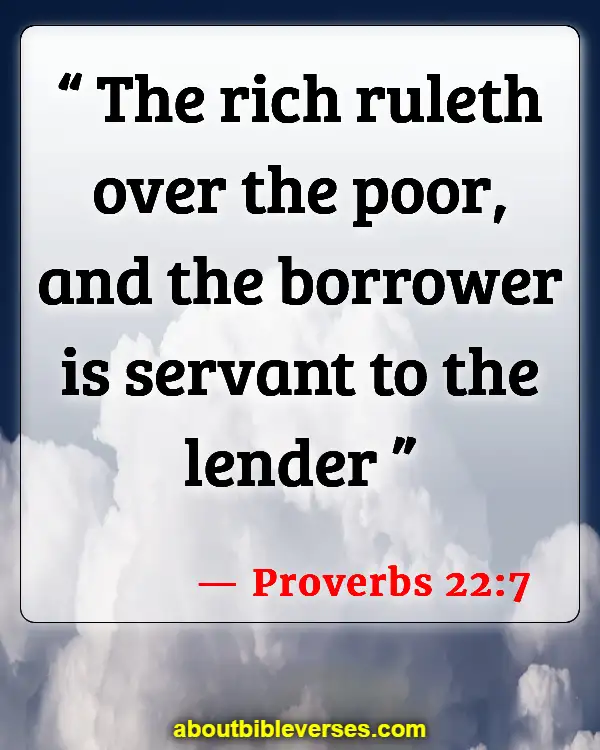 Proverbs 22:7
"The rich ruleth over the poor, and the borrower is servant to the lender"
Ecclesiastes 5:10
"He that loveth silver shall not be satisfied with silver; nor he that loveth abundance with increase: this is also vanity"
Matthew 6:24
"No man can serve two masters: for either he will hate the one, and love the other; or else he will hold to the one, and despise the other. Ye cannot serve God and mammon"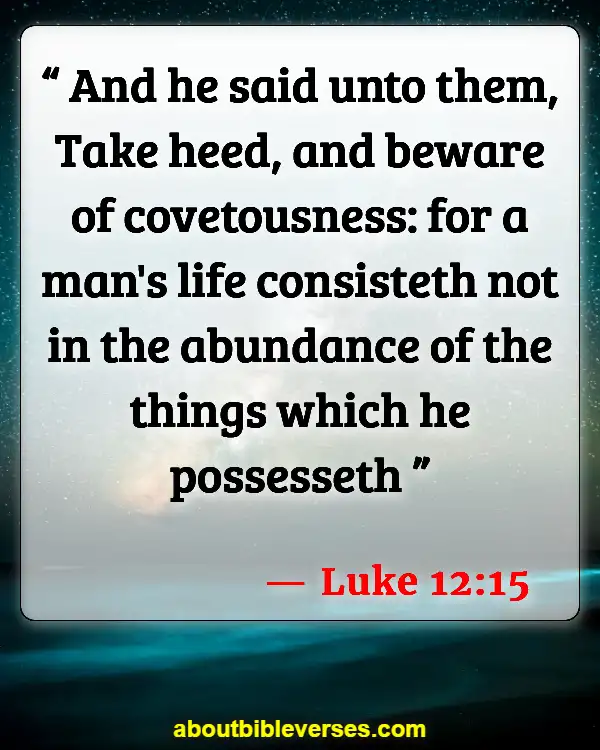 Luke 12:15
"And he said unto them, Take heed, and beware of covetousness: for a man's life consisteth not in the abundance of the things which he possesseth"
1 Timothy 6:10
"For the love of money is the root of all evil: which while some coveted after, they have erred from the faith, and pierced themselves through with many sorrows"
Hebrews 13:5
"Let your conversation be without covetousness; and be content with such things as ye have: for he hath said, I will never leave thee, nor forsake thee"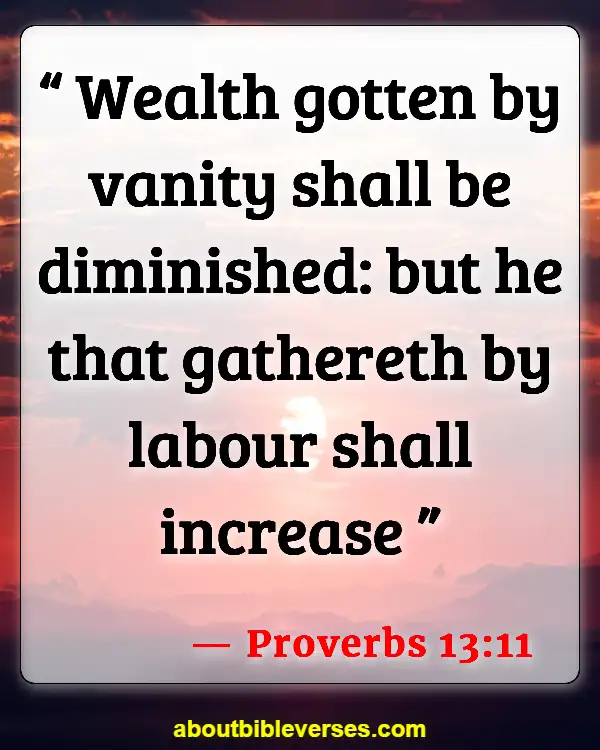 Proverbs 13:11
"Wealth gotten by vanity shall be diminished: but he that gathereth by labour shall increase"
Proverbs 23:4-5
"Labour not to be rich: cease from thine own wisdom. Wilt thou set thine eyes upon that which is not? for riches certainly make themselves wings; they fly away as an eagle toward heaven"
Luke 16:13
"No servant can serve two masters: for either he will hate the one, and love the other; or else he will hold to the one, and despise the other. Ye cannot serve God and mammon"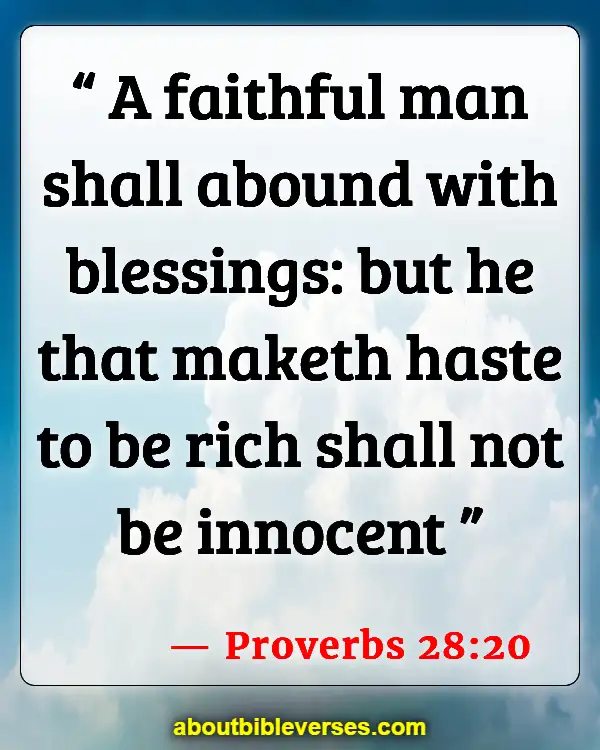 Proverbs 28:20
"A faithful man shall abound with blessings: but he that maketh haste to be rich shall not be innocent"
Proverbs 15:27
"He that is greedy of gain troubleth his own house; but he that hateth gifts shall live"
Ecclesiastes 5:19
"Every man also to whom God hath given riches and wealth, and hath given him power to eat thereof, and to take his portion, and to rejoice in his labour; this is the gift of God"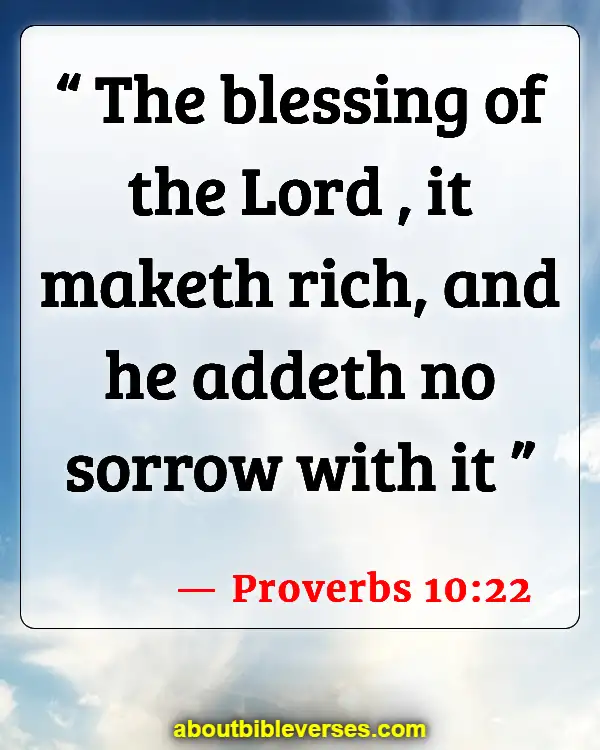 Proverbs 10:22
"The blessing of the Lord , it maketh rich, and he addeth no sorrow with it"
Proverbs 11:28
"He that trusteth in his riches shall fall; but the righteous shall flourish as a branch"
Proverbs 22:1
"A good name is rather to be chosen than great riches, and loving favour rather than silver and gold"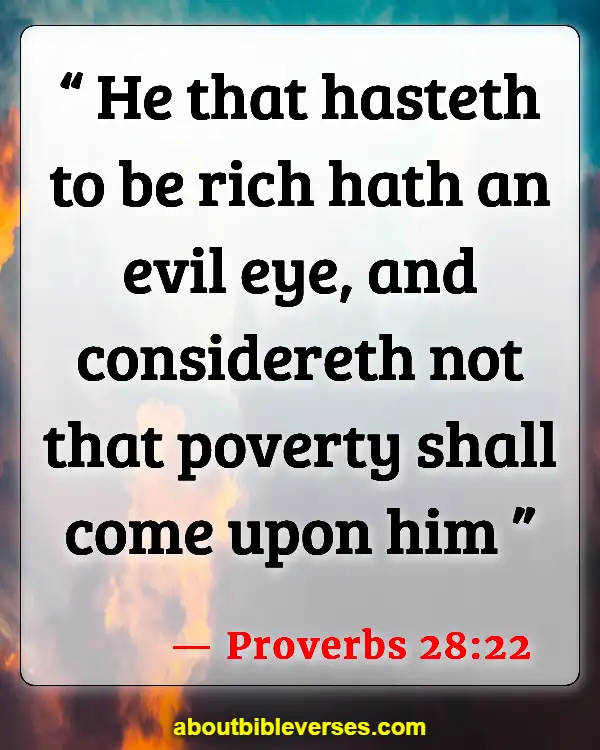 Proverbs 28:22
"He that hasteth to be rich hath an evil eye, and considereth not that poverty shall come upon him"
Proverbs 30:8-9
"Remove far from me vanity and lies: give me neither poverty nor riches; feed me with food convenient for me: Lest I be full, and deny thee, and say, Who is the Lord ? or lest I be poor, and steal, and take the name of my God in vain"
Proverbs 11:4
"Riches profit not in the day of wrath: but righteousness delivereth from death"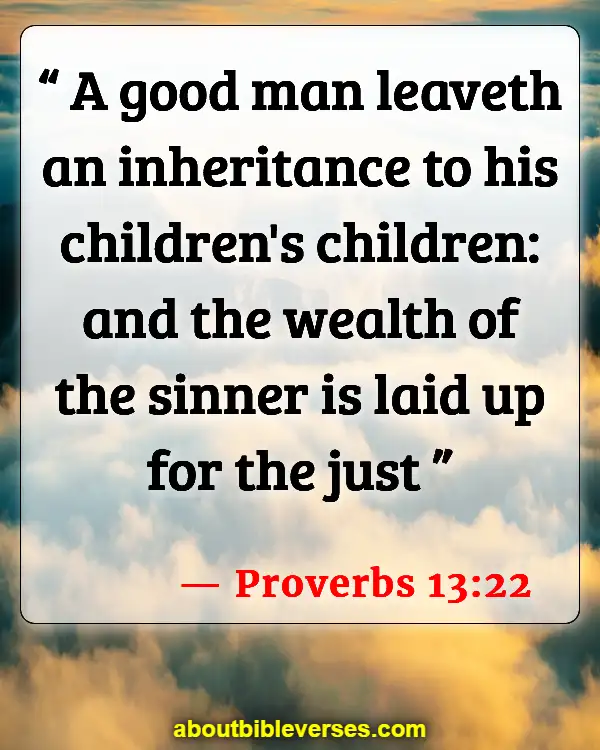 Proverbs 13:22
"A good man leaveth an inheritance to his children's children: and the wealth of the sinner is laid up for the just"
Matthew 6:19-21
"Lay not up for yourselves treasures upon earth, where moth and rust doth corrupt, and where thieves break through and steal: But lay up for yourselves treasures in heaven, where neither moth nor rust doth corrupt, and where thieves do not break through nor steal: For where your treasure is, there will your heart be also"
Luke 12:33-34
"Sell that ye have, and give alms; provide yourselves bags which wax not old, a treasure in the heavens that faileth not, where no thief approacheth, neither moth corrupteth. For where your treasure is, there will your heart be also"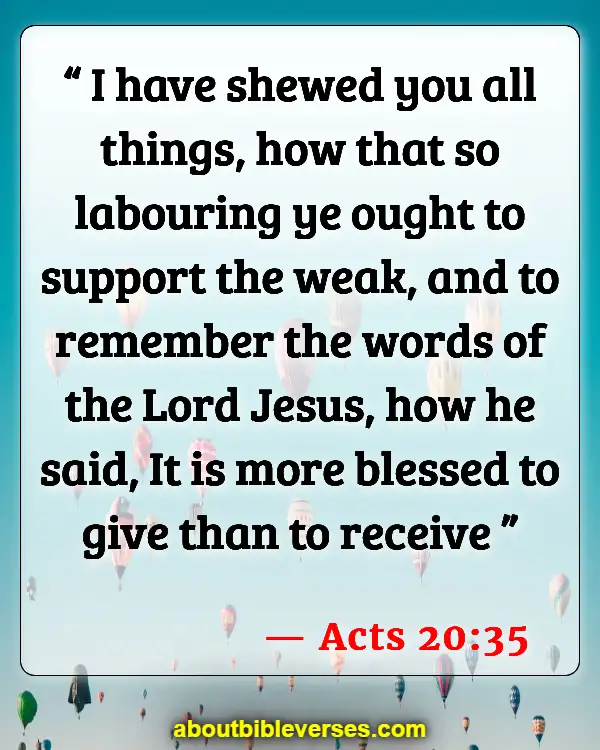 Acts 20:35
"I have shewed you all things, how that so labouring ye ought to support the weak, and to remember the words of the Lord Jesus, how he said, It is more blessed to give than to receive"
Proverbs 14:21
"He that despiseth his neighbour sinneth: but he that hath mercy on the poor, happy is he"
Proverbs 19:17
"He that hath pity upon the poor lendeth unto the Lord ; and that which he hath given will he pay him again"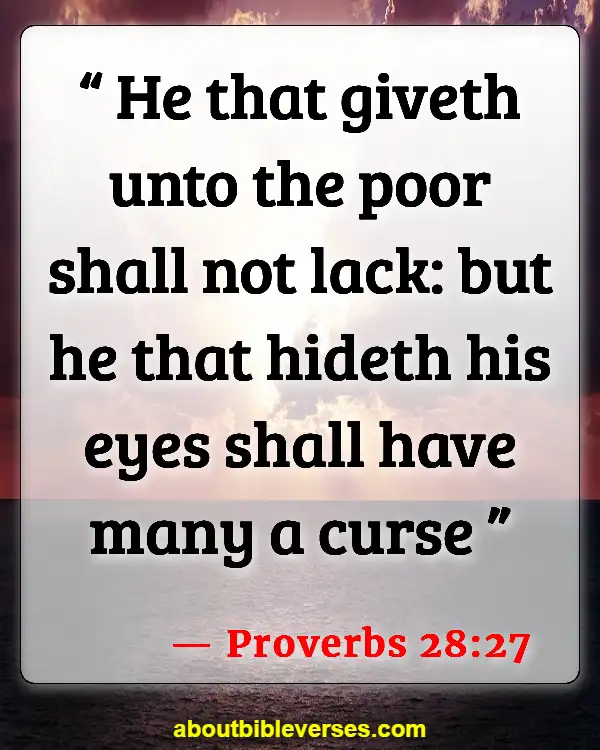 Proverbs 28:27
"He that giveth unto the poor shall not lack: but he that hideth his eyes shall have many a curse"
Luke 14:13-14
"But when thou makest a feast, call the poor, the maimed, the lame, the blind: And thou shalt be blessed; for they cannot recompense thee: for thou shalt be recompensed at the resurrection of the just"
2 Corinthians 8:9
"For ye know the grace of our Lord Jesus Christ, that, though he was rich, yet for your sakes he became poor, that ye through his poverty might be rich"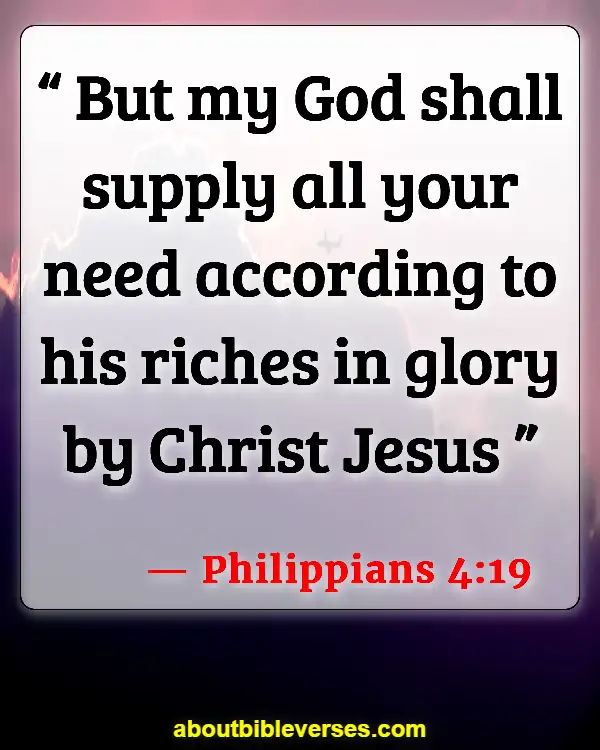 Philippians 4:19
"But my God shall supply all your need according to his riches in glory by Christ Jesus"
1 John 3:17-18
"But whoso hath this world's good, and seeth his brother have need, and shutteth up his bowels of compassion from him, how dwelleth the love of God in him? My little children, let us not love in word, neither in tongue; but in deed and in truth"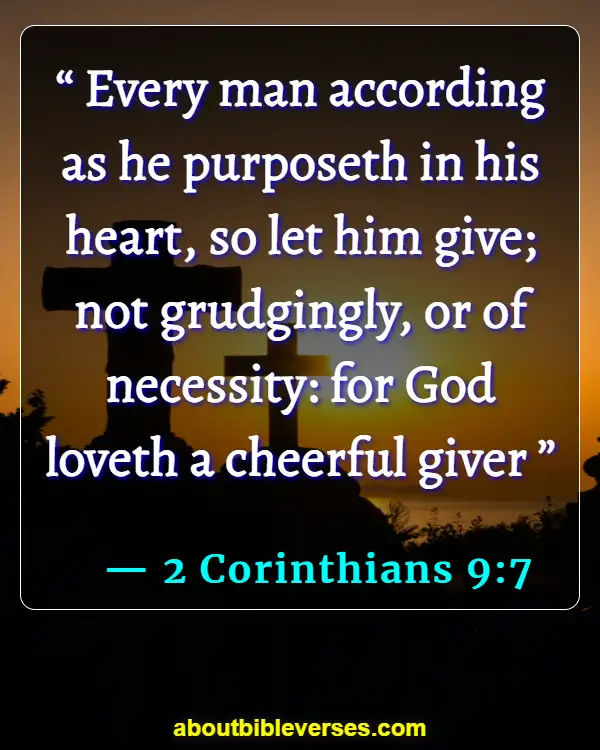 2 Corinthians 9:7
"Every man according as he purposeth in his heart, so let him give; not grudgingly, or of necessity: for God loveth a cheerful giver"