Hello dear friends, welcome to our site in the name of Jesus Christ. Today we will look at the Bible Scriptures About Love Is Not Selfish. If you like today's post then definitely comment and share.
Love, in its divine nature, can be likened to a river that flows tirelessly, never asking for anything in return. It gives selflessly. It is this love that the Bible speaks of when it teaches that love is not selfish.
Like a tree full of fruit, It does not consume its own products but shares them with the world – the birds, the animals, and humans alike. This selfless giving mirrors the essence of love. In a similar manner, we are encouraged to share our gifts, our time, and our compassion, just as freely with others, expecting nothing in return.
Love is like a light that shines for all, not just for itself. It illuminates the path for others, guiding them in their journey, while asking nothing in return. Such is the nature of love: it seeks to uplift others.
God asks us to keep this kind of love in our hearts. Love that is selfless, love that shines for others, love that lifts and supports. A love, like an ever-giving tree or a guiding light, expects nothing in return.
A loving heart shares gives, forgives, and always seeks the happiness of others. It's a gift from above, teaching us to live selflessly and to love unconditionally. This kind of love transforms us, leading us toward a better and more fulfilling life. Love that is not selfish is a divine treasure that we are all invited to share.
A perfect example of this is a loving mother. She cradles her baby, feeds her baby before herself, and watches over her little one while she sleeps. His love is not about what he gets but what he gives. Her love reflects the divine love that nourishes and protects her child.
Such love isn't easy. It demands patience, courage, and understanding. But it's within this struggle that we truly find our divine nature, echoing the boundless love that created us.
Here are some Bible verses that touch upon the topic of love not being selfish: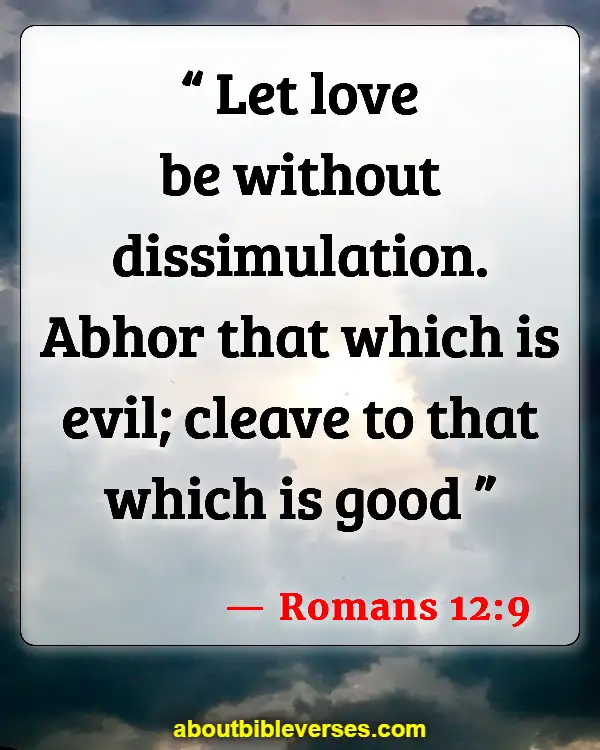 Romans 12:9
"Let love be without dissimulation. Abhor that which is evil; cleave to that which is good"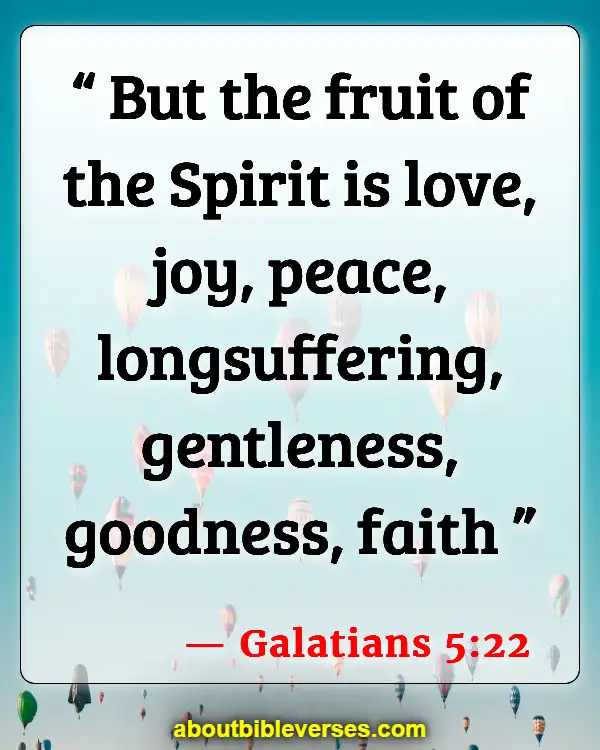 Galatians 5:22
"But the fruit of the Spirit is love, joy, peace, longsuffering, gentleness, goodness, faith"
1 Corinthians 13:5
"Doth not behave itself unseemly, seeketh not her own, is not easily provoked, thinketh no evil"
Philippians 2:3
"Let nothing be done through strife or vainglory; but in lowliness of mind let each esteem other better than themselves"
1 John 4:7
"Beloved, let us love one another: for love is of God; and every one that loveth is born of God, and knoweth God"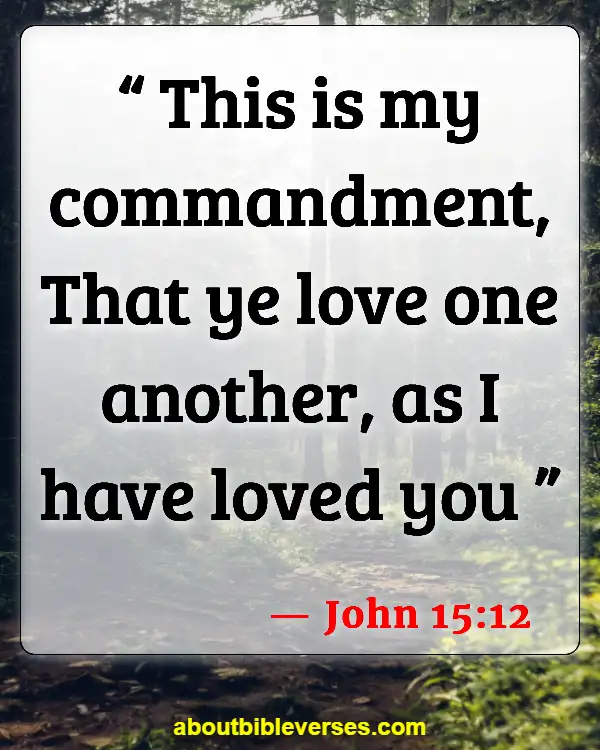 John 15:12
"This is my commandment, That ye love one another, as I have loved you"
Ephesians 4:2
"With all lowliness and meekness, with longsuffering, forbearing one another in love"
Romans 13:10
"Love worketh no ill to his neighbour: therefore love is the fulfilling of the law"
Colossians 3:14
"And above all these things put on charity, which is the bond of perfectness"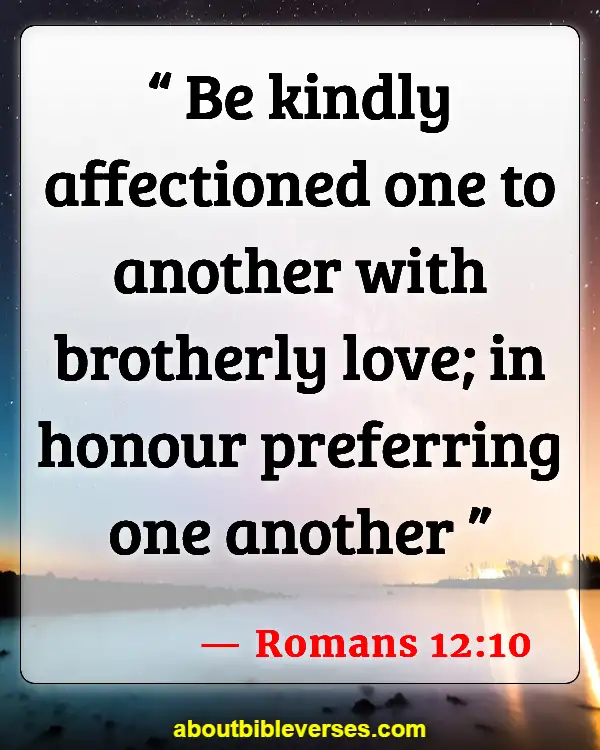 Romans 12:10
"Be kindly affectioned one to another with brotherly love; in honour preferring one another"
Matthew 22:39
"And the second is like unto it, Thou shalt love thy neighbour as thyself"
1 John 4:11
"Beloved, if God so loved us, we ought also to love one another"
John 13:34
"A new commandment I give unto you, That ye love one another; as I have loved you, that ye also love one another"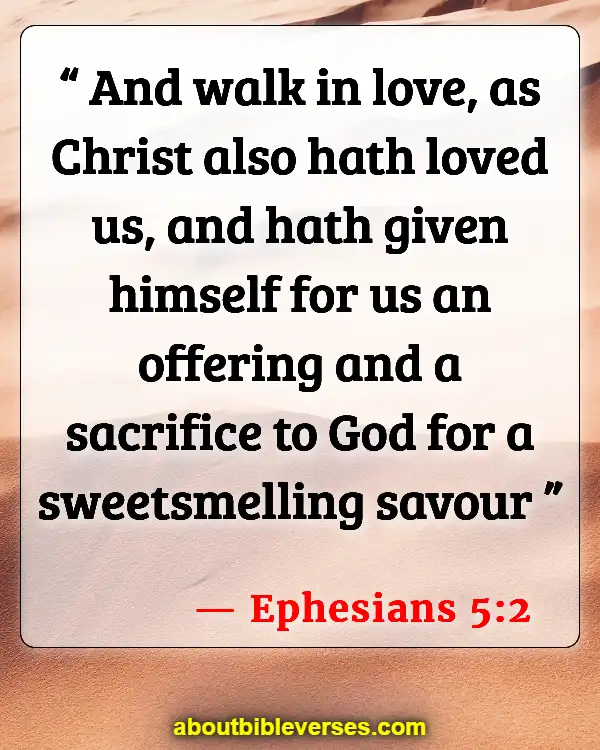 Ephesians 5:2
"And walk in love, as Christ also hath loved us, and hath given himself for us an offering and a sacrifice to God for a sweetsmelling savour"
1 Peter 4:8
"And above all things have fervent charity among yourselves: for charity shall cover the multitude of sins"
Luke 6:35
"But love ye your enemies, and do good, and lend, hoping for nothing again; and your reward shall be great, and ye shall be the children of the Highest: for he is kind unto the unthankful and to the evil"
1 John 4:19
"We love him, because he first loved us"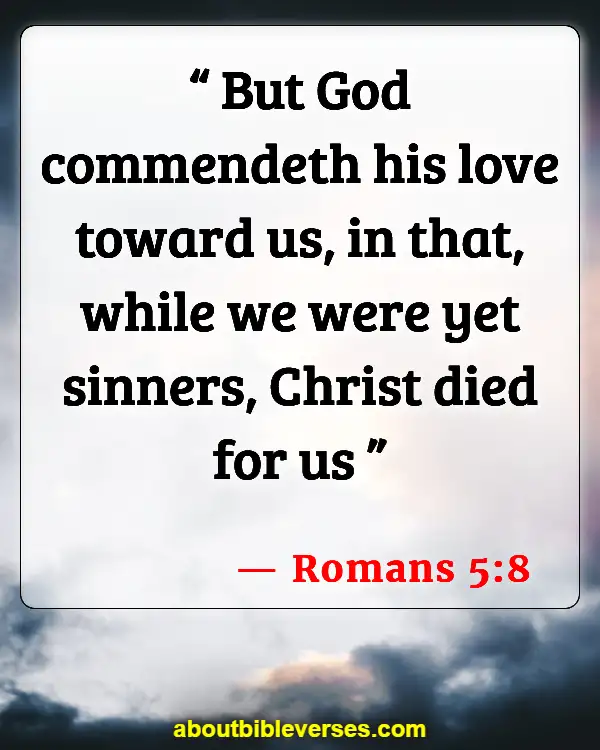 Romans 5:8
"But God commendeth his love toward us, in that, while we were yet sinners, Christ died for us"
Mark 12:31
"And the second is like, namely this, Thou shalt love thy neighbour as thyself. There is none other commandment greater than these"
1 Corinthians 13:4
"Charity suffereth long, and is kind; charity envieth not; charity vaunteth not itself, is not puffed up"
Proverbs 10:12
"Hatred stirreth up strifes: but love covereth all sins"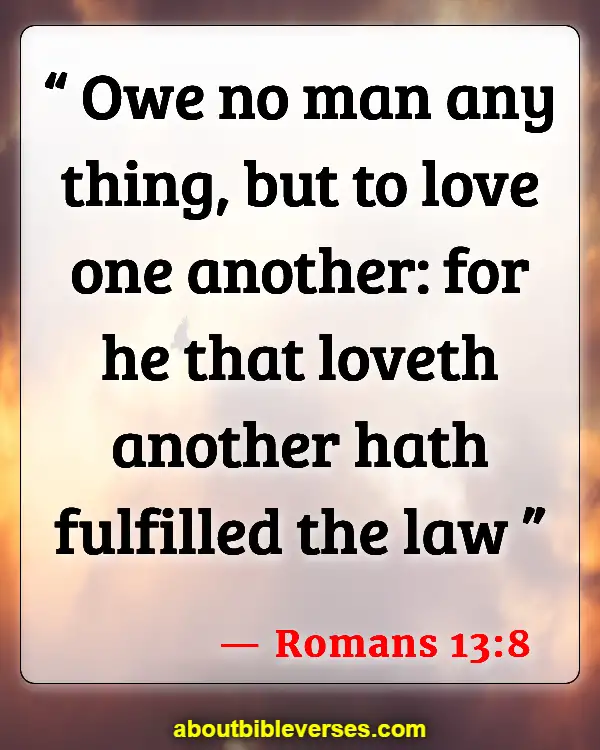 Romans 13:8
"Owe no man any thing, but to love one another: for he that loveth another hath fulfilled the law"
James 2:8
"If ye fulfil the royal law according to the scripture, Thou shalt love thy neighbour as thyself, ye do well"
1 Thessalonians 3:12
"And the Lord make you to increase and abound in love one toward another, and toward all men, even as we do toward you"
Proverbs 17:17
"A friend loveth at all times, and a brother is born for adversity"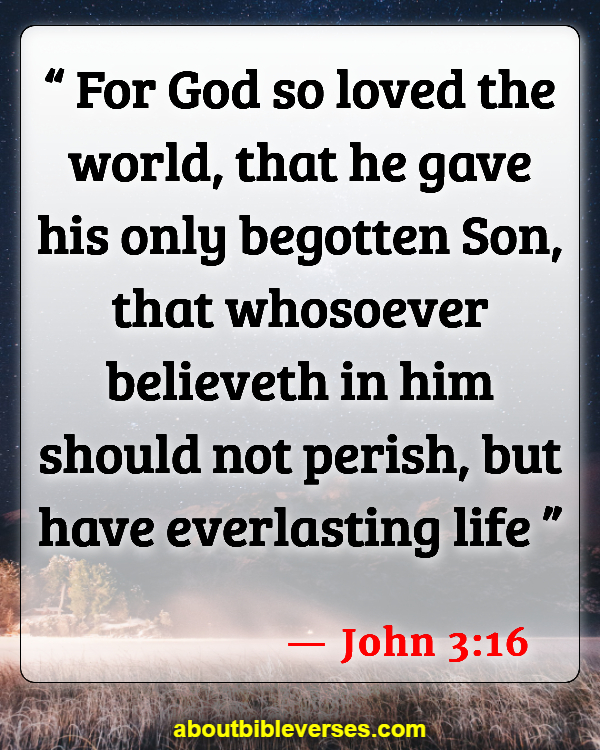 John 3:16
"For God so loved the world, that he gave his only begotten Son, that whosoever believeth in him should not perish, but have everlasting life"
1 John 4:21
"And this commandment have we from him, That he who loveth God love his brother also"
Proverbs 3:3
"Let not mercy and truth forsake thee: bind them about thy neck; write them upon the table of thine heart"
Matthew 5:44
"But I say unto you, Love your enemies, bless them that curse you, do good to them that hate you, and pray for them which despitefully use you, and persecute you"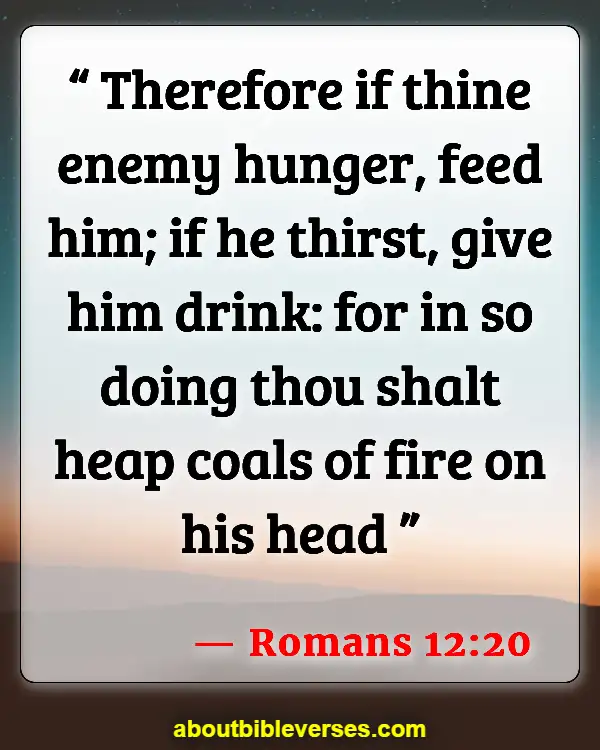 Romans 12:20
"Therefore if thine enemy hunger, feed him; if he thirst, give him drink: for in so doing thou shalt heap coals of fire on his head"
1 Peter 1:22
"Seeing ye have purified your souls in obeying the truth through the Spirit unto unfeigned love of the brethren, see that ye love one another with a pure heart fervently"
1 John 3:18
"My little children, let us not love in word, neither in tongue; but in deed and in truth"
Luke 10:27
"And he answering said, Thou shalt love the Lord thy God with all thy heart, and with all thy soul, and with all thy strength, and with all thy mind; and thy neighbour as thyself"
Galatians 5:13
"For, brethren, ye have been called unto liberty; only use not liberty for an occasion to the flesh, but by love serve one another"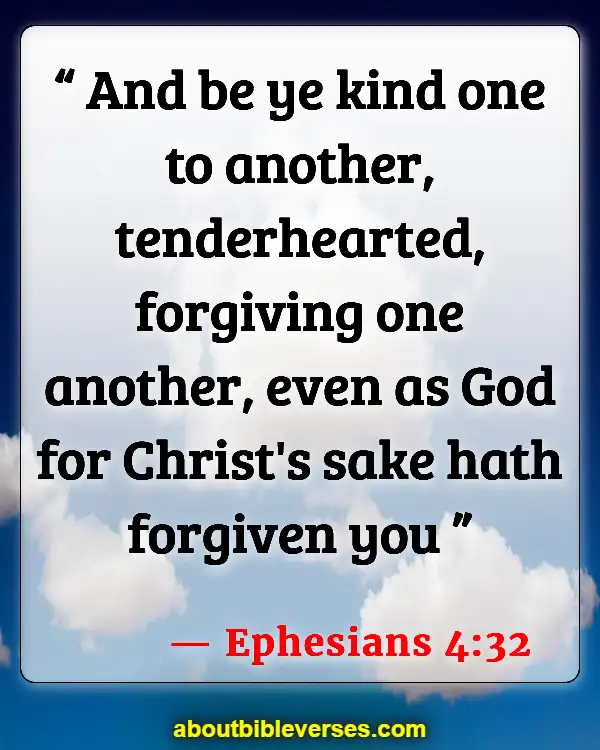 Ephesians 4:32
"And be ye kind one to another, tenderhearted, forgiving one another, even as God for Christ's sake hath forgiven you"
1 Corinthians 16:14
"Let all your things be done with charity"
Matthew 5:43
"Ye have heard that it hath been said, Thou shalt love thy neighbour, and hate thine enemy"
2 Corinthians 5:14
"For the love of Christ constraineth us; because we thus judge, that if one died for all, then were all dead"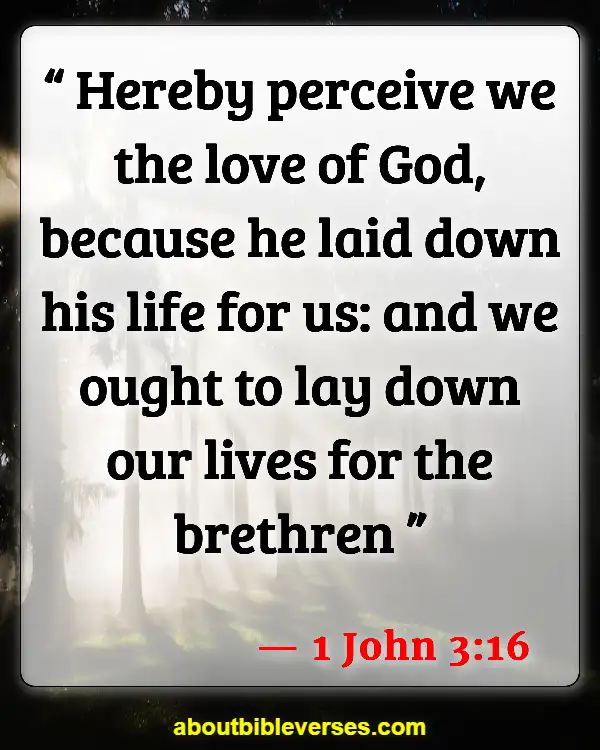 1 John 3:16
"Hereby perceive we the love of God, because he laid down his life for us: and we ought to lay down our lives for the brethren"
James 1:12
"Blessed is the man that endureth temptation: for when he is tried, he shall receive the crown of life, which the Lord hath promised to them that love him"
2 Thessalonians 1:3
"We are bound to thank God always for you, brethren, as it is meet, because that your faith groweth exceedingly, and the charity of every one of you all toward each other aboundeth"
1 John 3:23
"And this is his commandment, That we should believe on the name of his Son Jesus Christ, and love one another, as he gave us commandment"
Acts 20:35
"I have shewed you all things, how that so labouring ye ought to support the weak, and to remember the words of the Lord Jesus, how he said, It is more blessed to give than to receive"
1 Timothy 1:5
"Now the end of the commandment is charity out of a pure heart, and of a good conscience, and of faith unfeigned"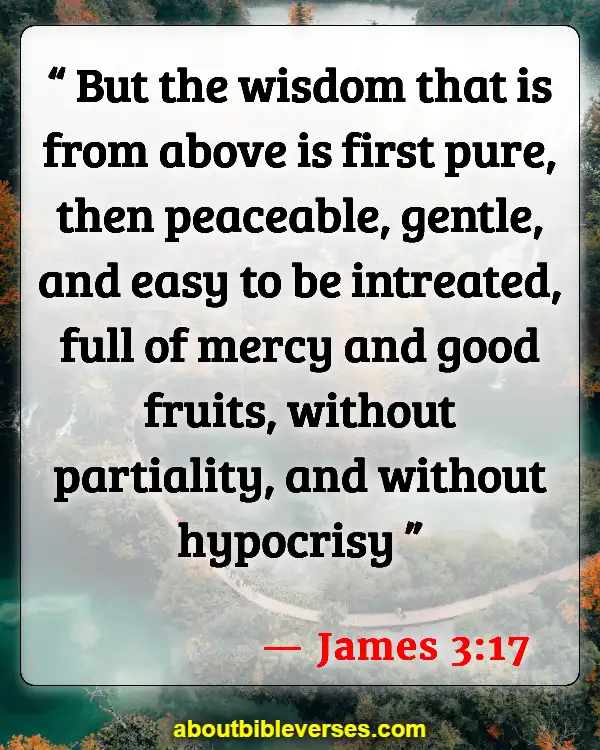 James 3:17
"But the wisdom that is from above is first pure, then peaceable, gentle, and easy to be intreated, full of mercy and good fruits, without partiality, and without hypocrisy"