Dear friends, as followers of Christ we are called to serve and support our brothers and sisters in the faith. We are one family, united by the blood of Jesus. How can we live out this calling in practical ways?
First, we can help meet pressing needs. If someone is hungry, we can feed them. If they are homeless, we can provide shelter. If they are lacking clothes, we can supply them. Simple acts of provision open the door for ministry.
Second, we can comfort the hurting and discouraged. We all experience seasons of grief, loss, or despair. By lending a listening ear, sharing words of hope, and praying for others, we reflect God's love in their trial. They are reminded they are not alone.
Third, we can come alongside the weak. The sick, the disabled, the elderly may need assistance and advocacy. We can sacrificially give our time and availability, patiently serving them out of Christ's compassion.
Fourth, we can pray fervently for fellow believers. Our prayers make a powerful difference, opening doors for God's strength, healing and victory.
Dear friends, Scripture instructs us to bear one another's burdens. As we do, we fulfill the law of Christ. May we step up practically to lighten the loads of struggling brothers and sisters today.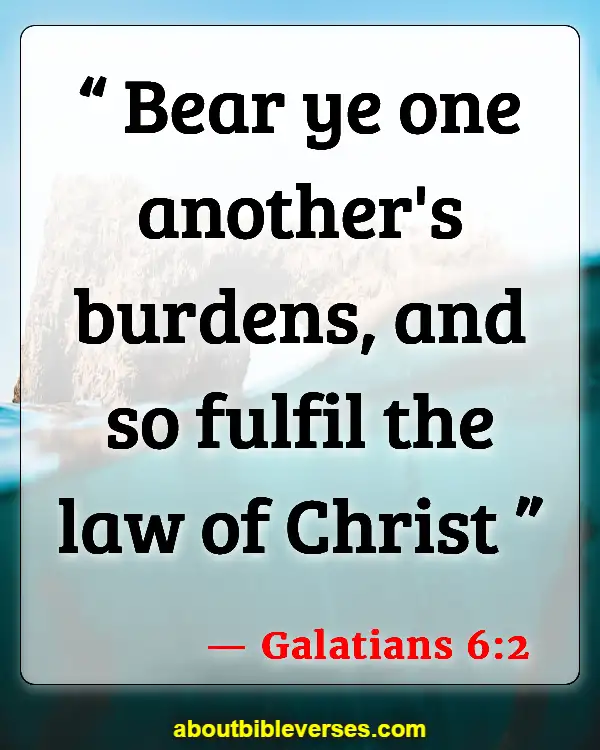 Galatians 6:2
"Bear ye one another's burdens, and so fulfil the law of Christ"
1 John 3:17
"But whoso hath this world's good, and seeth his brother have need, and shutteth up his bowels of compassion from him, how dwelleth the love of God in him?"
Luke 6:38
"Give, and it shall be given unto you; good measure, pressed down, and shaken together, and running over, shall men give into your bosom. For with the same measure that ye mete withal it shall be measured to you again"
Proverbs 19:17
"He that hath pity upon the poor lendeth unto the Lord ; and that which he hath given will he pay him again"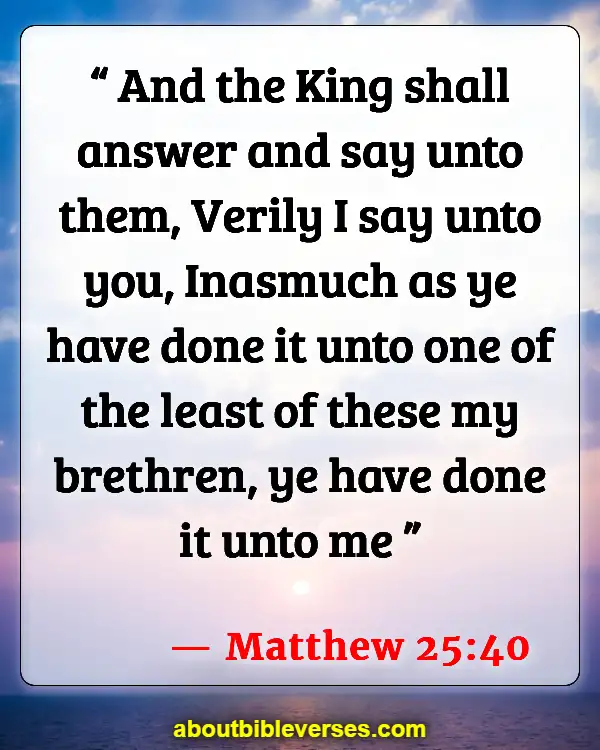 Matthew 25:40
"And the King shall answer and say unto them, Verily I say unto you, Inasmuch as ye have done it unto one of the least of these my brethren, ye have done it unto me"
Hebrews 13:16
"But to do good and to communicate forget not: for with such sacrifices God is well pleased"
1 Thessalonians 5:14
"Now we exhort you, brethren, warn them that are unruly, comfort the feebleminded, support the weak, be patient toward all men"
Philippians 2:4
"Look not every man on his own things, but every man also on the things of others"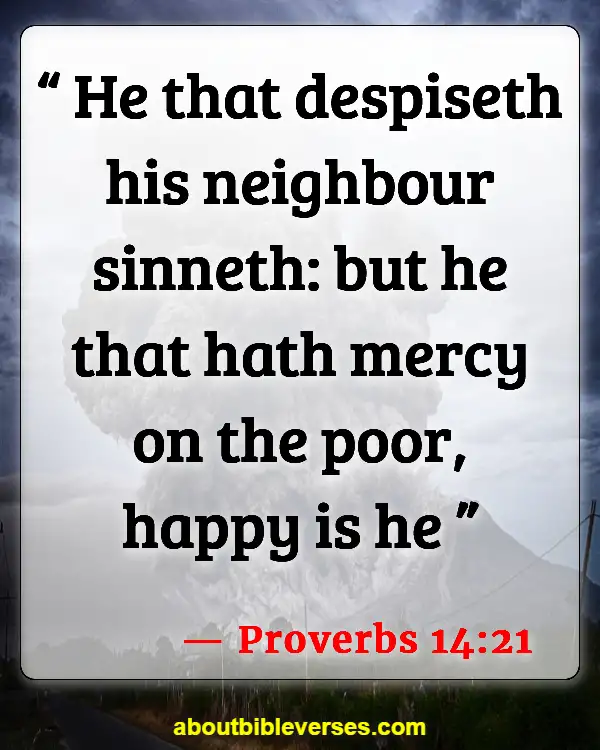 Proverbs 14:21
"He that despiseth his neighbour sinneth: but he that hath mercy on the poor, happy is he"
Proverbs 22:9
"He that hath a bountiful eye shall be blessed; for he giveth of his bread to the poor"
Acts 20:35
"I have shewed you all things, how that so labouring ye ought to support the weak, and to remember the words of the Lord Jesus, how he said, It is more blessed to give than to receive"
Matthew 5:42
"Give to him that asketh thee, and from him that would borrow of thee turn not thou away"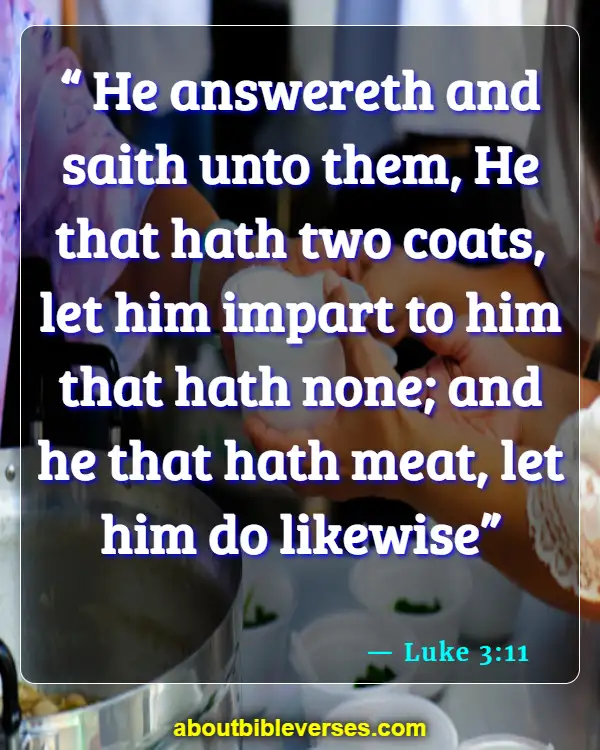 Luke 3:11
"He answereth and saith unto them, He that hath two coats, let him impart to him that hath none; and he that hath meat, let him do likewise"
Proverbs 28:27
"He that giveth unto the poor shall not lack: but he that hideth his eyes shall have many a curse"
1 Timothy 6:18
"That they do good, that they be rich in good works, ready to distribute, willing to communicate"
2 Corinthians 9:7
"Every man according as he purposeth in his heart, so let him give; not grudgingly, or of necessity: for God loveth a cheerful giver"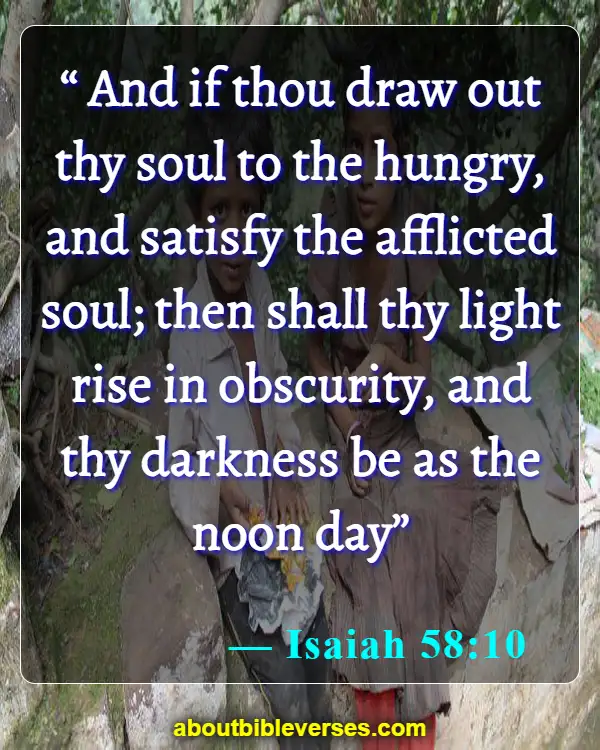 Isaiah 58:10
"And if thou draw out thy soul to the hungry, and satisfy the afflicted soul; then shall thy light rise in obscurity, and thy darkness be as the noon day"
Deuteronomy 15:11
"For the poor shall never cease out of the land: therefore I command thee, saying, Thou shalt open thine hand wide unto thy brother, to thy poor, and to thy needy, in thy land"
Proverbs 21:13
"Whoso stoppeth his ears at the cry of the poor, he also shall cry himself, but shall not be heard"
Matthew 19:21
"Jesus said unto him, If thou wilt be perfect, go and sell that thou hast, and give to the poor, and thou shalt have treasure in heaven: and come and follow me"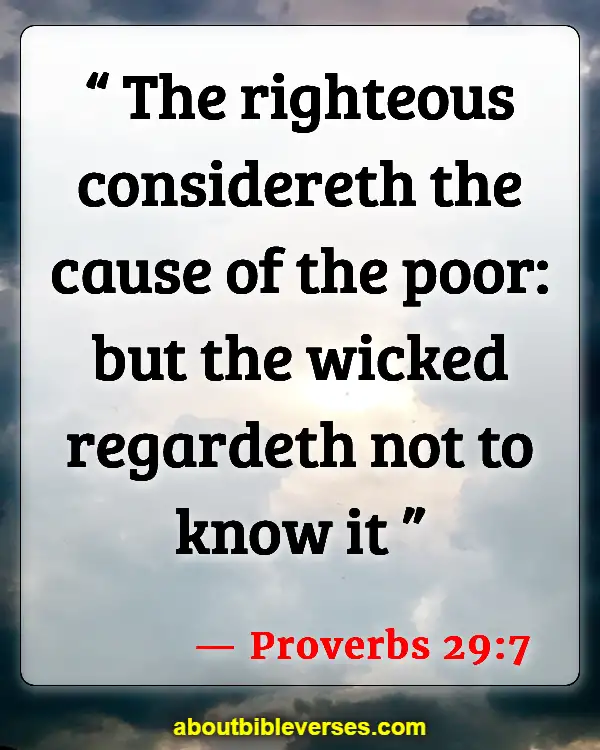 Proverbs 29:7
"The righteous considereth the cause of the poor: but the wicked regardeth not to know it"
1 John 4:21
"And this commandment have we from him, That he who loveth God love his brother also"
1 Peter 4:10
"As every man hath received the gift, even so minister the same one to another, as good stewards of the manifold grace of God"
2 Corinthians 8:9
"For ye know the grace of our Lord Jesus Christ, that, though he was rich, yet for your sakes he became poor, that ye through his poverty might be rich"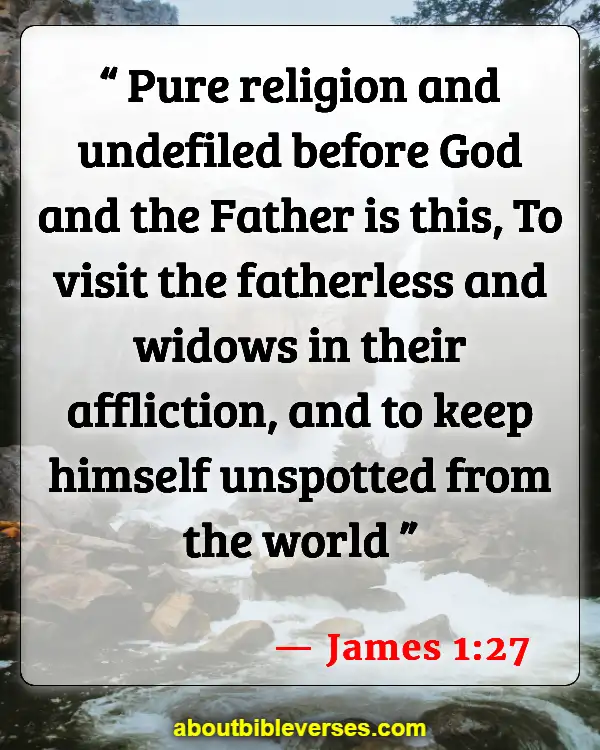 James 1:27
"Pure religion and undefiled before God and the Father is this, To visit the fatherless and widows in their affliction, and to keep himself unspotted from the world"
Proverbs 11:25
"The liberal soul shall be made fat: and he that watereth shall be watered also himself"
Luke 12:33
"Sell that ye have, and give alms; provide yourselves bags which wax not old, a treasure in the heavens that faileth not, where no thief approacheth, neither moth corrupteth"
1 Timothy 5:8
"But if any provide not for his own, and specially for those of his own house, he hath denied the faith, and is worse than an infidel"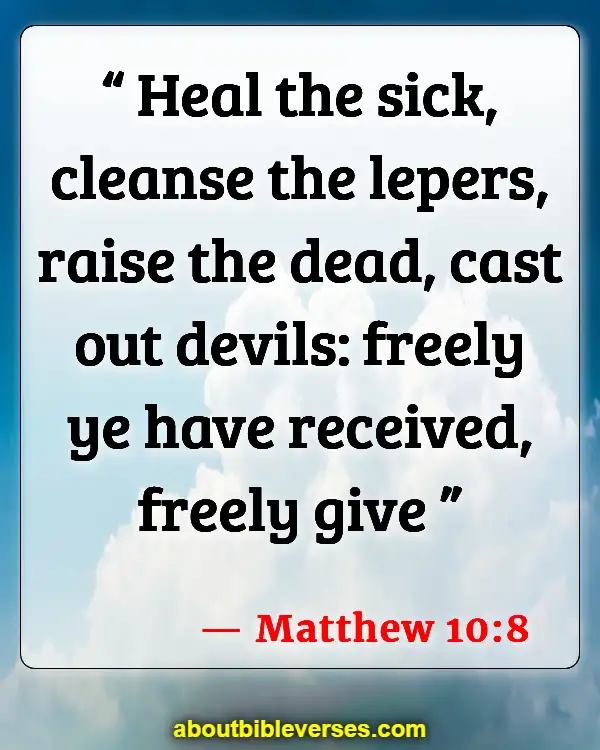 Matthew 10:8
"Heal the sick, cleanse the lepers, raise the dead, cast out devils: freely ye have received, freely give"
Proverbs 3:27
"Withhold not good from them to whom it is due, when it is in the power of thine hand to do it"
1 John 3:18
"My little children, let us not love in word, neither in tongue; but in deed and in truth"
Luke 6:30
"Give to every man that asketh of thee; and of him that taketh away thy goods ask them not again"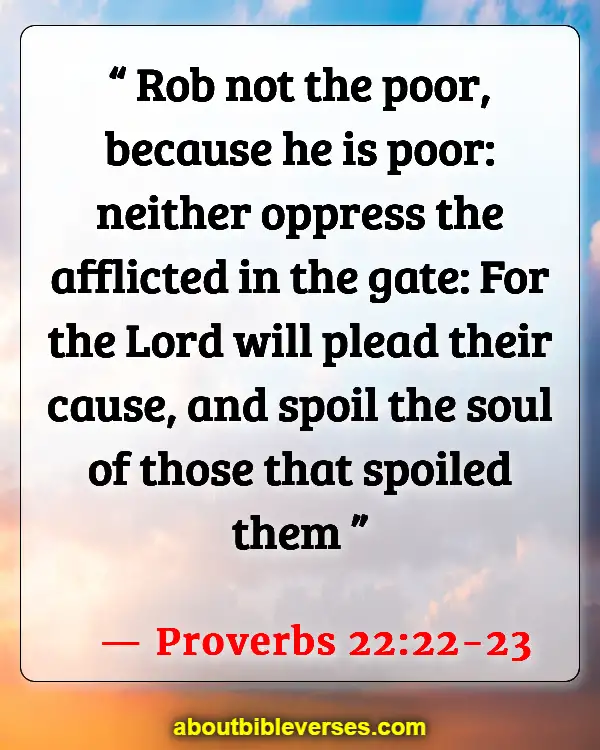 Proverbs 22:22-23
"Rob not the poor, because he is poor: neither oppress the afflicted in the gate: For the Lord will plead their cause, and spoil the soul of those that spoiled them"
2 Corinthians 9:11
"Being enriched in every thing to all bountifulness, which causeth through us thanksgiving to God"
Proverbs 14:31
"He that oppresseth the poor reproacheth his Maker: but he that honoureth him hath mercy on the poor"
Proverbs 17:5
"Whoso mocketh the poor reproacheth his Maker: and he that is glad at calamities shall not be unpunished"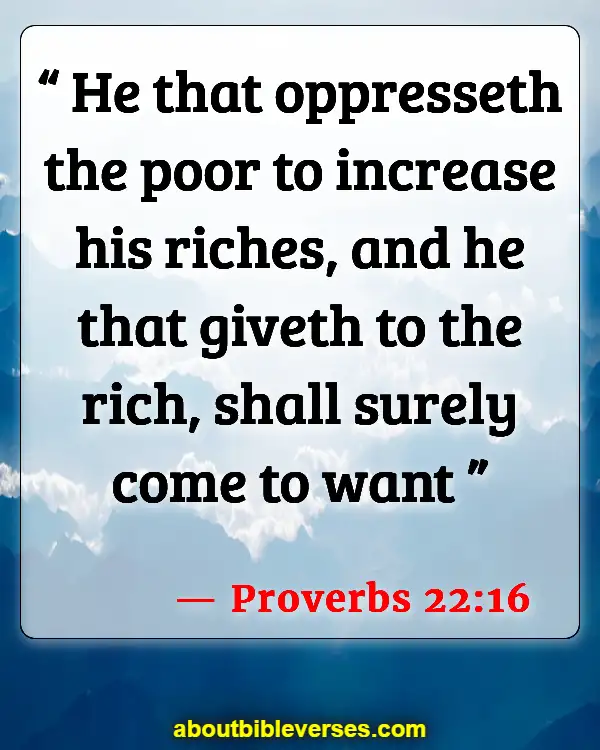 Proverbs 22:16
"He that oppresseth the poor to increase his riches, and he that giveth to the rich, shall surely come to want"
Isaiah 1:17
"Learn to do well; seek judgment, relieve the oppressed, judge the fatherless, plead for the widow"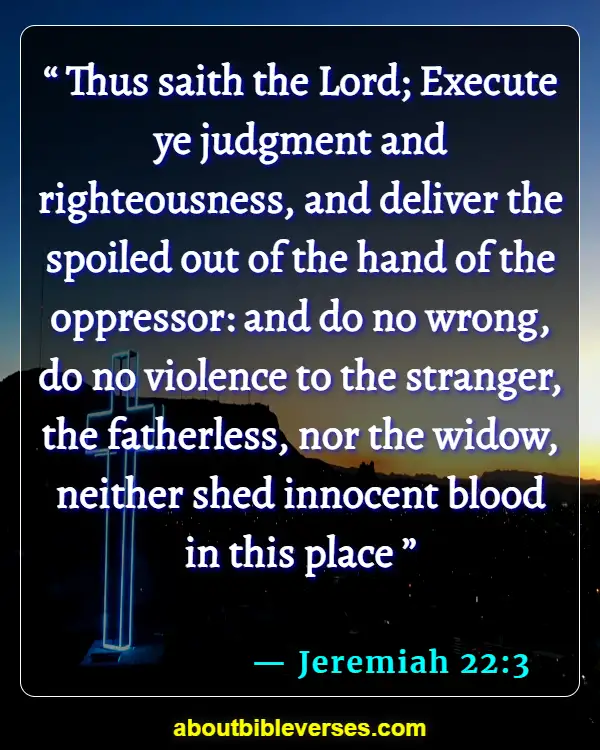 Jeremiah 22:3
"Thus saith the Lord ; Execute ye judgment and righteousness, and deliver the spoiled out of the hand of the oppressor: and do no wrong, do no violence to the stranger, the fatherless, nor the widow, neither shed innocent blood in this place"