My dear friend, I want to share with you some comforting words from the Bible about healing and strength. The Bible teaches us that God is our ultimate healer and the source of our strength.
When we face physical or emotional pain, we can turn to God in prayer. He listens to our cries and wants to bring healing to our bodies and peace to our hearts. God's love and compassion are like a soothing balm that can mend our wounds. Trust in His power to restore and rejuvenate you.
Moreover, the Bible encourages us to take care of our bodies. Our health is a gift from God, and we should honor Him by treating our bodies with respect. Eating nutritious food, exercising regularly, and getting enough rest are practical ways to maintain our well-being.
In times of weakness, we can find strength in the Lord. The Bible tells us that God's strength is made perfect in our weakness. When we feel overwhelmed or exhausted, we can rely on Him to renew our energy. He promises to be with us every step of the way, providing the strength we need to face any challenge.
Just as a shepherd carries a lamb, God carries us in His loving arms. He is our refuge and fortress, a safe haven in times of trouble. When we feel helpless, we can find solace and security in His presence. His divine protection surrounds us, and we can find strength in knowing that He will never leave us nor forsake us.
Remember, my friend, that God is always there for you. He is the Great Physician who heals our wounds and the Mighty One who gives us strength. Trust in His love, seek His guidance, and find comfort in His promises. May you experience His healing touch and be strengthened by His unwavering love.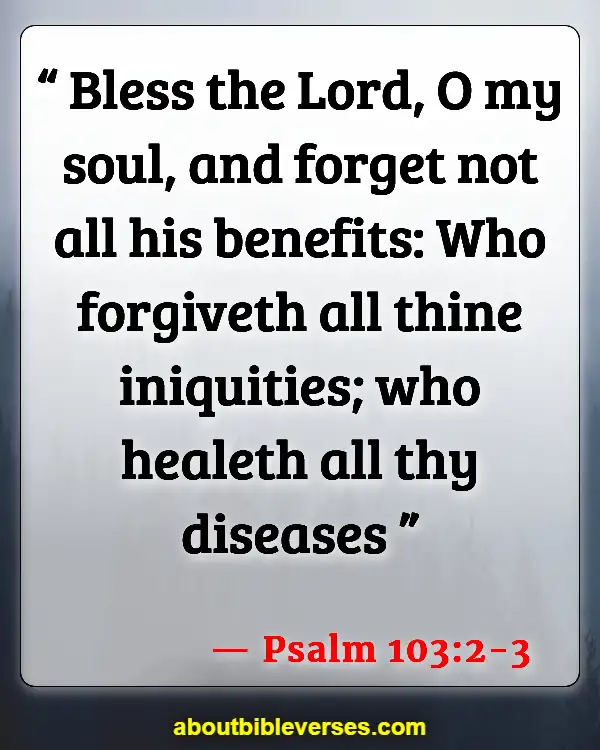 Psalm 103:2-3
"Bless the Lord , O my soul, and forget not all his benefits: Who forgiveth all thine iniquities; who healeth all thy diseases"
Isaiah 41:10
"Fear thou not; for I am with thee: be not dismayed; for I am thy God: I will strengthen thee; yea, I will help thee; yea, I will uphold thee with the right hand of my righteousness"
Jeremiah 30:17
"For I will restore health unto thee, and I will heal thee of thy wounds, saith the Lord ; because they called thee an Outcast, saying, This is Zion, whom no man seeketh after"
Exodus 15:26
"And said, If thou wilt diligently hearken to the voice of the Lord thy God, and wilt do that which is right in his sight, and wilt give ear to his commandments, and keep all his statutes, I will put none of these diseases upon thee, which I have brought upon the Egyptians: for I am the Lord that healeth thee"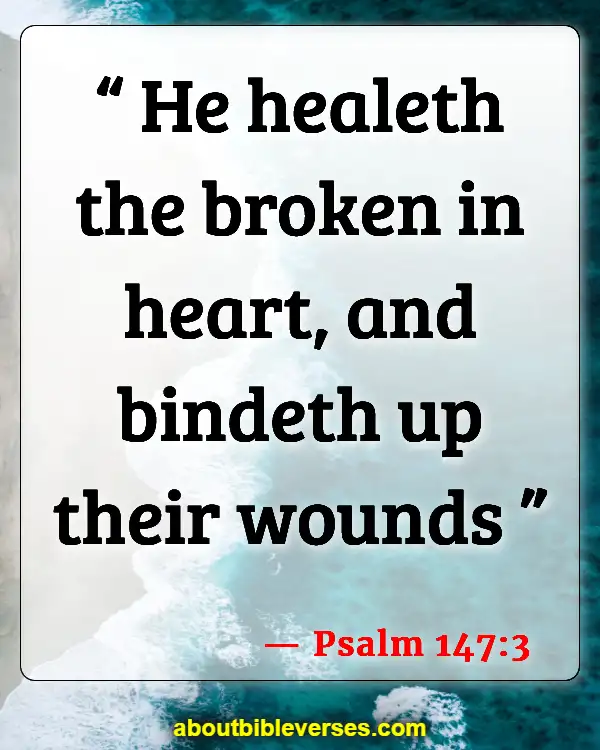 Psalm 147:3
"He healeth the broken in heart, and bindeth up their wounds"
James 5:16
"Confess your faults one to another, and pray one for another, that ye may be healed. The effectual fervent prayer of a righteous man availeth much"
Psalm 107:19-20
"Then they cry unto the Lord in their trouble, and he saveth them out of their distresses. He sent his word, and healed them, and delivered them from their destructions"
Matthew 9:35
"And Jesus went about all the cities and villages, teaching in their synagogues, and preaching the gospel of the kingdom, and healing every sickness and every disease among the people"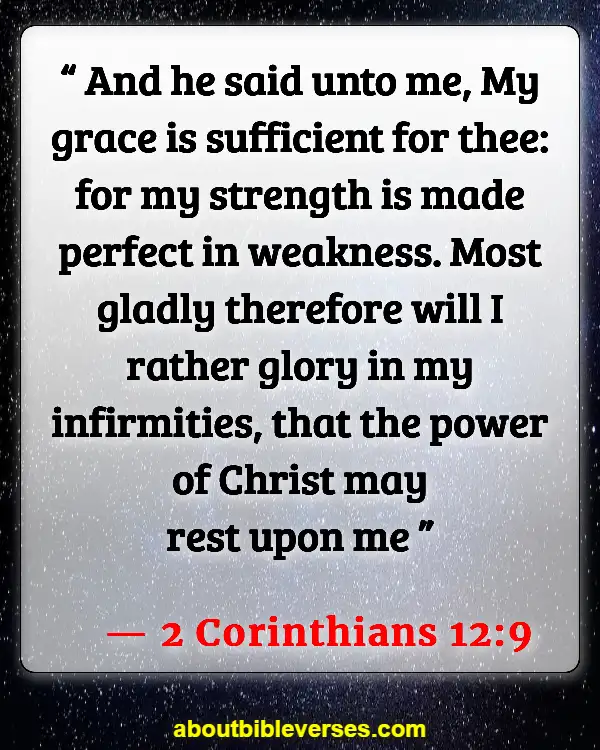 2 Corinthians 12:9
"And he said unto me, My grace is sufficient for thee: for my strength is made perfect in weakness. Most gladly therefore will I rather glory in my infirmities, that the power of Christ may rest upon me"
Psalm 34:17-18
"The righteous cry, and the Lord heareth, and delivereth them out of all their troubles. The Lord is nigh unto them that are of a broken heart; and saveth such as be of a contrite spirit"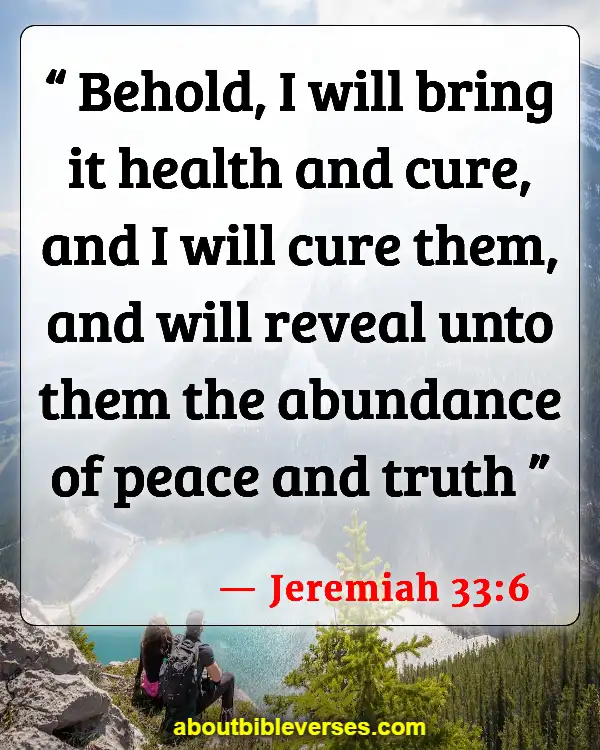 Jeremiah 33:6
"Behold, I will bring it health and cure, and I will cure them, and will reveal unto them the abundance of peace and truth"
Isaiah 40:29
"He giveth power to the faint; and to them that have no might he increaseth strength"
Psalm 41:3
"The Lord will strengthen him upon the bed of languishing: thou wilt make all his bed in his sickness"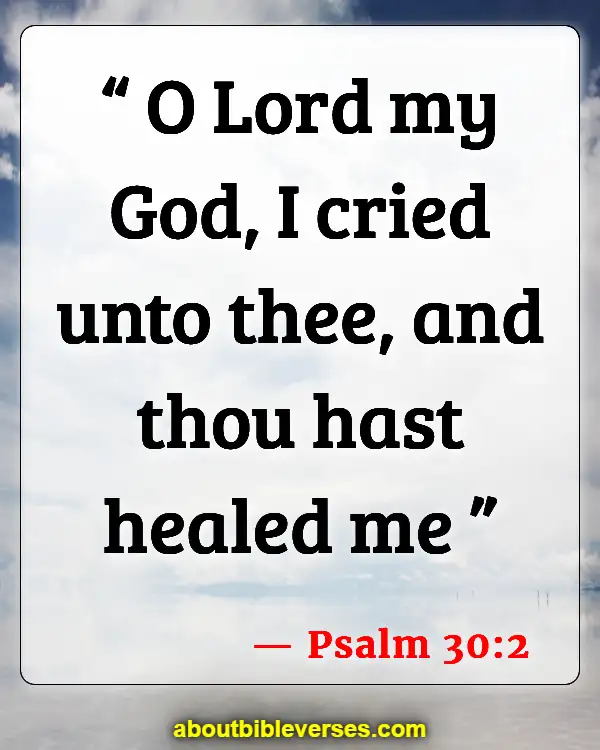 Psalm 30:2
"O Lord my God, I cried unto thee, and thou hast healed me"
James 5:14-15
"Is any sick among you? let him call for the elders of the church; and let them pray over him, anointing him with oil in the name of the Lord: And the prayer of faith shall save the sick, and the Lord shall raise him up; and if he have committed sins, they shall be forgiven him"
Psalm 30:10-11
"Hear, O Lord , and have mercy upon me: Lord , be thou my helper. Thou hast turned for me my mourning into dancing: thou hast put off my sackcloth, and girded me with gladness"
Mark 9:23
"Jesus said unto him, If thou canst believe, all things are possible to him that believeth"
2 Chronicles 7:14
"If my people, which are called by my name, shall humble themselves, and pray, and seek my face, and turn from their wicked ways; then will I hear from heaven, and will forgive their sin, and will heal their land"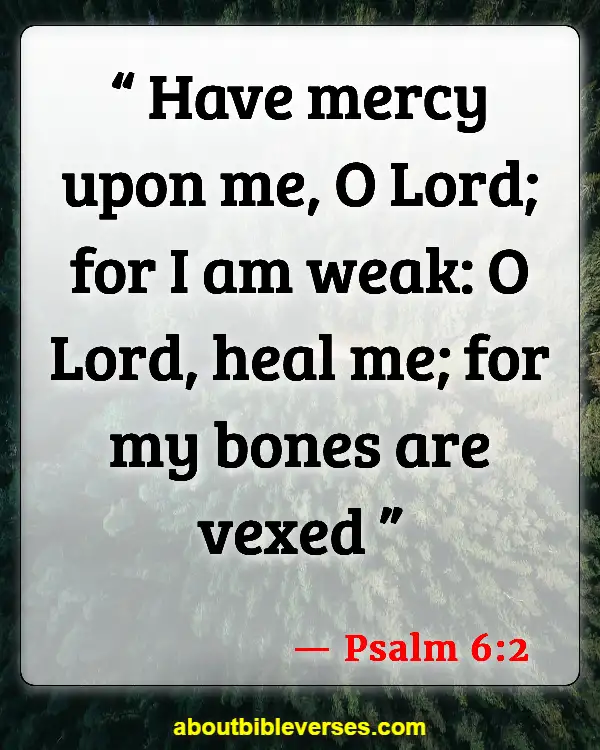 Psalm 6:2
"Have mercy upon me, O Lord ; for I am weak: O Lord , heal me; for my bones are vexed"
Psalm 73:26
"My flesh and my heart faileth: but God is the strength of my heart, and my portion for ever"
Matthew 10:8
"Heal the sick, cleanse the lepers, raise the dead, cast out devils: freely ye have received, freely give"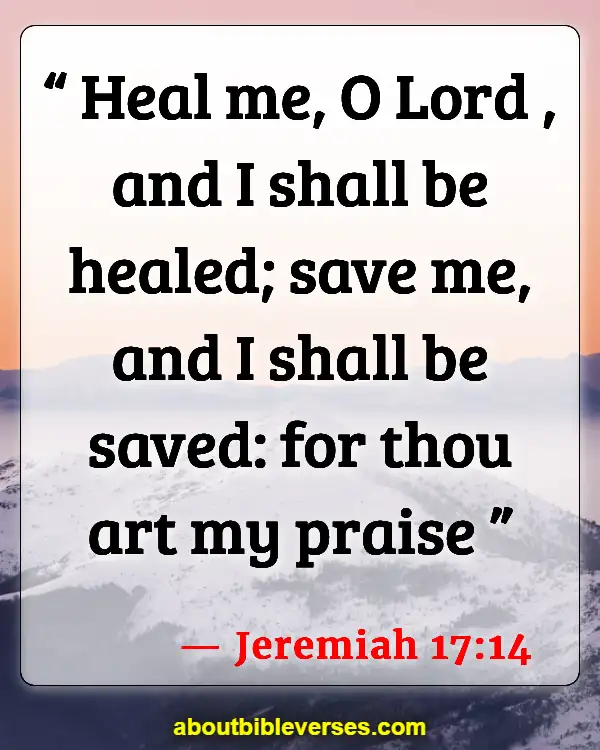 Jeremiah 17:14
"Heal me, O Lord , and I shall be healed; save me, and I shall be saved: for thou art my praise"
Mark 5:34
"And he said unto her, Daughter, thy faith hath made thee whole; go in peace, and be whole of thy plague"
Isaiah 57:18-19
"I have seen his ways, and will heal him: I will lead him also, and restore comforts unto him and to his mourners. I create the fruit of the lips; Peace, peace to him that is far off, and to him that is near, saith the Lord ; and I will heal him"
Luke 4:18
"The Spirit of the Lord is upon me, because he hath anointed me to preach the gospel to the poor; he hath sent me to heal the brokenhearted, to preach deliverance to the captives, and recovering of sight to the blind, to set at liberty them that are bruised"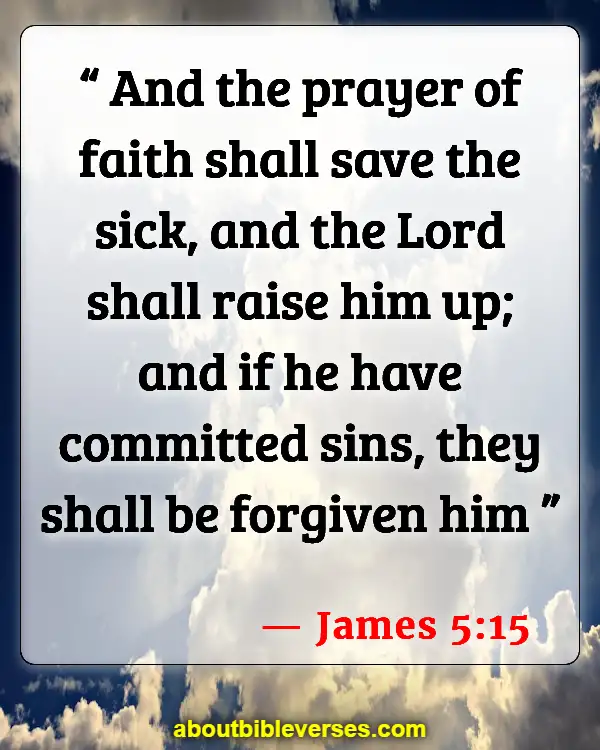 James 5:15
"And the prayer of faith shall save the sick, and the Lord shall raise him up; and if he have committed sins, they shall be forgiven him"
Proverbs 4:20-22
"My son, attend to my words; incline thine ear unto my sayings. Let them not depart from thine eyes; keep them in the midst of thine heart. For they are life unto those that find them, and health to all their flesh"
Mark 10:52
"And Jesus said unto him, Go thy way; thy faith hath made thee whole. And immediately he received his sight, and followed Jesus in the way"
Luke 9:1-2
"Then he called his twelve disciples together, and gave them power and authority over all devils, and to cure diseases. And he sent them to preach the kingdom of God, and to heal the sick"
Matthew 14:14
"And Jesus went forth, and saw a great multitude, and was moved with compassion toward them, and he healed their sick"
Matthew 15:28
"Then Jesus answered and said unto her, O woman, great is thy faith: be it unto thee even as thou wilt. And her daughter was made whole from that very hour"
Matthew 4:23
"And Jesus went about all Galilee, teaching in their synagogues, and preaching the gospel of the kingdom, and healing all manner of sickness and all manner of disease among the people"
Matthew 9:22
"But Jesus turned him about, and when he saw her, he said, Daughter, be of good comfort; thy faith hath made thee whole. And the woman was made whole from that hour"