Dear friends, our God lifts up the humble! Throughout the scriptures, we see how God opposes the proud but gives grace to the lowly.
The proud Pharisee boasted of his own goodness, while the tax collector cried out for mercy. Jesus said that the humble tax collector went home justified before God.
When we recognize our spiritual poverty, God is pleased to save us by His grace. When we admit our weakness, His power is perfected in our lives.
God resists the proud because pride is the root of all sin. But he will not despise a humble and contrite heart. Humility aligns us properly in God's plan.
The Lord raises up the meek with joy in them. He comes to those who have a humble spirit to revive and encourage them. He pours out His grace on the humble.
Jesus, our ultimate example of humility, surrendered himself completely to the Father's will. Therefore God highly exalted Christ and gave Him the name above every name. A harvest of blessings awaits all who walk humbly with God.
Dear friends, let us clothe one another with humility, for "God opposes the proud but gives grace to the humble."
Now let's go to the Bible verse about God lifting up the humble.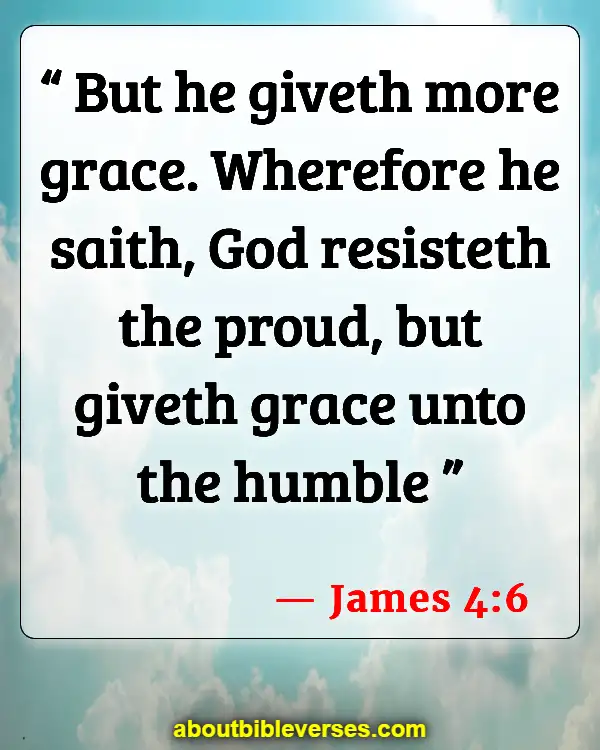 James 4:6
"But he giveth more grace. Wherefore he saith, God resisteth the proud, but giveth grace unto the humble"
1 Peter 5:5
"Likewise, ye younger, submit yourselves unto the elder. Yea, all of you be subject one to another, and be clothed with humility: for God resisteth the proud, and giveth grace to the humble"
Psalm 147:6
"The Lord lifteth up the meek: he casteth the wicked down to the ground"
Matthew 23:12
"And whosoever shall exalt himself shall be abased; and he that shall humble himself shall be exalted"
Luke 1:52
"He hath put down the mighty from their seats, and exalted them of low degree"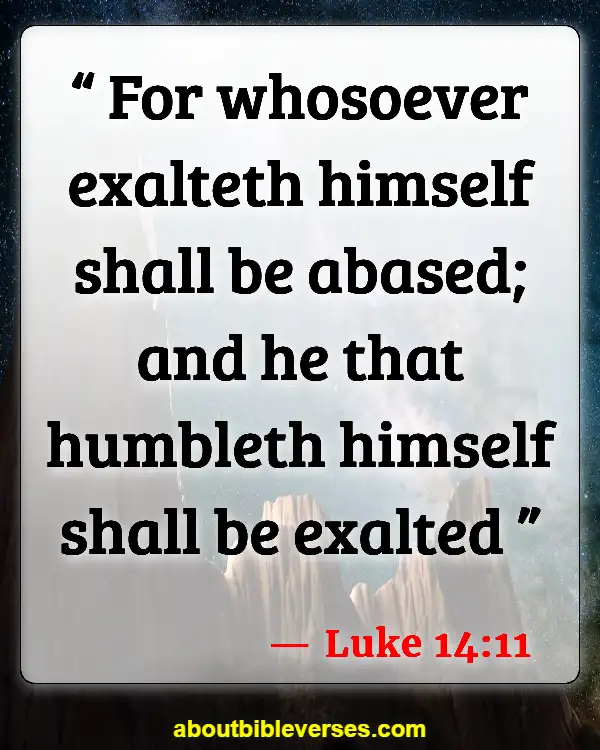 Luke 14:11
"For whosoever exalteth himself shall be abased; and he that humbleth himself shall be exalted"
1 Samuel 2:8
"He raiseth up the poor out of the dust, and lifteth up the beggar from the dunghill, to set them among princes, and to make them inherit the throne of glory: for the pillars of the earth are the Lord 's, and he hath set the world upon them"
Proverbs 3:34
"Surely he scorneth the scorners: but he giveth grace unto the lowly"
Isaiah 57:15
"For thus saith the high and lofty One that inhabiteth eternity, whose name is Holy; I dwell in the high and holy place, with him also that is of a contrite and humble spirit, to revive the spirit of the humble, and to revive the heart of the contrite ones"
2 Chronicles 7:14
"If my people, which are called by my name, shall humble themselves, and pray, and seek my face, and turn from their wicked ways; then will I hear from heaven, and will forgive their sin, and will heal their land"
Zephaniah 2:3
"Seek ye the Lord , all ye meek of the earth, which have wrought his judgment; seek righteousness, seek meekness: it may be ye shall be hid in the day of the Lord 's anger"
Job 5:11
"To set up on high those that be low; that those which mourn may be exalted to safety"
Psalm 18:27
"For thou wilt save the afflicted people; but wilt bring down high looks"
Psalm 138:6
"Though the Lord be high, yet hath he respect unto the lowly: but the proud he knoweth afar off"
Psalm 149:4
"For the Lord taketh pleasure in his people: he will beautify the meek with salvation"
Proverbs 16:19
"Better it is to be of an humble spirit with the lowly, than to divide the spoil with the proud"
Proverbs 29:23
"A man's pride shall bring him low: but honour shall uphold the humble in spirit"
Isaiah 66:2
"For all those things hath mine hand made, and all those things have been, saith the Lord : but to this man will I look, even to him that is poor and of a contrite spirit, and trembleth at my word"
Matthew 5:3
"Blessed are the poor in spirit: for theirs is the kingdom of heaven"
Matthew 18:4
"Whosoever therefore shall humble himself as this little child, the same is greatest in the kingdom of heaven"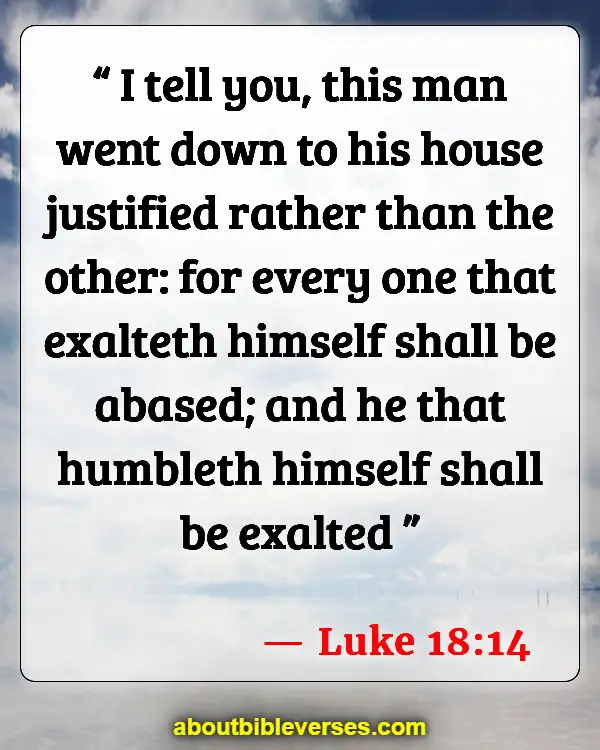 Luke 18:14
"I tell you, this man went down to his house justified rather than the other: for every one that exalteth himself shall be abased; and he that humbleth himself shall be exalted"
John 13:20
"Verily, verily, I say unto you, He that receiveth whomsoever I send receiveth me; and he that receiveth me receiveth him that sent me"
Acts 20:19
"Serving the Lord with all humility of mind, and with many tears, and temptations, which befell me by the lying in wait of the Jews"
Romans 12:3
"For I say, through the grace given unto me, to every man that is among you, not to think of himself more highly than he ought to think; but to think soberly, according as God hath dealt to every man the measure of faith"
Romans 12:16
"Be of the same mind one toward another. Mind not high things, but condescend to men of low estate. Be not wise in your own conceits"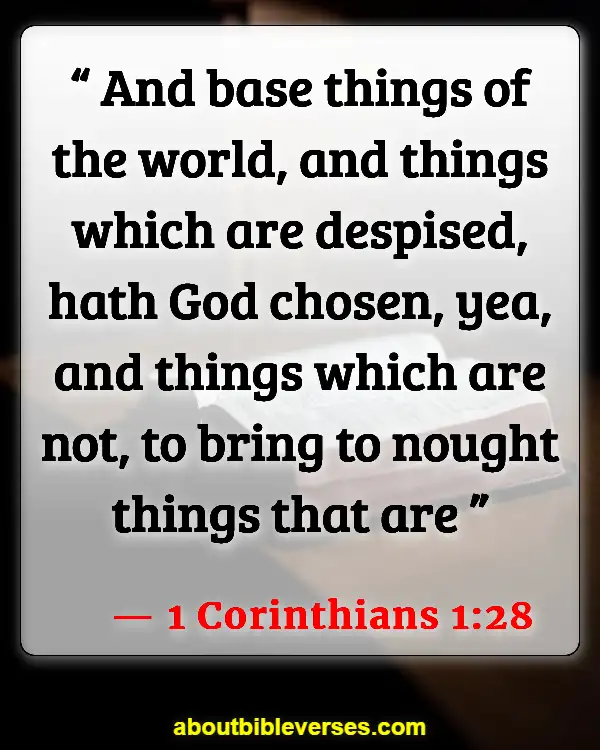 1 Corinthians 1:28
"And base things of the world, and things which are despised, hath God chosen, yea, and things which are not, to bring to nought things that are"
2 Corinthians 7:6
"Nevertheless God, that comforteth those that are cast down, comforted us by the coming of Titus"
Ephesians 4:2
"With all lowliness and meekness, with longsuffering, forbearing one another in love"
Philippians 2:3
"Let nothing be done through strife or vainglory; but in lowliness of mind let each esteem other better than themselves"
Philippians 2:8
"And being found in fashion as a man, he humbled himself, and became obedient unto death, even the death of the cross"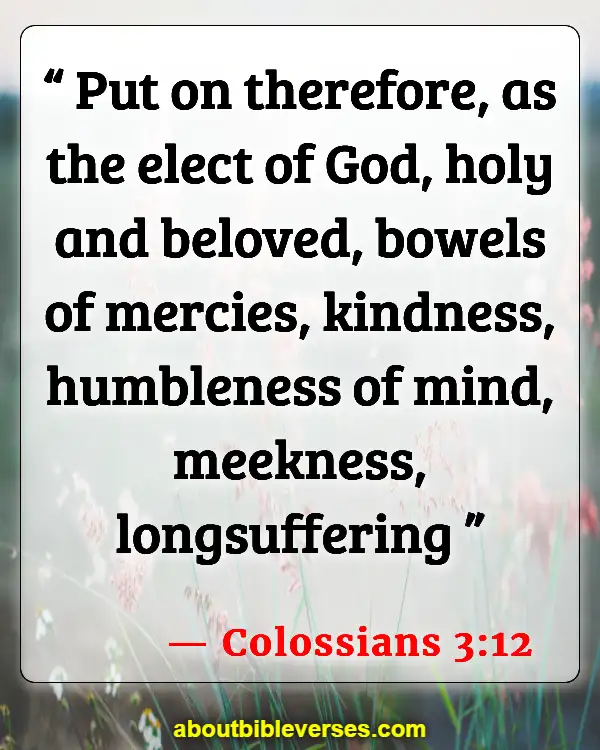 Colossians 3:12
"Put on therefore, as the elect of God, holy and beloved, bowels of mercies, kindness, humbleness of mind, meekness, longsuffering"
James 1:9
"Let the brother of low degree rejoice in that he is exalted"
James 4:10
"Humble yourselves in the sight of the Lord, and he shall lift you up"
1 Peter 3:8
"Finally, be ye all of one mind, having compassion one of another, love as brethren, be pitiful, be courteous"
1 Peter 5:6
"Humble yourselves therefore under the mighty hand of God, that he may exalt you in due time"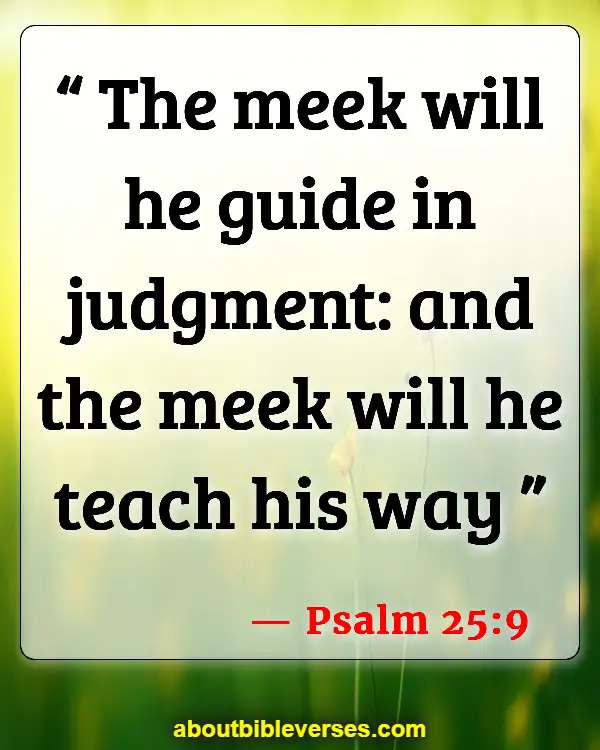 Psalm 25:9
"The meek will he guide in judgment: and the meek will he teach his way"
Psalm 37:11
"But the meek shall inherit the earth; and shall delight themselves in the abundance of peace"
Psalm 76:9
"When God arose to judgment, to save all the meek of the earth. Selah"
Proverbs 11:2
"When pride cometh, then cometh shame: but with the lowly is wisdom"
Isaiah 11:4
"But with righteousness shall he judge the poor, and reprove with equity for the meek of the earth: and he shall smite the earth: with the rod of his mouth, and with the breath of his lips shall he slay the wicked"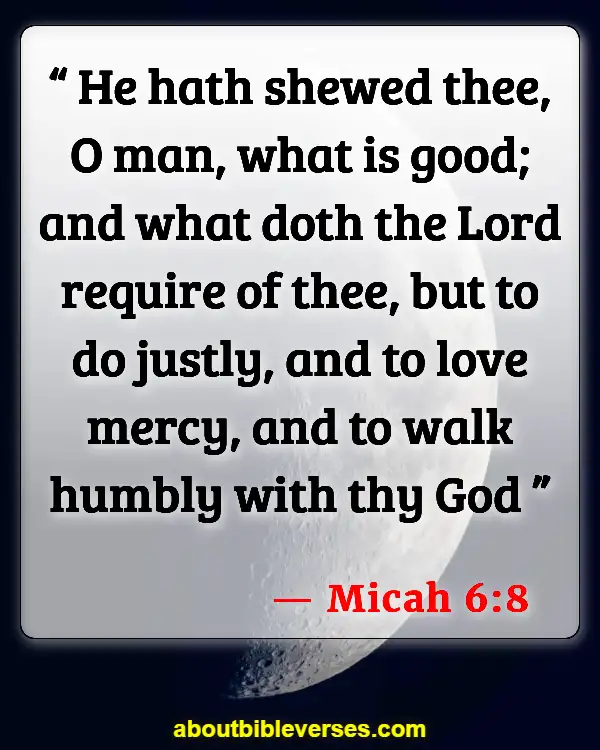 Micah 6:8
"He hath shewed thee, O man, what is good; and what doth the Lord require of thee, but to do justly, and to love mercy, and to walk humbly with thy God?"
Zechariah 7:9
"Thus speaketh the Lord of hosts, saying, Execute true judgment, and shew mercy and compassions every man to his brother"
Matthew 11:29
"Take my yoke upon you, and learn of me; for I am meek and lowly in heart: and ye shall find rest unto your souls"
Mark 9:35
"And he sat down, and called the twelve, and saith unto them, If any man desire to be first, the same shall be last of all, and servant of all"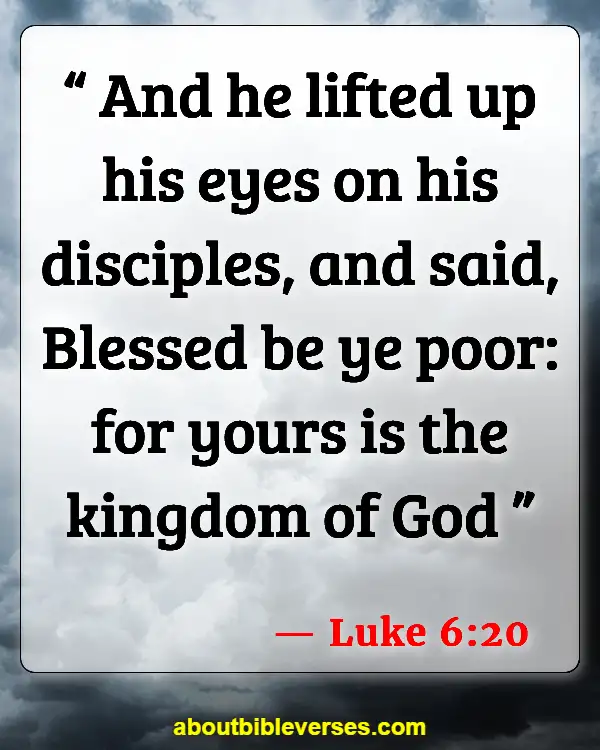 Luke 6:20
"And he lifted up his eyes on his disciples, and said, Blessed be ye poor: for yours is the kingdom of God"
John 12:26
"If any man serve me, let him follow me; and where I am, there shall also my servant be: if any man serve me, him will my Father honour"
2 Corinthians 10:1
"Now I Paul myself beseech you by the meekness and gentleness of Christ, who in presence am base among you, but being absent am bold toward you"
Ephesians 4:32
"And be ye kind one to another, tenderhearted, forgiving one another, even as God for Christ's sake hath forgiven you"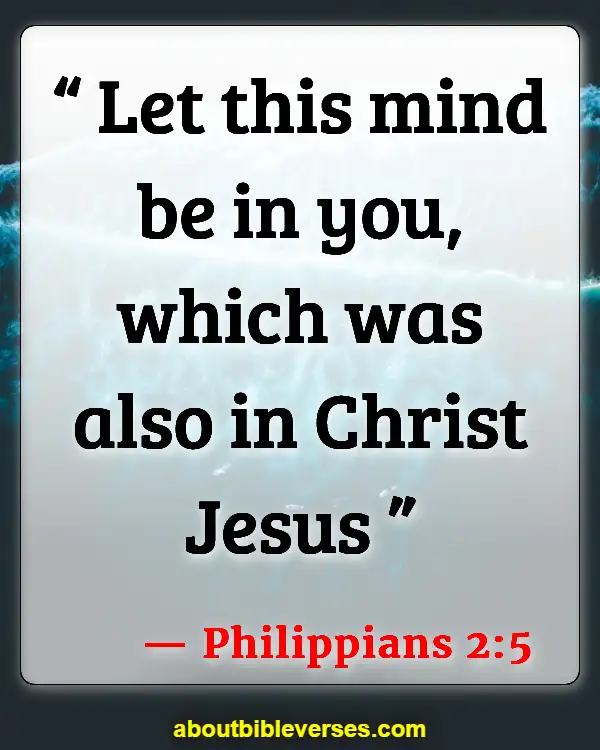 Philippians 2:5
"Let this mind be in you, which was also in Christ Jesus"