Hello dear friends, welcome to our site in the name of Jesus Christ. Today we will look at the Bible Scriptures About the Consequences Of Unforgiveness In KJV. If you like today's post then definitely comment and share.
The Bible speaks extensively about the consequences of holding on to unforgiveness. In the New Testament, Jesus emphasized the need to forgive others and taught the Lord's Prayer which includes "Forgive us our trespasses as we forgive those who trespass against us" (Matthew 6:12).
Ephesians 4:31-32 says, "Let all bitterness, wrath, anger, clamor, and slander be put away from you, along with all malice. Be kind to one another, tenderhearted, forgiving one another, just as God in Christ forgave you." Bitterness And holding on to unforgiveness not only affects our relationships with others but also our relationship with God.
Unforgiveness can cause physical, emotional, and spiritual harm. It can cause stress, depression, and other health problems. Bitterness and anger can destroy relationships and divide families and communities. It can prevent us from experiencing the peace and joy that comes from living in harmony with others.
Additionally, unforgiveness can also limit our spiritual growth and prevent us from experiencing the fullness of God's love and grace. The Bible says that if we do not forgive others, we will not be forgiven by God (Matthew 6:15). This does not mean that we are saved by our ability to forgive, but rather that forgiveness is a fruit of the Spirit and evidence of a changed life in Christ.
Furthermore, unforgiveness can lead to a hard heart and a lack of compassion for others. It can cause us to hold grudges and seek revenge instead of showing love and mercy as Jesus did.
Dear friends now let's see the Bible scriptures below that talk about the Consequences Of Unforgiveness.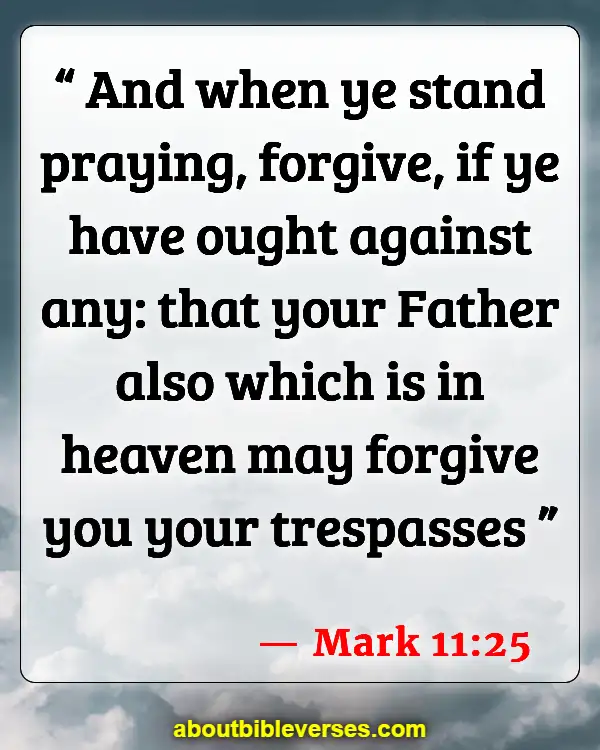 Mark 11:25
"And when ye stand praying, forgive, if ye have ought against any: that your Father also which is in heaven may forgive you your trespasses"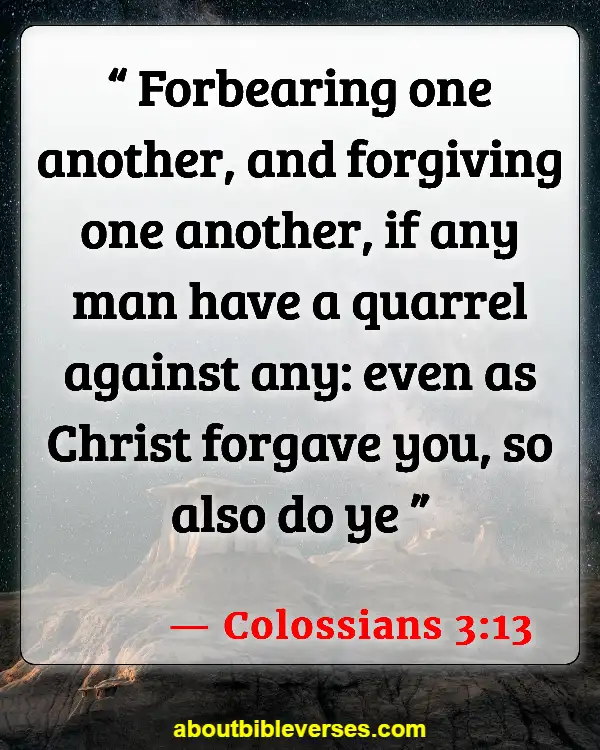 Colossians 3:13
"Forbearing one another, and forgiving one another, if any man have a quarrel against any: even as Christ forgave you, so also do ye"
Matthew 6:14-15
"For if ye forgive men their trespasses, your heavenly Father will also forgive you:But if ye forgive not men their trespasses, neither will your Father forgive your trespasses"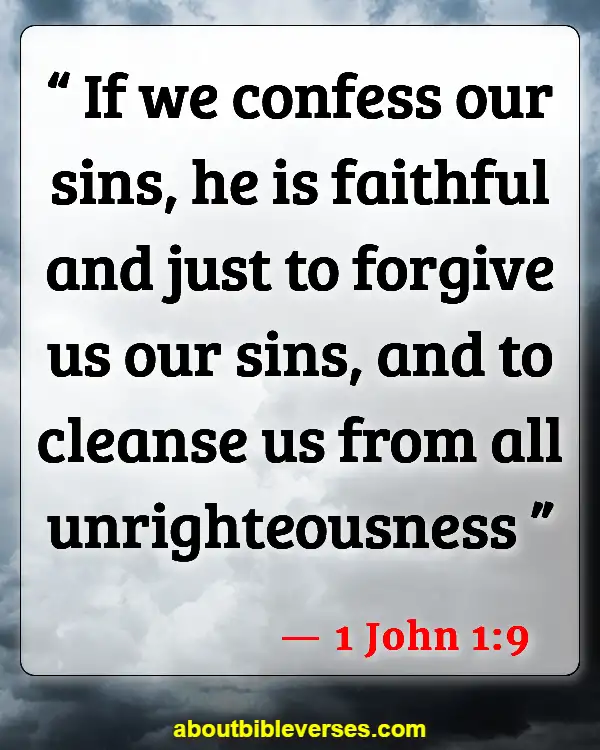 1 John 1:9
"If we confess our sins, he is faithful and just to forgive us our sins, and to cleanse us from all unrighteousness"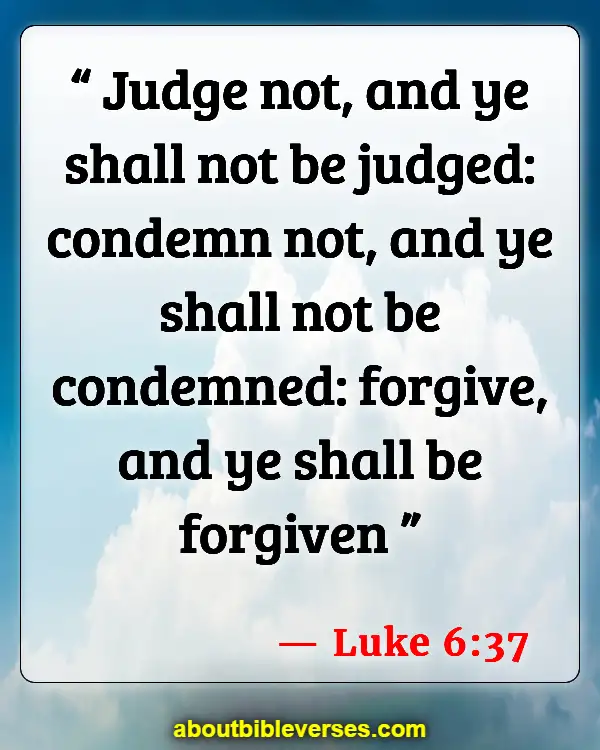 Luke 6:37
"Judge not, and ye shall not be judged: condemn not, and ye shall not be condemned: forgive, and ye shall be forgiven"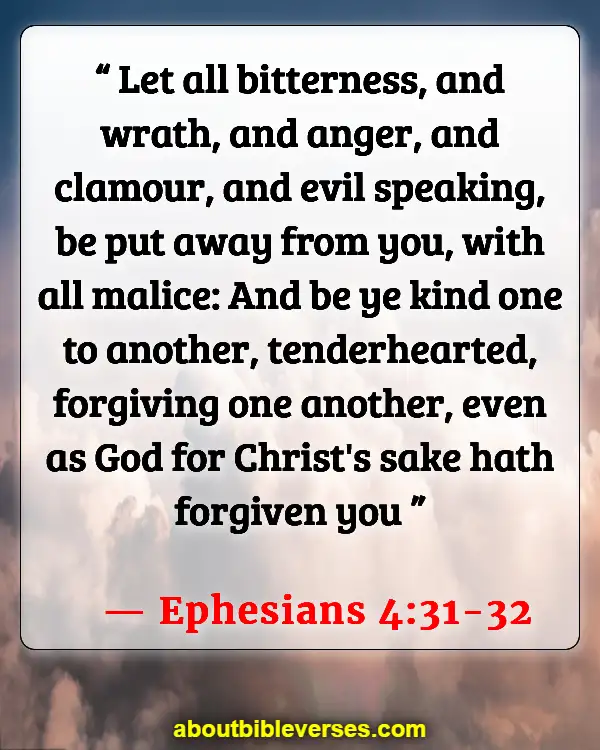 Ephesians 4:31-32
"Let all bitterness, and wrath, and anger, and clamour, and evil speaking, be put away from you, with all malice:And be ye kind one to another, tenderhearted, forgiving one another, even as God for Christ's sake hath forgiven you"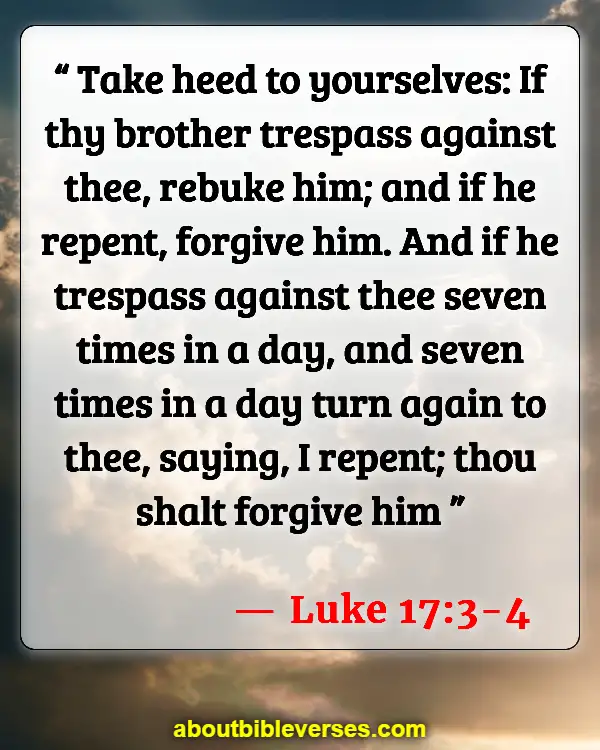 Luke 17:3-4
"Take heed to yourselves: If thy brother trespass against thee, rebuke him; and if he repent, forgive him.And if he trespass against thee seven times in a day, and seven times in a day turn again to thee, saying, I repent; thou shalt forgive him"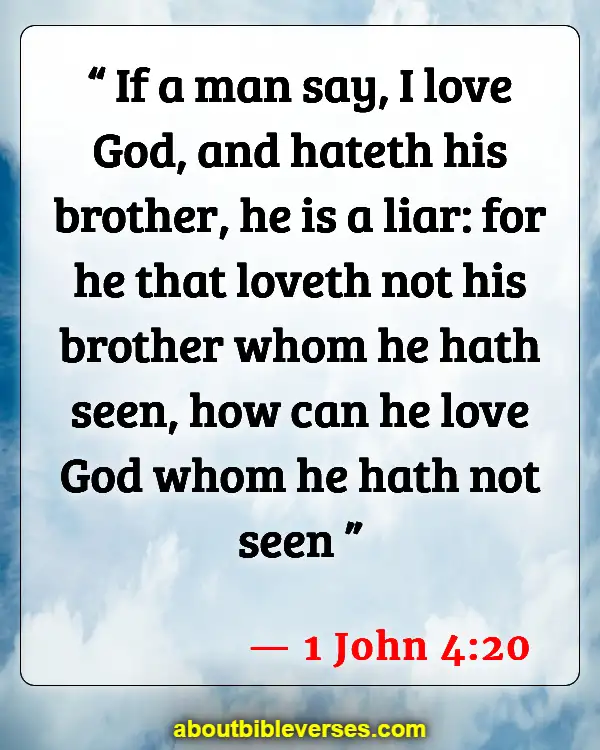 1 John 4:20
"If a man say, I love God, and hateth his brother, he is a liar: for he that loveth not his brother whom he hath seen, how can he love God whom he hath not seen?"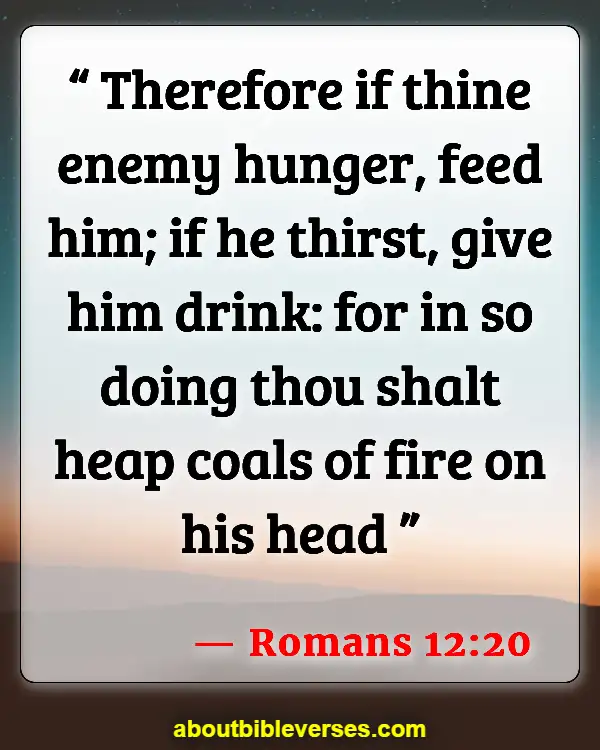 Romans 12:20
"Therefore if thine enemy hunger, feed him; if he thirst, give him drink: for in so doing thou shalt heap coals of fire on his head"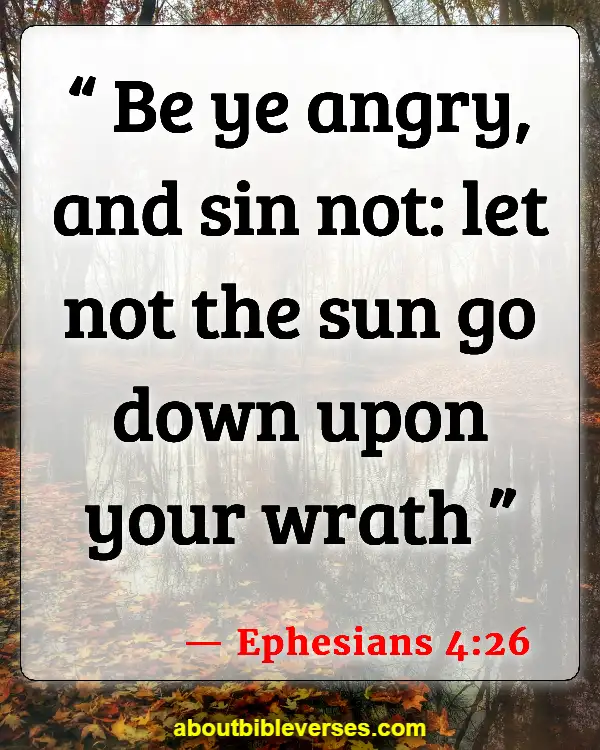 Ephesians 4:26
"Be ye angry, and sin not: let not the sun go down upon your wrath"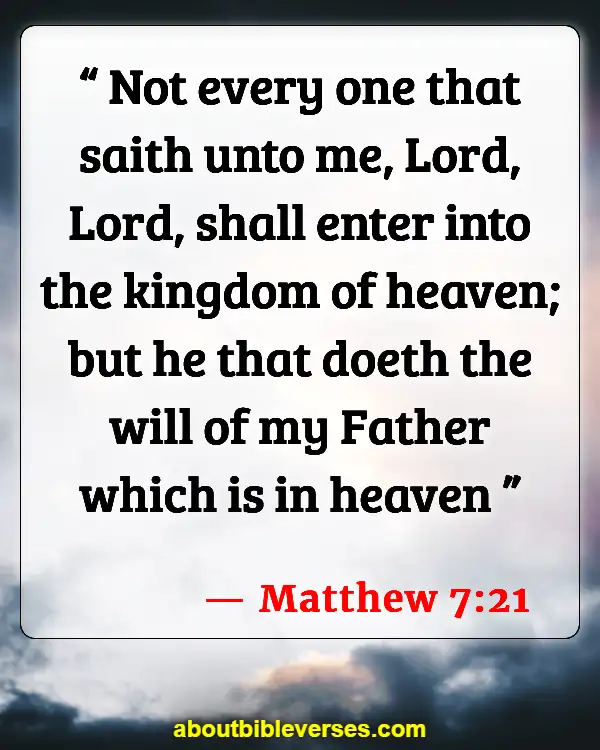 Matthew 7:21
"Not every one that saith unto me, Lord, Lord, shall enter into the kingdom of heaven; but he that doeth the will of my Father which is in heaven"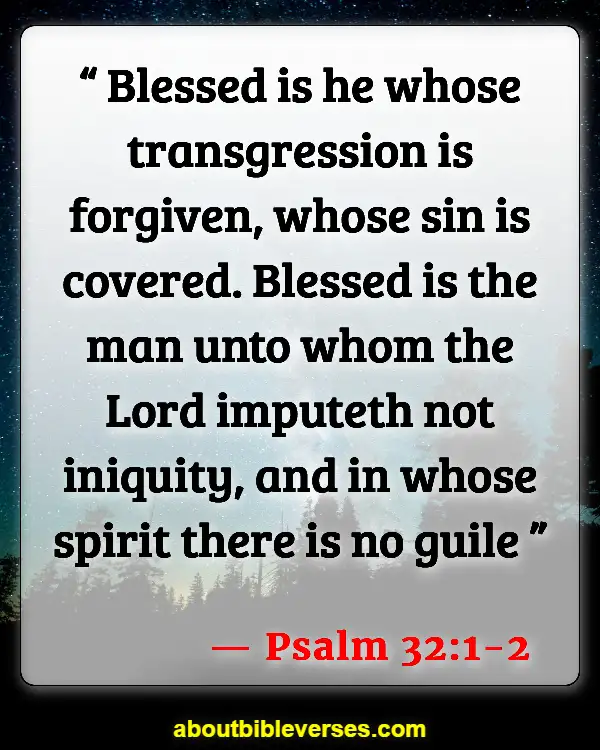 Psalm 32:1-2
"Blessed is he whose transgression is forgiven, whose sin is covered.Blessed is the man unto whom the Lord imputeth not iniquity, and in whose spirit there is no guile"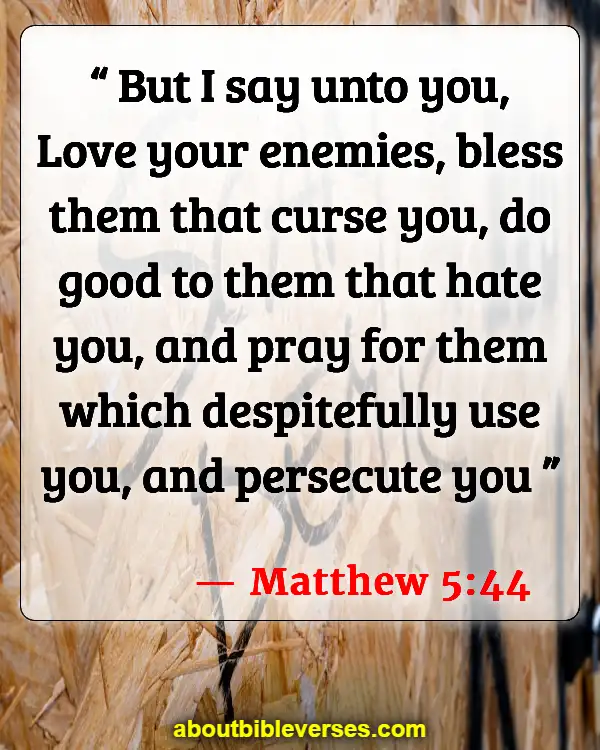 Matthew 5:44
"But I say unto you, Love your enemies, bless them that curse you, do good to them that hate you, and pray for them which despitefully use you, and persecute you"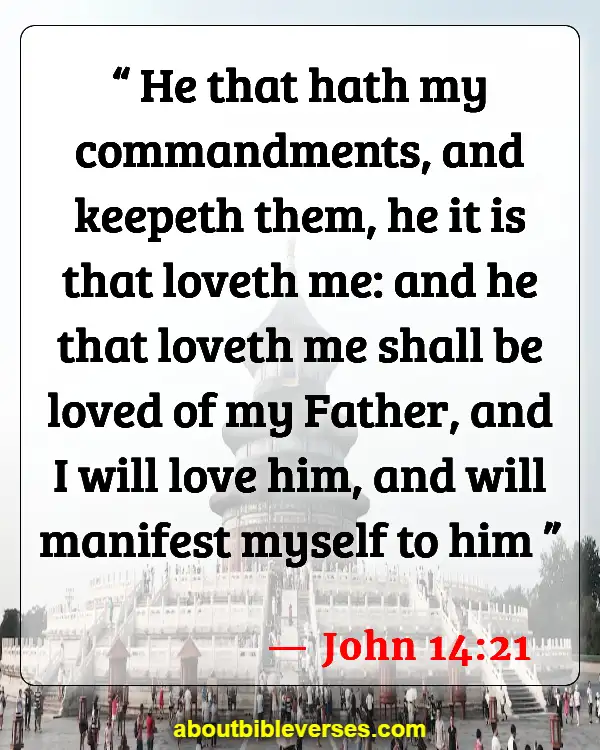 John 14:21
"He that hath my commandments, and keepeth them, he it is that loveth me: and he that loveth me shall be loved of my Father, and I will love him, and will manifest myself to him"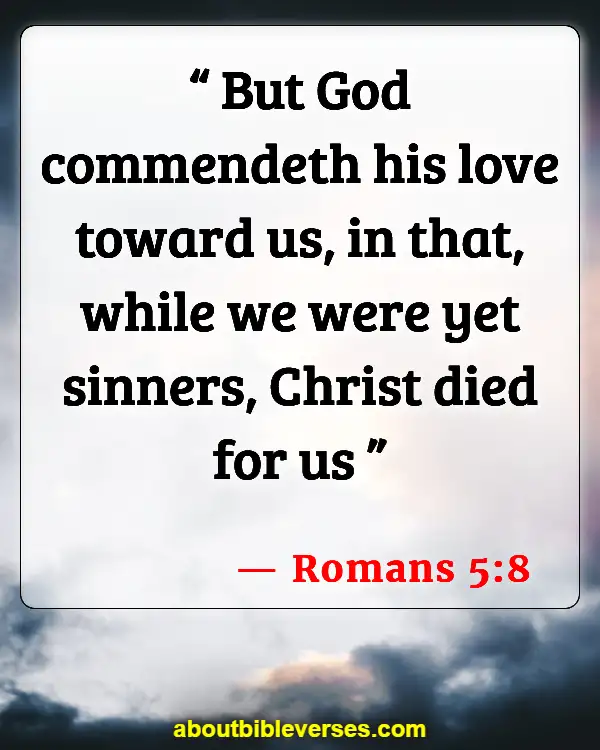 Romans 5:8
"But God commendeth his love toward us, in that, while we were yet sinners, Christ died for us"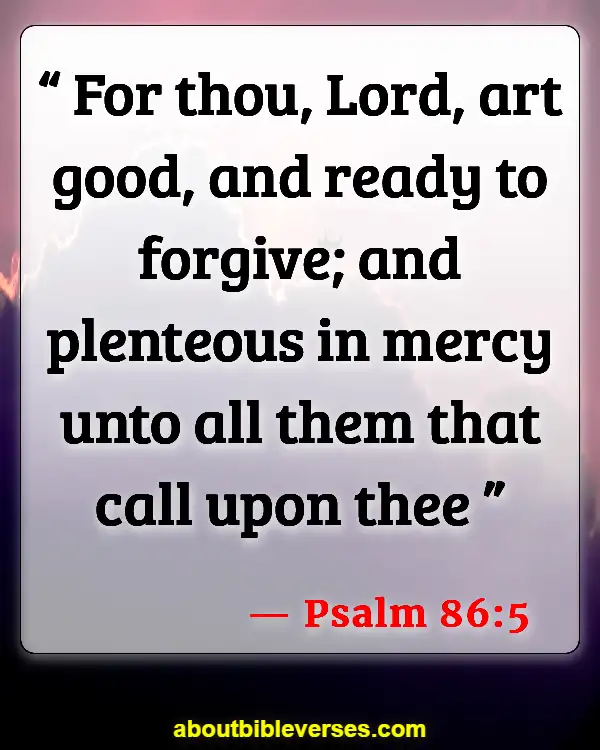 Psalm 86:5
"For thou, Lord, art good, and ready to forgive; and plenteous in mercy unto all them that call upon thee"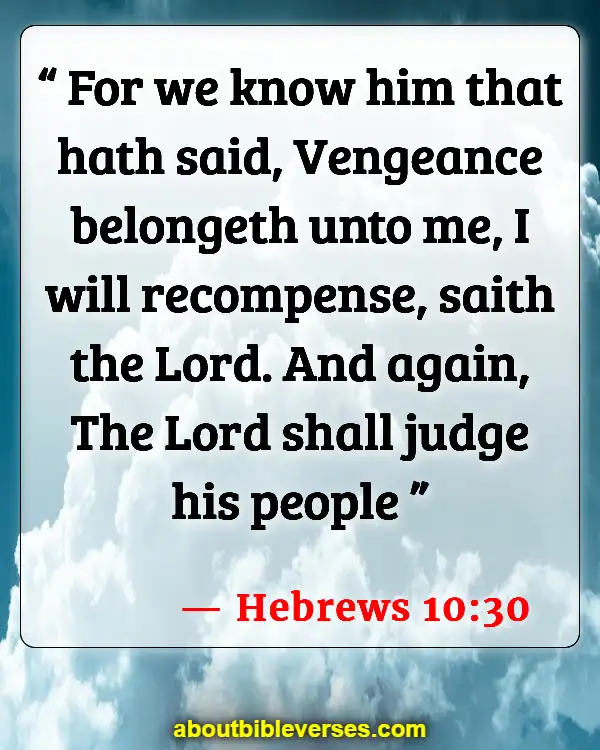 Hebrews 10:30
"For we know him that hath said, Vengeance belongeth unto me, I will recompense, saith the Lord. And again, The Lord shall judge his people"
Proverbs 24:17
"Rejoice not when thine enemy falleth, and let not thine heart be glad when he stumbleth"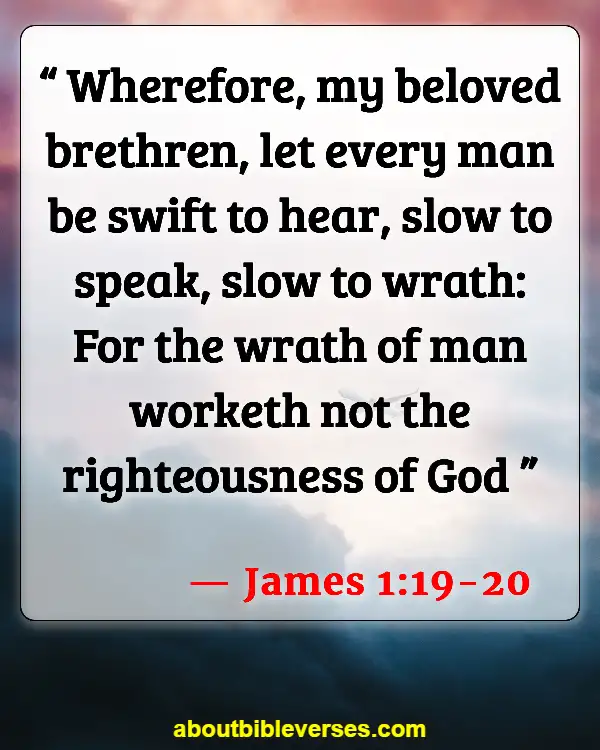 James 1:19-20
"Wherefore, my beloved brethren, let every man be swift to hear, slow to speak, slow to wrath:For the wrath of man worketh not the righteousness of God"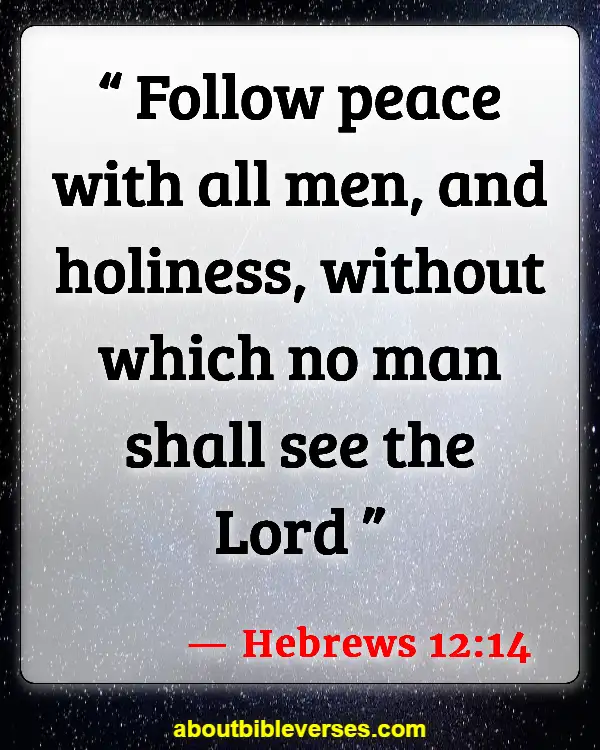 Hebrews 12:14
"Follow peace with all men, and holiness, without which no man shall see the Lord"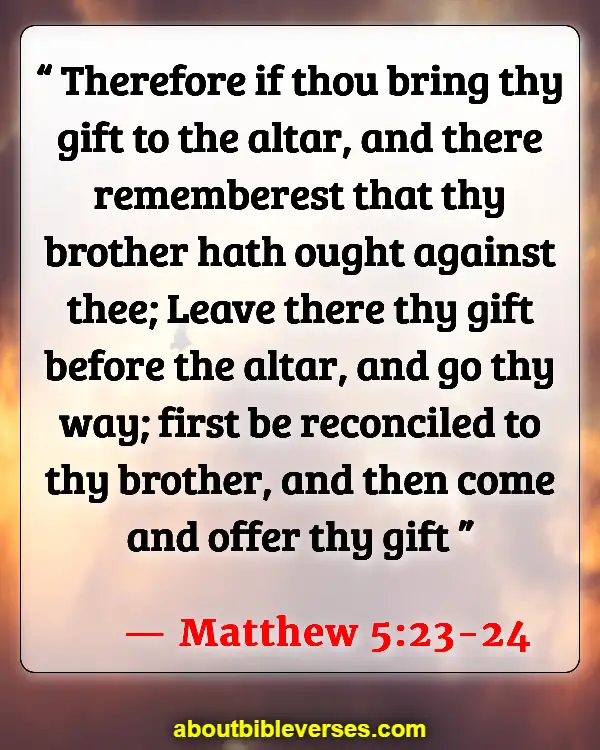 Matthew 5:23-24
"Therefore if thou bring thy gift to the altar, and there rememberest that thy brother hath ought against thee;Leave there thy gift before the altar, and go thy way; first be reconciled to thy brother, and then come and offer thy gift"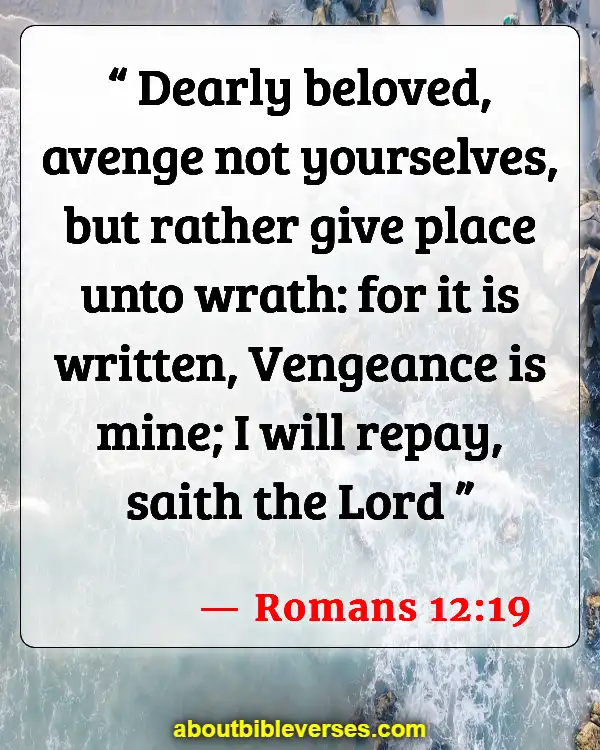 Romans 12:19
"Dearly beloved, avenge not yourselves, but rather give place unto wrath: for it is written, Vengeance is mine; I will repay, saith the Lord"