Hello dear friends, welcome to our site in the name of Jesus Christ. Today we will look at the Bible Scriptures About Commitment To Ministry In KJV. If you like today's post then definitely comment and share.
Commitment to ministry is a divine calling. It's about being dedicated to serving others with love, compassion, and humility, emulating Jesus's footsteps. It's a love story of self-sacrifice, where individuals set aside personal desires to serve a higher purpose. The Bible teaches us that ministry is not merely a career but a life's mission, deeply engrained in the fabric of our souls.
Being committed to ministry means allowing the spiritual realm to shape our daily actions. It involves constant prayers, seeking divine guidance, and maintaining a heart open to God's leading. It's about being spiritually equipped, strengthened by God's word, and fortified by His love.
Being committed to ministry is a journey of the heart. It is embracing the wisdom from above and acting upon it with unwavering faith. Just as a shepherd guides his flock, we are guided by the divine spirit in our service to others. In this way, our commitment becomes a light unto the world, mirroring the endless compassion that springs from God's love.
Remember, the parable of the sower who scattered seeds on different types of soil. Some seeds grew, some withered, and some bore fruit. Commitment to ministry is much like nurturing these seeds. We need to tend to it, and foster it with love and perseverance, so it can thrive and bear fruit.
So, dear friends, let us embark on this journey with love in our hearts and faith in our souls. Dear friends now let's see the Bible scriptures below that talk about Commitment To Ministry.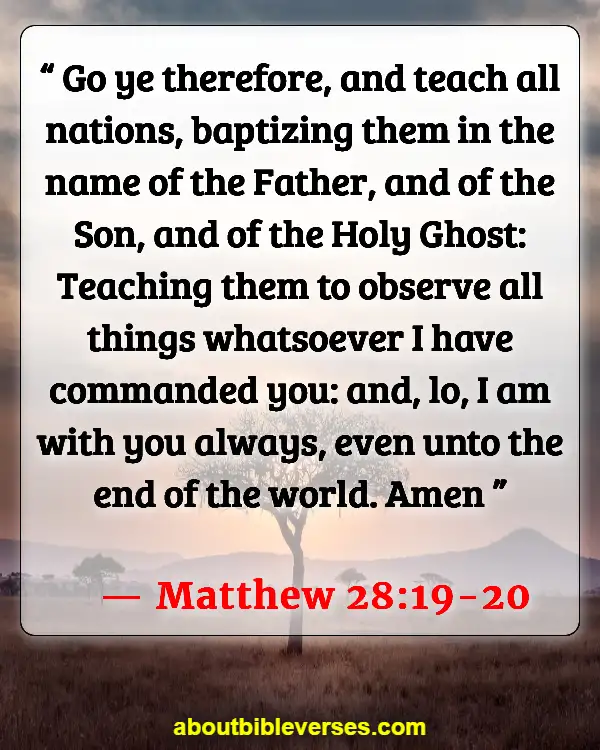 Matthew 28:19-20
"Go ye therefore, and teach all nations, baptizing them in the name of the Father, and of the Son, and of the Holy Ghost: Teaching them to observe all things whatsoever I have commanded you: and, lo, I am with you always, even unto the end of the world. Amen"
1 Corinthians 15:58
"Therefore, my beloved brethren, be ye stedfast, unmoveable, always abounding in the work of the Lord, forasmuch as ye know that your labour is not in vain in the Lord"
Galatians 6:9
"And let us not be weary in well doing: for in due season we shall reap, if we faint not"
Ephesians 4:11-13
"And he gave some, apostles; and some, prophets; and some, evangelists; and some, pastors and teachers; For the perfecting of the saints, for the work of the ministry, for the edifying of the body of Christ: Till we all come in the unity of the faith, and of the knowledge of the Son of God, unto a perfect man, unto the measure of the stature of the fulness of Christ"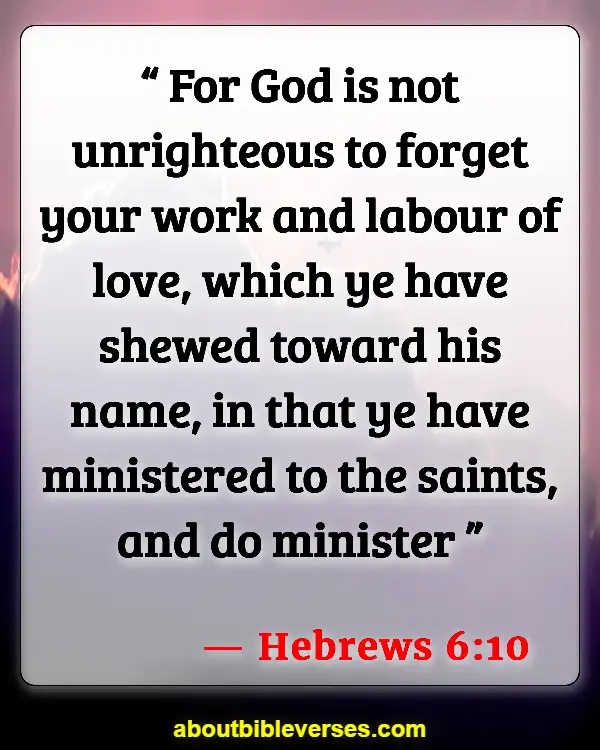 Hebrews 6:10
"For God is not unrighteous to forget your work and labour of love, which ye have shewed toward his name, in that ye have ministered to the saints, and do minister"
2 Timothy 4:2
"Preach the word; be instant in season, out of season; reprove, rebuke, exhort with all long suffering and doctrine"
Romans 12:6-8
"Having then gifts differing according to the grace that is given to us, whether prophecy, let us prophesy according to the proportion of faith; Or ministry, let us wait on our ministering: or he that teacheth, on teaching; Or he that exhorteth, on exhortation: he that giveth, let him do it with simplicity; he that ruleth, with diligence; he that sheweth mercy, with cheerfulness"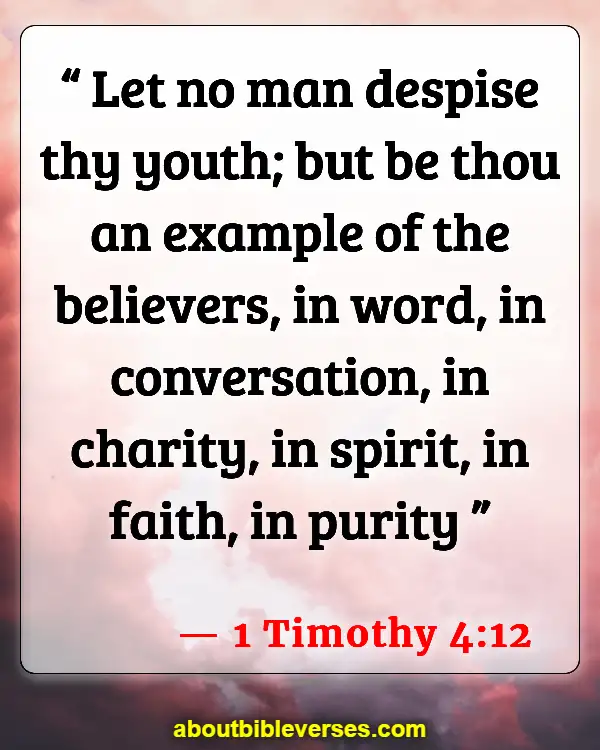 1 Timothy 4:12
"Let no man despise thy youth; but be thou an example of the believers, in word, in conversation, in charity, in spirit, in faith, in purity"
1 Peter 4:10
"As every man hath received the gift, even so minister the same one to another, as good stewards of the manifold grace of God"
Acts 20:28
"Take heed therefore unto yourselves, and to all the flock, over the which the Holy Ghost hath made you overseers, to feed the church of God, which he hath purchased with his own blood"
Proverbs 16:3
"Commit thy works unto the Lord , and thy thoughts shall be established"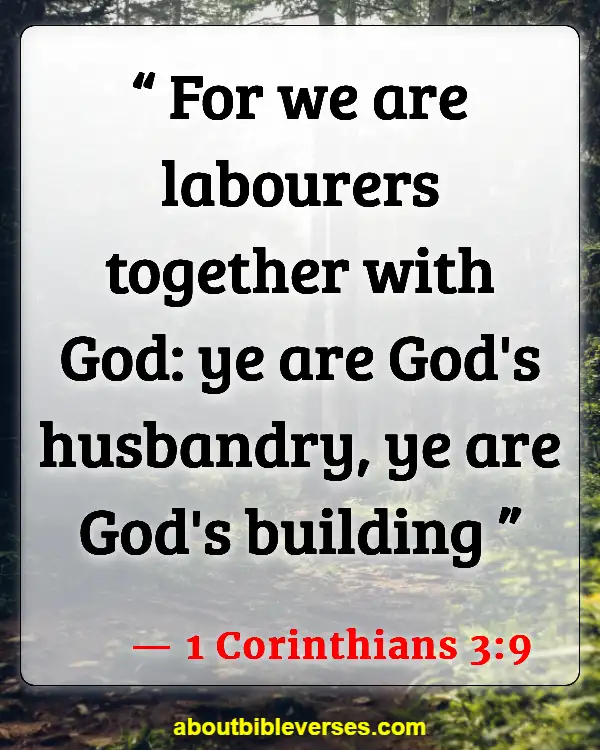 1 Corinthians 3:9
"For we are labourers together with God: ye are God's husbandry, ye are God's building"
1 Thessalonians 5:11
"Wherefore comfort yourselves together, and edify one another, even as also ye do"
James 1:27
"Pure religion and undefiled before God and the Father is this, To visit the fatherless and widows in their affliction, and to keep himself unspotted from the world"
Matthew 25:40
"And the King shall answer and say unto them, Verily I say unto you, Inasmuch as ye have done it unto one of the least of these my brethren, ye have done it unto me"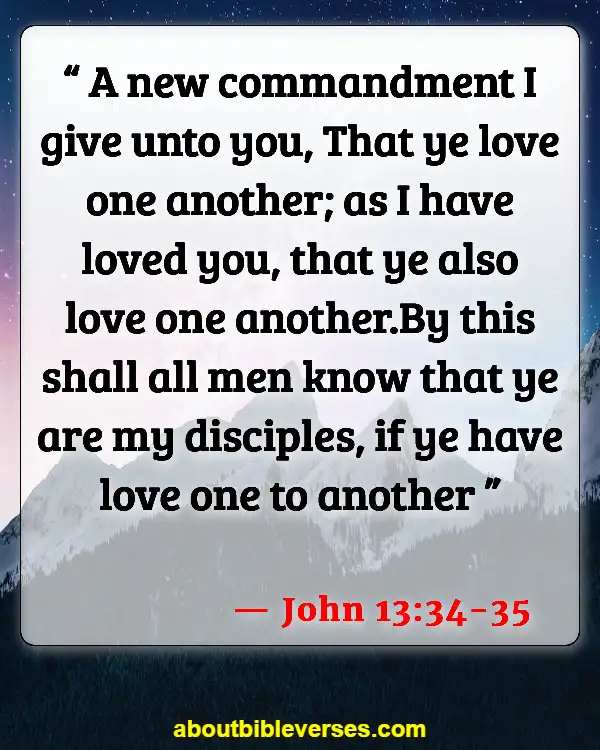 John 13:34-35
"A new commandment I give unto you, That ye love one another; as I have loved you, that ye also love one another. By this shall all men know that ye are my disciples, if ye have love one to another"
Philippians 2:1-4
"If there be therefore any consolation in Christ, if any comfort of love, if any fellowship of the Spirit, if any bowels and mercies, Fulfil ye my joy, that ye be likeminded, having the same love, being of one accord, of one mind. Let nothing be done through strife or vainglory; but in lowliness of mind let each esteem other better than themselves. Look not every man on his own things, but every man also on the things of others"
Ephesians 6:7
"With good will doing service, as to the Lord, and not to men"
2 Corinthians 5:20
"Now then we are ambassadors for Christ, as though God did beseech you by us: we pray you in Christ's stead, be ye reconciled to God"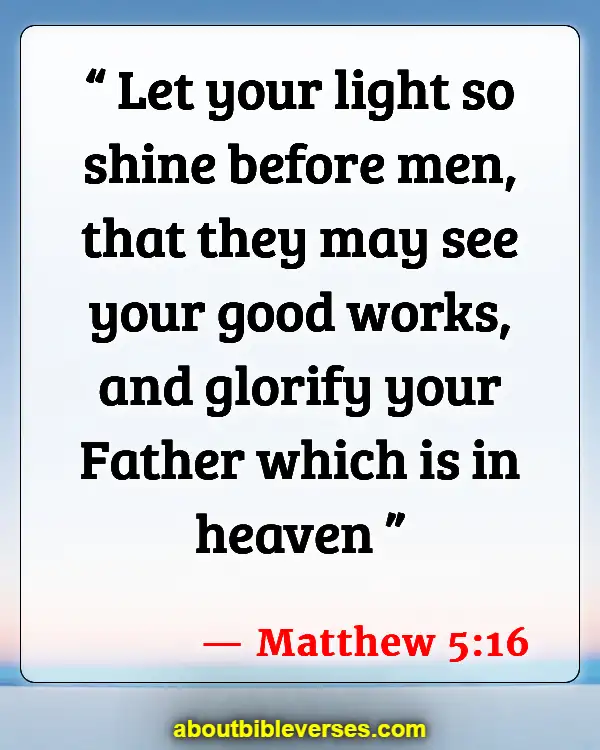 Matthew 5:16
"Let your light so shine before men, that they may see your good works, and glorify your Father which is in heaven"
Acts 1:8
"But ye shall receive power, after that the Holy Ghost is come upon you: and ye shall be witnesses unto me both in Jerusalem, and in all Judaea, and in Samaria, and unto the uttermost part of the earth"
Colossians 3:23-24
"And whatsoever ye do, do it heartily, as to the Lord, and not unto men; Knowing that of the Lord ye shall receive the reward of the inheritance: for ye serve the Lord Christ"
Luke 10:2
"Therefore said he unto them, The harvest truly is great, but the labourers are few: pray ye therefore the Lord of the harvest, that he would send forth labourers into his harvest"
Isaiah 6:8
"Also I heard the voice of the Lord, saying, Whom shall I send, and who will go for us? Then said I, Here am I; send me"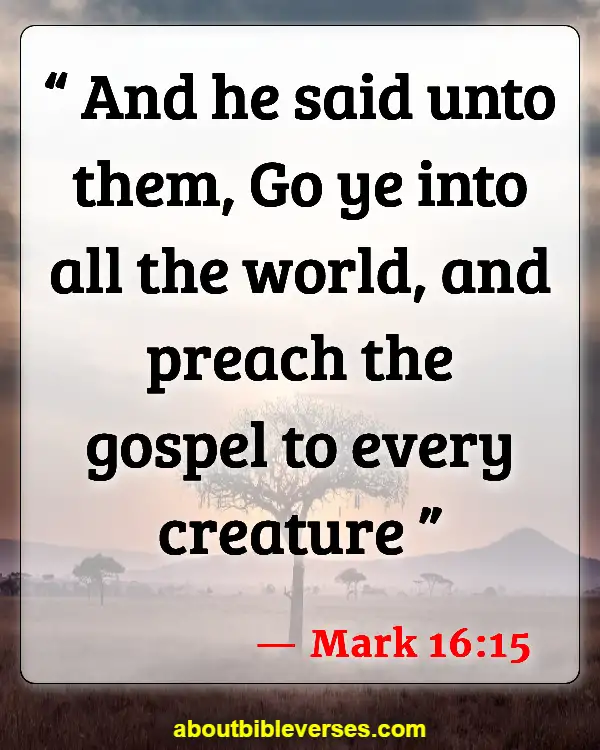 Mark 16:15
"And he said unto them, Go ye into all the world, and preach the gospel to every creature"
Titus 1:7-9
"For a bishop must be blameless, as the steward of God; not selfwilled, not soon angry, not given to wine, no striker, not given to filthy lucre; But a lover of hospitality, a lover of good men, sober, just, holy, temperate; Holding fast the faithful word as he hath been taught, that he may be able by sound doctrine both to exhort and to convince the gainsayers"
Acts 18:9-10
"Then spake the Lord to Paul in the night by a vision, Be not afraid, but speak, and hold not thy peace: For I am with thee, and no man shall set on thee to hurt thee: for I have much people in this city"
1 Timothy 6:11-12
"But thou, O man of God, flee these things; and follow after righteousness, godliness, faith, love, patience, meekness. Fight the good fight of faith, lay hold on eternal life, whereunto thou art also called, and hast professed a good profession before many witnesses"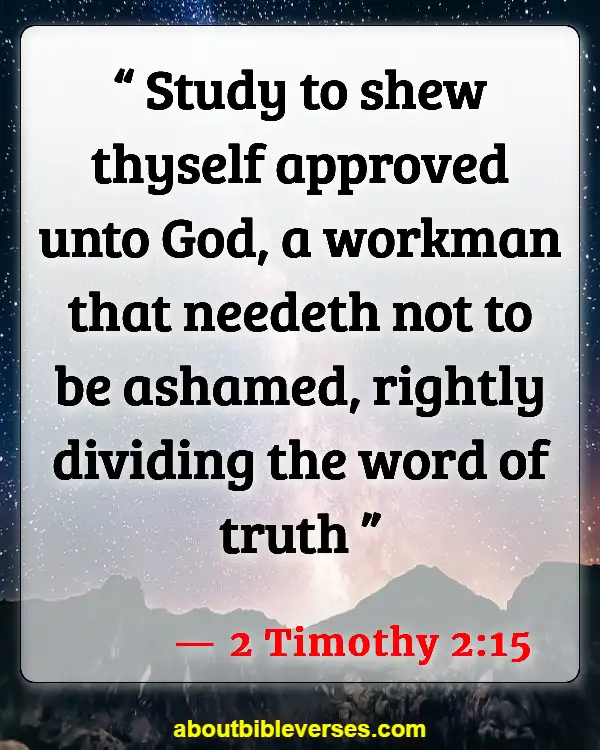 2 Timothy 2:15
"Study to shew thyself approved unto God, a workman that needeth not to be ashamed, rightly dividing the word of truth"
1 Corinthians 12:4-7
"Now there are diversities of gifts, but the same Spirit. And there are differences of administrations, but the same Lord. And there are diversities of operations, but it is the same God which worketh all in all. But the manifestation of the Spirit is given to every man to profit withal"
1 Timothy 1:12
"And I thank Christ Jesus our Lord, who hath enabled me, for that he counted me faithful, putting me into the ministry"
2 Timothy 3:16-17
"All scripture is given by inspiration of God, and is profitable for doctrine, for reproof, for correction, for instruction in righteousness: That the man of God may be perfect, thoroughly furnished unto all good works"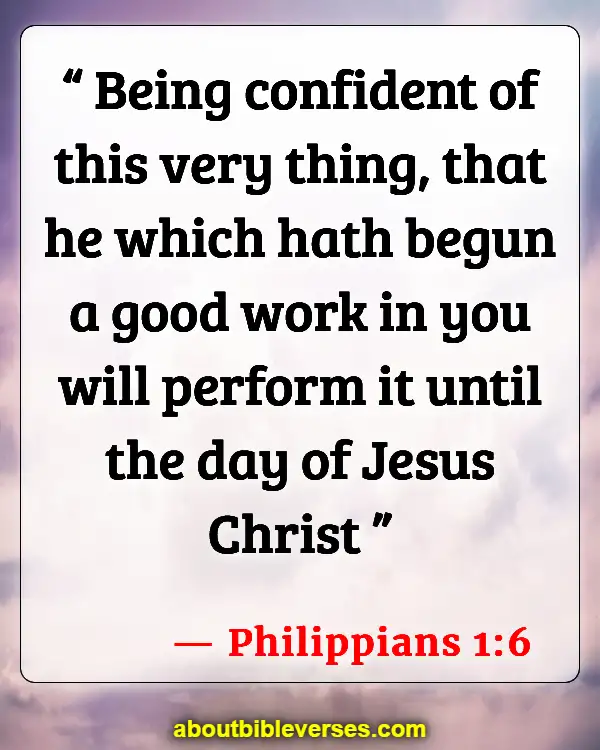 Philippians 1:6
"Being confident of this very thing, that he which hath begun a good work in you will perform it until the day of Jesus Christ"
Acts 2:42-47
"And they continued stedfastly in the apostles' doctrine and fellowship, and in breaking of bread, and in prayers. And fear came upon every soul: and many wonders and signs were done by the apostles. And all that believed were together, and had all things common; And sold their possessions and goods, and parted them to all men, as every man had need. And they, continuing daily with one accord in the temple, and breaking bread from house to house, did eat their meat with gladness and singleness of heart, Praising God, and having favour with all the people. And the Lord added to the church daily such as should be saved"
Hebrews 13:16
"But to do good and to communicate forget not: for with such sacrifices God is well pleased"
2 Timothy 1:6-7
"Wherefore I put thee in remembrance that thou stir up the gift of God, which is in thee by the putting on of my hands. For God hath not given us the spirit of fear; but of power, and of love, and of a sound mind"
Romans 12:11
"Not slothful in business; fervent in spirit; serving the Lord"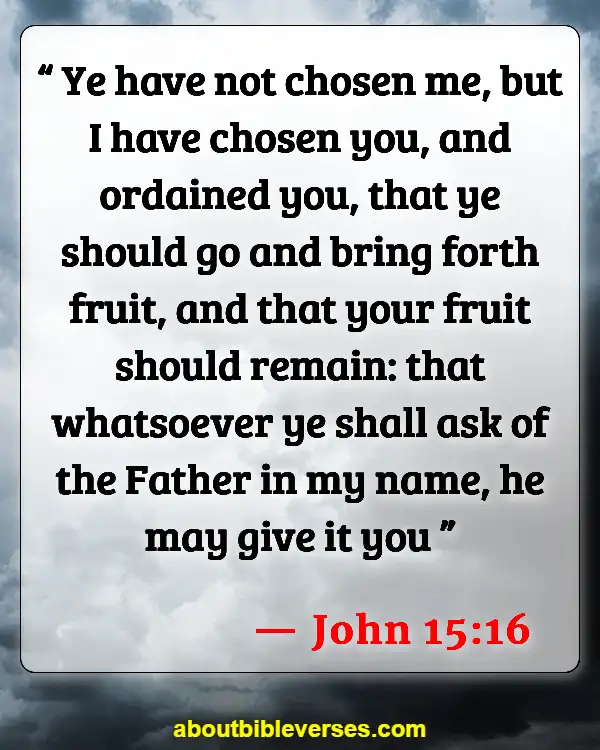 John 15:16
"Ye have not chosen me, but I have chosen you, and ordained you, that ye should go and bring forth fruit, and that your fruit should remain: that whatsoever ye shall ask of the Father in my name, he may give it you"