My dear brothers and sisters, as we delve into the wisdom of the Holy Scriptures, let us reflect on the timeless guidance it offers. In the sacred texts, we find a divine message urging us to be warriors, not worriers. The Bible teaches us that in our walk of faith, we must trust in the Almighty, for He is our shield and protector.
When we face trials and tribulations, we must remember the story of David and Goliath. David, a young shepherd, faced the mighty giant Goliath with unwavering faith in God. He did not worry about the giant's size or strength, but he went forth as a warrior, knowing that the Lord was with him. And with just a sling and a stone, he triumphed over his adversary.
Similarly, we too must confront the challenges in our lives with courage and conviction, knowing that the Lord is on our side. We are reminded of the words in Isaiah 41:10, "Fear not, for I am with you; be not dismayed, for I am your God; I will strengthen you, I will help you, I will uphold you with my righteous right hand."
It is human nature to be anxious about the future, but Jesus Himself teaches us not to worry. In Matthew 6:34, He says, "Therefore do not worry about tomorrow, for tomorrow will worry about itself. Each day has enough trouble of its own." This profound advice reminds us that our focus should be on living faithfully in the present moment, trusting in God's plan for our lives.
Dear friends now let's see the Bible scriptures below that talk about Be A Warrior Not A Worrier.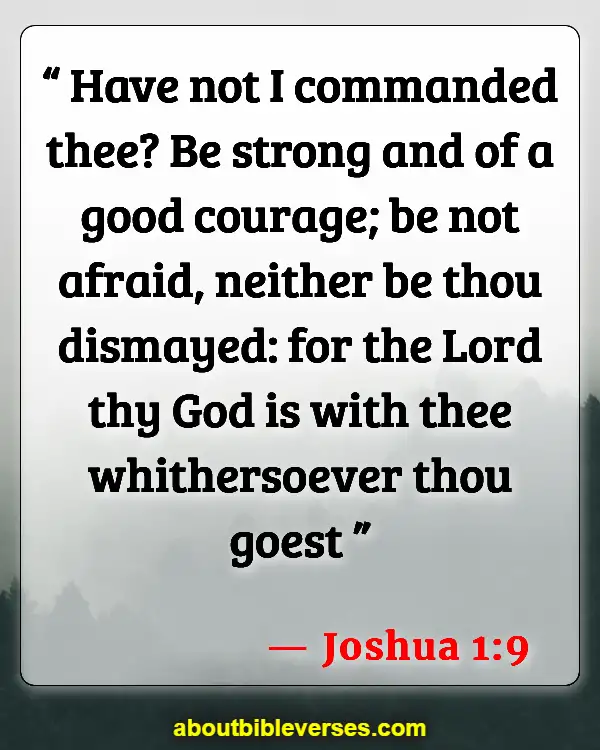 Joshua 1:9
"Have not I commanded thee? Be strong and of a good courage; be not afraid, neither be thou dismayed: for the Lord thy God is with thee whithersoever thou goest"
Ephesians 6:10-11
"Finally, my brethren, be strong in the Lord, and in the power of his might. Put on the whole armour of God, that ye may be able to stand against the wiles of the devil"
1 Corinthians 16:13
"Watch ye, stand fast in the faith, quit you like men, be strong"
2 Timothy 1:7
"For God hath not given us the spirit of fear; but of power, and of love, and of a sound mind"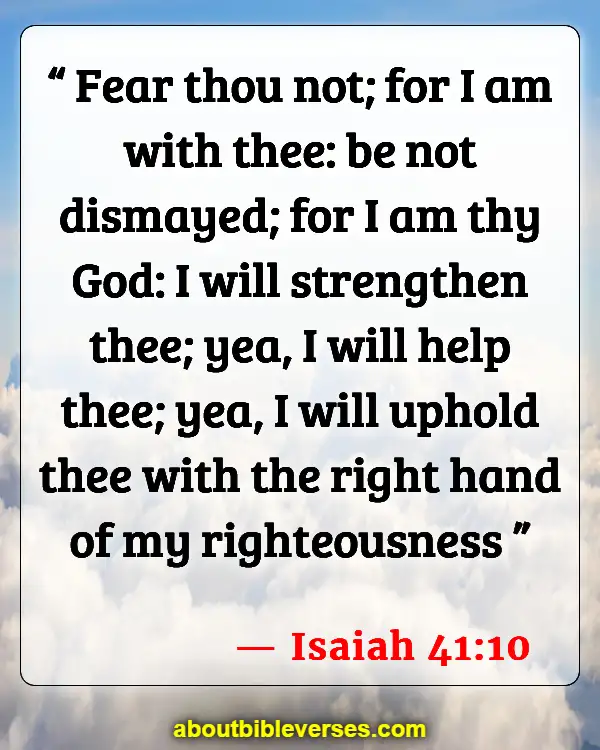 Isaiah 41:10
"Fear thou not; for I am with thee: be not dismayed; for I am thy God: I will strengthen thee; yea, I will help thee; yea, I will uphold thee with the right hand of my righteousness"
Psalm 31:24
"Be of good courage, and he shall strengthen your heart, all ye that hope in the Lord"
Deuteronomy 31:6
"Be strong and of a good courage, fear not, nor be afraid of them: for the Lord thy God, he it is that doth go with thee; he will not fail thee, nor forsake thee"
Proverbs 3:5-6
"Trust in the Lord with all thine heart; and lean not unto thine own understanding. In all thy ways acknowledge him, and he shall direct thy paths"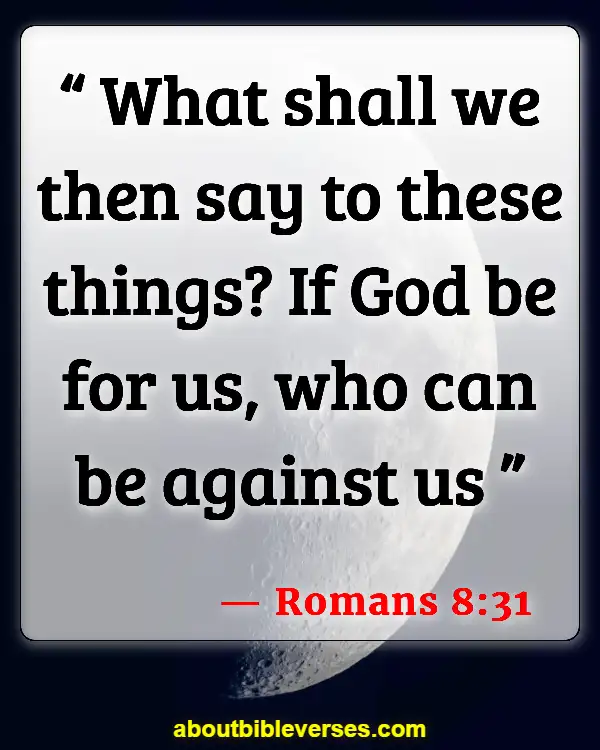 Romans 8:31
"What shall we then say to these things? If God be for us, who can be against us?"
Psalm 27:1
"The Lord is my light and my salvation; whom shall I fear? the Lord is the strength of my life; of whom shall I be afraid?"
Isaiah 40:31
"But they that wait upon the Lord shall renew their strength; they shall mount up with wings as eagles; they shall run, and not be weary; and they shall walk, and not faint"
Psalm 56:3-4
"What time I am afraid, I will trust in thee. In God I will praise his word, in God I have put my trust; I will not fear what flesh can do unto me"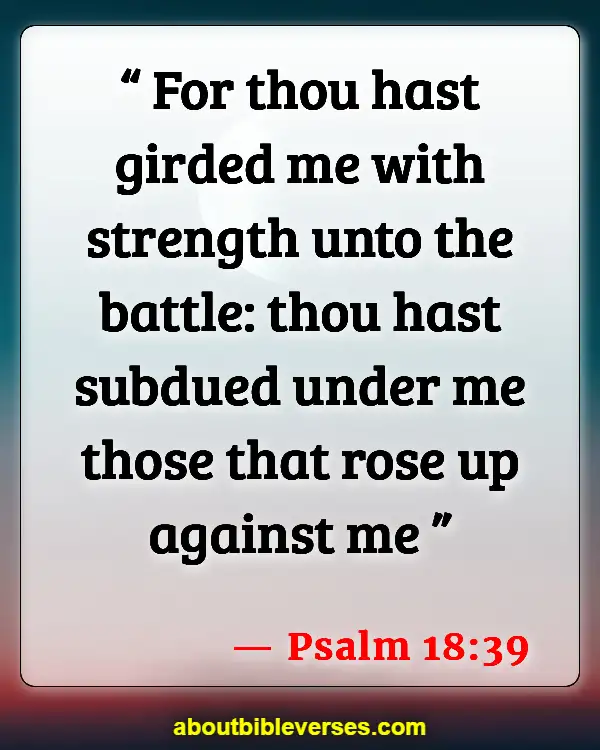 Psalm 18:39
"For thou hast girded me with strength unto the battle: thou hast subdued under me those that rose up against me"
1 Chronicles 28:20
"And David said to Solomon his son, Be strong and of good courage, and do it: fear not, nor be dismayed: for the Lord God, even my God, will be with thee; he will not fail thee, nor forsake thee, until thou hast finished all the work for the service of the house of the Lord"
Psalm 144:1
"Blessed be the Lord my strength which teacheth my hands to war, and my fingers to fight"
Exodus 14:14
"The Lord shall fight for you, and ye shall hold your peace"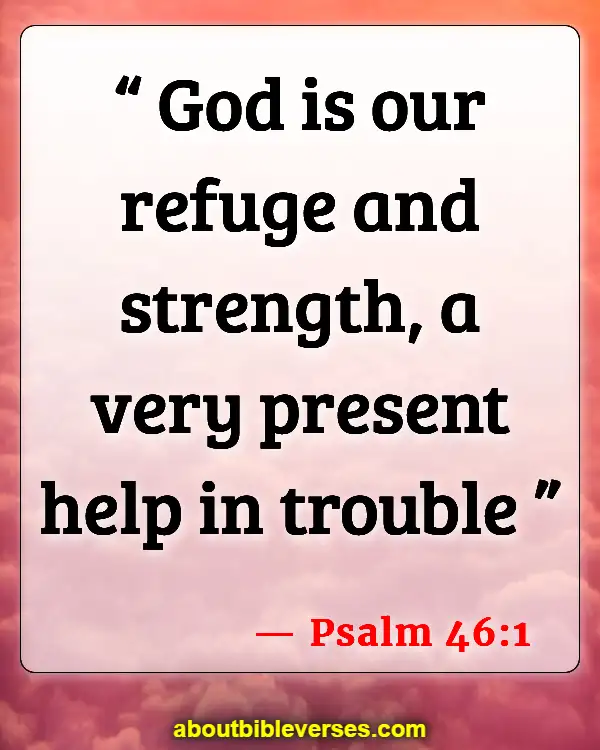 Psalm 46:1
"God is our refuge and strength, a very present help in trouble"
Isaiah 54:17
"No weapon that is formed against thee shall prosper; and every tongue that shall rise against thee in judgment thou shalt condemn. This is the heritage of the servants of the Lord , and their righteousness is of me, saith the Lord"
Psalm 34:4
"I sought the Lord , and he heard me, and delivered me from all my fears"
Hebrews 13:6
"So that we may boldly say, The Lord is my helper, and I will not fear what man shall do unto me"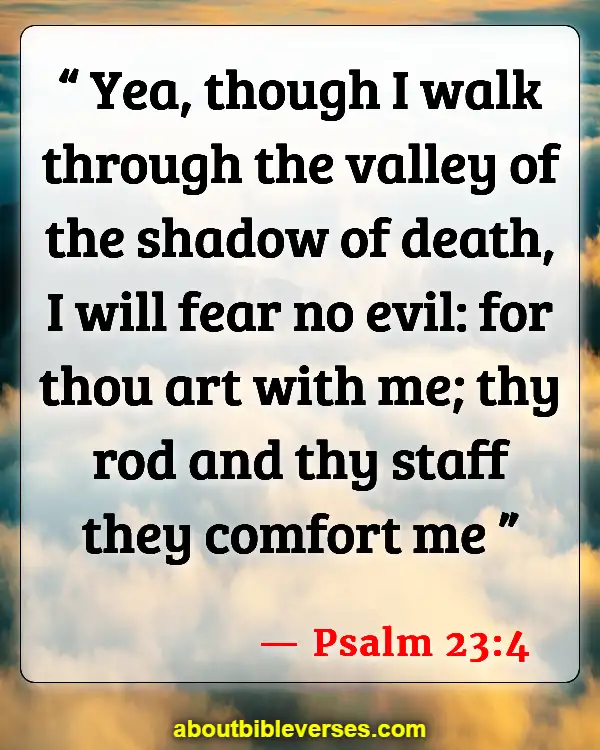 Psalm 23:4
"Yea, though I walk through the valley of the shadow of death, I will fear no evil: for thou art with me; thy rod and thy staff they comfort me"
2 Samuel 22:40
"For thou hast girded me with strength to battle: them that rose up against me hast thou subdued under me"
Psalm 138:3
"In the day when I cried thou answeredst me, and strengthenedst me with strength in my soul"
Isaiah 12:2
"Behold, God is my salvation; I will trust, and not be afraid: for the Lord Jehovah is my strength and my song; he also is become my salvation"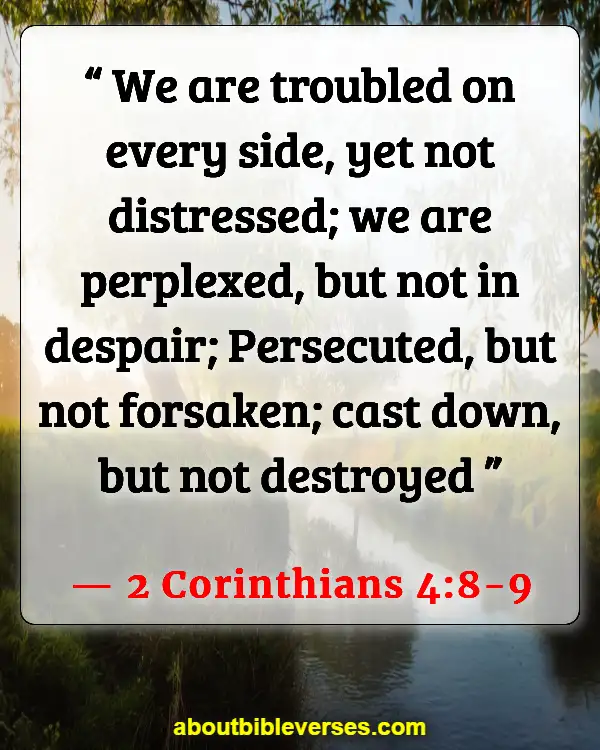 2 Corinthians 4:8-9
"We are troubled on every side, yet not distressed; we are perplexed, but not in despair; Persecuted, but not forsaken; cast down, but not destroyed"
Romans 15:13
"Now the God of hope fill you with all joy and peace in believing, that ye may abound in hope, through the power of the Holy Ghost"
Philippians 4:13
"I can do all things through Christ which strengtheneth me"
Psalm 55:22
"Cast thy burden upon the Lord , and he shall sustain thee: he shall never suffer the righteous to be moved"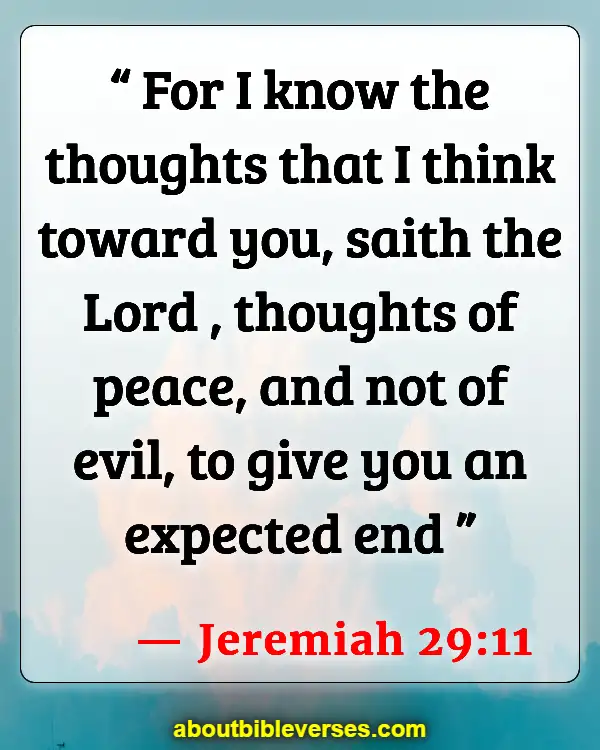 Jeremiah 29:11
"For I know the thoughts that I think toward you, saith the Lord , thoughts of peace, and not of evil, to give you an expected end"
Psalm 37:5
"Commit thy way unto the Lord ; trust also in him; and he shall bring it to pass"
Proverbs 18:10
"The name of the Lord is a strong tower: the righteous runneth into it, and is safe"
Isaiah 26:3
"Thou wilt keep him in perfect peace, whose mind is stayed on thee: because he trusteth in thee"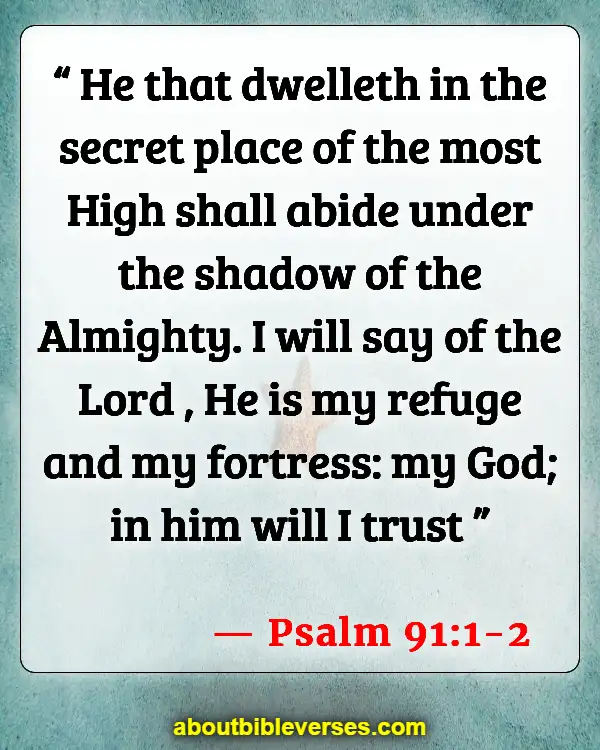 Psalm 91:1-2
"He that dwelleth in the secret place of the most High shall abide under the shadow of the Almighty. I will say of the Lord , He is my refuge and my fortress: my God; in him will I trust"
2 Thessalonians 3:3
"But the Lord is faithful, who shall stablish you, and keep you from evil"
1 Corinthians 10:13
"There hath no temptation taken you but such as is common to man: but God is faithful, who will not suffer you to be tempted above that ye are able; but will with the temptation also make a way to escape, that ye may be able to bear it"
James 1:2-4
"My brethren, count it all joy when ye fall into divers temptations; Knowing this, that the trying of your faith worketh patience. But let patience have her perfect work, that ye may be perfect and entire, wanting nothing"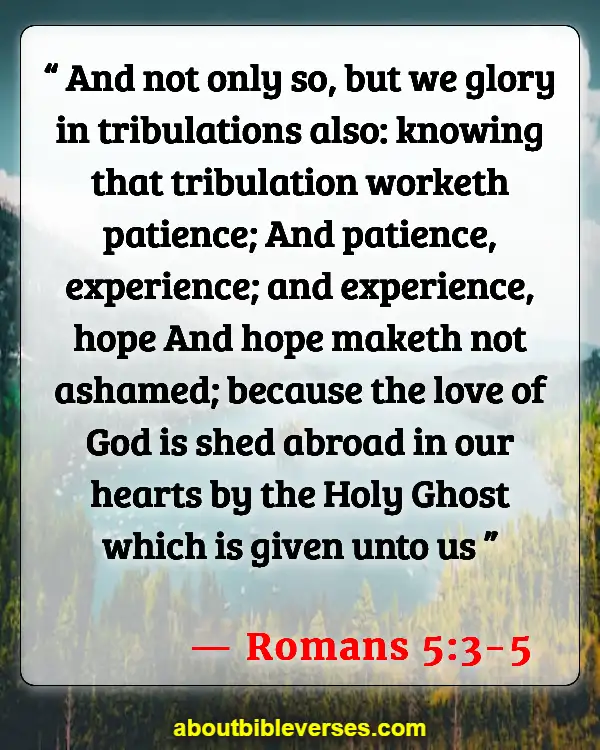 Romans 5:3-5
"And not only so, but we glory in tribulations also: knowing that tribulation worketh patience; And patience, experience; and experience, hope: And hope maketh not ashamed; because the love of God is shed abroad in our hearts by the Holy Ghost which is given unto us"
Hebrews 4:16
"Let us therefore come boldly unto the throne of grace, that we may obtain mercy, and find grace to help in time of need"
Jeremiah 1:19
"And they shall fight against thee; but they shall not prevail against thee; for I am with thee, saith the Lord , to deliver thee"
Revelation 12:11
"And they overcame him by the blood of the Lamb, and by the word of their testimony; and they loved not their lives unto the death"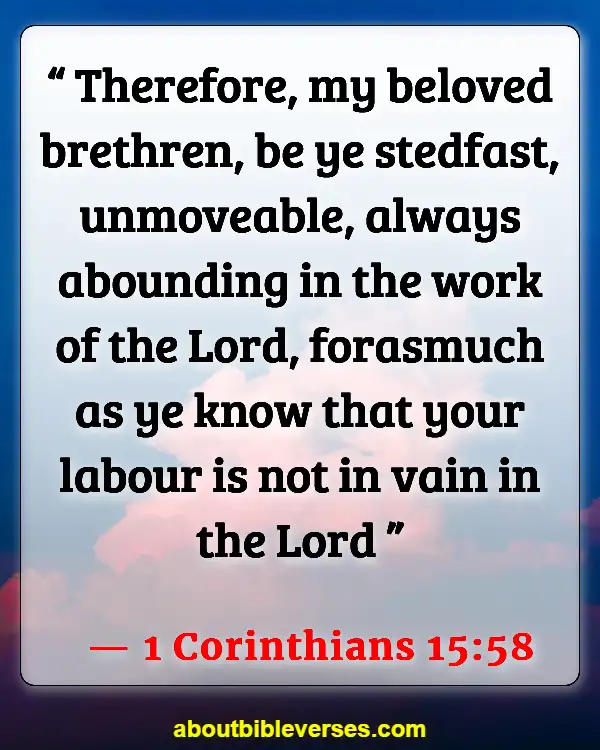 1 Corinthians 15:58
"Therefore, my beloved brethren, be ye stedfast, unmoveable, always abounding in the work of the Lord, forasmuch as ye know that your labour is not in vain in the Lord"
Ephesians 3:16
"That he would grant you, according to the riches of his glory, to be strengthened with might by his Spirit in the inner man"
2 Timothy 2:3-4
"Thou therefore endure hardness, as a good soldier of Jesus Christ. No man that warreth entangleth himself with the affairs of this life; that he may please him who hath chosen him to be a soldier"
James 1:12
"Blessed is the man that endureth temptation: for when he is tried, he shall receive the crown of life, which the Lord hath promised to them that love him"
Revelation 21:7
"He that overcometh shall inherit all things; and I will be his God, and he shall be my son"
FAQs:
How can I become a warrior of faith?
Embrace the teachings of the Bible, pray earnestly, and strengthen your relationship with God. Put on the armor of God, and let His truth, righteousness, and faith guide your steps.
What should I do with my worries and anxieties?
Cast your burdens upon the Lord through prayer and supplication. Trust that He cares for you and knows what is best for your life.
Is it wrong to feel afraid or worried sometimes?
It is natural to experience fear, but do not let it consume you. Remember that God is with you, and His perfect love drives out all fear.
How can I find peace amidst life's challenges?
Seek the peace that comes from God, which surpasses all understanding. Keep your mind fixed on Him and His promises, knowing that He will never forsake you.
What if I feel weak and unable to face my struggles?
The Lord's strength is made perfect in our weaknesses. Surrender your weaknesses to Him, and He will empower you to overcome any obstacles.