Hello dear friends, welcome to our site in the name of Jesus Christ. Today we will look at the Bible Scriptures About False Teachers In KJV. If you like today's post then definitely comment and share.
Dear friends, today we will look at the false teachers who teach confusion about the word of God. And the Bible says that a time is coming when people will accept such teachings only for the purpose of fulfilling their own desires and they will separate themselves from the true teaching (2 Timothy 4:3-4).
Friends who cause division in the church and who teach doctrines contrary to the teachings of Jesus Christ should avoid such people, because they are self-serving and use deceitful tactics to mislead others (Romans 16:17-18).
Because the Bible says they are false teachers, deceitful workers, transforming themselves into apostles of Christ (2 Corinthians 11:13). They claim they know God; But in works they deny him, abominable, disobedient, and reprobate every good work (Titus 1:16).
God has warned us from the beginning about such false teachers, let us now look at all the words of God.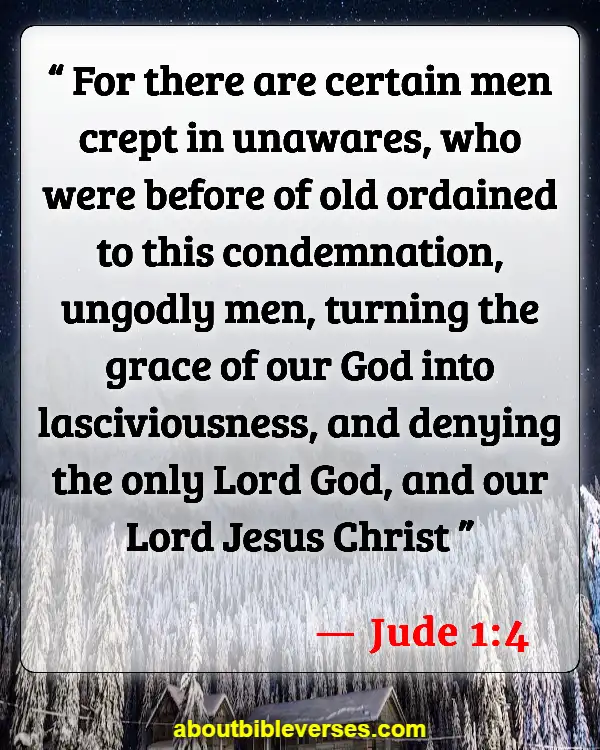 Jude 1:4
"For there are certain men crept in unawares, who were before of old ordained to this condemnation, ungodly men, turning the grace of our God into lasciviousness, and denying the only Lord God, and our Lord Jesus Christ"
Jude 1:3
"Beloved, when I gave all diligence to write unto you of the common salvation, it was needful for me to write unto you, and exhort you that ye should earnestly contend for the faith which was once delivered unto the saints"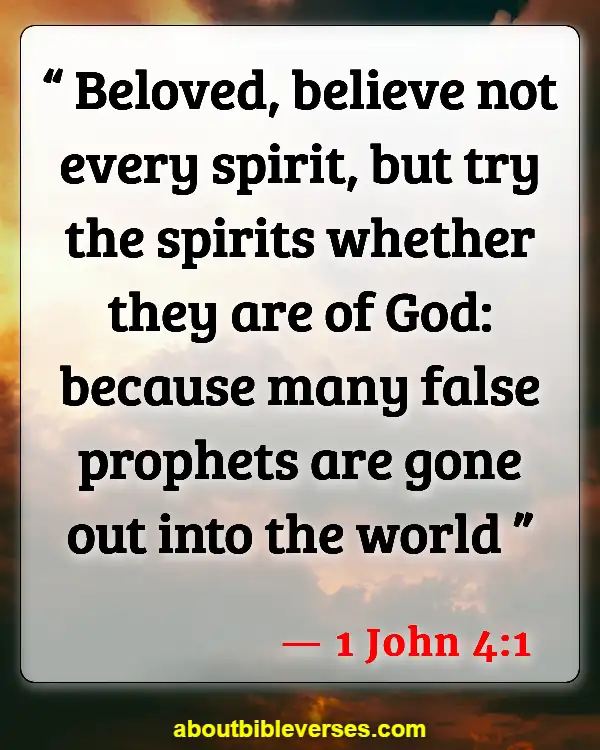 1 John 4:1
"Beloved, believe not every spirit, but try the spirits whether they are of God: because many false prophets are gone out into the world"
Matthew 24:11
"And many false prophets shall rise, and shall deceive many"
Luke 6:26
"Woe unto you, when all men shall speak well of you! for so did their fathers to the false prophets"
2 Peter 2:1
"But there were false prophets also among the people, even as there shall be false teachers among you, who privily shall bring in damnable heresies, even denying the Lord that bought them, and bring upon themselves swift destruction"
1 Timothy 6:20-21
"O Timothy, keep that which is committed to thy trust, avoiding profane and vain babblings, and oppositions of science falsely so called: Which some professing have erred concerning the faith. Grace be with thee. Amen"
Matthew 24:24
"For there shall arise false Christs, and false prophets, and shall shew great signs and wonders; insomuch that, if it were possible, they shall deceive the very elect"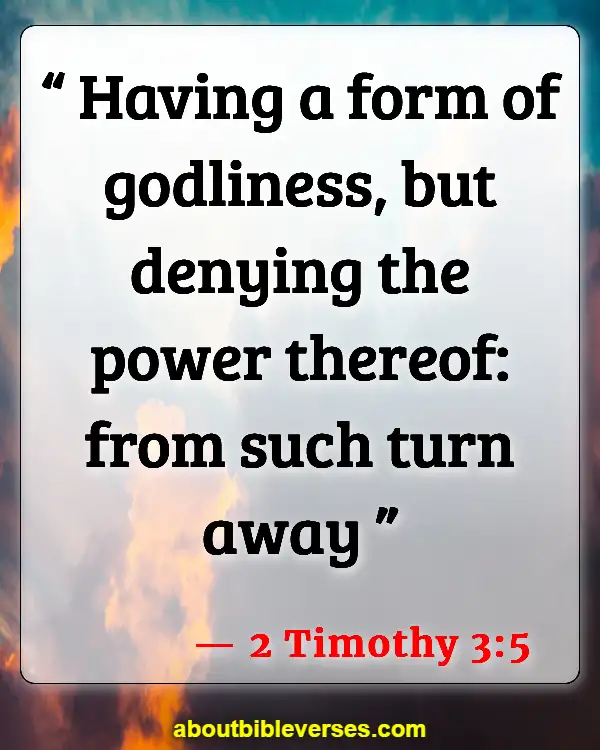 2 Timothy 3:5
"Having a form of godliness, but denying the power thereof: from such turn away"
1 Timothy 4:1
"Now the Spirit speaketh expressly, that in the latter times some shall depart from the faith, giving heed to seducing spirits, and doctrines of devils"
Jeremiah 14:14
"Then the Lord said unto me, The prophets prophesy lies in my name: I sent them not, neither have I commanded them, neither spake unto them: they prophesy unto you a false vision and divination, and a thing of nought, and the deceit of their heart"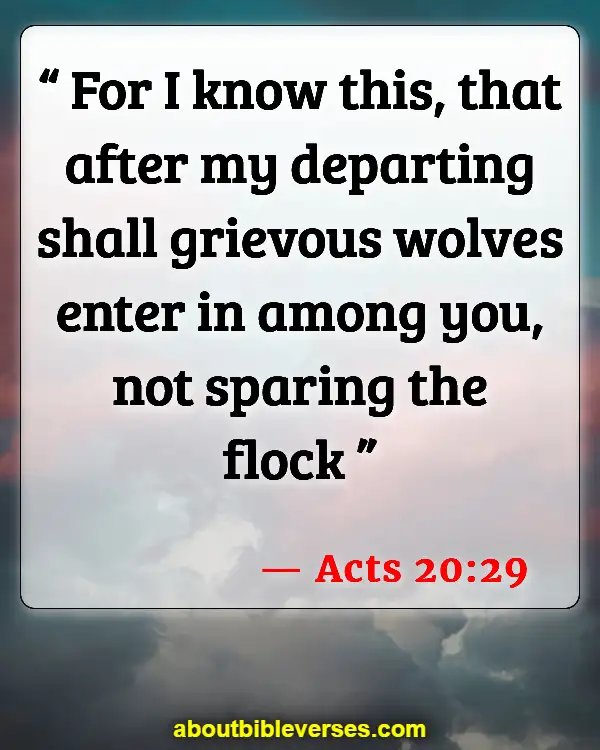 Acts 20:29
"For I know this, that after my departing shall grievous wolves enter in among you, not sparing the flock"
Mark 13:22
"For false Christs and false prophets shall rise, and shall shew signs and wonders, to seduce, if it were possible, even the elect"
2 Peter 2:3
"And through covetousness shall they with feigned words make merchandise of you: whose judgment now of a long time lingereth not, and their damnation slumbereth not"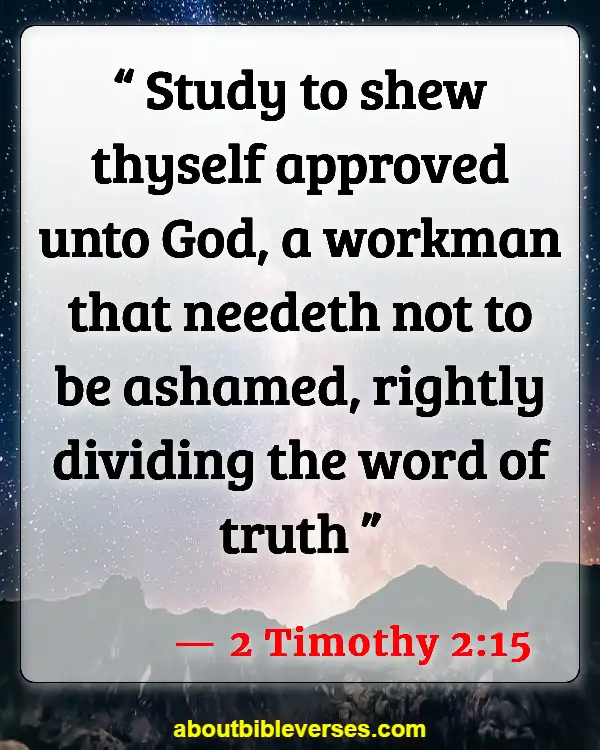 2 Timothy 2:15
"Study to shew thyself approved unto God, a workman that needeth not to be ashamed, rightly dividing the word of truth"
2 John 1:7
"For many deceivers are entered into the world, who confess not that Jesus Christ is come in the flesh. This is a deceiver and an antichrist"
Matthew 7:15
"Beware of false prophets, which come to you in sheep's clothing, but inwardly they are ravening wolves"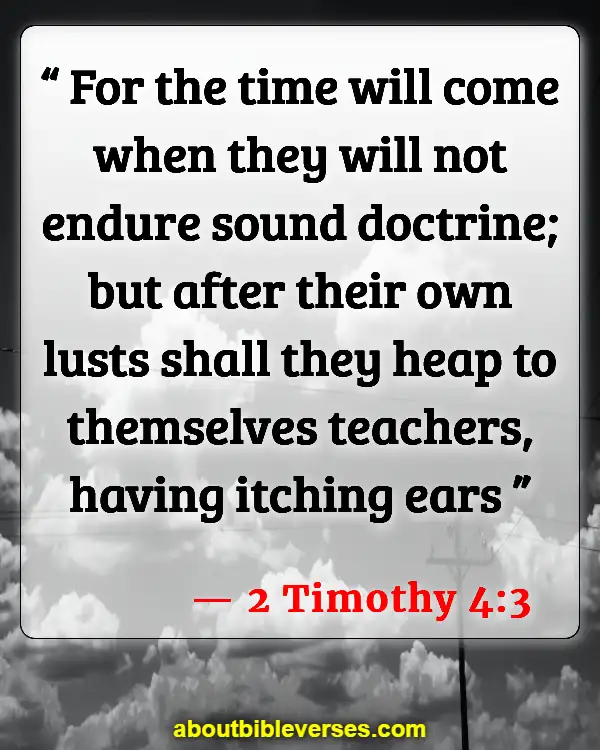 2 Timothy 4:3
"For the time will come when they will not endure sound doctrine; but after their own lusts shall they heap to themselves teachers, having itching ears"
Ephesians 4:14
"That we henceforth be no more children, tossed to and fro, and carried about with every wind of doctrine, by the sleight of men, and cunning craftiness, whereby they lie in wait to deceive"
Ephesians 5:11
"And have no fellowship with the unfruitful works of darkness, but rather reprove them"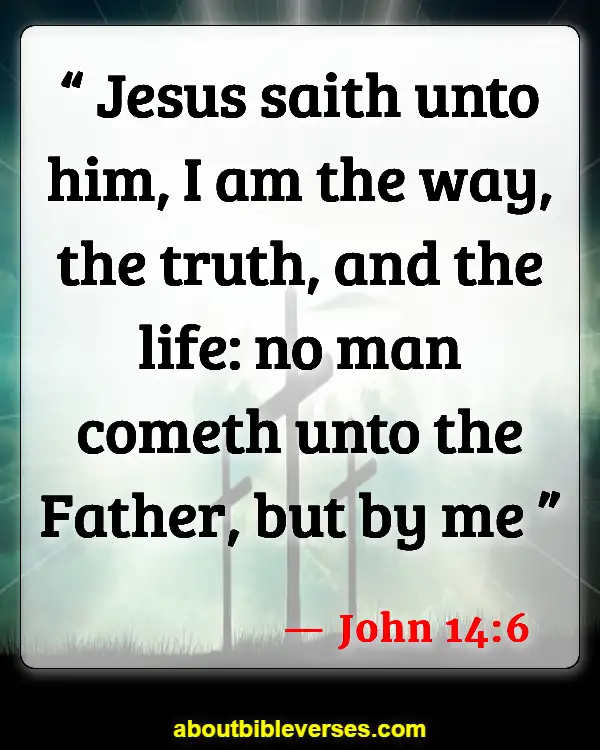 John 14:6
"Jesus saith unto him, I am the way, the truth, and the life: no man cometh unto the Father, but by me"
Colossians 2:8
"Beware lest any man spoil you through philosophy and vain deceit, after the tradition of men, after the rudiments of the world, and not after Christ"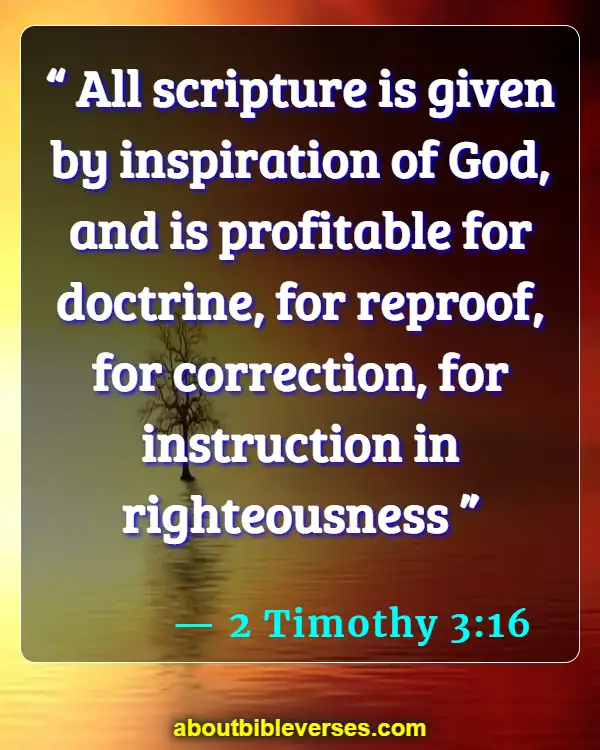 2 Timothy 3:16
"All scripture is given by inspiration of God, and is profitable for doctrine, for reproof, for correction, for instruction in righteousness"
1 Thessalonians 5:21
"Prove all things; hold fast that which is good"
1 John 2:22
"Who is a liar but he that denieth that Jesus is the Christ? He is antichrist, that denieth the Father and the Son"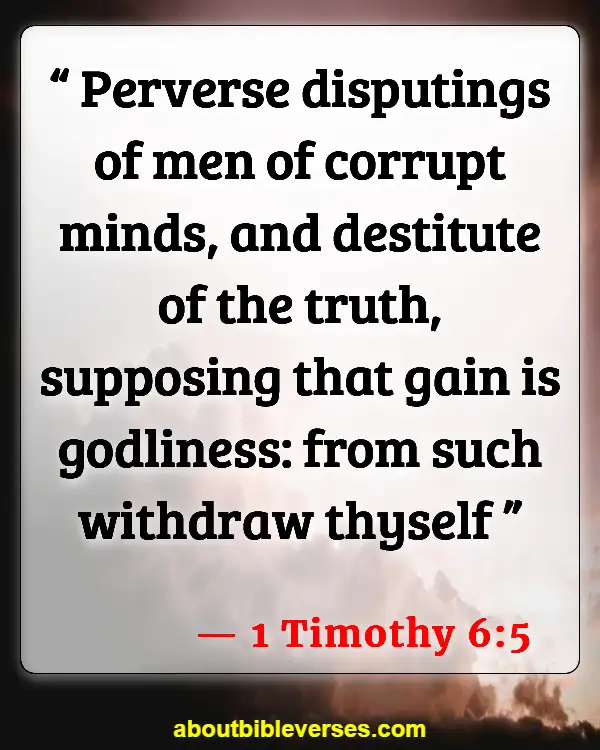 1 Timothy 6:5
"Perverse disputings of men of corrupt minds, and destitute of the truth, supposing that gain is godliness: from such withdraw thyself"
John 8:44
"Ye are of your father the devil, and the lusts of your father ye will do. He was a murderer from the beginning, and abode not in the truth, because there is no truth in him. When he speaketh a lie, he speaketh of his own: for he is a liar, and the father of it"
2 Timothy 3:13
"But evil men and seducers shall wax worse and worse, deceiving, and being deceived"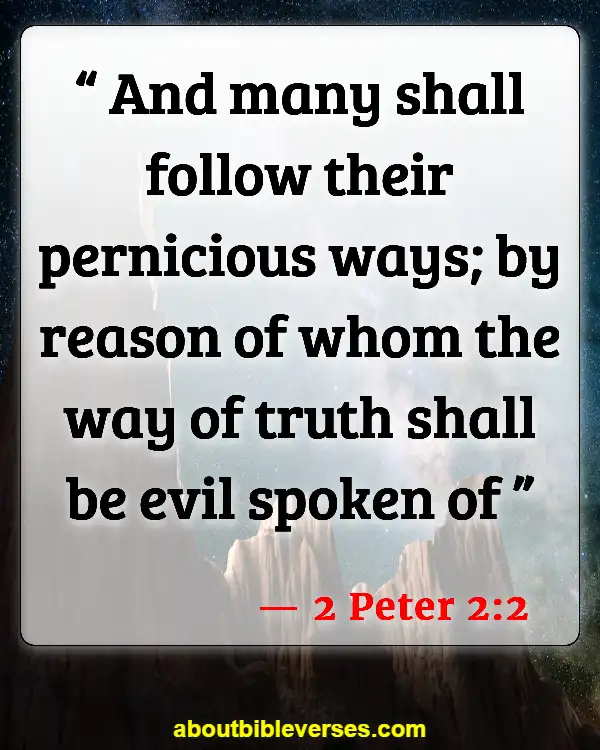 2 Peter 2:2
"And many shall follow their pernicious ways; by reason of whom the way of truth shall be evil spoken of"
Jeremiah 23:16
"Thus saith the Lord of hosts, Hearken not unto the words of the prophets that prophesy unto you: they make you vain: they speak a vision of their own heart, and not out of the mouth of the Lord"
Galatians 1:8
"But though we, or an angel from heaven, preach any other gospel unto you than that which we have preached unto you, let him be accursed"
James 3:18
"And the fruit of righteousness is sown in peace of them that make peace"
1 Timothy 6:3-4
"If any man teach otherwise, and consent not to wholesome words, even the words of our Lord Jesus Christ, and to the doctrine which is according to godliness; He is proud, knowing nothing, but doting about questions and strifes of words, whereof cometh envy, strife, railings, evil surmisings"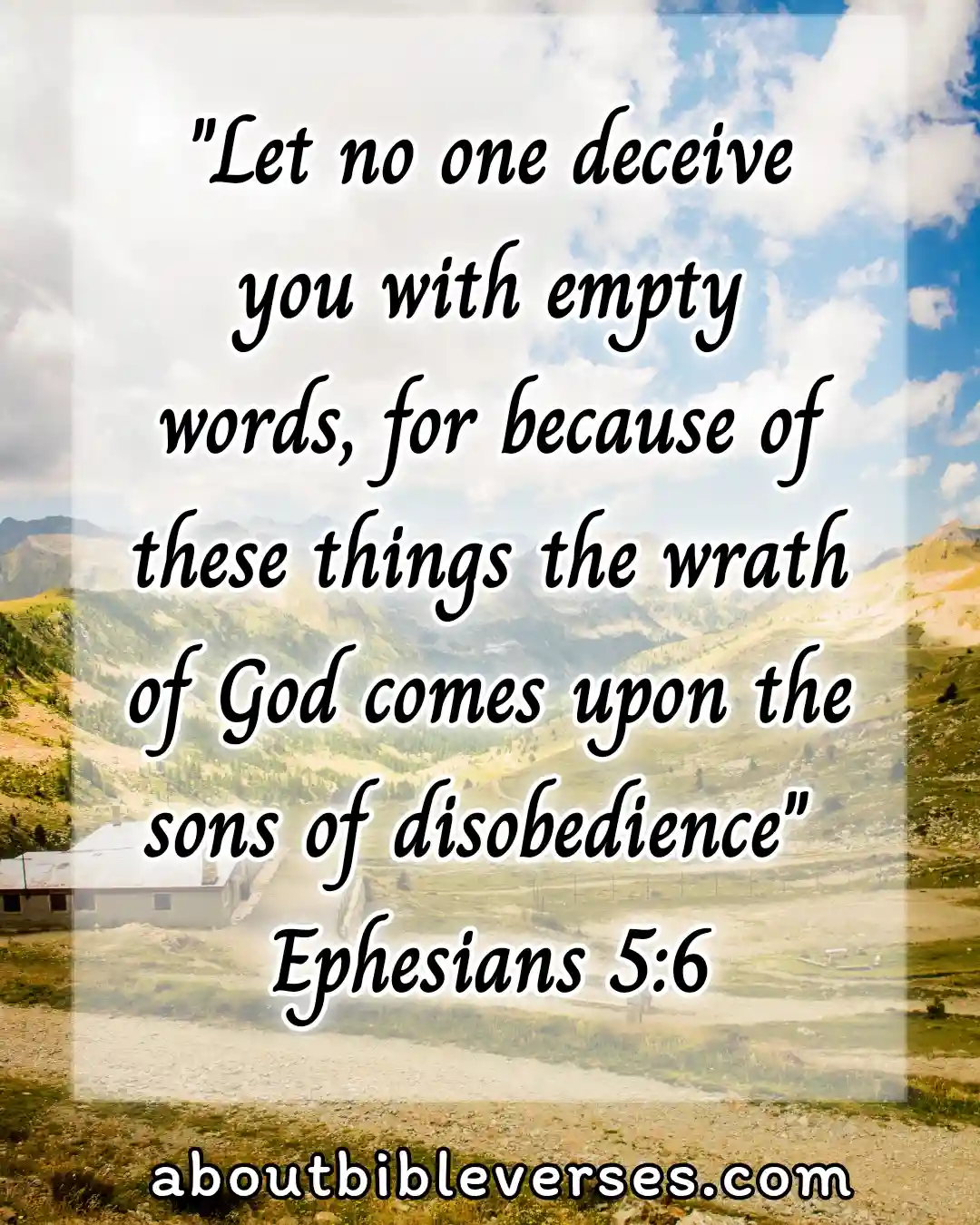 Ephesians 5:6
"Let no man deceive you with vain words: for because of these things cometh the wrath of God upon the children of disobedience"
Galatians 1:6
"I marvel that ye are so soon removed from him that called you into the grace of Christ unto another gospel"
2 Corinthians 11:3
"But I fear, lest by any means, as the serpent beguiled Eve through his subtilty, so your minds should be corrupted from the simplicity that is in Christ"
Romans 16:19
"For your obedience is come abroad unto all men. I am glad therefore on your behalf: but yet I would have you wise unto that which is good, and simple concerning evil"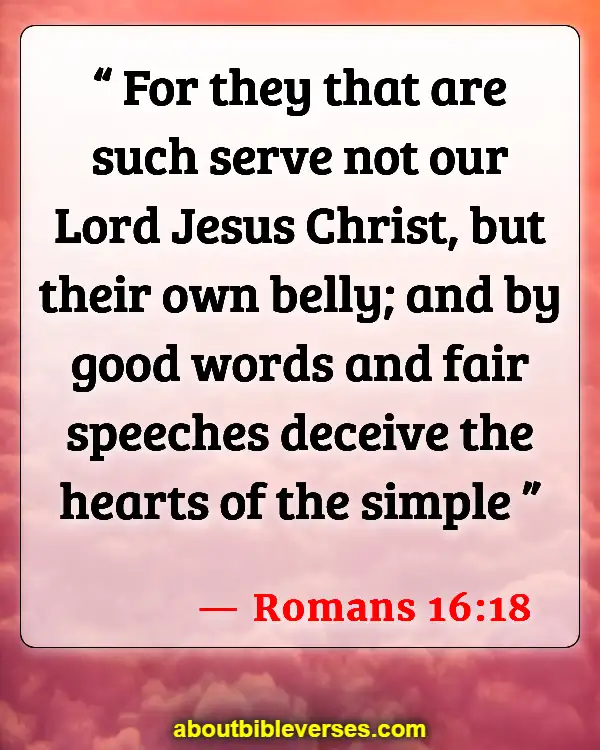 Romans 16:18
"For they that are such serve not our Lord Jesus Christ, but their own belly; and by good words and fair speeches deceive the hearts of the simple"