Hello dear friends, welcome to our site in the name of Jesus Christ. Today we will look at the Bible Scriptures About God Is Faithful To His Promises In KJV. If you like today's post then definitely comment and share.
God demands us to be faithful to him in our everyday regular life. Being a faithful person is not about showing ourselves to others and receiving honor from humans rather God sees our hearts and judges our thoughts. Trusting in God and being faithful in obeying his words display our sincere love toward God.
We must know that our God is the faithful God and he will never deny us if we are really imitating him by being faithful towards the responsibility he gave us and following his word with a faithful heart. Remember God is not a liar like a sinful human, if he promised
to be faithful and take care of us then he will surely keep his word, if we really follow the steps of Jesus and begin living as Jesus lived on this Earth, with complete humility, obedience, and hating sin with the whole heart.
The God who was faithful to Abraham, Moses, Isaac, David, Peter, and Paul the same God will also remain faithful to you if you are living the way prescribed by God in our Holy Bible.
Dear friends now let's see the Bible scriptures below that talk about God Is Faithful To His Promises.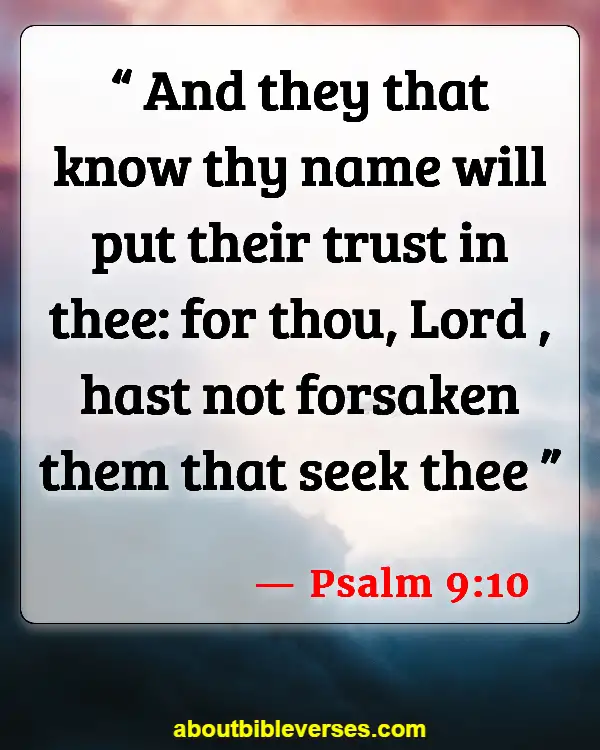 Psalm 9:10(KJV) "And they that know thy name will put their trust in thee: for thou, Lord, hast not forsaken them that seek thee"
Explanation:- The one who knows the Lord personally will never leave or forsake Him. The Lord is the stronghold of the Poors. He is loyal and faithful in His words and actions.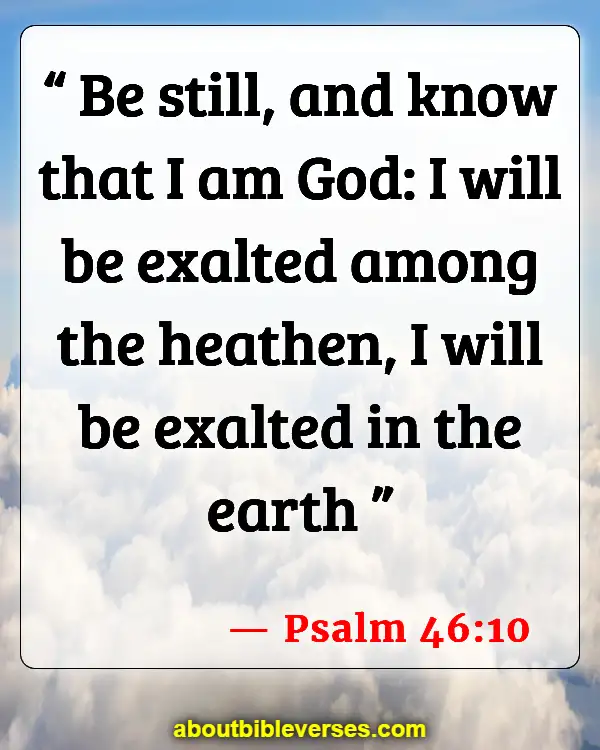 Psalm 46:10(KJV) "Be still, and know that I am God: I will be exalted among the heathen, I will be exalted in the earth"
Explanation:- Though the situations bring troubles in our life we should not give up hope. God knows us personally and he will provide us with all our needs at the right time. In the time of the nation Israel, we can see that the Lord was with them from the very beginning. He took his chosen people out of many nations to prove that he was with them and he was their protector.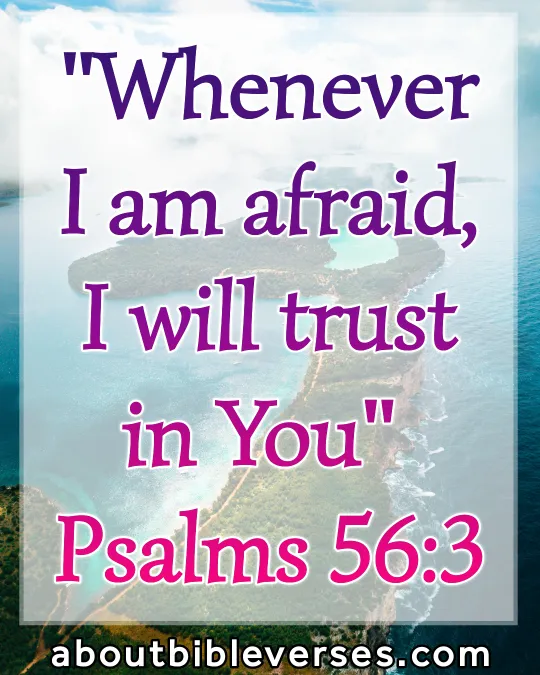 Psalm 56:3(KJV) "What time I am afraid, I will trust in thee"
Explanation:- It is well to put our faith in the Lord Jesus because he will give us the strength to overcome the circumstances that make us too timid. If we trust him with our whole hearts we will experience the mighty hand of the Lord.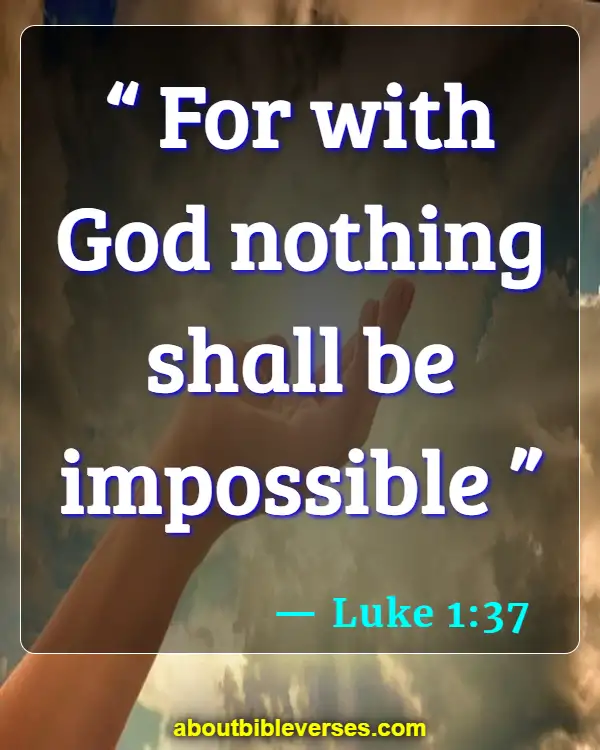 Luke 1:37(KJV) "For with God nothing shall be impossible"
Explanation:- We human beings are limited with our actions and thoughts. That makes us view the Lord in the same manner. If we look at him we will see how great he is that's why we must not compare ourselves with the Lord Jesus. He created this universe with his knowledge and he is an all-powerful God that should be understood by us. There are so many things that we find impossible for us but those things will be possible with the Lord Jesus.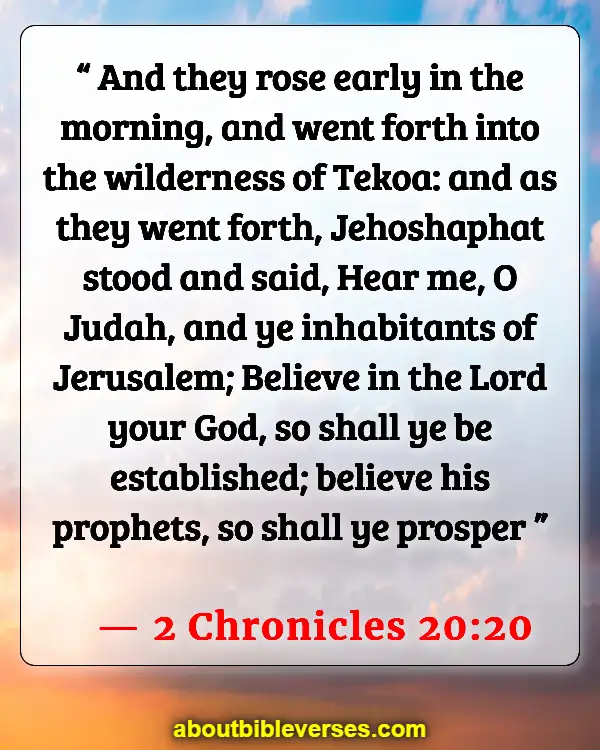 2 Chronicles 20:20(KJV) "And they rose early in the morning, and went forth into the wilderness of Tekoa: and as they went forth, Jehoshaphat stood and said, Hear me, O Judah, and ye inhabitants of Jerusalem; Believe in the Lord your God, so shall ye be established; believe his prophets, so shall ye prosper"
Explanation:- When the Lord had seen that his people had gone astray from him he called his prophets to remind them to turn him back so that they will have fellowship again with him. God wanted to forgive them and build a relationship with them again.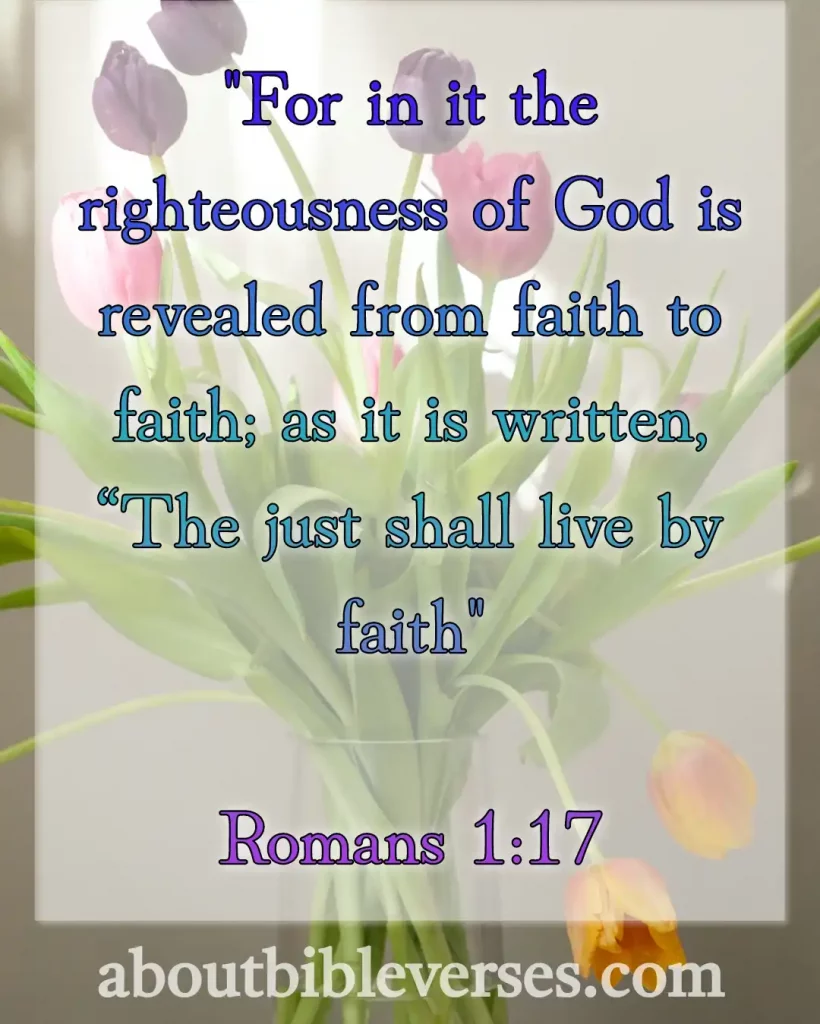 Romans 1:17(KJV) "For therein is the righteousness of God revealed from faith to faith: as it is written, The just shall live by faith"
Explanation:- To come before God we need to have faith in him if we do not have faith in him we will not know him. Without faith, it is impossible to please God. The Lord says that the righteous will live by faith because when we put our faith in him we will become righteous in his sight as Abraham was righteous in his sight when he believed God.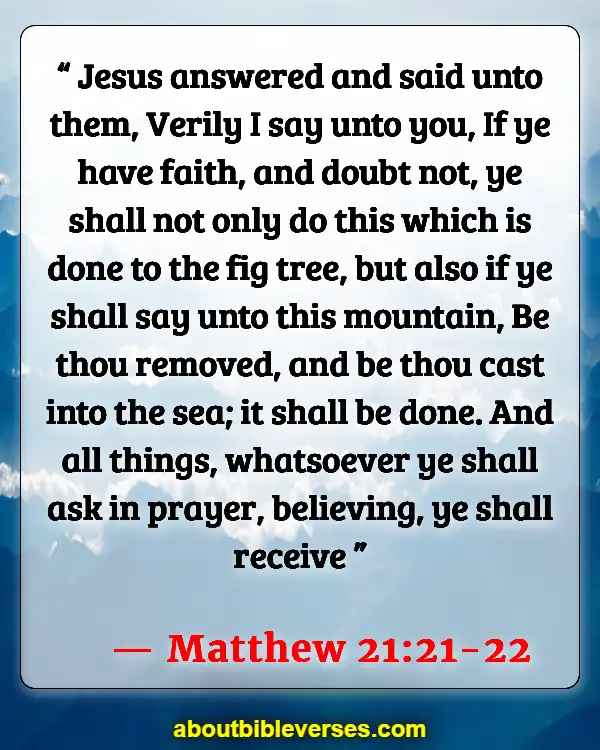 Matthew 21:21–22(KJV) "Jesus answered and said unto them, Verily I say unto you, If ye have faith, and doubt not, ye shall not only do this which is done to the fig tree, but also if ye shall say unto this mountain, Be thou removed, and be thou cast into the sea; it shall be done. And all things, whatsoever ye shall ask in prayer, believing, ye shall receive"
Explanation:- Jesus taught his disciples that with faith it is possible to gain something. He also told us that when we pray we should believe that we are receiving that. Without faith, if we ask anything we will get nothing because our doubt will separate us from the blessing of the Lord Jesus Christ. It is mandatory to obtain something out of that we need to put our faith in him. The Lord blesses those who believe in him.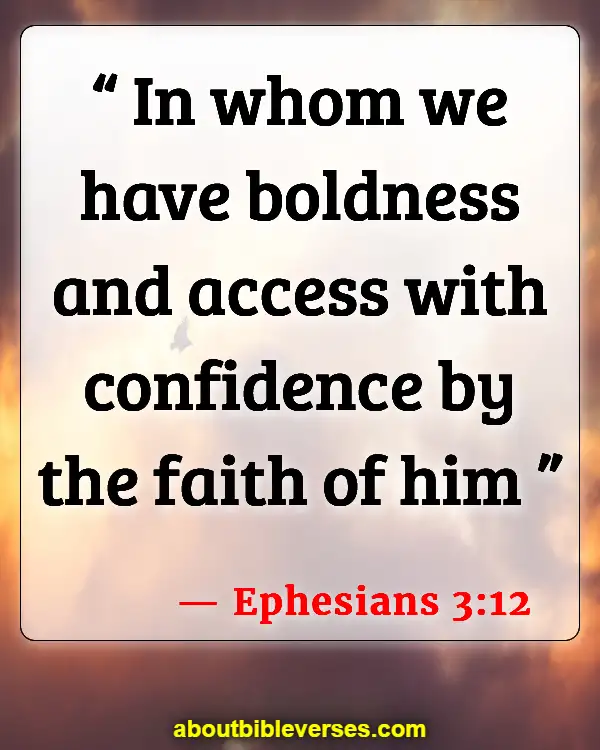 Ephesians 3:12(KJV) "In whom we have boldness and access with confidence by the faith of him"
Explanation:- once upon a time we were silver in the eyes of the Lord and we had no relationship with him but through Jesus Christ, we got the privilege to connect with him. We got the chance to meet our creator. Jesus bought us by His precious blood.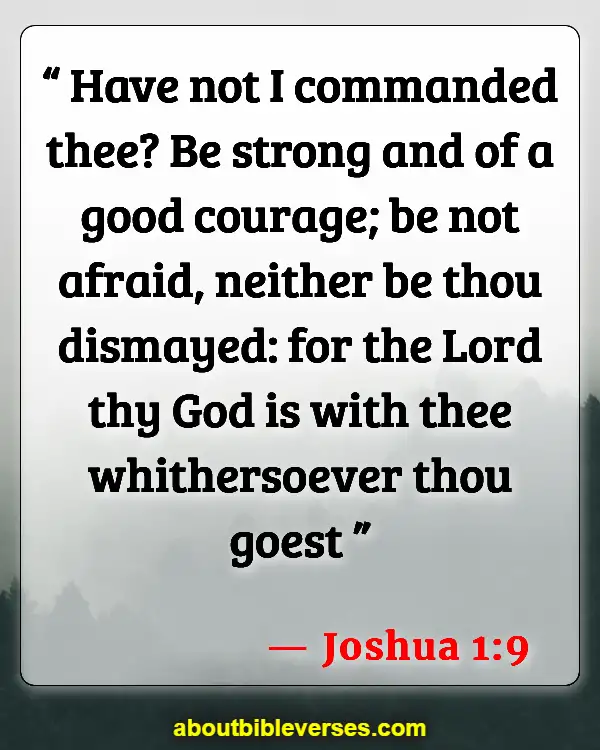 Joshua 1:9(KJV) "Have not I commanded thee? Be strong and of a good courage; be not afraid, neither be thou dismayed: for the Lord thy God is with thee whithersoever thou goest"
Explanation:- After the death of Moses, God appointed Joshua as the leader of the nation Israel. But it was very difficult for him to lead such an obstinate people. That is why the lot ordered him to be strong and courageous to lead his people. with the Christians should be very strong and courageous mentally so that we can confirm our enemies boldly.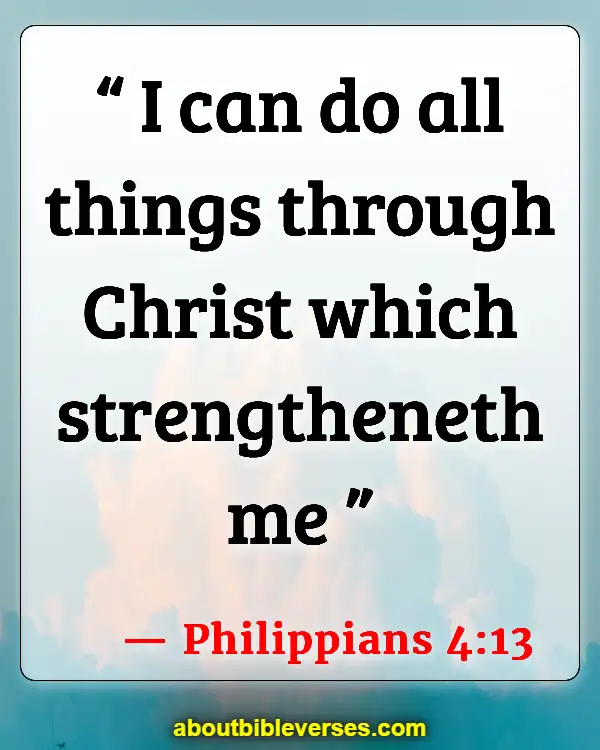 Philippians 4:13(KJV) "I can do all things through Christ which strengtheneth me"
Explanation:- Christ is the one who strengthens us in our weaknesses. There are so many things that we find difficult for us to accomplish but with the help of Jesus, we can move the mountain. when Jesus will be in our site we will be able to do all kinds of things that might be impossible from the human perspective.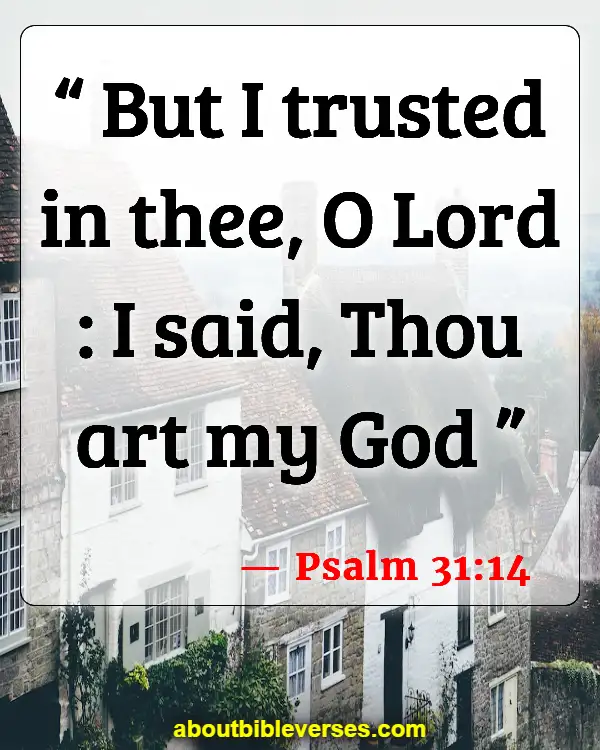 Psalm 31:14(KJV) "But I trusted in thee, O Lord: I said, Thou art my God"
Explanation:- Here the author said he trusts in the Lord because you deserve so. One who is a follower of Jesus Christ should trust in his show that in the time of trials and temptations he will help.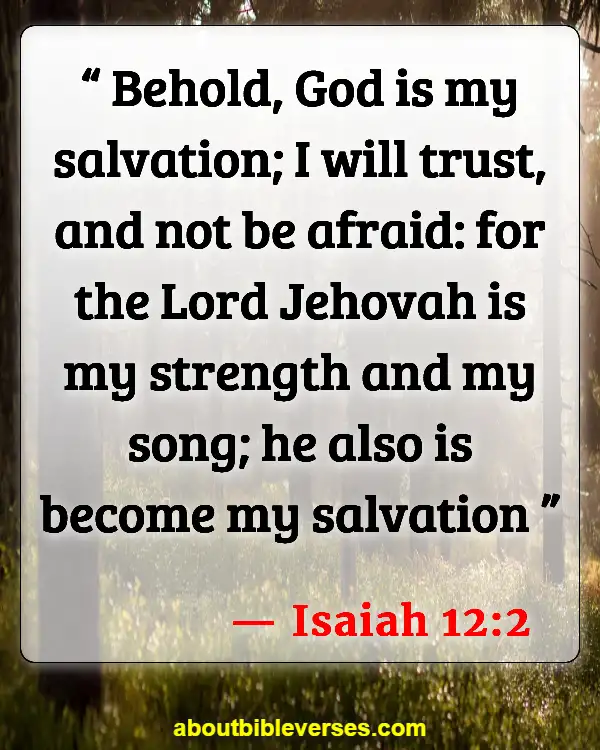 Isaiah 12:2(KJV) "Behold, God is my salvation; I will trust, and not be afraid: for the Lord Jehovah is my strength and my song; he also is become my salvation"
Explanation:- Salvation belongs to Lord Jesus Christ apart from him we will never get salvation. only Jesus gives us stronger physically and mentally by which we overcome this sinful world at the same time he blesses us in every one of our works when we put our faith in him.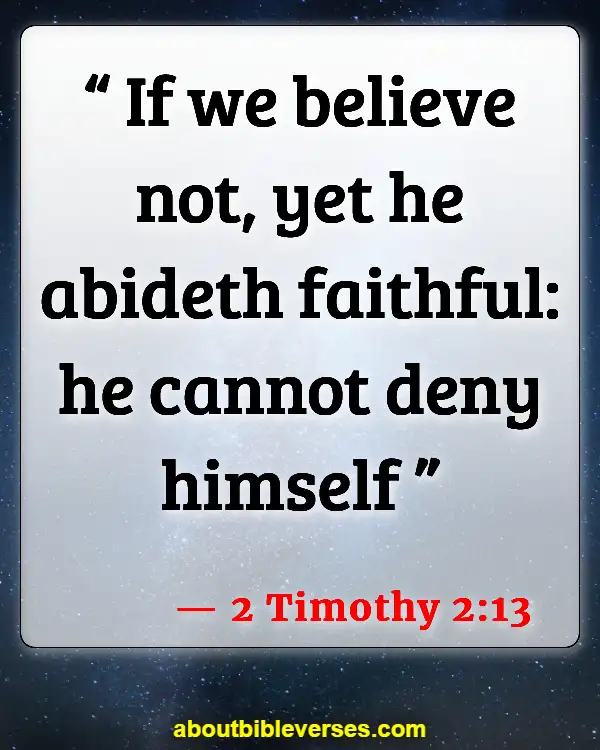 2 Timothy 2:13(KJV) "If we believe not, yet he abideth faithful: he cannot deny himself"
Explanation:- Sometimes we forget our Lord and make friends with this simple world but God never leaves us. He always remembers the promises that he made and he looks for the time to bless us by fulfilling the promise that he made. Many times we deny our Jesus because of our selfish nature.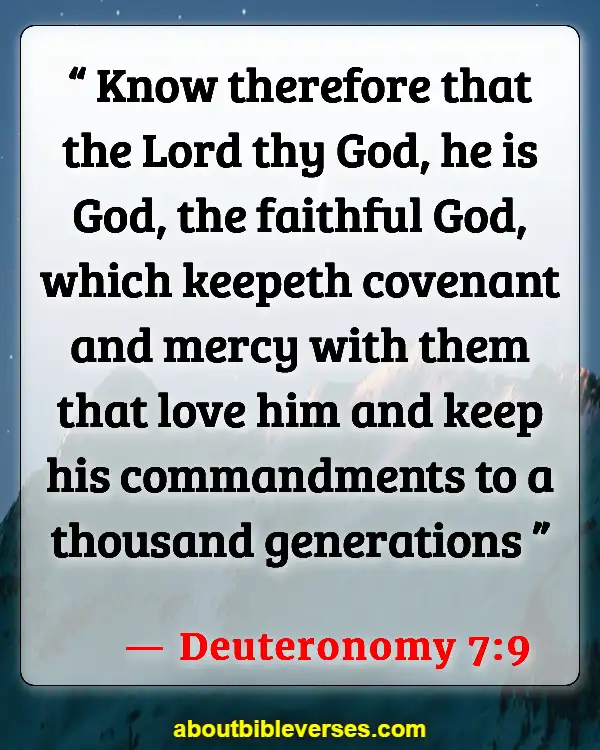 Deuteronomy 7:9(KJV) "Know therefore that the Lord thy God, he is God, the faithful God, which keepeth covenant and mercy with them that love him and keep his commandments to a thousand generations"
Explanation:- God is good all the time and he never breaks the covenant that he made with his people. it is our duty to work along with him to overcome this world where Saturn has the power to demonstrate over us. We will win the race if we look forward and Jesus and obey all office commandments. Jesus knows all our weaknesses so so if we come before him he will fight for us in the battle that we face in our life.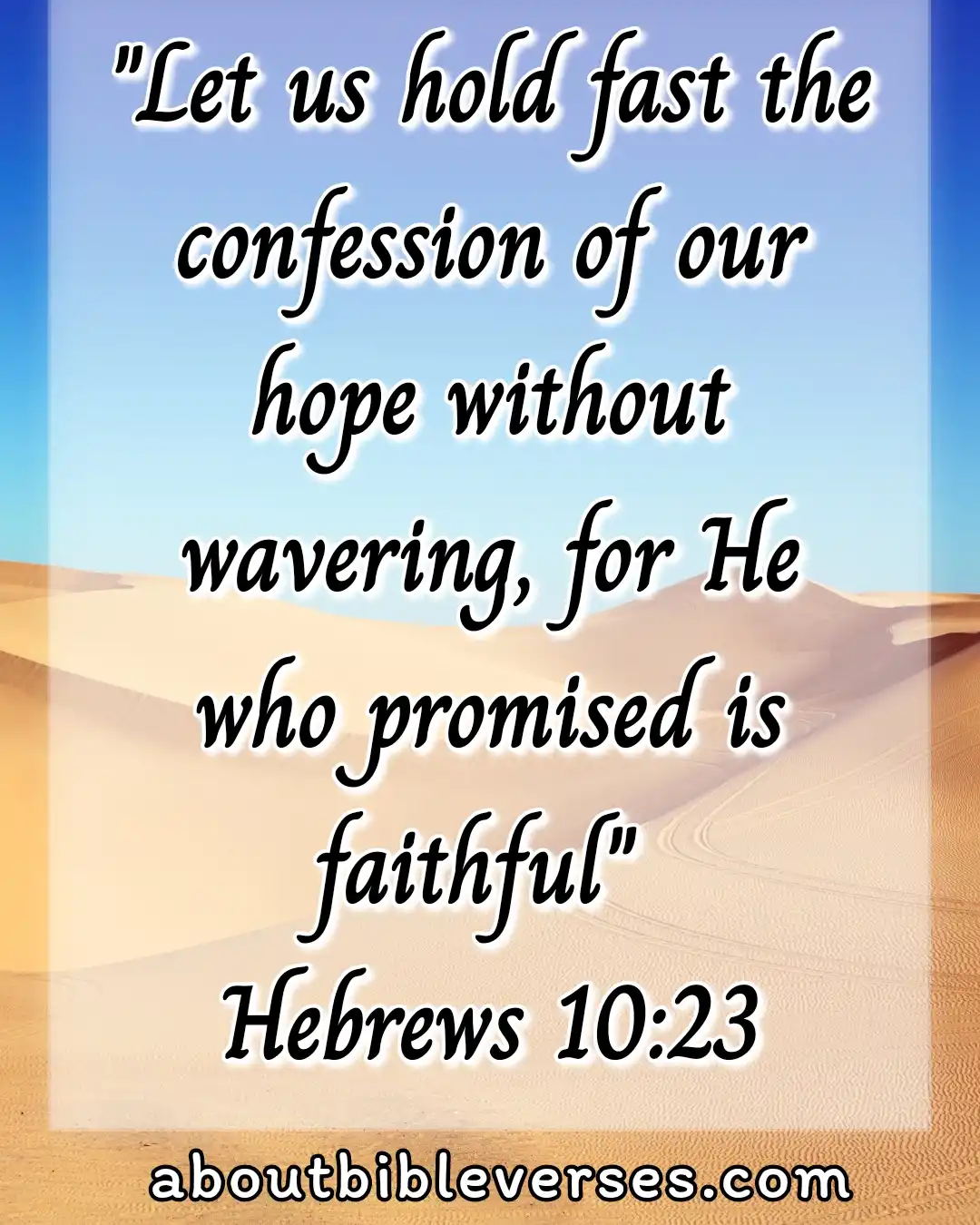 Hebrews 10:23(KJV) "Let us hold fast the profession of our faith without wavering; (for he is faithful that promised;)"
Explanation:- We must not be double-minded in front of God because he wants hitch children to be simple and faithful to him. If you think critically about him and if you doubt him he will not answer your prayers. To come before him you must have a heart like a child.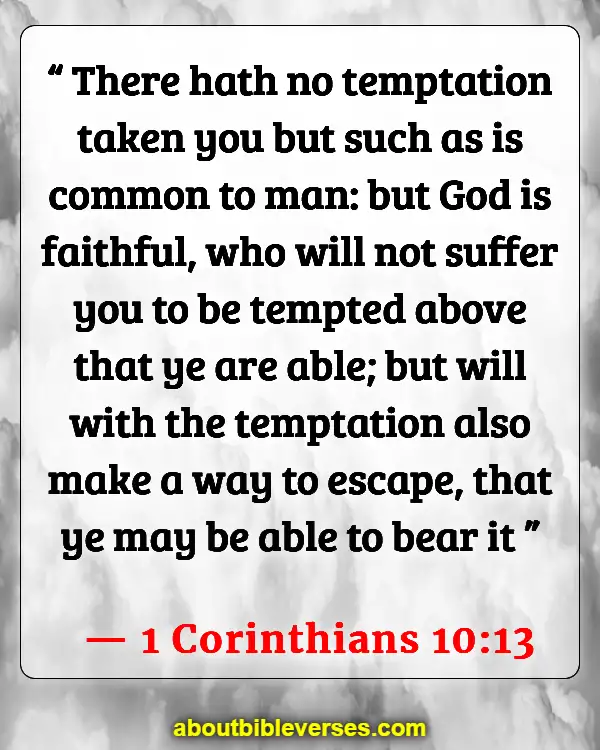 1 Corinthians 10:13(KJV) "There hath no temptation taken you but such as is common to man: but God is faithful, who will not suffer you to be tempted above that ye are able; but will with the temptation also make a way to escape, that ye may be able to bear it"
Explanation:- This is one of the beautiful scripture in the Bible where the Lord Jesus Christ said he will not give us pain that we cannot bear. He knows how much we can suffer and how long we can go so he will not give us problems or trials that we cannot face.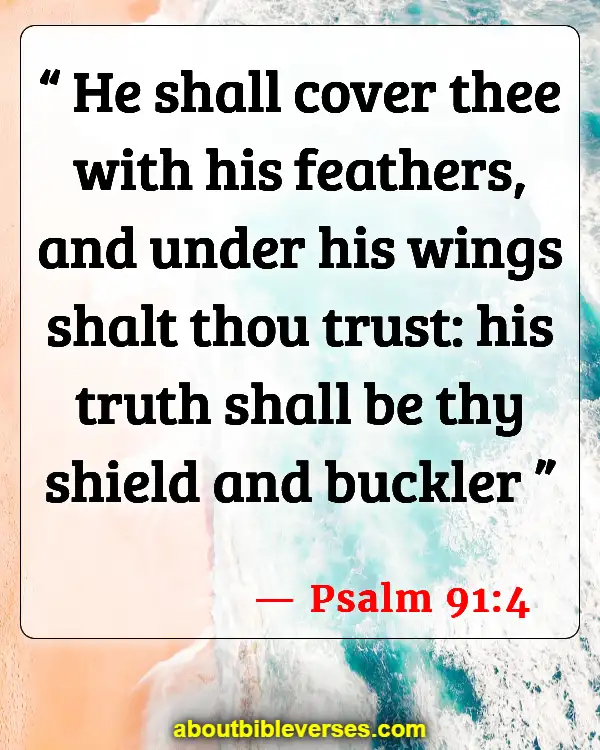 Psalm 91:4(KJV) "He shall cover thee with his feathers, and under his wings shalt thou trust: his truth shall be thy shield and buckler"
Explanation:- God is our shield and he will be with us every moment as long as we will be on this earth. His guidance and protection will be with us wherever we will go.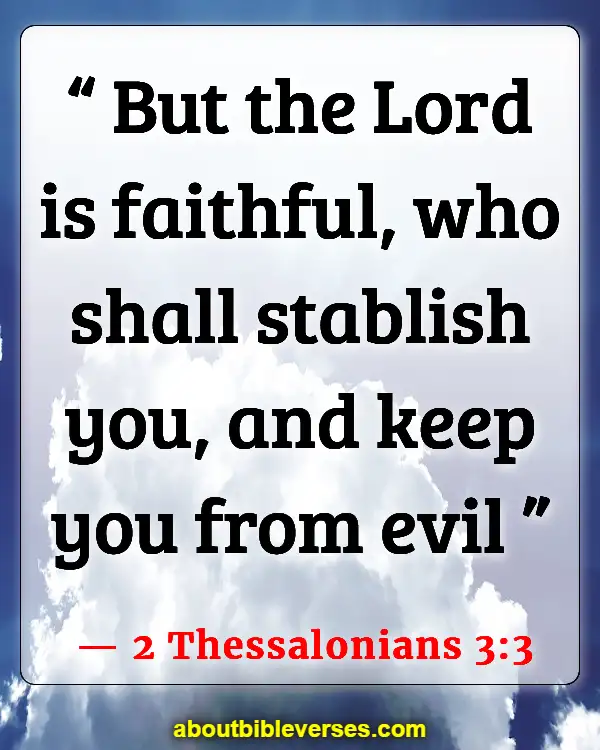 2 Thessalonians 3:3(KJV) "But the Lord is faithful, who shall stablish you, and keep you from evil"
Explanation:- For all Christians it is important to rely on God instead of depending on human beings. he will give strength to those who seek him in times of distress and in times of sorrow. He will also protect us from the hands of our enemies. He will not leave us alone without his guidance. He will be with us till the end of this universe.
Hebrews 11:11(KJV) "Through faith also Sara herself received strength to conceive seed, and was delivered of a child when she was past age, because she judged him faithful who had promised"
Explanation:- When God called Abraham out of his motherland, Abraham didn't know where actually God watch leading him. God promised to give him a son from which he will make a big nation but when Abraham and Sarah reached at their old age they did not find any son. At last, the Lord appeared to them and fulfilled his promise by the birth of Isaac. it should be noticed that when the Lord makes some promise he will obviously fulfill it because he is faithful and he keeps his promises.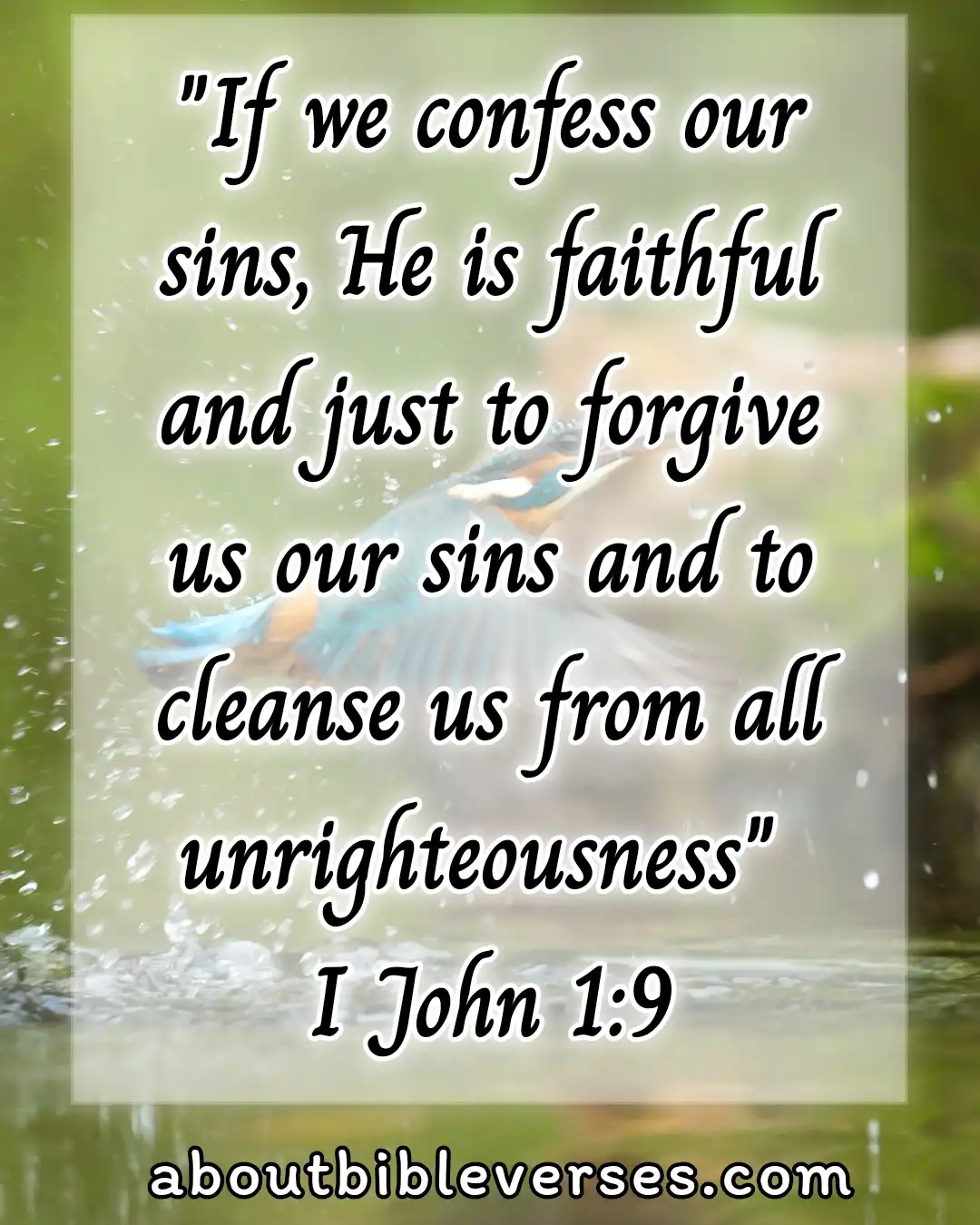 1 John 1:9(KJV) "If we confess our sins, he is faithful and just to forgive us our sins, and to cleanse us from all unrighteousness"
Explanation:- To come before the Lord Jesus Christ we need to surrender our life to him while we will surrender ourselves to him he will lift us up and you will clean us from all of our sins. Bible says there is no one who can claim himself that he is righteous but only Jesus Christ is righteous. He is also a sinless God. he died on the cross so that our sins will be forgiven by his precious blood.