Dear friend, To dwell in the presence of God is to find a home in His divine embrace. The scriptures speak profoundly about how our souls yearn for this closeness, much like a parched land yearns for rain. Throughout the pages of the Bible, we see individuals who have experienced this deep intimacy with the Lord.
Brother and sister, remember Moses? He led a nation through the wilderness, always looking for the promise of God's presence. And David, the shepherd boy turned king, often expressed his deep desire to stay in the Lord's presence, finding solace and strength there. These figures from the scriptures exemplify the pure joy and safety one feels when dwelling close to God.
Dear friend, just as a bird finds safety in its nest, so do we find our true rest and protection in God's presence. We are shielded from the tempests of life, wrapped in the warmth of His unending love. In this place, we receive clarity and peace, guidance, and wisdom.
For those who wish to experience this profound connection, it requires a sincere heart and the desire to seek God daily. When you wholeheartedly yearn for His presence, dear brother and sister, God never holds back. He always extends His welcoming arms.
Dear friends, now let's see the Bible scriptures below that talk about Dwelling in the Presence of God.
Psalm 16:11
"Thou wilt shew me the path of life: in thy presence is fulness of joy; at thy right hand there are pleasures for evermore"
Psalm 23:6
"Surely goodness and mercy shall follow me all the days of my life: and I will dwell in the house of the Lord for ever"
Psalm 27:4
"One thing have I desired of the Lord , that will I seek after; that I may dwell in the house of the Lord all the days of my life, to behold the beauty of the Lord , and to enquire in his temple"
Psalm 91:1
"He that dwelleth in the secret place of the most High shall abide under the shadow of the Almighty"
Psalm 140:13
"Surely the righteous shall give thanks unto thy name: the upright shall dwell in thy presence"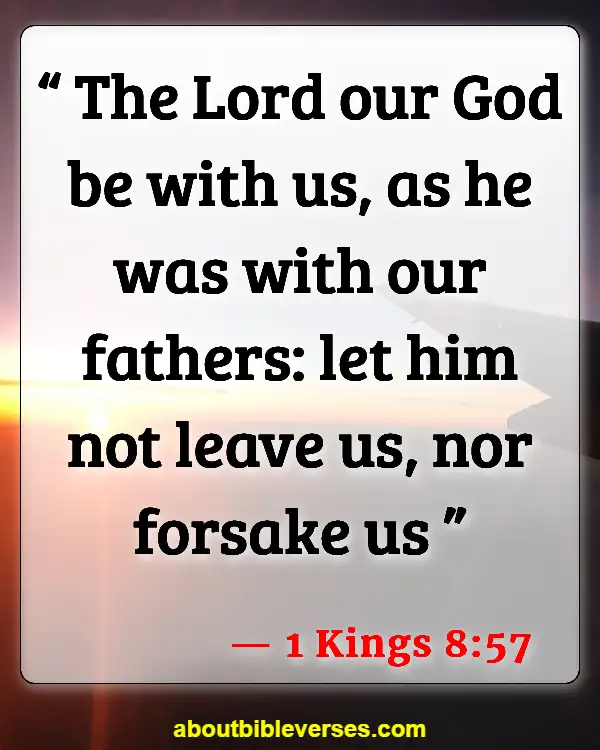 1 Kings 8:57
"The Lord our God be with us, as he was with our fathers: let him not leave us, nor forsake us"
1 Chronicles 16:11
"Seek the Lord and his strength, seek his face continually"
Exodus 33:14
"And he said, My presence shall go with thee, and I will give thee rest"
Isaiah 57:15
"For thus saith the high and lofty One that inhabiteth eternity, whose name is Holy; I dwell in the high and holy place, with him also that is of a contrite and humble spirit, to revive the spirit of the humble, and to revive the heart of the contrite ones"
James 4:8
"Draw nigh to God, and he will draw nigh to you. Cleanse your hands, ye sinners; and purify your hearts, ye double minded"
1 John 4:12
"No man hath seen God at any time. If we love one another, God dwelleth in us, and his love is perfected in us"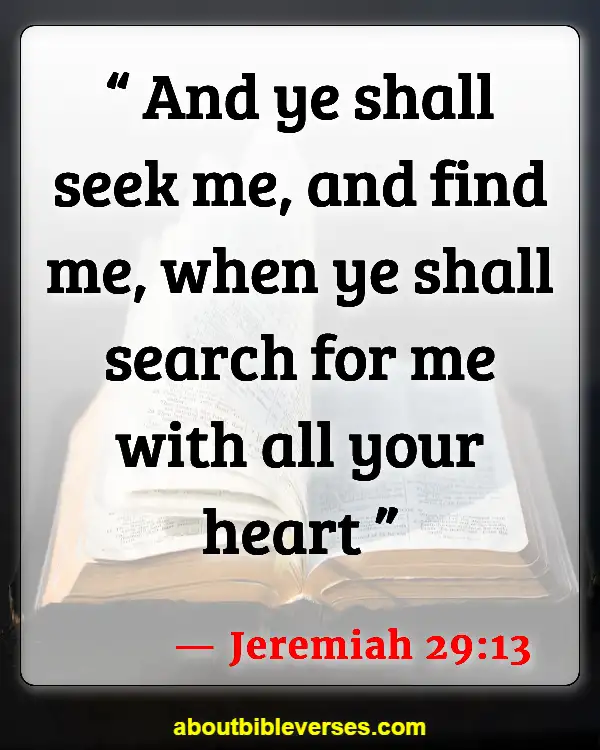 Jeremiah 29:13
"And ye shall seek me, and find me, when ye shall search for me with all your heart"
1 Corinthians 1:9
"God is faithful, by whom ye were called unto the fellowship of his Son Jesus Christ our Lord"
2 Corinthians 3:18
"But we all, with open face beholding as in a glass the glory of the Lord, are changed into the same image from glory to glory, even as by the Spirit of the Lord"
Matthew 28:20
"Teaching them to observe all things whatsoever I have commanded you: and, lo, I am with you always, even unto the end of the world. Amen"
John 15:4
"Abide in me, and I in you. As the branch cannot bear fruit of itself, except it abide in the vine; no more can ye, except ye abide in me"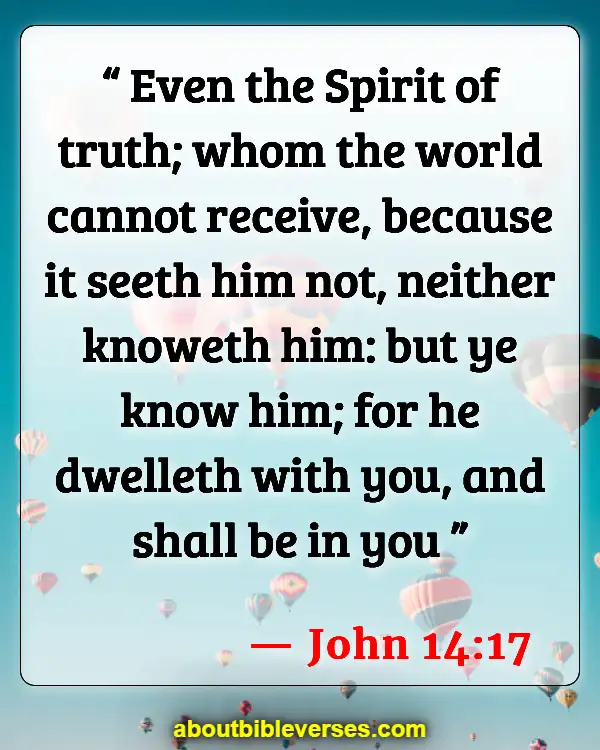 John 14:17
"Even the Spirit of truth; whom the world cannot receive, because it seeth him not, neither knoweth him: but ye know him; for he dwelleth with you, and shall be in you"
Revelation 3:20
"Behold, I stand at the door, and knock: if any man hear my voice, and open the door, I will come in to him, and will sup with him, and he with me"
Deuteronomy 31:6
"Be strong and of a good courage, fear not, nor be afraid of them: for the Lord thy God, he it is that doth go with thee; he will not fail thee, nor forsake thee"
Zephaniah 3:17
"The Lord thy God in the midst of thee is mighty; he will save, he will rejoice over thee with joy; he will rest in his love, he will joy over thee with singing"
Romans 8:9
"But ye are not in the flesh, but in the Spirit, if so be that the Spirit of God dwell in you. Now if any man have not the Spirit of Christ, he is none of his"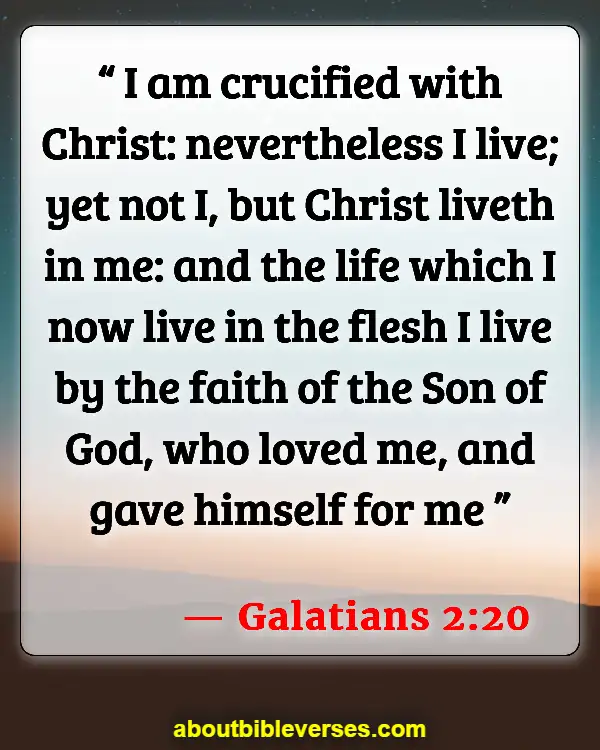 Galatians 2:20
"I am crucified with Christ: nevertheless I live; yet not I, but Christ liveth in me: and the life which I now live in the flesh I live by the faith of the Son of God, who loved me, and gave himself for me"
John 14:23
"Jesus answered and said unto him, If a man love me, he will keep my words: and my Father will love him, and we will come unto him, and make our abode with him"
Romans 8:11
"But if the Spirit of him that raised up Jesus from the dead dwell in you, he that raised up Christ from the dead shall also quicken your mortal bodies by his Spirit that dwelleth in you"
2 Timothy 1:14
"That good thing which was committed unto thee keep by the Holy Ghost which dwelleth in us"
Acts 17:28
"For in him we live, and move, and have our being; as certain also of your own poets have said, For we are also his offspring"
Genesis 28:15
"And, behold, I am with thee, and will keep thee in all places whither thou goest, and will bring thee again into this land; for I will not leave thee, until I have done that which I have spoken to thee of"
Luke 10:27
"And he answering said, Thou shalt love the Lord thy God with all thy heart, and with all thy soul, and with all thy strength, and with all thy mind; and thy neighbour as thyself"
1 John 3:24
"And he that keepeth his commandments dwelleth in him, and he in him. And hereby we know that he abideth in us, by the Spirit which he hath given us"
Psalm 15:1
"Lord, who shall abide in thy tabernacle? who shall dwell in thy holy hill?"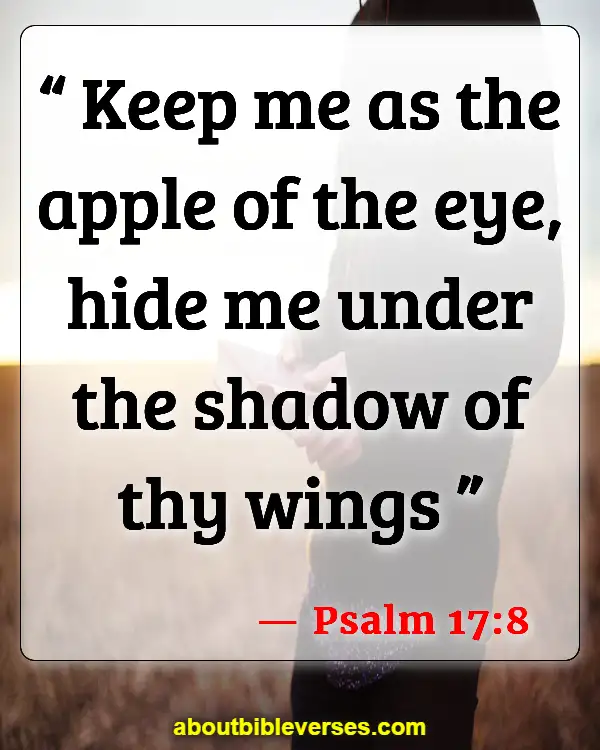 Psalm 17:8
"Keep me as the apple of the eye, hide me under the shadow of thy wings"
Psalm 31:20
"Thou shalt hide them in the secret of thy presence from the pride of man: thou shalt keep them secretly in a pavilion from the strife of tongues"
Psalm 61:4
"I will abide in thy tabernacle for ever: I will trust in the covert of thy wings. Selah"
Psalm 89:15
"Blessed is the people that know the joyful sound: they shall walk, O Lord , in the light of thy countenance"
Psalm 95:2
"Let us come before his presence with thanksgiving, and make a joyful noise unto him with psalms"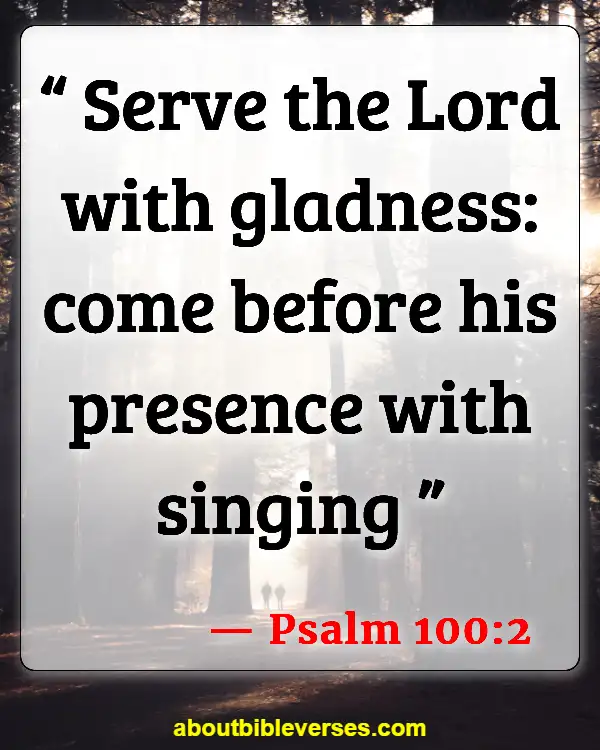 Psalm 100:2
"Serve the Lord with gladness: come before his presence with singing"
Psalm 101:2
"I will behave myself wisely in a perfect way. O when wilt thou come unto me? I will walk within my house with a perfect heart"
Psalm 116:9
"I will walk before the Lord in the land of the living"
Psalm 141:8
"But mine eyes are unto thee, O God the Lord: in thee is my trust; leave not my soul destitute"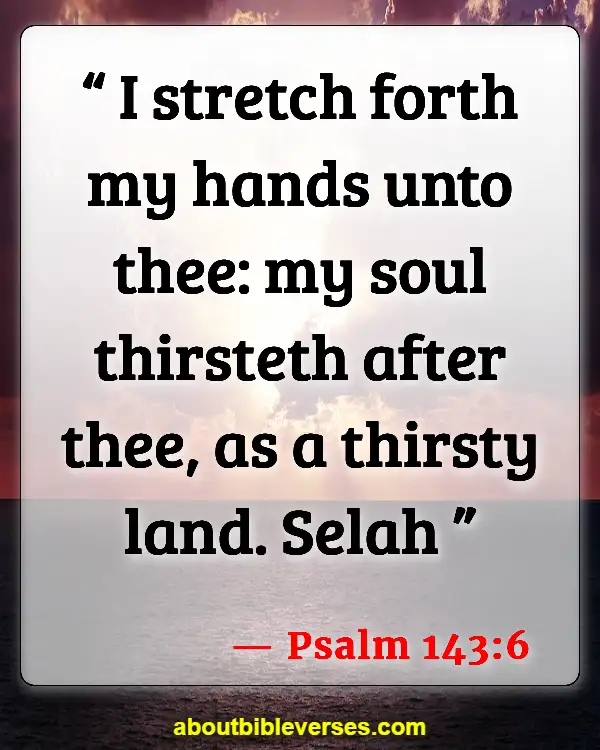 Psalm 143:6
"I stretch forth my hands unto thee: my soul thirsteth after thee, as a thirsty land. Selah"
Isaiah 26:9
"With my soul have I desired thee in the night; yea, with my spirit within me will I seek thee early: for when thy judgments are in the earth, the inhabitants of the world will learn righteousness"
Ezekiel 37:27
"My tabernacle also shall be with them: yea, I will be their God, and they shall be my people"
Zechariah 2:10
"Sing and rejoice, O daughter of Zion: for, lo, I come, and I will dwell in the midst of thee, saith the Lord"
Matthew 18:20
"For where two or three are gathered together in my name, there am I in the midst of them"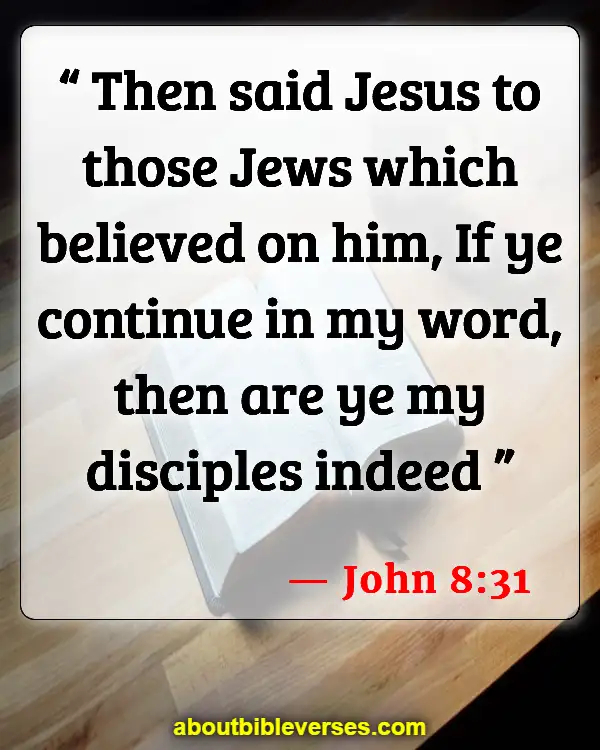 John 8:31
"Then said Jesus to those Jews which believed on him, If ye continue in my word, then are ye my disciples indeed"
John 14:3
"And if I go and prepare a place for you, I will come again, and receive you unto myself; that where I am, there ye may be also"
Romans 5:2
"By whom also we have access by faith into this grace wherein we stand, and rejoice in hope of the glory of God"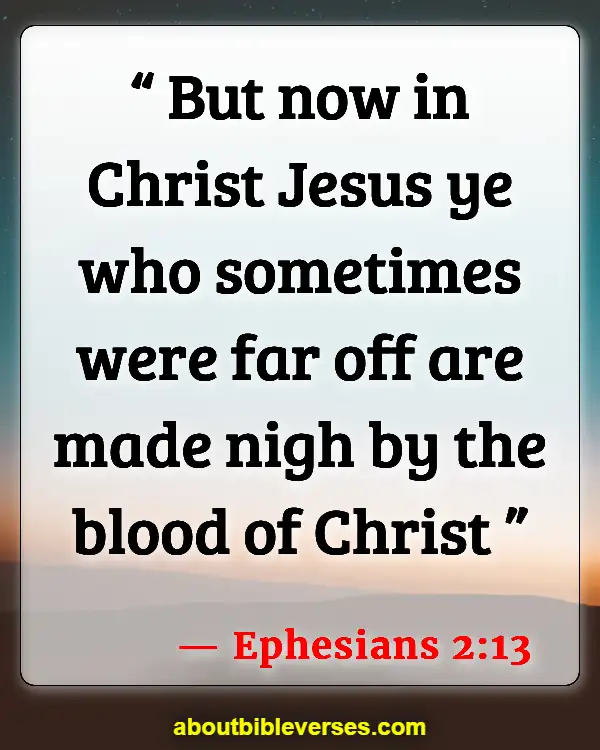 Ephesians 2:13
"But now in Christ Jesus ye who sometimes were far off are made nigh by the blood of Christ"
Ephesians 2:18
"For through him we both have access by one Spirit unto the Father"
Ephesians 2:22
"In whom ye also are builded together for an habitation of God through the Spirit"
Colossians 1:22
"In the body of his flesh through death, to present you holy and unblameable and unreproveable in his sight"
Hebrews 10:19
"Having therefore, brethren, boldness to enter into the holiest by the blood of Jesus"
Hebrews 10:22
"Let us draw near with a true heart in full assurance of faith, having our hearts sprinkled from an evil conscience, and our bodies washed with pure water"
Hebrews 11:6
"But without faith it is impossible to please him: for he that cometh to God must believe that he is, and that he is a rewarder of them that diligently seek him"
2 Peter 1:3
"According as his divine power hath given unto us all things that pertain unto life and godliness, through the knowledge of him that hath called us to glory and virtue"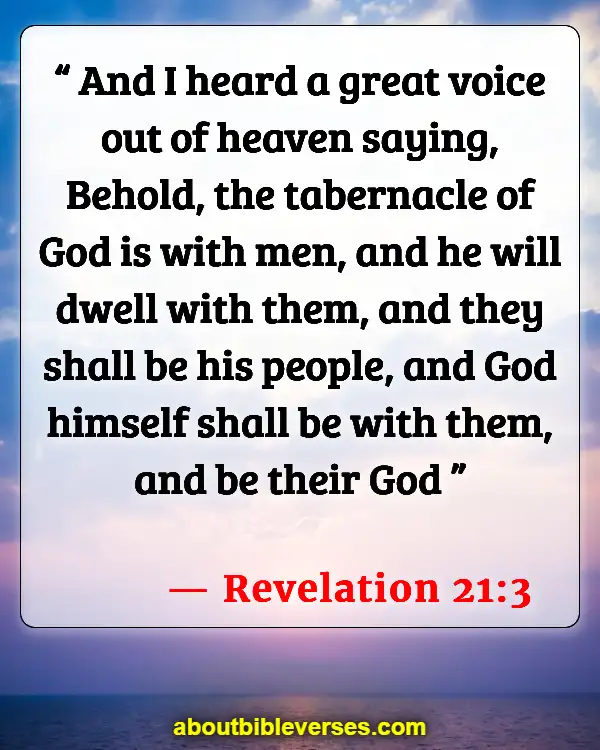 Revelation 21:3
"And I heard a great voice out of heaven saying, Behold, the tabernacle of God is with men, and he will dwell with them, and they shall be his people, and God himself shall be with them, and be their God"
Conclusion:
In the vast tapestry of life, there exists a place of serenity, wisdom, and love. This is the presence of God. Those who have been fortunate to experience it, like the great figures from the scriptures, know the unparalleled peace it offers. It's not just about a fleeting moment of divine connection but a deep-rooted sense of belonging and purpose. Just as David sang praises and Moses led with unwavering faith, every individual has the potential to dwell in this sacred space. To make this decision is to choose a life of profound love, understanding, and guidance.