Dear friends, how should we respond when others mistreat or persecute us? Our natural reaction may be to fight back, seek revenge, or harbor bitterness. However, the Bible calls us to take a different approach – to bless those who persecute us.
This does not come naturally to us. But we are to model our attitude after Jesus, who prayed for God to forgive those who crucified Him. When we are wronged, we too must pray for our persecutors rather than cursing them.
Blessing others demonstrates God's love even to those who hurt us. It rises above evil with good, breaking the cycle of harm. As we release anger and resentment, we make room for peace, compassion and grace.
Blessing persecutors is an act of faith, trusting that God is in control even in unjust situations. It leaves room for Him to work in hearts and situations according to His purposes. Our role is simply to obey His words, not fix every wrong.
This blessing is not passive acceptance of evil. We can still work to right injustice while maintaining a spirit of grace. However, repaying evil with evil only breeds more hate. God's way – unconventional as it is – offers a path to healing.
Dear friends, may we have the courage and compassion to bless others, even those who persecute us. This is a witness of God's transformative love.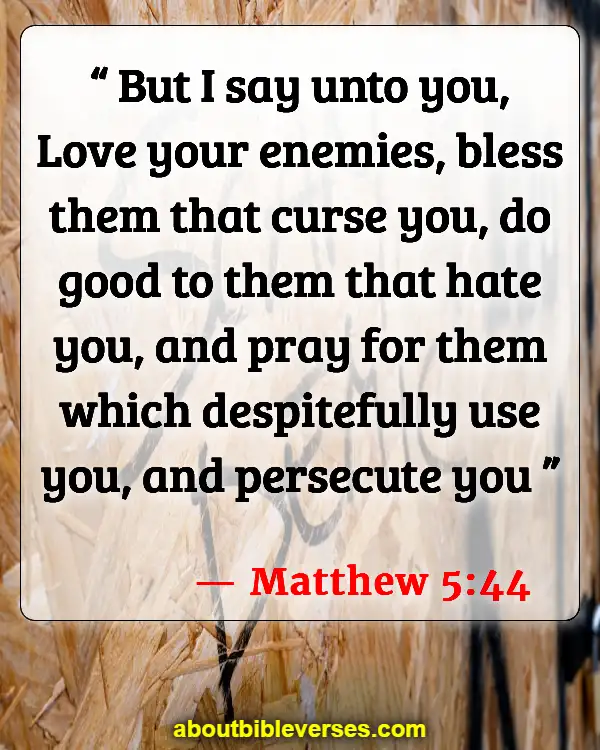 Matthew 5:44
"But I say unto you, Love your enemies, bless them that curse you, do good to them that hate you, and pray for them which despitefully use you, and persecute you"
Luke 6:27-28
"But I say unto you which hear, Love your enemies, do good to them which hate you, Bless them that curse you, and pray for them which despitefully use you"
Luke 23:34
"Then said Jesus, Father, forgive them; for they know not what they do. And they parted his raiment, and cast lots"
Romans 12:14
"Bless them which persecute you: bless, and curse not"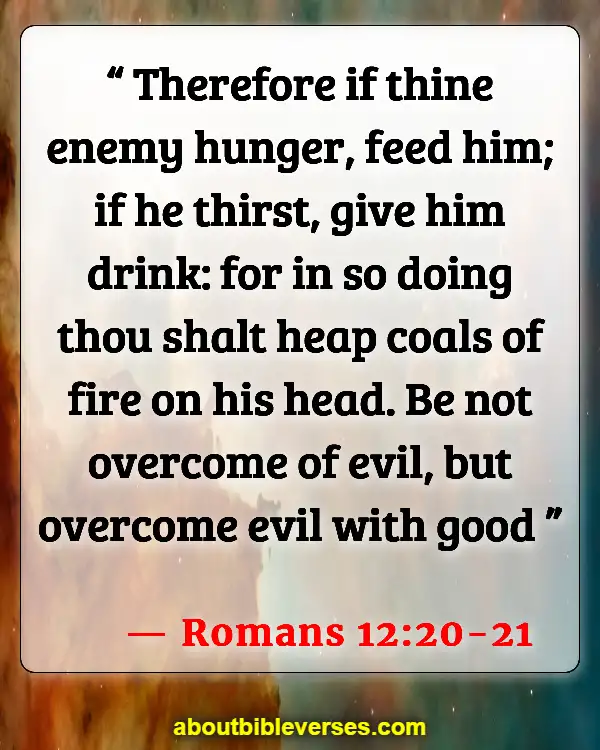 Romans 12:20-21
"Therefore if thine enemy hunger, feed him; if he thirst, give him drink: for in so doing thou shalt heap coals of fire on his head. Be not overcome of evil, but overcome evil with good"
1 Peter 3:9
"Not rendering evil for evil, or railing for railing: but contrariwise blessing; knowing that ye are thereunto called, that ye should inherit a blessing"
Proverbs 25:21-22
"If thine enemy be hungry, give him bread to eat; and if he be thirsty, give him water to drink: For thou shalt heap coals of fire upon his head, and the Lord shall reward thee"
Luke 6:35-36
"But love ye your enemies, and do good, and lend, hoping for nothing again; and your reward shall be great, and ye shall be the children of the Highest: for he is kind unto the unthankful and to the evil. Be ye therefore merciful, as your Father also is merciful"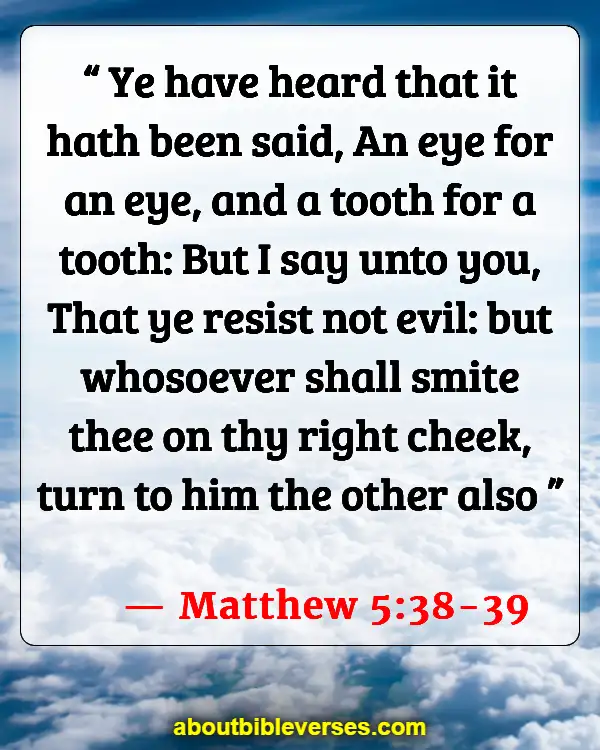 Matthew 5:38-39
"Ye have heard that it hath been said, An eye for an eye, and a tooth for a tooth: But I say unto you, That ye resist not evil: but whosoever shall smite thee on thy right cheek, turn to him the other also"
Matthew 5:46-48
"For if ye love them which love you, what reward have ye? do not even the publicans the same? And if ye salute your brethren only, what do ye more than others? do not even the publicans so? Be ye therefore perfect, even as your Father which is in heaven is perfect"
1 Corinthians 4:12-13
"And labour, working with our own hands: being reviled, we bless; being persecuted, we suffer it: Being defamed, we intreat: we are made as the filth of the world, and are the offscouring of all things unto this day"
1 Thessalonians 5:15
"See that none render evil for evil unto any man; but ever follow that which is good, both among yourselves, and to all men"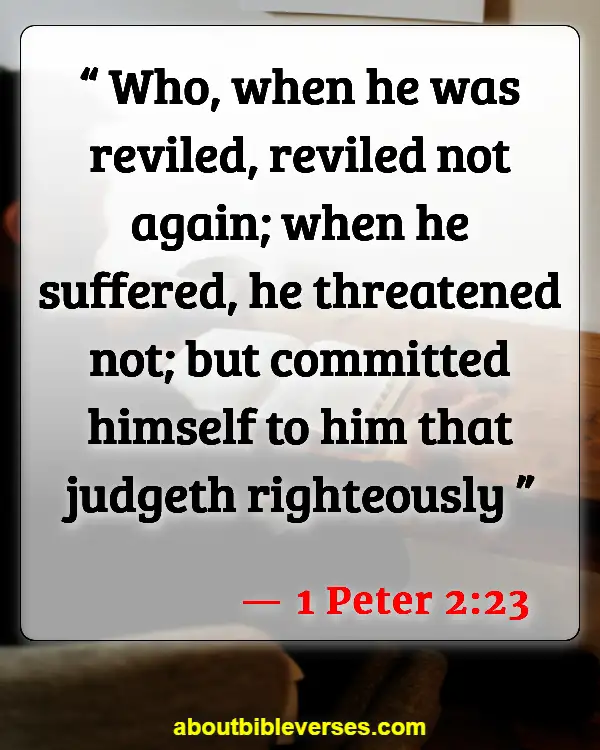 1 Peter 2:23
"Who, when he was reviled, reviled not again; when he suffered, he threatened not; but committed himself to him that judgeth righteously"
Luke 6:37
"Judge not, and ye shall not be judged: condemn not, and ye shall not be condemned: forgive, and ye shall be forgiven"
Romans 12:17-18
"Recompense to no man evil for evil. Provide things honest in the sight of all men. If it be possible, as much as lieth in you, live peaceably with all men"
1 Peter 4:13
"But rejoice, inasmuch as ye are partakers of Christ's sufferings; that, when his glory shall be revealed, ye may be glad also with exceeding joy"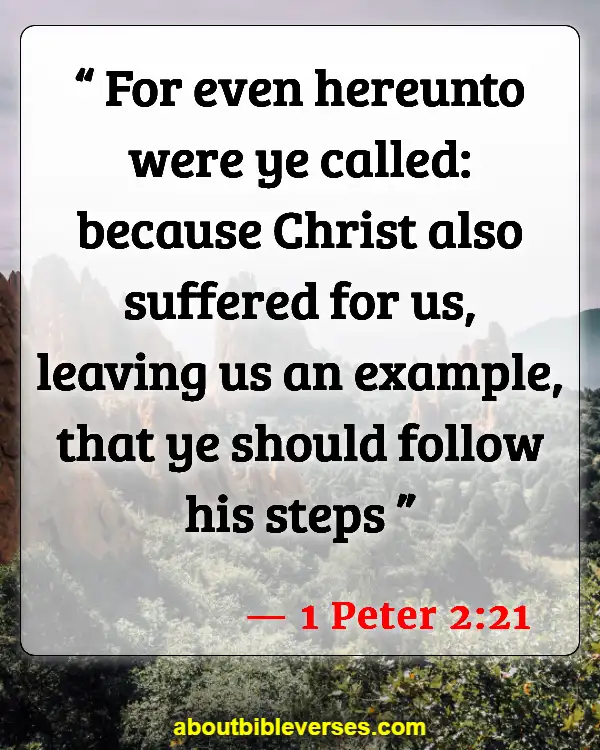 1 Peter 2:21
"For even hereunto were ye called: because Christ also suffered for us, leaving us an example, that ye should follow his steps"
Matthew 18:21-22
"Then came Peter to him, and said, Lord, how oft shall my brother sin against me, and I forgive him? till seven times? Jesus saith unto him, I say not unto thee, Until seven times: but, Until seventy times seven"
Proverbs 24:29
"Say not, I will do so to him as he hath done to me: I will render to the man according to his work"
Proverbs 20:22
"Say not thou, I will recompense evil; but wait on the Lord , and he shall save thee"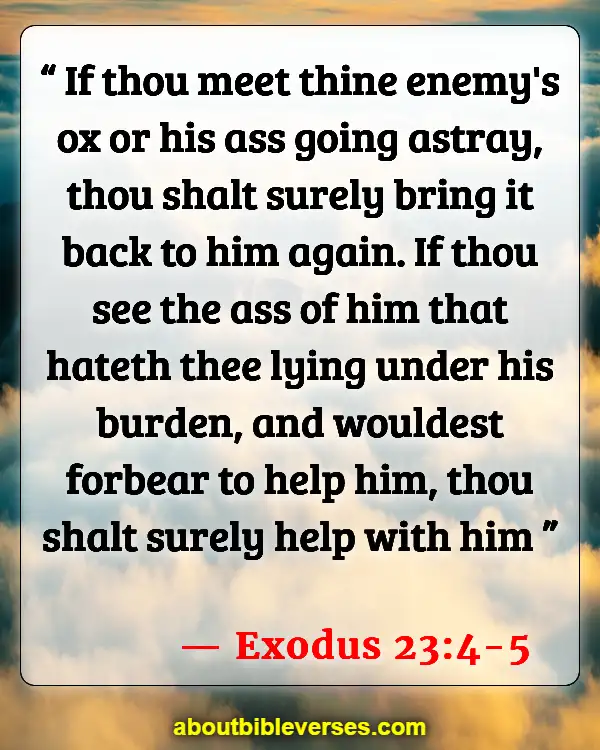 Exodus 23:4-5
"If thou meet thine enemy's ox or his ass going astray, thou shalt surely bring it back to him again. If thou see the ass of him that hateth thee lying under his burden, and wouldest forbear to help him, thou shalt surely help with him"
Leviticus 19:18
"Thou shalt not avenge, nor bear any grudge against the children of thy people, but thou shalt love thy neighbour as thyself: I am the Lord"
Mark 11:25
"And when ye stand praying, forgive, if ye have ought against any: that your Father also which is in heaven may forgive you your trespasses"
Ephesians 4:32
"And be ye kind one to another, tenderhearted, forgiving one another, even as God for Christ's sake hath forgiven you"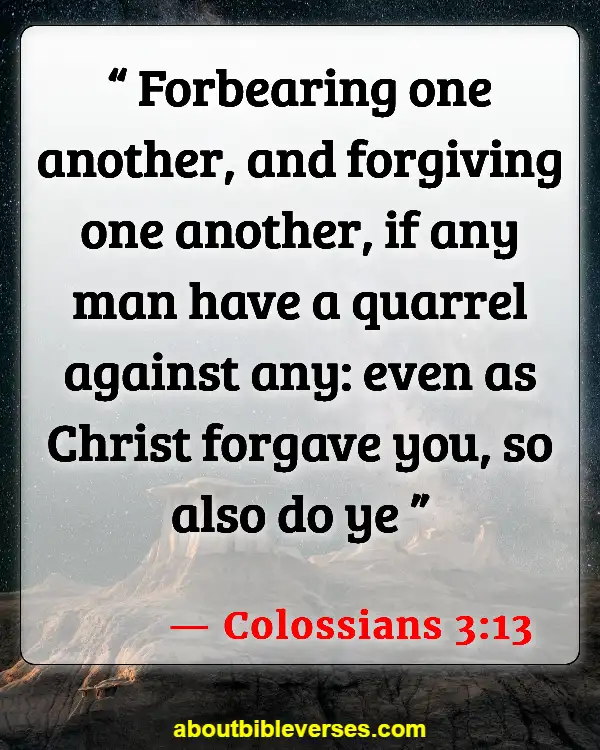 Colossians 3:13
"Forbearing one another, and forgiving one another, if any man have a quarrel against any: even as Christ forgave you, so also do ye"
1 Peter 3:14
"But and if ye suffer for righteousness' sake, happy are ye: and be not afraid of their terror, neither be troubled"
Matthew 26:52
"Then said Jesus unto him, Put up again thy sword into his place: for all they that take the sword shall perish with the sword"
James 1:20
"For the wrath of man worketh not the righteousness of God"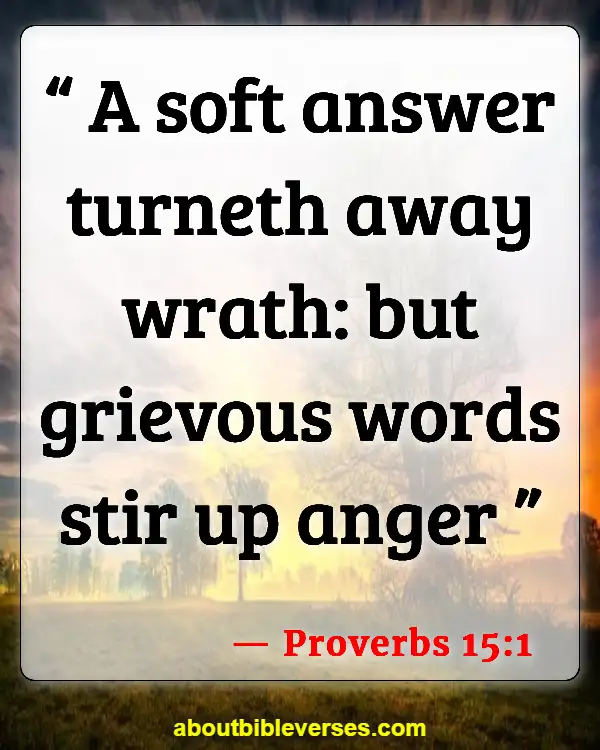 Proverbs 15:1
"A soft answer turneth away wrath: but grievous words stir up anger"
Romans 12:21
"Be not overcome of evil, but overcome evil with good"
Hebrews 10:30
"For we know him that hath said, Vengeance belongeth unto me, I will recompense, saith the Lord. And again, The Lord shall judge his people"
1 Peter 3:17
"For it is better, if the will of God be so, that ye suffer for well doing, than for evil doing"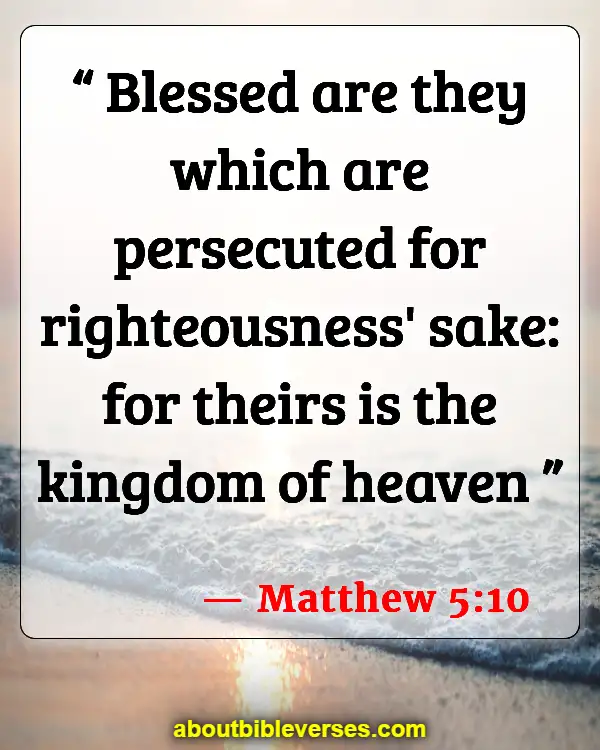 Matthew 5:10
"Blessed are they which are persecuted for righteousness' sake: for theirs is the kingdom of heaven"
Luke 6:22
"Blessed are ye, when men shall hate you, and when they shall separate you from their company, and shall reproach you, and cast out your name as evil, for the Son of man's sake"
2 Corinthians 12:10
"Therefore I take pleasure in infirmities, in reproaches, in necessities, in persecutions, in distresses for Christ's sake: for when I am weak, then am I strong"
Philippians 1:29
"For unto you it is given in the behalf of Christ, not only to believe on him, but also to suffer for his sake"
2 Timothy 3:12
"Yea, and all that will live godly in Christ Jesus shall suffer persecution"