Hello dear friends, welcome to our site in the name of Jesus Christ. Today we will look at the Bible Scriptures About Worry And Sickness In KJV. If you like today's post then definitely comment and share.
The Bible teaches us not to harbor worry or fear, but rather to rely on faith and trust in God's divine plan. Just as the sun rises each morning and the stars twinkle each night, our lives too are held in God's steady, capable hands. Worry, like a raincloud, might seem to overshadow our joy, but it does not have the power to extinguish God's light.
God's love is like a healing balm, capable of removing both our physical and heart ailments. It's not always easy to understand why we have to go through periods of illness, but it's important to remember that even in these trials, we're not alone. God watches over us, cares for our wounds and heals our souls.
Therefore, in the face of worry or sickness, let us remember to pray and surrender our burdens to God, for His yoke is easy and His burden is light.
The Bible tells us not to worry about tomorrow, for tomorrow will worry about itself. Each day has enough trouble of its own. But with each sunrise, we are reminded that God's mercy is new every morning, and His love endures through every season of life.
Here are some Bible verses related to the topics of worry and sickness: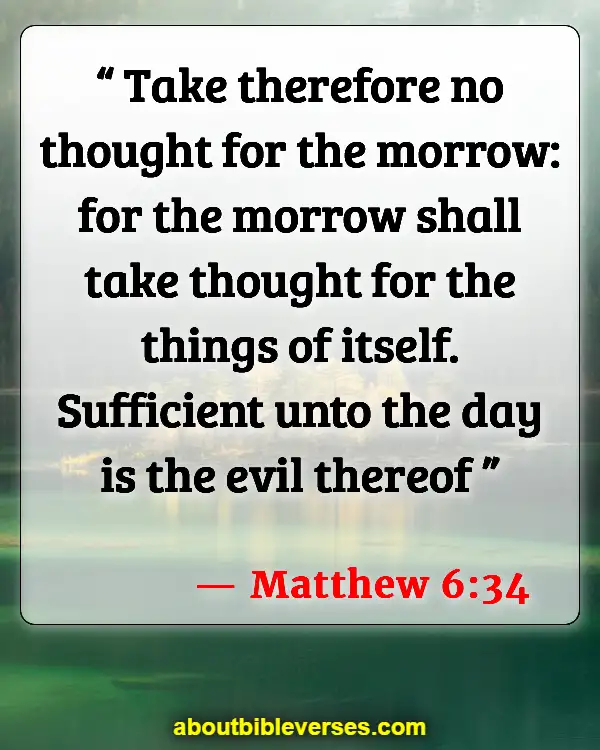 Matthew 6:34
"Take therefore no thought for the morrow: for the morrow shall take thought for the things of itself. Sufficient unto the day is the evil thereof"
Psalm 55:22
"Cast thy burden upon the Lord , and he shall sustain thee: he shall never suffer the righteous to be moved"
Proverbs 12:25
"Heaviness in the heart of man maketh it stoop: but a good word maketh it glad"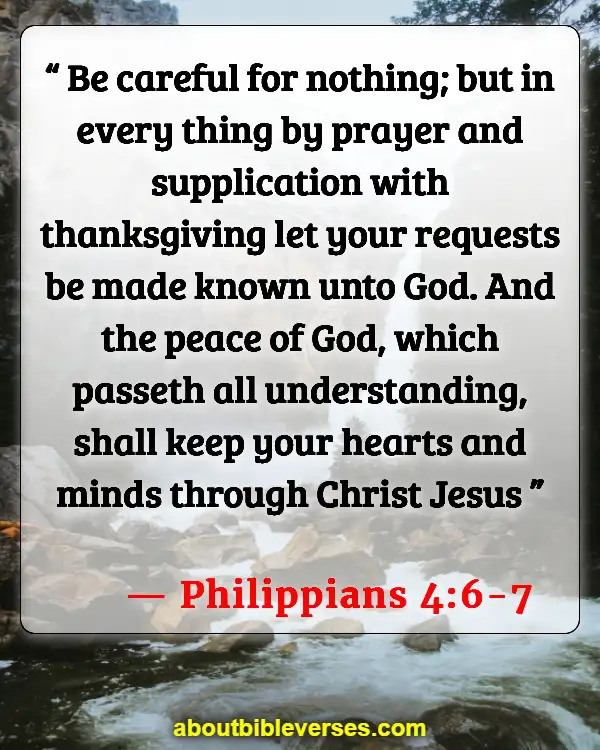 Philippians 4:6-7
"Be careful for nothing; but in every thing by prayer and supplication with thanksgiving let your requests be made known unto God. And the peace of God, which passeth all understanding, shall keep your hearts and minds through Christ Jesus"
1 Peter 5:7
"Casting all your care upon him; for he careth for you"
Matthew 11:28-30
"Come unto me, all ye that labour and are heavy laden, and I will give you rest. Take my yoke upon you, and learn of me; for I am meek and lowly in heart: and ye shall find rest unto your souls. For my yoke is easy, and my burden is light"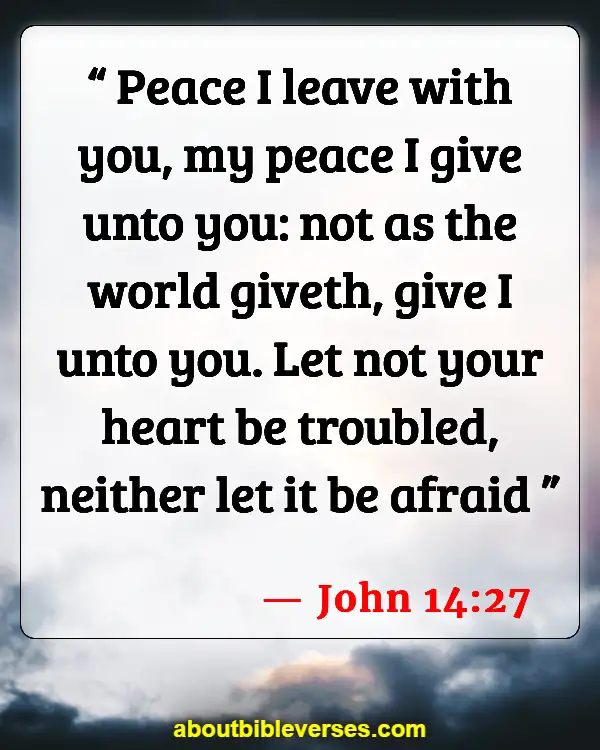 John 14:27
"Peace I leave with you, my peace I give unto you: not as the world giveth, give I unto you. Let not your heart be troubled, neither let it be afraid"
Isaiah 41:10
"Fear thou not; for I am with thee: be not dismayed; for I am thy God: I will strengthen thee; yea, I will help thee; yea, I will uphold thee with the right hand of my righteousness"
Psalm 56:3
"What time I am afraid, I will trust in thee"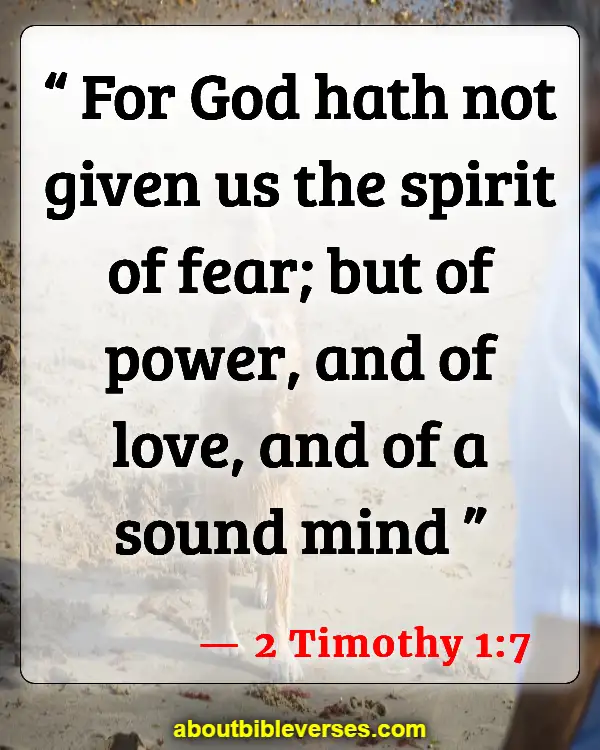 2 Timothy 1:7
"For God hath not given us the spirit of fear; but of power, and of love, and of a sound mind"
Romans 8:38-39
"For I am persuaded, that neither death, nor life, nor angels, nor principalities, nor powers, nor things present, nor things to come, Nor height, nor depth, nor any other creature, shall be able to separate us from the love of God, which is in Christ Jesus our Lord"
Matthew 6:27
"Which of you by taking thought can add one cubit unto his stature?"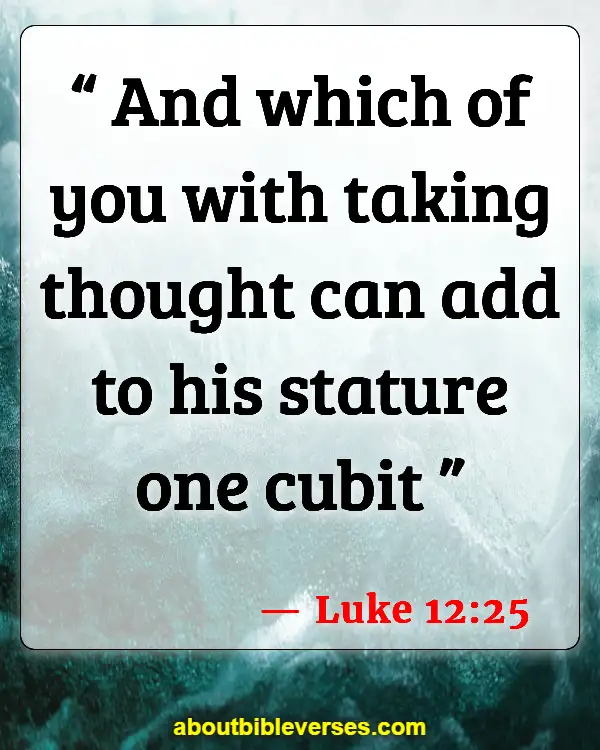 Luke 12:25
"And which of you with taking thought can add to his stature one cubit?"
James 5:14-15
"Is any sick among you? let him call for the elders of the church; and let them pray over him, anointing him with oil in the name of the Lord: And the prayer of faith shall save the sick, and the Lord shall raise him up; and if he have committed sins, they shall be forgiven him"
Psalm 103:2-3
"Bless the Lord , O my soul, and forget not all his benefits: Who forgiveth all thine iniquities; who healeth all thy diseases"
Matthew 9:35
"And Jesus went about all the cities and villages, teaching in their synagogues, and preaching the gospel of the kingdom, and healing every sickness and every disease among the people"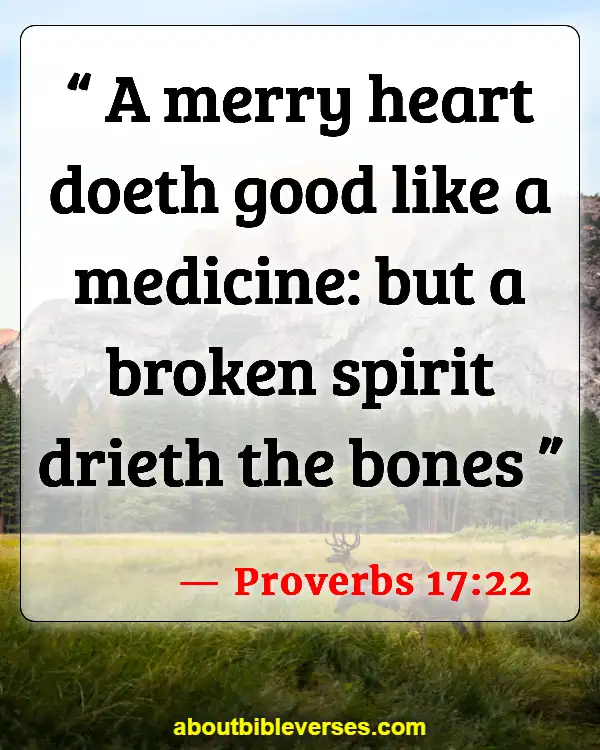 Proverbs 17:22
"A merry heart doeth good like a medicine: but a broken spirit drieth the bones"
Psalm 41:3
"The Lord will strengthen him upon the bed of languishing: thou wilt make all his bed in his sickness"
3 John 1:2
"Beloved, I wish above all things that thou mayest prosper and be in health, even as thy soul prospereth"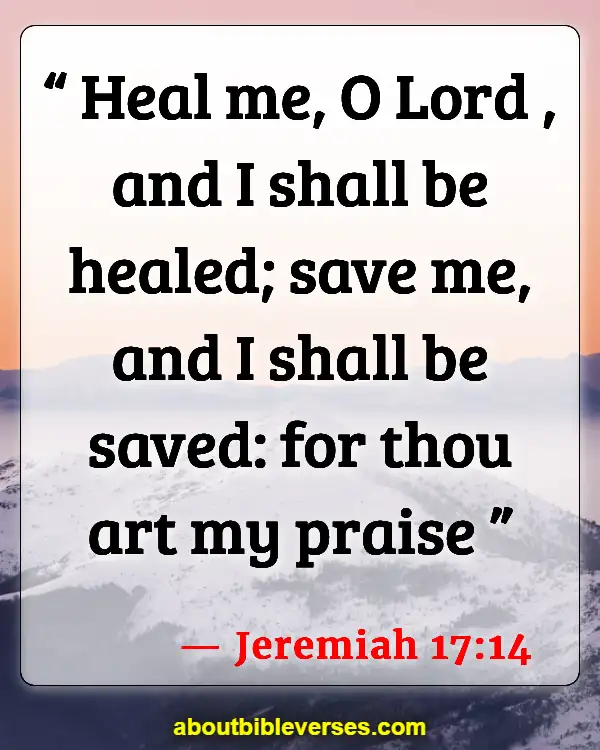 Jeremiah 17:14
"Heal me, O Lord , and I shall be healed; save me, and I shall be saved: for thou art my praise"
Psalm 147:3
"He healeth the broken in heart, and bindeth up their wounds"
Proverbs 4:20-22
"My son, attend to my words; incline thine ear unto my sayings. Let them not depart from thine eyes; keep them in the midst of thine heart. For they are life unto those that find them, and health to all their flesh"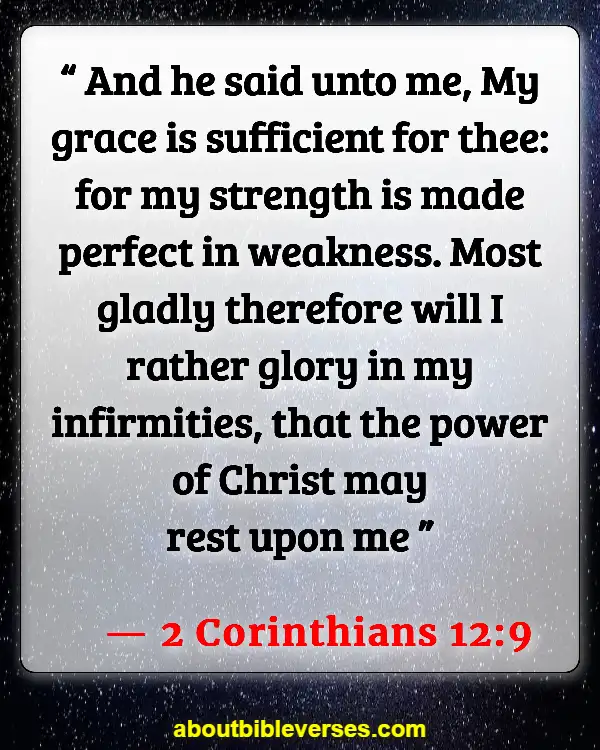 2 Corinthians 12:9
"And he said unto me, My grace is sufficient for thee: for my strength is made perfect in weakness. Most gladly therefore will I rather glory in my infirmities, that the power of Christ may rest upon me"
Deuteronomy 7:15
"And the Lord will take away from thee all sickness, and will put none of the evil diseases of Egypt, which thou knowest, upon thee; but will lay them upon all them that hate thee"
Psalm 107:20
"He sent his word, and healed them, and delivered them from their destructions"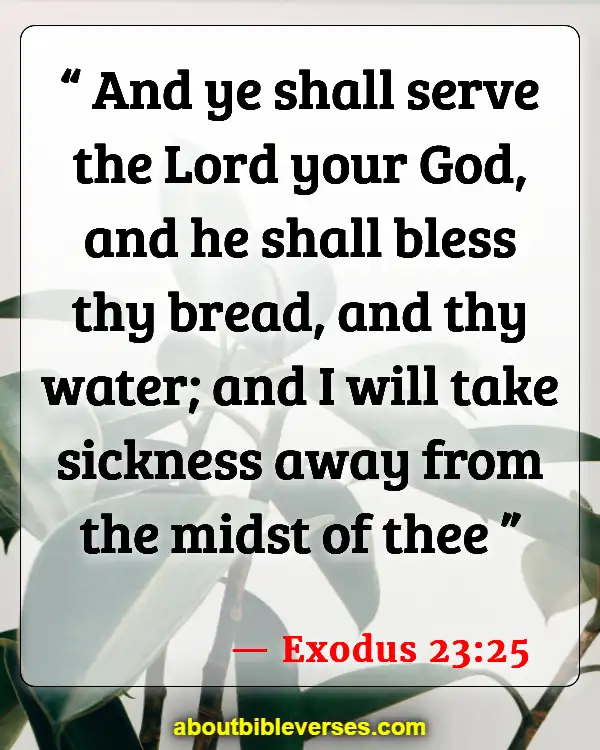 Exodus 23:25
"And ye shall serve the Lord your God, and he shall bless thy bread, and thy water; and I will take sickness away from the midst of thee"
Matthew 10:1
"And when he had called unto him his twelve disciples, he gave them power against unclean spirits, to cast them out, and to heal all manner of sickness and all manner of disease"
Jeremiah 30:17
"For I will restore health unto thee, and I will heal thee of thy wounds, saith the Lord ; because they called thee an Outcast, saying, This is Zion, whom no man seeketh after"
Isaiah 53:5
"But he was wounded for our transgressions, he was bruised for our iniquities: the chastisement of our peace was upon him; and with his stripes we are healed"
1 Peter 2:24
"Who his own self bare our sins in his own body on the tree, that we, being dead to sins, should live unto righteousness: by whose stripes ye were healed"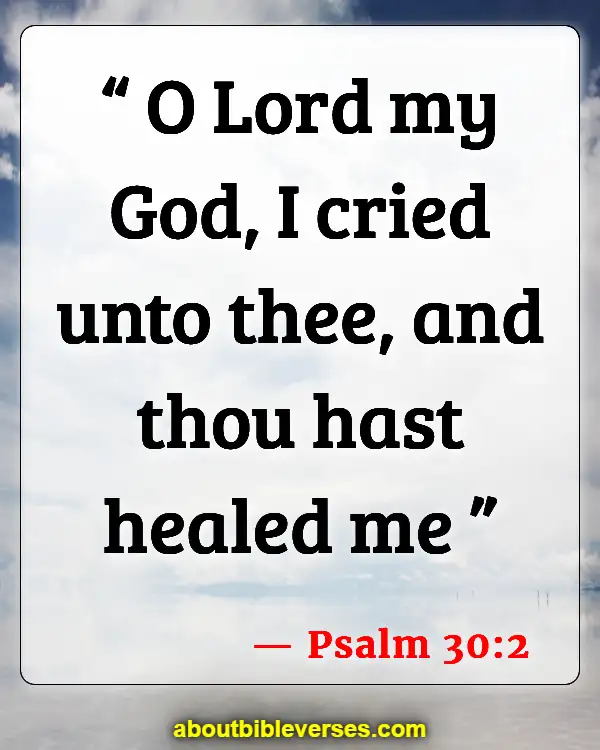 Psalm 30:2
"O Lord my God, I cried unto thee, and thou hast healed me"