Dear friends, work can present many challenges that test our faith and character. When we face struggles like disagreements with coworkers, feeling undervalued, or dealing with difficult bosses, how can we respond in a way that honors God?
First, we must remember that God cares deeply about justice and how we treat each other. The Bible calls us to love others, be peacemakers, and model fruits of the Spirit like patience and kindness, even when we are mistreated. With God's help, we can choose to respond to coworkers with compassion rather than anger.
Second, our work is important to God. He has called each of us to fulfill the tasks He has set before us with excellence, even when we face opposition. We can ask God to help us have integrity and a spirit of joy in our work, instead of grumbling.
Finally, we must cling to hope in God's sovereignty. He sees the difficulties we face and promises to be with us. As we cast our cares on Him, He will sustain us and renew our strength. God is able to redeem even the most difficult work situations for His glory and for our growth.
Dear friends, with God's truth as our guide, we can faithfully endure the challenges we face in the workplace. Let's encourage one another and remember that He promises to equip us for every good work.
Dear friends now let's see the Bible scriptures below that talk about Work Problems.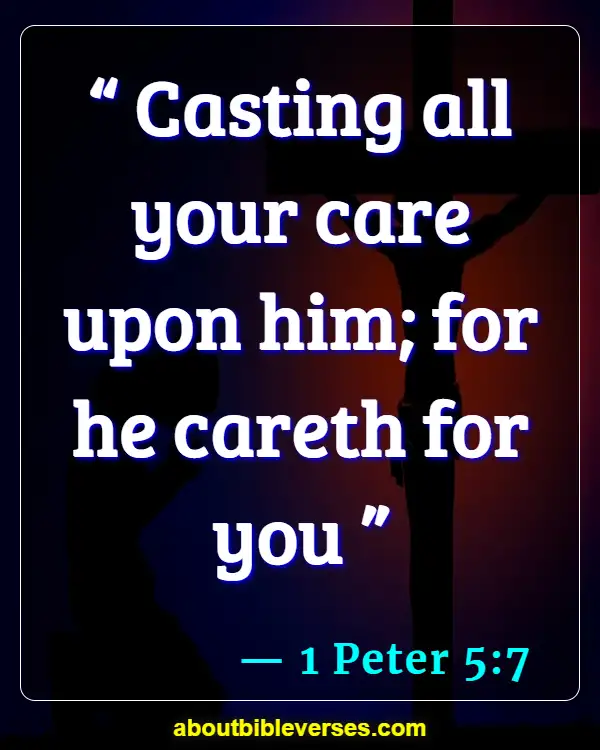 1 Peter 5:7
"Casting all your care upon him; for he careth for you"
Jeremiah 29:11
"For I know the thoughts that I think toward you, saith the Lord , thoughts of peace, and not of evil, to give you an expected end"
Colossians 3:23
"And whatsoever ye do, do it heartily, as to the Lord, and not unto men"
Proverbs 14:23
"In all labour there is profit: but the talk of the lips tendeth only to penury"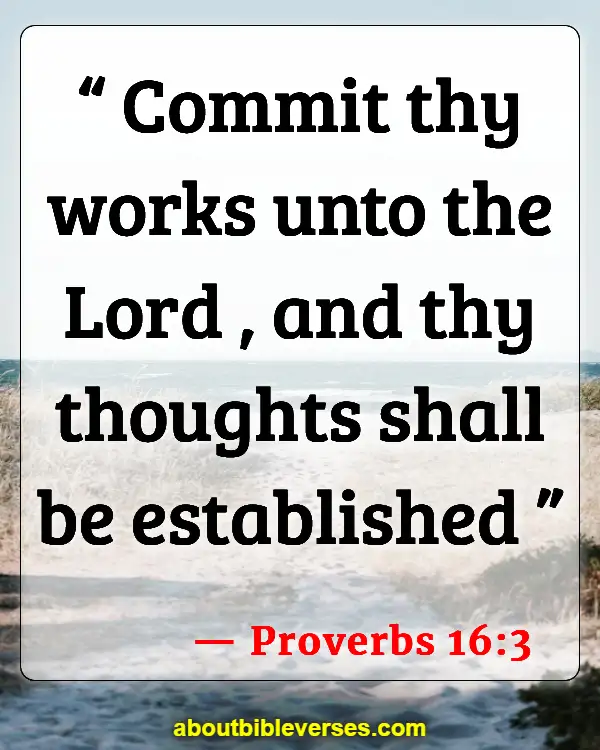 Proverbs 16:3
"Commit thy works unto the Lord , and thy thoughts shall be established"
Ecclesiastes 3:22
"Wherefore I perceive that there is nothing better, than that a man should rejoice in his own works; for that is his portion: for who shall bring him to see what shall be after him?"
2 Thessalonians 3:10
"For even when we were with you, this we commanded you, that if any would not work, neither should he eat"
1 Corinthians 15:58
"Therefore, my beloved brethren, be ye stedfast, unmoveable, always abounding in the work of the Lord, forasmuch as ye know that your labour is not in vain in the Lord"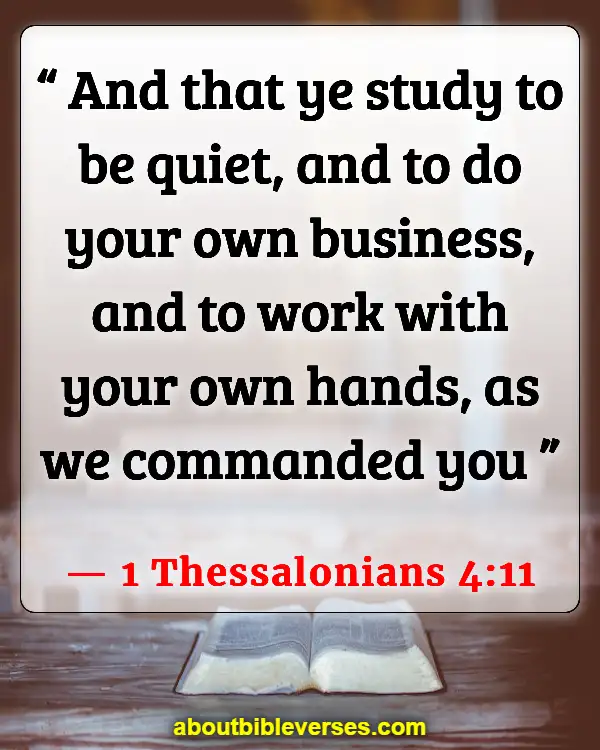 1 Thessalonians 4:11
"And that ye study to be quiet, and to do your own business, and to work with your own hands, as we commanded you"
Proverbs 18:9
"He also that is slothful in his work is brother to him that is a great waster"
Ecclesiastes 2:24
"There is nothing better for a man, than that he should eat and drink, and that he should make his soul enjoy good in his labour. This also I saw, that it was from the hand of God"
Proverbs 12:11
"He that tilleth his land shall be satisfied with bread: but he that followeth vain persons is void of understanding"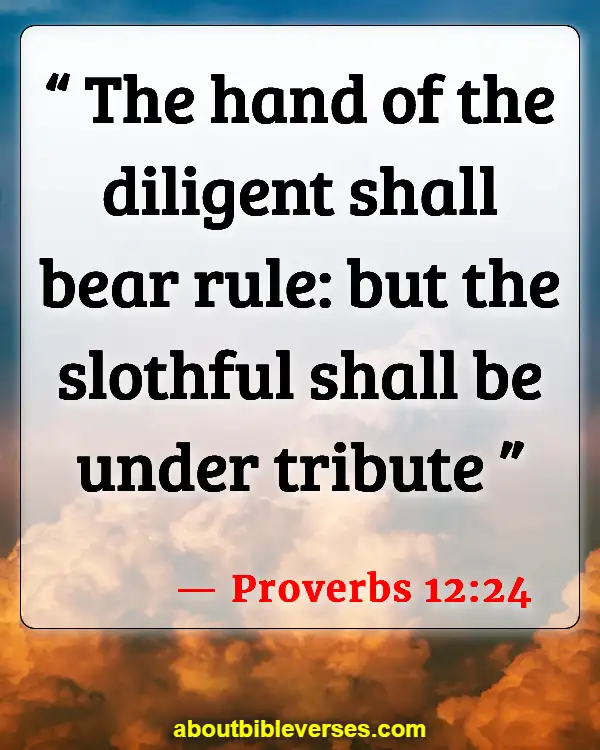 Proverbs 12:24
"The hand of the diligent shall bear rule: but the slothful shall be under tribute"
Proverbs 22:29
"Seest thou a man diligent in his business? he shall stand before kings; he shall not stand before mean men"
Ephesians 4:28
"Let him that stole steal no more: but rather let him labour, working with his hands the thing which is good, that he may have to give to him that needeth"
Proverbs 10:4
"He becometh poor that dealeth with a slack hand: but the hand of the diligent maketh rich"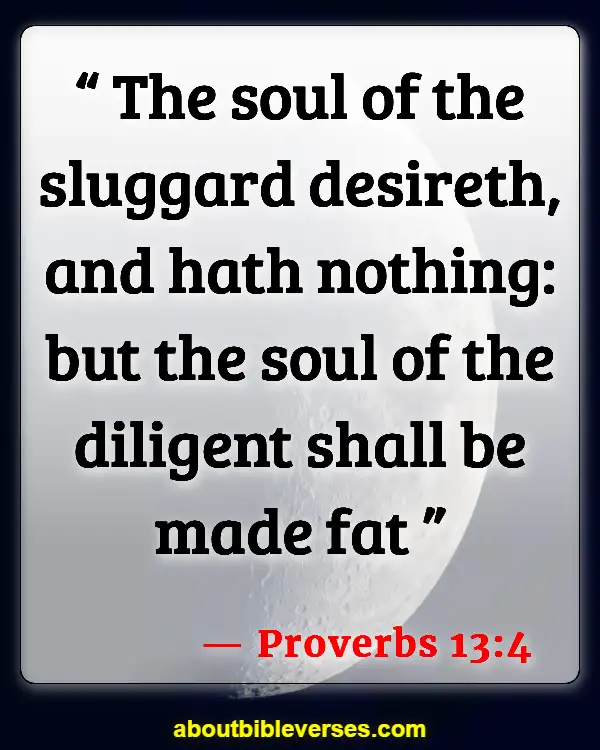 Proverbs 13:4
"The soul of the sluggard desireth, and hath nothing: but the soul of the diligent shall be made fat"
Proverbs 20:13
"Love not sleep, lest thou come to poverty; open thine eyes, and thou shalt be satisfied with bread"
Romans 12:11
"Not slothful in business; fervent in spirit; serving the Lord"
Proverbs 28:19
"He that tilleth his land shall have plenty of bread: but he that followeth after vain persons shall have poverty enough"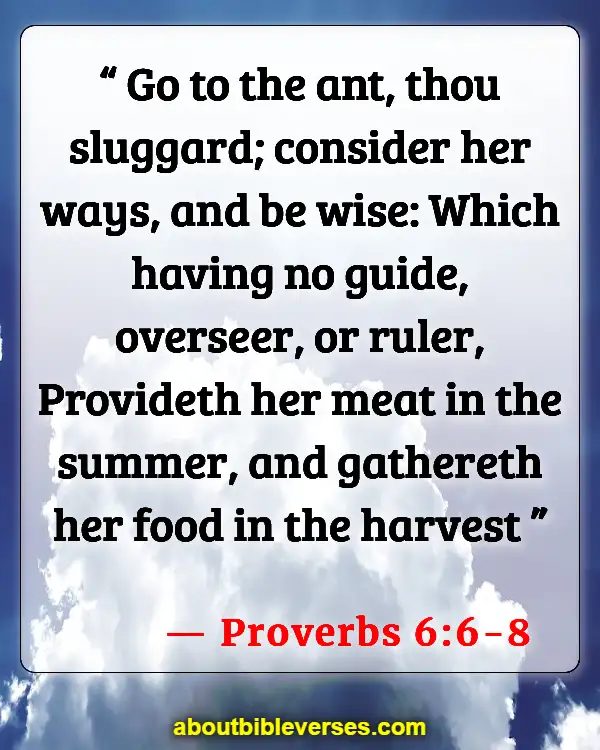 Proverbs 6:6-8
"Go to the ant, thou sluggard; consider her ways, and be wise: Which having no guide, overseer, or ruler, Provideth her meat in the summer, and gathereth her food in the harvest"
Proverbs 10:5
"He that gathereth in summer is a wise son: but he that sleepeth in harvest is a son that causeth shame"
1 Timothy 5:8
"But if any provide not for his own, and specially for those of his own house, he hath denied the faith, and is worse than an infidel"
Psalm 128:2
"For thou shalt eat the labour of thine hands: happy shalt thou be, and it shall be well with thee"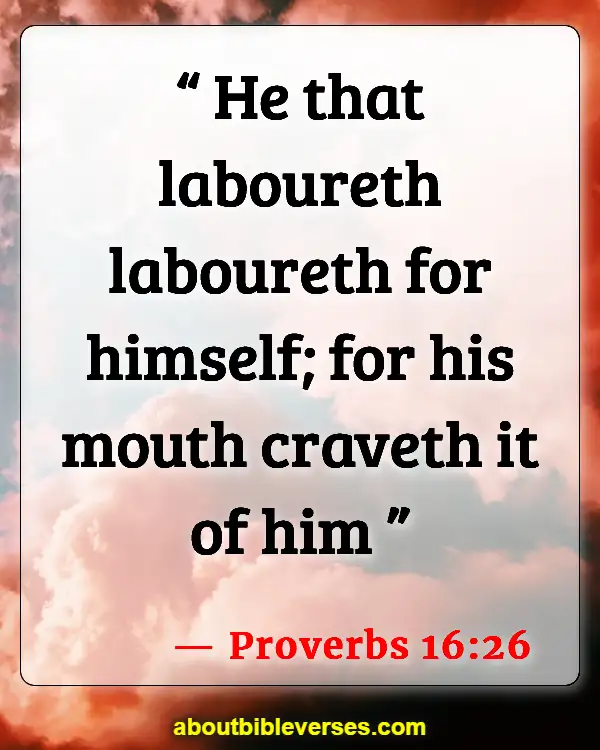 Proverbs 16:26
"He that laboureth laboureth for himself; for his mouth craveth it of him"
Galatians 6:9
"And let us not be weary in well doing: for in due season we shall reap, if we faint not"
Romans 13:7
"Render therefore to all their dues: tribute to whom tribute is due; custom to whom custom; fear to whom fear; honour to whom honour"
Hebrews 6:10
"For God is not unrighteous to forget your work and labour of love, which ye have shewed toward his name, in that ye have ministered to the saints, and do minister"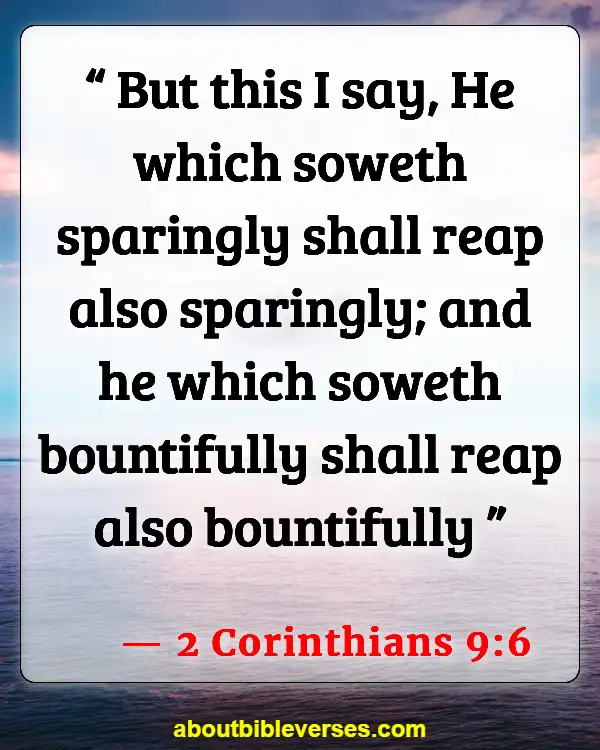 2 Corinthians 9:6
"But this I say, He which soweth sparingly shall reap also sparingly; and he which soweth bountifully shall reap also bountifully"
1 Timothy 6:18
"That they do good, that they be rich in good works, ready to distribute, willing to communicate"
1 Thessalonians 2:9
"For ye remember, brethren, our labour and travail: for labouring night and day, because we would not be chargeable unto any of you, we preached unto you the gospel of God"
Psalm 37:5
"Commit thy way unto the Lord ; trust also in him; and he shall bring it to pass"
Deuteronomy 28:12
"The Lord shall open unto thee his good treasure, the heaven to give the rain unto thy land in his season, and to bless all the work of thine hand: and thou shalt lend unto many nations, and thou shalt not borrow"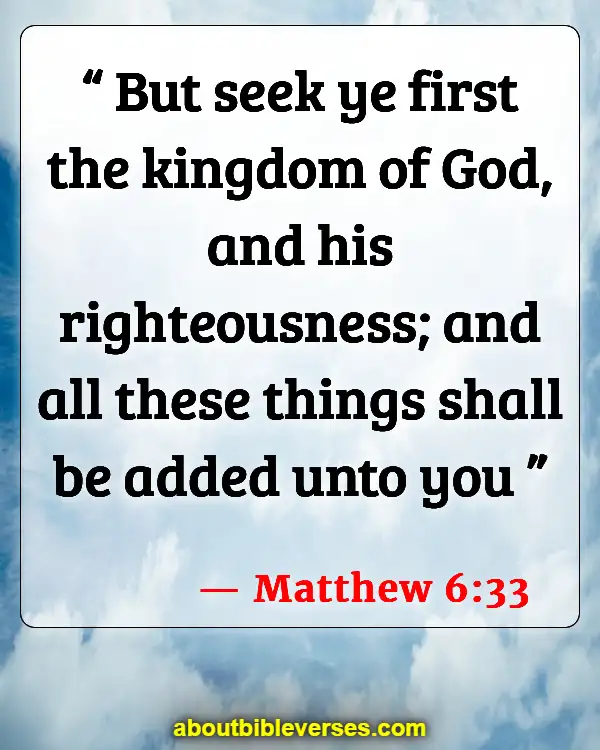 Matthew 6:33
"But seek ye first the kingdom of God, and his righteousness; and all these things shall be added unto you"