Dear friends, when someone new walks through the doors of our church, we have a wonderful opportunity to share the love of Christ. We must be careful to make all feel welcomed and accepted, just as Jesus welcomed all who sought him.
Each guest is a precious soul who may be searching for meaning and purpose. Their visit may be their first step on a journey of faith. Or perhaps they are simply curious and hoping to find a welcoming community. Whatever brings them to us, we must be ready to receive them with warmth, kindness, and sincere interest.
As they enter, be quick to offer a smile, a handshake, or a greeting. Introduce yourself and others around you. Make comfortable small talk and find out a bit about them, while respecting their privacy. Offer to sit with them during the service, help them follow along, and answer questions. Treat them as you would a treasured friend you haven't seen in a while.
After the service, continue the conversation. Invite them to stay for refreshments or a meal. Listen compassionately and share your own story if they are interested. Exchange contact information so you can follow up.
Let us all be Christ's living ambassadors, extending gracious hospitality to the stranger at our door. For Christ said, "Whatever you did for one of the least of these brothers and sisters of mine, you did for me."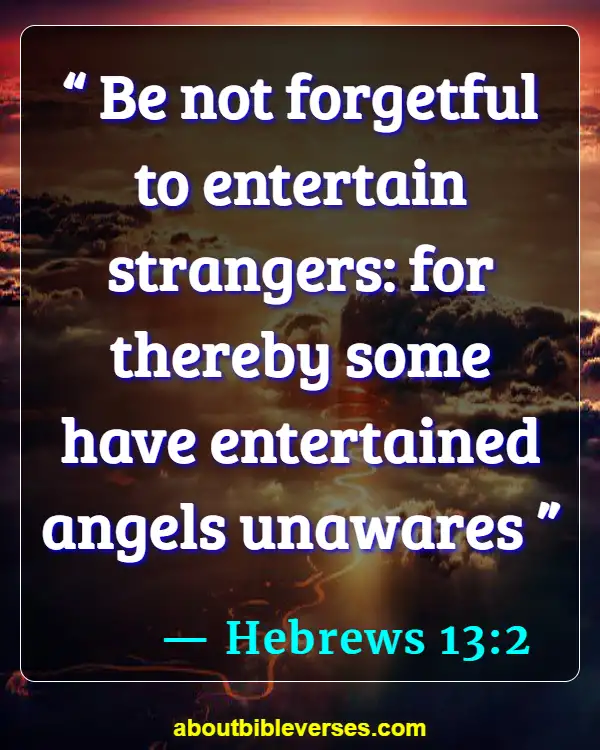 Hebrews 13:2
"Be not forgetful to entertain strangers: for thereby some have entertained angels unawares"
1 Peter 4:9
"Use hospitality one to another without grudging"
Romans 15:7
"Wherefore receive ye one another, as Christ also received us to the glory of God"
Matthew 25:35
"For I was an hungred, and ye gave me meat: I was thirsty, and ye gave me drink: I was a stranger, and ye took me in"
Romans 12:13
"Distributing to the necessity of saints; given to hospitality"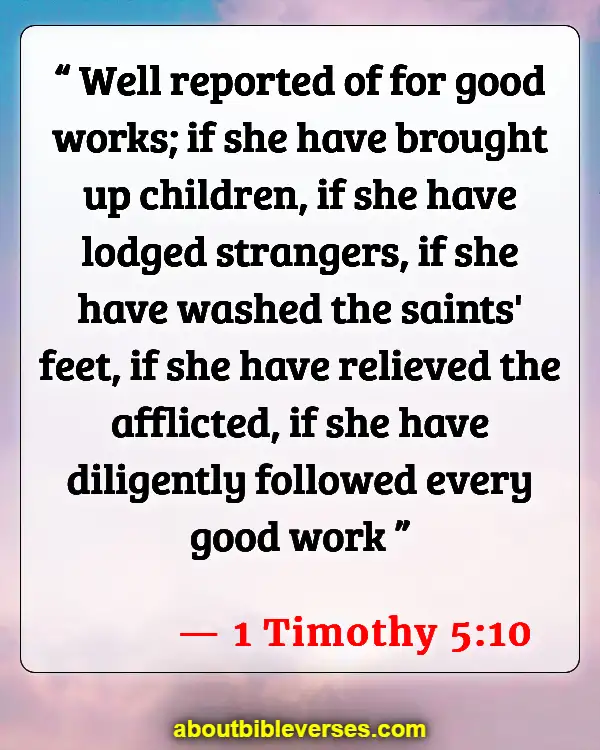 1 Timothy 5:10
"Well reported of for good works; if she have brought up children, if she have lodged strangers, if she have washed the saints' feet, if she have relieved the afflicted, if she have diligently followed every good work"
3 John 5-8
"Beloved, thou doest faithfully whatsoever thou doest to the brethren, and to strangers; Which have borne witness of thy charity before the church: whom if thou bring forward on their journey after a godly sort, thou shalt do well: Because that for his name's sake they went forth, taking nothing of the Gentiles. We therefore ought to receive such, that we might be fellowhelpers to the truth"
Galatians 5:13
"For, brethren, ye have been called unto liberty; only use not liberty for an occasion to the flesh, but by love serve one another"
Philippians 2:3-4
"Let nothing be done through strife or vainglory; but in lowliness of mind let each esteem other better than themselves. Look not every man on his own things, but every man also on the things of others"
Leviticus 19:34
"But the stranger that dwelleth with you shall be unto you as one born among you, and thou shalt love him as thyself; for ye were strangers in the land of Egypt: I am the Lord your God"
Deuteronomy 10:19
"Love ye therefore the stranger: for ye were strangers in the land of Egypt"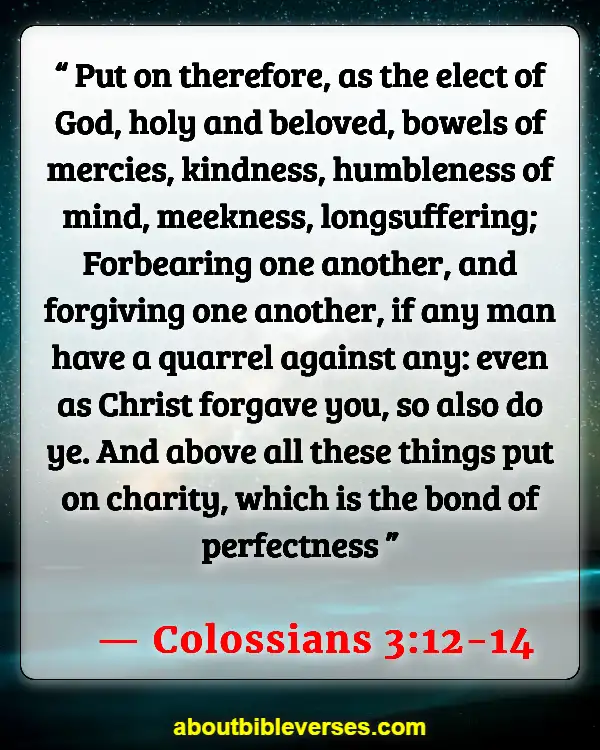 Colossians 3:12-14
"Put on therefore, as the elect of God, holy and beloved, bowels of mercies, kindness, humbleness of mind, meekness, longsuffering; Forbearing one another, and forgiving one another, if any man have a quarrel against any: even as Christ forgave you, so also do ye. And above all these things put on charity, which is the bond of perfectness"
James 2:1-4
"My brethren, have not the faith of our Lord Jesus Christ, the Lord of glory, with respect of persons. For if there come unto your assembly a man with a gold ring, in goodly apparel, and there come in also a poor man in vile raiment; And ye have respect to him that weareth the gay clothing, and say unto him, Sit thou here in a good place; and say to the poor, Stand thou there, or sit here under my footstool: Are ye not then partial in yourselves, and are become judges of evil thoughts?"
Ephesians 4:32
"And be ye kind one to another, tenderhearted, forgiving one another, even as God for Christ's sake hath forgiven you"
1 Thessalonians 5:11
"Wherefore comfort yourselves together, and edify one another, even as also ye do"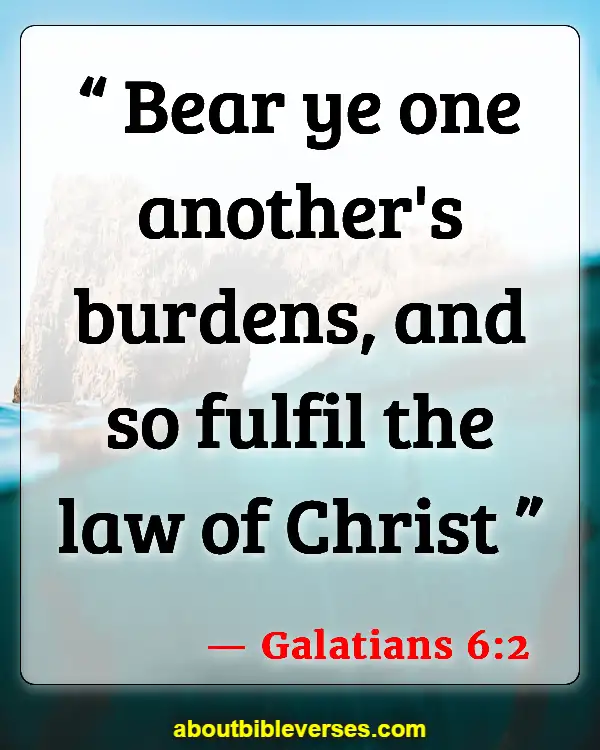 Galatians 6:2
"Bear ye one another's burdens, and so fulfil the law of Christ"
2 Corinthians 9:7
"Every man according as he purposeth in his heart, so let him give; not grudgingly, or of necessity: for God loveth a cheerful giver"
Proverbs 19:17
"He that hath pity upon the poor lendeth unto the Lord ; and that which he hath given will he pay him again"
Isaiah 58:7
"Is it not to deal thy bread to the hungry, and that thou bring the poor that are cast out to thy house? when thou seest the naked, that thou cover him; and that thou hide not thyself from thine own flesh?"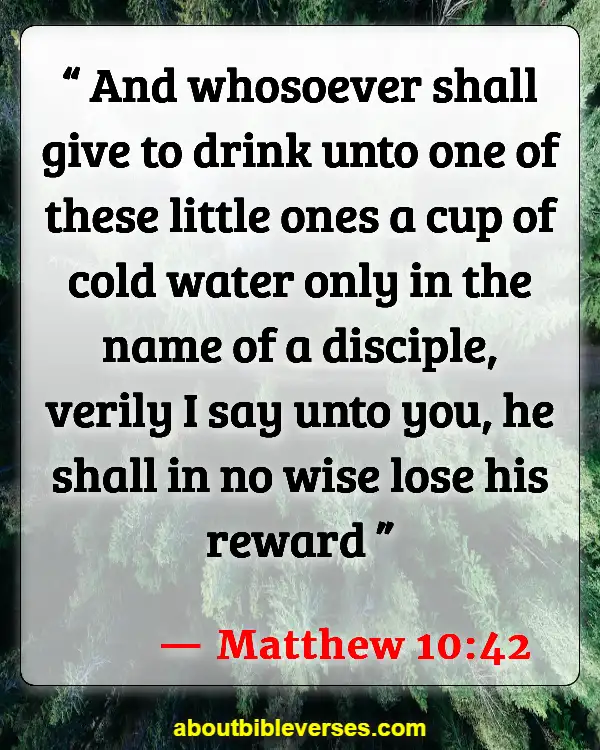 Matthew 10:42
"And whosoever shall give to drink unto one of these little ones a cup of cold water only in the name of a disciple, verily I say unto you, he shall in no wise lose his reward"
1 Corinthians 12:26
"And whether one member suffer, all the members suffer with it; or one member be honoured, all the members rejoice with it"
Romans 14:1
"Him that is weak in the faith receive ye, but not to doubtful disputations"
Ephesians 2:19
"Now therefore ye are no more strangers and foreigners, but fellowcitizens with the saints, and of the household of God"
1 John 4:7
"Beloved, let us love one another: for love is of God; and every one that loveth is born of God, and knoweth God"
Acts 10:34-35
"Then Peter opened his mouth, and said, Of a truth I perceive that God is no respecter of persons: But in every nation he that feareth him, and worketh righteousness, is accepted with him"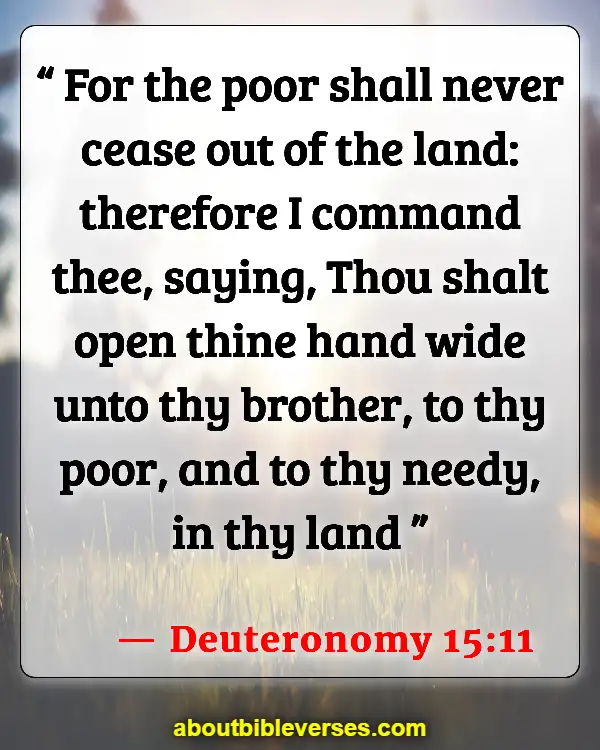 Deuteronomy 15:11
"For the poor shall never cease out of the land: therefore I command thee, saying, Thou shalt open thine hand wide unto thy brother, to thy poor, and to thy needy, in thy land"
Leviticus 25:35
"And if thy brother be waxen poor, and fallen in decay with thee; then thou shalt relieve him: yea, though he be a stranger, or a sojourner; that he may live with thee"
1 Corinthians 16:14
"Let all your things be done with charity"
John 13:34-35
"A new commandment I give unto you, That ye love one another; as I have loved you, that ye also love one another. By this shall all men know that ye are my disciples, if ye have love one to another"
Titus 1:8
"But a lover of hospitality, a lover of good men, sober, just, holy, temperate"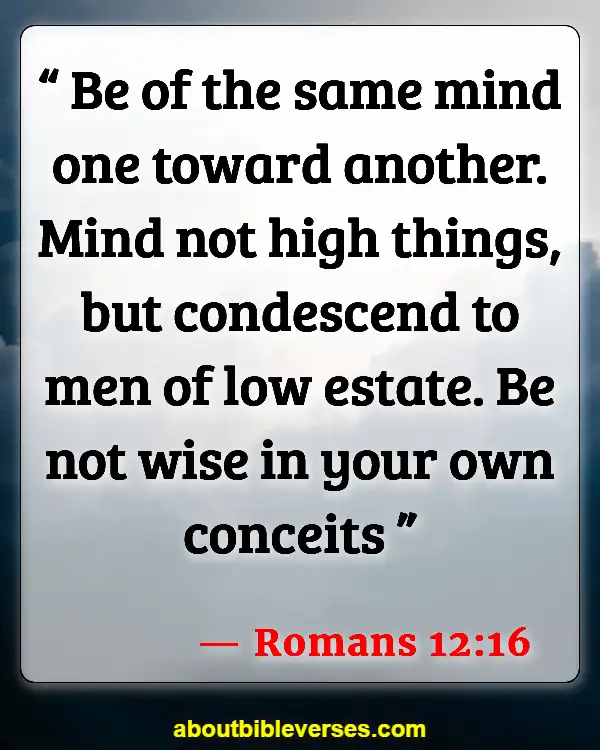 Romans 12:16
"Be of the same mind one toward another. Mind not high things, but condescend to men of low estate. Be not wise in your own conceits"
Ephesians 4:2-3
"With all lowliness and meekness, with longsuffering, forbearing one another in love; Endeavouring to keep the unity of the Spirit in the bond of peace"
2 Corinthians 13:11
"Finally, brethren, farewell. Be perfect, be of good comfort, be of one mind, live in peace; and the God of love and peace shall be with you"
Colossians 3:13
"Forbearing one another, and forgiving one another, if any man have a quarrel against any: even as Christ forgave you, so also do ye"
Romans 12:10
"Be kindly affectioned one to another with brotherly love; in honour preferring one another"
1 Thessalonians 5:14
"Now we exhort you, brethren, warn them that are unruly, comfort the feebleminded, support the weak, be patient toward all men"
Philippians 2:2
"Fulfil ye my joy, that ye be likeminded, having the same love, being of one accord, of one mind"
2 Thessalonians 1:3
"We are bound to thank God always for you, brethren, as it is meet, because that your faith groweth exceedingly, and the charity of every one of you all toward each other aboundeth"
Romans 15:1
"We then that are strong ought to bear the infirmities of the weak, and not to please ourselves"
Romans 12:15
"Rejoice with them that do rejoice, and weep with them that weep"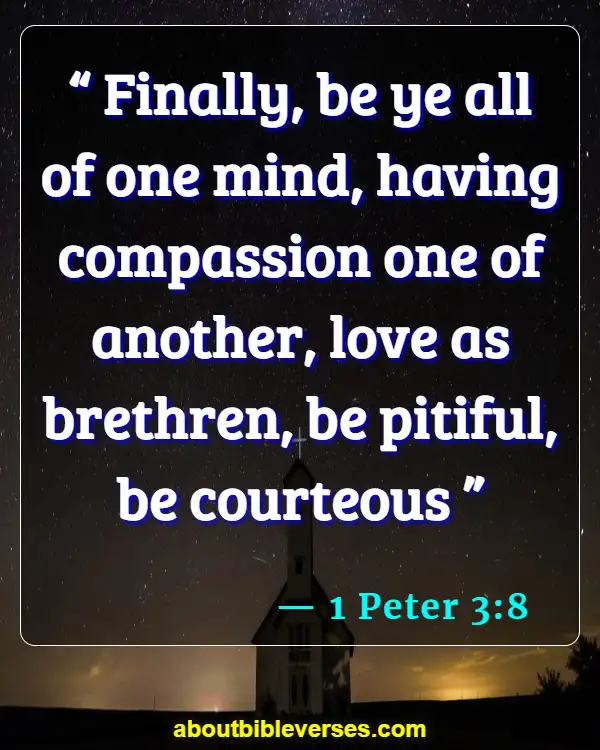 1 Peter 3:8
"Finally, be ye all of one mind, having compassion one of another, love as brethren, be pitiful, be courteous"
Romans 15:5
"Now the God of patience and consolation grant you to be likeminded one toward another according to Christ Jesus"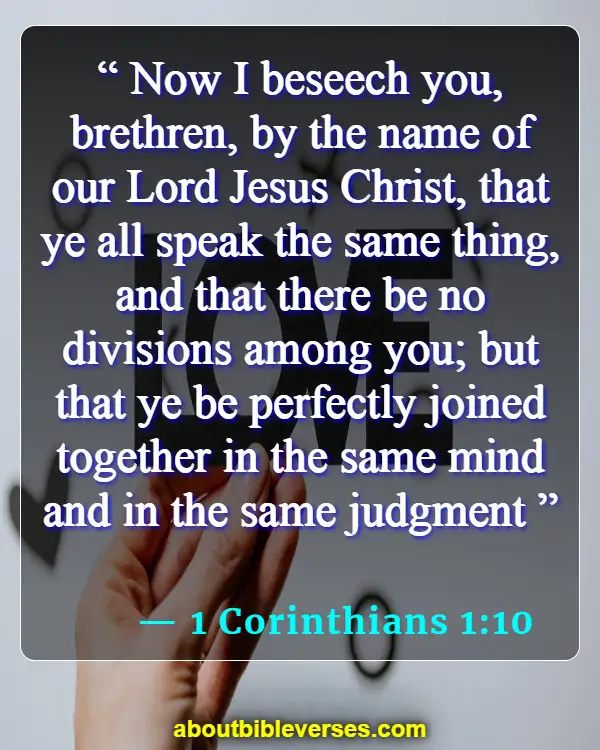 1 Corinthians 1:10
"Now I beseech you, brethren, by the name of our Lord Jesus Christ, that ye all speak the same thing, and that there be no divisions among you; but that ye be perfectly joined together in the same mind and in the same judgment"
Welcoming Visitors to the Church
Opening the doors of a church to visitors is a sacred act of kindness, one that is deeply rooted in love and hospitality. This act is not merely a gesture of politeness but a profound reflection of divine love, a love that welcomes all without distinction.
Why is welcoming visitors to church important?
Welcoming visitors in church is pivotal because it reflects the love and kindness that the Creator has for all His children. It's about creating an environment of acceptance and warmth, where every individual feels valued and included. By welcoming visitors with open arms, we are sharing the divine love and grace we have received. It's a way of showing the love of God and making people feel the presence of the Holy Spirit, bringing comfort and peace to their hearts.
How can we make visitors feel welcome in the church?
Making visitors feel welcome can be achieved by showing genuine love, kindness, and acceptance. A warm smile, a friendly greeting, and an open heart can make a world of difference. It's also important to be attentive to the needs of the visitors, to listen to them, and to be there for them in a supportive and loving manner. In addition, creating an inclusive environment where everyone feels a sense of belonging is crucial. It's about sharing the joy of fellowship and building relationships based on mutual respect and love.
What role do church members play in welcoming visitors?
Church members play a crucial role in welcoming visitors. They are the representatives of the divine love and kindness that the church stands for. By being warm, friendly, and inclusive, church members can make visitors feel loved and accepted. Church members should also be proactive in reaching out to visitors, initiating conversations, and making them feel a part of the community. It's about creating a family atmosphere where everyone feels at home, and the love of God is palpable.
How does welcoming visitors align with the teachings of Jesus?
Welcoming visitors aligns perfectly with the teachings of Jesus, as He always welcomed everyone with open arms, showing unparalleled love and compassion. Jesus reached out to the outcasts, the sinners, and the downtrodden, offering them love, acceptance, and a place in His kingdom. By welcoming visitors in the church, we are following in His footsteps, showing love and kindness to all, regardless of their background or circumstances. It's about embodying the love of Christ and sharing it with the world.
Welcoming Prayer:
Heavenly Father, we come before You with grateful hearts, thanking You for Your endless love and mercy. We pray that our churches may be havens of Your love, places where everyone feels welcomed and valued. Lord, guide our hearts and minds, so that we may reflect Your love and kindness to all the visitors who come to our church. May we be instruments of Your peace, showing acceptance and love to everyone we meet.
Lord, we ask for Your wisdom to guide us in making our church a welcoming place for all Your children. May the Holy Spirit fill our hearts with love and compassion, enabling us to reach out to the visitors with open hearts. We pray that every visitor who walks through our doors may feel Your presence and experience Your divine love.
Father, bless our efforts to make our church a home for everyone. May our actions and words reflect Your love and grace, drawing more souls to Your kingdom. We pray for the unity of Your church, that we may be one in spirit and purpose, showing the world the love of Christ. Amen.
Conclusion:
Welcoming visitors in church is a divine act of love, a reflection of the boundless love and grace of our Creator. It is an essential aspect of our faith, a tangible expression of the teachings of Jesus. The act of welcoming is not just about opening doors; it's about opening hearts, and showing genuine love, kindness, and acceptance to every individual. It's the church members who play a significant role in making visitors feel welcomed, by being the bearers of divine love and the representatives of the values the church upholds.
By welcoming visitors with open arms, we are not only making them feel valued and included but also sharing the divine love and grace we have received. It's about creating a space where the Holy Spirit dwells, bringing comfort, peace, and joy to everyone. It's a sacred responsibility to reflect the love of God to the world, to make our churches true homes where everyone belongs, and to walk in the path of Jesus, sharing His love and light with the world.