Dear friends, we are all called to be spiritual warriors for God's kingdom. Though the world is filled with darkness, we must take up the armor of light. Our battle is not against flesh and blood, but against the forces of evil seeking to divide and destroy.
As warriors, we must be alert and steadfast. The enemy is subtle, trying to plant seeds of doubt and discouragement. But the One who is in us is greater! With faith as our shield, we can extinguish all the flaming arrows aimed at our hearts.
Let us wield truth as a sword, cutting through the lies of the father of lies. And let the peace of God reign as helmet and breastplate, guarding our minds and hearts. Always be prepared with the gospel of peace as shoes for your feet, ready to announce good news.
Above all, take up the mighty weapon of prayer. On our knees is where battles are won. As we abide in Christ, the Lord will fight for us. He is the ultimate divine warrior, who has already claimed the final victory.
So fight the good fight, brothers and sisters. However the war rages, we know who emerges triumphant. Take courage and stand firm, warriors of light. The day is coming when all evil will be forever banished, and joy complete.
Dear friends, now let's see the Bible scriptures below that talk about warriors.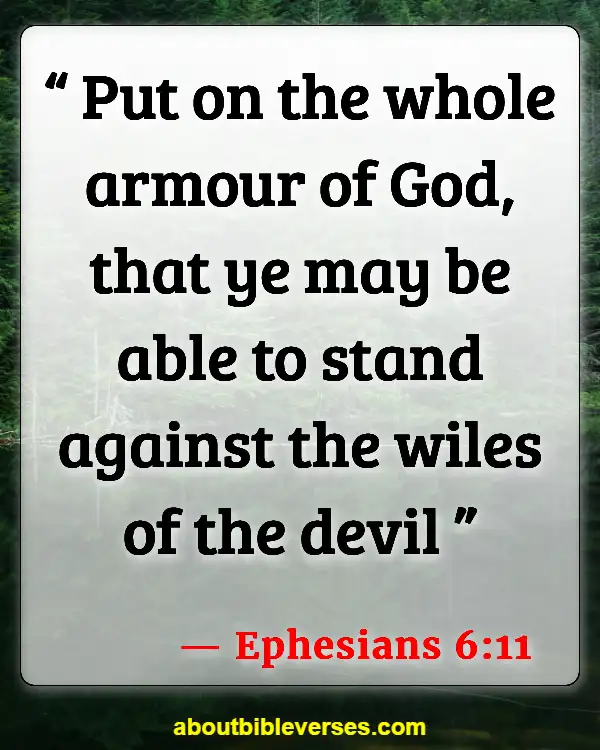 Ephesians 6:11
"Put on the whole armour of God, that ye may be able to stand against the wiles of the devil"
1 Timothy 6:12
"Fight the good fight of faith, lay hold on eternal life, whereunto thou art also called, and hast professed a good profession before many witnesses"
Ephesians 6:12
"For we wrestle not against flesh and blood, but against principalities, against powers, against the rulers of the darkness of this world, against spiritual wickedness in high places"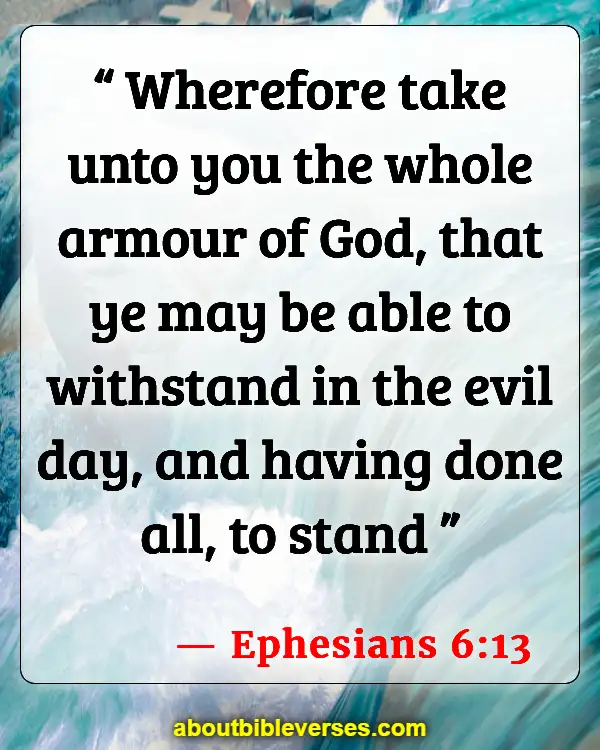 Ephesians 6:13
"Wherefore take unto you the whole armour of God, that ye may be able to withstand in the evil day, and having done all, to stand"
Psalm 144:1
"Blessed be the Lord my strength which teacheth my hands to war, and my fingers to fight"
Proverbs 21:31
"The horse is prepared against the day of battle: but safety is of the Lord"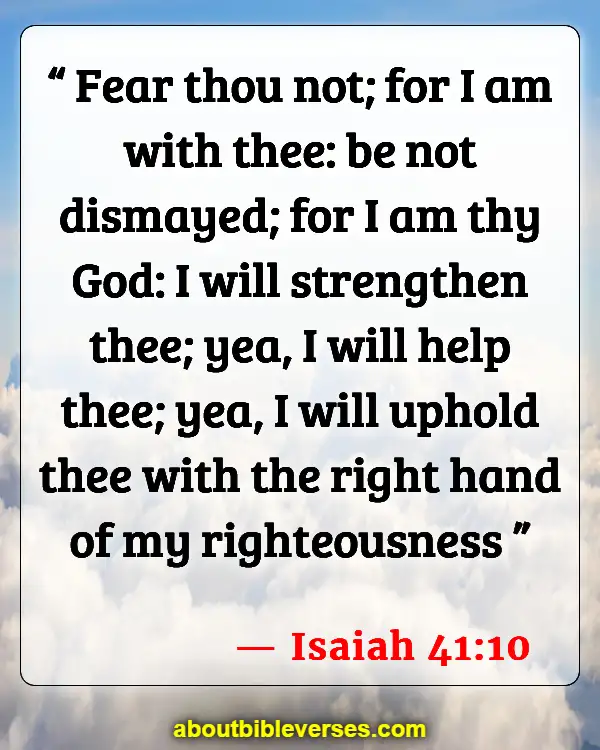 Isaiah 41:10
"Fear thou not; for I am with thee: be not dismayed; for I am thy God: I will strengthen thee; yea, I will help thee; yea, I will uphold thee with the right hand of my righteousness"
Joshua 1:9
"Have not I commanded thee? Be strong and of a good courage; be not afraid, neither be thou dismayed: for the Lord thy God is with thee whithersoever thou goest"
2 Timothy 2:3
"Thou therefore endure hardness, as a good soldier of Jesus Christ"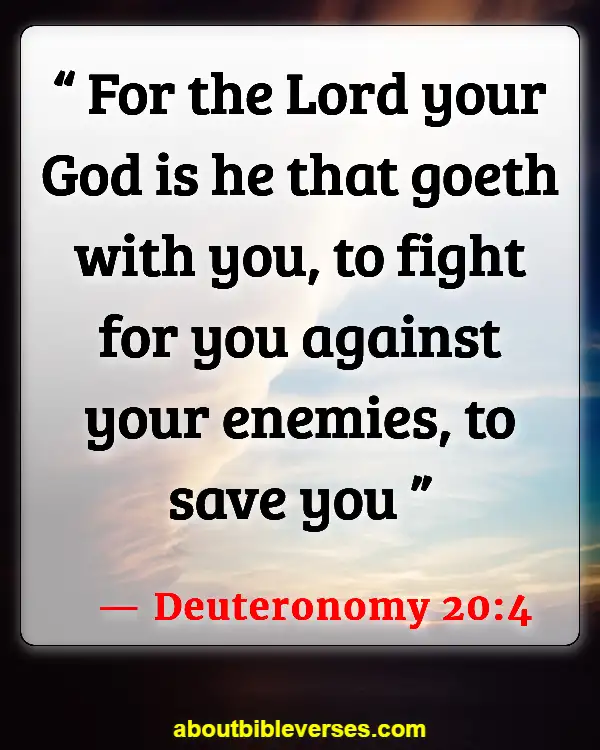 Deuteronomy 20:4
"For the Lord your God is he that goeth with you, to fight for you against your enemies, to save you"
Romans 8:37
"Nay, in all these things we are more than conquerors through him that loved us"
Psalm 18:39
"For thou hast girded me with strength unto the battle: thou hast subdued under me those that rose up against me"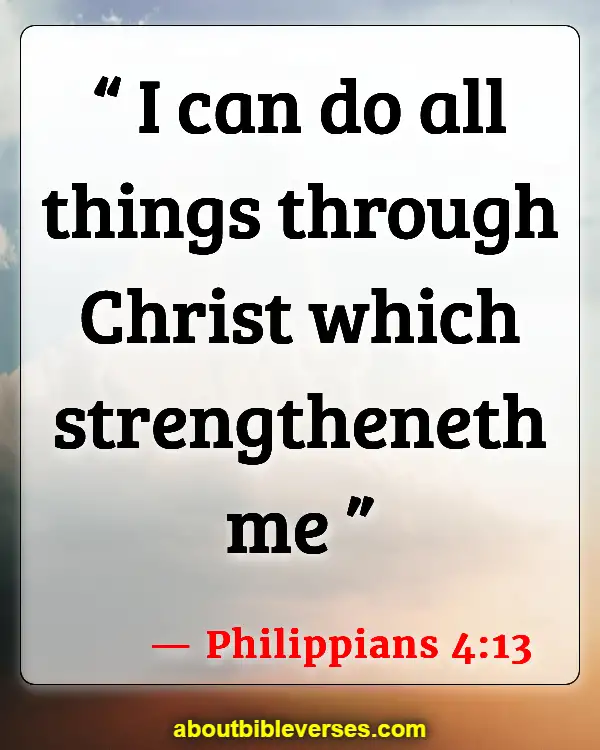 Philippians 4:13
"I can do all things through Christ which strengtheneth me"
Ephesians 6:14
"Stand therefore, having your loins girt about with truth, and having on the breastplate of righteousness"
2 Timothy 2:4
"No man that warreth entangleth himself with the affairs of this life; that he may please him who hath chosen him to be a soldier"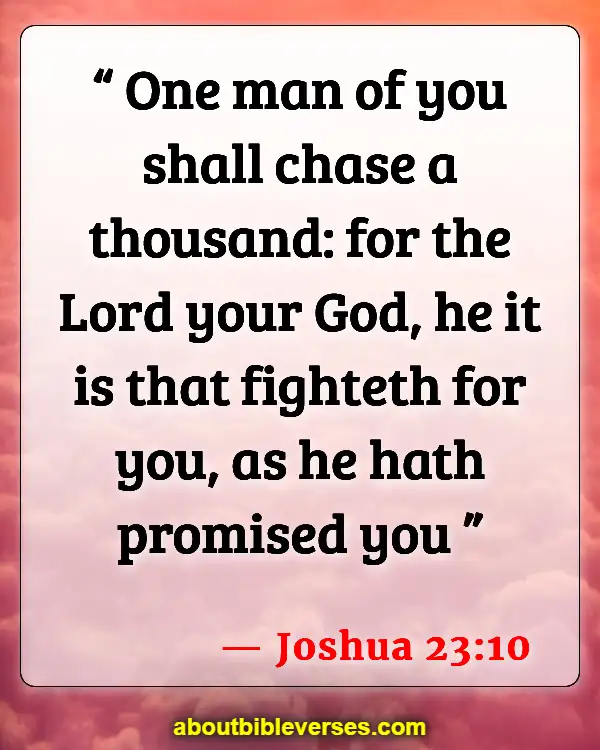 Joshua 23:10
"One man of you shall chase a thousand: for the Lord your God, he it is that fighteth for you, as he hath promised you"
2 Corinthians 10:3-4
"For though we walk in the flesh, we do not war after the flesh: (For the weapons of our warfare are not carnal, but mighty through God to the pulling down of strong holds;)"
1 John 5:4
"For whatsoever is born of God overcometh the world: and this is the victory that overcometh the world, even our faith"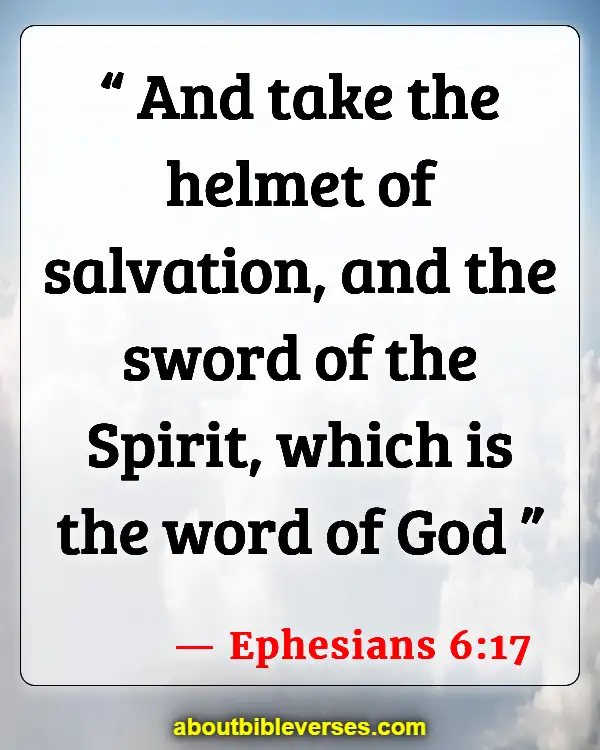 Ephesians 6:17
"And take the helmet of salvation, and the sword of the Spirit, which is the word of God"
Isaiah 54:17
"No weapon that is formed against thee shall prosper; and every tongue that shall rise against thee in judgment thou shalt condemn. This is the heritage of the servants of the Lord , and their righteousness is of me, saith the Lord"
1 Timothy 1:18
"This charge I commit unto thee, son Timothy, according to the prophecies which went before on thee, that thou by them mightest war a good warfare"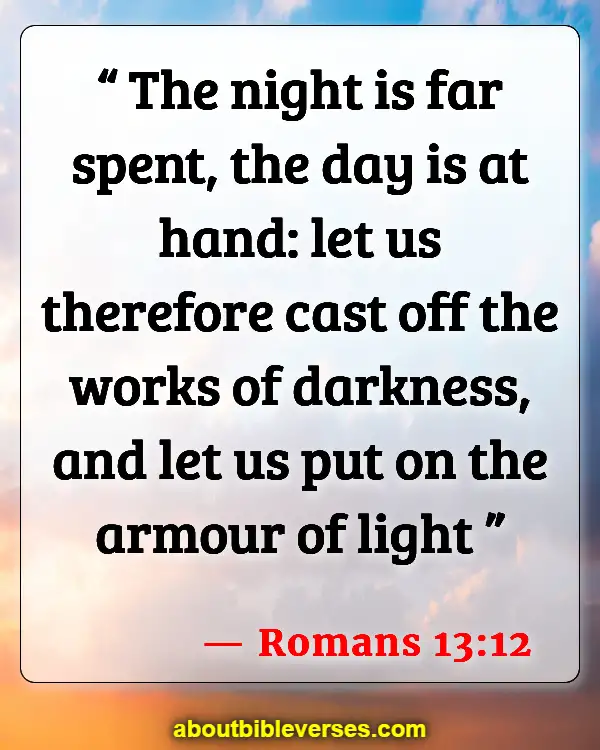 Romans 13:12
"The night is far spent, the day is at hand: let us therefore cast off the works of darkness, and let us put on the armour of light"
Psalm 34:7
"The angel of the Lord encampeth round about them that fear him, and delivereth them"
Psalm 33:16
"There is no king saved by the multitude of an host: a mighty man is not delivered by much strength"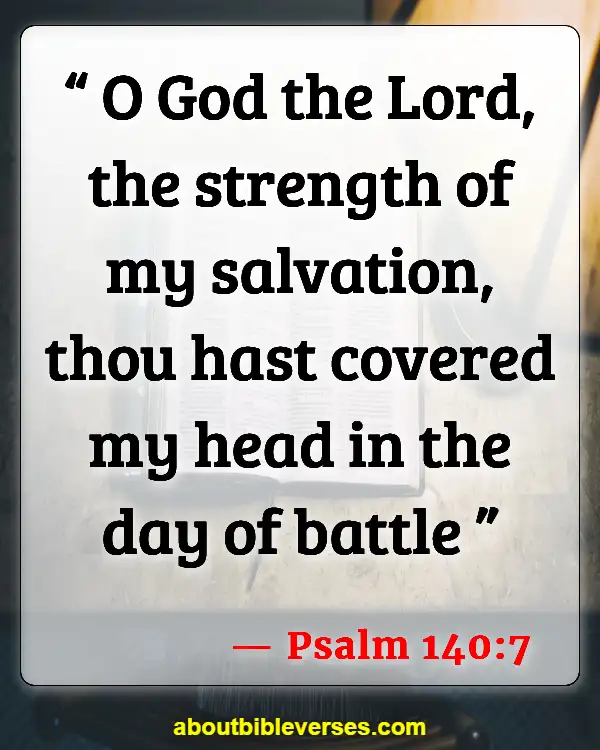 Psalm 140:7
"O God the Lord, the strength of my salvation, thou hast covered my head in the day of battle"
Judges 6:12
"And the angel of the Lord appeared unto him, and said unto him, The Lord is with thee, thou mighty man of valour"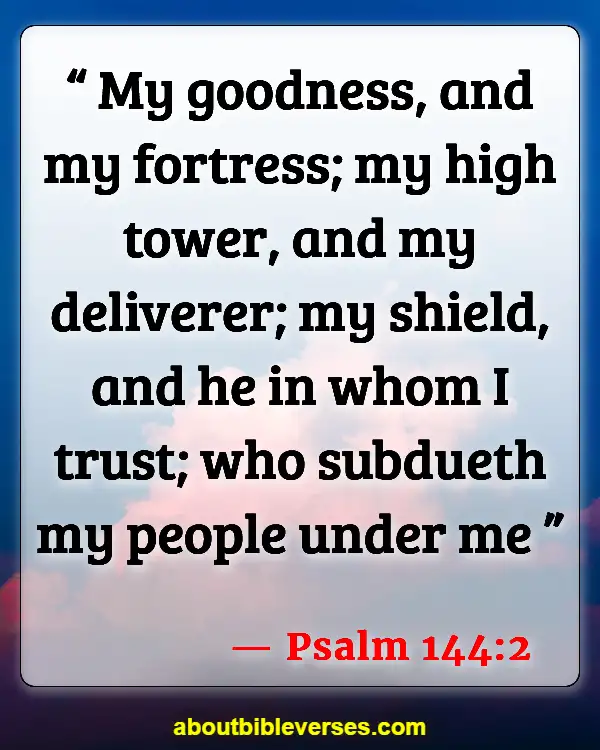 Psalm 144:2
"My goodness, and my fortress; my high tower, and my deliverer; my shield, and he in whom I trust; who subdueth my people under me"
Deuteronomy 3:22
"Ye shall not fear them: for the Lord your God he shall fight for you"
Psalm 27:1
"The Lord is my light and my salvation; whom shall I fear? the Lord is the strength of my life; of whom shall I be afraid?"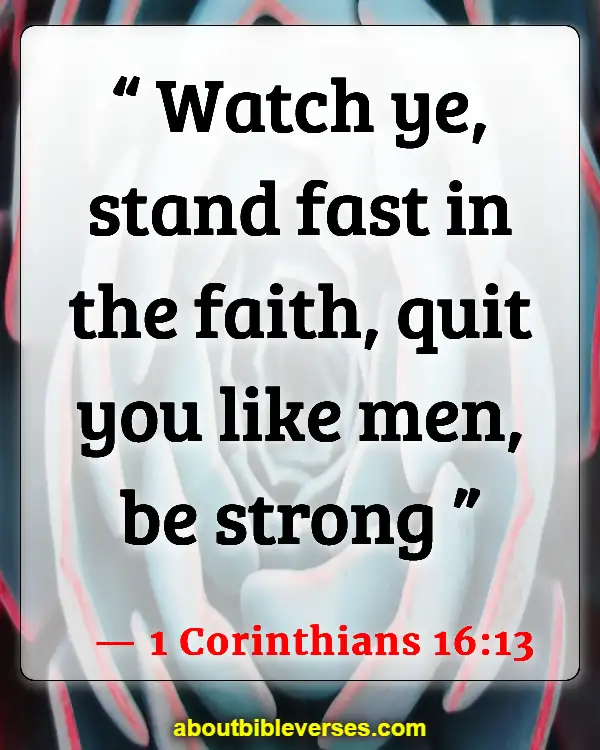 1 Corinthians 16:13
"Watch ye, stand fast in the faith, quit you like men, be strong"