Dear friends, Waiting can be one of the most difficult yet rewarding aspects of love. When your heart yearns for that special someone, time often seems to move slower than normal. Though challenging, this period of anticipation allows you to grow in patience and hope.
Rather than constantly questioning when your beloved will arrive, try to fill your time with meaningful pursuits. Nurture your spiritual life through prayer and scripture reading. Tend to your other relationships and serve those in need. Work diligently at the tasks before you. When doubt or anxiety arises, remember God's faithfulness and timing are perfect.
Trust that your loved one will come to you at the proper time. Have faith that God hears your deepest desires and will satisfy them according to His divine wisdom. Until then, find contentment and purpose in each new day. Let your light shine as an example of one whose hope is in the Lord.
Dear friends, now let's look at the Bible verses below that talk about waiting for someone you love.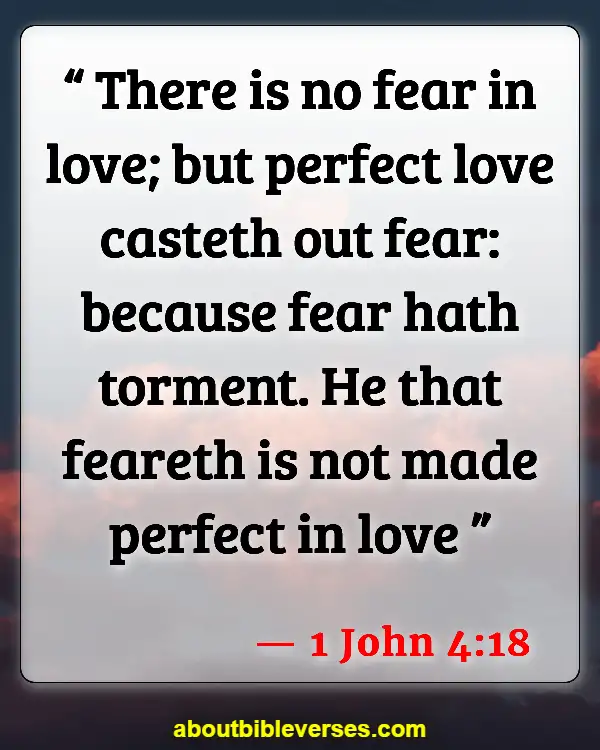 1 John 4:18
"There is no fear in love; but perfect love casteth out fear: because fear hath torment. He that feareth is not made perfect in love"
Psalm 55:22
"Cast thy burden upon the Lord , and he shall sustain thee: he shall never suffer the righteous to be moved"
1 Peter 5:6
"Humble yourselves therefore under the mighty hand of God, that he may exalt you in due time"
Jeremiah 29:11
"For I know the thoughts that I think toward you, saith the Lord , thoughts of peace, and not of evil, to give you an expected end"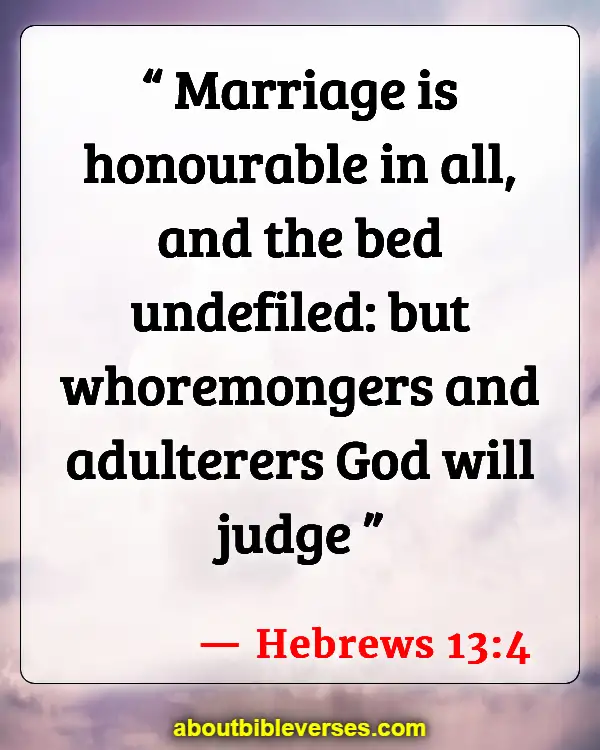 Hebrews 13:4
"Marriage is honourable in all, and the bed undefiled: but whoremongers and adulterers God will judge"
James 1:17
"Every good gift and every perfect gift is from above, and cometh down from the Father of lights, with whom is no variableness, neither shadow of turning"
Philippians 4:6
"Be careful for nothing; but in every thing by prayer and supplication with thanksgiving let your requests be made known unto God"
2 Corinthians 9:8
"And God is able to make all grace abound toward you; that ye, always having all sufficiency in all things, may abound to every good work"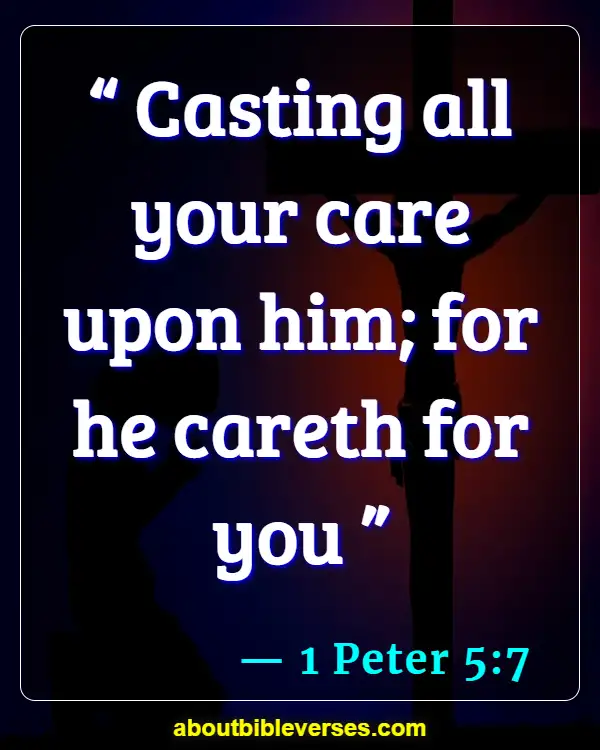 1 Peter 5:7
"Casting all your care upon him; for he careth for you"
Ecclesiastes 3:1
"To every thing there is a season, and a time to every purpose under the heaven"
Lamentations 3:25
"The Lord is good unto them that wait for him, to the soul that seeketh him"
Romans 5:5
"And hope maketh not ashamed; because the love of God is shed abroad in our hearts by the Holy Ghost which is given unto us"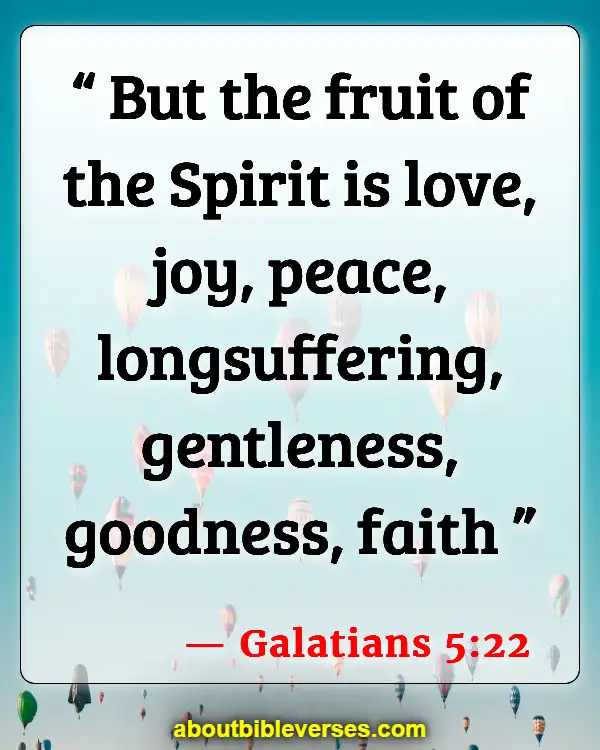 Galatians 5:22
"But the fruit of the Spirit is love, joy, peace, longsuffering, gentleness, goodness, faith"
Ephesians 4:2
"With all lowliness and meekness, with longsuffering, forbearing one another in love"
Colossians 3:12-14
"Put on therefore, as the elect of God, holy and beloved, bowels of mercies, kindness, humbleness of mind, meekness, longsuffering; Forbearing one another, and forgiving one another, if any man have a quarrel against any: even as Christ forgave you, so also do ye. And above all these things put on charity, which is the bond of perfectness"
1 Timothy 1:16
"Howbeit for this cause I obtained mercy, that in me first Jesus Christ might shew forth all longsuffering, for a pattern to them which should hereafter believe on him to life everlasting"
2 Timothy 2:24
"And the servant of the Lord must not strive; but be gentle unto all men, apt to teach, patient"
Hebrews 6:15
"And so, after he had patiently endured, he obtained the promise"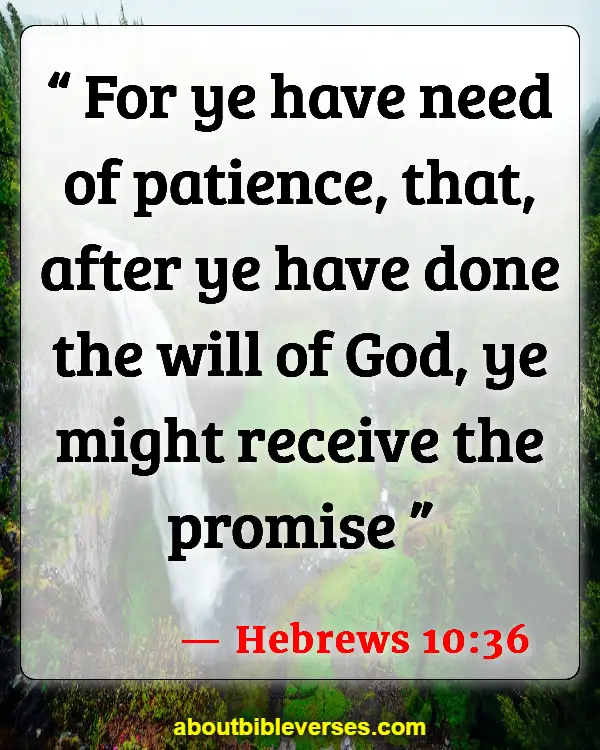 Hebrews 10:36
"For ye have need of patience, that, after ye have done the will of God, ye might receive the promise"
1 Peter 4:8
"And above all things have fervent charity among yourselves: for charity shall cover the multitude of sins"
1 Peter 5:10
"But the God of all grace, who hath called us unto his eternal glory by Christ Jesus, after that ye have suffered a while, make you perfect, stablish, strengthen, settle you"
1 John 3:1
"Behold, what manner of love the Father hath bestowed upon us, that we should be called the sons of God: therefore the world knoweth us not, because it knew him not"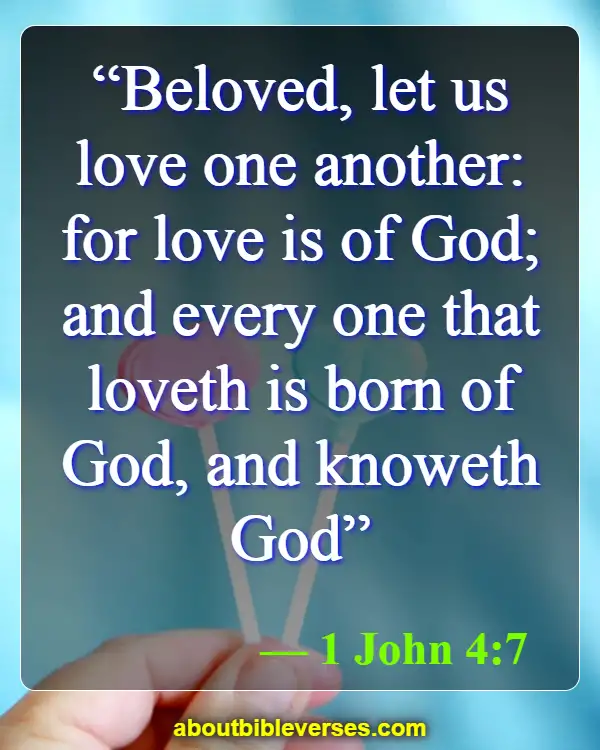 1 John 4:7
"Beloved, let us love one another: for love is of God; and every one that loveth is born of God, and knoweth God"
Revelation 14:12
"Here is the patience of the saints: here are they that keep the commandments of God, and the faith of Jesus"
Psalm 27:14
"Wait on the Lord : be of good courage, and he shall strengthen thine heart: wait, I say, on the Lord"
Psalm 37:7
"Rest in the Lord , and wait patiently for him: fret not thyself because of him who prospereth in his way, because of the man who bringeth wicked devices to pass"
Psalm 37:34
"Wait on the Lord , and keep his way, and he shall exalt thee to inherit the land: when the wicked are cut off, thou shalt see it"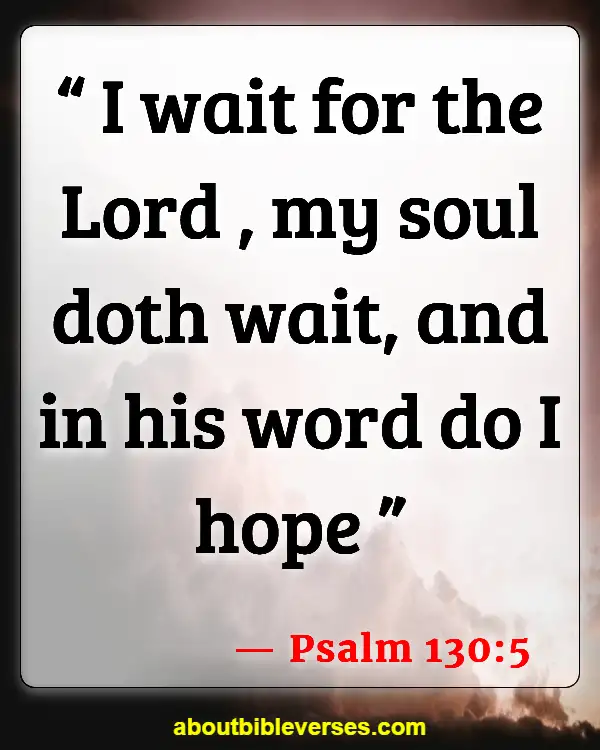 Psalm 130:5
"I wait for the Lord , my soul doth wait, and in his word do I hope"
Isaiah 30:18
"And therefore will the Lord wait, that he may be gracious unto you, and therefore will he be exalted, that he may have mercy upon you: for the Lord is a God of judgment: blessed are all they that wait for him"
Habakkuk 2:3
"For the vision is yet for an appointed time, but at the end it shall speak, and not lie: though it tarry, wait for it; because it will surely come, it will not tarry"
Galatians 5:5
"For we through the Spirit wait for the hope of righteousness by faith"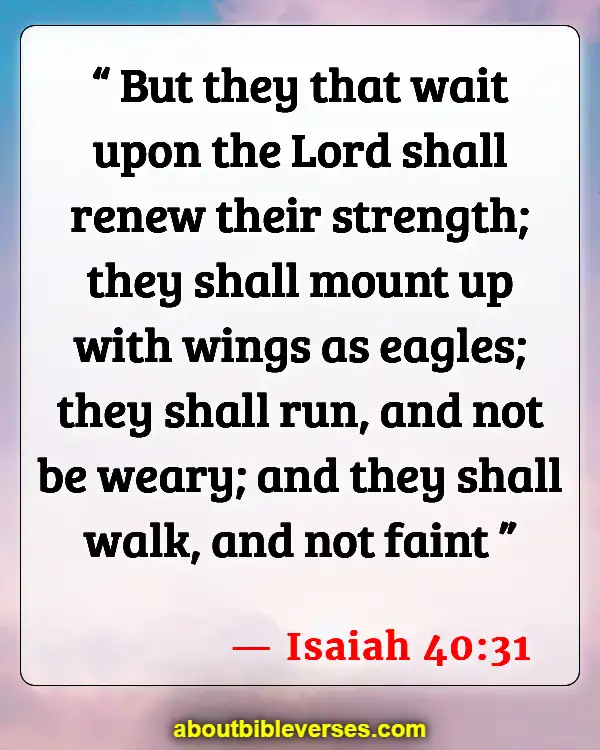 Isaiah 40:31
"But they that wait upon the Lord shall renew their strength; they shall mount up with wings as eagles; they shall run, and not be weary; and they shall walk, and not faint"