Brothers and sisters in faith, as we journey through this life, we are bound to encounter trials and hard times. Let us understand that these challenges are not meant to break us but to strengthen our faith and character.
In the sacred scriptures, we find numerous examples of individuals who faced trials but emerged victorious with the help of divine guidance. Remember Joseph, who endured betrayal and slavery but eventually became a great ruler. David, a humble shepherd boy, faced the giant Goliath with unwavering trust in God's power.
Similarly, Job's faith was severely tested through loss and suffering, yet he remained steadfast, and his faith was rewarded. The Bible reminds us that even Jesus, the Son of God, faced trials and temptations during His time on earth, demonstrating that we too will face challenges in this fallen world.
During times of trial, we are called to turn to God in prayer and seek His guidance and strength. Just as He provided manna to sustain the Israelites in the desert, He will provide for our needs. Let us be patient, for His timing is perfect.
Moreover, trials teach us valuable lessons about ourselves and our relationship with God. They humble us and remind us that we are dependent on the Almighty. Through difficulties, we develop perseverance and resilience, which in turn deepen our faith and trust in God's plan for our lives.
Remember, my dear brethren, that God is always with us, even in the darkest moments. He is a refuge and a stronghold in times of trouble. So, let us cast our worries upon Him, knowing that He cares for us and will never abandon us.
May the grace of our Lord Jesus Christ be with you always, giving you the strength to endure and emerge victorious through every trial and hard time that comes your way. Amen.
Dear friends, now let's look at the following Bible scriptures that will encourage you to depend on God during trials and difficult times.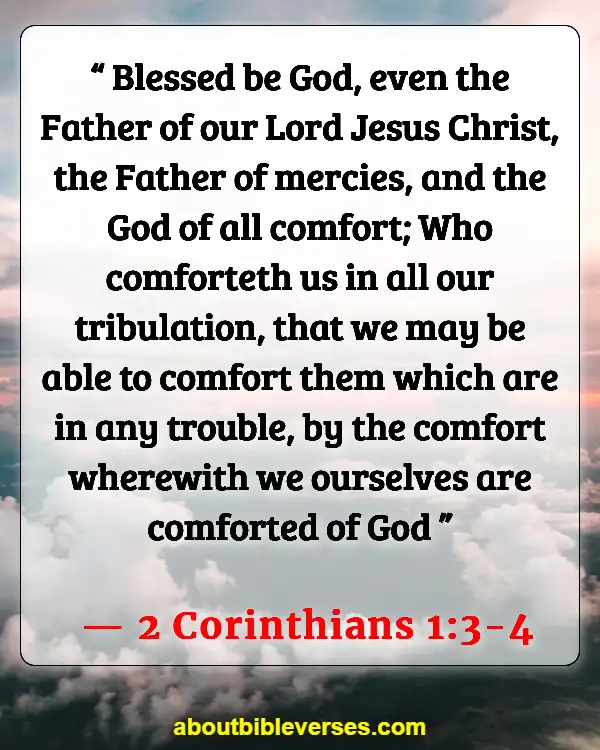 2 Corinthians 1:3-4
"Blessed be God, even the Father of our Lord Jesus Christ, the Father of mercies, and the God of all comfort; Who comforteth us in all our tribulation, that we may be able to comfort them which are in any trouble, by the comfort wherewith we ourselves are comforted of God"
Revelation 21:4
"And God shall wipe away all tears from their eyes; and there shall be no more death, neither sorrow, nor crying, neither shall there be any more pain: for the former things are passed away"
Proverbs 3:5-6
"Trust in the Lord with all thine heart; and lean not unto thine own understanding. In all thy ways acknowledge him, and he shall direct thy paths"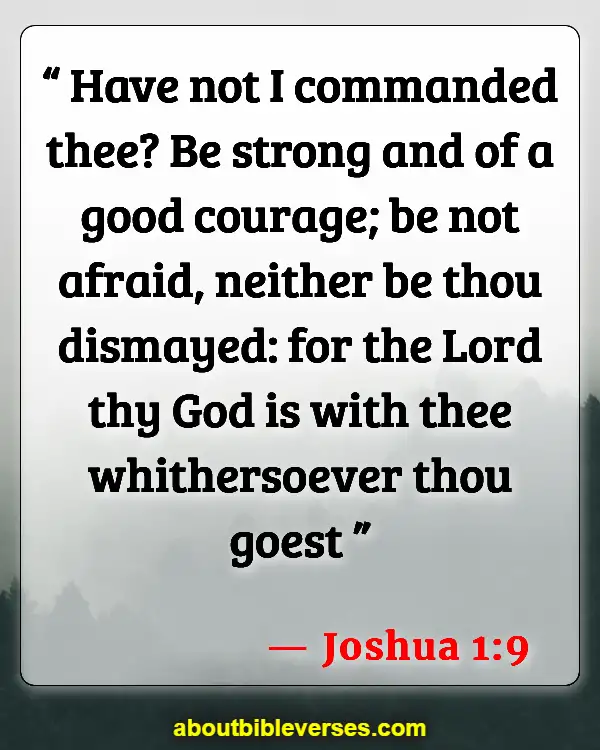 Joshua 1:9
"Have not I commanded thee? Be strong and of a good courage; be not afraid, neither be thou dismayed: for the Lord thy God is with thee whithersoever thou goest"
Isaiah 41:10
"Fear thou not; for I am with thee: be not dismayed; for I am thy God: I will strengthen thee; yea, I will help thee; yea, I will uphold thee with the right hand of my righteousness"
1 Peter 4:12-13
"Beloved, think it not strange concerning the fiery trial which is to try you, as though some strange thing happened unto you: But rejoice, inasmuch as ye are partakers of Christ's sufferings; that, when his glory shall be revealed, ye may be glad also with exceeding joy"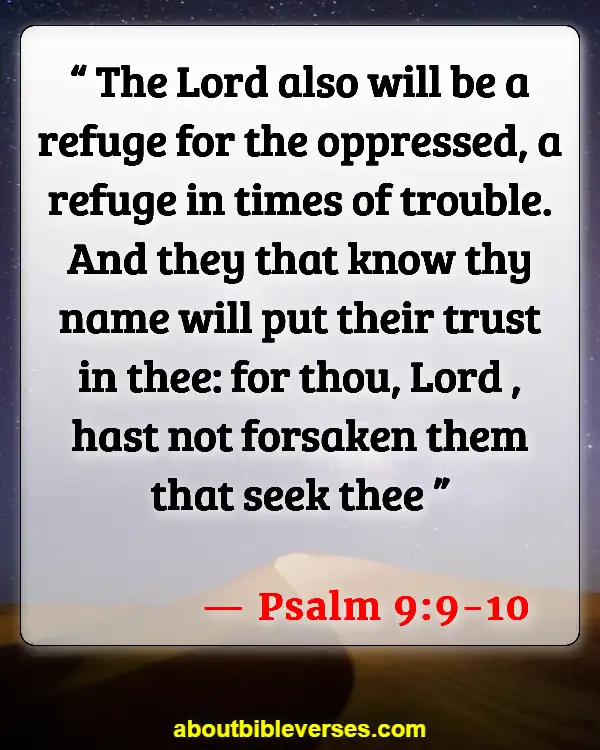 Psalm 9:9-10
"The Lord also will be a refuge for the oppressed, a refuge in times of trouble. And they that know thy name will put their trust in thee: for thou, Lord , hast not forsaken them that seek thee"
Deuteronomy 31:6
"Be strong and of a good courage, fear not, nor be afraid of them: for the Lord thy God, he it is that doth go with thee; he will not fail thee, nor forsake thee"
Psalm 147:3
"He healeth the broken in heart, and bindeth up their wounds"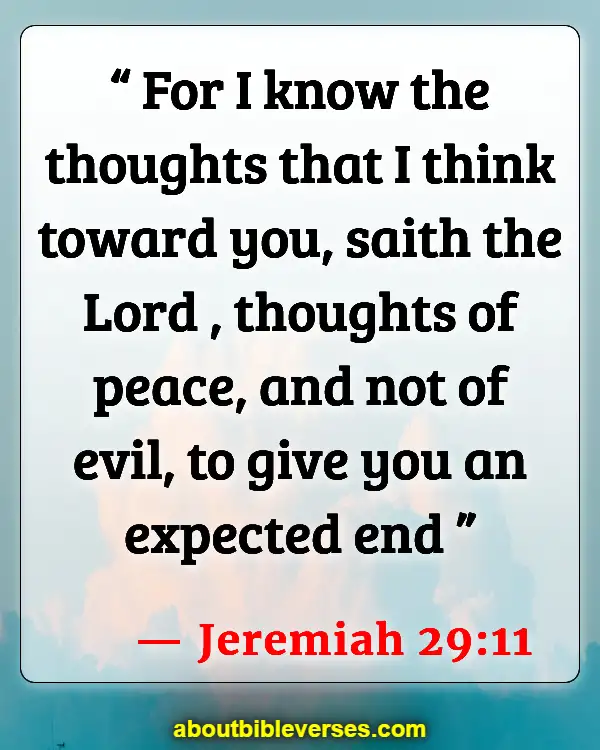 Jeremiah 29:11
"For I know the thoughts that I think toward you, saith the Lord , thoughts of peace, and not of evil, to give you an expected end"
Romans 12:12
"Rejoicing in hope; patient in tribulation; continuing instant in prayer"
Proverbs 24:10
"If thou faint in the day of adversity, thy strength is small"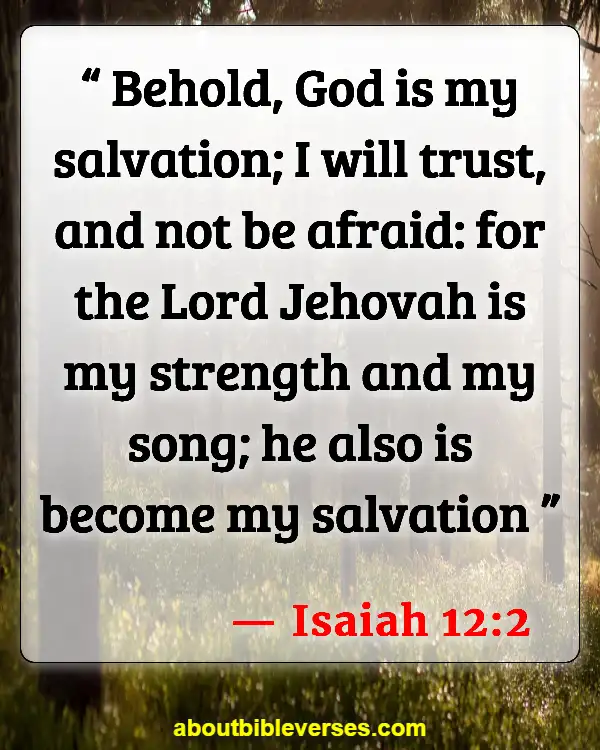 Isaiah 12:2
"Behold, God is my salvation; I will trust, and not be afraid: for the Lord Jehovah is my strength and my song; he also is become my salvation"
Matthew 5:10
"Blessed are they which are persecuted for righteousness' sake: for theirs is the kingdom of heaven"
James 1:12
"Blessed is the man that endureth temptation: for when he is tried, he shall receive the crown of life, which the Lord hath promised to them that love him"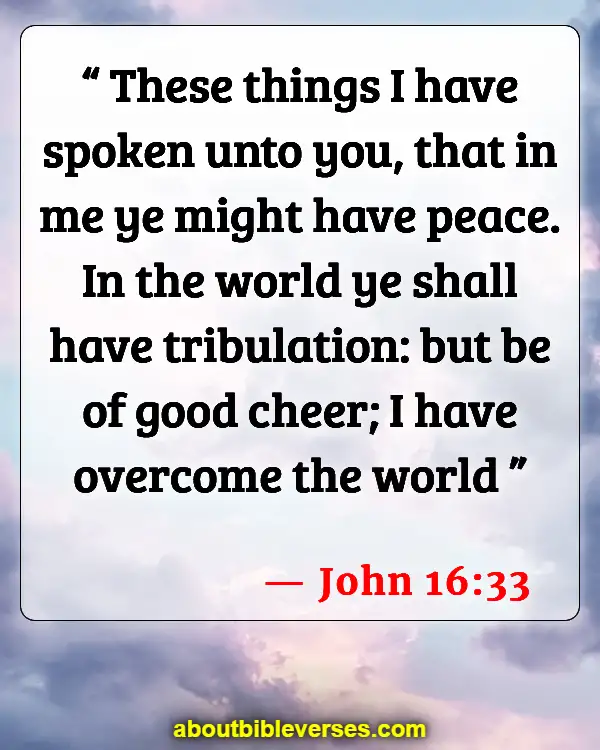 John 16:33
"These things I have spoken unto you, that in me ye might have peace. In the world ye shall have tribulation: but be of good cheer; I have overcome the world"
2 Corinthians 12:9-10
"And he said unto me, My grace is sufficient for thee: for my strength is made perfect in weakness. Most gladly therefore will I rather glory in my infirmities, that the power of Christ may rest upon me. Therefore I take pleasure in infirmities, in reproaches, in necessities, in persecutions, in distresses for Christ's sake: for when I am weak, then am I strong"
Isaiah 26:3
"Thou wilt keep him in perfect peace, whose mind is stayed on thee: because he trusteth in thee"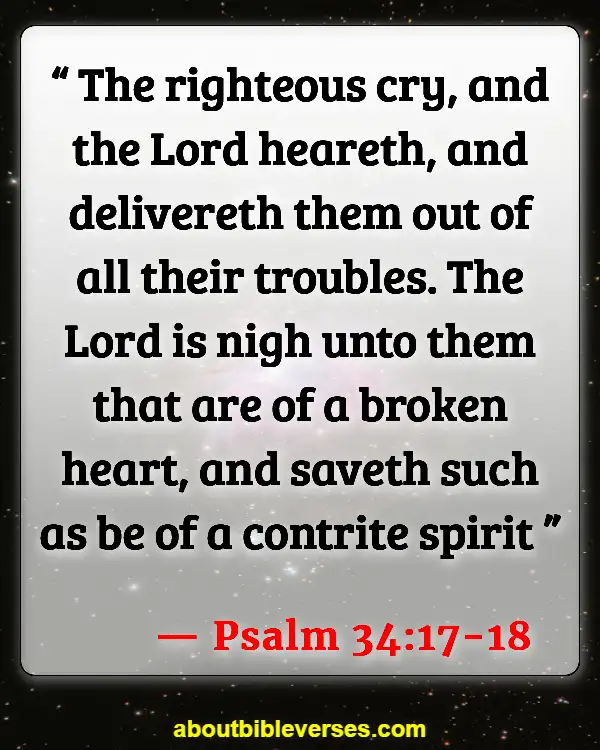 Psalm 34:17-18
"The righteous cry, and the Lord heareth, and delivereth them out of all their troubles. The Lord is nigh unto them that are of a broken heart; and saveth such as be of a contrite spirit"
Romans 5:3-4
"And not only so, but we glory in tribulations also: knowing that tribulation worketh patience; And patience, experience; and experience, hope"
Psalm 145:18
"The Lord is nigh unto all them that call upon him, to all that call upon him in truth"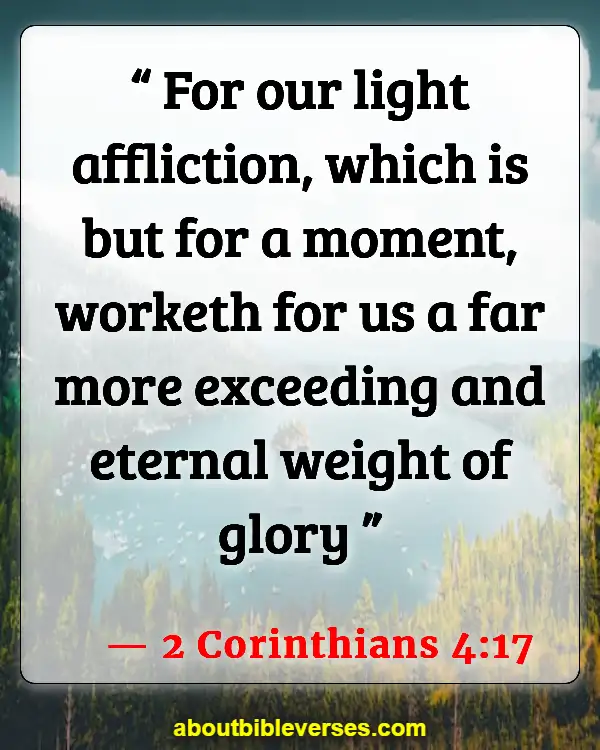 2 Corinthians 4:17
"For our light affliction, which is but for a moment, worketh for us a far more exceeding and eternal weight of glory"
Hebrews 12:11
"Now no chastening for the present seemeth to be joyous, but grievous: nevertheless afterward it yieldeth the peaceable fruit of righteousness unto them which are exercised thereby"
Romans 8:18
"For I reckon that the sufferings of this present time are not worthy to be compared with the glory which shall be revealed in us"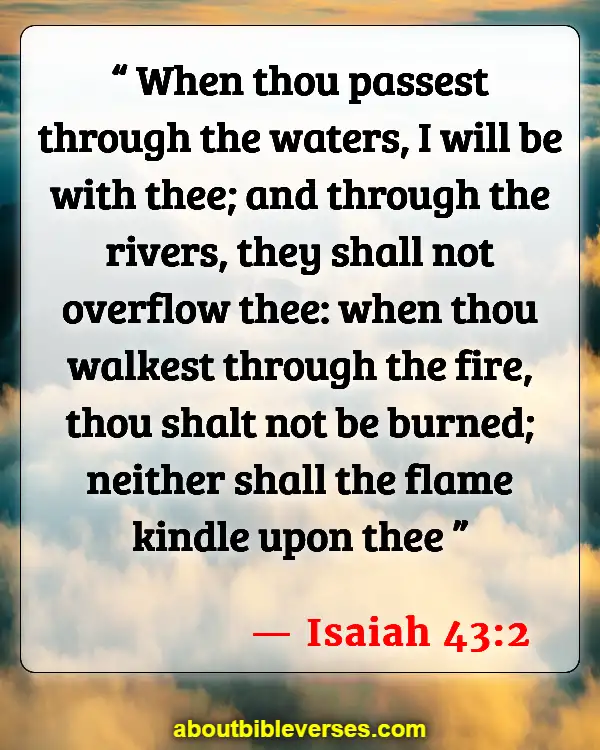 Isaiah 43:2
"When thou passest through the waters, I will be with thee; and through the rivers, they shall not overflow thee: when thou walkest through the fire, thou shalt not be burned; neither shall the flame kindle upon thee"
James 1:2-4
"My brethren, count it all joy when ye fall into divers temptations; Knowing this, that the trying of your faith worketh patience. But let patience have her perfect work, that ye may be perfect and entire, wanting nothing"
Psalm 46:1
"God is our refuge and strength, a very present help in trouble"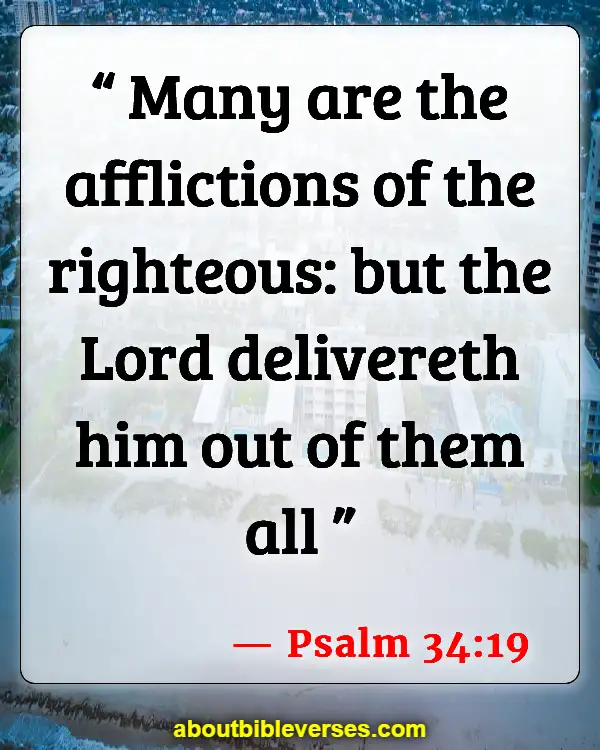 Psalm 34:19
"Many are the afflictions of the righteous: but the Lord delivereth him out of them all"
2 Corinthians 4:8-9
"We are troubled on every side, yet not distressed; we are perplexed, but not in despair; Persecuted, but not forsaken; cast down, but not destroyed"
Psalm 23:4
"Yea, though I walk through the valley of the shadow of death, I will fear no evil: for thou art with me; thy rod and thy staff they comfort me"
Psalm 27:1
"The Lord is my light and my salvation; whom shall I fear? the Lord is the strength of my life; of whom shall I be afraid?"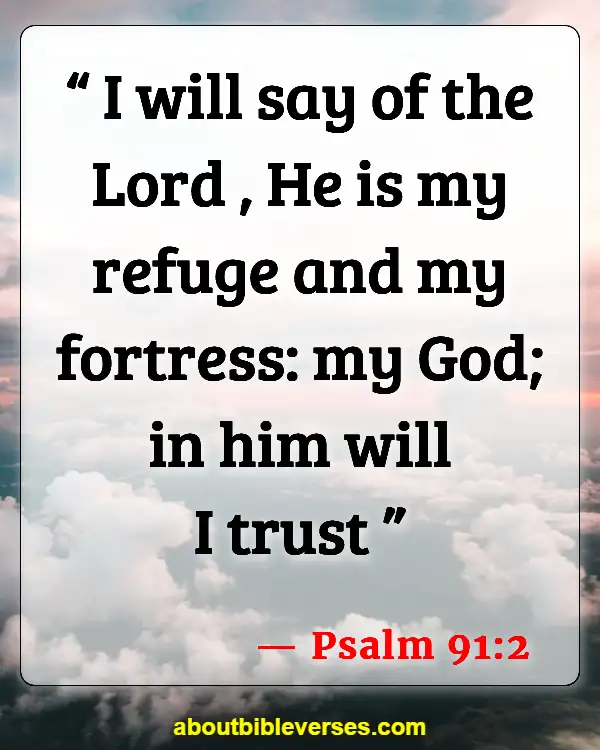 Psalm 91:2
"I will say of the Lord , He is my refuge and my fortress: my God; in him will I trust"