Hello dear friends, welcome to our site in the name of Jesus Christ. Today we will look at the Bible Scriptures About Time for Everything In KJV. If you like today's post then definitely comment and share.
The Bible speaks extensively about the concept of time and its significance in our lives. One of the most famous passages about time is found in the book of Ecclesiastes, which states that "there is a time for everything, and a season for every activity under heaven".
This passage highlights the importance of recognizing that our lives consist of different seasons and phases, each with its unique purpose and significance. It reminds us that just as the earth goes through different seasons, so does our life. As there are times of joy and celebration, there are times of sorrow and mourning, a time of birth and a time of death, a time to plant and a time to uproot, a time to weep and a time to laugh, a time to mourn and a time to dance.
These Bible verses highlight the importance of recognizing that every experience in our lives is part of a greater plan and that each season has its own purpose. It reminds us that even in difficult times, there is hope for something beautiful to come. As Ecclesiastes 3:11 says, "The Lord has made everything beautiful in its time."
Overall, the Bible teaches us that time is a precious resource and we should use it wisely. To recognize the different seasons of life and to find purpose and meaning in each of our moments.
Dear friends now let's see the Bible scriptures below that talk about Time for Everything.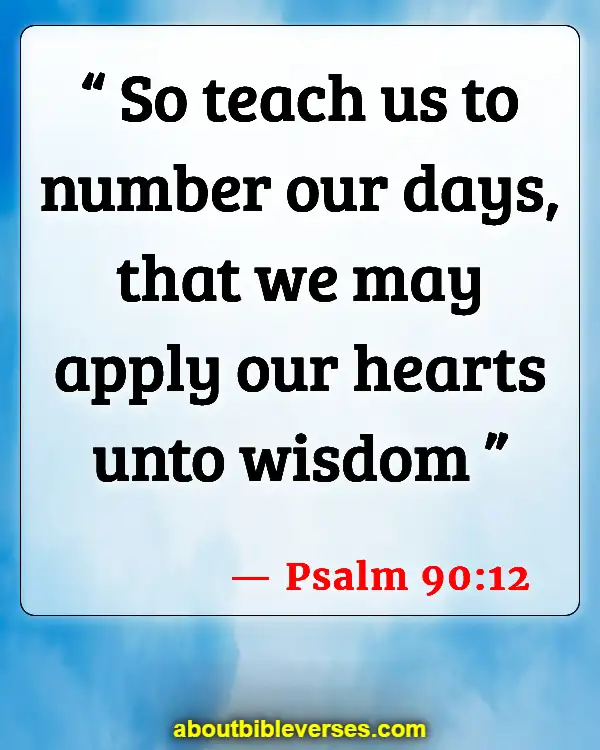 Psalm 90:12
"So teach us to number our days, that we may apply our hearts unto wisdom"
Proverbs 16:9
"A man's heart deviseth his way: but the Lord directeth his steps"
Psalm 31:15
"My times are in thy hand: deliver me from the hand of mine enemies, and from them that persecute me"
1 John 2:17
"And the world passeth away, and the lust thereof: but he that doeth the will of God abideth for ever"
Jeremiah 29:11
"For I know the thoughts that I think toward you, saith the Lord , thoughts of peace, and not of evil, to give you an expected end"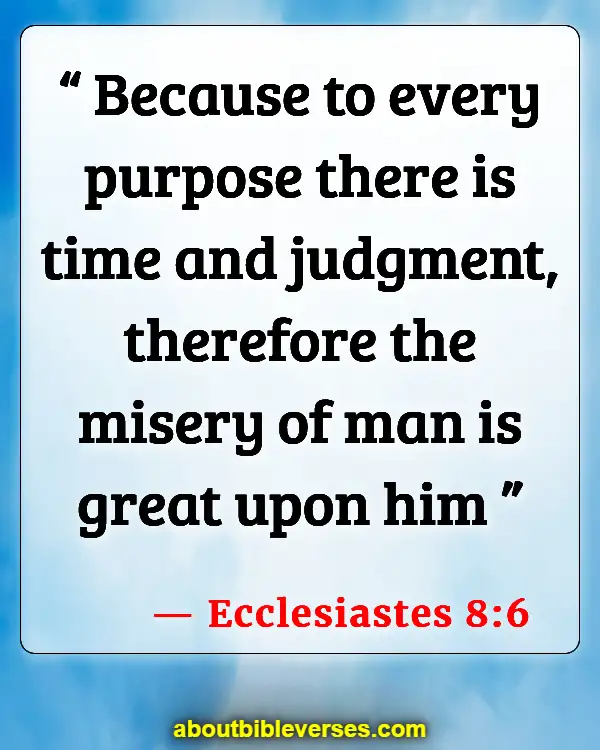 Ecclesiastes 8:6
"Because to every purpose there is time and judgment, therefore the misery of man is great upon him"
Colossians 4:5
"Walk in wisdom toward them that are without, redeeming the time"
2 Corinthians 6:2
"(For he saith, I have heard thee in a time accepted, and in the day of salvation have I succoured thee: behold, now is the accepted time; behold, now is the day of salvation.)"
Proverbs 27:1
"Boast not thyself of to morrow; for thou knowest not what a day may bring forth"
Esther 4:14
"For if thou altogether holdest thy peace at this time, then shall there enlargement and deliverance arise to the Jews from another place; but thou and thy father's house shall be destroyed: and who knoweth whether thou art come to the kingdom for such a time as this?"
Mark 13:32
"But of that day and that hour knoweth no man, no, not the angels which are in heaven, neither the Son, but the Father"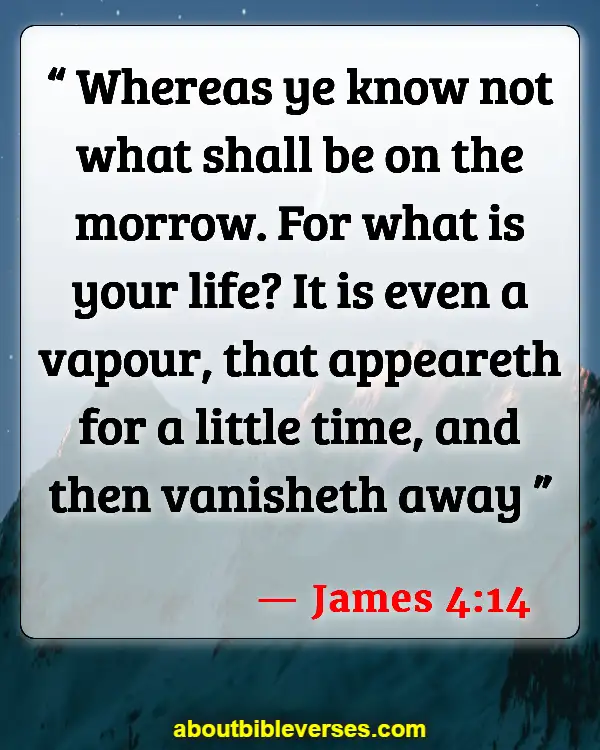 James 4:14
"Whereas ye know not what shall be on the morrow. For what is your life? It is even a vapour, that appeareth for a little time, and then vanisheth away"
Ecclesiastes 3:1
"To every thing there is a season, and a time to every purpose under the heaven"
Ecclesiastes 3:11
"He hath made every thing beautiful in his time: also he hath set the world in their heart, so that no man can find out the work that God maketh from the beginning to the end"
2 Peter 3:8
"But, beloved, be not ignorant of this one thing, that one day is with the Lord as a thousand years, and a thousand years as one day"
Proverbs 21:5
"The thoughts of the diligent tend only to plenteousness; but of every one that is hasty only to want"
Matthew 6:33
"But seek ye first the kingdom of God, and his righteousness; and all these things shall be added unto you"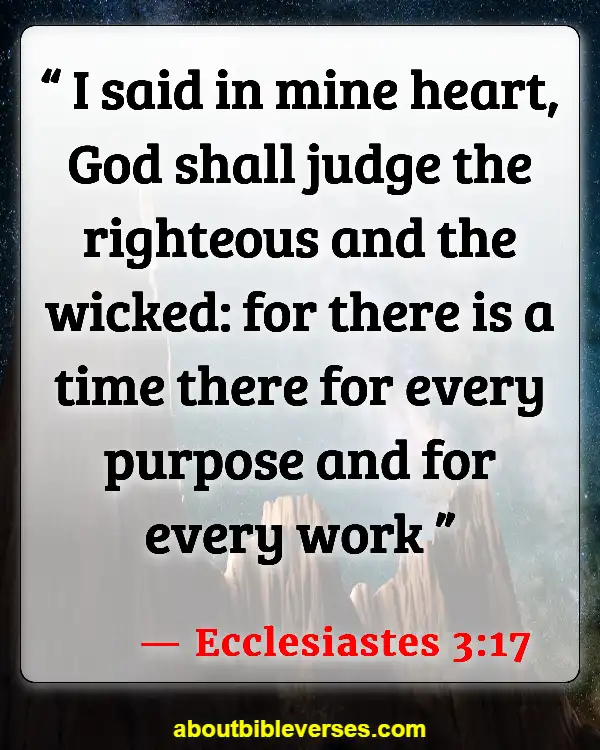 Ecclesiastes 3:17
"I said in mine heart, God shall judge the righteous and the wicked: for there is a time there for every purpose and for every work"
1 Thessalonians 5:1
"But of the times and the seasons, brethren, ye have no need that I write unto you"
Ephesians 6:13
"Wherefore take unto you the whole armour of God, that ye may be able to withstand in the evil day, and having done all, to stand"
Philippians 1:3
"I thank my God upon every remembrance of you"
Matthew 6:6
"But thou, when thou prayest, enter into thy closet, and when thou hast shut thy door, pray to thy Father which is in secret; and thy Father which seeth in secret shall reward thee openly"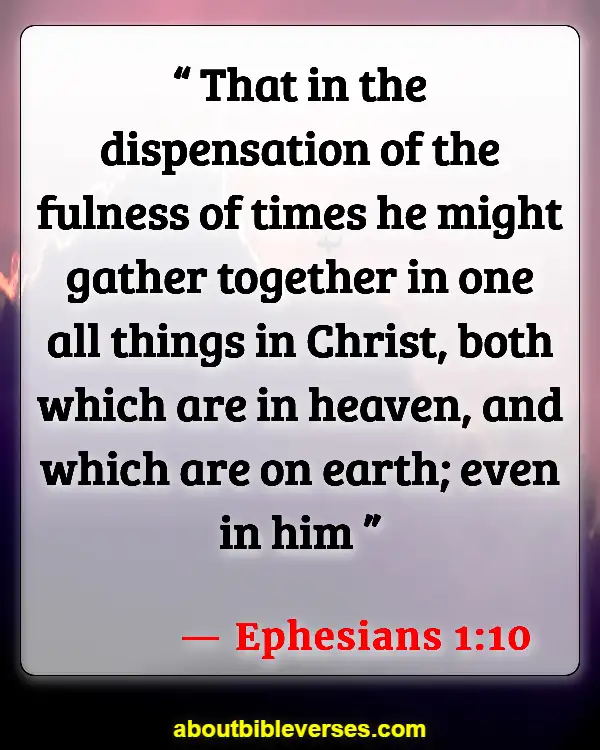 Ephesians 1:10
"That in the dispensation of the fulness of times he might gather together in one all things in Christ, both which are in heaven, and which are on earth; even in him"
John 9:4
"I must work the works of him that sent me, while it is day: the night cometh, when no man can work"
Proverbs 16:3
"Commit thy works unto the Lord , and thy thoughts shall be established"
Daniel 2:21
"And he changeth the times and the seasons: he removeth kings, and setteth up kings: he giveth wisdom unto the wise, and knowledge to them that know understanding"
Ecclesiastes 2:3
"I sought in mine heart to give myself unto wine, yet acquainting mine heart with wisdom; and to lay hold on folly, till I might see what was that good for the sons of men, which they should do under the heaven all the days of their life"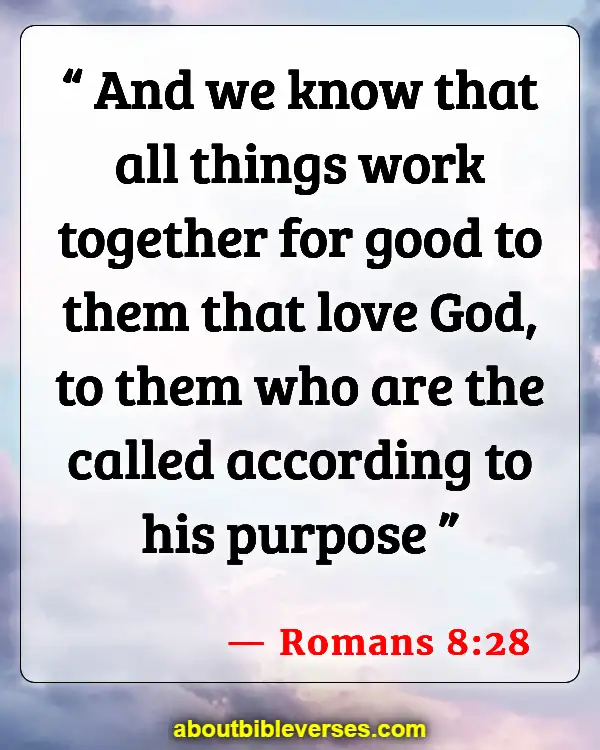 Romans 8:28
"And we know that all things work together for good to them that love God, to them who are the called according to his purpose"
Proverbs 14:23
"In all labour there is profit: but the talk of the lips tendeth only to penury"
Mark 1:2
"As it is written in the prophets, Behold, I send my messenger before thy face, which shall prepare thy way before thee"
Luke 14:28
"For which of you, intending to build a tower, sitteth not down first, and counteth the cost, whether he have sufficient to finish it?"
Ecclesiastes 3:2
"A time to be born, and a time to die; a time to plant, and a time to pluck up that which is planted"
Acts 1:7
"And he said unto them, It is not for you to know the times or the seasons, which the Father hath put in his own power"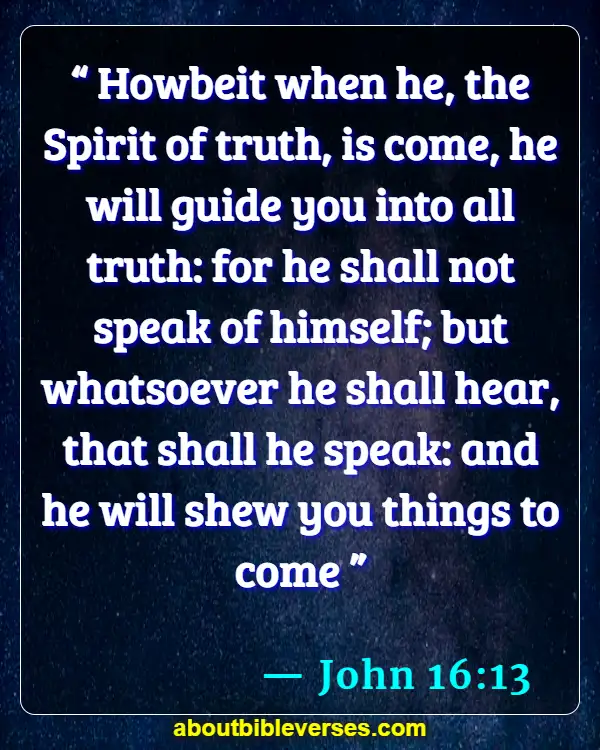 John 16:13
"Howbeit when he, the Spirit of truth, is come, he will guide you into all truth: for he shall not speak of himself; but whatsoever he shall hear, that shall he speak: and he will shew you things to come"
Romans 13:11
"And that, knowing the time, that now it is high time to awake out of sleep: for now is our salvation nearer than when we believed"
Mark 1:15
"And saying, The time is fulfilled, and the kingdom of God is at hand: repent ye, and believe the gospel"
2 Corinthians 4:18
"While we look not at the things which are seen, but at the things which are not seen: for the things which are seen are temporal; but the things which are not seen are eternal"
Ephesians 5:16
"Redeeming the time, because the days are evil"
Ecclesiastes 3:3
"A time to kill, and a time to heal; a time to break down, and a time to build up"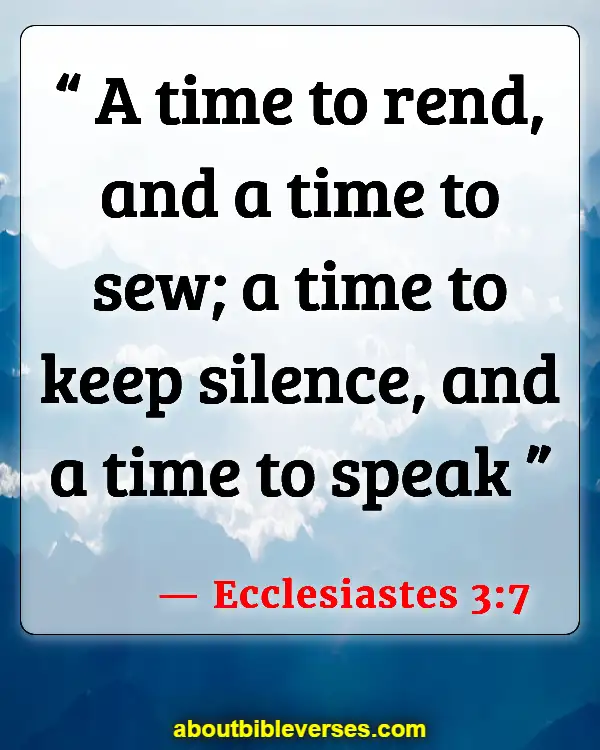 Ecclesiastes 3:7
"A time to rend, and a time to sew; a time to keep silence, and a time to speak"