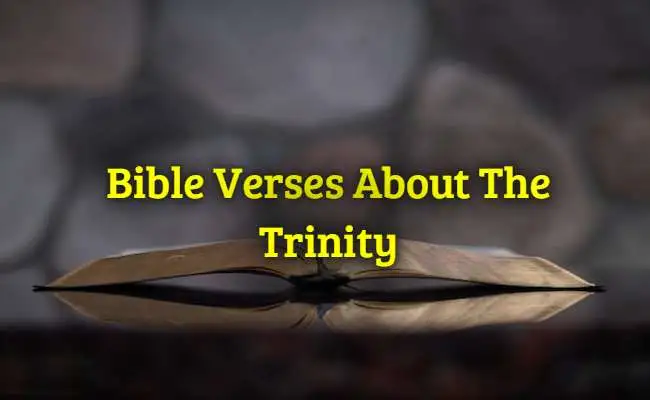 Hello dear friends, welcome to our site in the name of Jesus Christ. Today we will look at the Bible Scriptures About The Trinity In KJV. If you like today's post then definitely comment and share.
The concept of the Holy Trinity is one of the fundamental doctrines of Christianity. It describes the belief in one God who exists as three distinct persons – the Father, the Son, and the Holy Spirit. The doctrine of the Trinity is not explicitly stated in the Bible, but it is implicitly evident in various passages throughout the Old and New Testaments.
The term "Trinity" is not found in the Bible, but the concept is taught through various verses. One of the most significant verses that support the doctrine of the Trinity is found in the New Testament, in the Gospel of Matthew, where Jesus commands His disciples to baptize "in the name of the Father and of the Son and of the Holy Spirit" (Matthew 28:19). This verse suggests the equality of the Father, Son, and Holy Spirit as one entity, while also distinguishing them as three distinct persons.
Another verse that supports the doctrine of the Trinity is found in the Gospel of John, where Jesus refers to the Holy Spirit as the "Helper" who will come after Him and will "teach you all things" (John 14:26). In this verse, Jesus identifies the Holy Spirit as a separate person from Himself and the Father.
Moreover, several Old Testament verses also allude to the concept of the Holy Trinity. For instance, in Genesis 1:26, God said, "Let us make man in our image," indicating that God is not alone and that He is consulting with someone else. Additionally, in Isaiah 9:6, the prophet refers to the Messiah as "Wonderful Counselor, Mighty God, Everlasting Father, Prince of Peace," implying the divinity of Jesus.
Dear friends now let's see the Bible scriptures below that talk about The Trinity.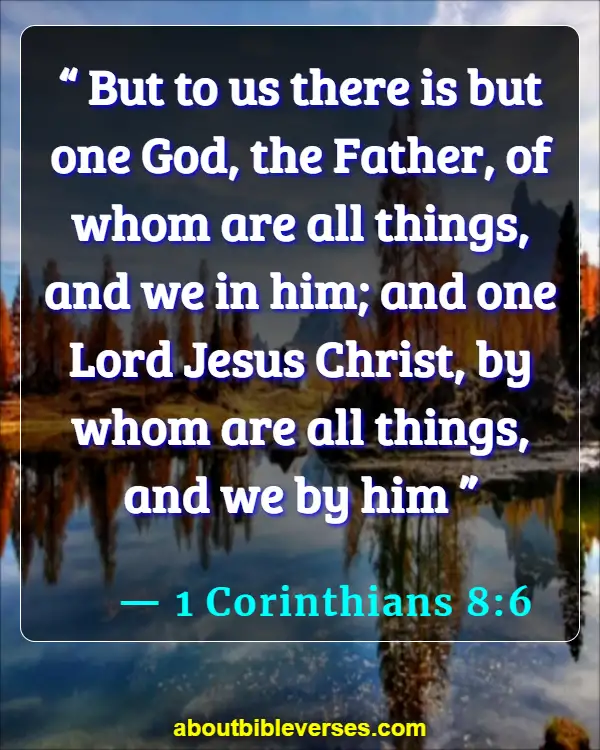 1 Corinthians 8:6
"But to us there is but one God, the Father, of whom are all things, and we in him; and one Lord Jesus Christ, by whom are all things, and we by him"
Genesis 1:1
"In the beginning God created the heaven and the earth"
Genesis 11:7
"Go to, let us go down, and there confound their language, that they may not understand one another's speech"
John 10:30
"I and my Father are one"
Isaiah 48:16
"Come ye near unto me, hear ye this; I have not spoken in secret from the beginning; from the time that it was, there am I: and now the Lord God , and his Spirit, hath sent me"
John 15:26
"But when the Comforter is come, whom I will send unto you from the Father, even the Spirit of truth, which proceedeth from the Father, he shall testify of me"
Colossians 2:9
"For in him dwelleth all the fulness of the Godhead bodily"
John 14:28
"Ye have heard how I said unto you, I go away, and come again unto you. If ye loved me, ye would rejoice, because I said, I go unto the Father: for my Father is greater than I"
Genesis 1:26
"And God said, Let us make man in our image, after our likeness: and let them have dominion over the fish of the sea, and over the fowl of the air, and over the cattle, and over all the earth, and over every creeping thing that creepeth upon the earth"
Isaiah 44:6
"Thus saith the Lord the King of Israel, and his redeemer the Lord of hosts; I am the first, and I am the last; and beside me there is no God"
Genesis 3:22
"And the Lord God said, Behold, the man is become as one of us, to know good and evil: and now, lest he put forth his hand, and take also of the tree of life, and eat, and live for ever"
John 14:26
"But the Comforter, which is the Holy Ghost, whom the Father will send in my name, he shall teach you all things, and bring all things to your remembrance, whatsoever I have said unto you"
1 John 5:7
"For there are three that bear record in heaven, the Father, the Word, and the Holy Ghost: and these three are one"
Isaiah 6:8
"Also I heard the voice of the Lord, saying, Whom shall I send, and who will go for us? Then said I, Here am I; send me"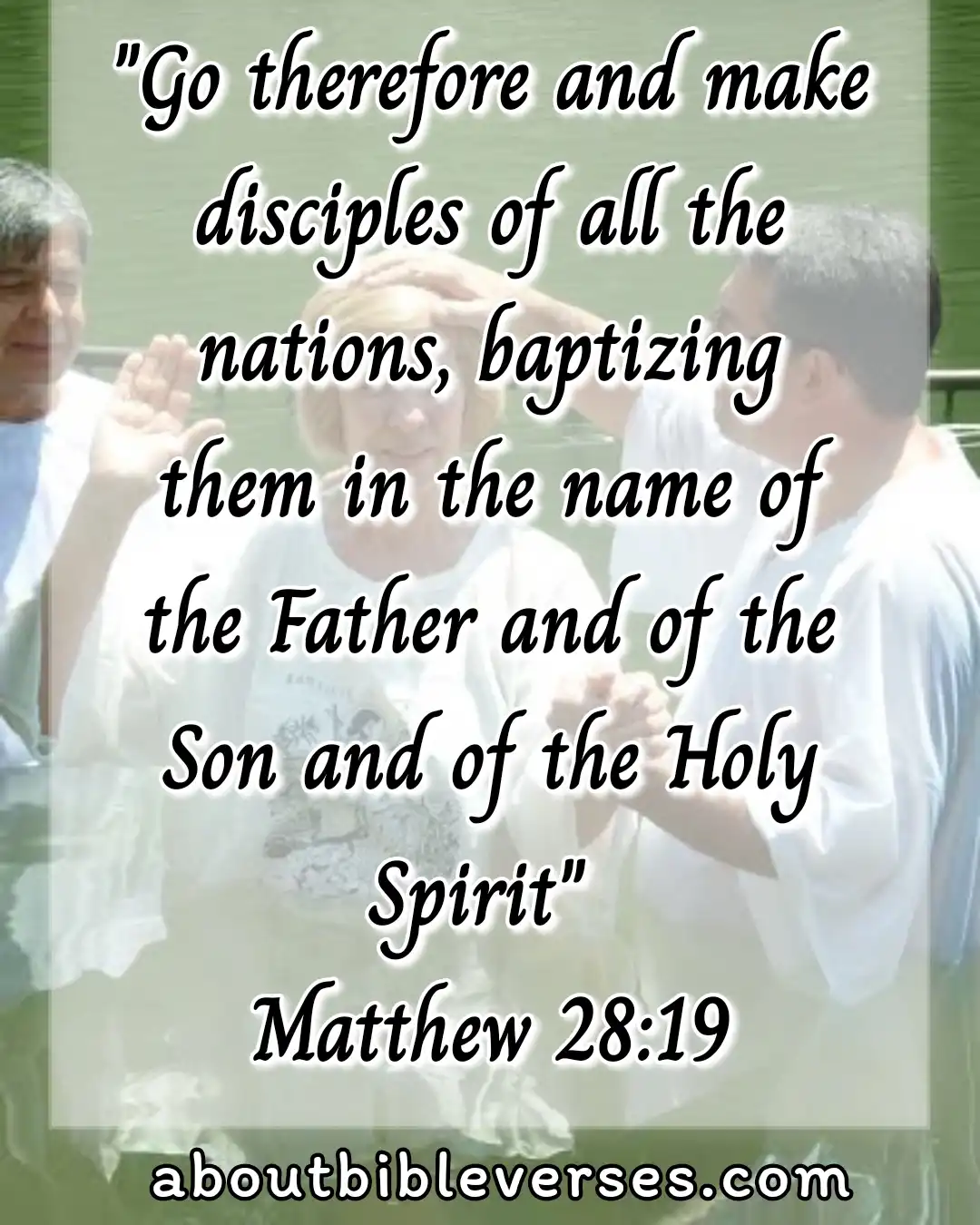 Matthew 28:19
"Go ye therefore, and teach all nations, baptizing them in the name of the Father, and of the Son, and of the Holy Ghost"
1 Peter 1:2
"Elect according to the foreknowledge of God the Father, through sanctification of the Spirit, unto obedience and sprinkling of the blood of Jesus Christ: Grace unto you, and peace, be multiplied"
John 1:1
"In the beginning was the Word, and the Word was with God, and the Word was God"
Isaiah 9:6
"For unto us a child is born, unto us a son is given: and the government shall be upon his shoulder: and his name shall be called Wonderful, Counsellor, The mighty God, The everlasting Father, The Prince of Peace"
2 Corinthians 13:14
"The grace of the Lord Jesus Christ, and the love of God, and the communion of the Holy Ghost, be with you all. Amen"
John 1:14
"And the Word was made flesh, and dwelt among us, (and we beheld his glory, the glory as of the only begotten of the Father,) full of grace and truth"
John 1:3
"All things were made by him; and without him was not any thing made that was made"
Romans 1:7
"To all that be in Rome, beloved of God, called to be saints: Grace to you and peace from God our Father, and the Lord Jesus Christ"
Hebrews 1:3
"Who being the brightness of his glory, and the express image of his person, and upholding all things by the word of his power, when he had by himself purged our sins, sat down on the right hand of the Majesty on high"
1 Corinthians 12:11
"But all these worketh that one and the selfsame Spirit, dividing to every man severally as he will"
Matthew 3:17
"And lo a voice from heaven, saying, This is my beloved Son, in whom I am well pleased"
John 1:29
"The next day John seeth Jesus coming unto him, and saith, Behold the Lamb of God, which taketh away the sin of the world"
Isaiah 46:9
"Remember the former things of old: for I am God, and there is none else; I am God, and there is none like me"
Luke 1:35
"And the angel answered and said unto her, The Holy Ghost shall come upon thee, and the power of the Highest shall overshadow thee: therefore also that holy thing which shall be born of thee shall be called the Son of God"
John 1:18
"No man hath seen God at any time, the only begotten Son, which is in the bosom of the Father, he hath declared him"
Genesis 1:2
"And the earth was without form, and void; and darkness was upon the face of the deep. And the Spirit of God moved upon the face of the waters"
Deuteronomy 6:4
"Hear, O Israel: The Lord our God is one Lord"
Revelation 22:13
"I am Alpha and Omega, the beginning and the end, the first and the last"
Luke 22:42
"Saying, Father, if thou be willing, remove this cup from me: nevertheless not my will, but thine, be done"
Ephesians 4:6
"One God and Father of all, who is above all, and through all, and in you all"
Revelation 3:14
"And unto the angel of the church of the Laodiceans write; These things saith the Amen, the faithful and true witness, the beginning of the creation of God"
John 14:10
"Believest thou not that I am in the Father, and the Father in me? the words that I speak unto you I speak not of myself: but the Father that dwelleth in me, he doeth the works"
John 16:7
"Nevertheless I tell you the truth; It is expedient for you that I go away: for if I go not away, the Comforter will not come unto you; but if I depart, I will send him unto you"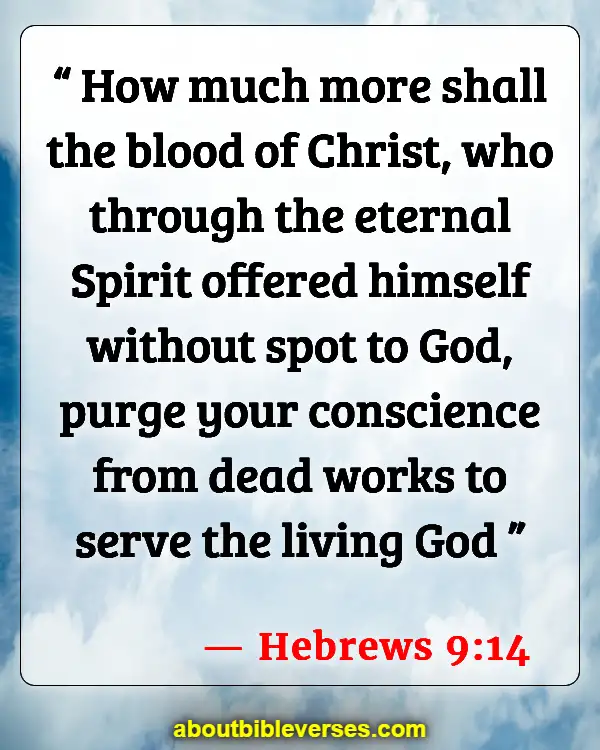 Hebrews 9:14
"How much more shall the blood of Christ, who through the eternal Spirit offered himself without spot to God, purge your conscience from dead works to serve the living God?"
John 4:24
"God is a Spirit: and they that worship him must worship him in spirit and in truth"
John 3:16
"For God so loved the world, that he gave his only begotten Son, that whosoever believeth in him should not perish, but have everlasting life"
John 17:11
"And now I am no more in the world, but these are in the world, and I come to thee. Holy Father, keep through thine own name those whom thou hast given me, that they may be one, as we are"
Revelation 1:8
"I am Alpha and Omega, the beginning and the ending, saith the Lord, which is, and which was, and which is to come, the Almighty"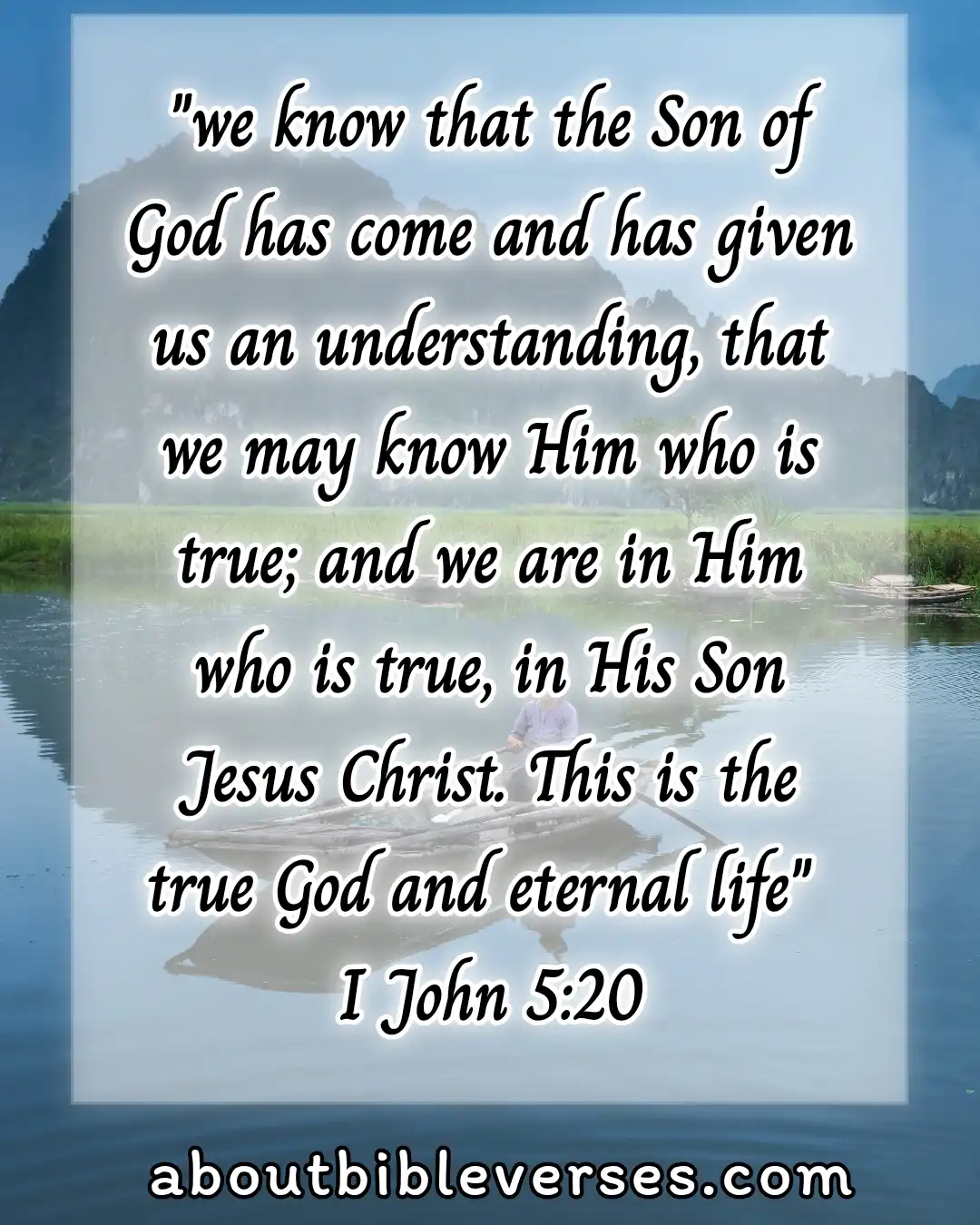 1 John 5:20
"And we know that the Son of God is come, and hath given us an understanding, that we may know him that is true, and we are in him that is true, even in his Son Jesus Christ. This is the true God, and eternal life"
John 14:9
"Jesus saith unto him, Have I been so long time with you, and yet hast thou not known me, Philip? he that hath seen me hath seen the Father; and how sayest thou then, Show us the Father?"
Acts 2:33
"Therefore being by the right hand of God exalted, and having received of the Father the promise of the Holy Ghost, he hath shed forth this, which ye now see and hear"
1 Corinthians 6:11
"And such were some of you: but ye are washed, but ye are sanctified, but ye are justified in the name of the Lord Jesus, and by the Spirit of our God"
Revelation 4:8
"And the four beasts had each of them six wings about him; and they were full of eyes within: and they rest not day and night, saying, Holy, holy, holy, Lord God Almighty, which was, and is, and is to come"
1 John 5:8
"And there are three that bear witness in earth, the Spirit, and the water, and the blood: and these three agree in one"
John 14:16
"And I will pray the Father, and he shall give you another Comforter, that he may abide with you for ever"
John 20:28
"And Thomas answered and said unto him, My Lord and my God"
Luke 3:22
"And the Holy Ghost descended in a bodily shape like a dove upon him, and a voice came from heaven, which said, Thou art my beloved Son; in thee I am well pleased"
John 14:11
"Believe me that I am in the Father, and the Father in me: or else believe me for the very works' sake"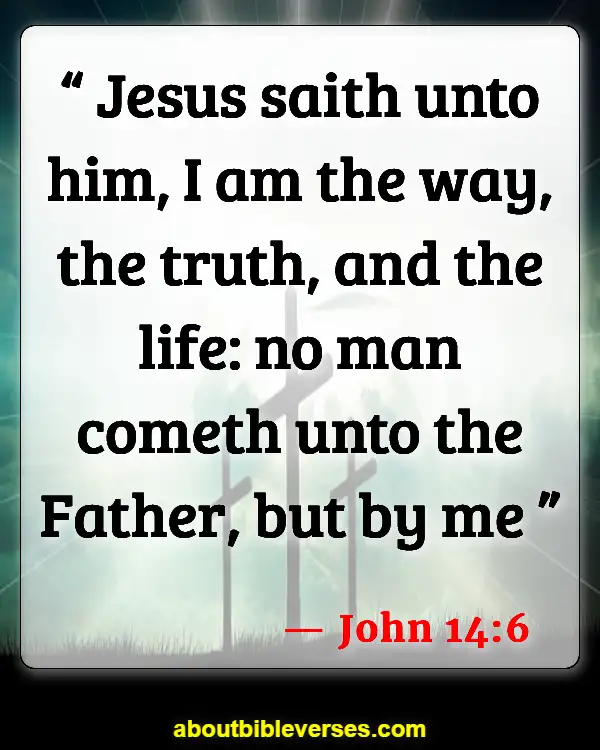 John 14:6
"Jesus saith unto him, I am the way, the truth, and the life: no man cometh unto the Father, but by me"
Romans 8:26
"Likewise the Spirit also helpeth our infirmities: for we know not what we should pray for as we ought: but the Spirit itself maketh intercession for us with groanings which cannot be uttered"
Galatians 4:6
"And because ye are sons, God hath sent forth the Spirit of his Son into your hearts, crying, Abba, Father"
John 3:6
"That which is born of the flesh is flesh; and that which is born of the Spirit is spirit"
1 Corinthians 8:4
"As concerning therefore the eating of those things that are offered in sacrifice unto idols, we know that an idol is nothing in the world, and that there is none other God but one"
Titus 3:5
"Not by works of righteousness which we have done, but according to his mercy he saved us, by the washing of regeneration, and renewing of the Holy Ghost"
Ephesians 4:30
"And grieve not the holy Spirit of God, whereby ye are sealed unto the day of redemption"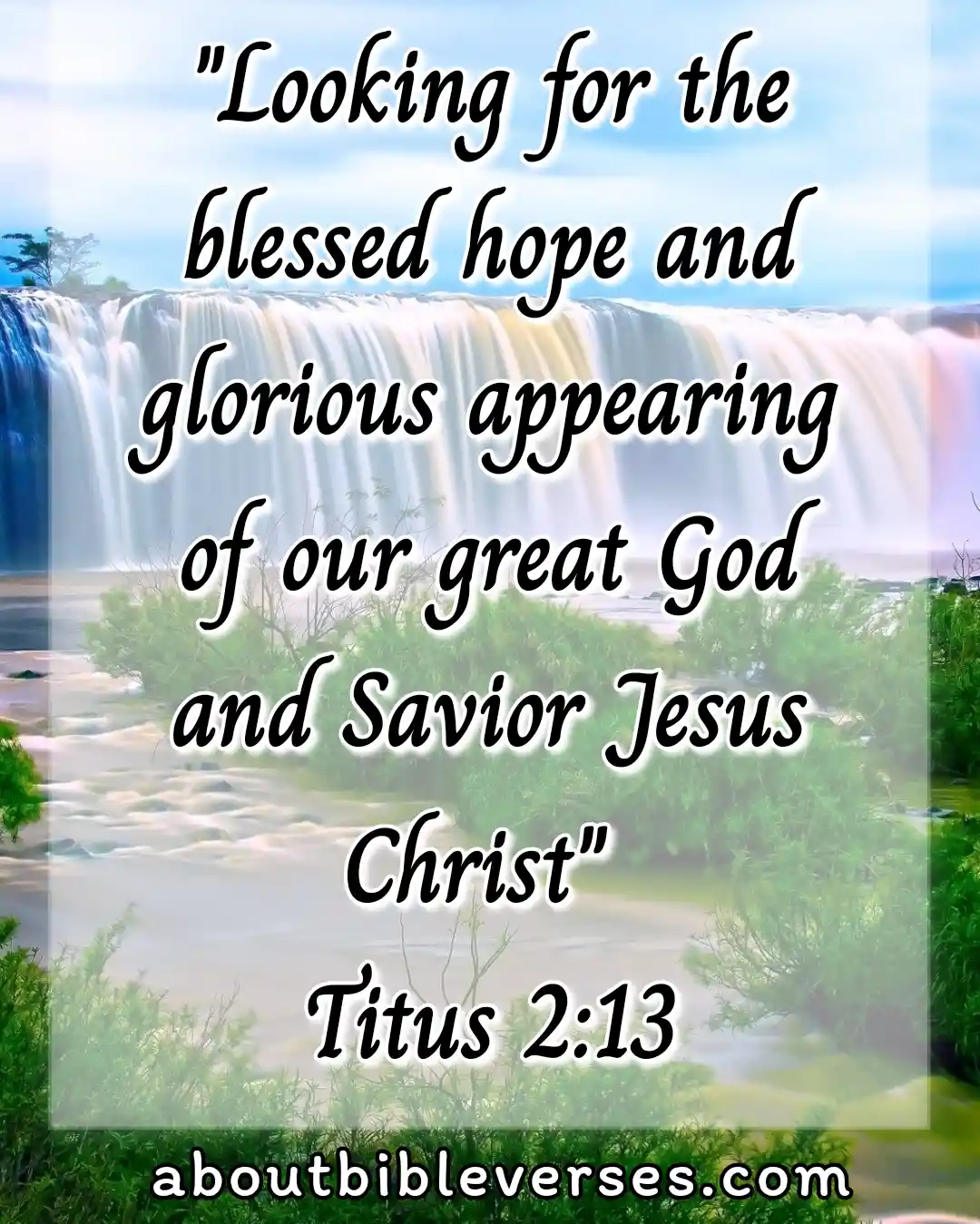 Titus 2:13
"Looking for that blessed hope, and the glorious appearing of the great God and our Saviour Jesus Christ"
Romans 9:5
"Whose are the fathers, and of whom as concerning the flesh Christ came, who is over all, God blessed for ever. Amen"
John 6:27
"Labour not for the meat which perisheth, but for that meat which endureth unto everlasting life, which the Son of man shall give unto you: for him hath God the Father sealed"
Matthew 3:16
"And Jesus, when he was baptized, went up straightway out of the water: and, lo, the heavens were opened unto him, and he saw the Spirit of God descending like a dove, and lighting upon him"
Philippians 1:2
"Grace be unto you, and peace, from God our Father, and from the Lord Jesus Christ"
Ephesians 3:9
"And to make all men see what is the fellowship of the mystery, which from the beginning of the world hath been hid in God, who created all things by Jesus Christ"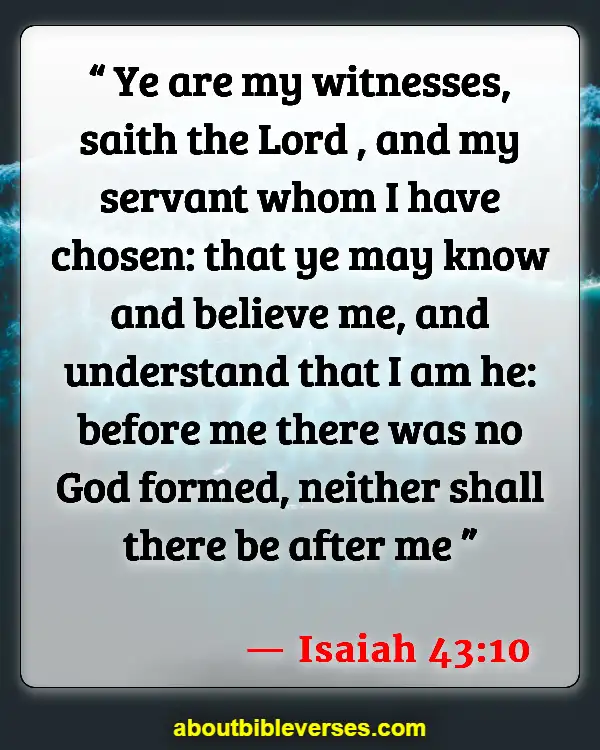 Isaiah 43:10
"Ye are my witnesses, saith the Lord , and my servant whom I have chosen: that ye may know and believe me, and understand that I am he: before me there was no God formed, neither shall there be after me"
John 8:58
"Jesus said unto them, Verily, verily, I say unto you, Before Abraham was, I am"
1 Timothy 2:5
"For there is one God, and one mediator between God and men, the man Christ Jesus"
John 17:5
"And now, O Father, glorify thou me with thine own self with the glory which I had with thee before the world was"
Matthew 1:23
"Behold, a virgin shall be with child, and shall bring forth a son, and they shall call his name Emmanuel, which being interpreted is, God with us"
Hebrews 1:10
"And, Thou, Lord, in the beginning hast laid the foundation of the earth; and the heavens are the works of thine hands"
John 1:32
"And John bare record, saying, I saw the Spirit descending from heaven like a dove, and it abode upon him"
2 Corinthians 3:17
"Now the Lord is that Spirit: and where the Spirit of the Lord is, there is liberty"
1 John 1:5
"This then is the message which we have heard of him, and declare unto you, that God is light, and in him is no darkness at all"
John 20:17
"Jesus saith unto her, Touch me not; for I am not yet ascended to my Father: but go to my brethren, and say unto them, I ascend unto my Father, and your Father; and to my God, and your God"
Colossians 1:15
"Who is the image of the invisible God, the firstborn of every creature"
Colossians 1:16
"For by him were all things created, that are in heaven, and that are in earth, visible and invisible, whether they be thrones, or dominions, or principalities, or powers: all things were created by him, and for him"
Hebrews 1:8
"But unto the Son he saith, Thy throne, O God, is for ever and ever: a sceptre of righteousness is the sceptre of thy kingdom"
Acts 10:38
"How God anointed Jesus of Nazareth with the Holy Ghost and with power: who went about doing good, and healing all that were oppressed of the devil; for God was with him"
John 1:9
"That was the true Light, which lighteth every man that cometh into the world"
James 2:19
"Thou believest that there is one God; thou doest well: the devils also believe, and tremble"
John 14:17
"Even the Spirit of truth; whom the world cannot receive, because it seeth him not, neither knoweth him: but ye know him; for he dwelleth with you, and shall be in you"
1 Corinthians 3:16
"Know ye not that ye are the temple of God, and that the Spirit of God dwelleth in you?"
Isaiah 61:1
"The Spirit of the Lord God is upon me; because the Lord hath anointed me to preach good tidings unto the meek; he hath sent me to bind up the brokenhearted, to proclaim liberty to the captives, and the opening of the prison to them that are bound"