Hello dear friends, welcome to our site in the name of Jesus Christ. Today we will look at the Bible Scriptures About The Sacrament Of Baptism In KJV. If you like today's post then definitely comment and share.
The sacrament of baptism has a beautiful and profound place in our faith. It's seen as a welcoming ceremony, introducing a new soul into the family of God. Baptism symbolizes a fresh start, a spiritual cleansing. baptism cleanses our spirits, washing away the old and ushering in the new.
Baptism is our journey with Christ, as we share in His death and resurrection. In this act, we're letting go of our past selves and rising anew, filled with God's love and mercy.
Baptism isn't just a one-time event, but rather a journey. Just like a tree needs sunlight, water, and care to grow, our spiritual life requires prayer, love, and commitment. So remember, when you step into the baptismal waters, it's just the beginning of your beautiful journey with God.
Dear friends now let's see the Bible scriptures below that talk about The Sacrament Of Baptism.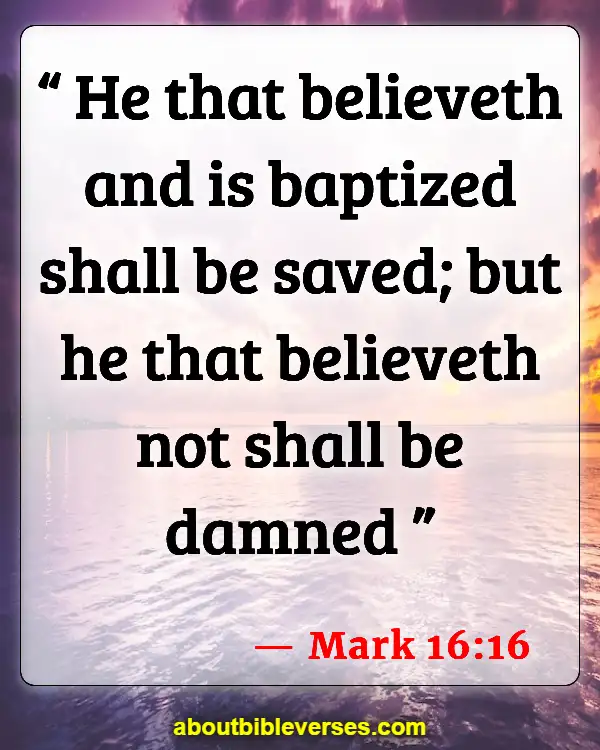 Mark 16:16
"He that believeth and is baptized shall be saved; but he that believeth not shall be damned"
Matthew 3:16
"And Jesus, when he was baptized, went up straightway out of the water: and, lo, the heavens were opened unto him, and he saw the Spirit of God descending like a dove, and lighting upon him"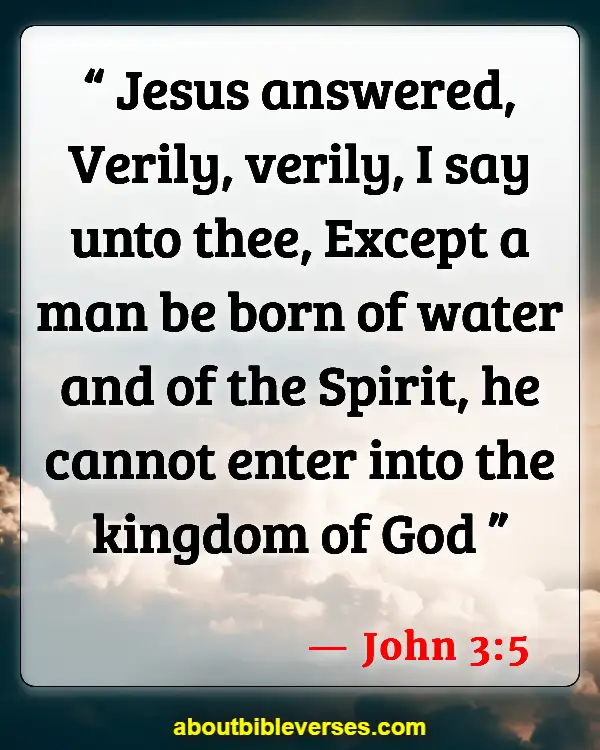 John 3:5
"Jesus answered, Verily, verily, I say unto thee, Except a man be born of water and of the Spirit, he cannot enter into the kingdom of God"
Acts 8:36
"And as they went on their way, they came unto a certain water: and the eunuch said, See, here is water; what doth hinder me to be baptized?"
Acts 22:16
"And now why tarriest thou? arise, and be baptized, and wash away thy sins, calling on the name of the Lord"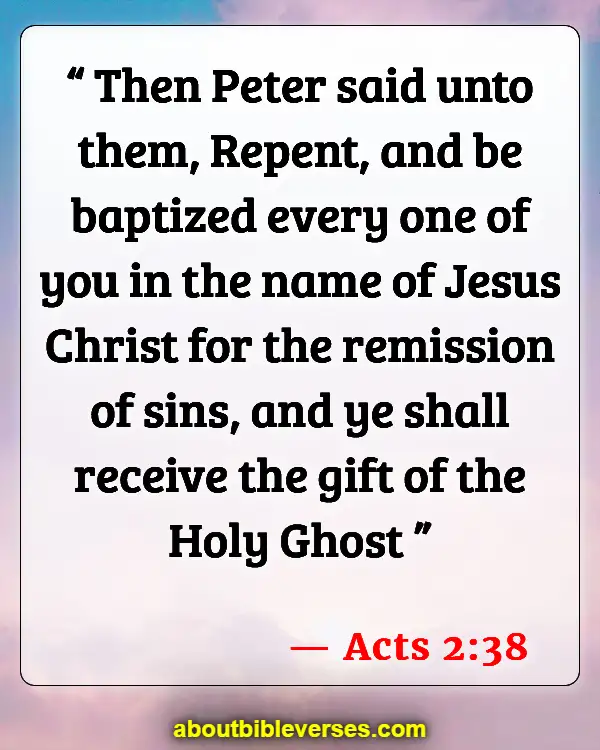 Acts 2:38
"Then Peter said unto them, Repent, and be baptized every one of you in the name of Jesus Christ for the remission of sins, and ye shall receive the gift of the Holy Ghost"
Romans 6:3
"Know ye not, that so many of us as were baptized into Jesus Christ were baptized into his death?"
Romans 6:4
"Therefore we are buried with him by baptism into death: that like as Christ was raised up from the dead by the glory of the Father, even so we also should walk in newness of life"
1 Corinthians 10:2
"And were all baptized unto Moses in the cloud and in the sea"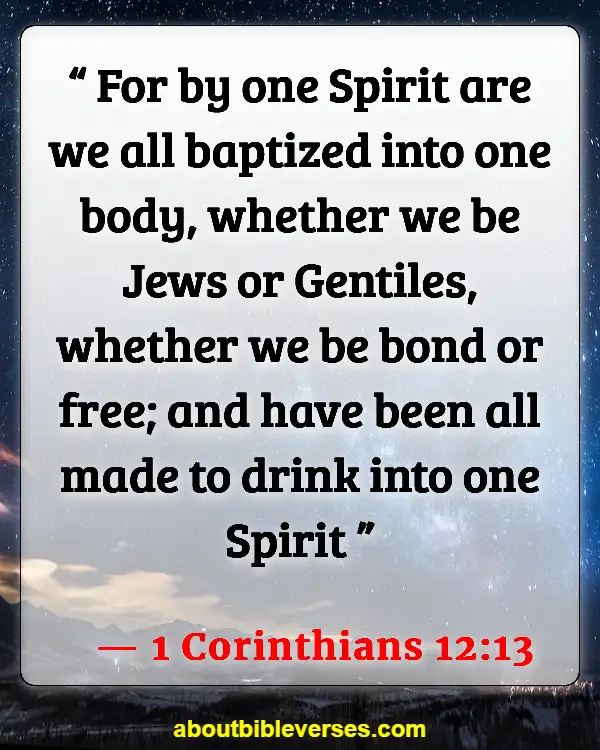 1 Corinthians 12:13
"For by one Spirit are we all baptized into one body, whether we be Jews or Gentiles, whether we be bond or free; and have been all made to drink into one Spirit"
Galatians 3:27
"For as many of you as have been baptized into Christ have put on Christ"
Ephesians 4:5
"One Lord, one faith, one baptism"
Colossians 2:12
"Buried with him in baptism, wherein also ye are risen with him through the faith of the operation of God, who hath raised him from the dead"
1 Peter 3:21
"The like figure whereunto even baptism doth also now save us (not the putting away of the filth of the flesh, but the answer of a good conscience toward God,) by the resurrection of Jesus Christ"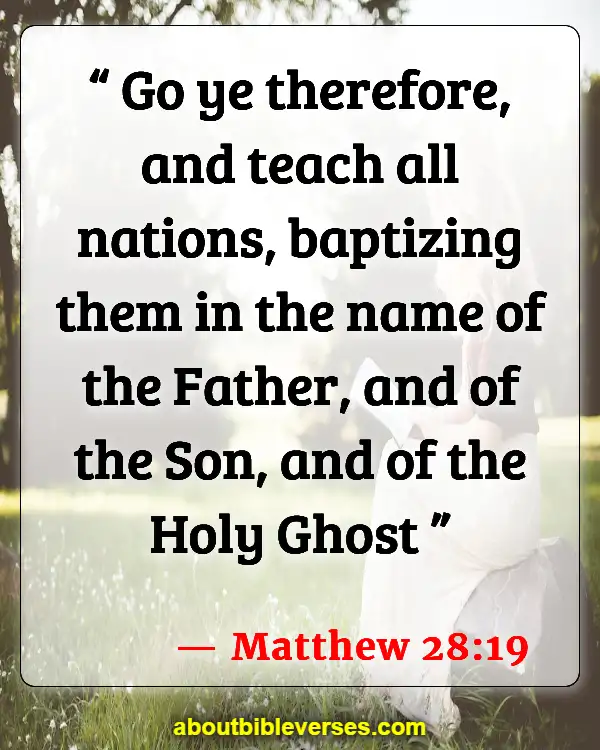 Matthew 28:19
"Go ye therefore, and teach all nations, baptizing them in the name of the Father, and of the Son, and of the Holy Ghost"
Acts 2:41
"Then they that gladly received his word were baptized: and the same day there were added unto them about three thousand souls"
Acts 8:12
"But when they believed Philip preaching the things concerning the kingdom of God, and the name of Jesus Christ, they were baptized, both men and women"
Acts 8:38
"And he commanded the chariot to stand still: and they went down both into the water, both Philip and the eunuch; and he baptized him"
Acts 9:18
"And immediately there fell from his eyes as it had been scales: and he received sight forthwith, and arose, and was baptized"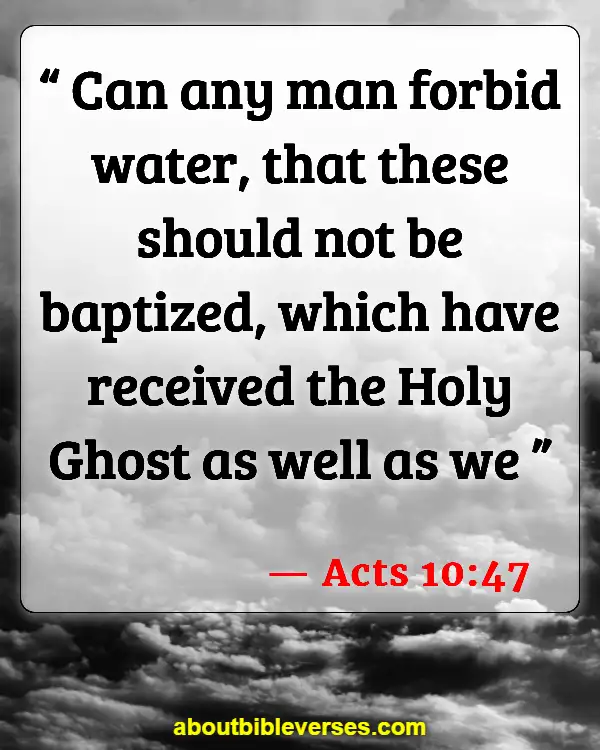 Acts 10:47
"Can any man forbid water, that these should not be baptized, which have received the Holy Ghost as well as we?"
Acts 16:15
"And when she was baptized, and her household, she besought us, saying, If ye have judged me to be faithful to the Lord, come into my house, and abide there. And she constrained us"
Acts 16:33
"And he took them the same hour of the night, and washed their stripes; and was baptized, he and all his, straightway"
Acts 18:8
"And Crispus, the chief ruler of the synagogue, believed on the Lord with all his house; and many of the Corinthians hearing believed, and were baptized"
1 Corinthians 1:16
"And I baptized also the household of Stephanas: besides, I know not whether I baptized any other"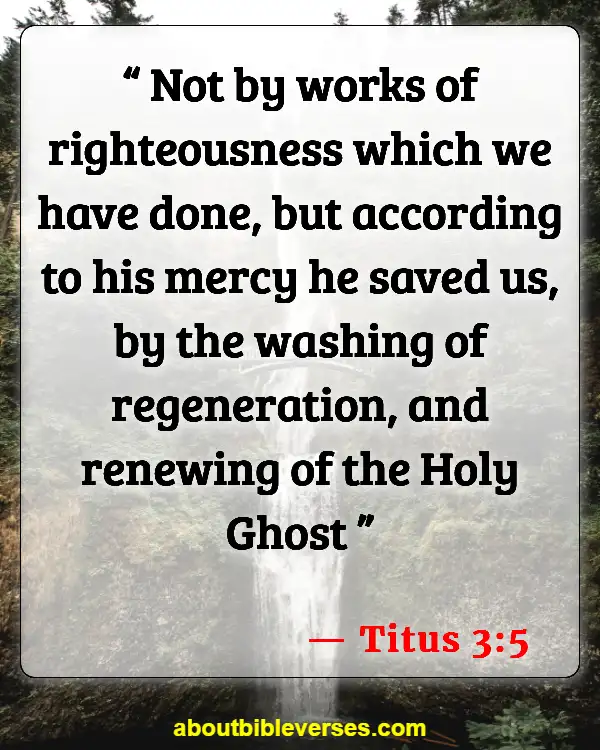 Titus 3:5
"Not by works of righteousness which we have done, but according to his mercy he saved us, by the washing of regeneration, and renewing of the Holy Ghost"