The Mission of the Church, dear brothers, and sisters, is a divine calling bestowed upon us by the Almighty God Himself. As followers of Christ, we are entrusted with the great task of spreading the Good News of His love, mercy, and salvation to all corners of the earth. Our mission is to be the light in the darkness, to bring hope to the broken-hearted, and to guide lost souls back to their Creator.
Just as our Lord Jesus walked among the people, healing the sick and preaching about the Kingdom of God, so too must we, as the Church, walk in His footsteps. Our mission is not confined to the walls of our sanctuaries; it extends beyond, reaching out to the hurting and the marginalized, offering them the grace and compassion of Christ.
Throughout the Bible, we find examples of great missionaries who faithfully fulfilled their calling. From Moses leading the Israelites out of Egypt to Paul's tireless journeys to spread the Gospel, they all exemplify the heart of our mission. They faced trials and tribulations, but through faith and obedience, they persevered, knowing that the reward of fulfilling God's mission is beyond measure.
Dear friends now let's see the Bible scriptures below that talk about The Mission Of The Church.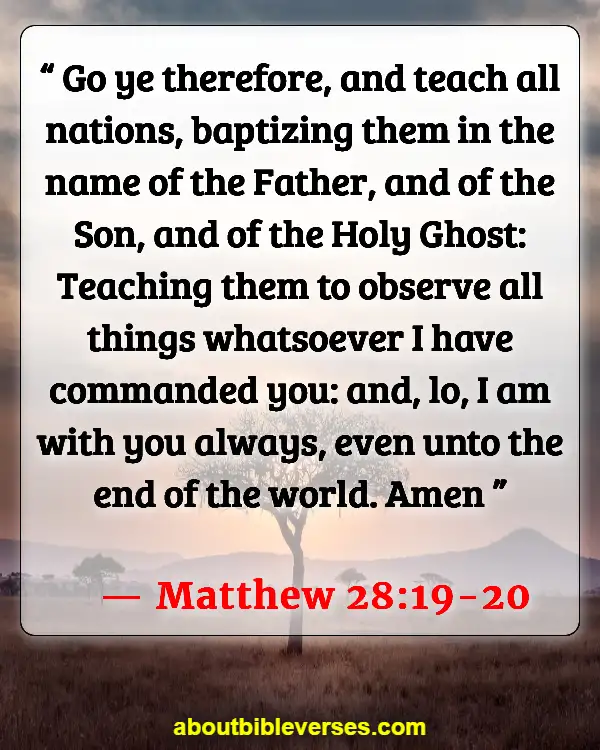 Matthew 28:19-20
"Go ye therefore, and teach all nations, baptizing them in the name of the Father, and of the Son, and of the Holy Ghost: Teaching them to observe all things whatsoever I have commanded you: and, lo, I am with you always, even unto the end of the world. Amen"
Acts 1:8
"But ye shall receive power, after that the Holy Ghost is come upon you: and ye shall be witnesses unto me both in Jerusalem, and in all Judaea, and in Samaria, and unto the uttermost part of the earth"
Mark 16:15-16
"And he said unto them, Go ye into all the world, and preach the gospel to every creature. He that believeth and is baptized shall be saved; but he that believeth not shall be damned"
Luke 24:47-48
"And that repentance and remission of sins should be preached in his name among all nations, beginning at Jerusalem. And ye are witnesses of these things"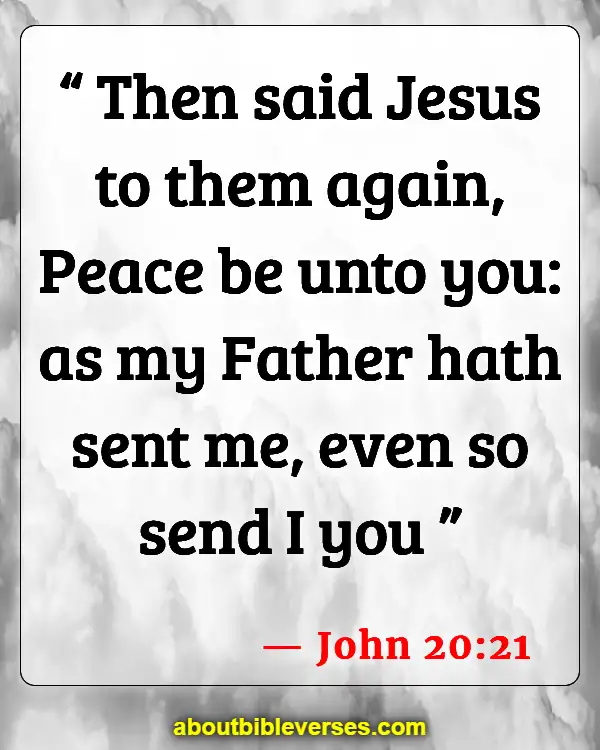 John 20:21
"Then said Jesus to them again, Peace be unto you: as my Father hath sent me, even so send I you"
2 Timothy 4:2
"Preach the word; be instant in season, out of season; reprove, rebuke, exhort with all long suffering and doctrine"
1 Peter 3:15
"But sanctify the Lord God in your hearts: and be ready always to give an answer to every man that asketh you a reason of the hope that is in you with meekness and fear"
Ephesians 4:11-12
"And he gave some, apostles; and some, prophets; and some, evangelists; and some, pastors and teachers; For the perfecting of the saints, for the work of the ministry, for the edifying of the body of Christ"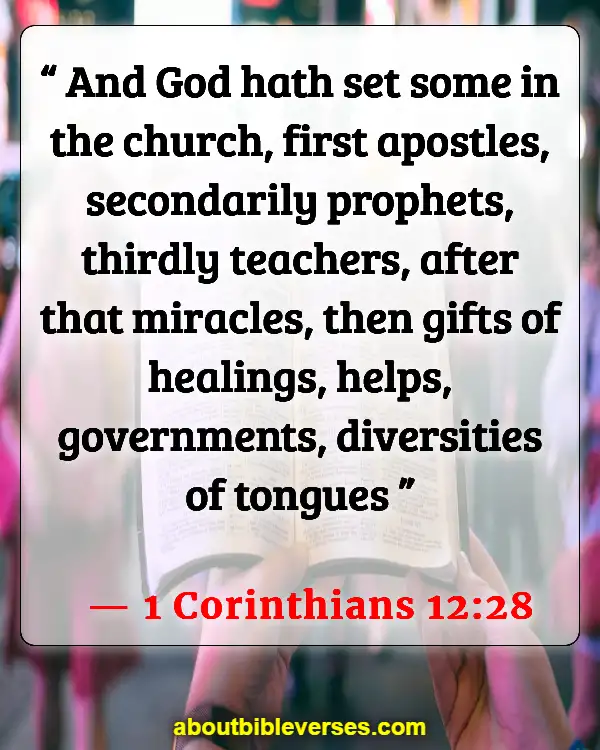 1 Corinthians 12:28
"And God hath set some in the church, first apostles, secondarily prophets, thirdly teachers, after that miracles, then gifts of healings, helps, governments, diversities of tongues"
Matthew 5:16
"Let your light so shine before men, that they may see your good works, and glorify your Father which is in heaven"
1 Timothy 2:1-4
"I exhort therefore, that, first of all, supplications, prayers, intercessions, and giving of thanks, be made for all men; For kings, and for all that are in authority; that we may lead a quiet and peaceable life in all godliness and honesty. For this is good and acceptable in the sight of God our Saviour; Who will have all men to be saved, and to come unto the knowledge of the truth"
2 Corinthians 5:18-20
"And all things are of God, who hath reconciled us to himself by Jesus Christ, and hath given to us the ministry of reconciliation; To wit, that God was in Christ, reconciling the world unto himself, not imputing their trespasses unto them; and hath committed unto us the word of reconciliation. Now then we are ambassadors for Christ, as though God did beseech you by us: we pray you in Christ's stead, be ye reconciled to God"
Romans 10:14-15
"How then shall they call on him in whom they have not believed? and how shall they believe in him of whom they have not heard? and how shall they hear without a preacher? And how shall they preach, except they be sent? as it is written, How beautiful are the feet of them that preach the gospel of peace, and bring glad tidings of good things"
Acts 14:21-23
"And when they had preached the gospel to that city, and had taught many, they returned again to Lystra, and to Iconium, and Antioch, Confirming the souls of the disciples, and exhorting them to continue in the faith, and that we must through much tribulation enter into the kingdom of God. And when they had ordained them elders in every church, and had prayed with fasting, they commended them to the Lord, on whom they believed"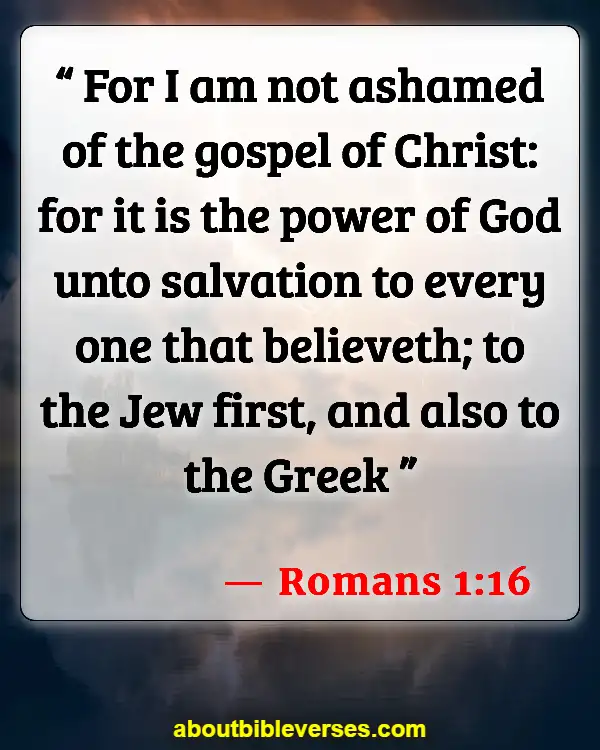 Romans 1:16
"For I am not ashamed of the gospel of Christ: for it is the power of God unto salvation to every one that believeth; to the Jew first, and also to the Greek"
Acts 26:18
"To open their eyes, and to turn them from darkness to light, and from the power of Satan unto God, that they may receive forgiveness of sins, and inheritance among them which are sanctified by faith that is in me"
1 Corinthians 9:22-23
"To the weak became I as weak, that I might gain the weak: I am made all things to all men, that I might by all means save some. And this I do for the gospel's sake, that I might be partaker thereof with you"
Acts 20:28
"Take heed therefore unto yourselves, and to all the flock, over the which the Holy Ghost hath made you overseers, to feed the church of God, which he hath purchased with his own blood"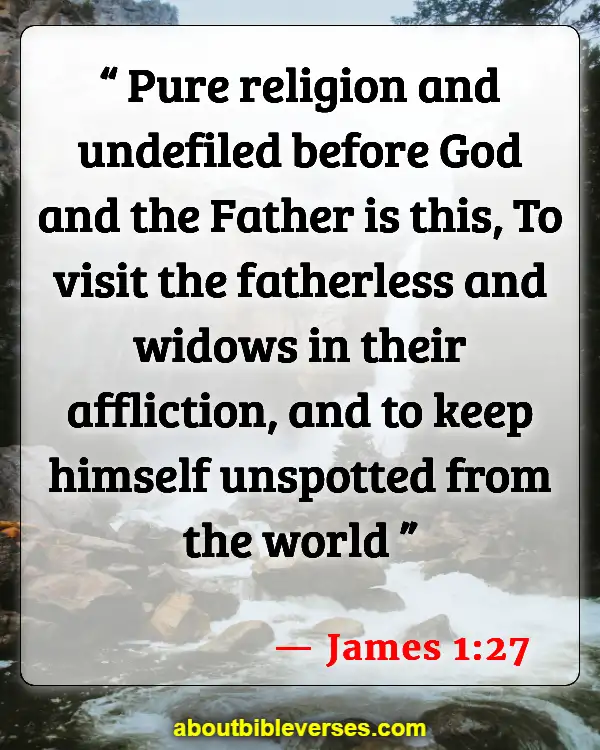 James 1:27
"Pure religion and undefiled before God and the Father is this, To visit the fatherless and widows in their affliction, and to keep himself unspotted from the world"
Galatians 6:10
"As we have therefore opportunity, let us do good unto all men, especially unto them who are of the household of faith"
1 Thessalonians 5:11
"Wherefore comfort yourselves together, and edify one another, even as also ye do"
Hebrews 10:24-25
"And let us consider one another to provoke unto love and to good works: Not forsaking the assembling of ourselves together, as the manner of some is; but exhorting one another: and so much the more, as ye see the day approaching"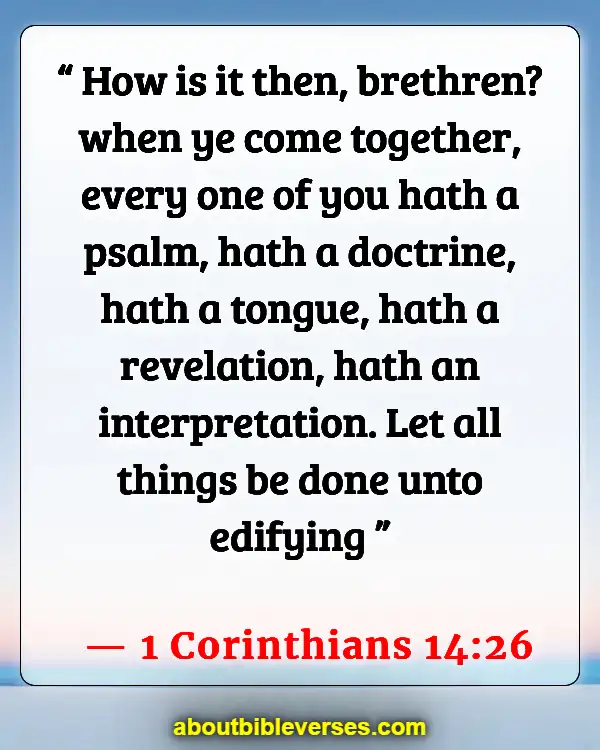 1 Corinthians 14:26
"How is it then, brethren? when ye come together, every one of you hath a psalm, hath a doctrine, hath a tongue, hath a revelation, hath an interpretation. Let all things be done unto edifying"
Acts 2:38-39
"Then Peter said unto them, Repent, and be baptized every one of you in the name of Jesus Christ for the remission of sins, and ye shall receive the gift of the Holy Ghost. For the promise is unto you, and to your children, and to all that are afar off, even as many as the Lord our God shall call"
Luke 4:18-19
"The Spirit of the Lord is upon me, because he hath anointed me to preach the gospel to the poor; he hath sent me to heal the brokenhearted, to preach deliverance to the captives, and recovering of sight to the blind, to set at liberty them that are bruised, To preach the acceptable year of the Lord"
Colossians 1:28-29
"Whom we preach, warning every man, and teaching every man in all wisdom; that we may present every man perfect in Christ Jesus: Whereunto I also labour, striving according to his working, which worketh in me mightily"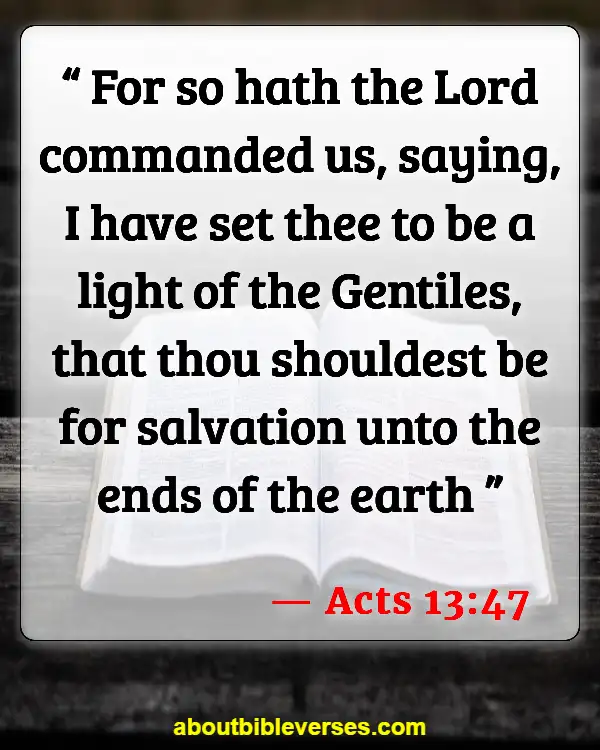 Acts 13:47
"For so hath the Lord commanded us, saying, I have set thee to be a light of the Gentiles, that thou shouldest be for salvation unto the ends of the earth"
1 Corinthians 10:31
"Whether therefore ye eat, or drink, or whatsoever ye do, do all to the glory of God"
Philippians 2:15-16
"That ye may be blameless and harmless, the sons of God, without rebuke, in the midst of a crooked and perverse nation, among whom ye shine as lights in the world; Holding forth the word of life; that I may rejoice in the day of Christ, that I have not run in vain, neither laboured in vain"
Romans 12:2
"And be not conformed to this world: but be ye transformed by the renewing of your mind, that ye may prove what is that good, and acceptable, and perfect, will of God"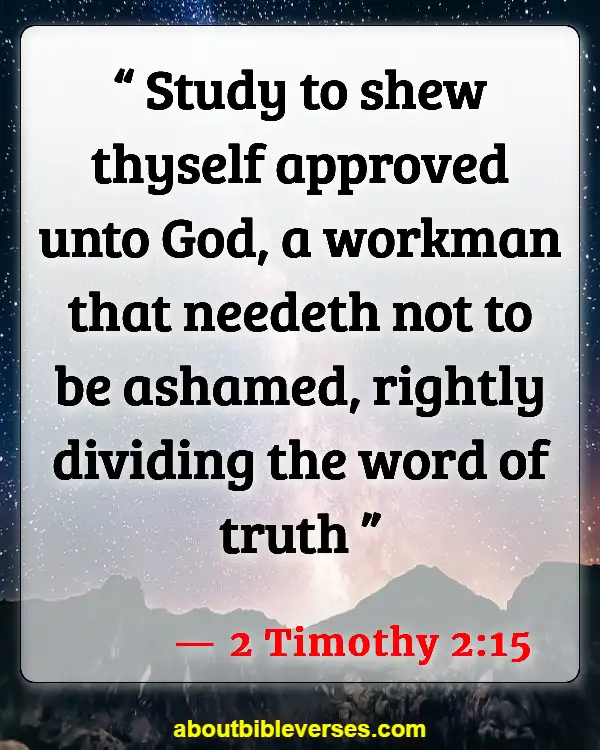 2 Timothy 2:15
"Study to shew thyself approved unto God, a workman that needeth not to be ashamed, rightly dividing the word of truth"
Colossians 3:17
"And whatsoever ye do in word or deed, do all in the name of the Lord Jesus, giving thanks to God and the Father by him"
1 Thessalonians 2:8
"So being affectionately desirous of you, we were willing to have imparted unto you, not the gospel of God only, but also our own souls, because ye were dear unto us"
Acts 2:46-47
"And they, continuing daily with one accord in the temple, and breaking bread from house to house, did eat their meat with gladness and singleness of heart, Praising God, and having favour with all the people. And the Lord added to the church daily such as should be saved"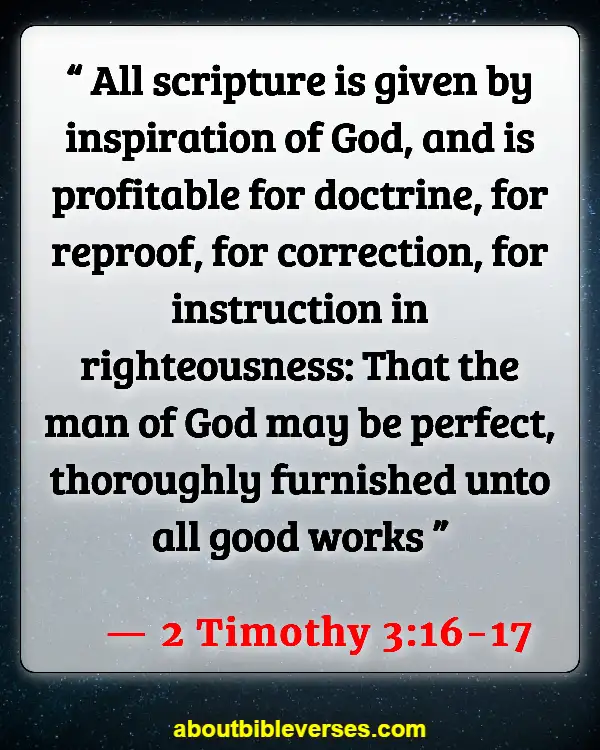 2 Timothy 3:16-17
"All scripture is given by inspiration of God, and is profitable for doctrine, for reproof, for correction, for instruction in righteousness: That the man of God may be perfect, thoroughly furnished unto all good works"
Ephesians 5:19-20
"Speaking to yourselves in psalms and hymns and spiritual songs, singing and making melody in your heart to the Lord; Giving thanks always for all things unto God and the Father in the name of our Lord Jesus Christ"
Colossians 3:16
"Let the word of Christ dwell in you richly in all wisdom; teaching and admonishing one another in psalms and hymns and spiritual songs, singing with grace in your hearts to the Lord"
1 Peter 4:10-11
"As every man hath received the gift, even so minister the same one to another, as good stewards of the manifold grace of God. If any man speak, let him speak as the oracles of God; if any man minister, let him do it as of the ability which God giveth: that God in all things may be glorified through Jesus Christ, to whom be praise and dominion for ever and ever. Amen"
Galatians 5:13
"For, brethren, ye have been called unto liberty; only use not liberty for an occasion to the flesh, but by love serve one another"
Hebrews 13:16
"But to do good and to communicate forget not: for with such sacrifices God is well pleased"
Ephesians 2:10
"For we are his workmanship, created in Christ Jesus unto good works, which God hath before ordained that we should walk in them"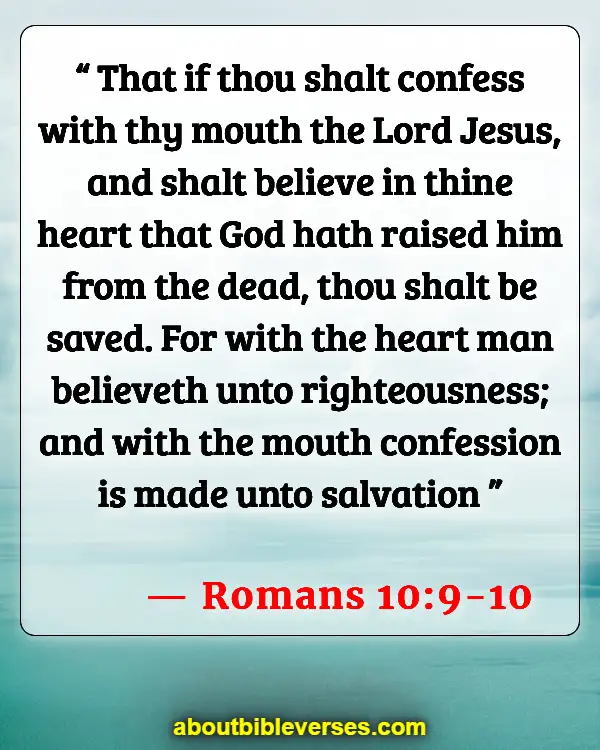 Romans 10:9-10
"That if thou shalt confess with thy mouth the Lord Jesus, and shalt believe in thine heart that God hath raised him from the dead, thou shalt be saved. For with the heart man believeth unto righteousness; and with the mouth confession is made unto salvation"
FAQs:
Q: What is the Great Commission that Jesus gave the church?
A: The Great Commission is Jesus' command in Matthew 28:19-20 to "go and make disciples of all nations, baptizing them and teaching them to obey everything I have commanded you."
Q: What is the ultimate goal of the Church's mission?
A: The ultimate goal of the Church's mission is to glorify God by making disciples of all nations and leading them to a personal relationship with Jesus Christ.
Q: Is the mission only for pastors and clergy?
A: No, the mission is for every believer. Each member of the Church has a unique role to play in fulfilling God's mission, using their gifts and talents to serve others.
Q: How can we prepare ourselves for the mission?
A: We must stay rooted in prayer and the Word of God. Building a strong relationship with Christ equips us to share His love effectively.
Q: What if I face opposition while fulfilling the mission?
A: Just as the early disciples faced challenges, we too may encounter opposition. Trust in God's strength, and remember that the Holy Spirit will guide and empower you.
Q: What role does service play in the mission of the church?
A: Serving others demonstrates God's love in practical ways. The church is called to care for those in need both spiritually and physically through acts of service and compassion.
Q: Can one person make a significant impact on the mission?
A: Absolutely! Throughout history, we see how God used individuals to transform nations. Trust in His power, and be faithful in even the smallest tasks. God can use anyone who is willing to be used for His purpose.