Hello dear friends, welcome to our site in the name of Jesus Christ. Today we will look at the Bible Scriptures About The Cross In KJV. If you like today's post then definitely comment and share.
The cross, to many, is a symbol of faith, a beacon of hope, and proof of the greatest act of love. It carries deep and multifaceted significance. First and foremost, it represents God's boundless love for us.
God, in His divine wisdom, chose to send His only Son into the world. This Son, Jesus, lived among us, taught us, loved us, and finally, carried a cross on His shoulders bearing the burden of our sins.
His journey to the cross was marked by suffering, yet it was endured with such grace and strength that it has become an enduring symbol of victory over suffering. On the cross, He suffered, bore our sins, and gave His life so that we might have eternal life. His resurrection from the cross, three days later, enlightened the world with a new understanding of life, death and eternity. This is the divine aspect of the cross.
In our daily lives, the cross teaches us important lessons. It reminds us that, like Jesus, we must bear our own crosses—our challenges, trials, and tribulations—with courage and faith. It encourages us to practice compassion, forgiveness and self-sacrifice.
Dear friends now let's see the Bible scriptures below that talk about The Cross.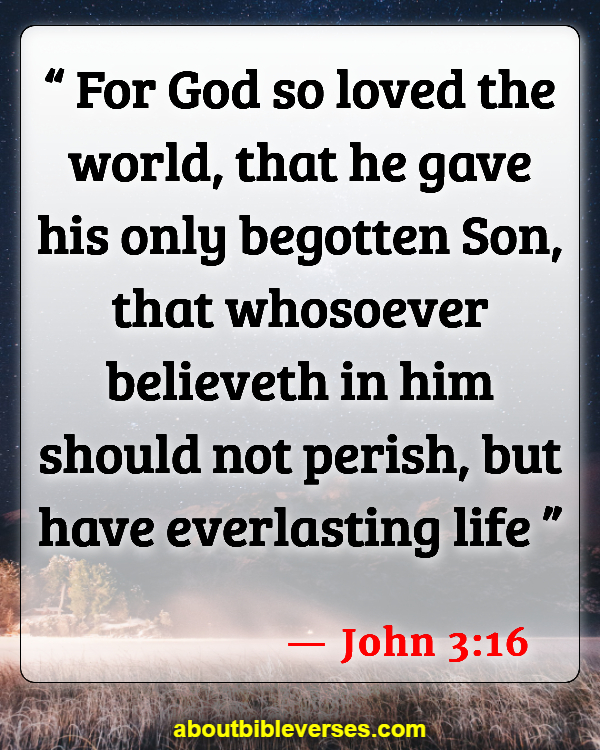 John 3:16
"For God so loved the world, that he gave his only begotten Son, that whosoever believeth in him should not perish, but have everlasting life"
Romans 5:8
"But God commendeth his love toward us, in that, while we were yet sinners, Christ died for us"
1 Peter 2:24
"Who his own self bare our sins in his own body on the tree, that we, being dead to sins, should live unto righteousness: by whose stripes ye were healed"
Mark 10:34
"And they shall mock him, and shall scourge him, and shall spit upon him, and shall kill him: and the third day he shall rise again"
Luke 23:33
"And when they were come to the place, which is called Calvary, there they crucified him, and the malefactors, one on the right hand, and the other on the left"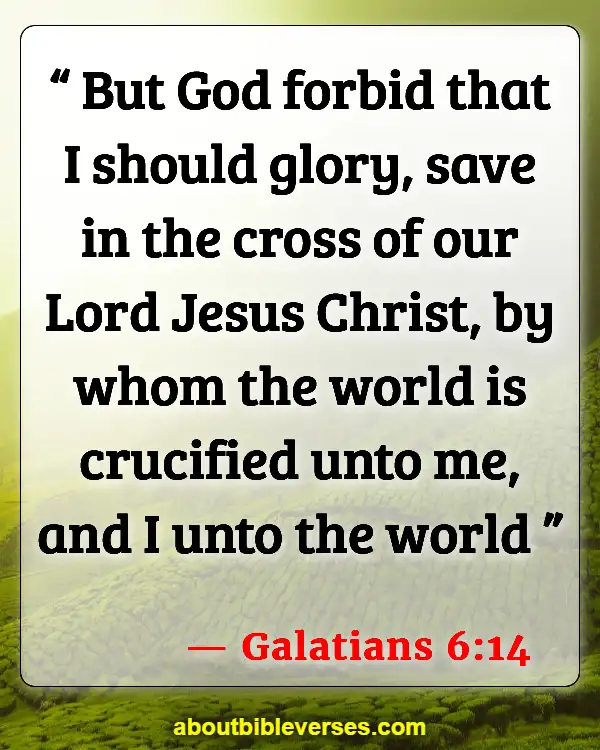 Galatians 6:14
"But God forbid that I should glory, save in the cross of our Lord Jesus Christ, by whom the world is crucified unto me, and I unto the world"
1 Corinthians 1:18
"For the preaching of the cross is to them that perish foolishness; but unto us which are saved it is the power of God"
Philippians 2:8
"And being found in fashion as a man, he humbled himself, and became obedient unto death, even the death of the cross"
Colossians 2:14
"Blotting out the handwriting of ordinances that was against us, which was contrary to us, and took it out of the way, nailing it to his cross"
Hebrews 12:2
"Looking unto Jesus the author and finisher of our faith; who for the joy that was set before him endured the cross, despising the shame, and is set down at the right hand of the throne of God"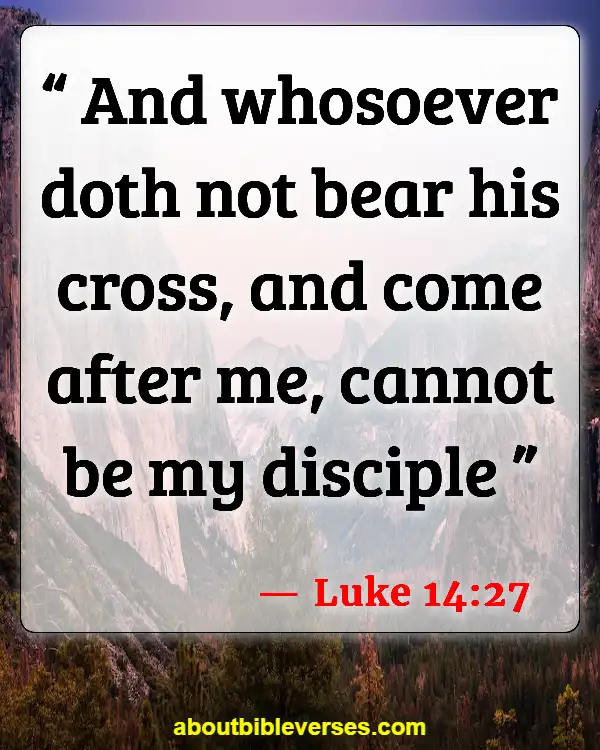 Luke 14:27
"And whosoever doth not bear his cross, and come after me, cannot be my disciple"
John 19:17
"And he bearing his cross went forth into a place called the place of a skull, which is called in the Hebrew Golgotha"
Ephesians 2:16
"And that he might reconcile both unto God in one body by the cross, having slain the enmity thereby"
Colossians 1:20
"And, having made peace through the blood of his cross, by him to reconcile all things unto himself; by him, I say, whether they be things in earth, or things in heaven"
1 Peter 4:1
"Forasmuch then as Christ hath suffered for us in the flesh, arm yourselves likewise with the same mind: for he that hath suffered in the flesh hath ceased from sin"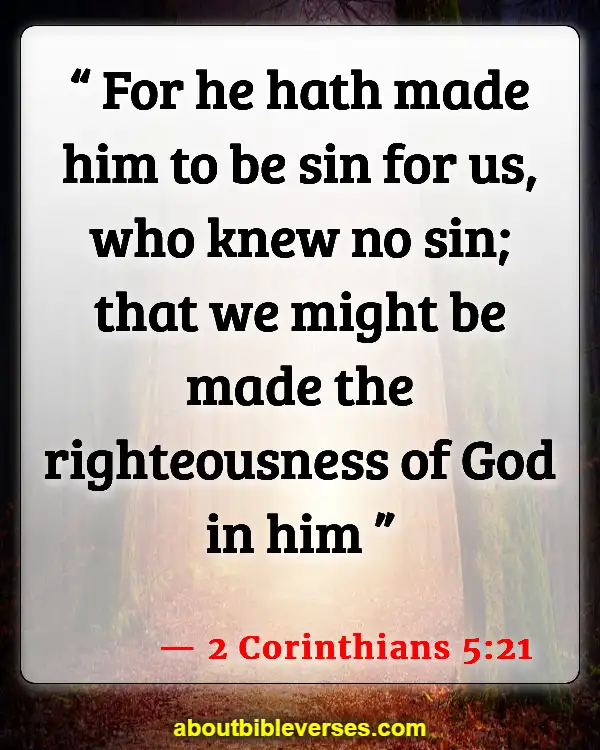 2 Corinthians 5:21
"For he hath made him to be sin for us, who knew no sin; that we might be made the righteousness of God in him"
Mark 8:34
"And when he had called the people unto him with his disciples also, he said unto them, Whosoever will come after me, let him deny himself, and take up his cross, and follow me"
Matthew 16:24
"Then said Jesus unto his disciples, If any man will come after me, let him deny himself, and take up his cross, and follow me"
Romans 6:6
"Knowing this, that our old man is crucified with him, that the body of sin might be destroyed, that henceforth we should not serve sin"
Galatians 2:20
"I am crucified with Christ: nevertheless I live; yet not I, but Christ liveth in me: and the life which I now live in the flesh I live by the faith of the Son of God, who loved me, and gave himself for me"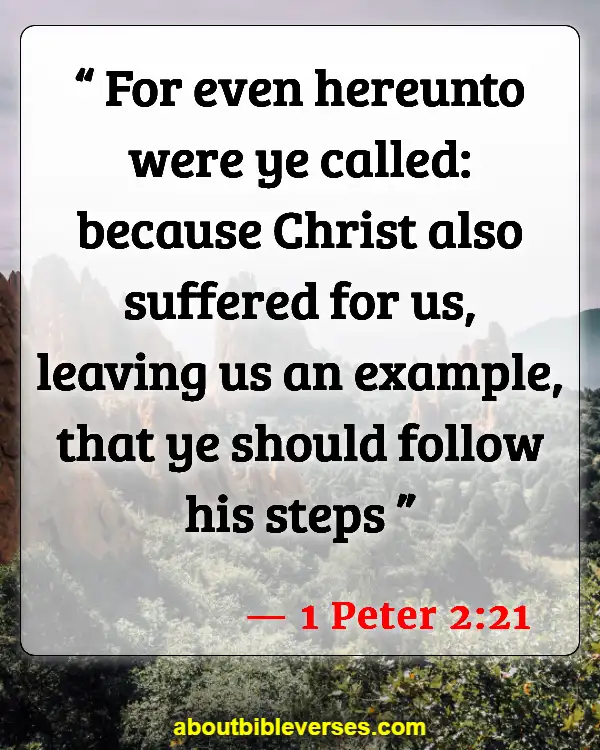 1 Peter 2:21
"For even hereunto were ye called: because Christ also suffered for us, leaving us an example, that ye should follow his steps"
Acts 5:30
"The God of our fathers raised up Jesus, whom ye slew and hanged on a tree"
1 Corinthians 2:2
"For I determined not to know any thing among you, save Jesus Christ, and him crucified"
Galatians 5:24
"And they that are Christ's have crucified the flesh with the affections and lusts"
Philippians 3:18
"(For many walk, of whom I have told you often, and now tell you even weeping, that they are the enemies of the cross of Christ"
1 Thessalonians 1:10
"And to wait for his Son from heaven, whom he raised from the dead, even Jesus, which delivered us from the wrath to come"
Hebrews 2:9
"But we see Jesus, who was made a little lower than the angels for the suffering of death, crowned with glory and honour; that he by the grace of God should taste death for every man"
Acts 2:23
"Him, being delivered by the determinate counsel and foreknowledge of God, ye have taken, and by wicked hands have crucified and slain"
1 John 2:2
"And he is the propitiation for our sins: and not for ours only, but also for the sins of the whole world"
John 12:32
"And I, if I be lifted up from the earth, will draw all men unto me"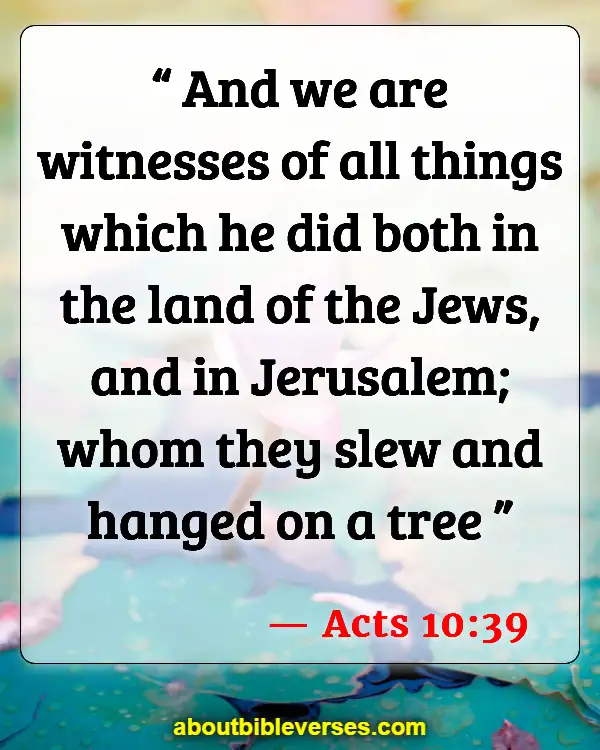 Acts 10:39
"And we are witnesses of all things which he did both in the land of the Jews, and in Jerusalem; whom they slew and hanged on a tree"
Colossians 1:22
"In the body of his flesh through death, to present you holy and unblameable and unreproveable in his sight"
Ephesians 2:8-9
"For by grace are ye saved through faith; and that not of yourselves: it is the gift of God: Not of works, lest any man should boast"
Matthew 10:38
"And he that taketh not his cross, and followeth after me, is not worthy of me"
Luke 9:23
"And he said to them all, If any man will come after me, let him deny himself, and take up his cross daily, and follow me"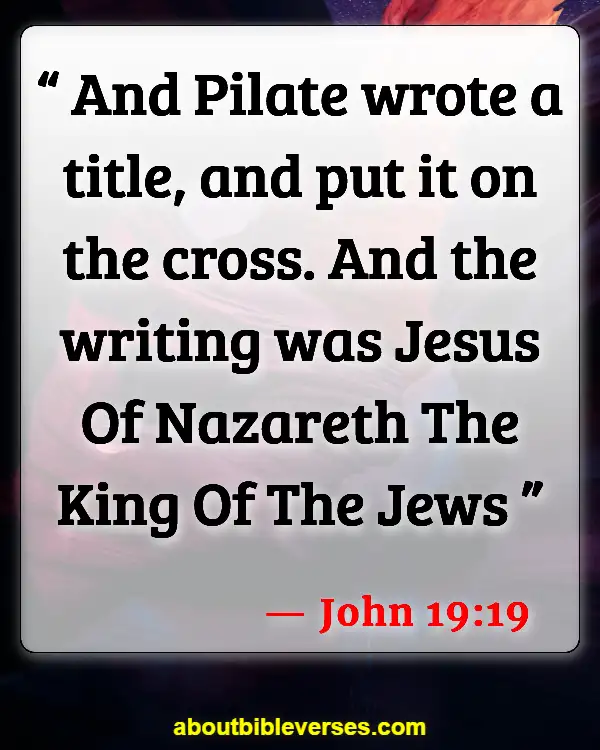 John 19:19
"And Pilate wrote a title, and put it on the cross. And the writing was Jesus Of Nazareth The King Of The Jews"
Mark 15:26
"And the superscription of his accusation was written over, The King Of The Jews"
Hebrews 10:12
"But this man, after he had offered one sacrifice for sins for ever, sat down on the right hand of God"
1 Peter 2:24
"Who his own self bare our sins in his own body on the tree, that we, being dead to sins, should live unto righteousness: by whose stripes ye were healed"
Revelation 7:14
"And I said unto him, Sir, thou knowest. And he said to me, These are they which came out of great tribulation, and have washed their robes, and made them white in the blood of the Lamb"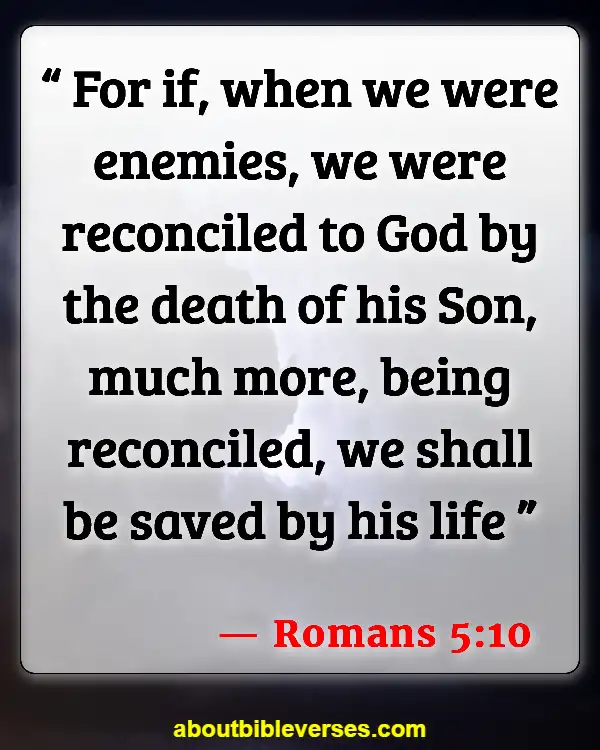 Romans 5:10
"For if, when we were enemies, we were reconciled to God by the death of his Son, much more, being reconciled, we shall be saved by his life"
2 Corinthians 13:4
"For though he was crucified through weakness, yet he liveth by the power of God. For we also are weak in him, but we shall live with him by the power of God toward you"
Colossians 2:12
"Buried with him in baptism, wherein also ye are risen with him through the faith of the operation of God, who hath raised him from the dead"
Galatians 3:1
"O foolish Galatians, who hath bewitched you, that ye should not obey the truth, before whose eyes Jesus Christ hath been evidently set forth, crucified among you?"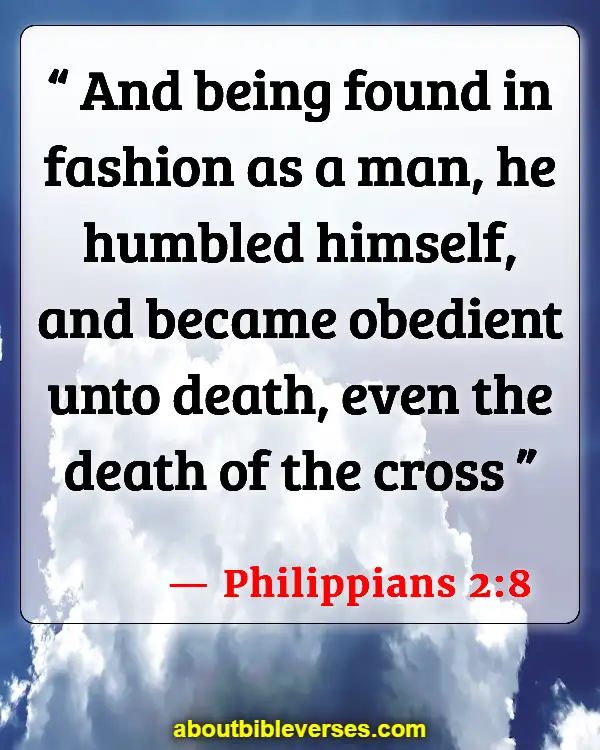 Philippians 2:8
"And being found in fashion as a man, he humbled himself, and became obedient unto death, even the death of the cross"
1 Timothy 2:6
"Who gave himself a ransom for all, to be testified in due time"
Hebrews 9:28
"So Christ was once offered to bear the sins of many; and unto them that look for him shall he appear the second time without sin unto salvation"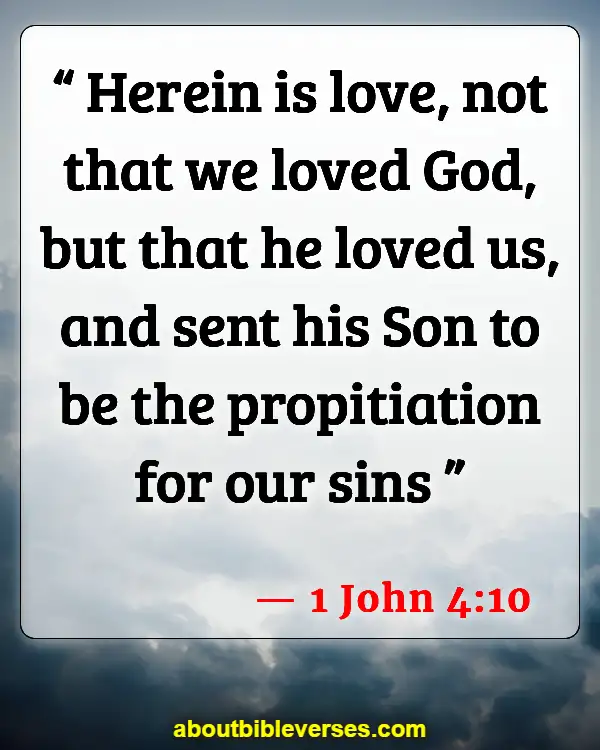 1 John 4:10
"Herein is love, not that we loved God, but that he loved us, and sent his Son to be the propitiation for our sins"