Hello, dear friends welcome to our site in the name of Jesus Christ. Today we will look at Bible verses about caring for your elderly parents. If you like our post today, don't forget to share it with your family and friends.
Dear friends, taking care of our aged parents is a sacred duty. As they cared for us in our youth, so we must care for them in their old age. The Bible says that a person who does not take care of his own family has fallen away from righteousness and is worse than an unbeliever.
Although their bodies may be weak, their spirits remain strong. We can make them happy by giving them time, besides talking, listening and reminiscing about the days gone by, every little thing makes their life happy in their old age. As Proverbs 23:22 says – "Listen to your father who gave you life, and do not despise your mother when she is old."
We can also take care of their physical needs – preparing meals, keeping their house clean, or helping with medical appointments. It honors them and God, as it says in Exodus 20:12 – "Honor your father and your mother, that you may live long." Ministering should be done with joy, not resentment.
As Galatians 6:2 reminds us, "Bear one another's burdens, and in this way you will fulfill the law of Christ."
We may have to make sacrifices to care for our parents – taking time off work or adjusting our own schedules. As Philippians 2:3 says, "Do nothing out of selfish ambition or vainglory. Rather, in humility value others above yourself." ."
Caring for parents allows us to receive God's love. We can brighten their days with laughter, music, shared hobbies or spiritual joy. Our time together is a blessing from God. Let us not dishonor this gift of God, but honor our fathers and mothers through service.
Let us now look at the following Bible verses that will make it more clear to you why we should care for our parents.
Ephesians 6:1-3
"Children, obey your parents in the Lord: for this is right. Honour thy father and mother; which is the first commandment with promise; That it may be well with thee, and thou mayest live long on the earth"
1 Timothy 5:8
"But if any provide not for his own, and specially for those of his own house, he hath denied the faith, and is worse than an infidel"
Leviticus 19:32
"Thou shalt rise up before the hoary head, and honour the face of the old man, and fear thy God: I am the Lord"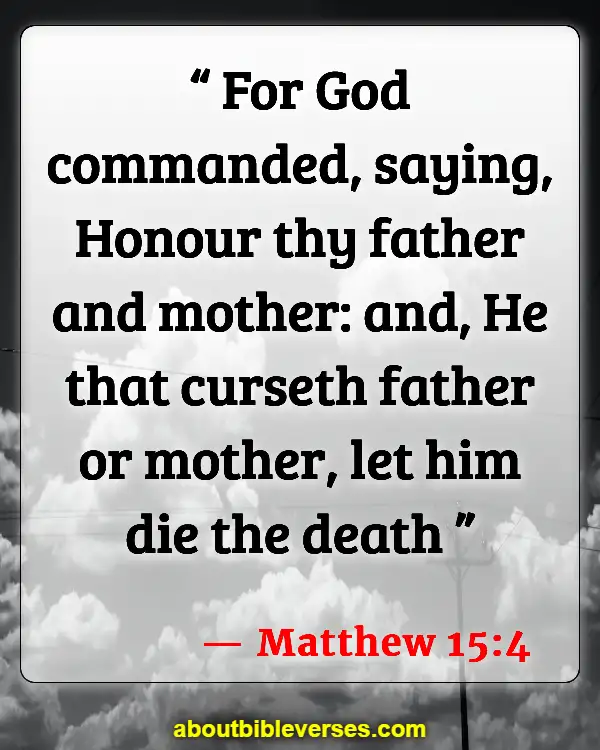 Matthew 15:4
"For God commanded, saying, Honour thy father and mother: and, He that curseth father or mother, let him die the death"
Proverbs 23:25
"Thy father and thy mother shall be glad, and she that bare thee shall rejoice"
Deuteronomy 5:16
"Honour thy father and thy mother, as the Lord thy God hath commanded thee; that thy days may be prolonged, and that it may go well with thee, in the land which the Lord thy God giveth thee"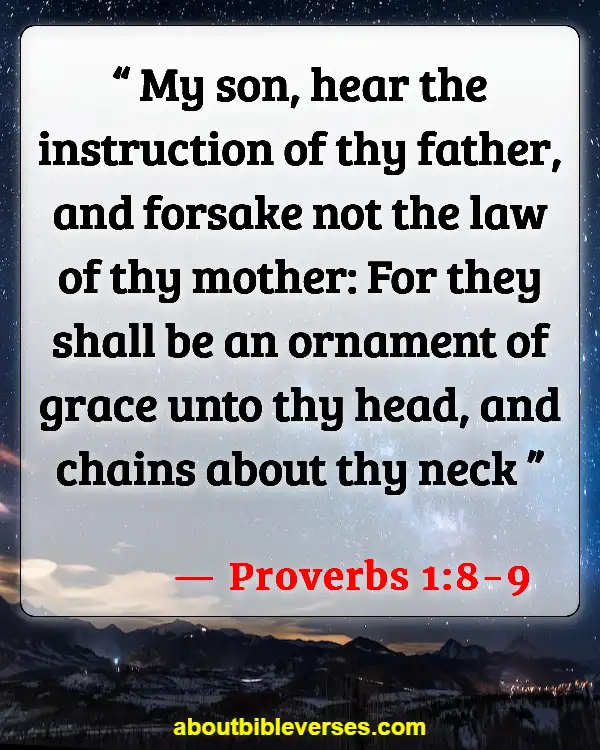 Proverbs 1:8-9
"My son, hear the instruction of thy father, and forsake not the law of thy mother: For they shall be an ornament of grace unto thy head, and chains about thy neck"
Colossians 3:20
"Children, obey your parents in all things: for this is well pleasing unto the Lord"
Proverbs 30:17
"The eye that mocketh at his father, and despiseth to obey his mother, the ravens of the valley shall pick it out, and the young eagles shall eat it"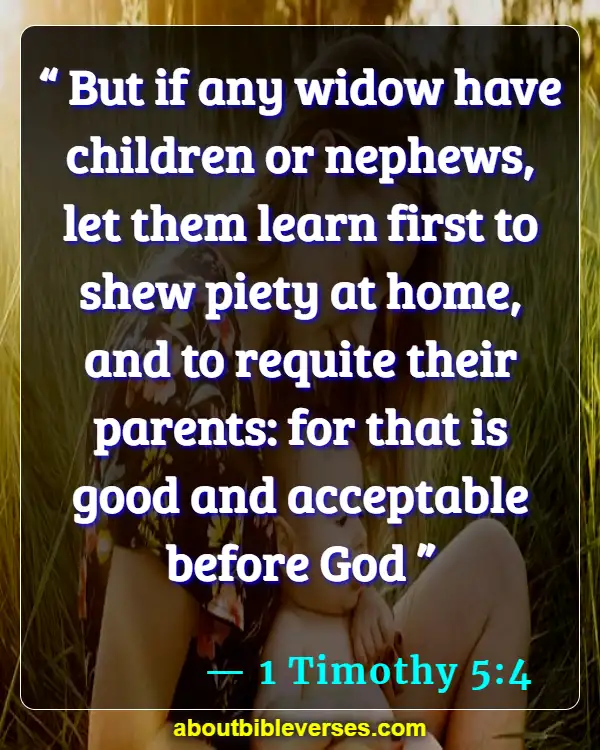 1 Timothy 5:4
"But if any widow have children or nephews, let them learn first to shew piety at home, and to requite their parents: for that is good and acceptable before God"
Proverbs 3:1-2
"My son, forget not my law; but let thine heart keep my commandments: For length of days, and long life, and peace, shall they add to thee"
Proverbs 6:20-22
"My son, keep thy father's commandment, and forsake not the law of thy mother: Bind them continually upon thine heart, and tie them about thy neck. When thou goest, it shall lead thee; when thou sleepest, it shall keep thee; and when thou awakest, it shall talk with thee"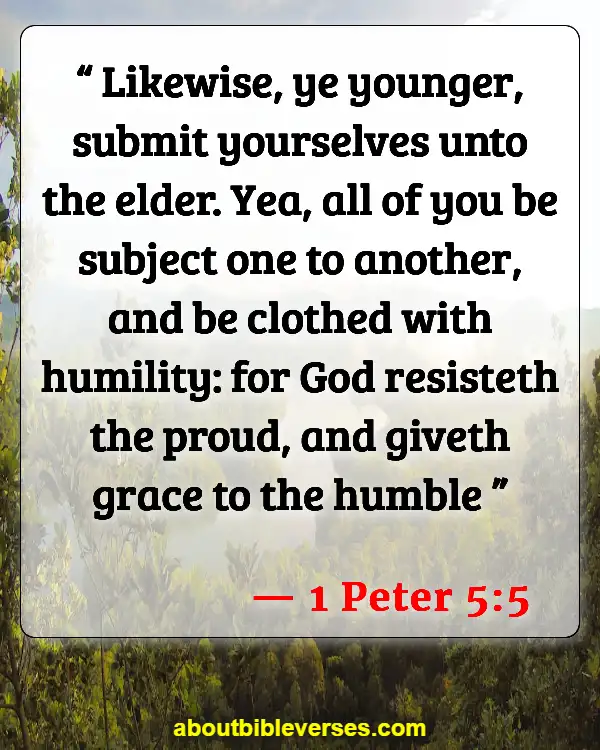 1 Peter 5:5
"Likewise, ye younger, submit yourselves unto the elder. Yea, all of you be subject one to another, and be clothed with humility: for God resisteth the proud, and giveth grace to the humble"
Ruth 1:16-17
"And Ruth said, Intreat me not to leave thee, or to return from following after thee: for whither thou goest, I will go; and where thou lodgest, I will lodge: thy people shall be my people, and thy God my God: Where thou diest, will I die, and there will I be buried: the Lord do so to me, and more also, if ought but death part thee and me"
Proverbs 15:20
"A wise son maketh a glad father: but a foolish man despiseth his mother"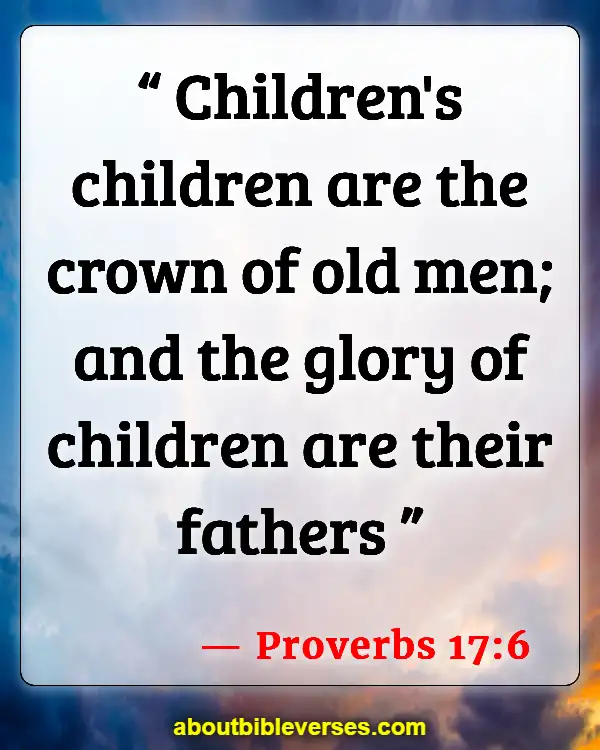 Proverbs 17:6
"Children's children are the crown of old men; and the glory of children are their fathers"
Proverbs 28:24
"Whoso robbeth his father or his mother, and saith, It is no transgression; the same is the companion of a destroyer"
James 1:27
"Pure religion and undefiled before God and the Father is this, To visit the fatherless and widows in their affliction, and to keep himself unspotted from the world"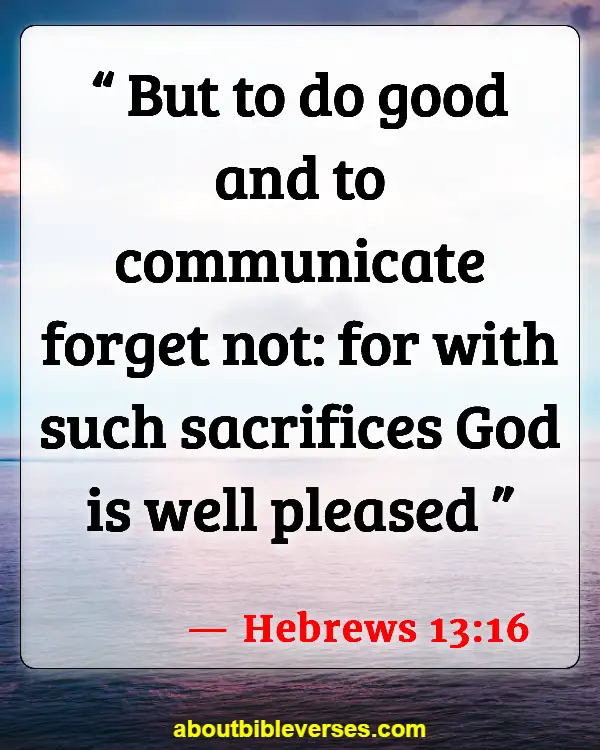 Hebrews 13:16
"But to do good and to communicate forget not: for with such sacrifices God is well pleased"
Philippians 2:3-4
"Let nothing be done through strife or vainglory; but in lowliness of mind let each esteem other better than themselves. Look not every man on his own things, but every man also on the things of others"
Matthew 19:19
"Honour thy father and thy mother: and, Thou shalt love thy neighbour as thyself"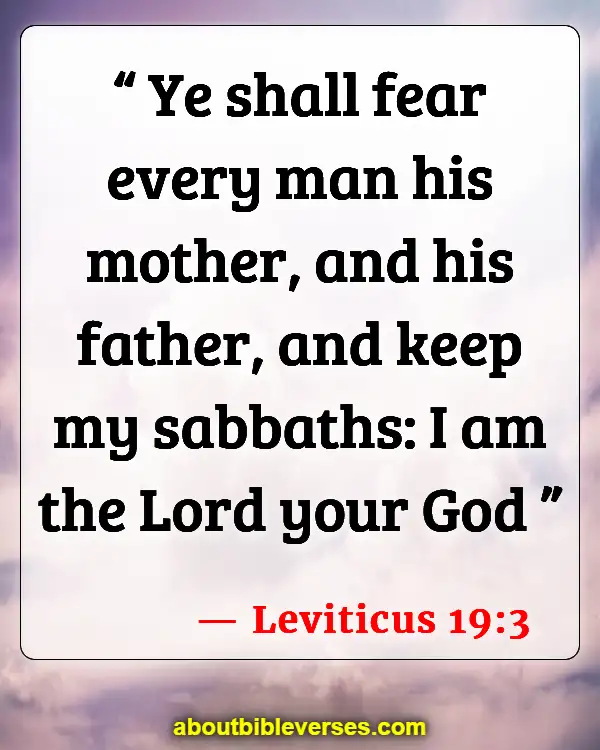 Leviticus 19:3
"Ye shall fear every man his mother, and his father, and keep my sabbaths: I am the Lord your God"