Brothers and sisters, in times of adversity and challenges, we must turn to the Word of God for guidance on survival. The Bible is a source of divine wisdom that can show us the way to endure and overcome our trials.
Firstly, we must remember that God is our ultimate provider and protector. Just as He sustained the Israelites in the wilderness, He will also sustain us in our journeys. Trusting in His plan and seeking His guidance will lead us through even the most difficult circumstances.
Throughout the Scriptures, we find stories of individuals who faced immense hardships but were delivered through their faith. Take, for instance, the story of Joseph, who was sold into slavery by his brothers but ultimately became a powerful ruler in Egypt. Joseph's unwavering trust in God's plan allowed him to rise above his circumstances and thrive.
Another inspiring tale is that of David, who faced the mighty Goliath on the battlefield. Though young and seemingly ill-equipped, his trust in the Lord enabled him to triumph against all odds. This story teaches us that even in the face of giants, we can conquer our fears with God's strength.
Furthermore, the Bible emphasizes the importance of community and supporting one another. Just as the early Christian church shared their possessions and resources, we too must unite and care for each other during times of struggle. Together, we can find strength and solace in our shared faith.
Finally, I want to say, survival, in both the physical and spiritual sense, lies in trusting God, remaining steadfast in our faith, and relying on the support of our Christian community. Let us seek the wisdom found in the Holy Scriptures and allow it to guide us through life's trials, knowing that with God's grace, we can endure and thrive. May the Lord be with you all, now and forevermore. Amen.
Dear friends now let's see the Bible scriptures below that talk about Survival.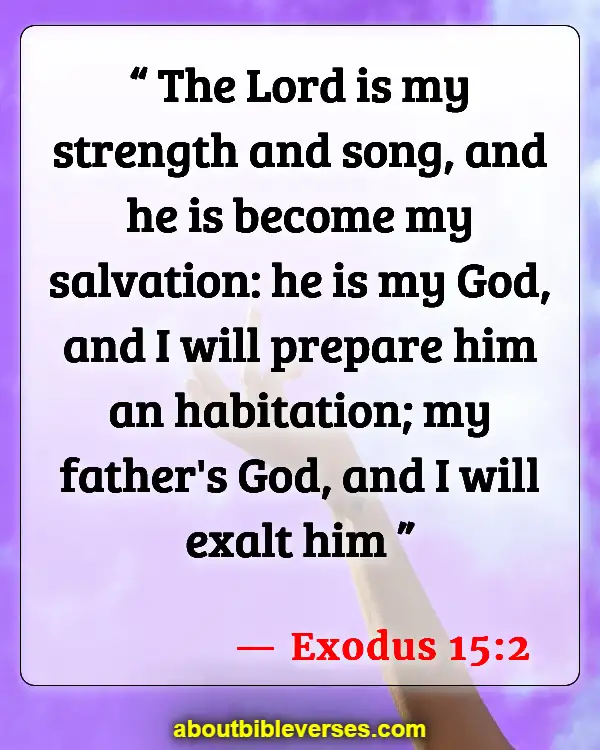 Exodus 15:2
"The Lord is my strength and song, and he is become my salvation: he is my God, and I will prepare him an habitation; my father's God, and I will exalt him"
Psalm 34:19
"Many are the afflictions of the righteous: but the Lord delivereth him out of them all"
Psalm 46:1
"God is our refuge and strength, a very present help in trouble"
Psalm 91:1-2
"He that dwelleth in the secret place of the most High shall abide under the shadow of the Almighty. I will say of the Lord , He is my refuge and my fortress: my God; in him will I trust"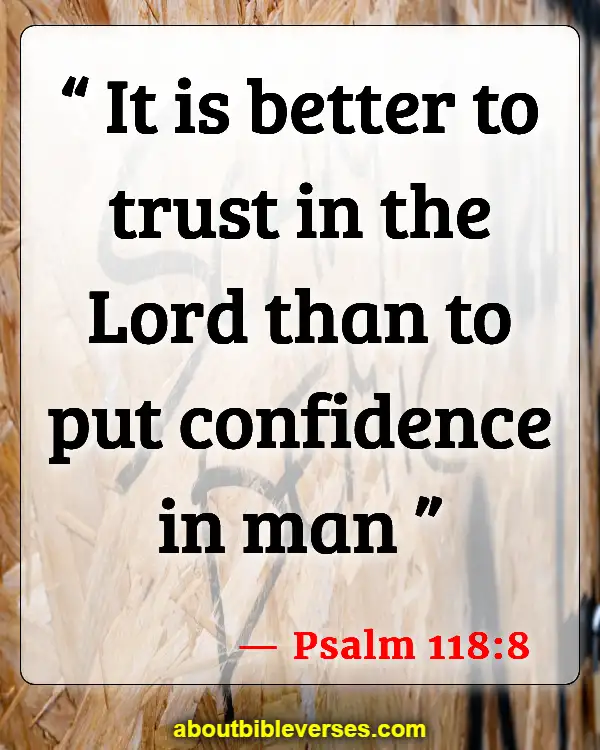 Psalm 118:8
"It is better to trust in the Lord than to put confidence in man"
Psalm 138:7
"Though I walk in the midst of trouble, thou wilt revive me: thou shalt stretch forth thine hand against the wrath of mine enemies, and thy right hand shall save me"
Proverbs 3:5-6
"Trust in the Lord with all thine heart; and lean not unto thine own understanding. In all thy ways acknowledge him, and he shall direct thy paths"
Isaiah 41:10
"Fear thou not; for I am with thee: be not dismayed; for I am thy God: I will strengthen thee; yea, I will help thee; yea, I will uphold thee with the right hand of my righteousness"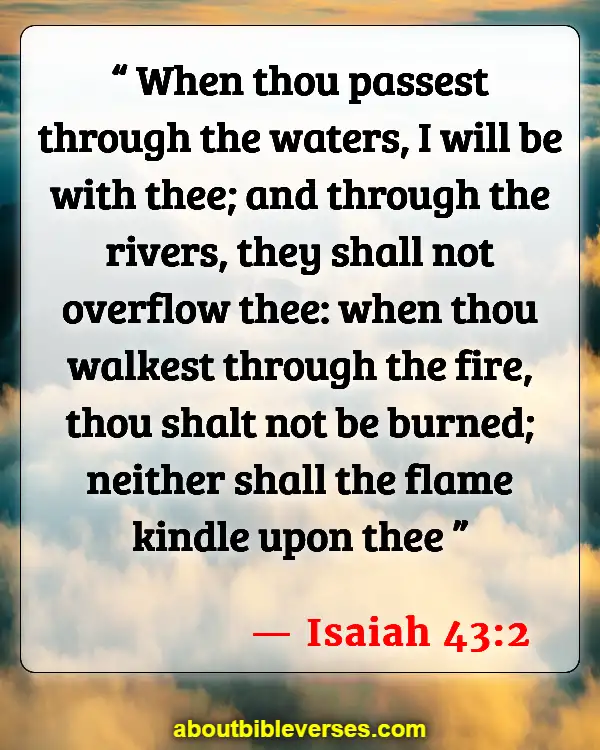 Isaiah 43:2
"When thou passest through the waters, I will be with thee; and through the rivers, they shall not overflow thee: when thou walkest through the fire, thou shalt not be burned; neither shall the flame kindle upon thee"
Matthew 6:25-26
"Therefore I say unto you, Take no thought for your life, what ye shall eat, or what ye shall drink; nor yet for your body, what ye shall put on. Is not the life more than meat, and the body than raiment? Behold the fowls of the air: for they sow not, neither do they reap, nor gather into barns; yet your heavenly Father feedeth them. Are ye not much better than they?"
Matthew 11:28-30
"Come unto me, all ye that labour and are heavy laden, and I will give you rest. Take my yoke upon you, and learn of me; for I am meek and lowly in heart: and ye shall find rest unto your souls. For my yoke is easy, and my burden is light"
John 16:33
"These things I have spoken unto you, that in me ye might have peace. In the world ye shall have tribulation: but be of good cheer; I have overcome the world"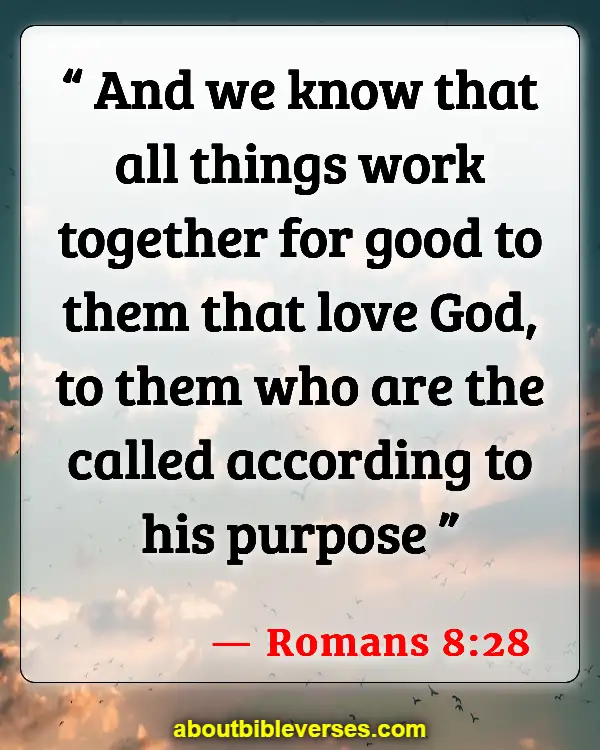 Romans 8:28
"And we know that all things work together for good to them that love God, to them who are the called according to his purpose"
Romans 12:12
"Rejoicing in hope; patient in tribulation; continuing instant in prayer"
1 Corinthians 10:13
"There hath no temptation taken you but such as is common to man: but God is faithful, who will not suffer you to be tempted above that ye are able; but will with the temptation also make a way to escape, that ye may be able to bear it"
2 Corinthians 4:8-9
"We are troubled on every side, yet not distressed; we are perplexed, but not in despair; Persecuted, but not forsaken; cast down, but not destroyed"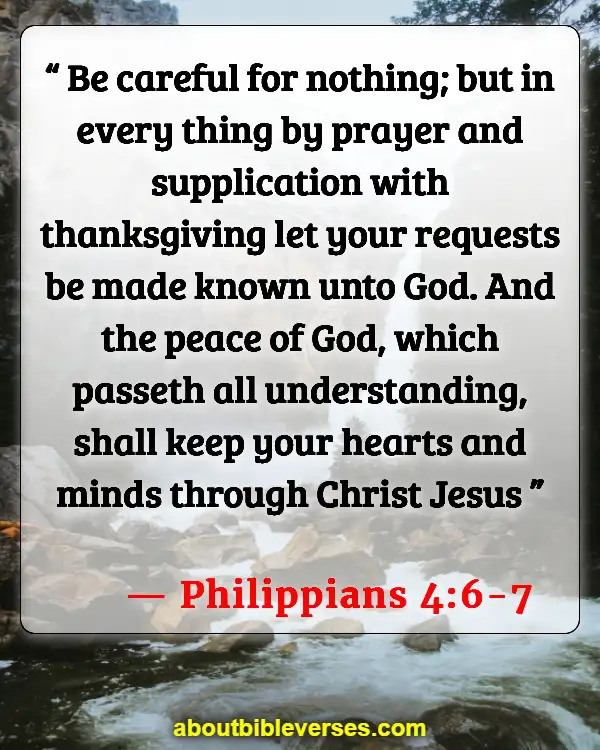 Philippians 4:6-7
"Be careful for nothing; but in every thing by prayer and supplication with thanksgiving let your requests be made known unto God. And the peace of God, which passeth all understanding, shall keep your hearts and minds through Christ Jesus"
Philippians 4:13
"I can do all things through Christ which strengtheneth me"
1 Peter 5:7
"Casting all your care upon him; for he careth for you"
1 John 4:4
"Ye are of God, little children, and have overcome them: because greater is he that is in you, than he that is in the world"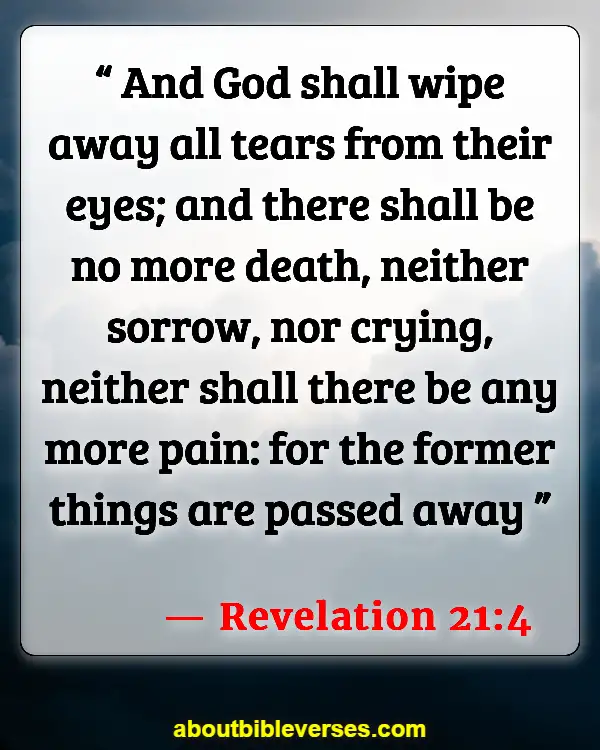 Revelation 21:4
"And God shall wipe away all tears from their eyes; and there shall be no more death, neither sorrow, nor crying, neither shall there be any more pain: for the former things are passed away"
Deuteronomy 31:6
"Be strong and of a good courage, fear not, nor be afraid of them: for the Lord thy God, he it is that doth go with thee; he will not fail thee, nor forsake thee"
Joshua 1:9
"Have not I commanded thee? Be strong and of a good courage; be not afraid, neither be thou dismayed: for the Lord thy God is with thee whithersoever thou goest"
Matthew 6:31-33
"Therefore take no thought, saying, What shall we eat? or, What shall we drink? or, Wherewithal shall we be clothed? (For after all these things do the Gentiles seek:) for your heavenly Father knoweth that ye have need of all these things. But seek ye first the kingdom of God, and his righteousness; and all these things shall be added unto you"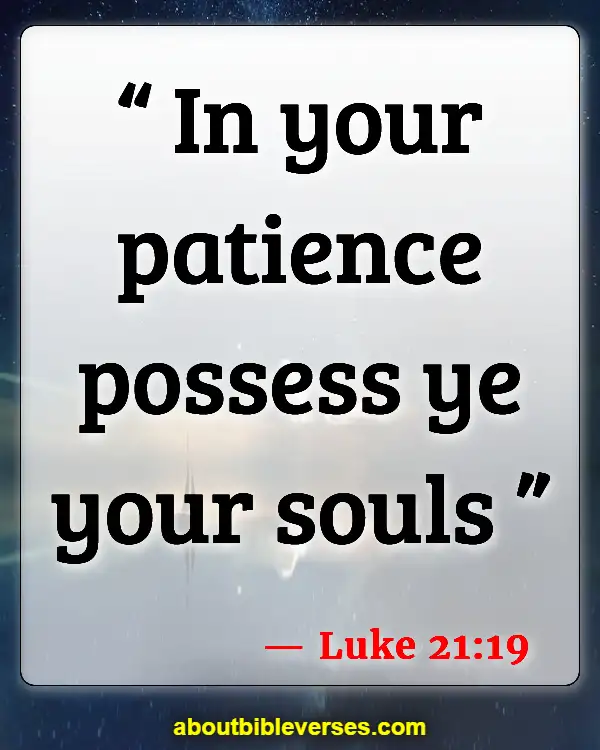 Luke 21:19
"In your patience possess ye your souls"
Matthew 24:13
"But he that shall endure unto the end, the same shall be saved"
Jeremiah 29:11
"For I know the thoughts that I think toward you, saith the Lord , thoughts of peace, and not of evil, to give you an expected end"
Isaiah 45:22
"Look unto me, and be ye saved, all the ends of the earth: for I am God, and there is none else"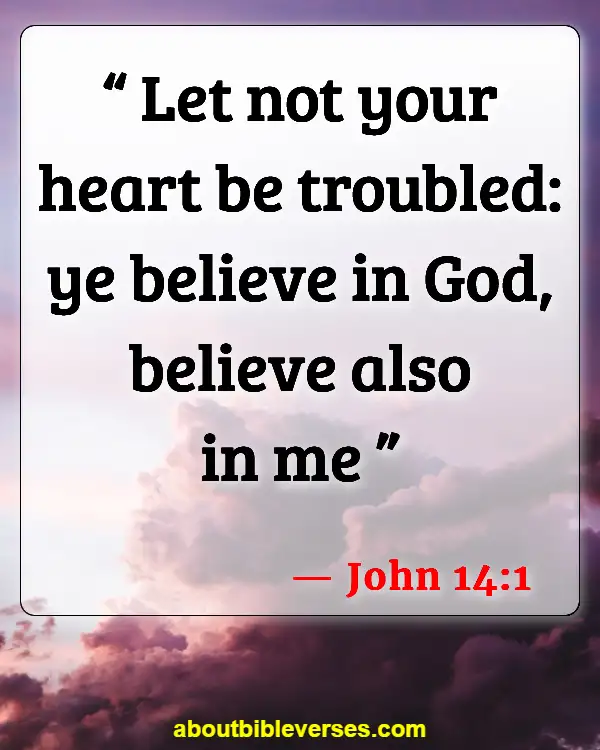 John 14:1
"Let not your heart be troubled: ye believe in God, believe also in me"
1 John 5:19
"And we know that we are of God, and the whole world lieth in wickedness"
Luke 21:36
"Watch ye therefore, and pray always, that ye may be accounted worthy to escape all these things that shall come to pass, and to stand before the Son of man"
James 1:12
"Blessed is the man that endureth temptation: for when he is tried, he shall receive the crown of life, which the Lord hath promised to them that love him"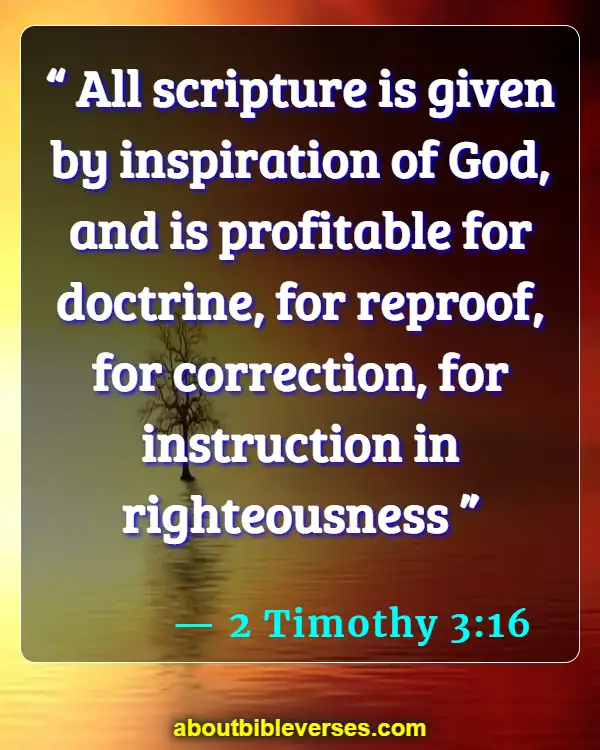 2 Timothy 3:16
"All scripture is given by inspiration of God, and is profitable for doctrine, for reproof, for correction, for instruction in righteousness"
Romans 5:2
"By whom also we have access by faith into this grace wherein we stand, and rejoice in hope of the glory of God"
Acts 3:19
"Repent ye therefore, and be converted, that your sins may be blotted out, when the times of refreshing shall come from the presence of the Lord"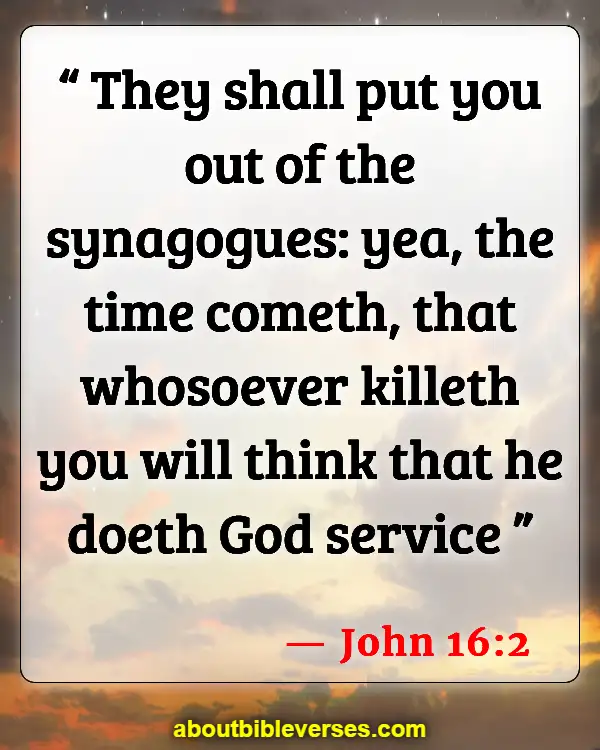 John 16:2
"They shall put you out of the synagogues: yea, the time cometh, that whosoever killeth you will think that he doeth God service"