Beloved brothers and sisters, in the journey of life, we often find ourselves entangled in worries, burdens, and trials. It is during these times that the Word of the Lord beckons us to surrender our problems to God.
Just as the Israelites, led by Moses, faced uncertainties in the vast wilderness, they learned to lean on the Almighty's guidance. Likewise, we must give our troubles over to the Lord, who is our ever-present help.
Remember, dear ones, that the Divine Creator knows every intricate detail. The scriptures remind us of the words of our Savior, Jesus Christ, who urged us not to be anxious about tomorrow, for each day has enough trouble of its own.
Consider the example of Job, a righteous man who faced unimaginable trials. Though he questioned his circumstances, he ultimately surrendered to God's sovereignty, acknowledging that His wisdom surpasses human understanding. Even in our confusion, we must trust in the Almighty's divine plan.
When burdens threaten to overwhelm us, let us remember the promise of the Psalms: "Cast your cares on the Lord, and He will sustain you." By surrendering our problems to God, we open ourselves to His peace which transcends all understanding.
Dear friends, as you walk this path of faith, surrender your problems to the Lord. Let His divine light dispel the darkness of worry, His unwavering love calm the storms within, and His boundless grace carries you through every trial. In the sacred act of surrender, you find not defeat, but victory, for God's strength, is made perfect in our weakness.
Dear friends now let's see the Bible scriptures below that talk about Surrendering Problems To God.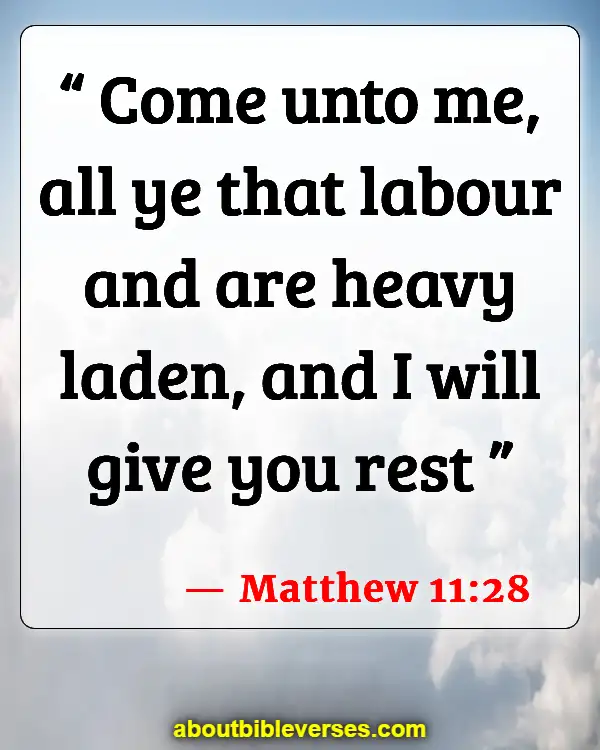 Matthew 11:28
"Come unto me, all ye that labour and are heavy laden, and I will give you rest"
Philippians 4:6-7
"Be careful for nothing; but in every thing by prayer and supplication with thanksgiving let your requests be made known unto God. And the peace of God, which passeth all understanding, shall keep your hearts and minds through Christ Jesus"
1 Peter 5:7
"Casting all your care upon him; for he careth for you"
Psalm 55:22
"Cast thy burden upon the Lord , and he shall sustain thee: he shall never suffer the righteous to be moved"
Proverbs 3:5-6
"Trust in the Lord with all thine heart; and lean not unto thine own understanding. In all thy ways acknowledge him, and he shall direct thy paths"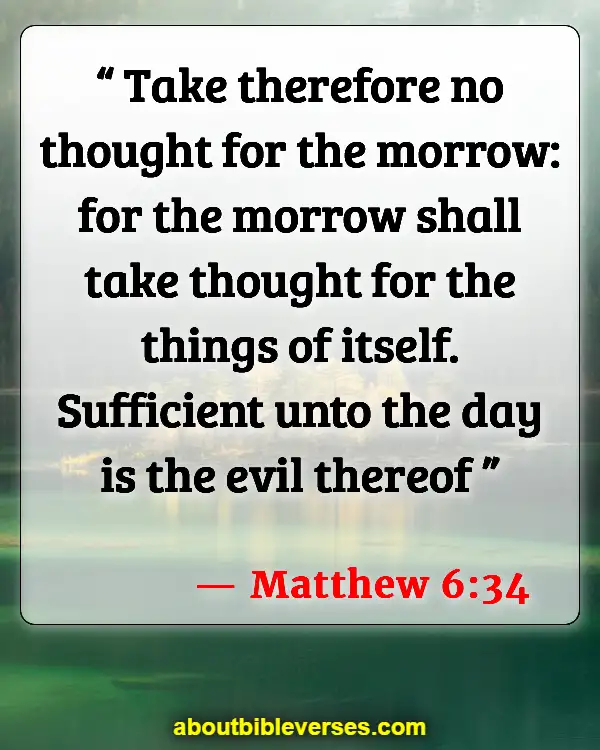 Matthew 6:34
"Take therefore no thought for the morrow: for the morrow shall take thought for the things of itself. Sufficient unto the day is the evil thereof"
Psalm 37:5
"Commit thy way unto the Lord ; trust also in him; and he shall bring it to pass"
Isaiah 41:10
"Fear thou not; for I am with thee: be not dismayed; for I am thy God: I will strengthen thee; yea, I will help thee; yea, I will uphold thee with the right hand of my righteousness"
Psalm 46:1
"God is our refuge and strength, a very present help in trouble"
2 Corinthians 12:9
"And he said unto me, My grace is sufficient for thee: for my strength is made perfect in weakness. Most gladly therefore will I rather glory in my infirmities, that the power of Christ may rest upon me"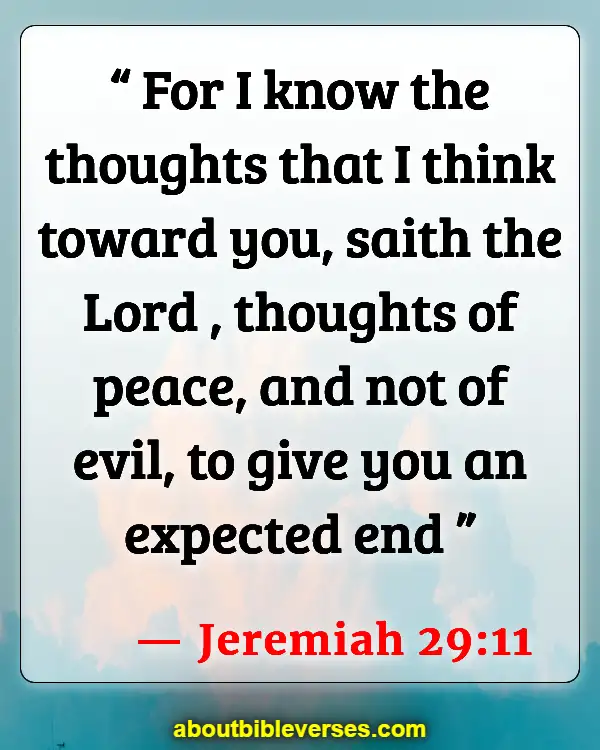 Jeremiah 29:11
"For I know the thoughts that I think toward you, saith the Lord , thoughts of peace, and not of evil, to give you an expected end"
Psalm 62:8
"Trust in him at all times; ye people, pour out your heart before him: God is a refuge for us. Selah"
Romans 8:28
"And we know that all things work together for good to them that love God, to them who are the called according to his purpose"
Psalm 56:3
"What time I am afraid, I will trust in thee"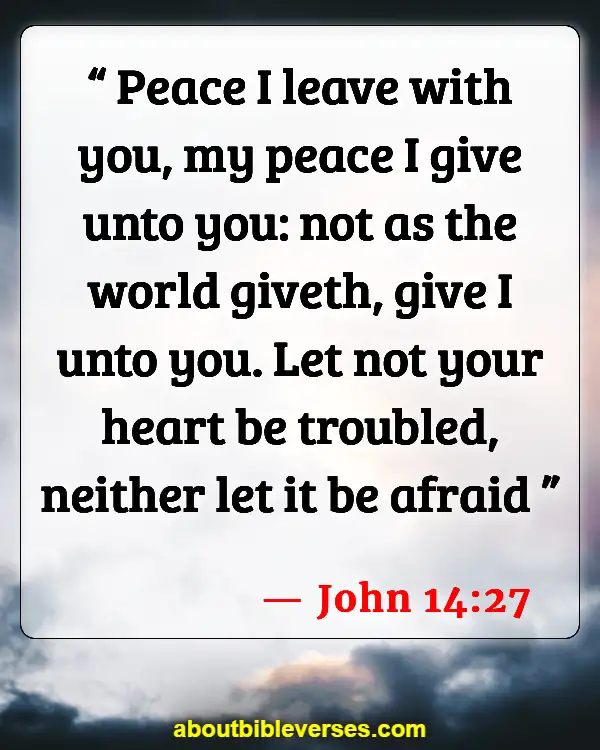 John 14:27
"Peace I leave with you, my peace I give unto you: not as the world giveth, give I unto you. Let not your heart be troubled, neither let it be afraid"
Isaiah 26:3
"Thou wilt keep him in perfect peace, whose mind is stayed on thee: because he trusteth in thee"
Romans 12:12
"Rejoicing in hope; patient in tribulation; continuing instant in prayer"
Psalm 34:4
"I sought the Lord , and he heard me, and delivered me from all my fears"
2 Timothy 1:7
"For God hath not given us the spirit of fear; but of power, and of love, and of a sound mind"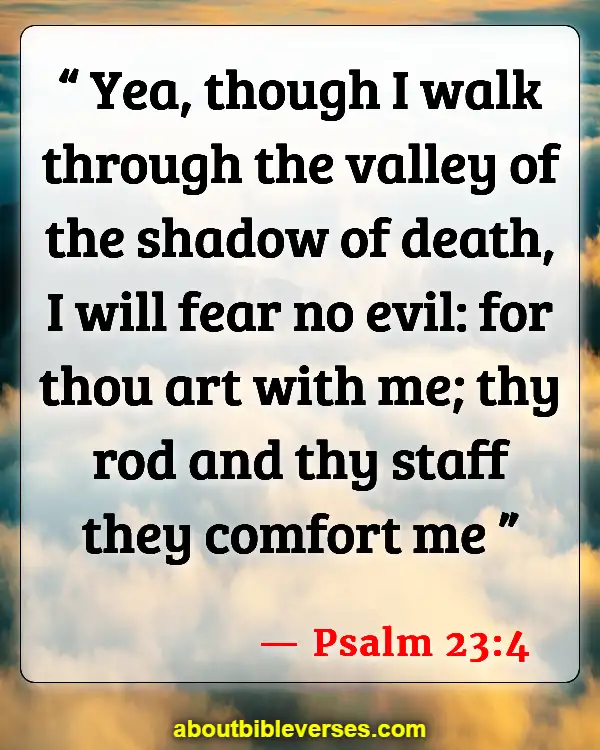 Psalm 23:4
"Yea, though I walk through the valley of the shadow of death, I will fear no evil: for thou art with me; thy rod and thy staff they comfort me"
Hebrews 13:5
"Let your conversation be without covetousness; and be content with such things as ye have: for he hath said, I will never leave thee, nor forsake thee"
Psalm 27:1
"The Lord is my light and my salvation; whom shall I fear? the Lord is the strength of my life; of whom shall I be afraid?"
1 John 4:18
"There is no fear in love; but perfect love casteth out fear: because fear hath torment. He that feareth is not made perfect in love"
Psalm 34:17
"The righteous cry, and the Lord heareth, and delivereth them out of all their troubles"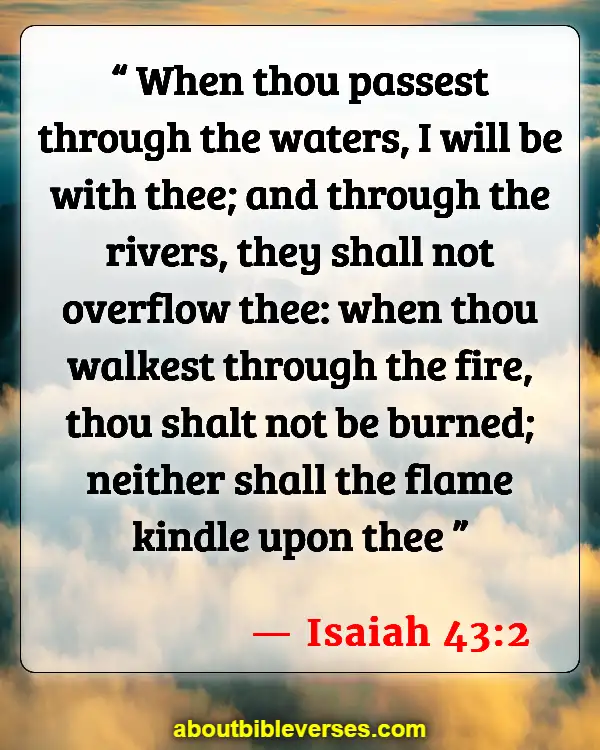 Isaiah 43:2
"When thou passest through the waters, I will be with thee; and through the rivers, they shall not overflow thee: when thou walkest through the fire, thou shalt not be burned; neither shall the flame kindle upon thee"
Psalm 37:7
"Rest in the Lord , and wait patiently for him: fret not thyself because of him who prospereth in his way, because of the man who bringeth wicked devices to pass"
2 Chronicles 20:15
"And he said, Hearken ye, all Judah, and ye inhabitants of Jerusalem, and thou king Jehoshaphat, Thus saith the Lord unto you, Be not afraid nor dismayed by reason of this great multitude; for the battle is not yours, but God's"
Psalm 50:15
"And call upon me in the day of trouble: I will deliver thee, and thou shalt glorify me"
Psalm 91:1-2
"He that dwelleth in the secret place of the most High shall abide under the shadow of the Almighty. I will say of the Lord , He is my refuge and my fortress: my God; in him will I trust"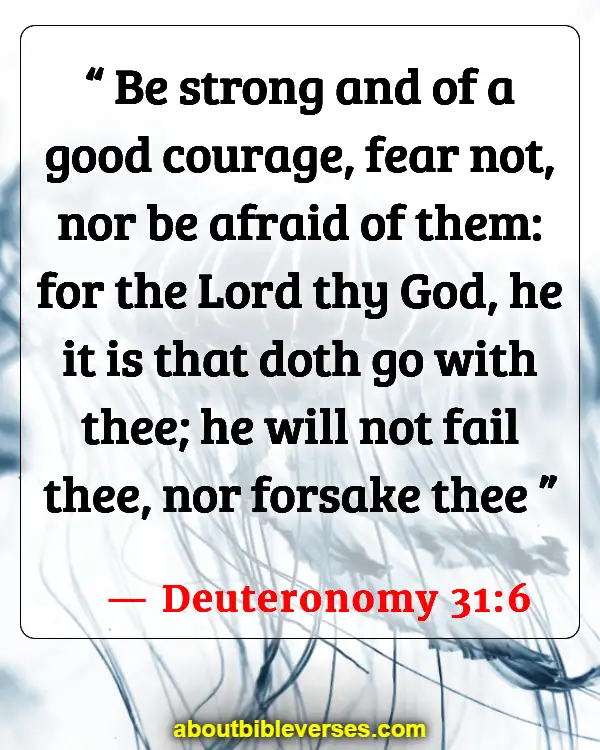 Deuteronomy 31:6
"Be strong and of a good courage, fear not, nor be afraid of them: for the Lord thy God, he it is that doth go with thee; he will not fail thee, nor forsake thee"
Psalm 121:1-2
"I will lift up mine eyes unto the hills, from whence cometh my help. My help cometh from the Lord , which made heaven and earth"
Psalm 145:18-19
"The Lord is nigh unto all them that call upon him, to all that call upon him in truth. He will fulfil the desire of them that fear him: he also will hear their cry, and will save them"
Psalm 138:3
"In the day when I cried thou answeredst me, and strengthenedst me with strength in my soul"
Psalm 61:2
"From the end of the earth will I cry unto thee, when my heart is overwhelmed: lead me to the rock that is higher than I"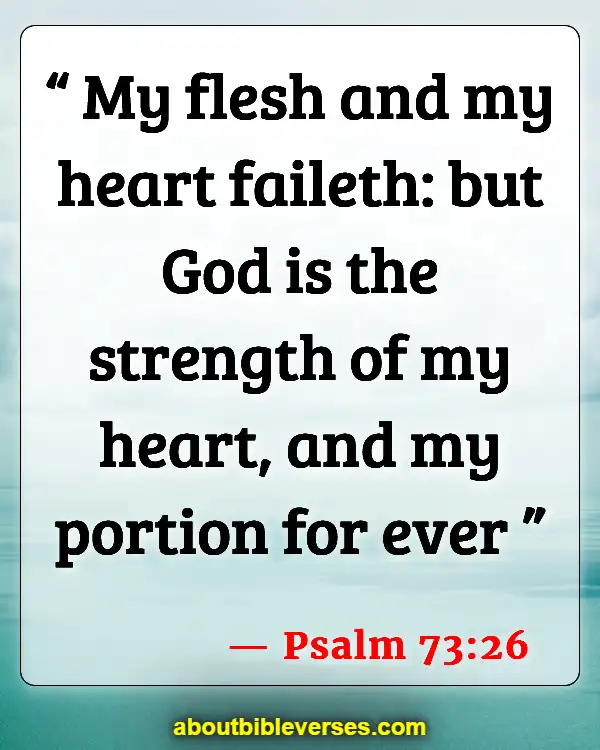 Psalm 73:26
"My flesh and my heart faileth: but God is the strength of my heart, and my portion for ever"
Psalm 130:5
"I wait for the Lord , my soul doth wait, and in his word do I hope"
Psalm 143:8
"Cause me to hear thy lovingkindness in the morning; for in thee do I trust: cause me to know the way wherein I should walk; for I lift up my soul unto thee"
Psalm 28:7
"The Lord is my strength and my shield; my heart trusted in him, and I am helped: therefore my heart greatly rejoiceth; and with my song will I praise him"
Psalm 16:8
"I have set the Lord always before me: because he is at my right hand, I shall not be moved"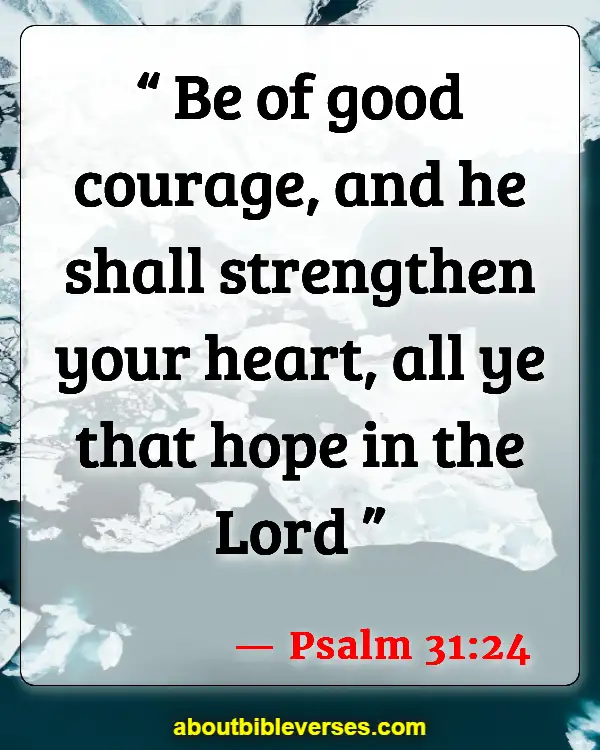 Psalm 31:24
"Be of good courage, and he shall strengthen your heart, all ye that hope in the Lord"
Psalm 9:9
"The Lord also will be a refuge for the oppressed, a refuge in times of trouble"
Psalm 32:7
"Thou art my hiding place; thou shalt preserve me from trouble; thou shalt compass me about with songs of deliverance. Selah"
Psalm 119:50
"This is my comfort in my affliction: for thy word hath quickened me"
Psalm 119:76
"Let, I pray thee, thy merciful kindness be for my comfort, according to thy word unto thy servant"
Psalm 94:19
"In the multitude of my thoughts within me thy comforts delight my soul"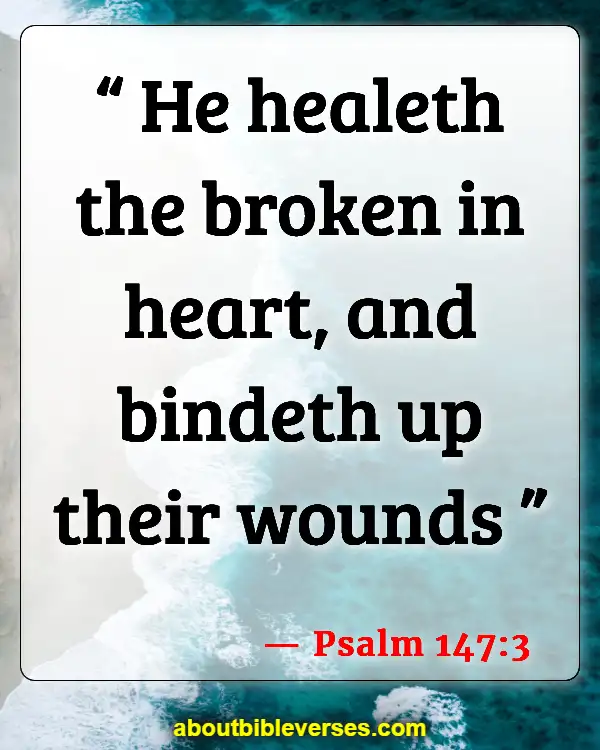 Psalm 147:3
"He healeth the broken in heart, and bindeth up their wounds"
Psalm 34:18
"The Lord is nigh unto them that are of a broken heart; and saveth such as be of a contrite spirit"
Psalm 30:5
"For his anger endureth but a moment; in his favour is life: weeping may endure for a night, but joy cometh in the morning"
Psalm 42:11
"Why art thou cast down, O my soul? and why art thou disquieted within me? hope thou in God: for I shall yet praise him, who is the health of my countenance, and my God"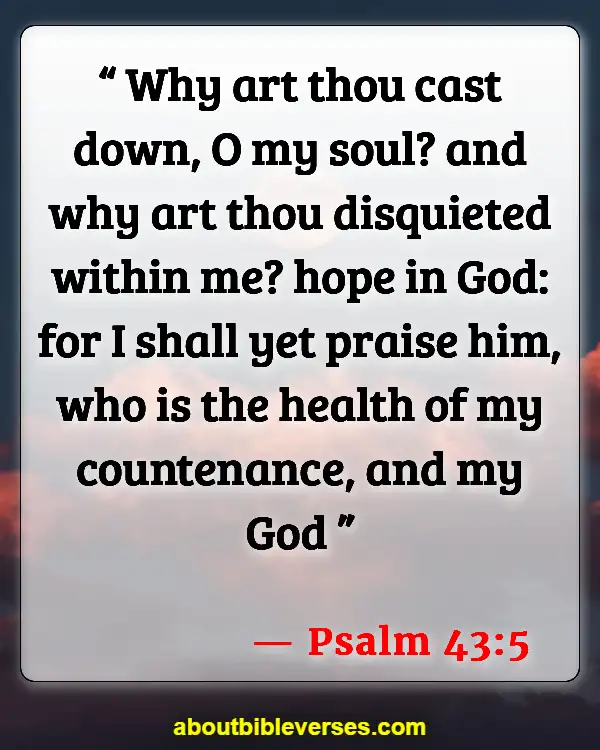 Psalm 43:5
"Why art thou cast down, O my soul? and why art thou disquieted within me? hope in God: for I shall yet praise him, who is the health of my countenance, and my God"