Dear Friends, In The Holy Bible we find stories of siblings who faced trials and challenges, leading to conflicts and even betrayal. These accounts serve as valuable lessons for us today, demonstrating the consequences of envy, jealousy, and pride that can afflict human hearts.
One such example lies in the tale of Cain and Abel, the sons of Adam and Eve. Cain's heart was clouded by jealousy when God favored Abel's offering over his own. Unable to control his emotions, he allowed anger to consume him, leading to the tragic act of fratricide. This heart-wrenching event teaches us the importance of controlling our emotions and seeking divine guidance in times of jealousy or resentment.
Another instance comes from the story of Joseph and his brothers. Joseph was dearly loved by their father, which fueled the fire of envy within his brothers. They betrayed him by selling him into slavery, causing immense pain and sorrow. Yet, through God's divine plan, Joseph's faithfulness and forgiveness ultimately led to reconciliation with his brothers and the salvation of their family during a time of famine.
These biblical accounts show us the power of divine spiritual knowledge, revealing that even in the darkest of betrayals and conflicts, God's plan is at work. We are reminded to seek God's wisdom and understanding in handling our relationships with siblings, embracing love, forgiveness, and humility.
As we reflect on these sacred stories, let us remember that sibling relationships can be complex, but with God's grace and guidance, we can overcome conflicts and build bonds of love and support. By living with compassion and understanding, we honor the teachings of the Bible and emulate the divine example of love and reconciliation that shines through these ancient narratives.
here are some Bible verses that discuss love, unity, forgiveness, and reconciliation, that are applicable to siblings dealing with conflict or betrayal: Remember, these verses carry wisdom about love, peace, and reconciliation that can guide us in managing sibling conflict and betrayal.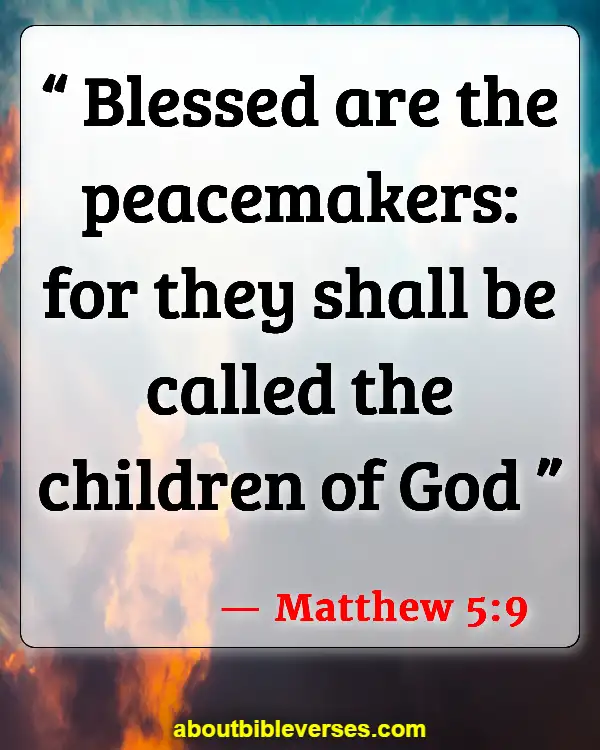 Matthew 5:9
"Blessed are the peacemakers: for they shall be called the children of God"
Matthew 18:21-22
"Then came Peter to him, and said, Lord, how oft shall my brother sin against me, and I forgive him? till seven times? Jesus saith unto him, I say not unto thee, Until seven times: but, Until seventy times seven"
Mark 11:25
"And when ye stand praying, forgive, if ye have ought against any: that your Father also which is in heaven may forgive you your trespasses"
Luke 6:27
"But I say unto you which hear, Love your enemies, do good to them which hate you"
John 13:34
"A new commandment I give unto you, That ye love one another; as I have loved you, that ye also love one another"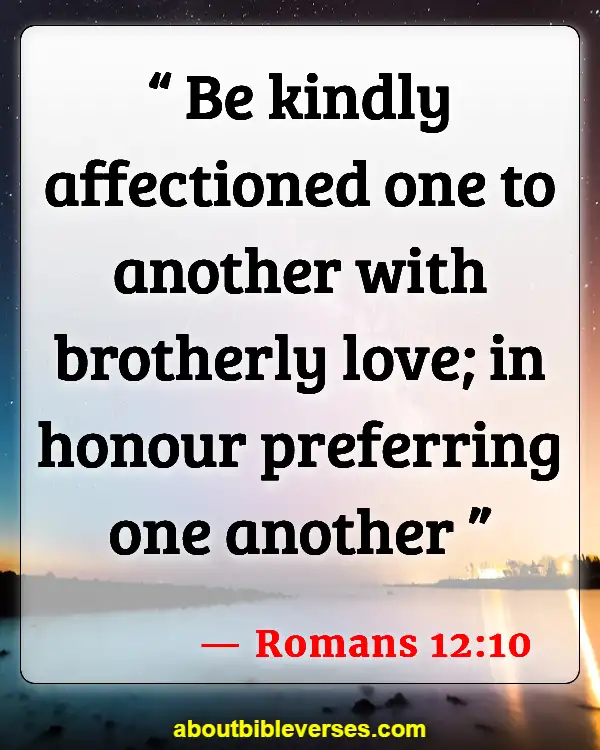 Romans 12:10
"Be kindly affectioned one to another with brotherly love; in honour preferring one another"
Romans 12:18
"If it be possible, as much as lieth in you, live peaceably with all men"
Romans 14:19
"Let us therefore follow after the things which make for peace, and things wherewith one may edify another"
1 Corinthians 1:10
"Now I beseech you, brethren, by the name of our Lord Jesus Christ, that ye all speak the same thing, and that there be no divisions among you; but that ye be perfectly joined together in the same mind and in the same judgment"
1 Corinthians 13:4-7
"Charity suffereth long, and is kind; charity envieth not; charity vaunteth not itself, is not puffed up, Doth not behave itself unseemly, seeketh not her own, is not easily provoked, thinketh no evil; Rejoiceth not in iniquity, but rejoiceth in the truth; Beareth all things, believeth all things, hopeth all things, endureth all things"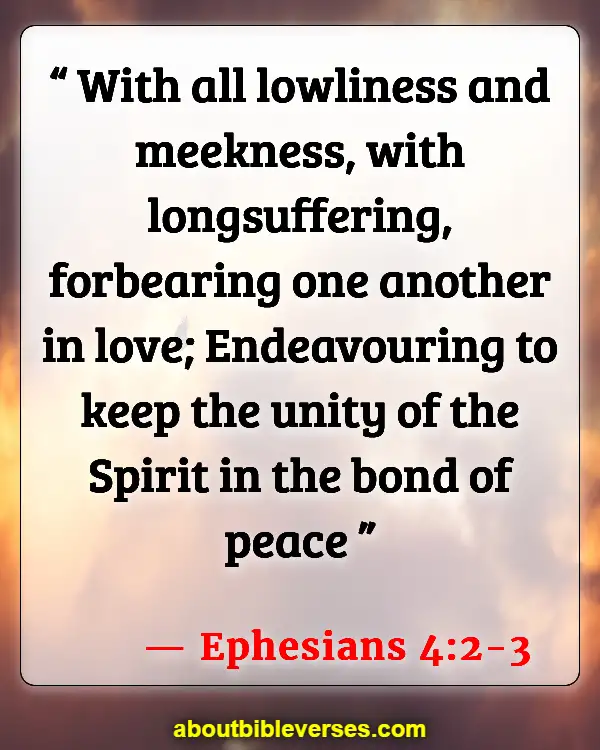 Ephesians 4:2-3
"With all lowliness and meekness, with longsuffering, forbearing one another in love; Endeavouring to keep the unity of the Spirit in the bond of peace"
Ephesians 4:26-27
"Be ye angry, and sin not: let not the sun go down upon your wrath: Neither give place to the devil"
Ephesians 4:32
"And be ye kind one to another, tenderhearted, forgiving one another, even as God for Christ's sake hath forgiven you"
Galatians 5:22
"But the fruit of the Spirit is love, joy, peace, longsuffering, gentleness, goodness, faith"
Galatians 6:1
"Brethren, if a man be overtaken in a fault, ye which are spiritual, restore such an one in the spirit of meekness; considering thyself, lest thou also be tempted"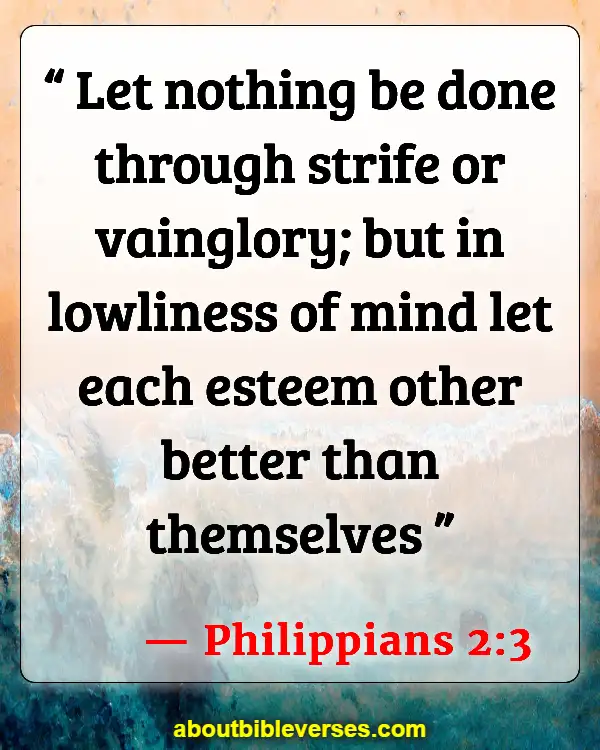 Philippians 2:3
"Let nothing be done through strife or vainglory; but in lowliness of mind let each esteem other better than themselves"
Colossians 3:13
"Forbearing one another, and forgiving one another, if any man have a quarrel against any: even as Christ forgave you, so also do ye"
1 Thessalonians 5:11
"Wherefore comfort yourselves together, and edify one another, even as also ye do"
1 Thessalonians 5:15
"See that none render evil for evil unto any man; but ever follow that which is good, both among yourselves, and to all men"
Hebrews 12:14
"Follow peace with all men, and holiness, without which no man shall see the Lord"
James 1:19
"Wherefore, my beloved brethren, let every man be swift to hear, slow to speak, slow to wrath"
James 3:17-18
"But the wisdom that is from above is first pure, then peaceable, gentle, and easy to be intreated, full of mercy and good fruits, without partiality, and without hypocrisy. And the fruit of righteousness is sown in peace of them that make peace"
James 4:11
"Speak not evil one of another, brethren. He that speaketh evil of his brother, and judgeth his brother, speaketh evil of the law, and judgeth the law: but if thou judge the law, thou art not a doer of the law, but a judge"
1 Peter 3:8
"Finally, be ye all of one mind, having compassion one of another, love as brethren, be pitiful, be courteous"
1 Peter 3:9
"Not rendering evil for evil, or railing for railing: but contrariwise blessing; knowing that ye are thereunto called, that ye should inherit a blessing"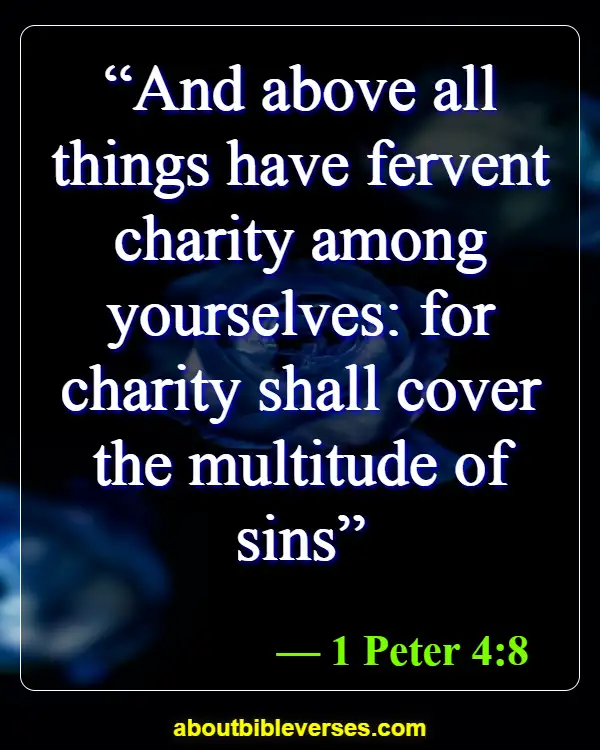 1 Peter 4:8
"And above all things have fervent charity among yourselves: for charity shall cover the multitude of sins"
1 John 3:18
"My little children, let us not love in word, neither in tongue; but in deed and in truth"
1 John 4:7
"Beloved, let us love one another: for love is of God; and every one that loveth is born of God, and knoweth God"
1 John 4:11
"Beloved, if God so loved us, we ought also to love one another"
Proverbs 10:12
"Hatred stirreth up strifes: but love covereth all sins"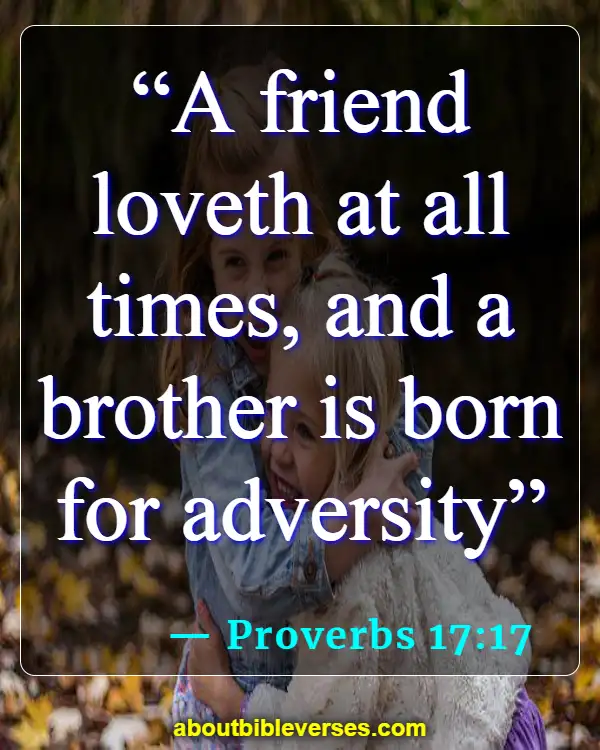 Proverbs 17:17
"A friend loveth at all times, and a brother is born for adversity"
Psalm 133:1
"Behold, how good and how pleasant it is for brethren to dwell together in unity"
Ecclesiastes 4:9-10
"Two are better than one; because they have a good reward for their labour. For if they fall, the one will lift up his fellow: but woe to him that is alone when he falleth; for he hath not another to help him up"
Genesis 4:9
"And the Lord said unto Cain, Where is Abel thy brother? And he said, I know not: Am I my brother's keeper?"
Genesis 33:4
"And Esau ran to meet him, and embraced him, and fell on his neck, and kissed him: and they wept"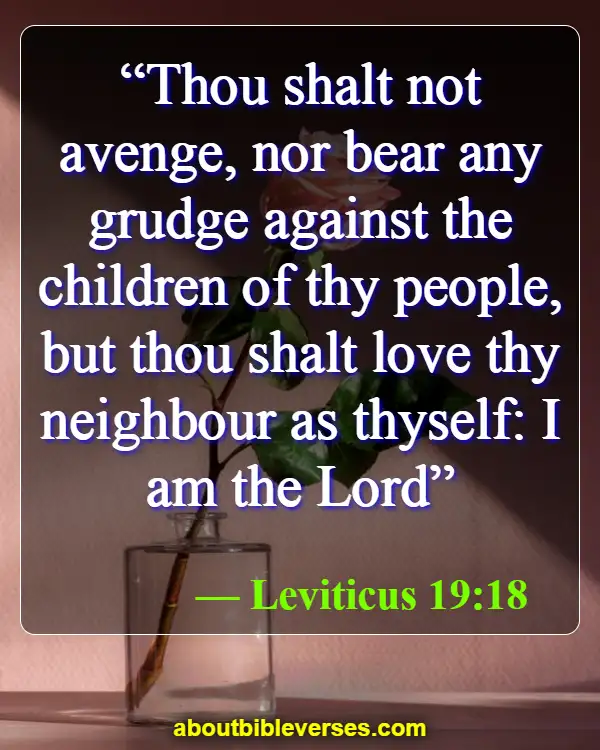 Leviticus 19:18
"Thou shalt not avenge, nor bear any grudge against the children of thy people, but thou shalt love thy neighbour as thyself: I am the Lord"
Isaiah 2:4
"And he shall judge among the nations, and shall rebuke many people: and they shall beat their swords into plowshares, and their spears into pruninghooks: nation shall not lift up sword against nation, neither shall they learn war any more"
Micah 6:8
"He hath shewed thee, O man, what is good; and what doth the Lord require of thee, but to do justly, and to love mercy, and to walk humbly with thy God?"
Matthew 7:12
"Therefore all things whatsoever ye would that men should do to you, do ye even so to them: for this is the law and the prophets"
2 Corinthians 5:18
"And all things are of God, who hath reconciled us to himself by Jesus Christ, and hath given to us the ministry of reconciliation"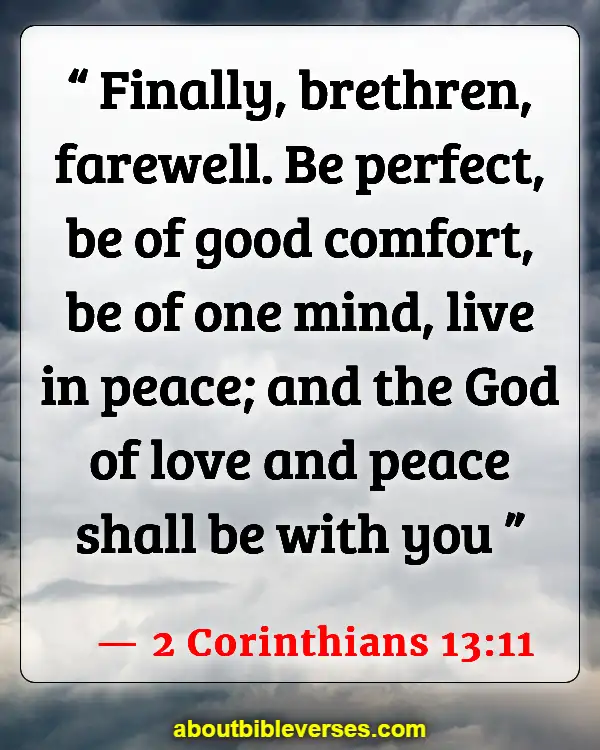 2 Corinthians 13:11
"Finally, brethren, farewell. Be perfect, be of good comfort, be of one mind, live in peace; and the God of love and peace shall be with you"
1 Timothy 5:1-2
"Rebuke not an elder, but intreat him as a father; and the younger men as brethren; The elder women as mothers; the younger as sisters, with all purity"
2 Timothy 2:24
"And the servant of the Lord must not strive; but be gentle unto all men, apt to teach, patient"
Titus 3:2
"To speak evil of no man, to be no brawlers, but gentle, shewing all meekness unto all men"
James 5:16
"Confess your faults one to another, and pray one for another, that ye may be healed. The effectual fervent prayer of a righteous man availeth much"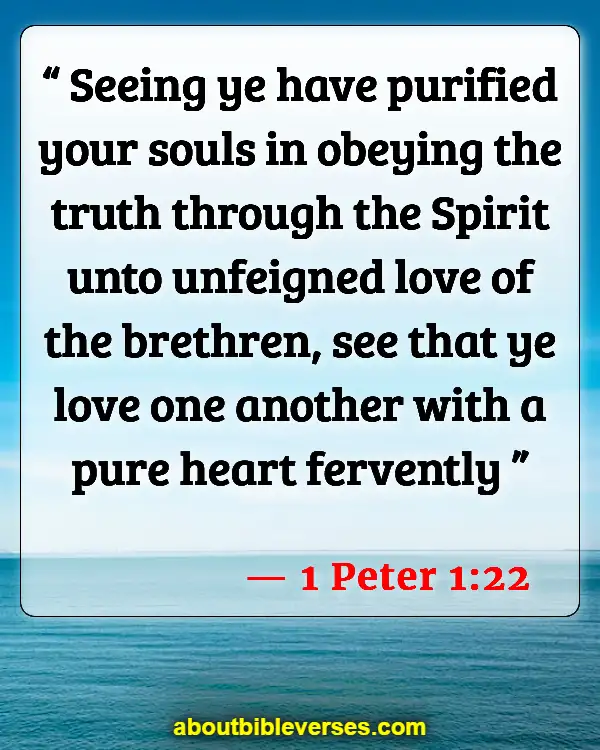 1 Peter 1:22
"Seeing ye have purified your souls in obeying the truth through the Spirit unto unfeigned love of the brethren, see that ye love one another with a pure heart fervently"
1 Peter 5:5
"Likewise, ye younger, submit yourselves unto the elder. Yea, all of you be subject one to another, and be clothed with humility: for God resisteth the proud, and giveth grace to the humble"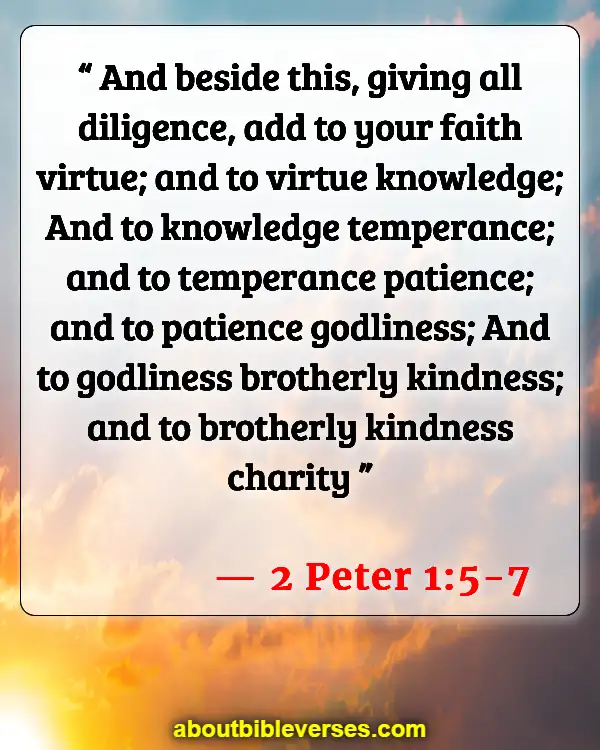 2 Peter 1:5-7
"And beside this, giving all diligence, add to your faith virtue; and to virtue knowledge; And to knowledge temperance; and to temperance patience; and to patience godliness; And to godliness brotherly kindness; and to brotherly kindness charity"