Hello dear friends, welcome to our site in the name of Jesus Christ. Today we will look at the Bible Scriptures About self-awareness In KJV. If you like today's post then definitely comment and share.
The Bible teaches us about self-awareness and humility. It tells us that true worth and purpose come from God, not from one's own merits or achievements.
There are several verses in the Bible that encourage dependence on God and submission to His will rather than relying on one's own understanding.
These passages also highlight the importance of being aware of one's limitations, humility, and realistic self-evaluation in order to better serve God and others.
Overall, the Bible teaches that true guidance and value come from God and encourages individuals to recognize this and live accordingly.
Dear friends now let's see the Bible scriptures below that talk about self-awareness.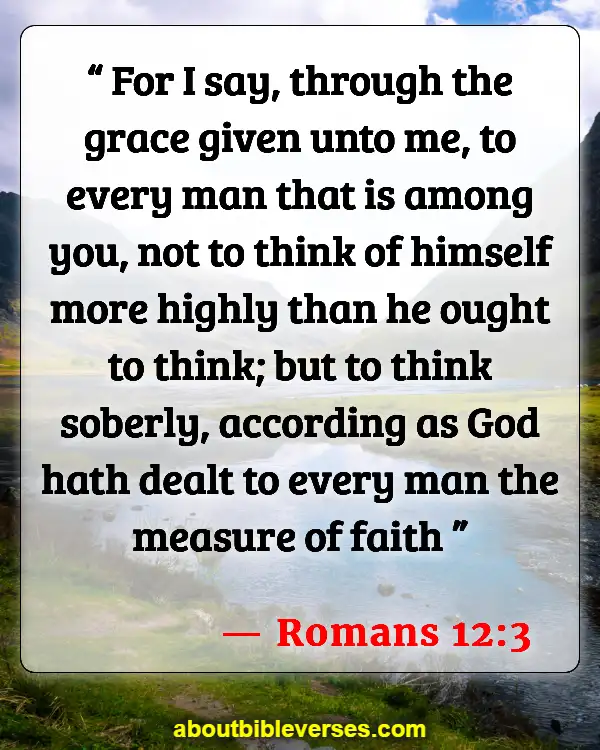 Romans 12:3
"For I say, through the grace given unto me, to every man that is among you, not to think of himself more highly than he ought to think; but to think soberly, according as God hath dealt to every man the measure of faith"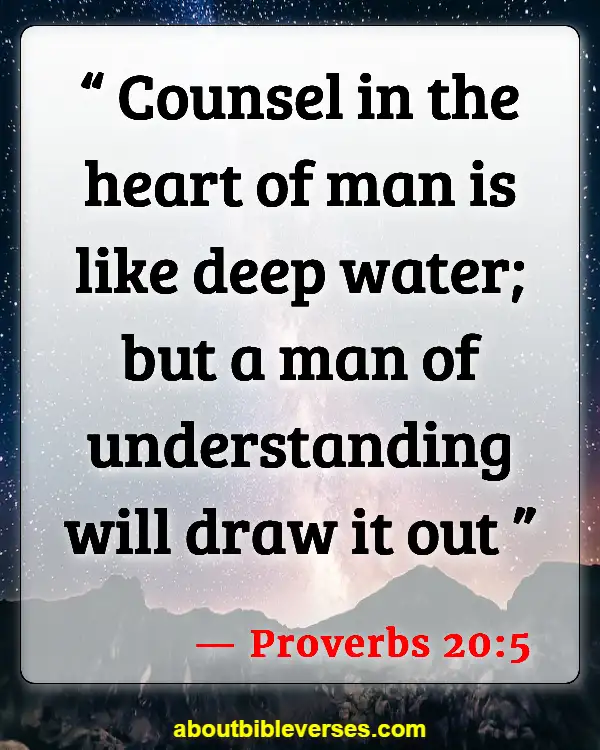 Proverbs 20:5
"Counsel in the heart of man is like deep water; but a man of understanding will draw it out"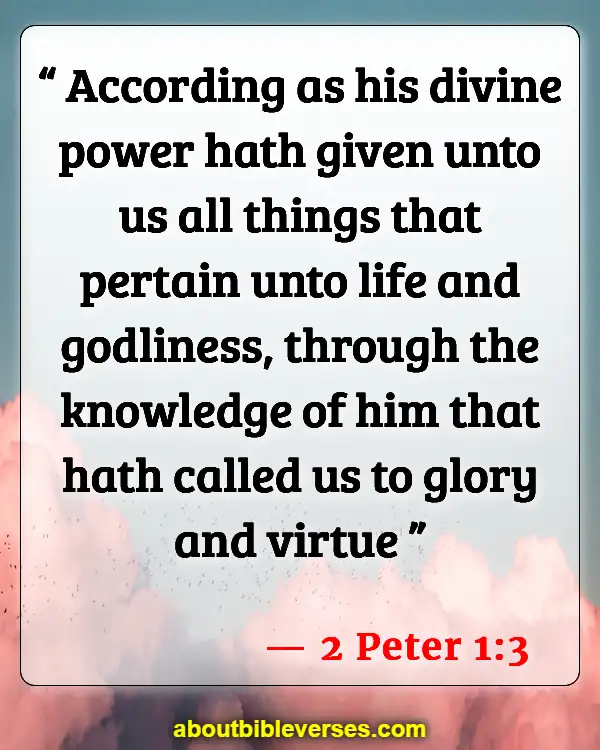 2 Peter 1:3
"According as his divine power hath given unto us all things that pertain unto life and godliness, through the knowledge of him that hath called us to glory and virtue"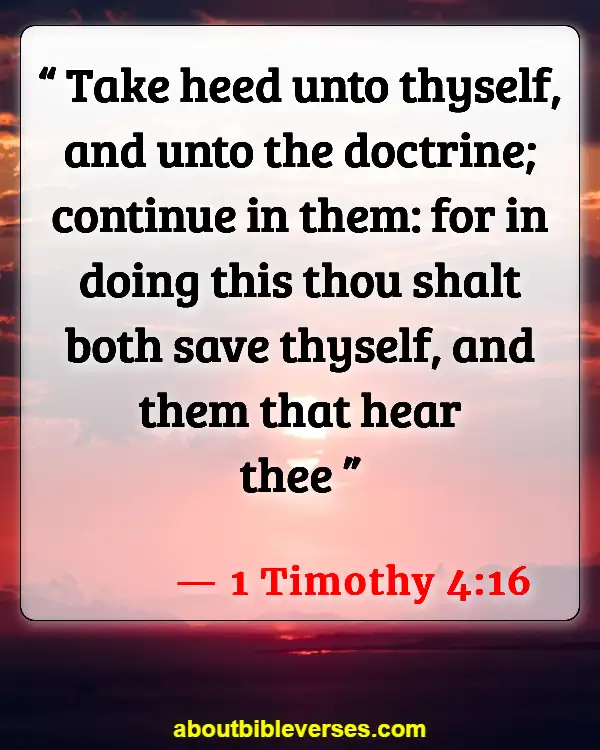 1 Timothy 4:16
"Take heed unto thyself, and unto the doctrine; continue in them: for in doing this thou shalt both save thyself, and them that hear thee"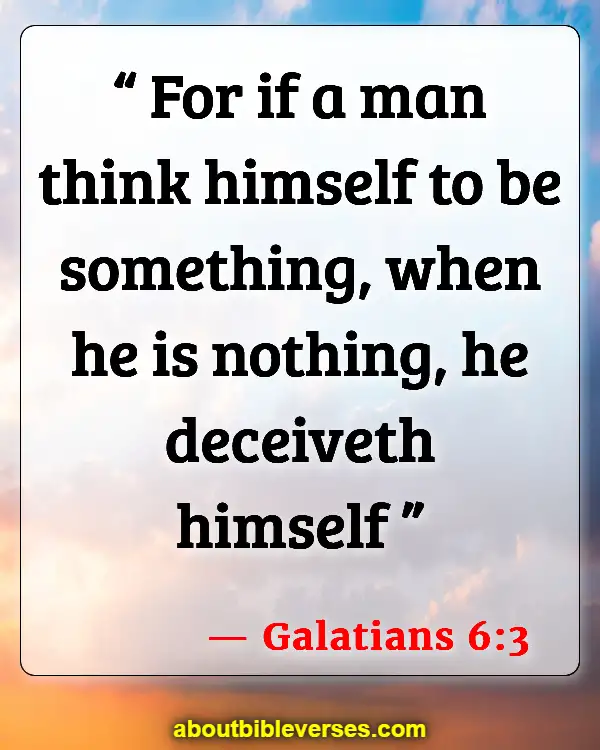 Galatians 6:3
"For if a man think himself to be something, when he is nothing, he deceiveth himself"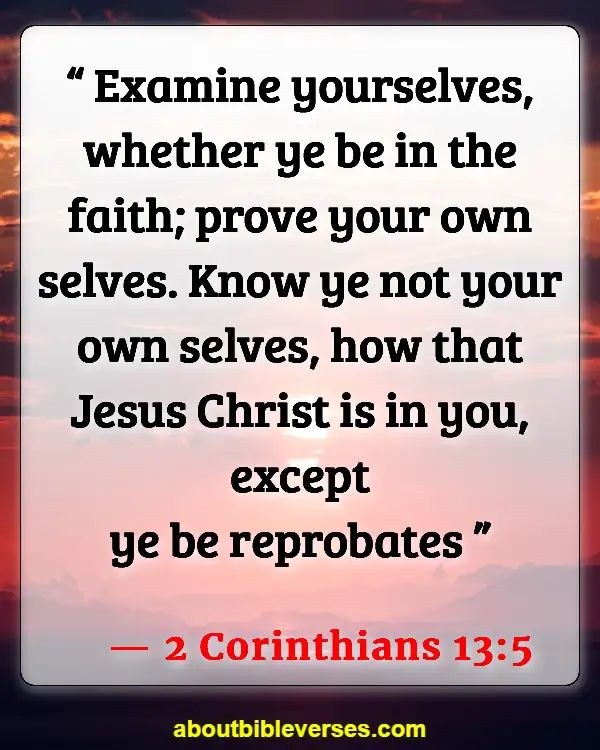 2 Corinthians 13:5
"Examine yourselves, whether ye be in the faith; prove your own selves. Know ye not your own selves, how that Jesus Christ is in you, except ye be reprobates?"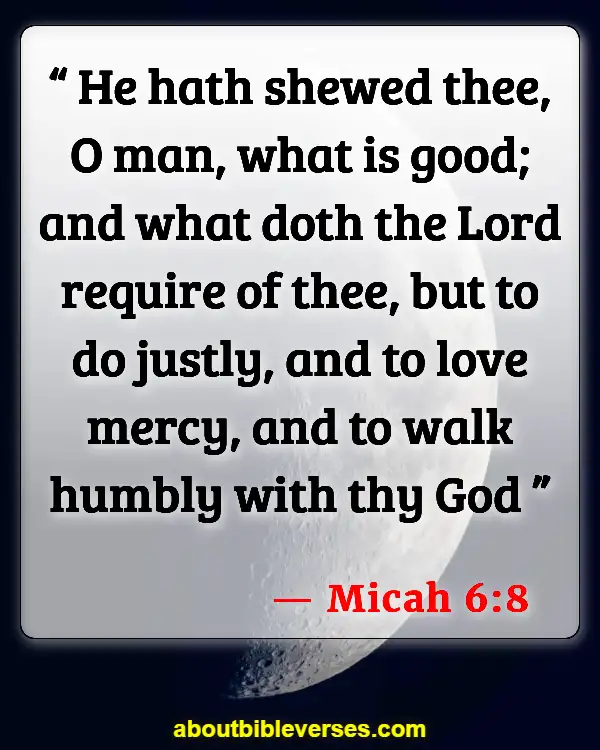 Micah 6:8
"He hath shewed thee, O man, what is good; and what doth the Lord require of thee, but to do justly, and to love mercy, and to walk humbly with thy God?"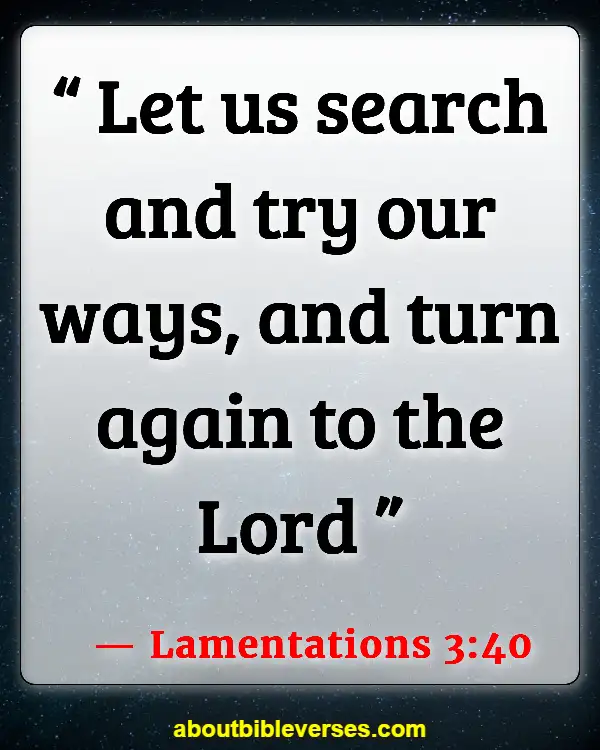 Lamentations 3:40
"Let us search and try our ways, and turn again to the Lord"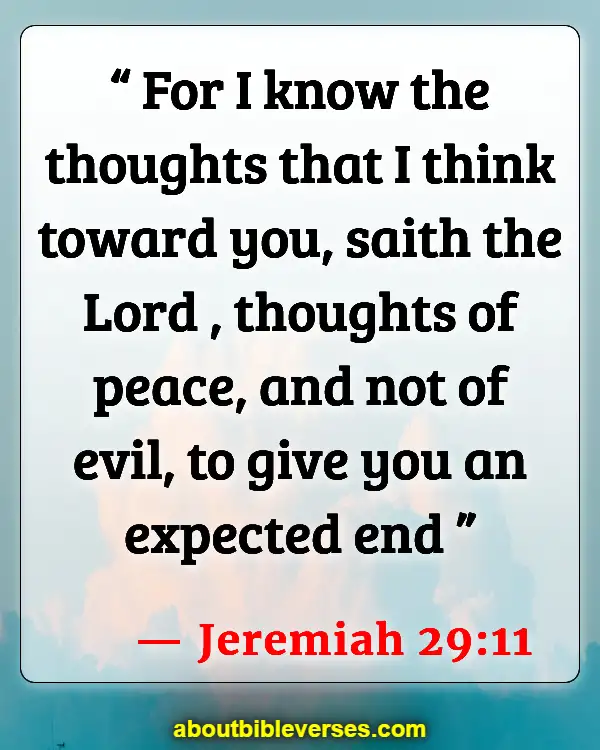 Jeremiah 29:11
"For I know the thoughts that I think toward you, saith the Lord, thoughts of peace, and not of evil, to give you an expected end"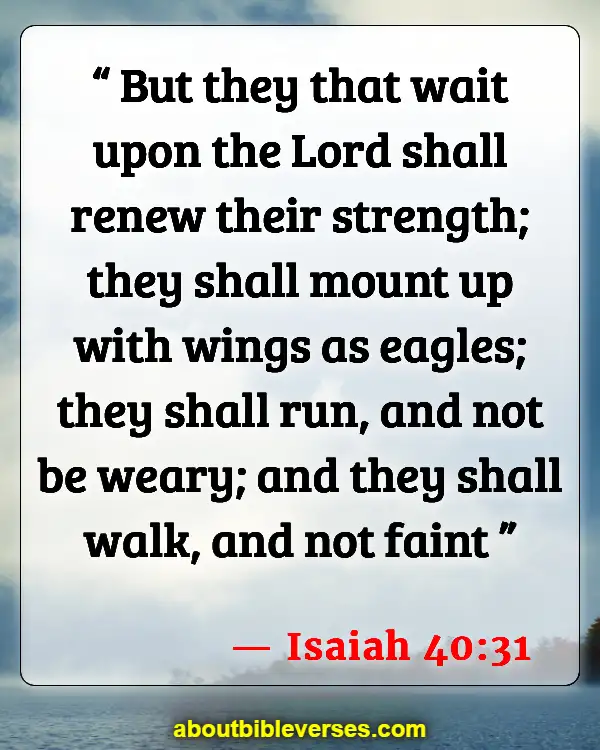 Isaiah 40:31
"But they that wait upon the Lord shall renew their strength; they shall mount up with wings as eagles; they shall run, and not be weary; and they shall walk, and not faint"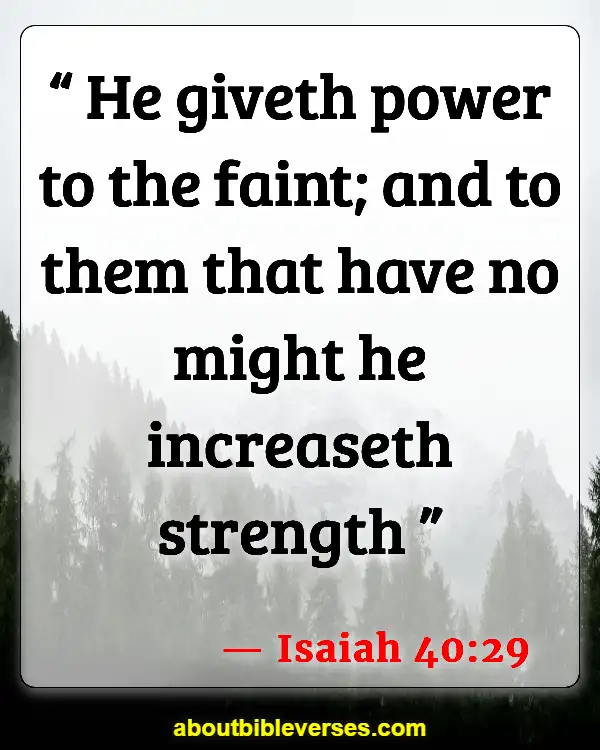 Isaiah 40:29
"He giveth power to the faint; and to them that have no might he increaseth strength"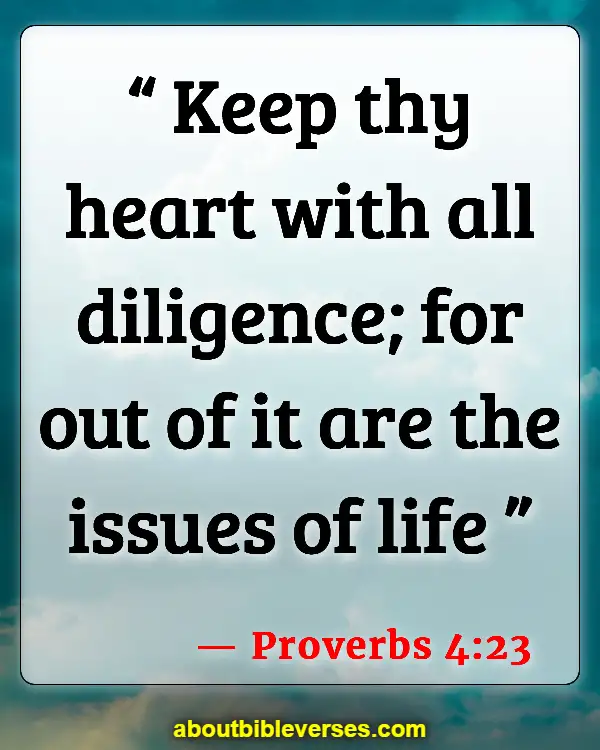 Proverbs 4:23
"Keep thy heart with all diligence; for out of it are the issues of life"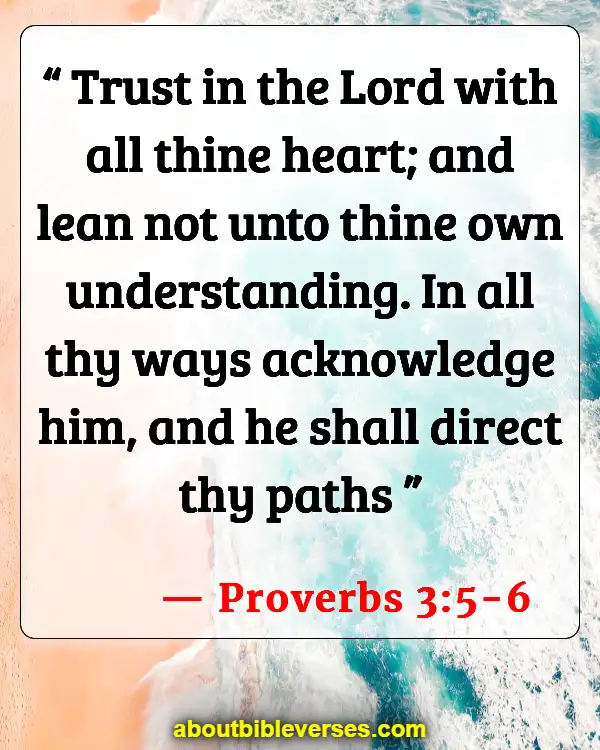 Proverbs 3:5-6
"Trust in the Lord with all thine heart; and lean not unto thine own understanding.In all thy ways acknowledge him, and he shall direct thy paths"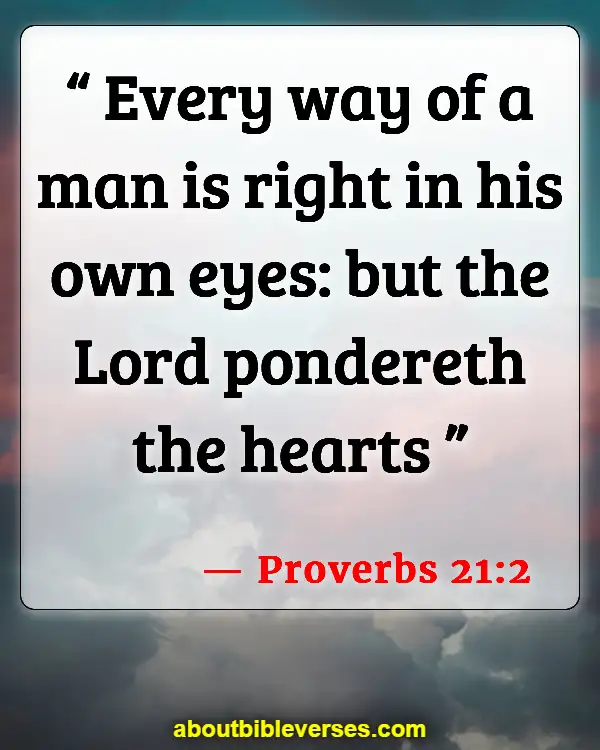 Proverbs 21:2
"Every way of a man is right in his own eyes: but the Lord pondereth the hearts"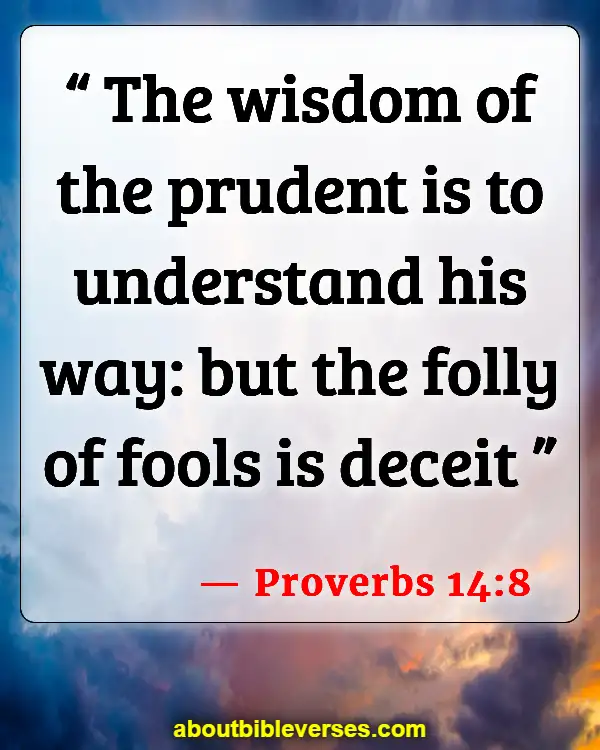 Proverbs 14:8
"The wisdom of the prudent is to understand his way: but the folly of fools is deceit"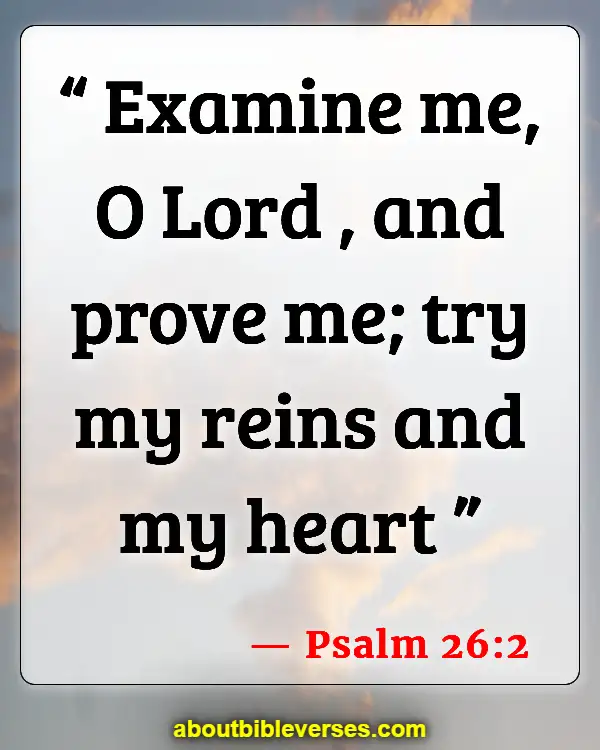 Psalm 26:2
"Examine me, O Lord, and prove me; try my reins and my heart"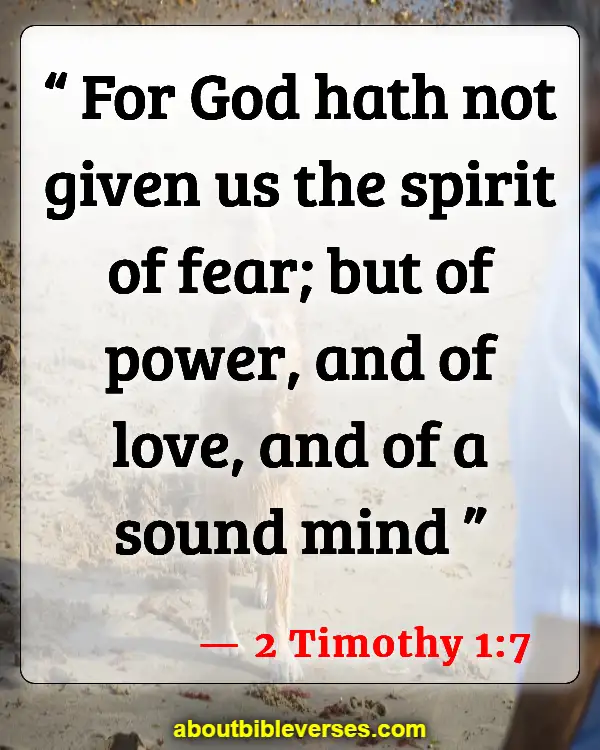 2 Timothy 1:7
"For God hath not given us the spirit of fear; but of power, and of love, and of a sound mind"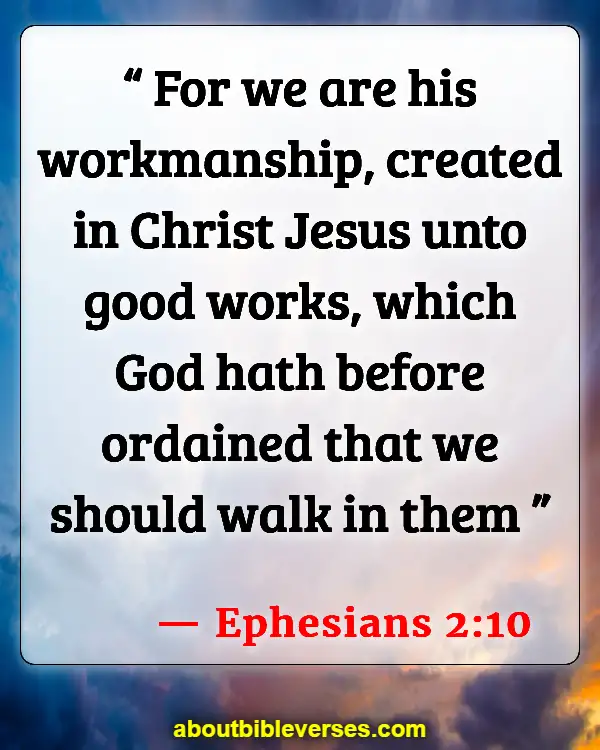 Ephesians 2:10
"For we are his workmanship, created in Christ Jesus unto good works, which God hath before ordained that we should walk in them"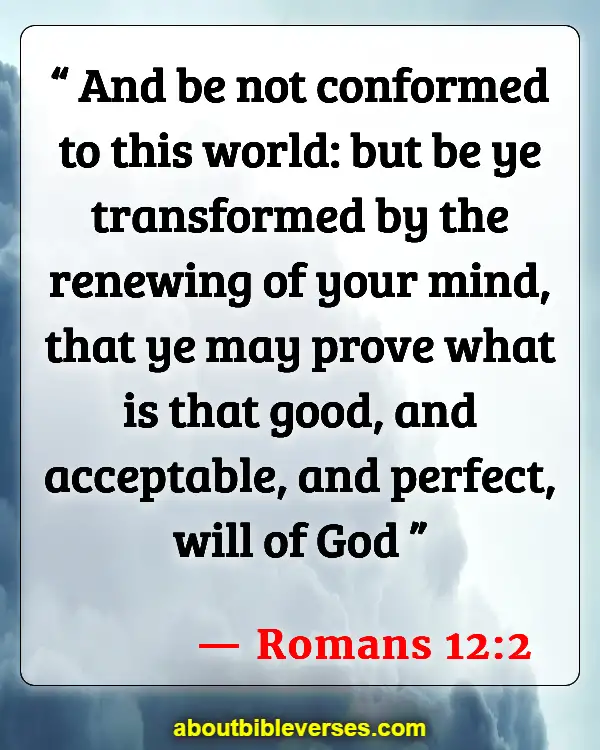 Romans 12:2
"And be not conformed to this world: but be ye transformed by the renewing of your mind, that ye may prove what is that good, and acceptable, and perfect, will of God"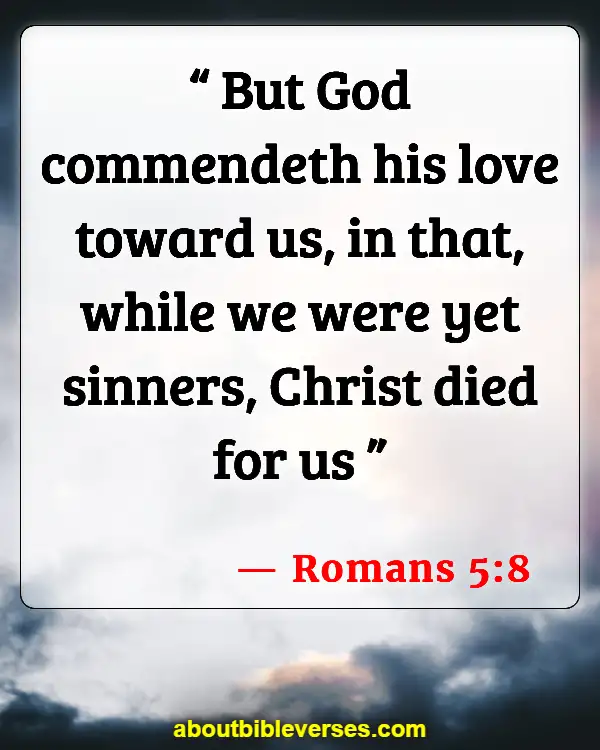 Romans 5:8
"But God commendeth his love toward us, in that, while we were yet sinners, Christ died for us"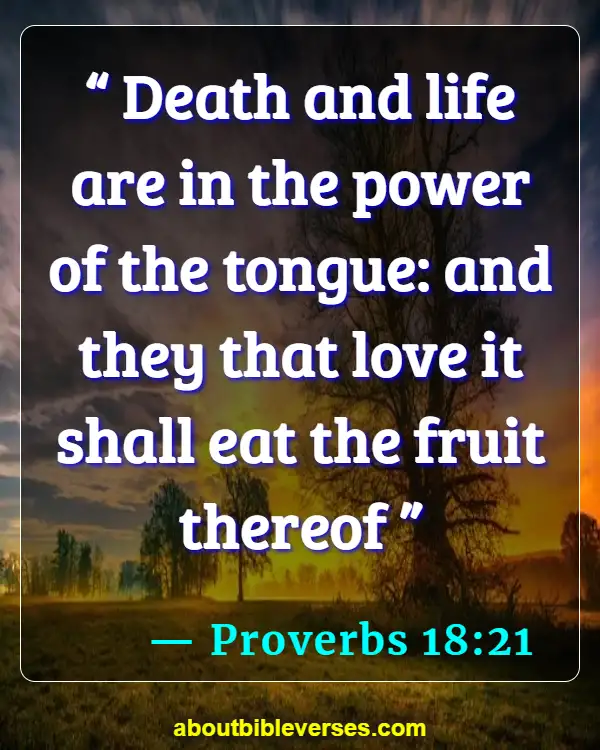 Proverbs 18:21
"Death and life are in the power of the tongue: and they that love it shall eat the fruit thereof"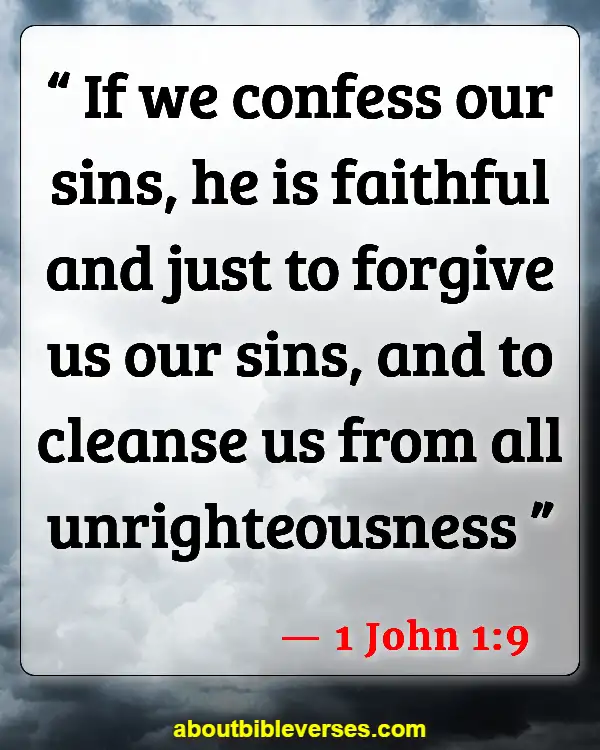 1 John 1:9
"If we confess our sins, he is faithful and just to forgive us our sins, and to cleanse us from all unrighteousness"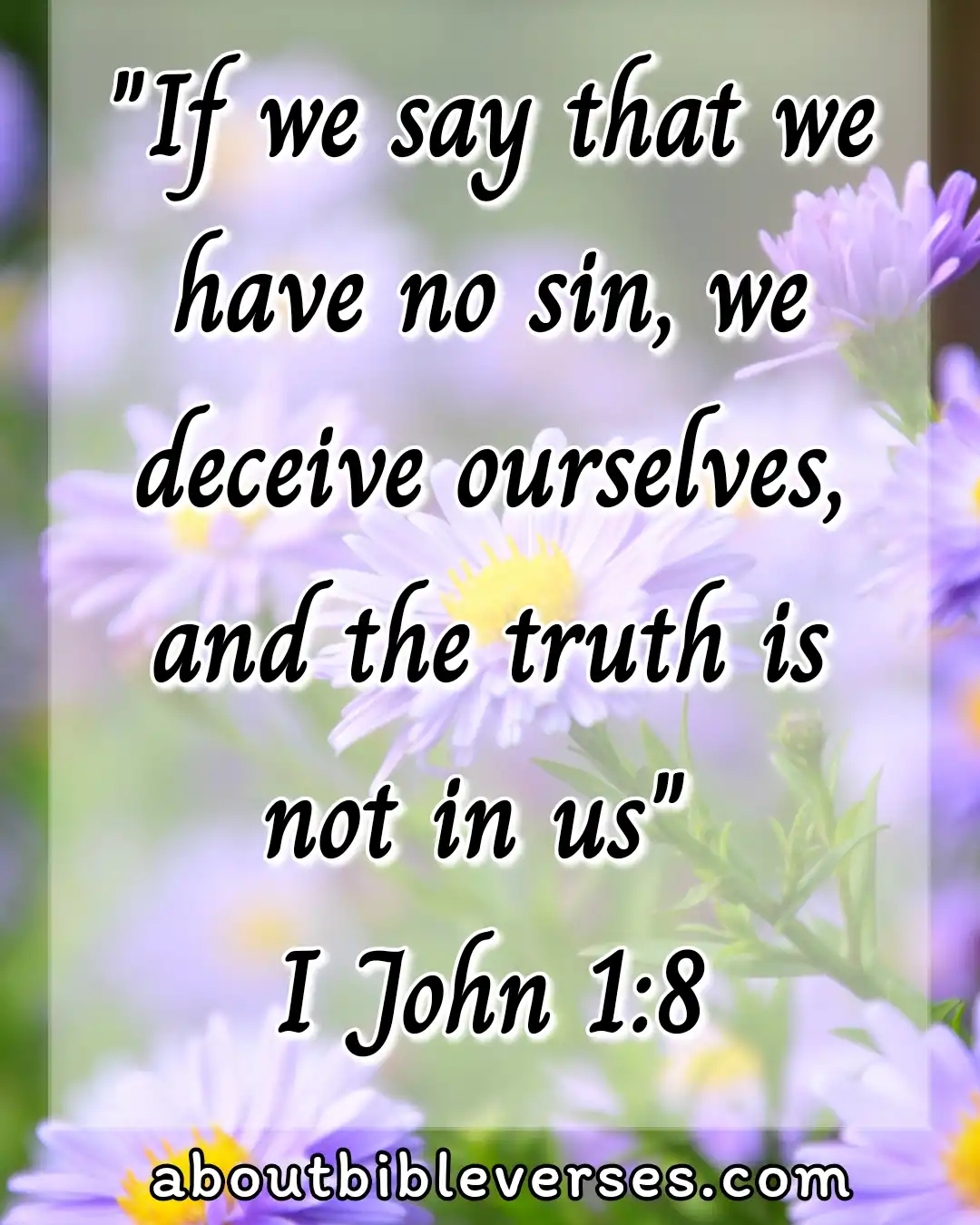 1 John 1:8
"If we say that we have no sin, we deceive ourselves, and the truth is not in us"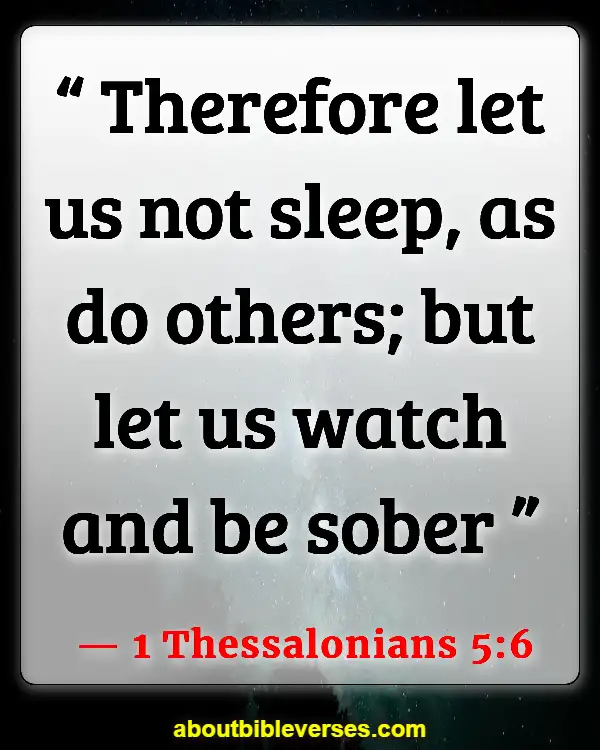 1 Thessalonians 5:6
"Therefore let us not sleep, as do others; but let us watch and be sober"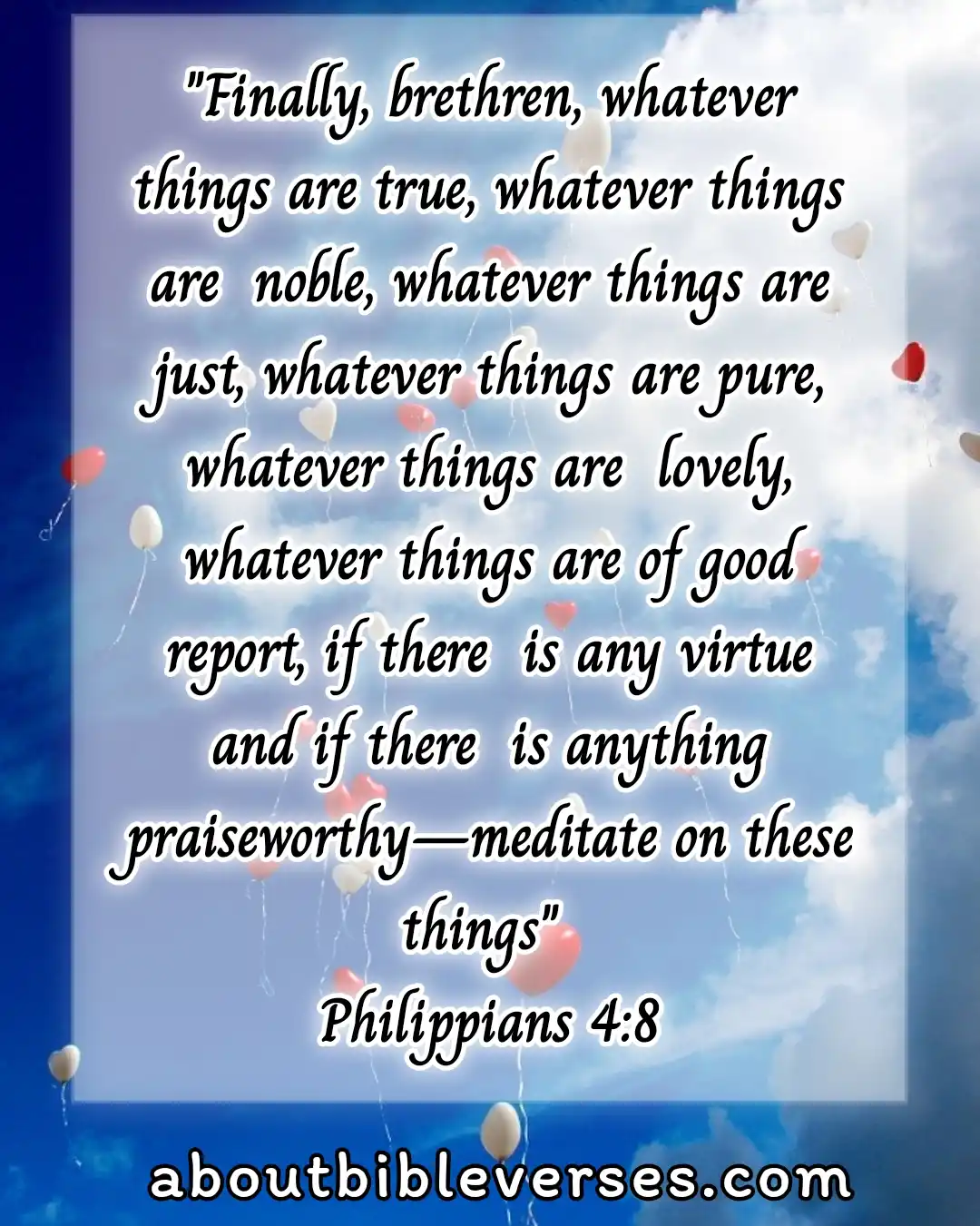 Philippians 4:8
"Finally, brethren, whatsoever things are true, whatsoever things are honest, whatsoever things are just, whatsoever things are pure, whatsoever things are lovely, whatsoever things are of good report; if there be any virtue, and if there be any praise, think on these things"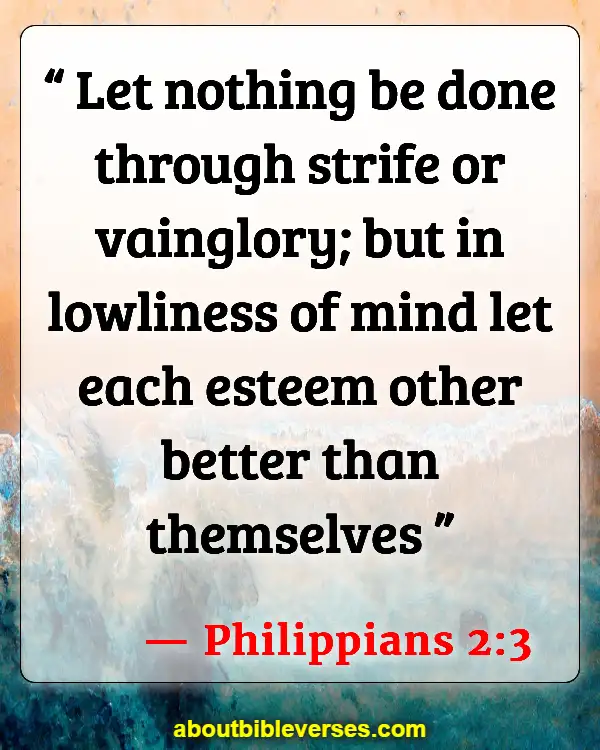 Philippians 2:3
"Let nothing be done through strife or vainglory; but in lowliness of mind let each esteem other better than themselves"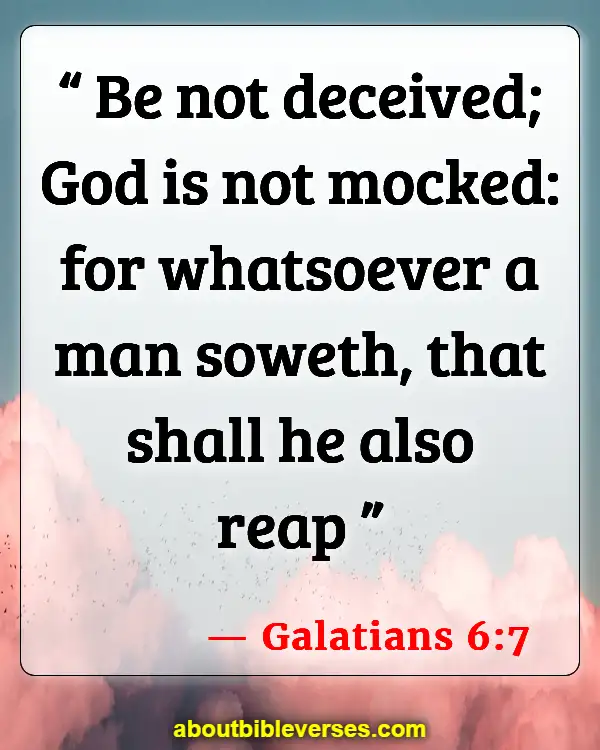 Galatians 6:7
"Be not deceived; God is not mocked: for whatsoever a man soweth, that shall he also reap"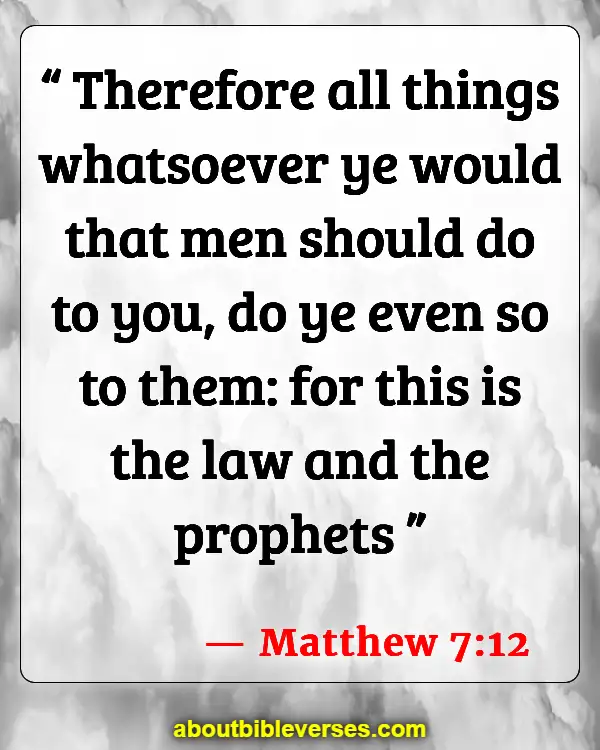 Matthew 7:12
"Therefore all things whatsoever ye would that men should do to you, do ye even so to them: for this is the law and the prophets"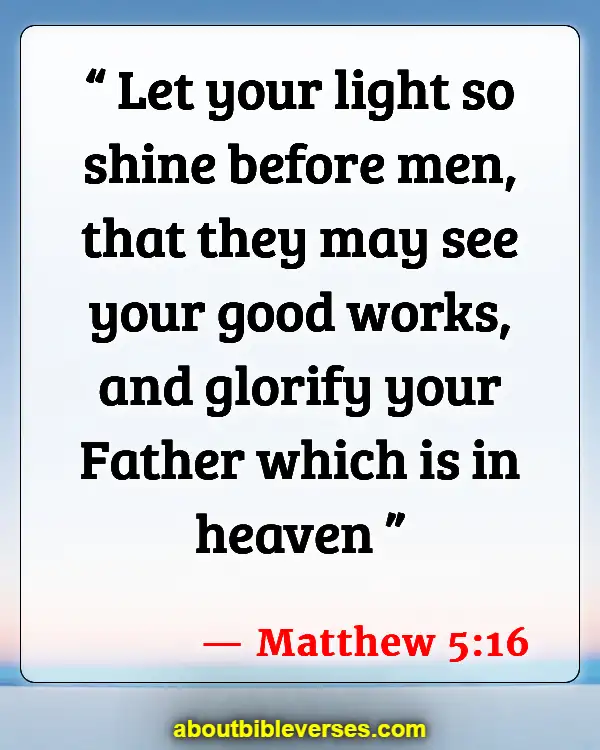 Matthew 5:16
"Let your light so shine before men, that they may see your good works, and glorify your Father which is in heaven"