Dear friends, Satan is always looking for ways to distract us from what really matters – our relationship with God. He wants to keep us so busy and overwhelmed with the cares of this world that we have no time left for prayer, reading God's word, or fellowship with other believers.
Satan will even use good and important responsibilities like work, family life, and hobbies to distract us. Of course, these are blessings from God, but Satan can twist them into idols if we let them consume us. He wants us to value these temporal things more than eternal truths.
We must be self-controlled and careful to set proper priorities. Time in God's presence must come first. Everything else flows out from that foundation. Be alert, keep your eyes on Jesus, and don't drown out His voice.
Dear friends now let's see the Bible scriptures below that talk about "Satan's Distractions".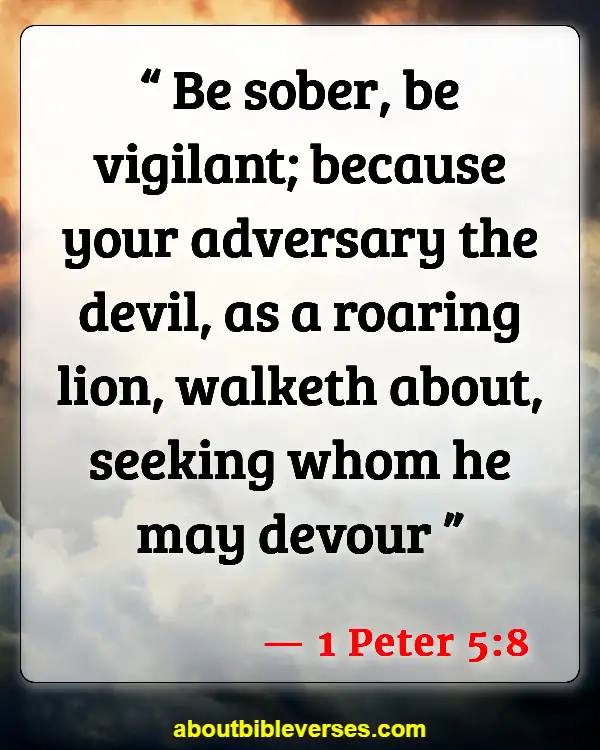 1 Peter 5:8
"Be sober, be vigilant; because your adversary the devil, as a roaring lion, walketh about, seeking whom he may devour"
James 4:7
"Submit yourselves therefore to God. Resist the devil, and he will flee from you"
Ephesians 6:11
"Put on the whole armour of God, that ye may be able to stand against the wiles of the devil"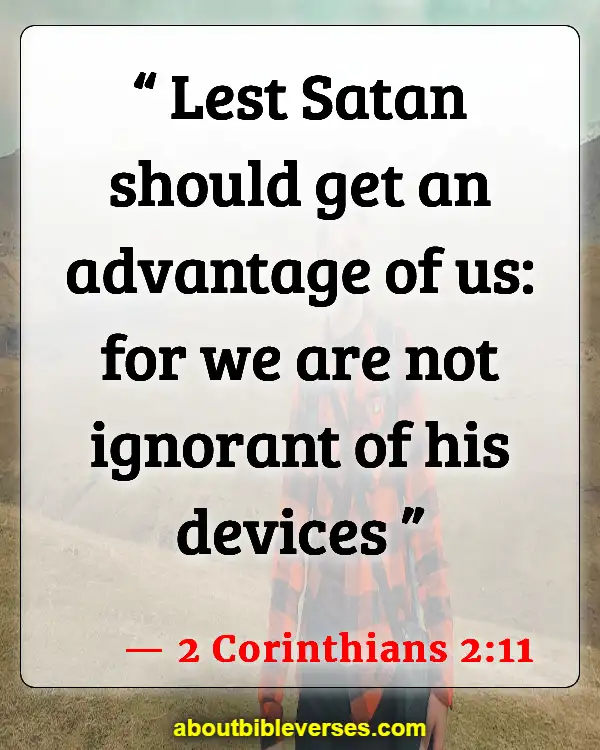 2 Corinthians 2:11
"Lest Satan should get an advantage of us: for we are not ignorant of his devices"
2 Corinthians 11:14
"And no marvel; for Satan himself is transformed into an angel of light"
1 John 3:8
"He that committeth sin is of the devil; for the devil sinneth from the beginning. For this purpose the Son of God was manifested, that he might destroy the works of the devil"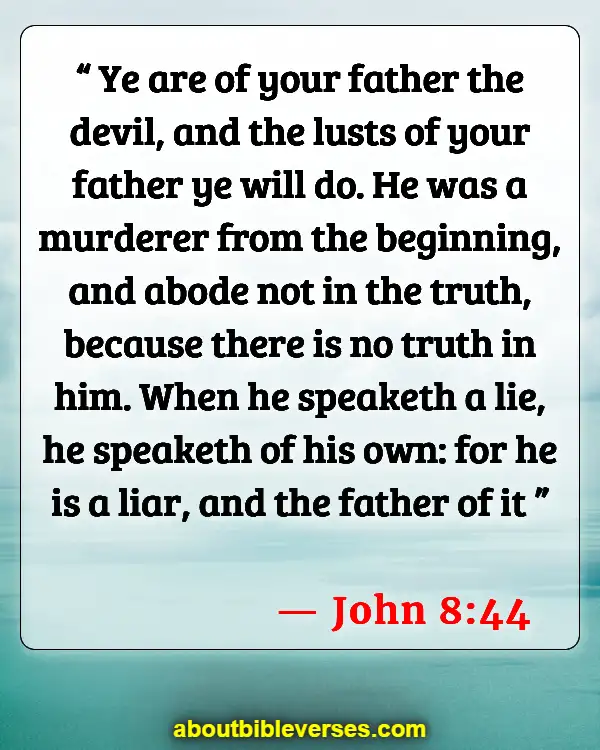 John 8:44
"Ye are of your father the devil, and the lusts of your father ye will do. He was a murderer from the beginning, and abode not in the truth, because there is no truth in him. When he speaketh a lie, he speaketh of his own: for he is a liar, and the father of it"
1 Timothy 3:7
"Moreover he must have a good report of them which are without; lest he fall into reproach and the snare of the devil"
2 Timothy 2:26
"And that they may recover themselves out of the snare of the devil, who are taken captive by him at his will"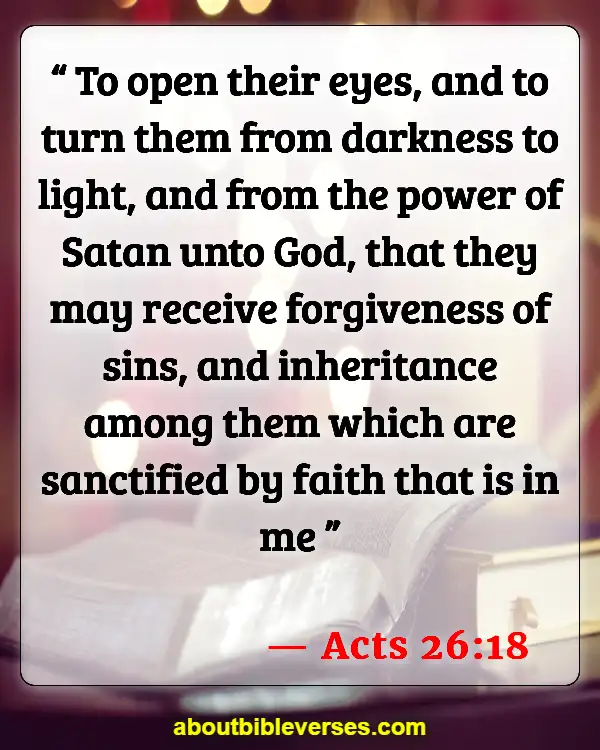 Acts 26:18
"To open their eyes, and to turn them from darkness to light, and from the power of Satan unto God, that they may receive forgiveness of sins, and inheritance among them which are sanctified by faith that is in me"
1 John 5:19
"And we know that we are of God, and the whole world lieth in wickedness"
Mark 4:15
"And these are they by the way side, where the word is sown; but when they have heard, Satan cometh immediately, and taketh away the word that was sown in their hearts"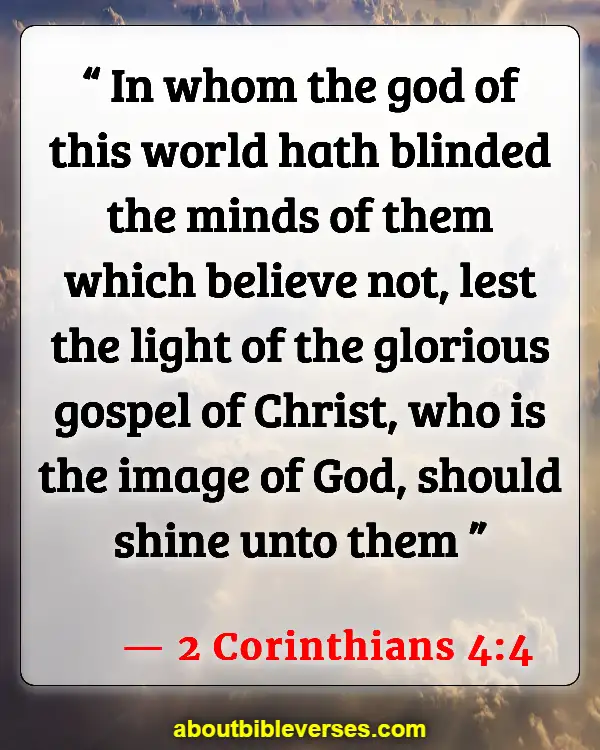 2 Corinthians 4:4
"In whom the god of this world hath blinded the minds of them which believe not, lest the light of the glorious gospel of Christ, who is the image of God, should shine unto them"
1 Thessalonians 3:5
"For this cause, when I could no longer forbear, I sent to know your faith, lest by some means the tempter have tempted you, and our labour be in vain"
2 Thessalonians 2:9-10
"Even him, whose coming is after the working of Satan with all power and signs and lying wonders, And with all deceivableness of unrighteousness in them that perish; because they received not the love of the truth, that they might be saved"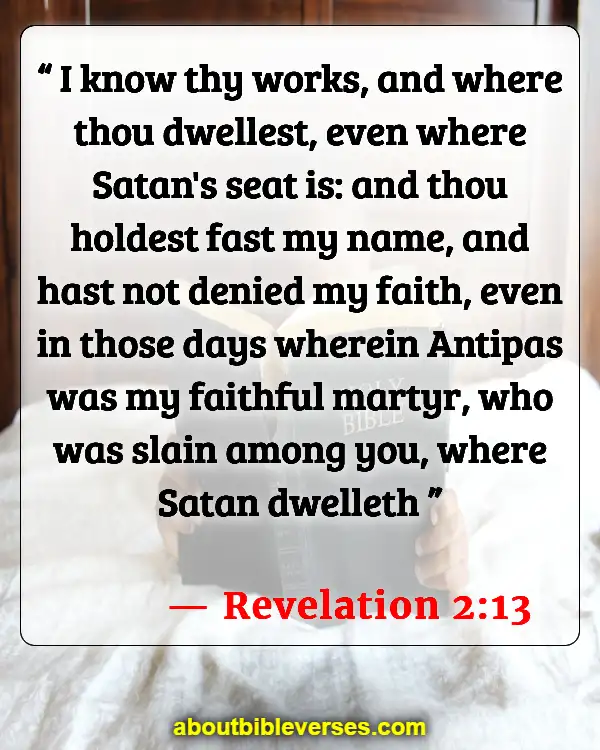 Revelation 2:13
"I know thy works, and where thou dwellest, even where Satan's seat is: and thou holdest fast my name, and hast not denied my faith, even in those days wherein Antipas was my faithful martyr, who was slain among you, where Satan dwelleth"
Revelation 20:10
"And the devil that deceived them was cast into the lake of fire and brimstone, where the beast and the false prophet are, and shall be tormented day and night for ever and ever"
Acts 5:3
"But Peter said, Ananias, why hath Satan filled thine heart to lie to the Holy Ghost, and to keep back part of the price of the land?"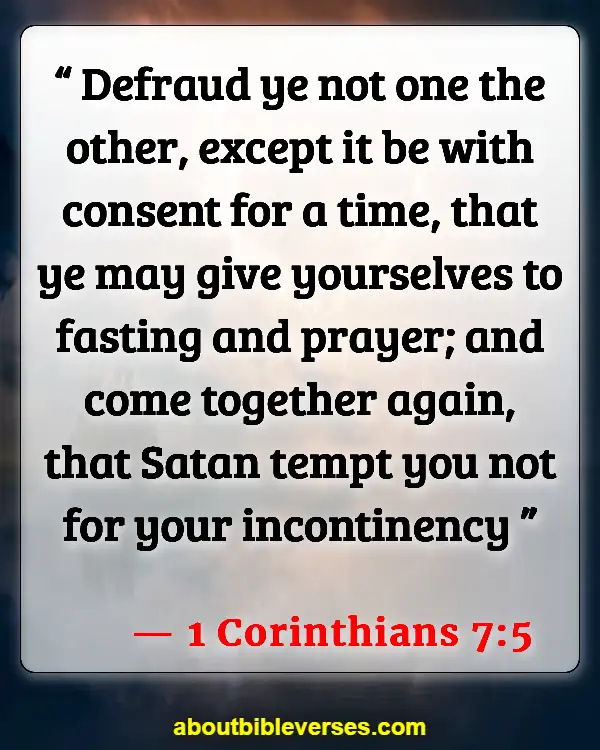 1 Corinthians 7:5
"Defraud ye not one the other, except it be with consent for a time, that ye may give yourselves to fasting and prayer; and come together again, that Satan tempt you not for your incontinency"
2 Corinthians 11:3
"But I fear, lest by any means, as the serpent beguiled Eve through his subtilty, so your minds should be corrupted from the simplicity that is in Christ"
2 Timothy 4:18
"And the Lord shall deliver me from every evil work, and will preserve me unto his heavenly kingdom: to whom be glory for ever and ever. Amen"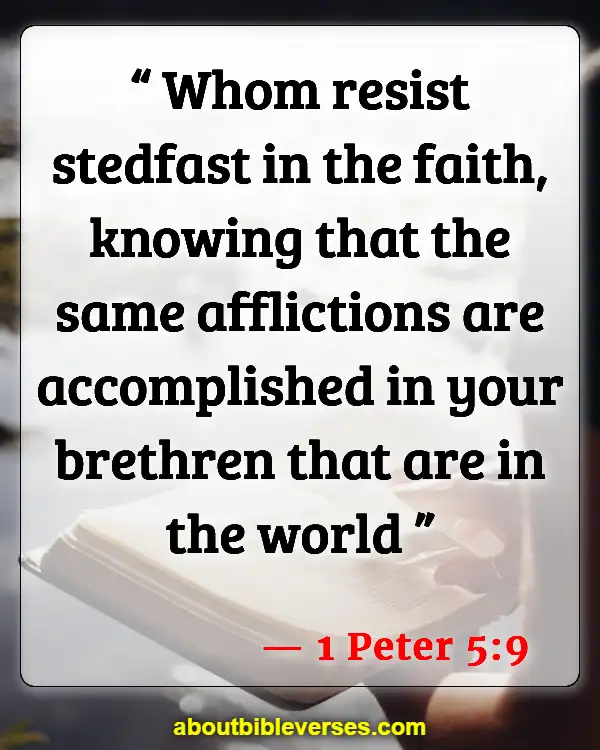 1 Peter 5:9
"Whom resist stedfast in the faith, knowing that the same afflictions are accomplished in your brethren that are in the world"
1 John 3:10
"In this the children of God are manifest, and the children of the devil: whosoever doeth not righteousness is not of God, neither he that loveth not his brother"
1 John 4:6
"We are of God: he that knoweth God heareth us; he that is not of God heareth not us. Hereby know we the spirit of truth, and the spirit of error"
1 John 5:18
"We know that whosoever is born of God sinneth not; but he that is begotten of God keepeth himself, and that wicked one toucheth him not"