Friends, Satan is the great deceiver. From the beginning, he has sought to turn humanity away from God through lies and temptation. When he convinced Adam and Eve to eat the forbidden fruit, sin entered the world. Throughout history, Satan has continued to deceive people into following paths that lead away from God's truth and righteousness.
Satan disguises himself as an angel of light, presenting evil as good. False teachings spread that go against God's revealed word, tricking many. Immorality is promoted as freedom, when it truly leads to bondage. Sinful lifestyles ruin lives and tear families apart, though Satan makes empty promises of happiness.
Materialism and greed take root when people trust in their possessions rather than God. Seeking money and earthly power often leads to corruption. Satan tempts leaders to abuse their authority and exploit the vulnerable. He stirs up anger, envy and hatred between people, groups and nations.
But dear friends, we must be alert and resist the devil's schemes. Test every spirit against the truth of Scripture. Reject what is false and hold fast to what is good. Renew your mind through God's word and Spirit. Follow Christ's example of humility, integrity and selfless love for others. Together we can stand against the deceiver and walk in the light.
Dear friends, now let's look at the Bible scriptures below that talk about Satan's deception.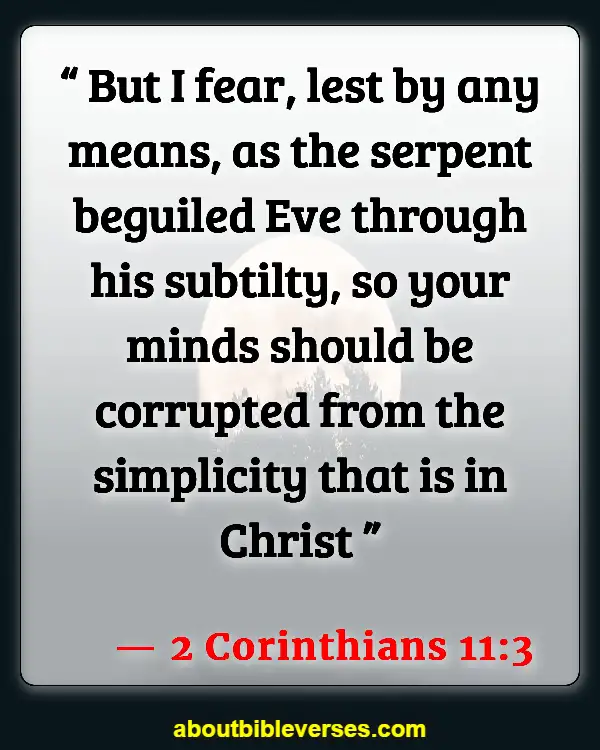 2 Corinthians 11:3
"But I fear, lest by any means, as the serpent beguiled Eve through his subtilty, so your minds should be corrupted from the simplicity that is in Christ"
2 Corinthians 11:14
"And no marvel; for Satan himself is transformed into an angel of light"
1 Timothy 2:14
"And Adam was not deceived, but the woman being deceived was in the transgression"
2 Corinthians 4:4
"In whom the god of this world hath blinded the minds of them which believe not, lest the light of the glorious gospel of Christ, who is the image of God, should shine unto them"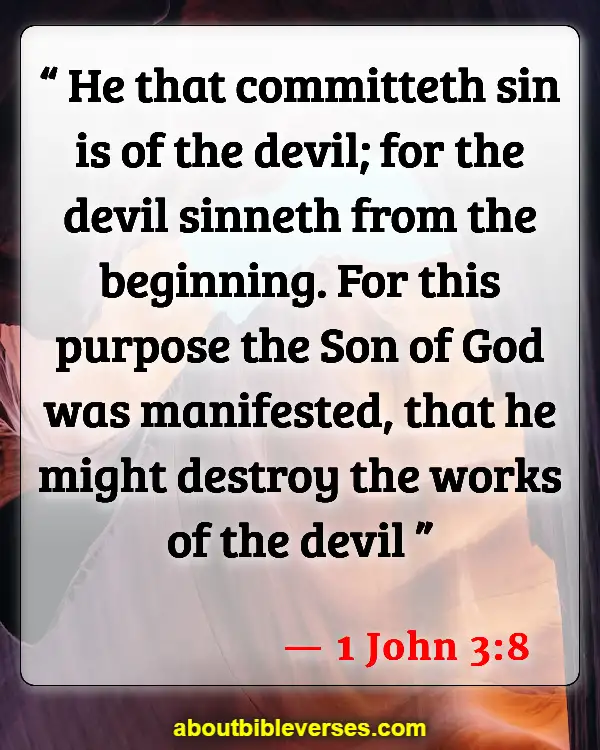 1 John 3:8
"He that committeth sin is of the devil; for the devil sinneth from the beginning. For this purpose the Son of God was manifested, that he might destroy the works of the devil"
1 Peter 5:8
"Be sober, be vigilant; because your adversary the devil, as a roaring lion, walketh about, seeking whom he may devour"
Ephesians 6:11
"Put on the whole armour of God, that ye may be able to stand against the wiles of the devil"
James 4:7
"Submit yourselves therefore to God. Resist the devil, and he will flee from you"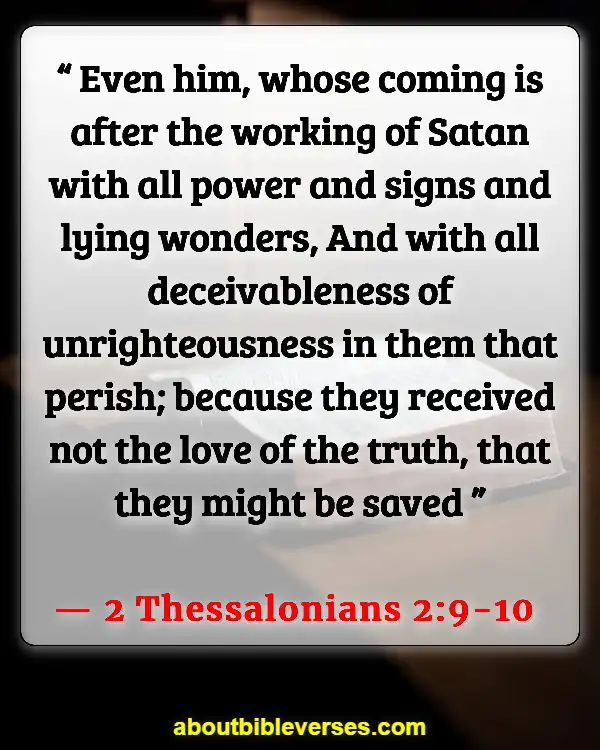 2 Thessalonians 2:9-10
"Even him, whose coming is after the working of Satan with all power and signs and lying wonders, And with all deceivableness of unrighteousness in them that perish; because they received not the love of the truth, that they might be saved"
Acts 26:18
"To open their eyes, and to turn them from darkness to light, and from the power of Satan unto God, that they may receive forgiveness of sins, and inheritance among them which are sanctified by faith that is in me"
1 John 5:19
"And we know that we are of God, and the whole world lieth in wickedness"
2 Corinthians 2:11
"Lest Satan should get an advantage of us: for we are not ignorant of his devices"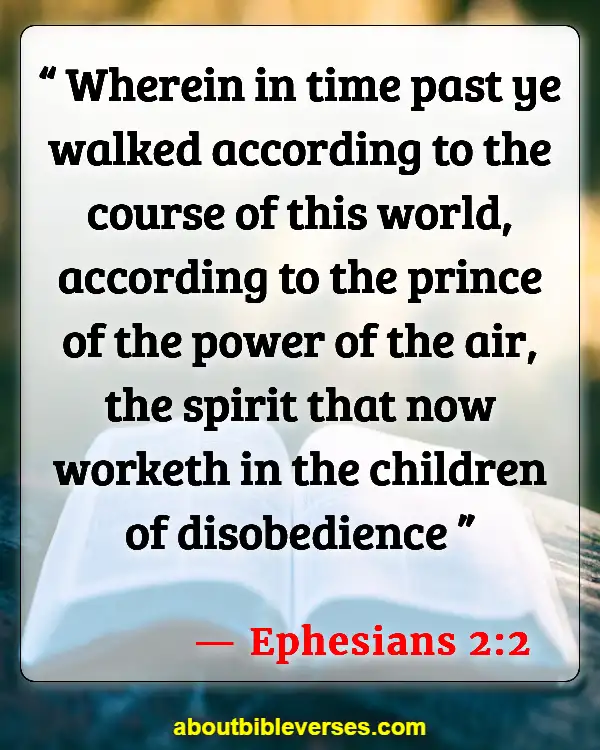 Ephesians 2:2
"Wherein in time past ye walked according to the course of this world, according to the prince of the power of the air, the spirit that now worketh in the children of disobedience"
1 John 4:1
"Beloved, believe not every spirit, but try the spirits whether they are of God: because many false prophets are gone out into the world"
2 Timothy 2:26
"And that they may recover themselves out of the snare of the devil, who are taken captive by him at his will"
Matthew 13:19
"When any one heareth the word of the kingdom, and understandeth it not, then cometh the wicked one, and catcheth away that which was sown in his heart. This is he which received seed by the way side"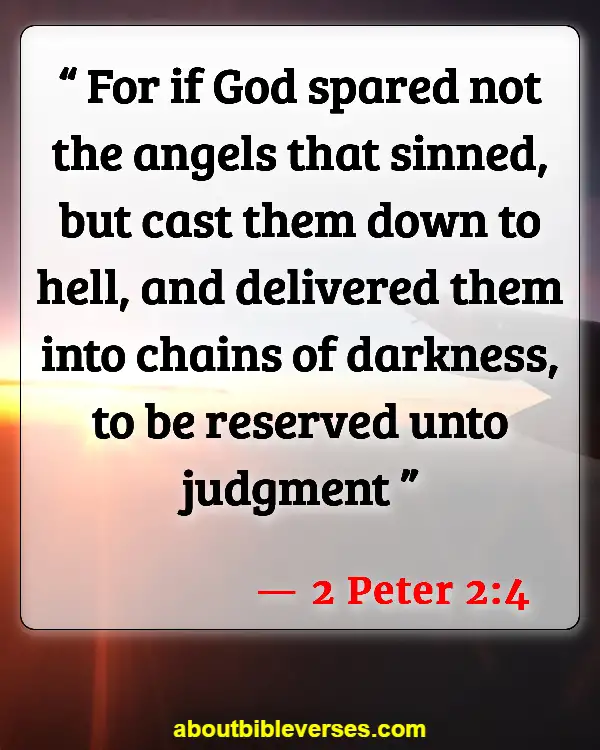 2 Peter 2:4
"For if God spared not the angels that sinned, but cast them down to hell, and delivered them into chains of darkness, to be reserved unto judgment"
Revelation 20:2
"And he laid hold on the dragon, that old serpent, which is the Devil, and Satan, and bound him a thousand years"
Matthew 24:24
"For there shall arise false Christs, and false prophets, and shall shew great signs and wonders; insomuch that, if it were possible, they shall deceive the very elect"
2 Corinthians 11:13-15
"For such are false apostles, deceitful workers, transforming themselves into the apostles of Christ. And no marvel; for Satan himself is transformed into an angel of light. Therefore it is no great thing if his ministers also be transformed as the ministers of righteousness; whose end shall be according to their works"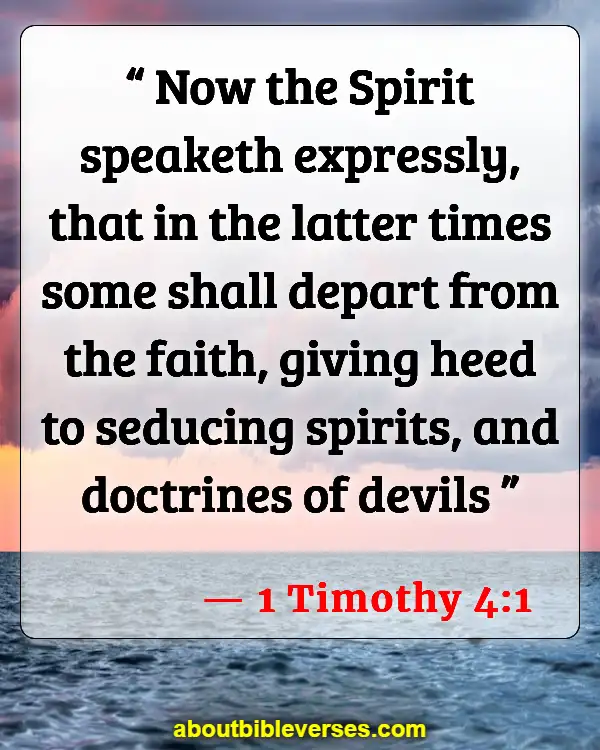 1 Timothy 4:1
"Now the Spirit speaketh expressly, that in the latter times some shall depart from the faith, giving heed to seducing spirits, and doctrines of devils"
2 Peter 2:19
"While they promise them liberty, they themselves are the servants of corruption: for of whom a man is overcome, of the same is he brought in bondage"
Mark 4:15
"And these are they by the way side, where the word is sown; but when they have heard, Satan cometh immediately, and taketh away the word that was sown in their hearts"
Acts 13:10
"And said, O full of all subtilty and all mischief, thou child of the devil, thou enemy of all righteousness, wilt thou not cease to pervert the right ways of the Lord?"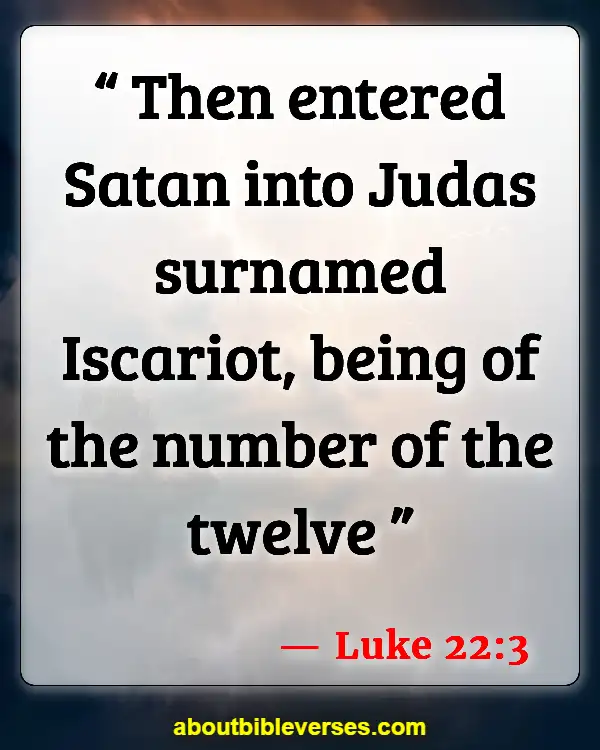 Luke 22:3
"Then entered Satan into Judas surnamed Iscariot, being of the number of the twelve"
Acts 5:3
"But Peter said, Ananias, why hath Satan filled thine heart to lie to the Holy Ghost, and to keep back part of the price of the land?"
2 Thessalonians 2:3-4
"Let no man deceive you by any means: for that day shall not come, except there come a falling away first, and that man of sin be revealed, the son of perdition; Who opposeth and exalteth himself above all that is called God, or that is worshipped; so that he as God sitteth in the temple of God, shewing himself that he is God"
Revelation 12:10
"And I heard a loud voice saying in heaven, Now is come salvation, and strength, and the kingdom of our God, and the power of his Christ: for the accuser of our brethren is cast down, which accused them before our God day and night"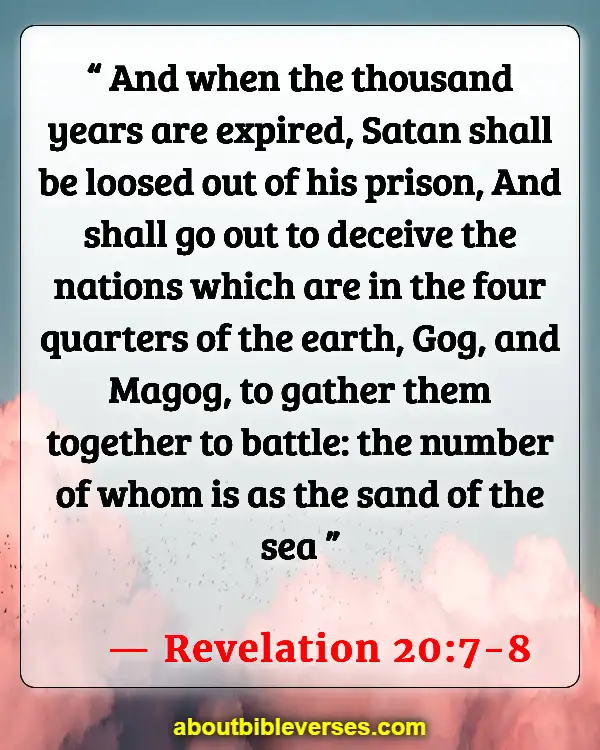 Revelation 20:7-8
"And when the thousand years are expired, Satan shall be loosed out of his prison, And shall go out to deceive the nations which are in the four quarters of the earth, Gog, and Magog, to gather them together to battle: the number of whom is as the sand of the sea"
2 Peter 2:1-3
"But there were false prophets also among the people, even as there shall be false teachers among you, who privily shall bring in damnable heresies, even denying the Lord that bought them, and bring upon themselves swift destruction. And many shall follow their pernicious ways; by reason of whom the way of truth shall be evil spoken of. And through covetousness shall they with feigned words make merchandise of you: whose judgment now of a long time lingereth not, and their damnation slumbereth not"
1 John 4:4-6
"Ye are of God, little children, and have overcome them: because greater is he that is in you, than he that is in the world. They are of the world: therefore speak they of the world, and the world heareth them. We are of God: he that knoweth God heareth us; he that is not of God heareth not us. Hereby know we the spirit of truth, and the spirit of error"
Revelation 19:20
"And the beast was taken, and with him the false prophet that wrought miracles before him, with which he deceived them that had received the mark of the beast, and them that worshipped his image. These both were cast alive into a lake of fire burning with brimstone"
2 Peter 1:4
"Whereby are given unto us exceeding great and precious promises: that by these ye might be partakers of the divine nature, having escaped the corruption that is in the world through lust"
1 Corinthians 7:5
"Defraud ye not one the other, except it be with consent for a time, that ye may give yourselves to fasting and prayer; and come together again, that Satan tempt you not for your incontinency"
1 Thessalonians 3:5
"For this cause, when I could no longer forbear, I sent to know your faith, lest by some means the tempter have tempted you, and our labour be in vain"
2 Timothy 3:13
"But evil men and seducers shall wax worse and worse, deceiving, and being deceived"
1 Corinthians 10:13
"There hath no temptation taken you but such as is common to man: but God is faithful, who will not suffer you to be tempted above that ye are able; but will with the temptation also make a way to escape, that ye may be able to bear it"
2 Peter 3:17
"Ye therefore, beloved, seeing ye know these things before, beware lest ye also, being led away with the error of the wicked, fall from your own stedfastness"
1 Timothy 6:9
"But they that will be rich fall into temptation and a snare, and into many foolish and hurtful lusts, which drown men in destruction and perdition"
2 Peter 2:14
"Having eyes full of adultery, and that cannot cease from sin; beguiling unstable souls: an heart they have exercised with covetous practices; cursed children"
Jude 1:4
"For there are certain men crept in unawares, who were before of old ordained to this condemnation, ungodly men, turning the grace of our God into lasciviousness, and denying the only Lord God, and our Lord Jesus Christ"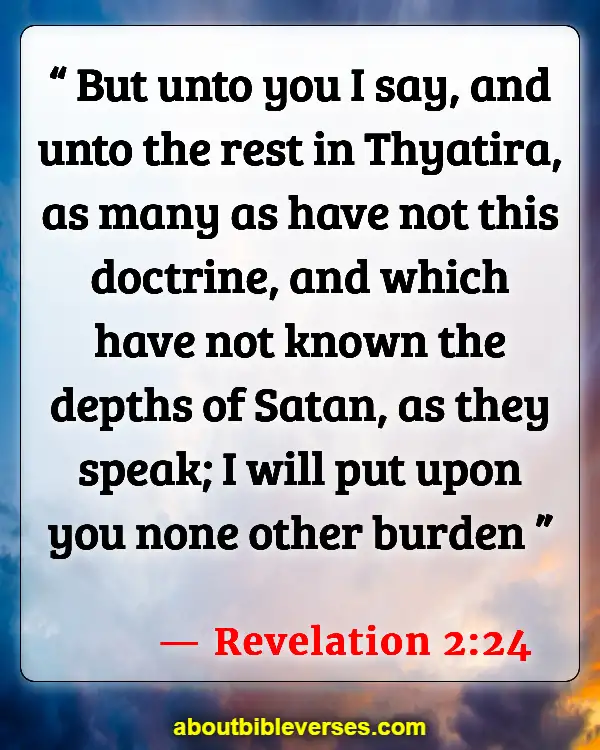 Revelation 2:24
"But unto you I say, and unto the rest in Thyatira, as many as have not this doctrine, and which have not known the depths of Satan, as they speak; I will put upon you none other burden"