Dear friends, Satan, that ancient serpent, is the accuser of God's children. He delights in highlighting our flaws, magnifying our sins, and whispering words of condemnation. This cunning enemy knows our weak spots and is relentless in his attacks.
Do not listen to that voice of accusation! It seeks only to weigh you down with guilt and shame. You have an advocate in Christ, who bore your sins and ransomed you with his blood. The price has been paid. You stand forgiven before God.
Though Satan accuses, Jesus intercedes. When the enemy reminds you of your past, remember God's mercy is new every morning. Do not accept Satan's lies about who you are. You are a beloved child of God – created in his image, known by name, redeemed by your Savior.
Resist the devil's whispers through prayer and God's Word. Arm yourself with truth and righteousness. You have been given authority over every evil power. Satan is already defeated – stand firm in the victory of Christ.
Remember you fight from a place of acceptance and love. Let no condemnation remain. Look to Jesus, speak truth to the lies, renew your mind – and keep your eyes fixed on the promises of God.
Dear friends, now let's look to the Bible for wisdom and encouragement when Satan accuses us. God's Word reminds us of our identity in Christ.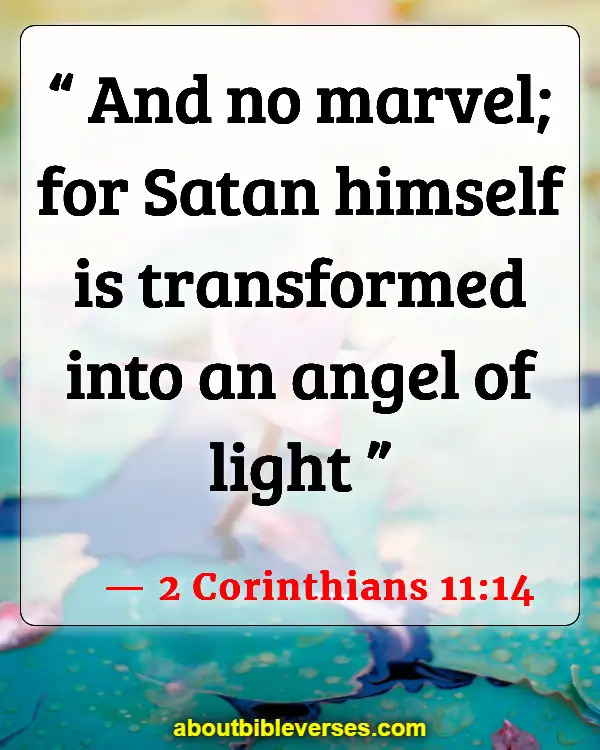 2 Corinthians 11:14
"And no marvel; for Satan himself is transformed into an angel of light"
Revelation 12:10
"And I heard a loud voice saying in heaven, Now is come salvation, and strength, and the kingdom of our God, and the power of his Christ: for the accuser of our brethren is cast down, which accused them before our God day and night"
Luke 22:31
"And the Lord said, Simon, Simon, behold, Satan hath desired to have you, that he may sift you as wheat"
Luke 10:18
"And he said unto them, I beheld Satan as lightning fall from heaven"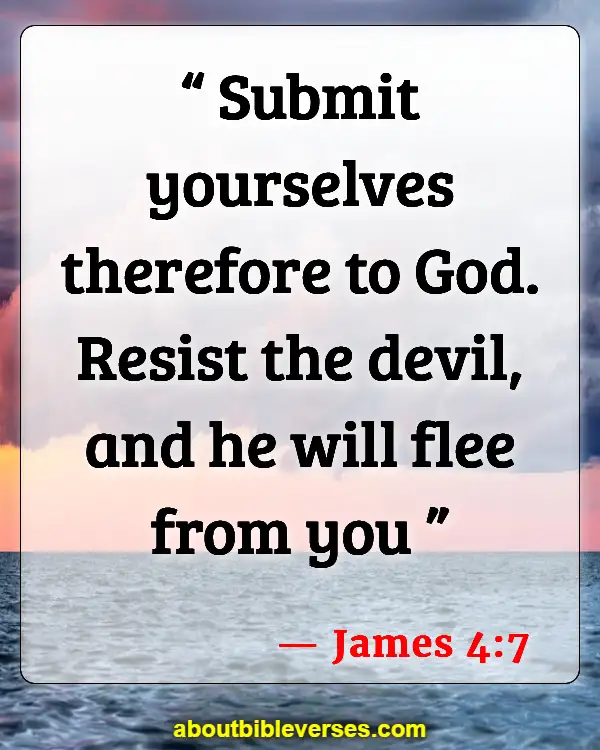 James 4:7
"Submit yourselves therefore to God. Resist the devil, and he will flee from you"
2 Corinthians 4:4
"In whom the god of this world hath blinded the minds of them which believe not, lest the light of the glorious gospel of Christ, who is the image of God, should shine unto them"
Revelation 12:9
"And the great dragon was cast out, that old serpent, called the Devil, and Satan, which deceiveth the whole world: he was cast out into the earth, and his angels were cast out with him"
Zechariah 3:1
"And he shewed me Joshua the high priest standing before the angel of the Lord , and Satan standing at his right hand to resist him"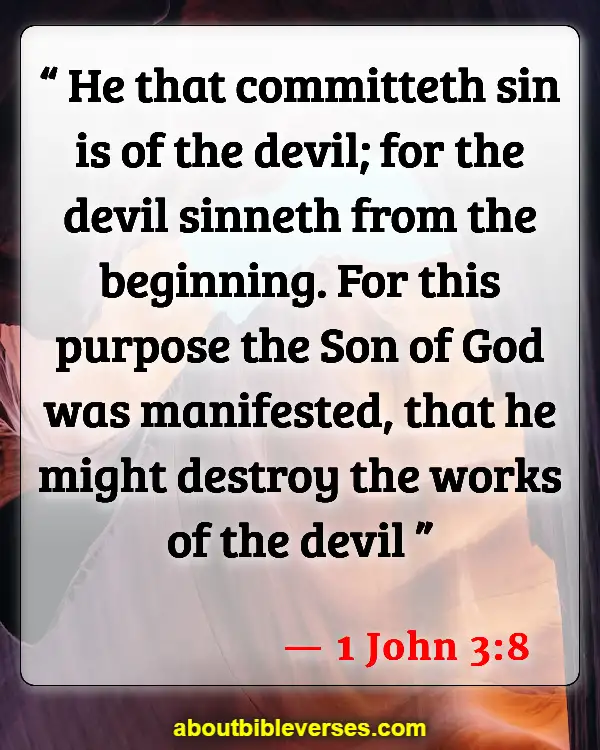 1 John 3:8
"He that committeth sin is of the devil; for the devil sinneth from the beginning. For this purpose the Son of God was manifested, that he might destroy the works of the devil"
Ephesians 6:11
"Put on the whole armour of God, that ye may be able to stand against the wiles of the devil"
Job 1:6
"Now there was a day when the sons of God came to present themselves before the Lord , and Satan came also among them"
Ephesians 6:16
"Above all, taking the shield of faith, wherewith ye shall be able to quench all the fiery darts of the wicked"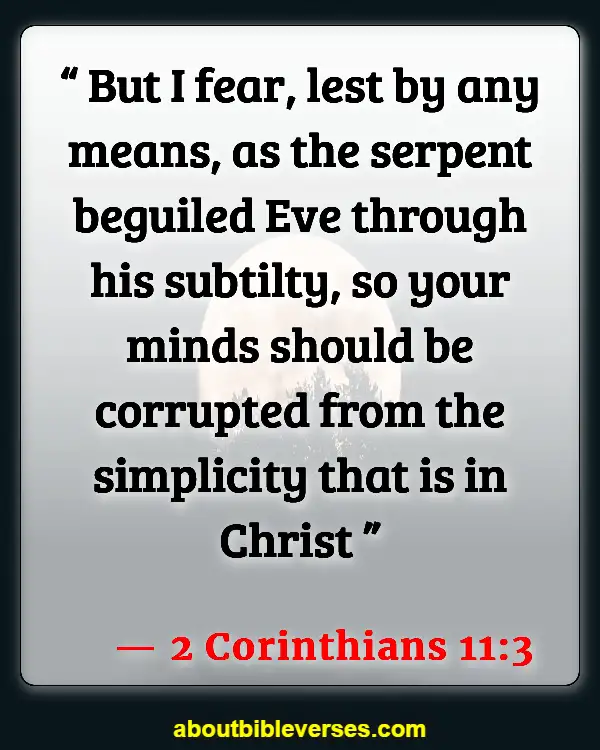 2 Corinthians 11:3
"But I fear, lest by any means, as the serpent beguiled Eve through his subtilty, so your minds should be corrupted from the simplicity that is in Christ"
1 Peter 5:8
"Be sober, be vigilant; because your adversary the devil, as a roaring lion, walketh about, seeking whom he may devour"
John 8:44
"Ye are of your father the devil, and the lusts of your father ye will do. He was a murderer from the beginning, and abode not in the truth, because there is no truth in him. When he speaketh a lie, he speaketh of his own: for he is a liar, and the father of it"
Matthew 16:23
"But he turned, and said unto Peter, Get thee behind me, Satan: thou art an offence unto me: for thou savourest not the things that be of God, but those that be of men"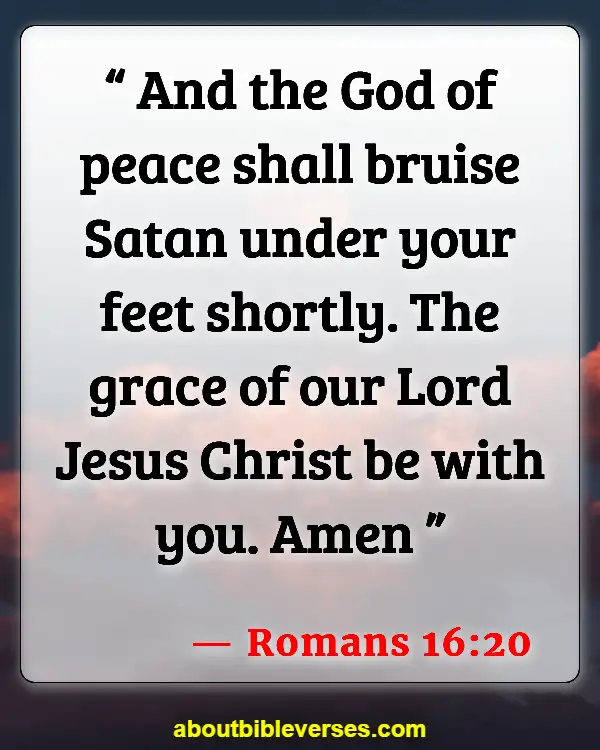 Romans 16:20
"And the God of peace shall bruise Satan under your feet shortly. The grace of our Lord Jesus Christ be with you. Amen"
John 13:27
"And after the sop Satan entered into him. Then said Jesus unto him, That thou doest, do quickly"
Ephesians 6:12
"For we wrestle not against flesh and blood, but against principalities, against powers, against the rulers of the darkness of this world, against spiritual wickedness in high places"
1 John 4:4
"Ye are of God, little children, and have overcome them: because greater is he that is in you, than he that is in the world"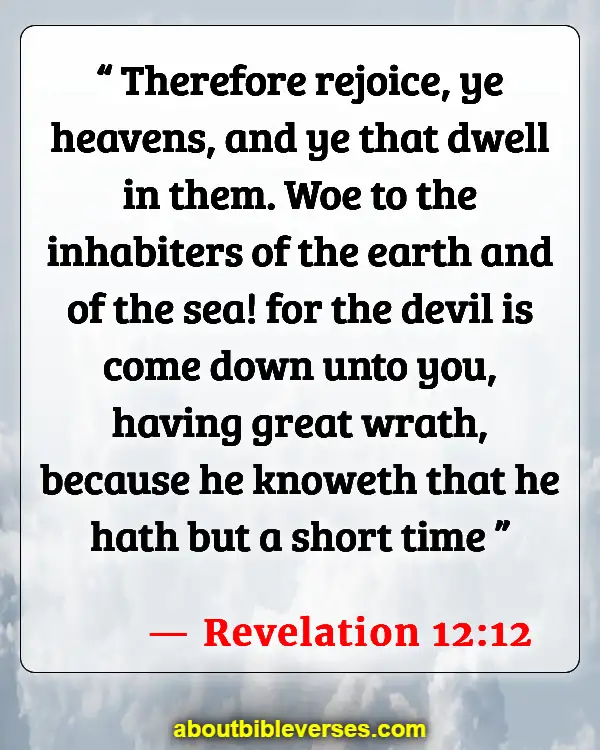 Revelation 12:12
"Therefore rejoice, ye heavens, and ye that dwell in them. Woe to the inhabiters of the earth and of the sea! for the devil is come down unto you, having great wrath, because he knoweth that he hath but a short time"
Matthew 4:3
"And when the tempter came to him, he said, If thou be the Son of God, command that these stones be made bread"
Revelation 2:10
"Fear none of those things which thou shalt suffer: behold, the devil shall cast some of you into prison, that ye may be tried; and ye shall have tribulation ten days: be thou faithful unto death, and I will give thee a crown of life"
Acts 5:3
"But Peter said, Ananias, why hath Satan filled thine heart to lie to the Holy Ghost, and to keep back part of the price of the land?"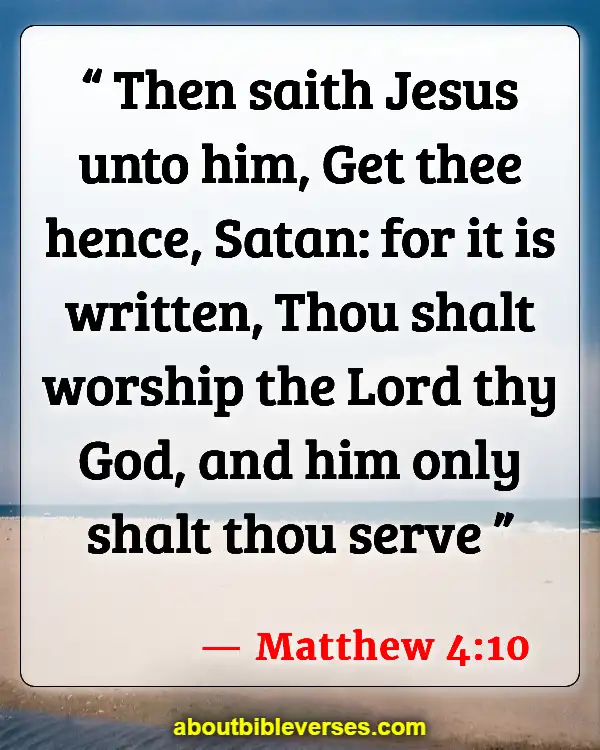 Matthew 4:10
"Then saith Jesus unto him, Get thee hence, Satan: for it is written, Thou shalt worship the Lord thy God, and him only shalt thou serve"
Isaiah 14:12
"How art thou fallen from heaven, O Lucifer, son of the morning! how art thou cut down to the ground, which didst weaken the nations"
1 Thessalonians 2:18
"Wherefore we would have come unto you, even I Paul, once and again; but Satan hindered us"
2 Corinthians 2:11
"Lest Satan should get an advantage of us: for we are not ignorant of his devices"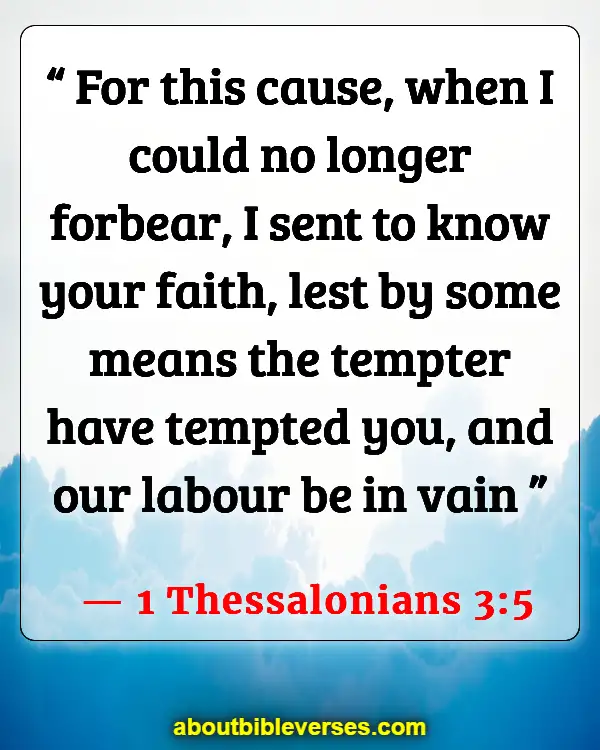 1 Thessalonians 3:5
"For this cause, when I could no longer forbear, I sent to know your faith, lest by some means the tempter have tempted you, and our labour be in vain"