Dear friend, Rewards in heaven have always been a central message of hope and encouragement throughout the scriptures. The Bible, in its profound wisdom, reminds us that our actions on Earth have eternal implications. Every good deed, every act of faith, and every sacrifice for righteousness is noted and will be rewarded.
In the earthly realm, we often see justice being delayed or even denied. Yet, dear brother and sister, in the eternal scheme of things, no act of love goes unnoticed. Heaven's economy is vastly different from ours. Here, we work for perishable things; but there, the rewards are incorruptible and everlasting. Imagine a treasure that neither moth nor rust can destroy, and that is the promise to those who faithfully follow the path of righteousness.
The parables in the Bible give us glimpses of these rewards. We learn about the servants who use their talents wisely and are granted authority over cities as a reward. We hear of the faithful ones who will be given the joyous commendation, "Well done, good and faithful servant."
But beyond these tangible rewards, the true prize of heaven is the privilege of being in the presence of the Almighty, experiencing an unimaginable love and peace that surpasses all understanding. The rewards are not just in objects or positions but in the profound relationships and the quality of eternal life we'll lead.
Dear friends now let's see the Bible scriptures below that talk about "Rewards In Heaven."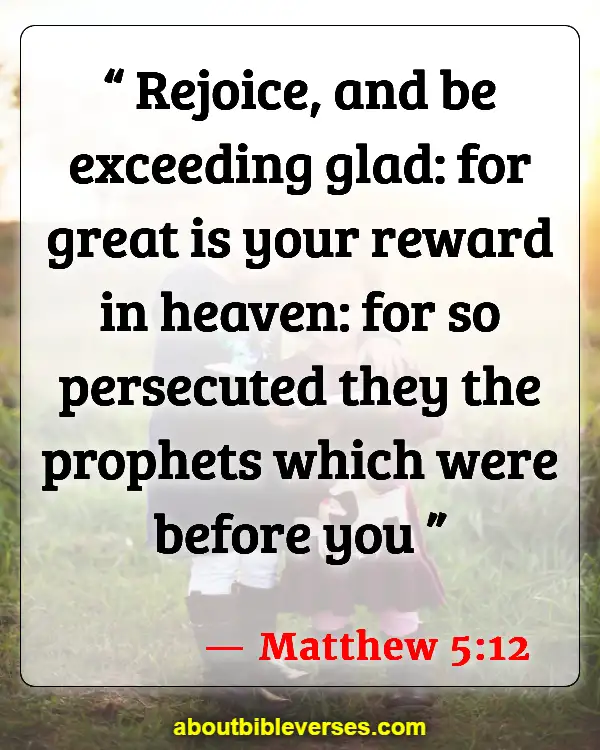 Matthew 5:12
"Rejoice, and be exceeding glad: for great is your reward in heaven: for so persecuted they the prophets which were before you"
Luke 6:23
"Rejoice ye in that day, and leap for joy: for, behold, your reward is great in heaven: for in the like manner did their fathers unto the prophets"
Matthew 6:20
"But lay up for yourselves treasures in heaven, where neither moth nor rust doth corrupt, and where thieves do not break through nor steal"
1 Corinthians 3:14
"If any man's work abide which he hath built thereupon, he shall receive a reward"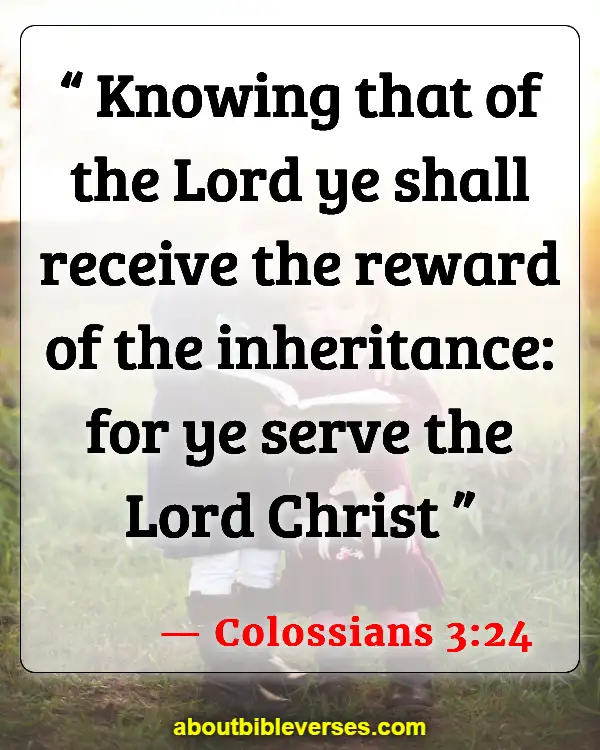 Colossians 3:24
"Knowing that of the Lord ye shall receive the reward of the inheritance: for ye serve the Lord Christ"
Matthew 10:41-42
"He that receiveth a prophet in the name of a prophet shall receive a prophet's reward; and he that receiveth a righteous man in the name of a righteous man shall receive a righteous man's reward. And whosoever shall give to drink unto one of these little ones a cup of cold water only in the name of a disciple, verily I say unto you, he shall in no wise lose his reward"
Hebrews 11:6
"But without faith it is impossible to please him: for he that cometh to God must believe that he is, and that he is a rewarder of them that diligently seek him"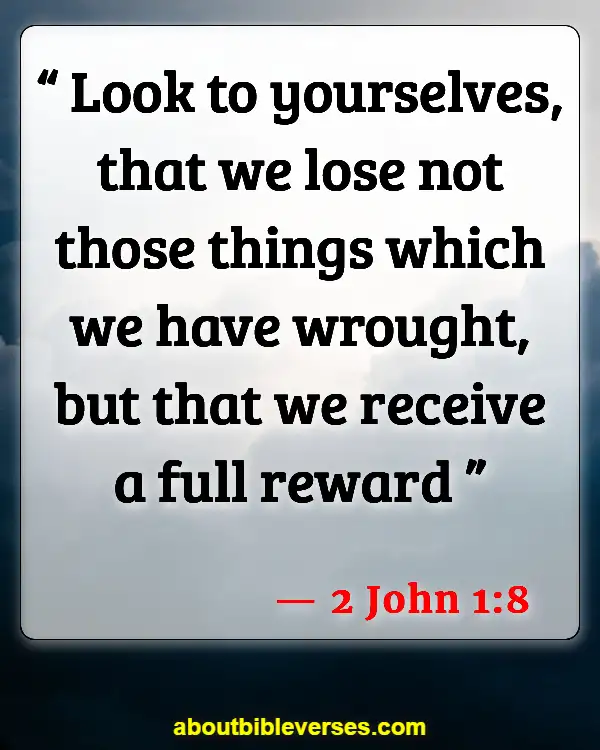 2 John 1:8
"Look to yourselves, that we lose not those things which we have wrought, but that we receive a full reward"
Revelation 22:12
"And, behold, I come quickly; and my reward is with me, to give every man according as his work shall be"
2 Corinthians 5:10
"For we must all appear before the judgment seat of Christ; that every one may receive the things done in his body, according to that he hath done, whether it be good or bad"
Mark 9:41
"For whosoever shall give you a cup of water to drink in my name, because ye belong to Christ, verily I say unto you, he shall not lose his reward"
Luke 14:14
"And thou shalt be blessed; for they cannot recompense thee: for thou shalt be recompensed at the resurrection of the just"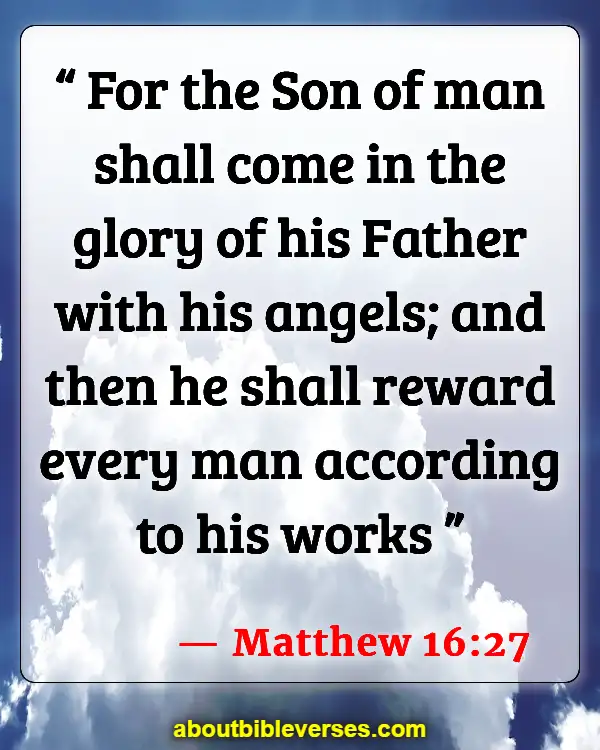 Matthew 16:27
"For the Son of man shall come in the glory of his Father with his angels; and then he shall reward every man according to his works"
1 Corinthians 9:17
"For if I do this thing willingly, I have a reward: but if against my will, a dispensation of the gospel is committed unto me"
2 Timothy 4:8
"Henceforth there is laid up for me a crown of righteousness, which the Lord, the righteous judge, shall give me at that day: and not to me only, but unto all them also that love his appearing"
James 1:12
"Blessed is the man that endureth temptation: for when he is tried, he shall receive the crown of life, which the Lord hath promised to them that love him"
Revelation 2:23
"And I will kill her children with death; and all the churches shall know that I am he which searcheth the reins and hearts: and I will give unto every one of you according to your works"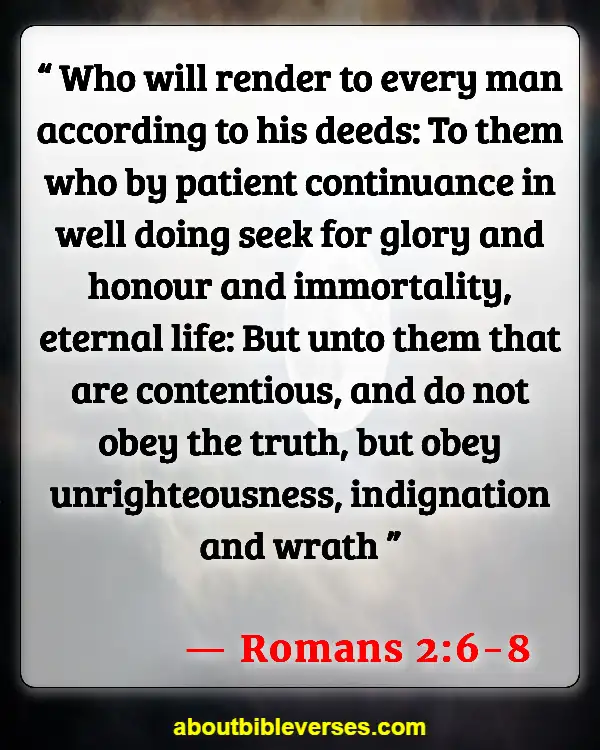 Romans 2:6-8
"Who will render to every man according to his deeds: To them who by patient continuance in well doing seek for glory and honour and immortality, eternal life: But unto them that are contentious, and do not obey the truth, but obey unrighteousness, indignation and wrath"
Matthew 25:21
"His lord said unto him, Well done, thou good and faithful servant: thou hast been faithful over a few things, I will make thee ruler over many things: enter thou into the joy of thy lord"
Luke 19:17
"And he said unto him, Well, thou good servant: because thou hast been faithful in a very little, have thou authority over ten cities"
1 Peter 1:4
"To an inheritance incorruptible, and undefiled, and that fadeth not away, reserved in heaven for you"
Revelation 3:11
"Behold, I come quickly: hold that fast which thou hast, that no man take thy crown"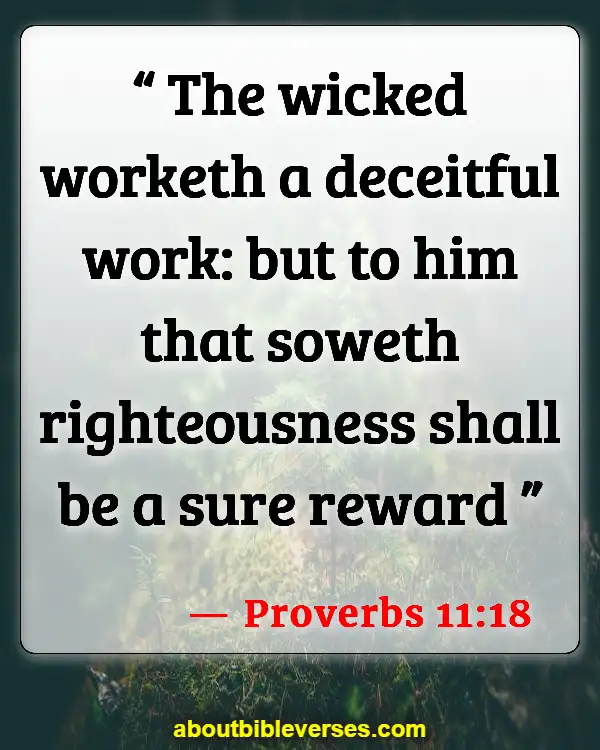 Proverbs 11:18
"The wicked worketh a deceitful work: but to him that soweth righteousness shall be a sure reward"
Proverbs 13:13
"Whoso despiseth the word shall be destroyed: but he that feareth the commandment shall be rewarded"
Matthew 19:21
"Jesus said unto him, If thou wilt be perfect, go and sell that thou hast, and give to the poor, and thou shalt have treasure in heaven: and come and follow me"
Luke 12:33
"Sell that ye have, and give alms; provide yourselves bags which wax not old, a treasure in the heavens that faileth not, where no thief approacheth, neither moth corrupteth"
1 Timothy 6:18-19
"That they do good, that they be rich in good works, ready to distribute, willing to communicate; Laying up in store for themselves a good foundation against the time to come, that they may lay hold on eternal life"
Matthew 25:34
"Then shall the King say unto them on his right hand, Come, ye blessed of my Father, inherit the kingdom prepared for you from the foundation of the world"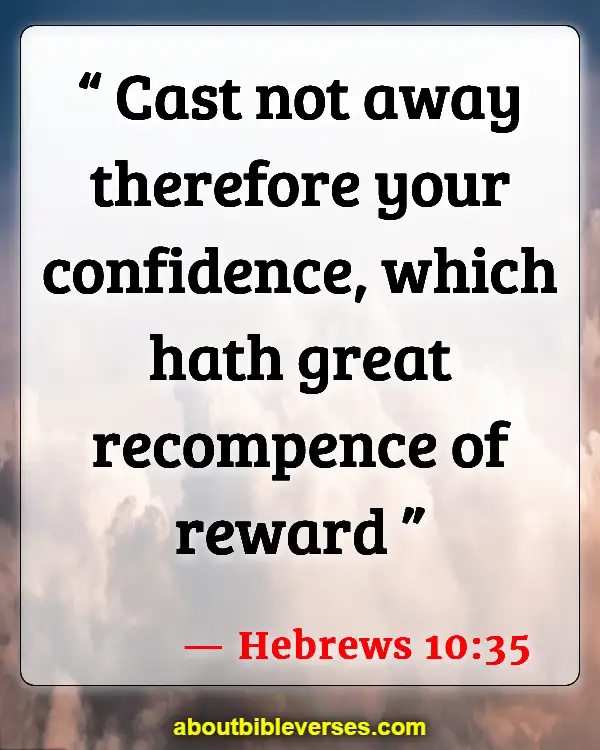 Hebrews 10:35
"Cast not away therefore your confidence, which hath great recompence of reward"
Conclusion:
Dear brother and sister, it is evident from the scriptures that the Lord values our faith, commitment, and deeds. Our journey here is but a short moment in the grand tapestry of eternity. Every act of kindness, every word of comfort, and every moment of patience has its place in the eternal kingdom. While we must never perform good deeds with the sole intention of seeking rewards, it is heartwarming to know that our Heavenly Father acknowledges our efforts. He lovingly assures us that our labor in His name is not in vain. Let this knowledge inspire and guide us in our daily walk. And remember, dear friend, to always seek the kingdom of God and His righteousness first, for in doing so, all these things shall be added unto you. If you've found this enlightening and valuable, please share with those you cherish. May you continue to walk in His light.