Hello dear friends, welcome to our site in the name of Jesus Christ. Today we will look at the Bible Scriptures About Respecting Your Body In KJV. If you like today's post then definitely comment and share.
The Bible teaches us to respect our bodies as a vessel of our spirits and a home to the breath of life God has gifted us. We are created uniquely and lovingly in His image, embodying not just flesh and bone, but also spirit and soul.
When we tend to our bodies—eating healthily, exercising regularly, resting sufficiently—we honor God's work. This care is not merely physical, it extends to emotional and mental health too.
In the eyes of God, our bodies are like temples, sacred and special. And just as we wouldn't allow our temples to be filled with dirt and darkness, we shouldn't let harmful habits or negativity invade our bodies. In practicing cleanliness and purity, we honor and respect these temples, these bodies that God has given us.
So remember, when we respect our bodies, we're not just caring for ourselves but also expressing gratitude to our Creator. This respect helps us to grow spiritually, drawing us closer to Him.
It's a beautiful cycle where caring for our bodies leads to deeper spiritual growth, and that growth, in turn, fuels our desire to care even more for ourselves. After all, when we understand the divine resides within us, we begin to respect ourselves on a whole new level.
So let's cherish and respect our bodies, knowing that each of us is a divine creation, wonderfully and fearfully made by God Himself.
Dear friends now let's see the Bible scriptures below that talk about Respecting Your Body.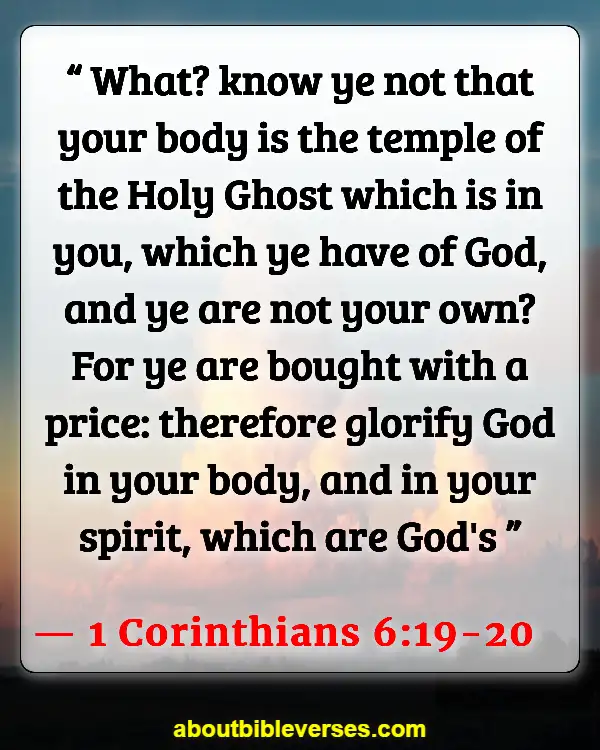 1 Corinthians 6:19-20
"What? know ye not that your body is the temple of the Holy Ghost which is in you, which ye have of God, and ye are not your own? For ye are bought with a price: therefore glorify God in your body, and in your spirit, which are God's"
1 Thessalonians 5:23
"And the very God of peace sanctify you wholly; and I pray God your whole spirit and soul and body be preserved blameless unto the coming of our Lord Jesus Christ"
2 Corinthians 7:1
"Having therefore these promises, dearly beloved, let us cleanse ourselves from all filthiness of the flesh and spirit, perfecting holiness in the fear of God"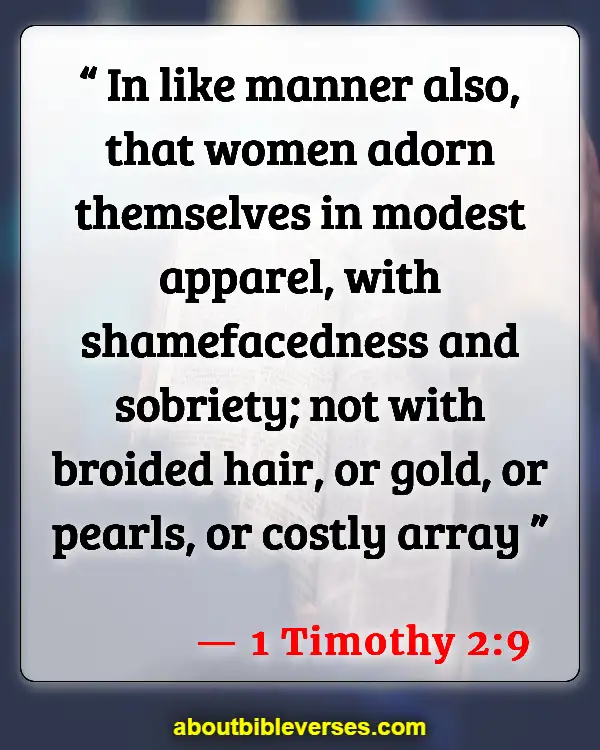 1 Timothy 2:9
"In like manner also, that women adorn themselves in modest apparel, with shamefacedness and sobriety; not with broided hair, or gold, or pearls, or costly array"
1 Corinthians 15:44
"It is sown a natural body; it is raised a spiritual body. There is a natural body, and there is a spiritual body"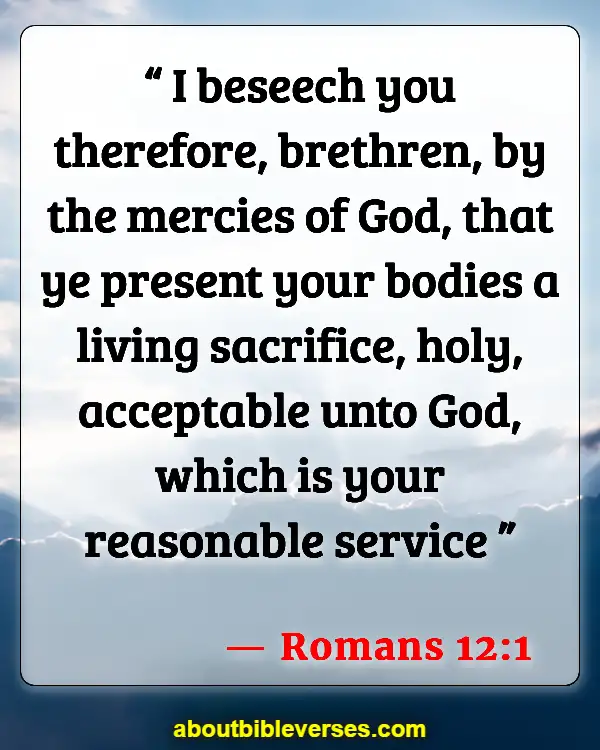 Romans 12:1
"I beseech you therefore, brethren, by the mercies of God, that ye present your bodies a living sacrifice, holy, acceptable unto God, which is your reasonable service"
1 Corinthians 10:31
"Whether therefore ye eat, or drink, or whatsoever ye do, do all to the glory of God"
Zechariah 12:1
"The burden of the word of the Lord for Israel, saith the Lord , which stretcheth forth the heavens, and layeth the foundation of the earth, and formeth the spirit of man within him"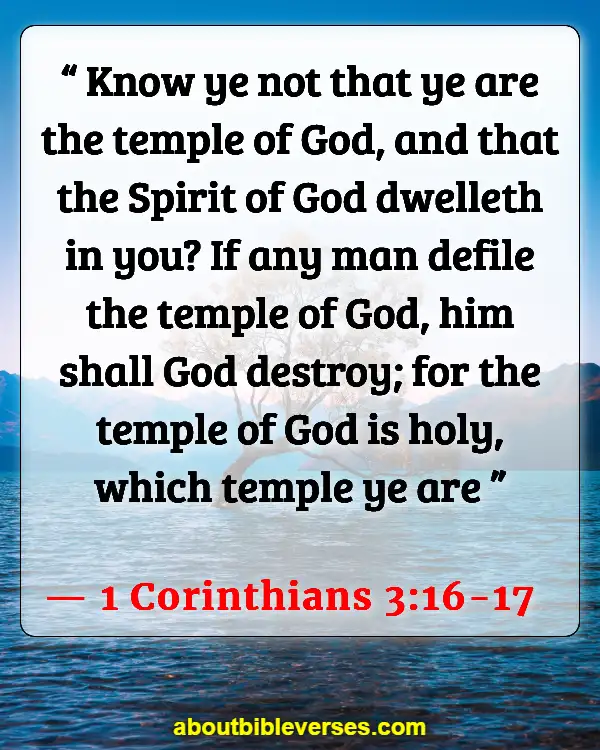 1 Corinthians 3:16-17
"Know ye not that ye are the temple of God, and that the Spirit of God dwelleth in you? If any man defile the temple of God, him shall God destroy; for the temple of God is holy, which temple ye are"
Psalm 139:14
"I will praise thee; for I am fearfully and wonderfully made: marvellous are thy works; and that my soul knoweth right well"
1 Timothy 4:8
"For bodily exercise profiteth little: but godliness is profitable unto all things, having promise of the life that now is, and of that which is to come"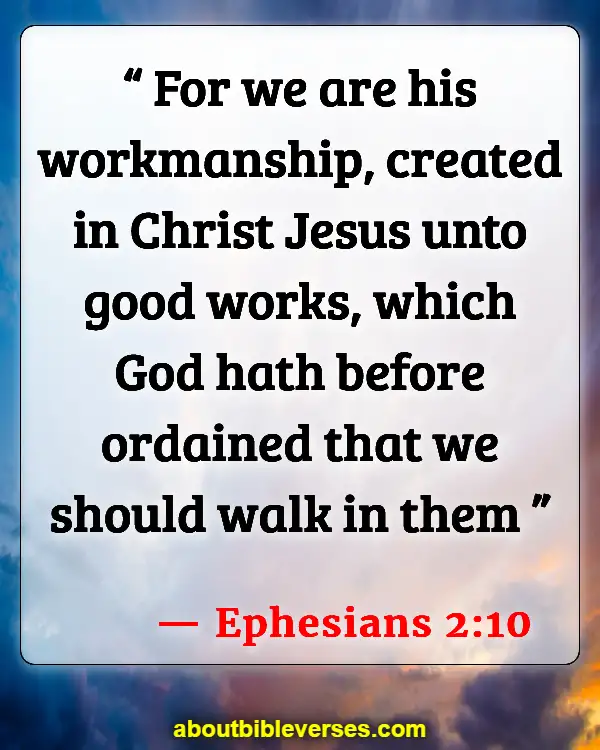 Ephesians 2:10
"For we are his workmanship, created in Christ Jesus unto good works, which God hath before ordained that we should walk in them"
1 Corinthians 9:27
"But I keep under my body, and bring it into subjection: lest that by any means, when I have preached to others, I myself should be a castaway"
Proverbs 14:30
"A sound heart is the life of the flesh: but envy the rottenness of the bones"
Galatians 5:22-23
"But the fruit of the Spirit is love, joy, peace, longsuffering, gentleness, goodness, faith, Meekness, temperance: against such there is no law"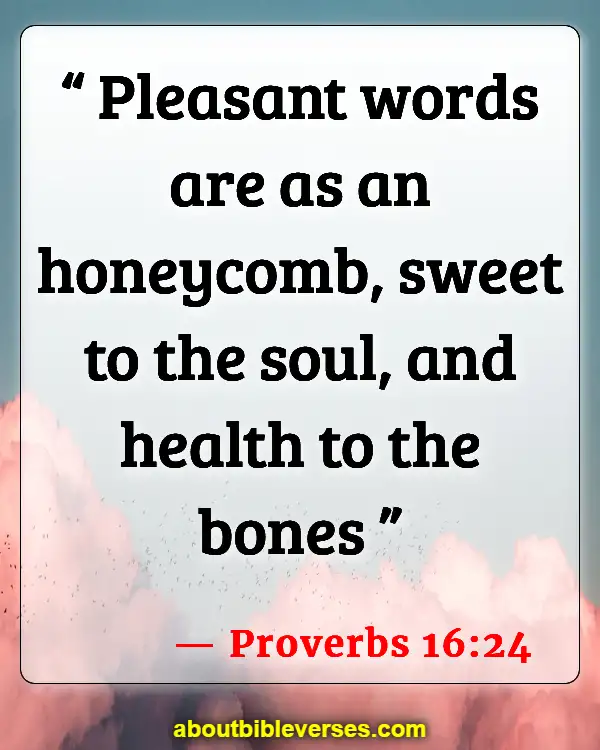 Proverbs 16:24
"Pleasant words are as an honeycomb, sweet to the soul, and health to the bones"
3 John 1:2
"Beloved, I wish above all things that thou mayest prosper and be in health, even as thy soul prospereth"
Leviticus 19:28
"Ye shall not make any cuttings in your flesh for the dead, nor print any marks upon you: I am the Lord"
James 3:9-10
"Therewith bless we God, even the Father; and therewith curse we men, which are made after the similitude of God. Out of the same mouth proceedeth blessing and cursing. My brethren, these things ought not so to be"
Psalm 71:23
"My lips shall greatly rejoice when I sing unto thee; and my soul, which thou hast redeemed"
Matthew 5:16
"Let your light so shine before men, that they may see your good works, and glorify your Father which is in heaven"
Romans 6:13
"Neither yield ye your members as instruments of unrighteousness unto sin: but yield yourselves unto God, as those that are alive from the dead, and your members as instruments of righteousness unto God"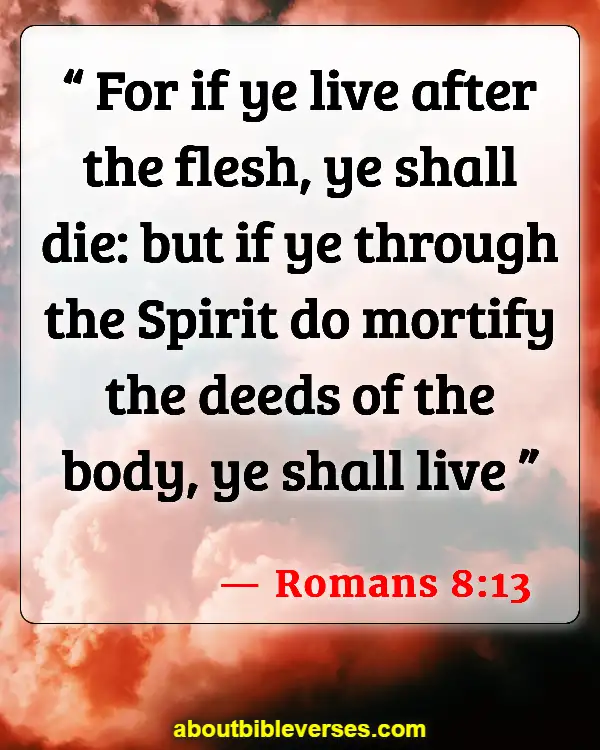 Romans 8:13
"For if ye live after the flesh, ye shall die: but if ye through the Spirit do mortify the deeds of the body, ye shall live"
Philippians 1:20
"According to my earnest expectation and my hope, that in nothing I shall be ashamed, but that with all boldness, as always, so now also Christ shall be magnified in my body, whether it be by life, or by death"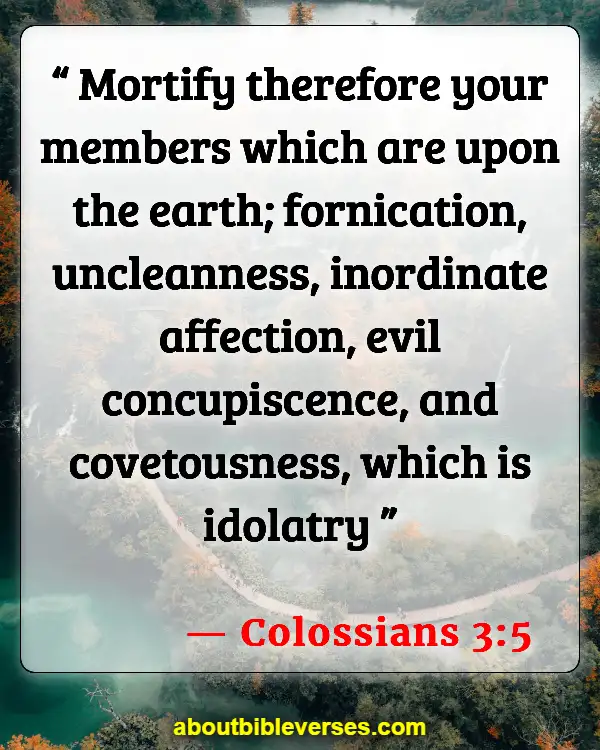 Colossians 3:5
"Mortify therefore your members which are upon the earth; fornication, uncleanness, inordinate affection, evil concupiscence, and covetousness, which is idolatry"
1 Thessalonians 4:4
"That every one of you should know how to possess his vessel in sanctification and honour"
Titus 2:12
"Teaching us that, denying ungodliness and worldly lusts, we should live soberly, righteously, and godly, in this present world"
James 1:12
"Blessed is the man that endureth temptation: for when he is tried, he shall receive the crown of life, which the Lord hath promised to them that love him"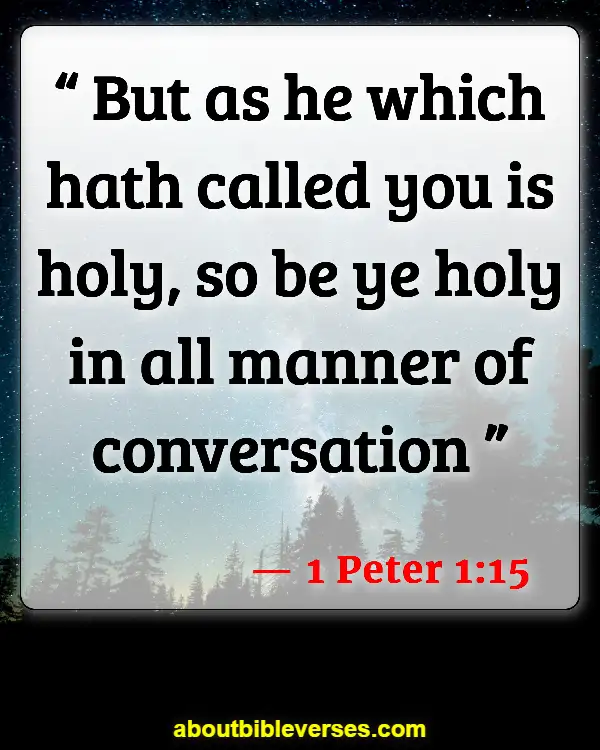 1 Peter 1:15
"But as he which hath called you is holy, so be ye holy in all manner of conversation"
Ephesians 5:29
"For no man ever yet hated his own flesh; but nourisheth and cherisheth it, even as the Lord the church"
Proverbs 20:29
"The glory of young men is their strength: and the beauty of old men is the grey head"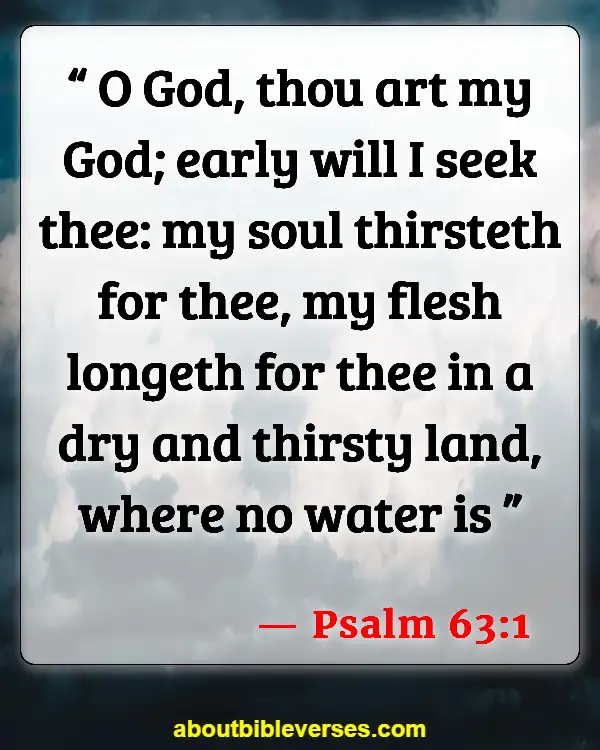 Psalm 63:1
"O God, thou art my God; early will I seek thee: my soul thirsteth for thee, my flesh longeth for thee in a dry and thirsty land, where no water is"