Dear Friends, Bible reminds us that respecting God's creation is both a spiritual duty and a practical responsibility. God's creation is a precious gift, and we are called to respect and care for it.
From the very beginning, the Bible tells us that God created the heavens and the earth, the seas and the land, the plants, and the animals, and most importantly, He created us, human beings, in His own image.
Everything in creation reflects God's wisdom and beauty, and it is our responsibility to honor and appreciate His handiwork. we should appreciate the beauty and diversity of the natural world. From the vastness of the oceans to the majesty of the mountains, from the colorful flowers to the magnificent animals, all of creation reflects the glory of God
we should remember that God is the ultimate Creator, and He entrusted us with the task of stewarding His creation. Just as a caretaker cares for a garden, we are to care for the earth and all that is in it.
This means taking care of the environment, conserving resources, and living in harmony with nature. We should be mindful of our actions and make choices that preserve and protect the world around us.
Dear friends, lift up your hands and thank God for marveling at His creation, enjoying its wonders, and being grateful for the abundance He has provided. now let's see the Bible scriptures below that talk about Respecting God's Creation.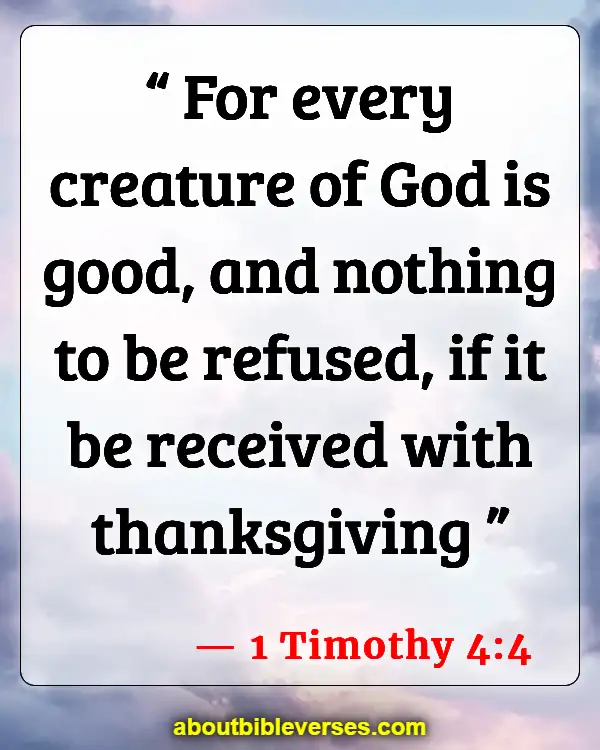 1 Timothy 4:4
"For every creature of God is good, and nothing to be refused, if it be received with thanksgiving"
Revelation 4:11
"Thou art worthy, O Lord, to receive glory and honour and power: for thou hast created all things, and for thy pleasure they are and were created"
Jeremiah 32:17
"Ah Lord God ! behold, thou hast made the heaven and the earth by thy great power and stretched out arm, and there is nothing too hard for thee"
1 Corinthians 8:6
"But to us there is but one God, the Father, of whom are all things, and we in him; and one Lord Jesus Christ, by whom are all things, and we by him"
Psalm 33:6
"By the word of the Lord were the heavens made; and all the host of them by the breath of his mouth"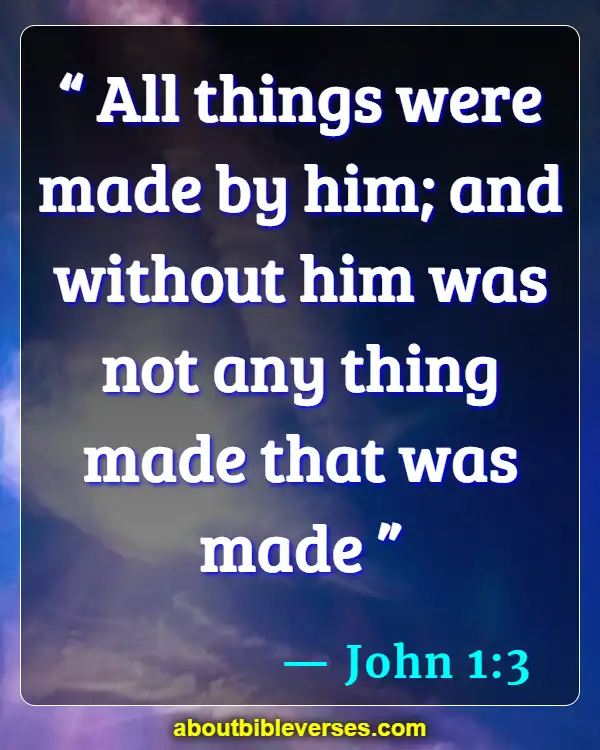 John 1:3
"All things were made by him; and without him was not any thing made that was made"
Psalm 19:1
"The heavens declare the glory of God; and the firmament sheweth his handywork"
Genesis 1:1
"In the beginning God created the heaven and the earth"
Genesis 1:26
"And God said, Let us make man in our image, after our likeness: and let them have dominion over the fish of the sea, and over the fowl of the air, and over the cattle, and over all the earth, and over every creeping thing that creepeth upon the earth"
Genesis 2:7
"And the Lord God formed man of the dust of the ground, and breathed into his nostrils the breath of life; and man became a living soul"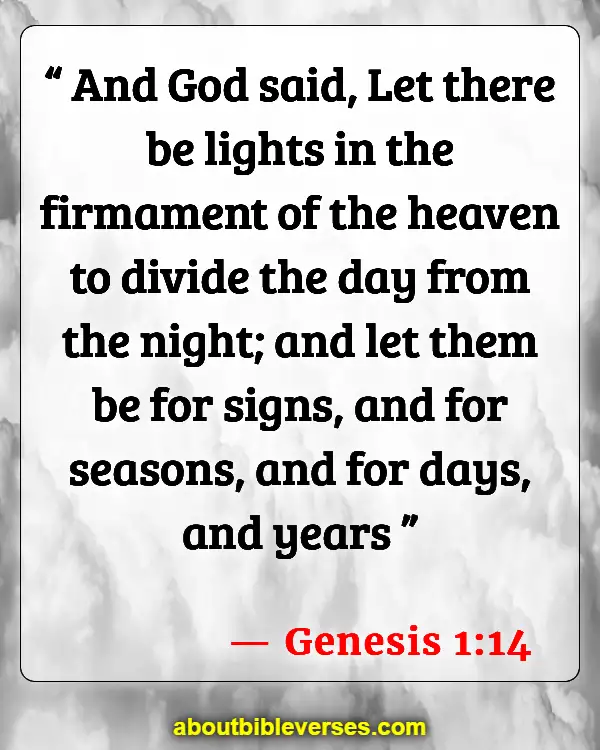 Genesis 1:14
"And God said, Let there be lights in the firmament of the heaven to divide the day from the night; and let them be for signs, and for seasons, and for days, and years"
Hebrews 11:3
"Through faith we understand that the worlds were framed by the word of God, so that things which are seen were not made of things which do appear"
Genesis 1:24
"And God said, Let the earth bring forth the living creature after his kind, cattle, and creeping thing, and beast of the earth after his kind: and it was so"
Colossians 1:16
"For by him were all things created, that are in heaven, and that are in earth, visible and invisible, whether they be thrones, or dominions, or principalities, or powers: all things were created by him, and for him"
Genesis 1:31
"And God saw every thing that he had made, and, behold, it was very good. And the evening and the morning were the sixth day"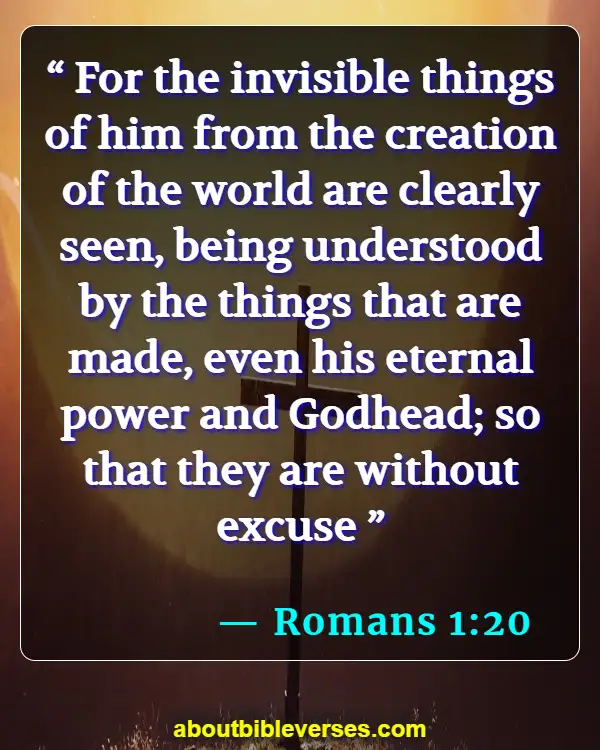 Romans 1:20
"For the invisible things of him from the creation of the world are clearly seen, being understood by the things that are made, even his eternal power and Godhead; so that they are without excuse"
Nehemiah 9:6
"Thou, even thou, art Lord alone; thou hast made heaven, the heaven of heavens, with all their host, the earth, and all things that are therein, the seas, and all that is therein, and thou preservest them all; and the host of heaven worshippeth thee"
Genesis 1:2
"And the earth was without form, and void; and darkness was upon the face of the deep. And the Spirit of God moved upon the face of the waters"
Romans 11:36
"For of him, and through him, and to him, are all things: to whom be glory for ever. Amen"
Acts 17:28
"For in him we live, and move, and have our being; as certain also of your own poets have said, For we are also his offspring"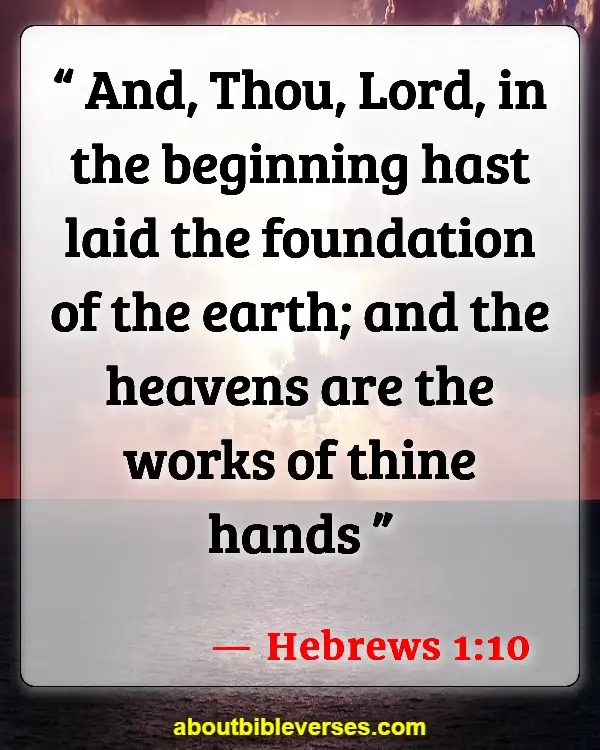 Hebrews 1:10
"And, Thou, Lord, in the beginning hast laid the foundation of the earth; and the heavens are the works of thine hands"
Hebrews 3:4
"For every house is builded by some man; but he that built all things is God"
Genesis 2:19
"And out of the ground the Lord God formed every beast of the field, and every fowl of the air; and brought them unto Adam to see what he would call them: and whatsoever Adam called every living creature, that was the name thereof"
Psalm 124:8
"Our help is in the name of the Lord , who made heaven and earth"
Isaiah 42:5
"Thus saith God the Lord , he that created the heavens, and stretched them out; he that spread forth the earth, and that which cometh out of it; he that giveth breath unto the people upon it, and spirit to them that walk therein"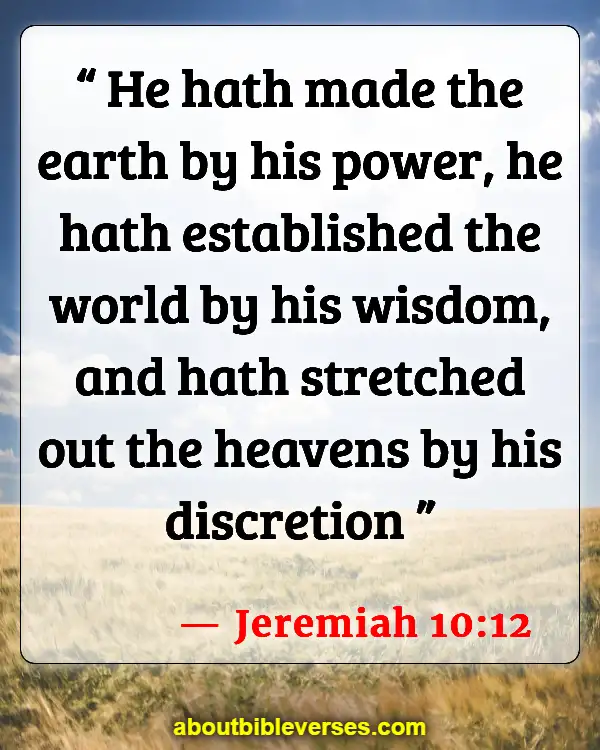 Jeremiah 10:12
"He hath made the earth by his power, he hath established the world by his wisdom, and hath stretched out the heavens by his discretion"
Hebrews 1:2
"Hath in these last days spoken unto us by his Son, whom he hath appointed heir of all things, by whom also he made the worlds"
Romans 13:1
"Let every soul be subject unto the higher powers. For there is no power but of God: the powers that be are ordained of God"
Isaiah 45:18
"For thus saith the Lord that created the heavens; God himself that formed the earth and made it; he hath established it, he created it not in vain, he formed it to be inhabited: I am the Lord ; and there is none else"
Genesis 1:28
"And God blessed them, and God said unto them, Be fruitful, and multiply, and replenish the earth, and subdue it: and have dominion over the fish of the sea, and over the fowl of the air, and over every living thing that moveth upon the earth"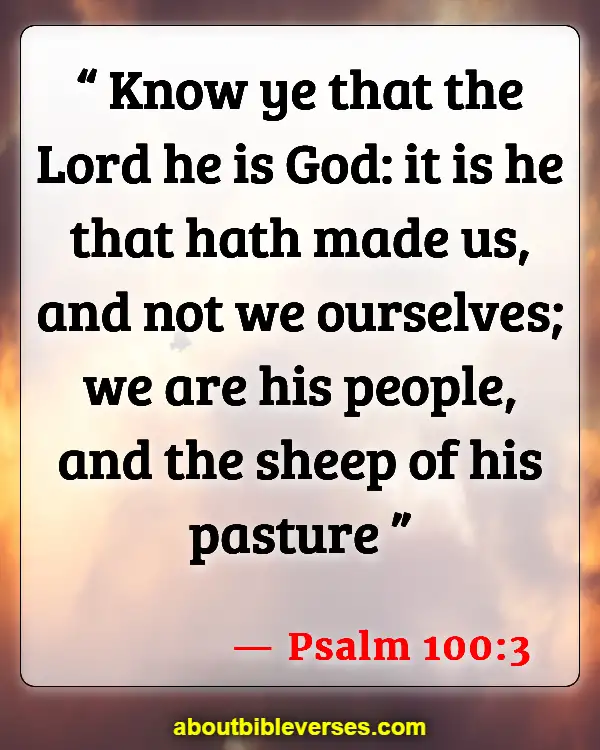 Psalm 100:3
"Know ye that the Lord he is God: it is he that hath made us, and not we ourselves; we are his people, and the sheep of his pasture"
Isaiah 45:9
"Woe unto him that striveth with his Maker! Let the potsherd strive with the potsherds of the earth. Shall the clay say to him that fashioneth it, What makest thou? or thy work, He hath no hands?"
Isaiah 40:26
"Lift up your eyes on high, and behold who hath created these things, that bringeth out their host by number: he calleth them all by names by the greatness of his might, for that he is strong in power; not one faileth"
Psalm 139:14
"I will praise thee; for I am fearfully and wonderfully made: marvellous are thy works; and that my soul knoweth right well"
Psalm 115:15
"Ye are blessed of the Lord which made heaven and earth"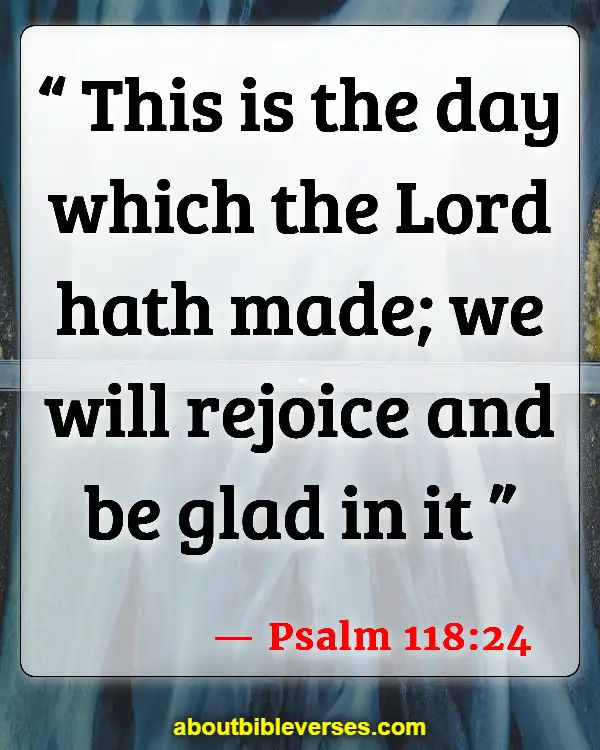 Psalm 118:24
"This is the day which the Lord hath made; we will rejoice and be glad in it"
Matthew 19:4
"And he answered and said unto them, Have ye not read, that he which made them at the beginning made them male and female"
Ecclesiastes 3:11
"He hath made every thing beautiful in his time: also he hath set the world in their heart, so that no man can find out the work that God maketh from the beginning to the end"
Job 37:5
"God thundereth marvellously with his voice; great things doeth he, which we cannot comprehend"
Isaiah 40:28
"Hast thou not known? hast thou not heard, that the everlasting God, the Lord , the Creator of the ends of the earth, fainteth not, neither is weary? there is no searching of his understanding"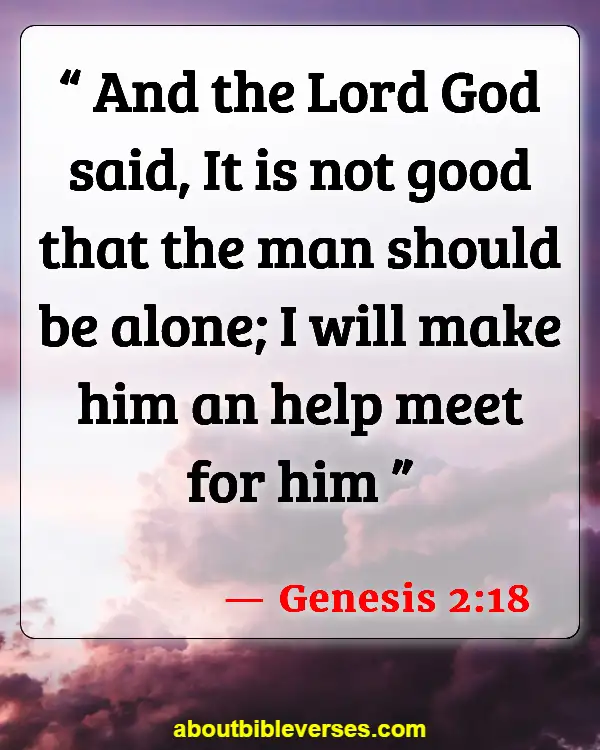 Genesis 2:18
"And the Lord God said, It is not good that the man should be alone; I will make him an help meet for him"
James 1:18
"Of his own will begat he us with the word of truth, that we should be a kind of firstfruits of his creatures"
Exodus 20:11
"For in six days the Lord made heaven and earth, the sea, and all that in them is, and rested the seventh day: wherefore the Lord blessed the sabbath day, and hallowed it"
Revelation 5:13
"And every creature which is in heaven, and on the earth, and under the earth, and such as are in the sea, and all that are in them, heard I saying, Blessing, and honour, and glory, and power, be unto him that sitteth upon the throne, and unto the Lamb for ever and ever"
Psalm 90:2
"Before the mountains were brought forth, or ever thou hadst formed the earth and the world, even from everlasting to everlasting, thou art God"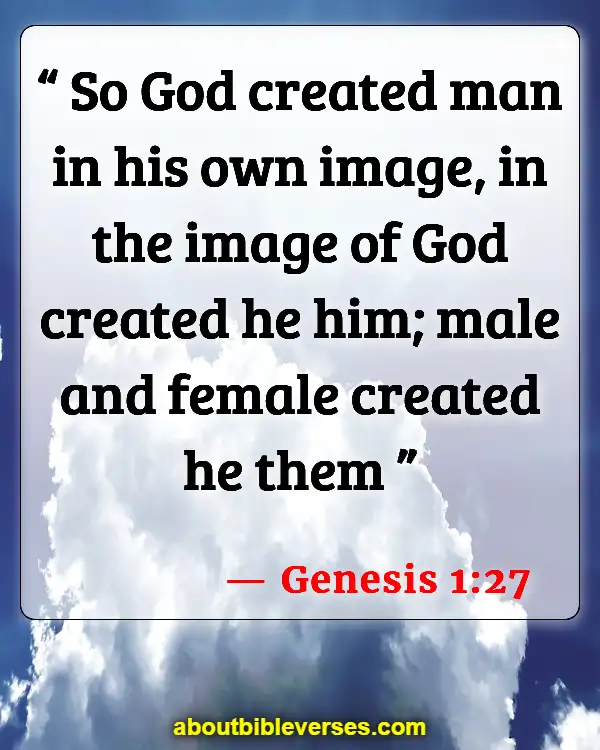 Genesis 1:27
"So God created man in his own image, in the image of God created he him; male and female created he them"
2 Peter 3:5
"For this they willingly are ignorant of, that by the word of God the heavens were of old, and the earth standing out of the water and in the water"
Job 33:4
"The spirit of God hath made me, and the breath of the Almighty hath given me life"
Amos 9:6
"It is he that buildeth his stories in the heaven, and hath founded his troop in the earth; he that calleth for the waters of the sea, and poureth them out upon the face of the earth: The Lord is his name"
Ecclesiastes 12:1
"Remember now thy Creator in the days of thy youth, while the evil days come not, nor the years draw nigh, when thou shalt say, I have no pleasure in them"
Psalm 95:6
"O come, let us worship and bow down: let us kneel before the Lord our maker"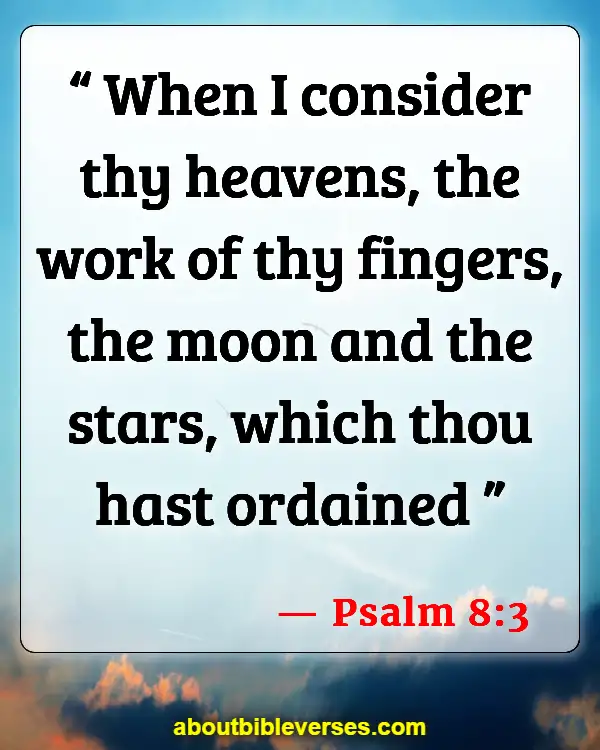 Psalm 8:3
"When I consider thy heavens, the work of thy fingers, the moon and the stars, which thou hast ordained"