Hello dear friends, welcome to our site in the name of Jesus Christ. Today we will look at the Bible Scriptures About Raising Your Child In KJV. If you like today's post then definitely comment and share.
In the sacred pages of the Bible, we are encouraged to nurture the hearts of our children with a depth of wisdom and understanding.
It starts with love; profound, unconditional love, that emulates God's love for us.
As parents, our role is to reflect that divine love, infusing their young minds with a sense of security and worth. When children understand they are loved, they grow confident, kind, and compassionate.
The Bible also emphasizes the significance of instruction and discipline.It's a nurturing process where children learn to discern right from wrong, developing their own sense of responsibility and accountability.
Equally vital is teaching children about faith. We must share stories of divine miracles, lessons of courage, and tales of forgiveness, providing them a spiritual framework to lean on in times of joy and trial.
The Bible also emphasizes the need for discipline. Correction, when administered with love, brings about the maturity and character needed to weather life's storms. Through it, children learn the importance of respect, responsibility, and resilience.
As they grow, let them see the importance of serving others in your actions. Remember, you are the mirror through which they see the world. When they see you being kind, patient, and generous, they are likely to follow suit.
Lastly, our own life should echo these teachings. Children learn more from what they see than what they hear. So, let our lives be a living testament to these Biblical principles, inspiring them to follow a righteous path.
Remember, the goal isn't just to raise children, but to raise good human beings, embodying the love, wisdom, and strength taught in the Bible.
Dear friends now let's see the Bible scriptures below that talk about Raising Your Child.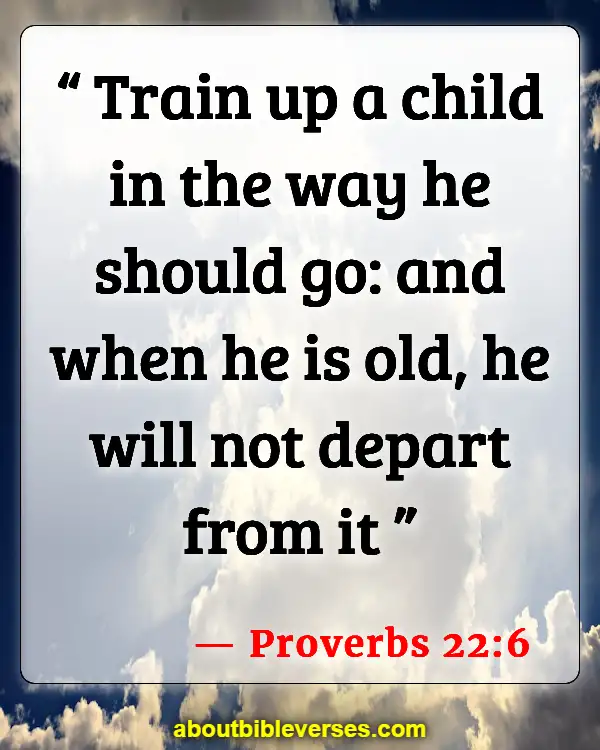 Proverbs 22:6
"Train up a child in the way he should go: and when he is old, he will not depart from it"
Ephesians 6:4
"And, ye fathers, provoke not your children to wrath: but bring them up in the nurture and admonition of the Lord"
Proverbs 29:15
"The rod and reproof give wisdom: but a child left to himself bringeth his mother to shame"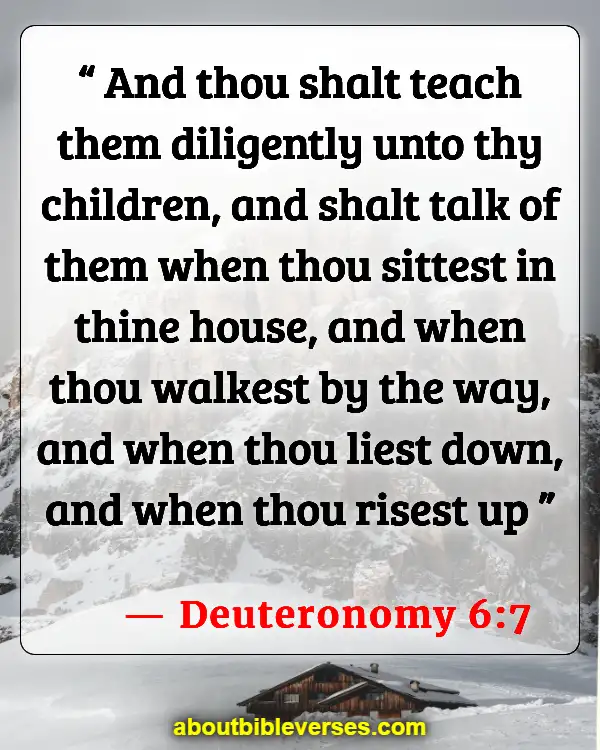 Deuteronomy 6:7
"And thou shalt teach them diligently unto thy children, and shalt talk of them when thou sittest in thine house, and when thou walkest by the way, and when thou liest down, and when thou risest up"
Colossians 3:21
"Fathers, provoke not your children to anger, lest they be discouraged"
Proverbs 13:24
"He that spareth his rod hateth his son: but he that loveth him chasteneth him betimes"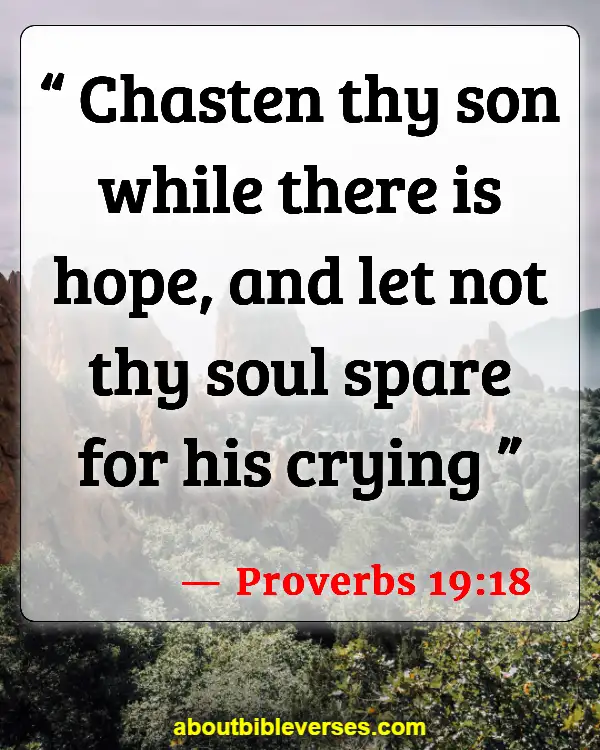 Proverbs 19:18
"Chasten thy son while there is hope, and let not thy soul spare for his crying"
Proverbs 29:17
"Correct thy son, and he shall give thee rest; yea, he shall give delight unto thy soul"
2 Timothy 3:15
"And that from a child thou hast known the holy scriptures, which are able to make thee wise unto salvation through faith which is in Christ Jesus"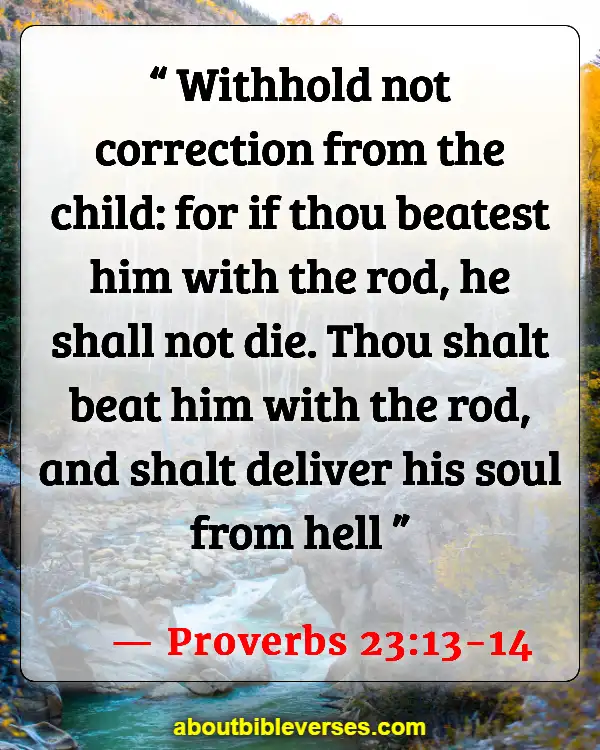 Proverbs 23:13-14
"Withhold not correction from the child: for if thou beatest him with the rod, he shall not die. Thou shalt beat him with the rod, and shalt deliver his soul from hell"
Proverbs 1:8-9
"My son, hear the instruction of thy father, and forsake not the law of thy mother: For they shall be an ornament of grace unto thy head, and chains about thy neck"
Exodus 20:12
"Honour thy father and thy mother: that thy days may be long upon the land which the Lord thy God giveth thee"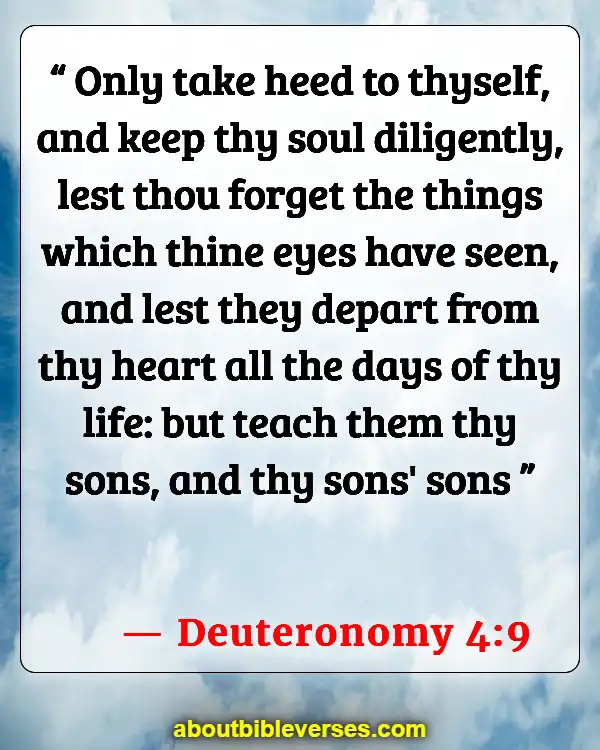 Deuteronomy 4:9
"Only take heed to thyself, and keep thy soul diligently, lest thou forget the things which thine eyes have seen, and lest they depart from thy heart all the days of thy life: but teach them thy sons, and thy sons' sons"
Deuteronomy 5:16
"Honour thy father and thy mother, as the Lord thy God hath commanded thee; that thy days may be prolonged, and that it may go well with thee, in the land which the Lord thy God giveth thee"
Proverbs 6:20
"My son, keep thy father's commandment, and forsake not the law of thy mother"
Psalm 127:3
"Lo, children are an heritage of the Lord : and the fruit of the womb is his reward"
Isaiah 38:19
"The living, the living, he shall praise thee, as I do this day: the father to the children shall make known thy truth"
Isaiah 54:13
"And all thy children shall be taught of the Lord ; and great shall be the peace of thy children"
Jeremiah 31:17
"And there is hope in thine end, saith the Lord , that thy children shall come again to their own border"
Proverbs 3:11-12
"My son, despise not the chastening of the Lord ; neither be weary of his correction: For whom the Lord loveth he correcteth; even as a father the son in whom he delighteth"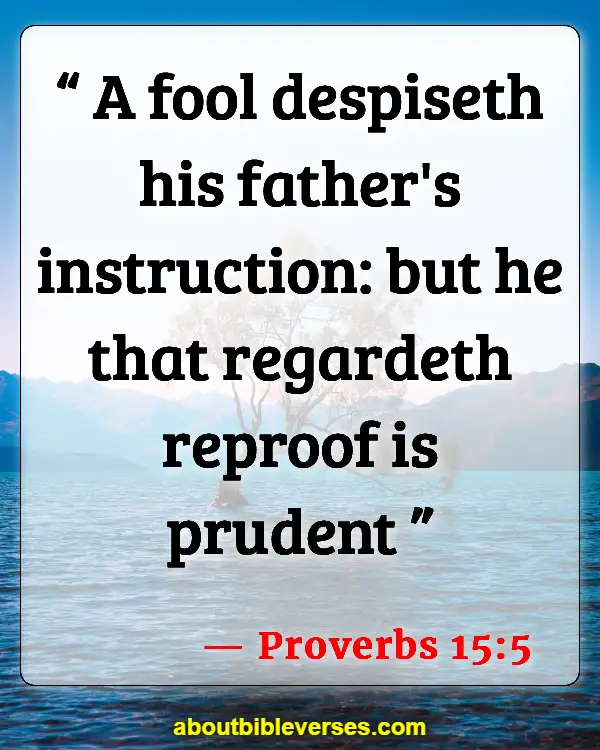 Proverbs 15:5
"A fool despiseth his father's instruction: but he that regardeth reproof is prudent"
Hebrews 12:5-6
"And ye have forgotten the exhortation which speaketh unto you as unto children, My son, despise not thou the chastening of the Lord, nor faint when thou art rebuked of him: For whom the Lord loveth he chasteneth, and scourgeth every son whom he receiveth"
Proverbs 22:15
"Foolishness is bound in the heart of a child; but the rod of correction shall drive it far from him"
Proverbs 4:1-4
"Hear, ye children, the instruction of a father, and attend to know understanding. For I give you good doctrine, forsake ye not my law. For I was my father's son, tender and only beloved in the sight of my mother. He taught me also, and said unto me, Let thine heart retain my words: keep my commandments, and live"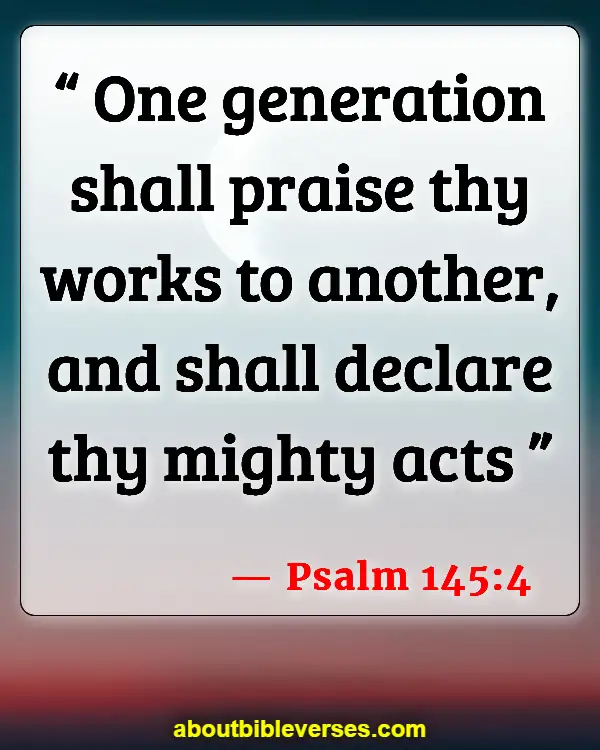 Psalm 145:4
"One generation shall praise thy works to another, and shall declare thy mighty acts"
Deuteronomy 11:19
"And ye shall teach them your children, speaking of them when thou sittest in thine house, and when thou walkest by the way, when thou liest down, and when thou risest up"
Deuteronomy 32:46
"And he said unto them, Set your hearts unto all the words which I testify among you this day, which ye shall command your children to observe to do, all the words of this law"
Proverbs 20:11
"Even a child is known by his doings, whether his work be pure, and whether it be right"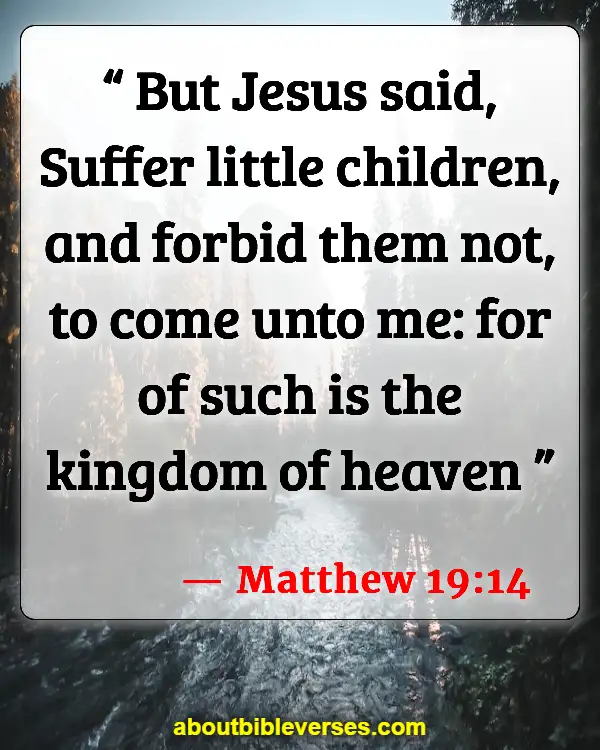 Matthew 19:14
"But Jesus said, Suffer little children, and forbid them not, to come unto me: for of such is the kingdom of heaven"
Luke 2:52
"And Jesus increased in wisdom and stature, and in favour with God and man"
Acts 2:39
"For the promise is unto you, and to your children, and to all that are afar off, even as many as the Lord our God shall call"
1 Corinthians 14:9
"So likewise ye, except ye utter by the tongue words easy to be understood, how shall it be known what is spoken? for ye shall speak into the air"
Ephesians 6:1-3
"Children, obey your parents in the Lord: for this is right. Honour thy father and mother; which is the first commandment with promise; That it may be well with thee, and thou mayest live long on the earth"
Colossians 3:20
"Children, obey your parents in all things: for this is well pleasing unto the Lord"
Titus 2:7-8
"In all things shewing thyself a pattern of good works: in doctrine shewing uncorruptness, gravity, sincerity, Sound speech, that cannot be condemned; that he that is of the contrary part may be ashamed, having no evil thing to say of you"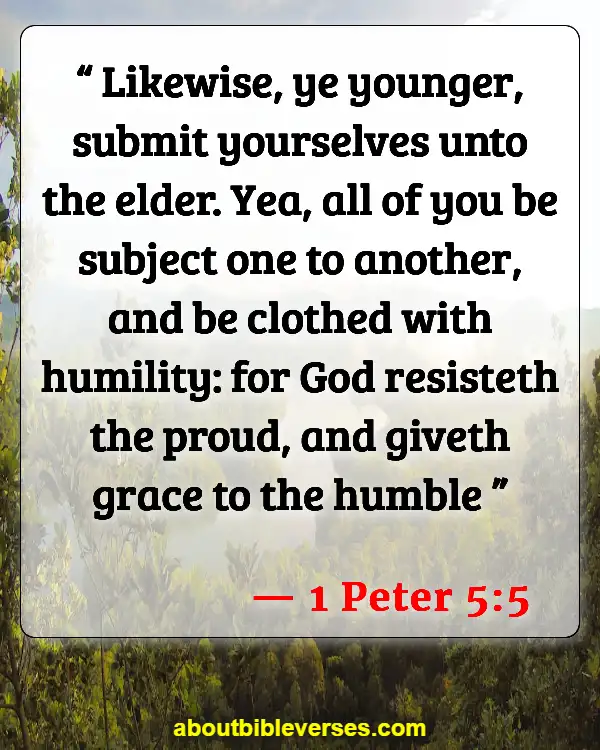 1 Peter 5:5
"Likewise, ye younger, submit yourselves unto the elder. Yea, all of you be subject one to another, and be clothed with humility: for God resisteth the proud, and giveth grace to the humble"
2 Peter 1:5-7
"And beside this, giving all diligence, add to your faith virtue; and to virtue knowledge; And to knowledge temperance; and to temperance patience; and to patience godliness; And to godliness brotherly kindness; and to brotherly kindness charity"
Proverbs 17:6
"Children's children are the crown of old men; and the glory of children are their fathers"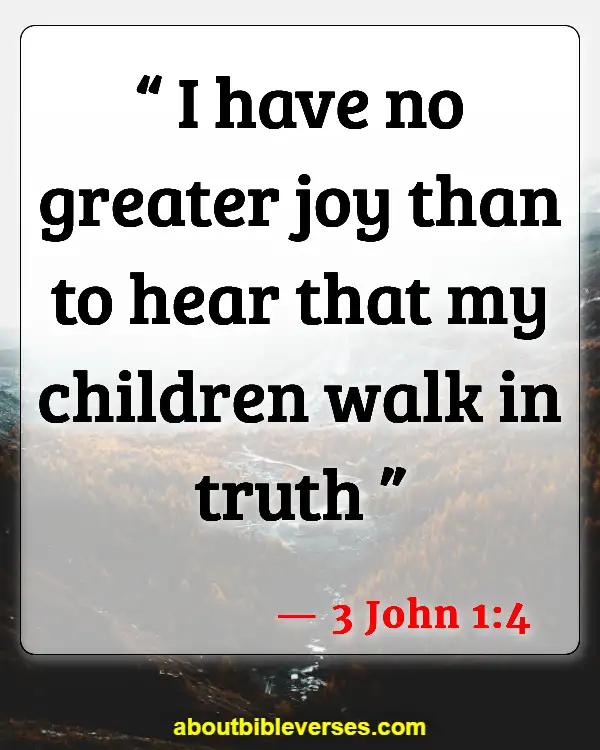 3 John 1:4
"I have no greater joy than to hear that my children walk in truth"
Proverbs 28:7
"Whoso keepeth the law is a wise son: but he that is a companion of riotous men shameth his father"
Proverbs 31:28
"Her children arise up, and call her blessed; her husband also, and he praiseth her"
Isaiah 44:3-4
"For I will pour water upon him that is thirsty, and floods upon the dry ground: I will pour my spirit upon thy seed, and my blessing upon thine offspring: And they shall spring up as among the grass, as willows by the water courses"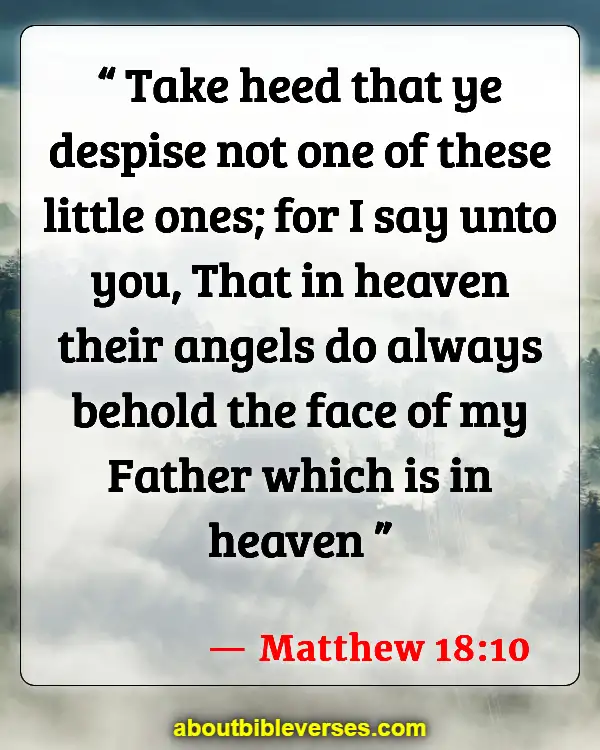 Matthew 18:10
"Take heed that ye despise not one of these little ones; for I say unto you, That in heaven their angels do always behold the face of my Father which is in heaven"