Hello dear friends, welcome to our site in the name of Jesus Christ. Today we will look at the Bible Scriptures About Putting Others First In KJV. If you like today's post then definitely comment and share.
The Bible teaches us to put others first as a way to show love, humility, and service. This selflessness not only strengthens our relationships with others but also deepens our connection with God. By prioritizing the needs and well-being of those around us, we follow the teachings of Jesus Christ and live a life that pleases God.
Philippians 2:3-4 This verse emphasizes the need for us to consider the needs and well-being of others before our own, demonstrating true love and humility.
Romans 12:10 This verse emphasizes the importance of honoring others, telling them to value them as God's children. By doing this, we can maintain unity and harmony in our community.
Jesus himself set the ultimate example of putting others first when Jesus washed his disciples' feet in John 13:34-35. This act of humble service demonstrates His love for them and commands them to love one another in the same way.
Similarly, in Matthew 20:26-28, Jesus taught that anyone who wants to be great must be a servant, taking selflessness and service in God's eyes very seriously.
Dear friends now let's see the Bible scriptures below that talk about Putting Others First.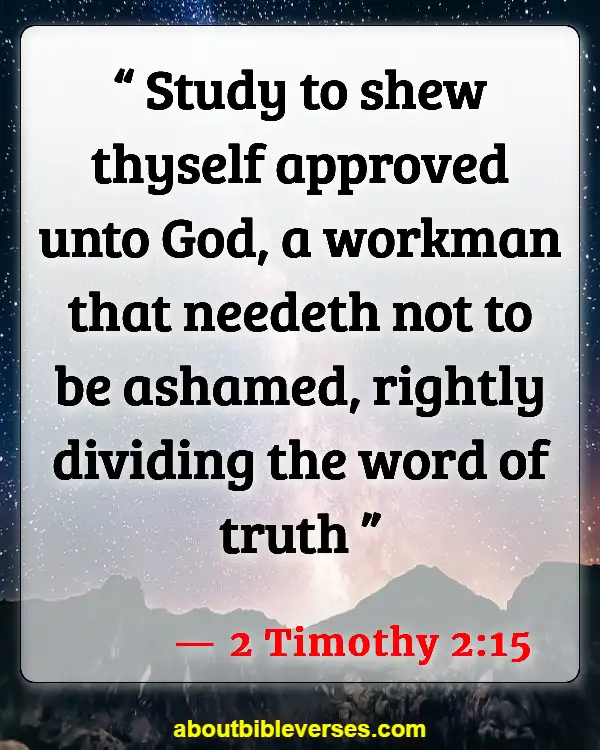 2 Timothy 2:15
"Study to shew thyself approved unto God, a workman that needeth not to be ashamed, rightly dividing the word of truth"
Mark 9:35
"And he sat down, and called the twelve, and saith unto them, If any man desire to be first, the same shall be last of all, and servant of all"
Galatians 5:13
"For, brethren, ye have been called unto liberty; only use not liberty for an occasion to the flesh, but by love serve one another"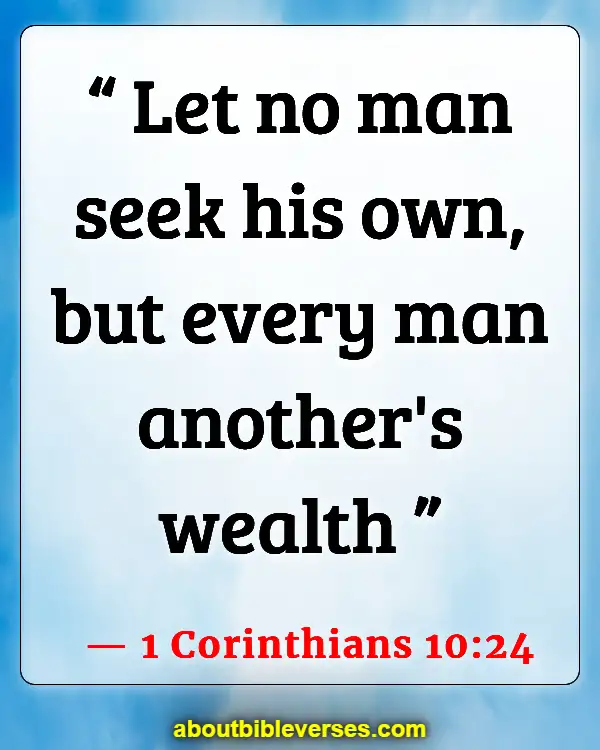 1 Corinthians 10:24
"Let no man seek his own, but every man another's wealth"
1 Peter 4:10
"As every man hath received the gift, even so minister the same one to another, as good stewards of the manifold grace of God"
Proverbs 3:27-28
"Withhold not good from them to whom it is due, when it is in the power of thine hand to do it. Say not unto thy neighbour, Go, and come again, and to morrow I will give; when thou hast it by thee"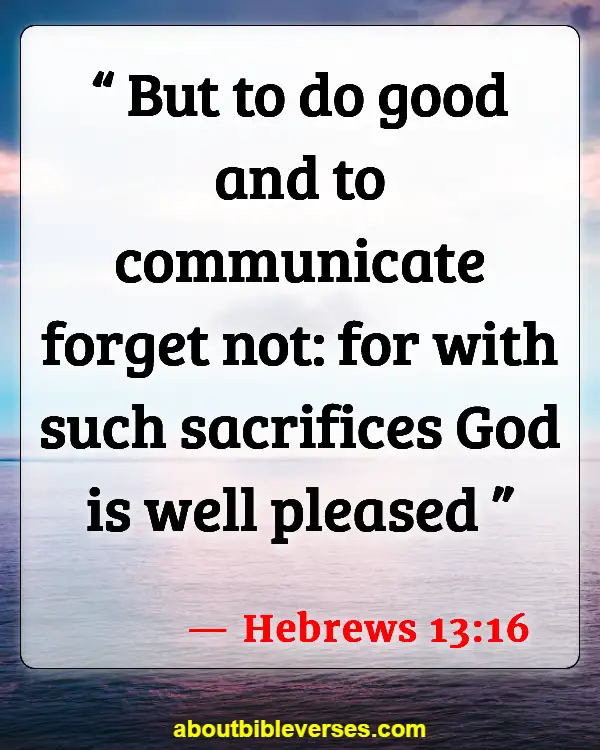 Hebrews 13:16
"But to do good and to communicate forget not: for with such sacrifices God is well pleased"
James 2:14-17
"What doth it profit, my brethren, though a man say he hath faith, and have not works? can faith save him? If a brother or sister be naked, and destitute of daily food, And one of you say unto them, Depart in peace, be ye warmed and filled; notwithstanding ye give them not those things which are needful to the body; what doth it profit? Even so faith, if it hath not works, is dead, being alone"
Ephesians 4:2
"With all lowliness and meekness, with longsuffering, forbearing one another in love"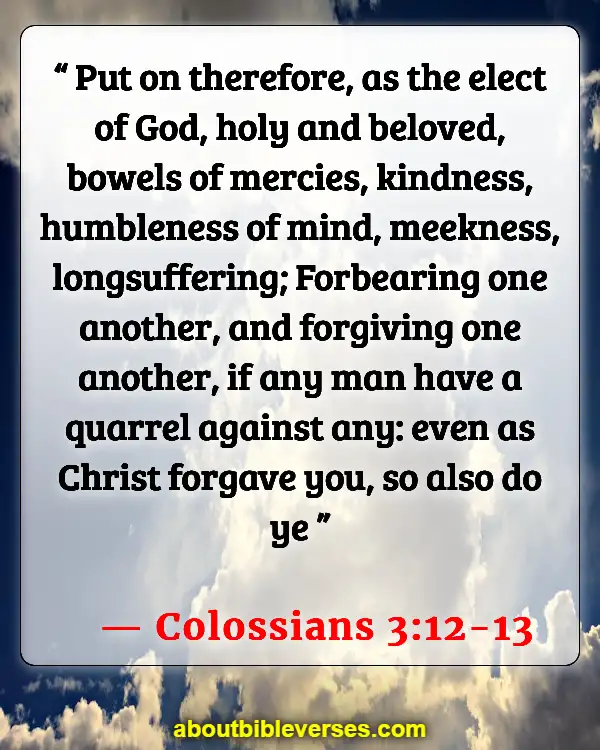 Colossians 3:12-13
"Put on therefore, as the elect of God, holy and beloved, bowels of mercies, kindness, humbleness of mind, meekness, longsuffering; Forbearing one another, and forgiving one another, if any man have a quarrel against any: even as Christ forgave you, so also do ye"
1 John 3:17-18
"But whoso hath this world's good, and seeth his brother have need, and shutteth up his bowels of compassion from him, how dwelleth the love of God in him? My little children, let us not love in word, neither in tongue; but in deed and in truth"
Luke 6:31
"And as ye would that men should do to you, do ye also to them likewise"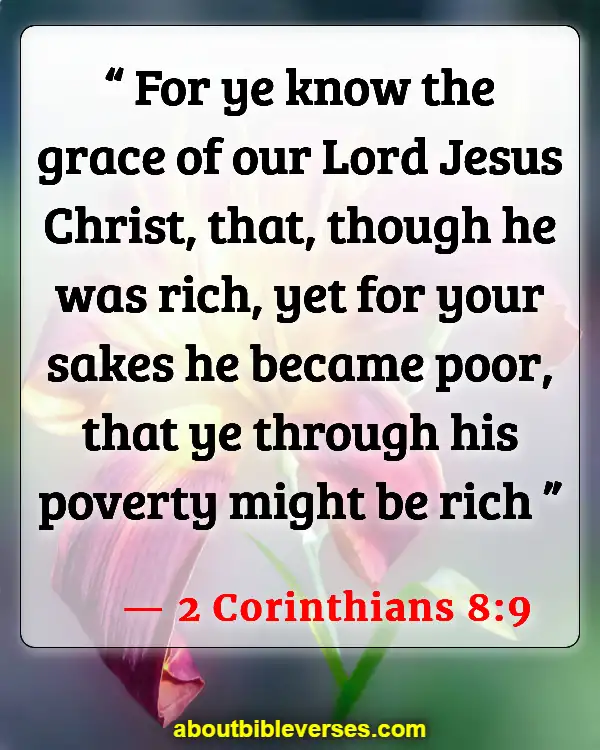 2 Corinthians 8:9
"For ye know the grace of our Lord Jesus Christ, that, though he was rich, yet for your sakes he became poor, that ye through his poverty might be rich"
1 Peter 5:5
"Likewise, ye younger, submit yourselves unto the elder. Yea, all of you be subject one to another, and be clothed with humility: for God resisteth the proud, and giveth grace to the humble"
Titus 3:1-2
"Put them in mind to be subject to principalities and powers, to obey magistrates, to be ready to every good work, To speak evil of no man, to be no brawlers, but gentle, shewing all meekness unto all men"
Proverbs 11:25
"The liberal soul shall be made fat: and he that watereth shall be watered also himself"
Romans 15:1-2
"We then that are strong ought to bear the infirmities of the weak, and not to please ourselves. Let every one of us please his neighbour for his good to edification"
Galatians 6:2
"Bear ye one another's burdens, and so fulfil the law of Christ"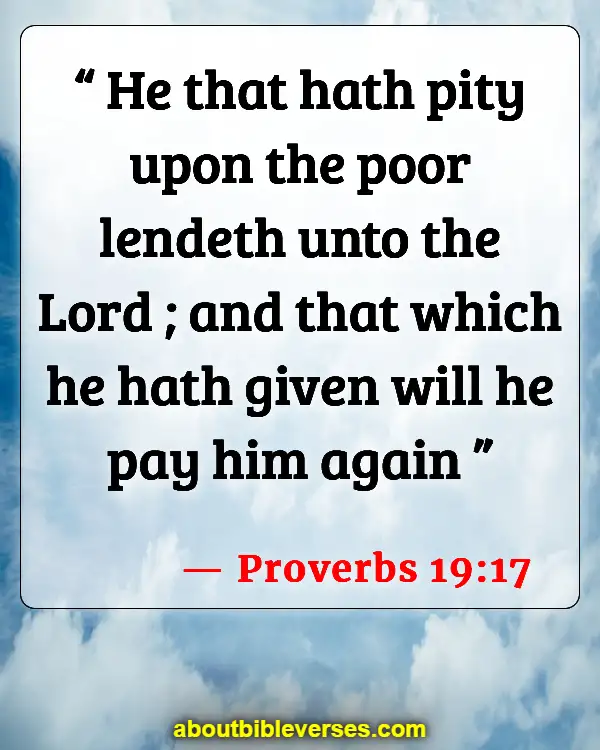 Proverbs 19:17
"He that hath pity upon the poor lendeth unto the Lord ; and that which he hath given will he pay him again"
1 Thessalonians 5:14-15
"Now we exhort you, brethren, warn them that are unruly, comfort the feebleminded, support the weak, be patient toward all men. See that none render evil for evil unto any man; but ever follow that which is good, both among yourselves, and to all men"
Ephesians 5:21
"Submitting yourselves one to another in the fear of God"
Isaiah 58:6-7
"Is not this the fast that I have chosen? to loose the bands of wickedness, to undo the heavy burdens, and to let the oppressed go free, and that ye break every yoke? Is it not to deal thy bread to the hungry, and that thou bring the poor that are cast out to thy house? when thou seest the naked, that thou cover him; and that thou hide not thyself from thine own flesh?"
Luke 14:12-14
"Then said he also to him that bade him, When thou makest a dinner or a supper, call not thy friends, nor thy brethren, neither thy kinsmen, nor thy rich neighbours; lest they also bid thee again, and a recompence be made thee. But when thou makest a feast, call the poor, the maimed, the lame, the blind: And thou shalt be blessed; for they cannot recompense thee: for thou shalt be recompensed at the resurrection of the just"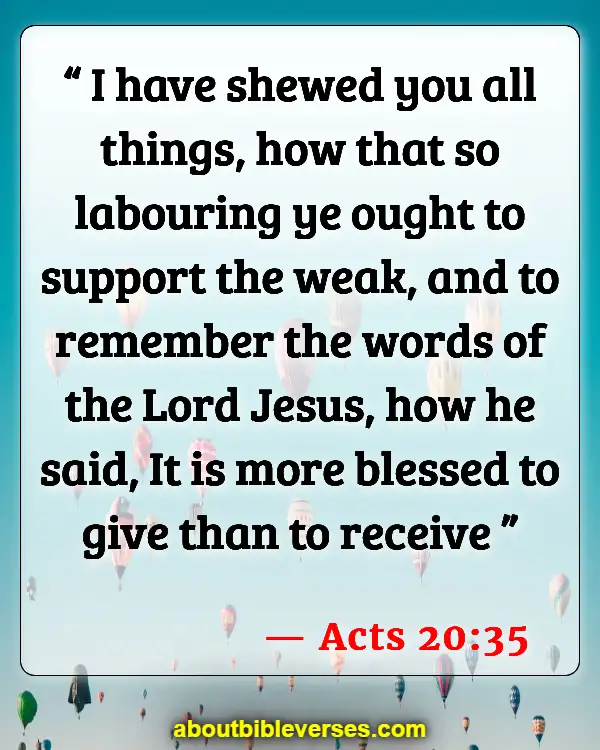 Acts 20:35
"I have shewed you all things, how that so labouring ye ought to support the weak, and to remember the words of the Lord Jesus, how he said, It is more blessed to give than to receive"
Romans 14:19
"Let us therefore follow after the things which make for peace, and things wherewith one may edify another"
James 1:27
"Pure religion and undefiled before God and the Father is this, To visit the fatherless and widows in their affliction, and to keep himself unspotted from the world"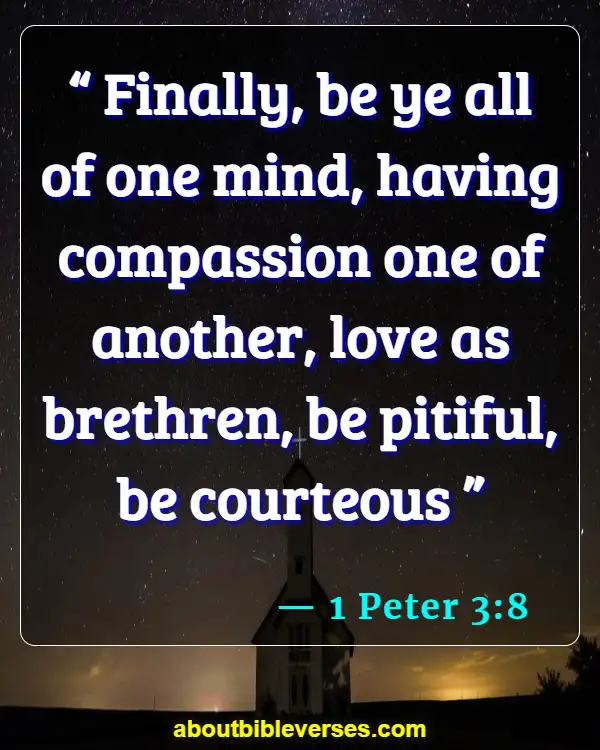 1 Peter 3:8
"Finally, be ye all of one mind, having compassion one of another, love as brethren, be pitiful, be courteous"
1 Timothy 6:17-19
"Charge them that are rich in this world, that they be not highminded, nor trust in uncertain riches, but in the living God, who giveth us richly all things to enjoy; That they do good, that they be rich in good works, ready to distribute, willing to communicate; Laying up in store for themselves a good foundation against the time to come, that they may lay hold on eternal life"
1 Corinthians 12:25-26
"That there should be no schism in the body; but that the members should have the same care one for another. And whether one member suffer, all the members suffer with it; or one member be honoured, all the members rejoice with it"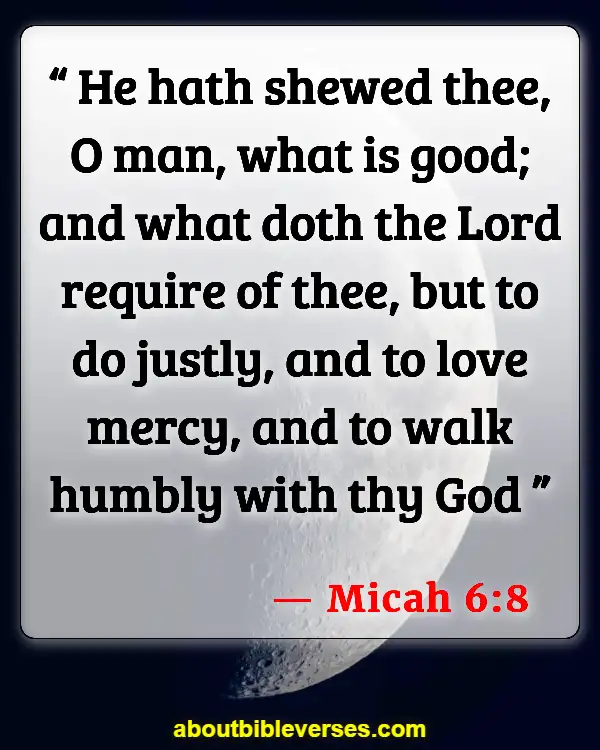 Micah 6:8
"He hath shewed thee, O man, what is good; and what doth the Lord require of thee, but to do justly, and to love mercy, and to walk humbly with thy God?"