Hello dear friends, welcome to our site in the name of Jesus Christ. Today we will look at the Bible Scriptures About Pursuing Dreams In KJV. If you like today's post then definitely comment and share.
God, in His divine wisdom, has gifted each of us with unique dreams and talents. So the Bible teaches us that dreams are not vain pursuits. Dream, follow, pray, and believe. Because dreams, when combined with divine will, are powerful catalysts for God's glory and our growth.
Often, our dreams may seem too big, because our abilities are too small, but remember, with God, all things are possible. Never underestimate the power of God to help you achieve your dreams.
Friends, as good Christians our dreams are not only for personal fulfillment. Rather, they should be linked to a greater purpose, to serve others and glorify God. We should remember that the purpose of every dream is not only for our own welfare but also for the welfare of others.
Sometimes, we may have to surrender our dreams in order to follow His higher plan. But don't worry, His ways are always perfect, leading to joy, peace, and fulfillment.
Friends, it is therefore wise to seek guidance from God before fulfilling all dreams, as Solomon did. Seek wisdom before chasing your dreams. Through prayer and meditation, He will guide you in the right direction.
Finally, always remember, even as you chase your dreams, the greatest commandment remains: love God above all else and your neighbor as yourself. Success is not only about achieving our dreams but also about spreading love and kindness in the world, making it a better place for everyone.
Dear friends now let's see the Bible scriptures below that talk about Pursuing Dreams.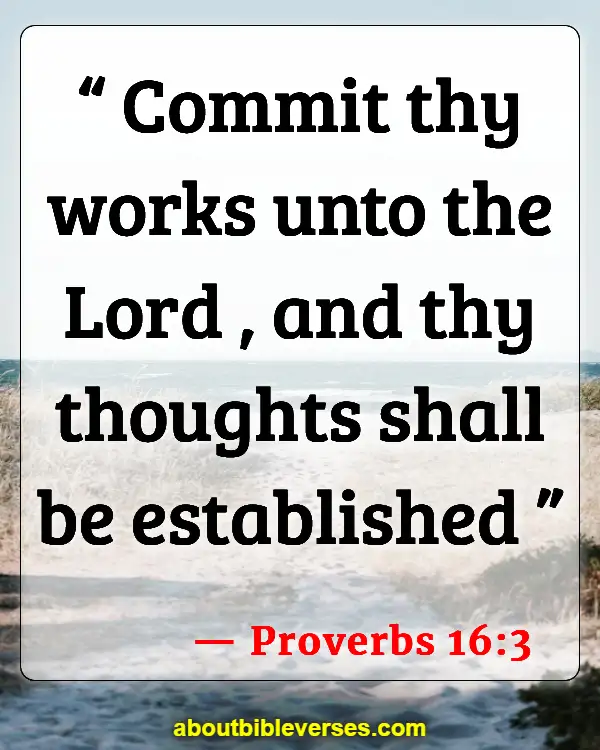 Proverbs 16:3
"Commit thy works unto the Lord , and thy thoughts shall be established"
Proverbs 18:16
"A man's gift maketh room for him, and bringeth him before great men"
Proverbs 4:25-27
"Let thine eyes look right on, and let thine eyelids look straight before thee. Ponder the path of thy feet, and let all thy ways be established. Turn not to the right hand nor to the left: remove thy foot from evil"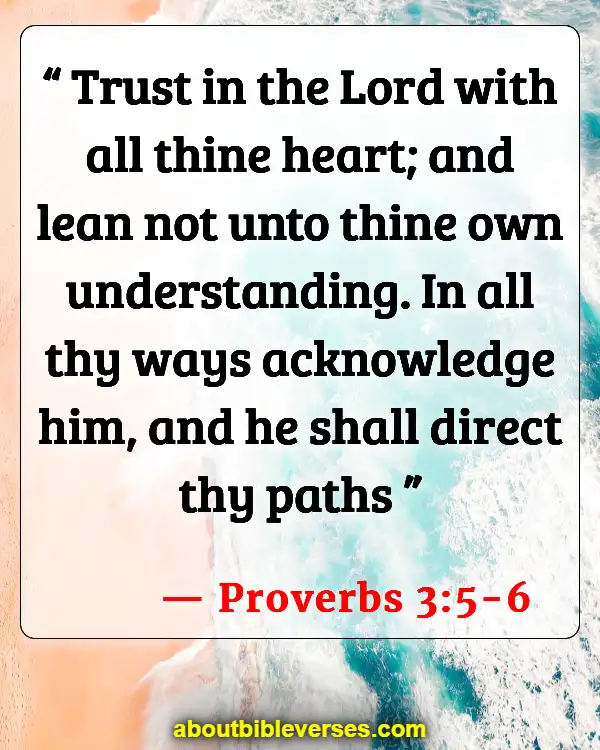 Proverbs 3:5-6
"Trust in the Lord with all thine heart; and lean not unto thine own understanding. In all thy ways acknowledge him, and he shall direct thy paths"
Psalm 37:4-5
"Delight thyself also in the Lord : and he shall give thee the desires of thine heart. Commit thy way unto the Lord ; trust also in him; and he shall bring it to pass"
Psalm 20:4
"Grant thee according to thine own heart, and fulfil all thy counsel"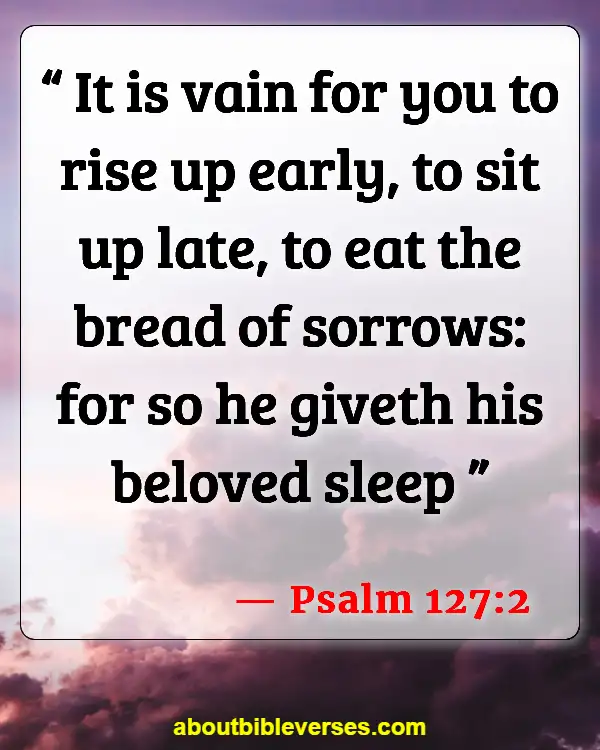 Psalm 127:2
"It is vain for you to rise up early, to sit up late, to eat the bread of sorrows: for so he giveth his beloved sleep"
Psalm 128:2
"For thou shalt eat the labour of thine hands: happy shalt thou be, and it shall be well with thee"
Psalm 119:105
"Thy word is a lamp unto my feet, and a light unto my path"
Ecclesiastes 9:10
"Whatsoever thy hand findeth to do, do it with thy might; for there is no work, nor device, nor knowledge, nor wisdom, in the grave, whither thou goest"
Ecclesiastes 5:3
"For a dream cometh through the multitude of business; and a fool's voice is known by multitude of words"
Matthew 6:33
"But seek ye first the kingdom of God, and his righteousness; and all these things shall be added unto you"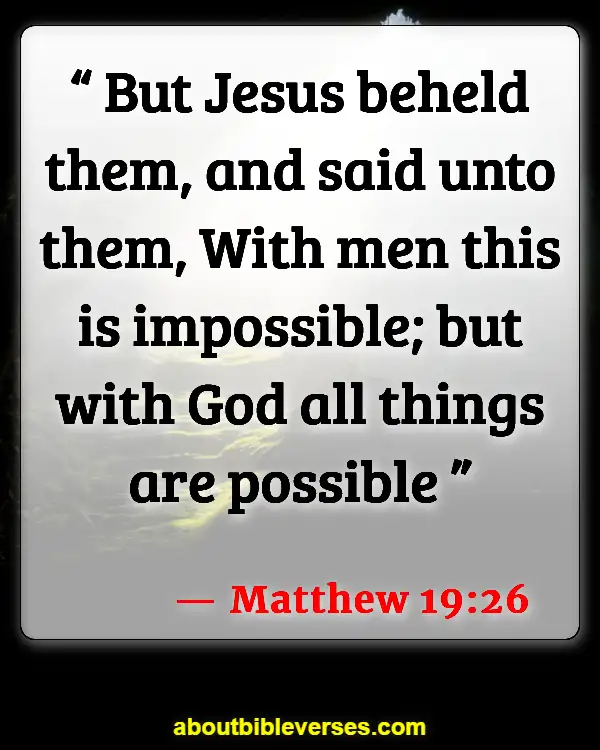 Matthew 19:26
"But Jesus beheld them, and said unto them, With men this is impossible; but with God all things are possible"
Matthew 7:7
"Ask, and it shall be given you; seek, and ye shall find; knock, and it shall be opened unto you"
Mark 11:24
"Therefore I say unto you, What things soever ye desire, when ye pray, believe that ye receive them, and ye shall have them"
Mark 9:23
"Jesus said unto him, If thou canst believe, all things are possible to him that believeth"
Luke 12:31
"But rather seek ye the kingdom of God; and all these things shall be added unto you"
John 15:7
"If ye abide in me, and my words abide in you, ye shall ask what ye will, and it shall be done unto you"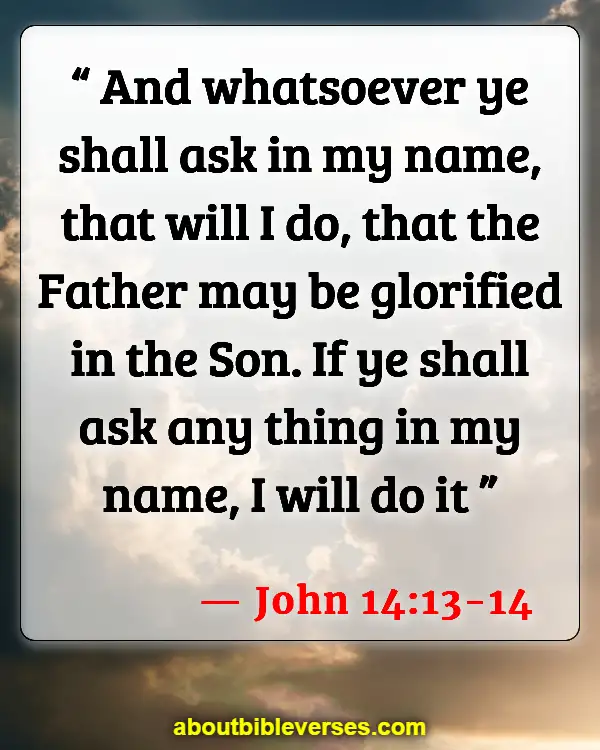 John 14:13-14
"And whatsoever ye shall ask in my name, that will I do, that the Father may be glorified in the Son. If ye shall ask any thing in my name, I will do it"
Romans 12:2
"And be not conformed to this world: but be ye transformed by the renewing of your mind, that ye may prove what is that good, and acceptable, and perfect, will of God"
Romans 8:28
"And we know that all things work together for good to them that love God, to them who are the called according to his purpose"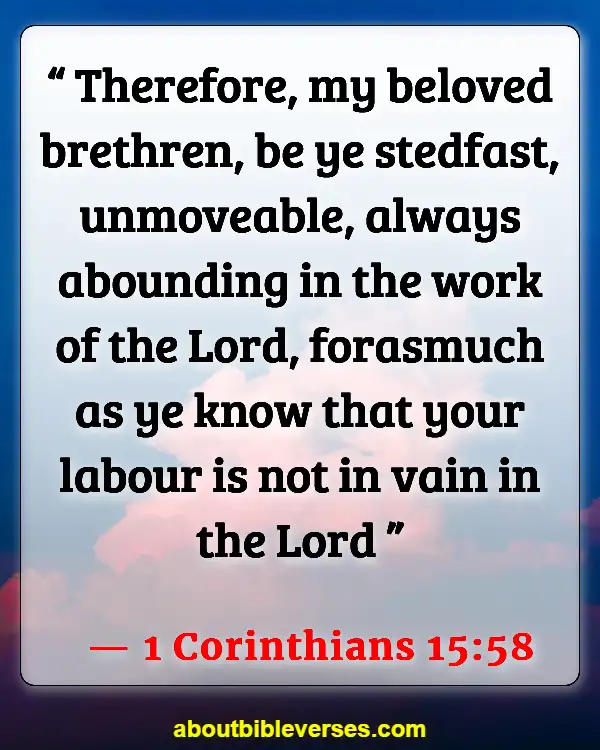 1 Corinthians 15:58
"Therefore, my beloved brethren, be ye stedfast, unmoveable, always abounding in the work of the Lord, forasmuch as ye know that your labour is not in vain in the Lord"
1 Corinthians 9:24
"Know ye not that they which run in a race run all, but one receiveth the prize? So run, that ye may obtain"
Galatians 6:9
"And let us not be weary in well doing: for in due season we shall reap, if we faint not"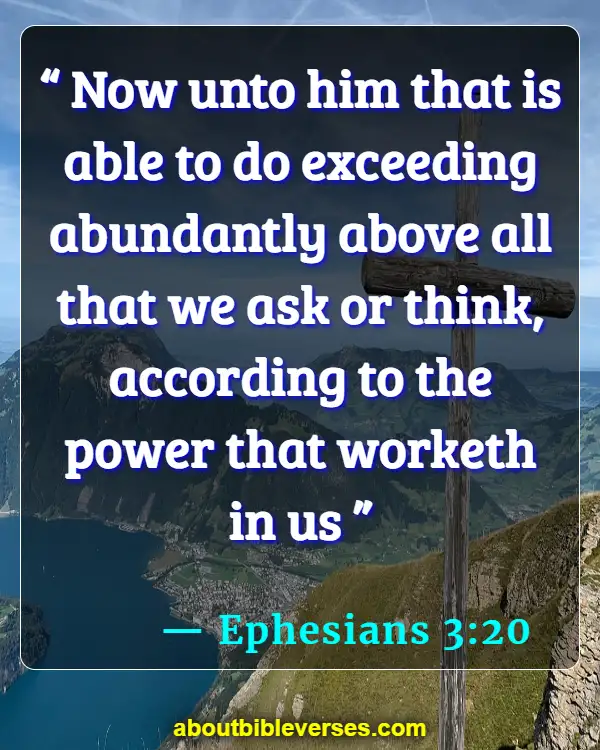 Ephesians 3:20
"Now unto him that is able to do exceeding abundantly above all that we ask or think, according to the power that worketh in us"
Ephesians 2:10
"For we are his workmanship, created in Christ Jesus unto good works, which God hath before ordained that we should walk in them"
Ephesians 4:1
"I therefore, the prisoner of the Lord, beseech you that ye walk worthy of the vocation wherewith ye are called"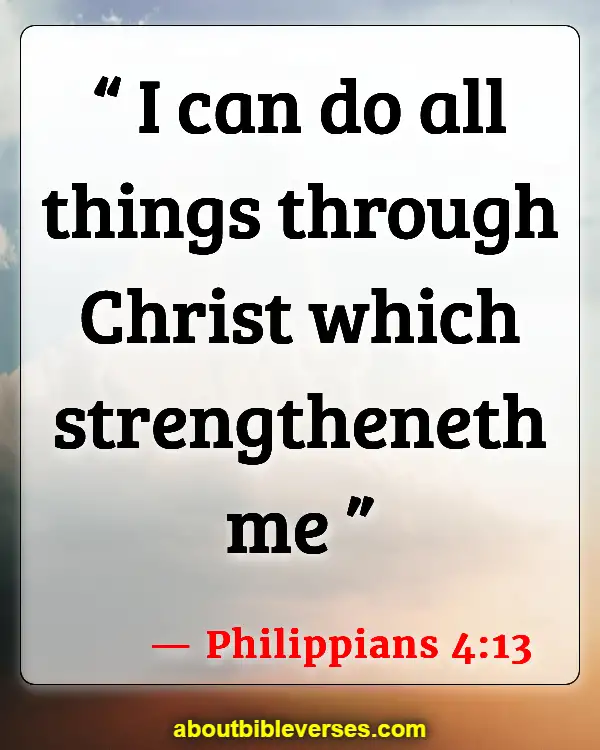 Philippians 4:13
"I can do all things through Christ which strengtheneth me"
Philippians 2:13
"For it is God which worketh in you both to will and to do of his good pleasure"
Philippians 3:14
"I press toward the mark for the prize of the high calling of God in Christ Jesus"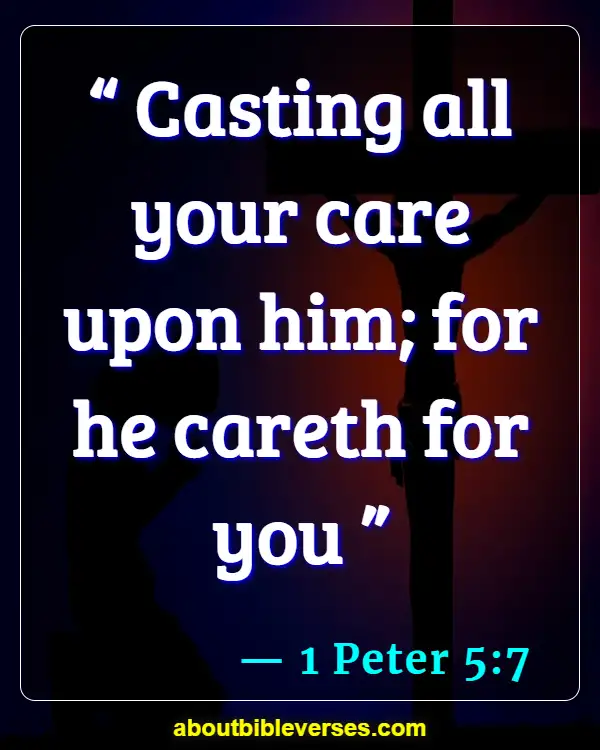 1 Peter 5:7
"Casting all your care upon him; for he careth for you"
1 John 5:14-15
"And this is the confidence that we have in him, that, if we ask any thing according to his will, he heareth us: And if we know that he hear us, whatsoever we ask, we know that we have the petitions that we desired of him"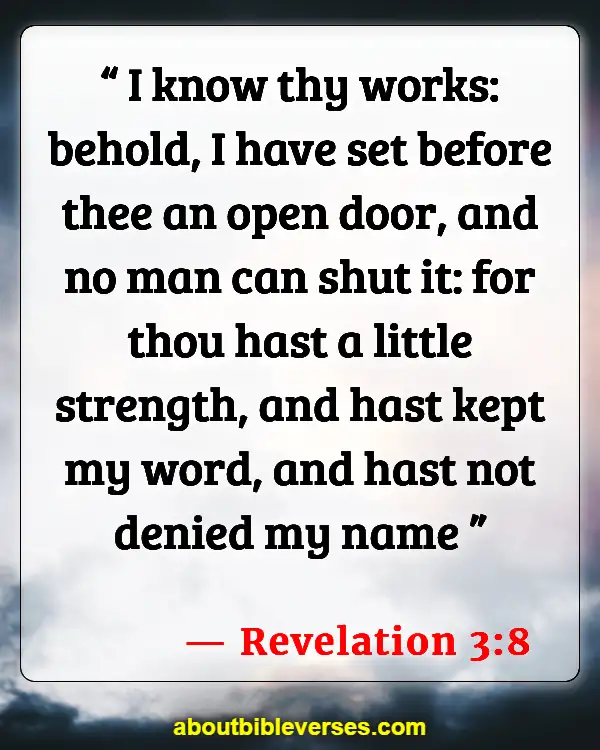 Revelation 3:8
"I know thy works: behold, I have set before thee an open door, and no man can shut it: for thou hast a little strength, and hast kept my word, and hast not denied my name"